Open Access This article is
freely available
re-usable
Article
Bioactive Glass-Ceramic Scaffolds from Novel 'Inorganic Gel Casting' and Sinter-Crystallization
1
Department of Industrial Engineering, University of Padova, Via Marzolo 9, 35131 Padova, Italy
2
Ceramics Department, National Research Centre, El-Bohous Street, Cairo 12622, Egypt
3
Department of Biomedical Sciences, Universiy of Padova, via Ugo Bassi 58/B, 35131 Padova, Italy
*
Author to whom correspondence should be addressed.
Academic Editors: Andrew J. Ruys and Jérôme Chevalier
Received: 27 December 2016 / Accepted: 7 February 2017 / Published: 13 February 2017
Abstract
:
Highly porous wollastonite-diopside glass-ceramics have been successfully obtained by a new gel-casting technique. The gelation of an aqueous slurry of glass powders was not achieved according to the polymerization of an organic monomer, but as the result of alkali activation. The alkali activation of a Ca-Mg silicate glass (with a composition close to 50 mol % wollastonite—50 mol % diopside, with minor amounts of Na2O and P2O5) allowed for the obtainment of well-dispersed concentrated suspensions, undergoing progressive hardening by curing at low temperature (40 °C), owing to the formation of a C–S–H (calcium silicate hydrate) gel. An extensive direct foaming was achieved by vigorous mechanical stirring of partially gelified suspensions, comprising also a surfactant. The open-celled structure resulting from mechanical foaming could be 'frozen' by the subsequent sintering treatment, at 900–1000 °C, causing substantial crystallization. A total porosity exceeding 80%, comprising both well-interconnected macro-pores and micro-pores on cell walls, was accompanied by an excellent compressive strength, even above 5 MPa.
Keywords:
alkali activation; gel casting; bioactivity; wollastonite; diopside; glass-ceramics
2. Experimental Procedure
2.1. Starting Glass
The reference material for the present investigation consisted of a glass belonging to the CaO-MgO-SiO2 system. The overall composition (SiO2: 51.7 wt %; CaO: 32.1%; MgO: 11.5%; Na2O: 2.2%; P2O5: 2.5%) corresponds to a CaO:MgO:SiO2 molar ratio equal to 2:1:3, theoretically leading to 50 mol % wollastonite (W, CaO·SiO2) and 50% diopside (D, CaO·MgO·2SiO2), so that it will be later referred to as W-D glass. The glass was produced from pure minerals and chemicals (silica, dolomite, calcium carbonate—all in powders <10 µm, Industrie Bitossi, Vinci, Italy—and sodium phosphate—sodium pyrophosphate, Na4P2O7, Sigma-Aldrich, Gillingham, UK), by melting in a platinum crucible at a temperature of 1400 °C (heating rate of 10 °C/min).
The mixture led to a homogeneous glass, despite the short holding time (15 min at 1400 °C), that was suddenly cooled by direct pouring on a cold metal plate. The glass fragments were easily reduced into fine powders by ball milling and later manually sieved; only the particles with a diameter below 75 µm were kept.
2.2. Preparation and Microstructural Characterization of Foams
W-D glass fine powders were introduced in an aqueous solution containing 1 M NaOH (reagent grade, Sigma-Aldrich), for a solid loading of 60 and 65 wt %. The glass powders were subjected to alkaline attack for 3 h, under low speed mechanical stirring (500 rpm). After alkaline activation, the obtained suspensions of partially dissolved glass powders were cast in several polystyrene cylindrical moulds (60 mm diameter) and then added with 4 wt % Triton X-100 (polyoxyethylene octyl phenyl ether—C
14
H
22
O(C
2
H
4
O)
n
,
n
= 9–10, Sigma-Aldrich), a non-ionic surfactant that does not interfere with ceramic dispersions [
35
]. The mixtures were foamed by vigorous mechanical mixing (2000 rpm), for 5 min and later left at 40 °C for 24 h in order to complete the gelation before demolding. It should be noted that the foamed samples were easily handled, after demolding, without any heat treatment applied. Finally, hardened foams were fired at 900–1000 °C for 1 h with a heating rate of 2 and 5 °C/min.
Figure 1
shows the flowchart of process used for fabricating wollasonite-diopside (W-D) glass-ceramic foams.
W-D glass powders and foamed gels were subjected to thermogravimetric analysis (TGA, STA409, Netzsch Gerätebau GmbH, Selb, Germany) and Fourier-transform infrared spectroscopy (FTIR, FTIR model 2000, Perkin Elmer, Waltham, MA, USA). The crystalline phases were identified by means of X-ray diffraction on powdered samples (XRD; Bruker D8 Advance, Bruker AXS GmbH, Karlsruhe, Germany), supported by data from PDF-2 database (ICDD-International Centre for Diffraction Data, Newtown Square, PA, USA) and Match! program package (Crystal Impact GbR, Bonn, Germany).
The bulk density of the foams was determined from the weight-to-volume ratio, using a caliper and a digital balance. The true density of the samples was measured by means of a gas pycnometer (Micromeritics AccuPyc 1330, Norcross, GA, USA), operating with He gas on finely milled samples. The compressive strength of foams was measured at room temperature, by means of an Instron 1121 UTM (Instron, Danvers, MA, USA) operating with a cross-head speed of 1 mm/min. Each data point represents the average value of 5 to 10 individual tests.
Microstructural characterizations were performed by optical stereomicroscopy (AxioCam ERc 5s Microscope Camera, Carl Zeiss Microscopy, Thornwood, NY, USA) and scanning electron microscopy (SEM) equipped with energy dispersive spectroscopy (EDS) (FEI Quanta 200 ESEM, FEI, Hillsboro, OR, USA).
2.3. Assessment of the In Vitro Bioactivity and Cell Culture Test
For cell culture studies, samples were cut to 10 × 10 × 5 mm3 and sterilized by autoclaving at 121 °C for 20 min. Samples were then fixed to 48-well plates. Normal human adult dermal fibroblasts (ATCC®-PCS-201-012™; American Type Culture Collection, Manassas, VA, USA) were seeded at a density of 4 × 105 cells/piece in cDMEM, which consisted of Dulbecco's Modified Eagle Medium (DMEM) (Lonza S.r.l., Milano, Italy), supplemented with 10 vol % Fetal Bovine Serum (FBS) (Bidachem-Spa, Milano, Italy) and 1 vol % Penicillin/Streptomycin (P/S) (EuroClone, Milano, Italy). The 3D cultures were incubated at 37 °C and 5% CO2 for seven days, with media changes every two days. Control conditions were represented by cells cultured on tissue culture plates (TCP) in cDMEM for the same culturing time.
Cell proliferation rate was evaluated after three and seven days from seeding with the MTT (methylthiazolyl-tetrazolium) based proliferation assay, performed according to the method of Denizot and Lang with minor modifications [
22
]. Briefly, samples were incubated for 3 h at 37 °C in 1 mL of 0.5 mg/mL MTT solution prepared in Phosphate Buffered Saline (PBS) (EuroClone). After removal of the MTT solution by pipette, 0.5 mL of 10% DMSO in isopropanol was added to extract the formazan in the samples for 30 min at 37 °C. For each sample, absorbance values at 570 nm were recorded in duplicate on 200 μL aliquots deposited in microwell plates using a multilabel plate reader (Victor 3, PerkinElmer Inc., Waltham, MA, USA).
LDH activity was measured using the Lactate Dehydrogenase Activity Assay Kit (Sigma-Aldrich, Saint Louis, MO, USA) according to the manufacturer's instructions. All conditions were tested in duplicate. The culture medium was reserved to determine extracellular LDH. The intracellular LDH was estimated after cells lysis with the assay buffer contained in the kit. All sampled were incubated with a supplied reaction mixture, resulting in a product whose absorbance was measured at 450 nm using a Victor 3 multilabel plate reader.
For SEM imaging, fibroblasts grown on samples for three and seven days were fixed in 2.5% glutaraldehyde in 0.1 M cacodylate buffer for 1 h, then progressively dehydrated in ethanol. All micrographs were obtained using a JSM JEOL 6490 SEM microscope (JEOL, Tokyo, Japan). The SEM analysis was performed at Centro di Analisi e Servizi Per la Certificazione (CEASC, University of Padova, Padova, Italy).
3. Results and Discussion
The enhanced crystallization for the alkali-activated material determined a substantial 'freezing' of the viscous flow sintering, so that samples sintered below 900 °C were particularly weak. Sintered at 900 °C, the samples actually featured some light grey areas, in a white matrix, reasonably due to some carbonaceous traces from the surfactant; on the contrary, samples sintered at 1000 °C were both mechanically consistent and homogeneously white.
4. Conclusions
We may conclude that:
Highly porous wollastonite-diopside glass-ceramics can be easily obtained by low temperature 'inorganic gel-casting', followed by sintering with concurrent crystallization (sinter-crystallization); the crystallization limits the viscous flow, so that the microstructure in the green state is substantially maintained upon firing up to 1000 °C;

The foaming relies on the progressive hardening of aqueous glass suspensions, after alkali activation; the gelification, owing to FTIR analysis, is consistent with the development of calcium silicate hydrates (C–S–H), later decomposed (with the firing treatment);

The overall process (mechanical stirring of alkali activated suspensions—with the help of a surfactant, drying, firing with sinter-crystallization) has a great potential for the production of 'hierarchically porous' foams; the microstructure can be tuned operating on simple processing parameters such solid load, in suspensions, and firing conditions (e.g., heating rate);

The developed glass-ceramics, according to MTT and LDH activity assays, with human fibroblasts, can be considered as biocompatible; forthcoming studies will focus on detailed studies of ionic releases and bioactivity.
Acknowledgments
The authors (except ARR) acknowledge the University of Padova for funding in the framework of the project "BIOBONE: Design, prototyping and validation of advanced BIOceramics for BONE tissue engineering". ARR and EB acknowledge the support of the European Community's Horizon 2020 Programme through a Marie Skłodowska-Curie Innovative Training Network ("CoACH-ETN", g.a. no. 642557).
Author Contributions
For this paper, Enrico Bernardo formulated research ideas, supervised the experiment on porous glass-ceramic materials, and planned the structure of the article. Hamada Elsayed and Acacio Rincón Romero performed the general experimentation except cell tests, which were done by Letizia Ferroni and Chiara Gardin, under the supervision of Barbara Zavan. The paper was written and edited by Hamada Elsayed, Acacio Rincón Romero, Enrico Bernardo, and Barbara Zavan.
Conflicts of Interest
The authors declare no conflict of interest.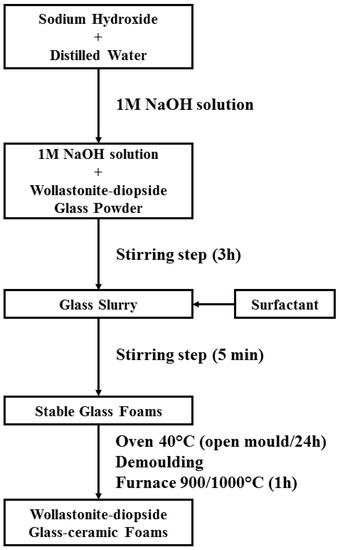 Figure 1. Flow chart of the W-D glass foams processing using the alkaline activation and gel casting.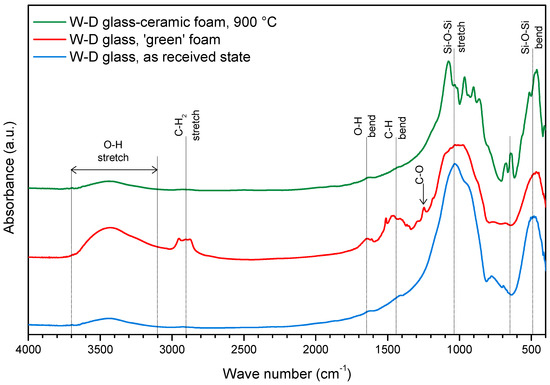 Figure 2. FTIR spectra of W-D glass, cured W-D glass foams, and W-D glass-ceramic foam after firing.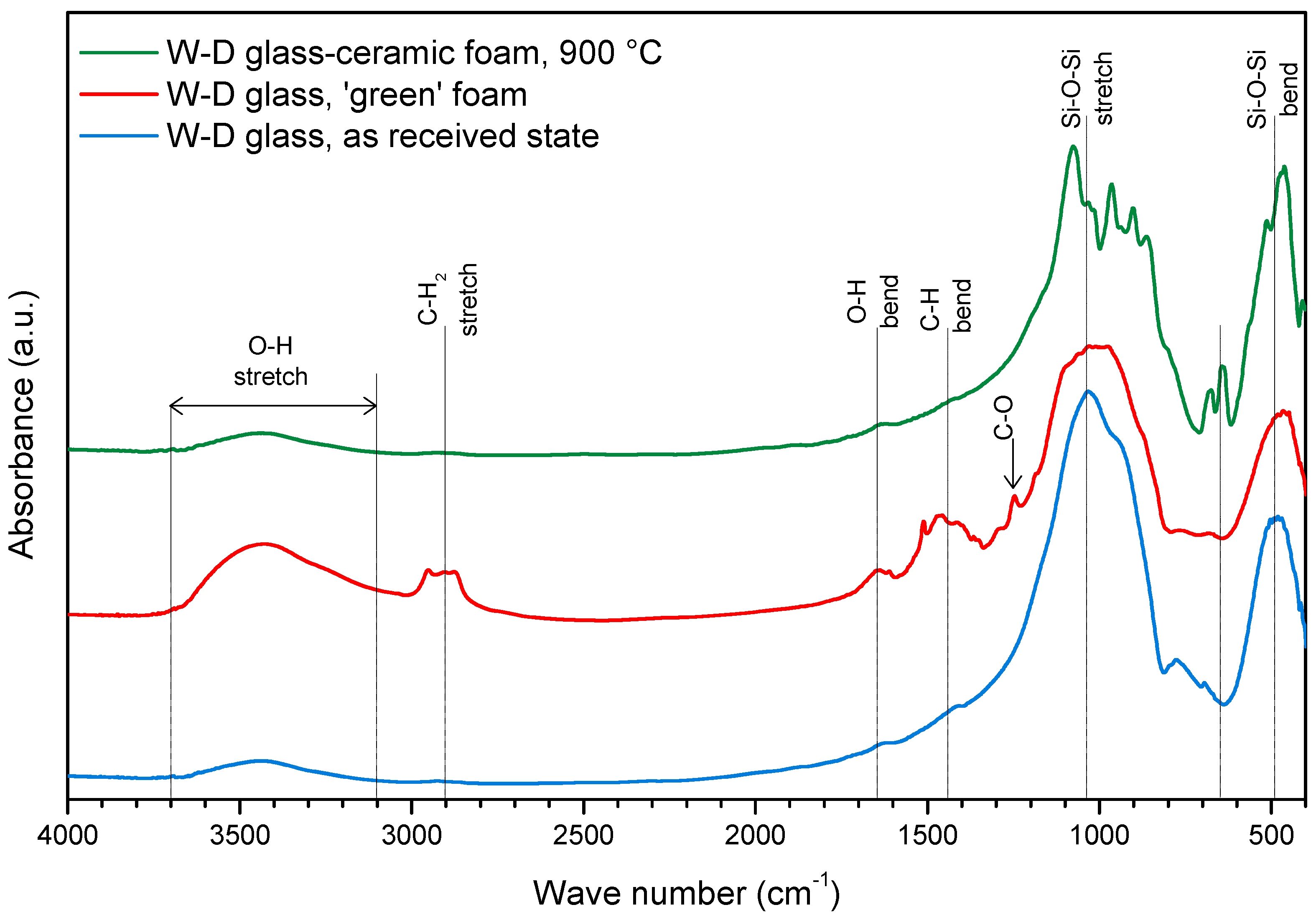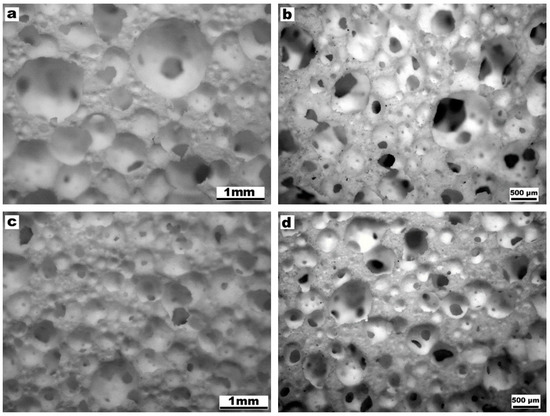 Figure 3. Microstructural and morphology details of W-D foams with different solid content of the starting suspensions, before and after firing at 1000 °C, respectively: (a,b) foams with 60 wt %; (c,d) foams with 65 wt %.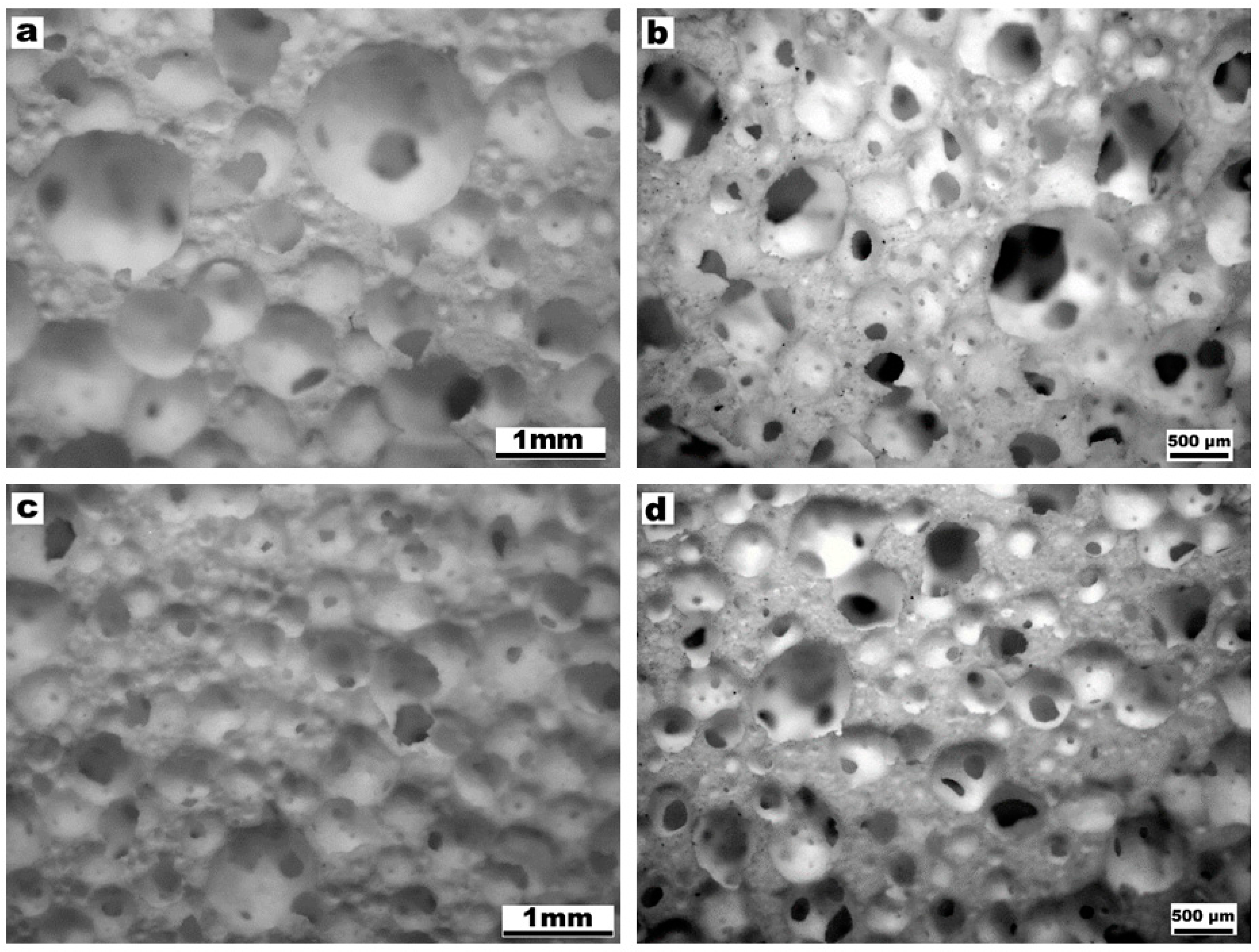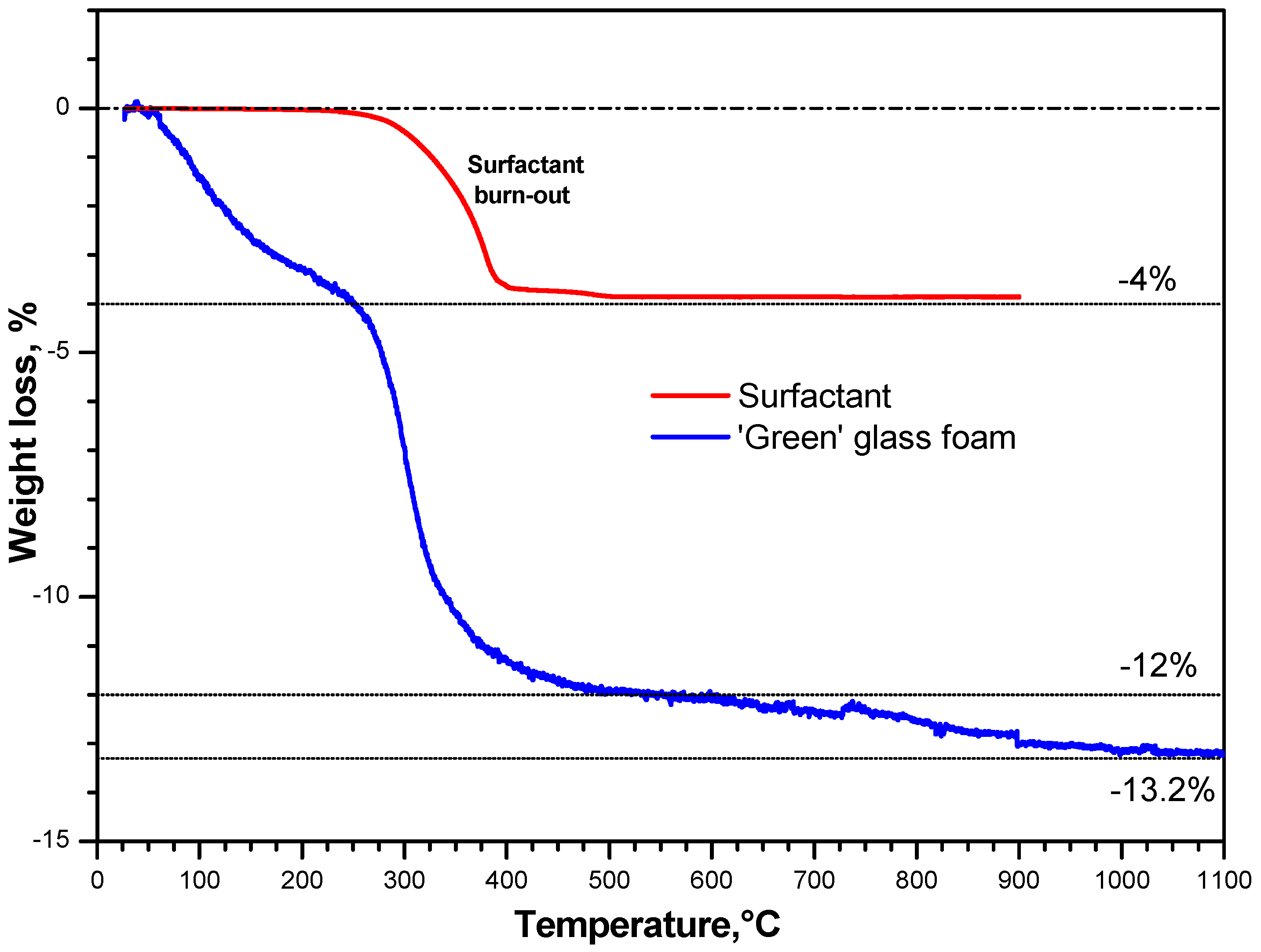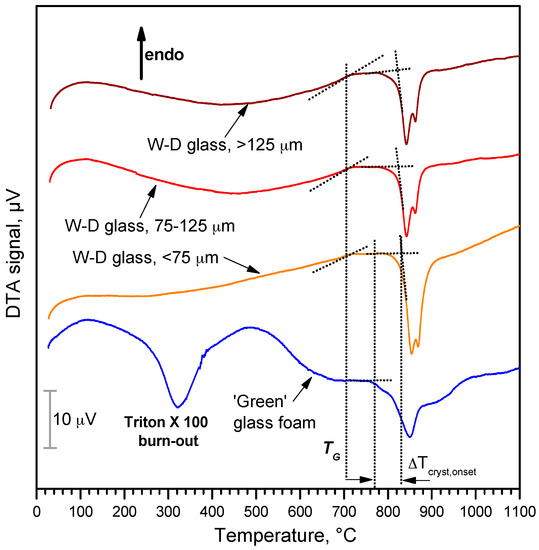 Figure 5. Differential thermal analysis of W-D glass (different particle sizes) and 'green' glass foam from alkali activation and direct foaming.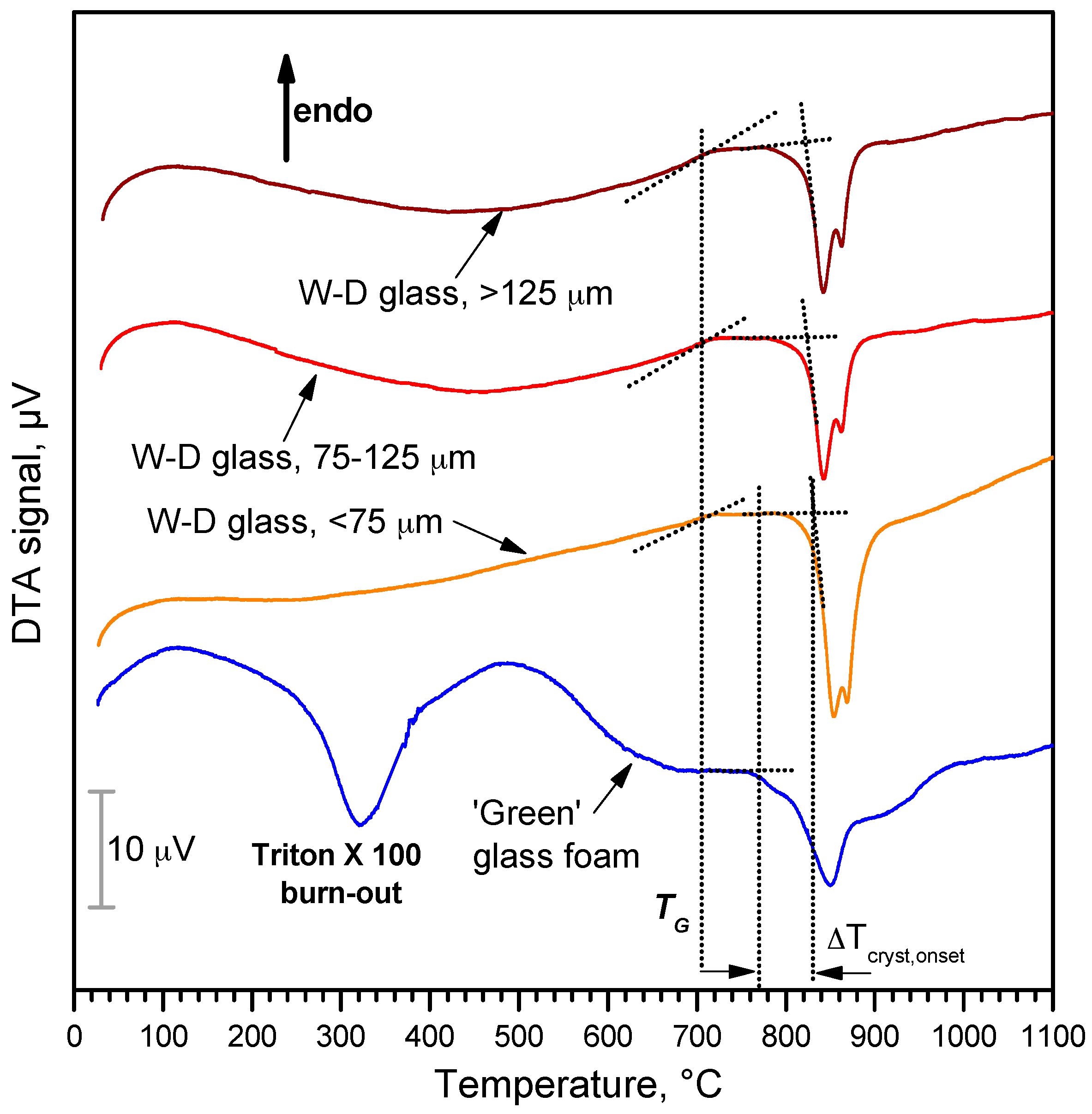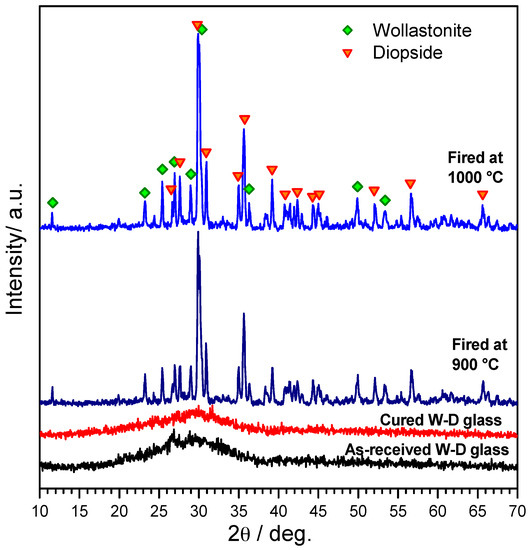 Figure 6. XRD patterns of W-D glass, cured W-D glass after demolding and W-D glass-ceramic foam after firing (heating rate: 5 °C/min).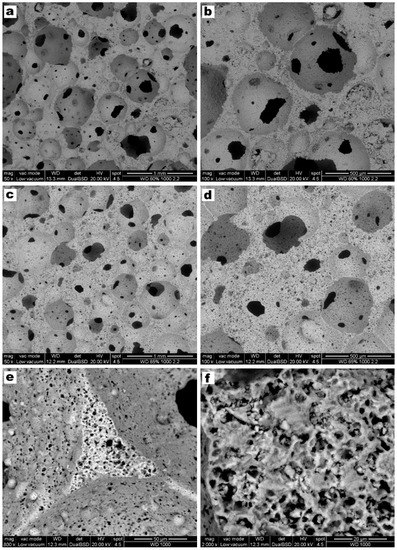 Figure 7. SEM images of W-D glass-ceramic foams with different solid content and after firing at 1000 °C (a,b) for foams with 60 wt % solid load; (c,d) for foams with 65 wt %; (e,f) high magnification details of cell struts.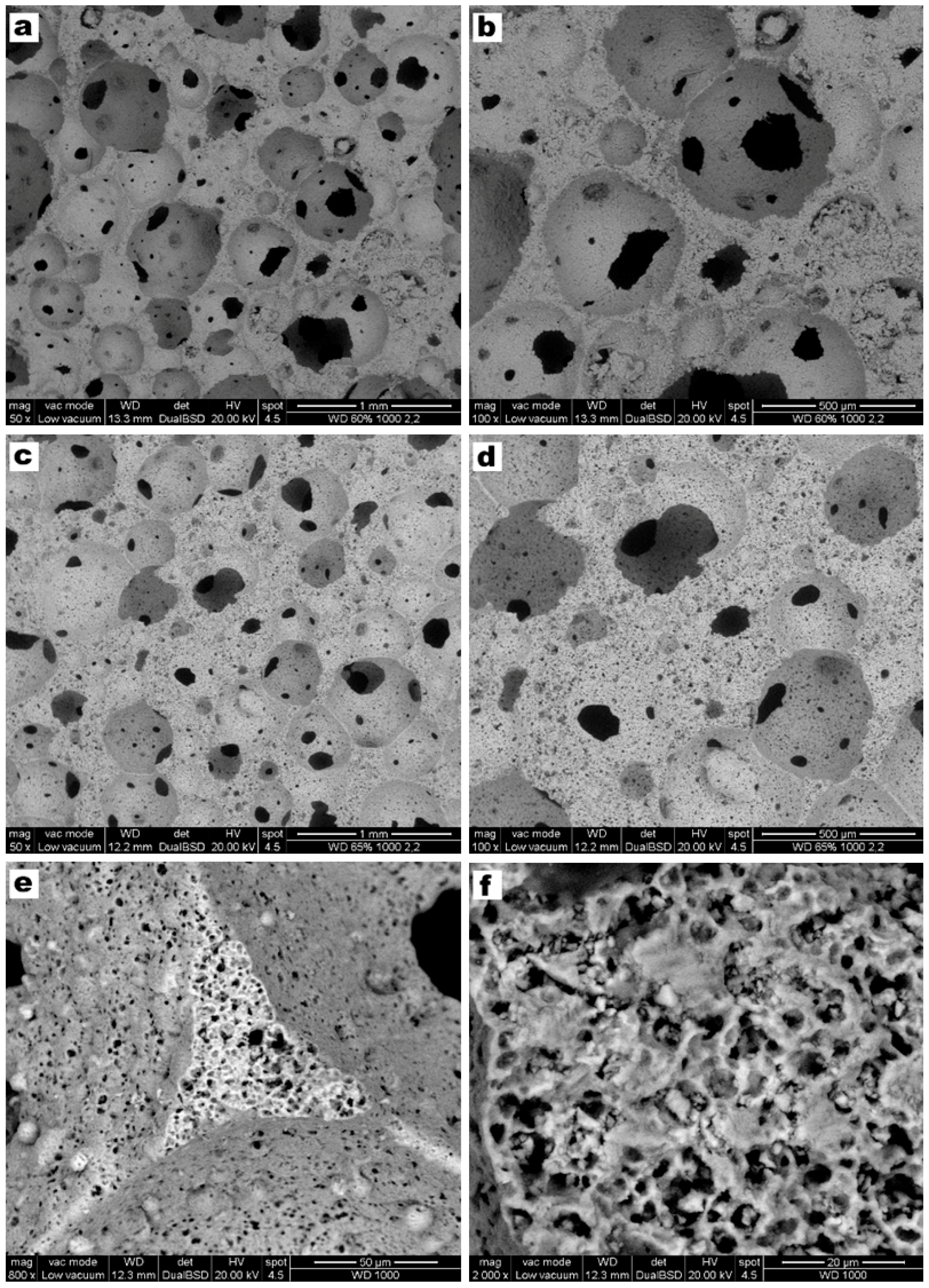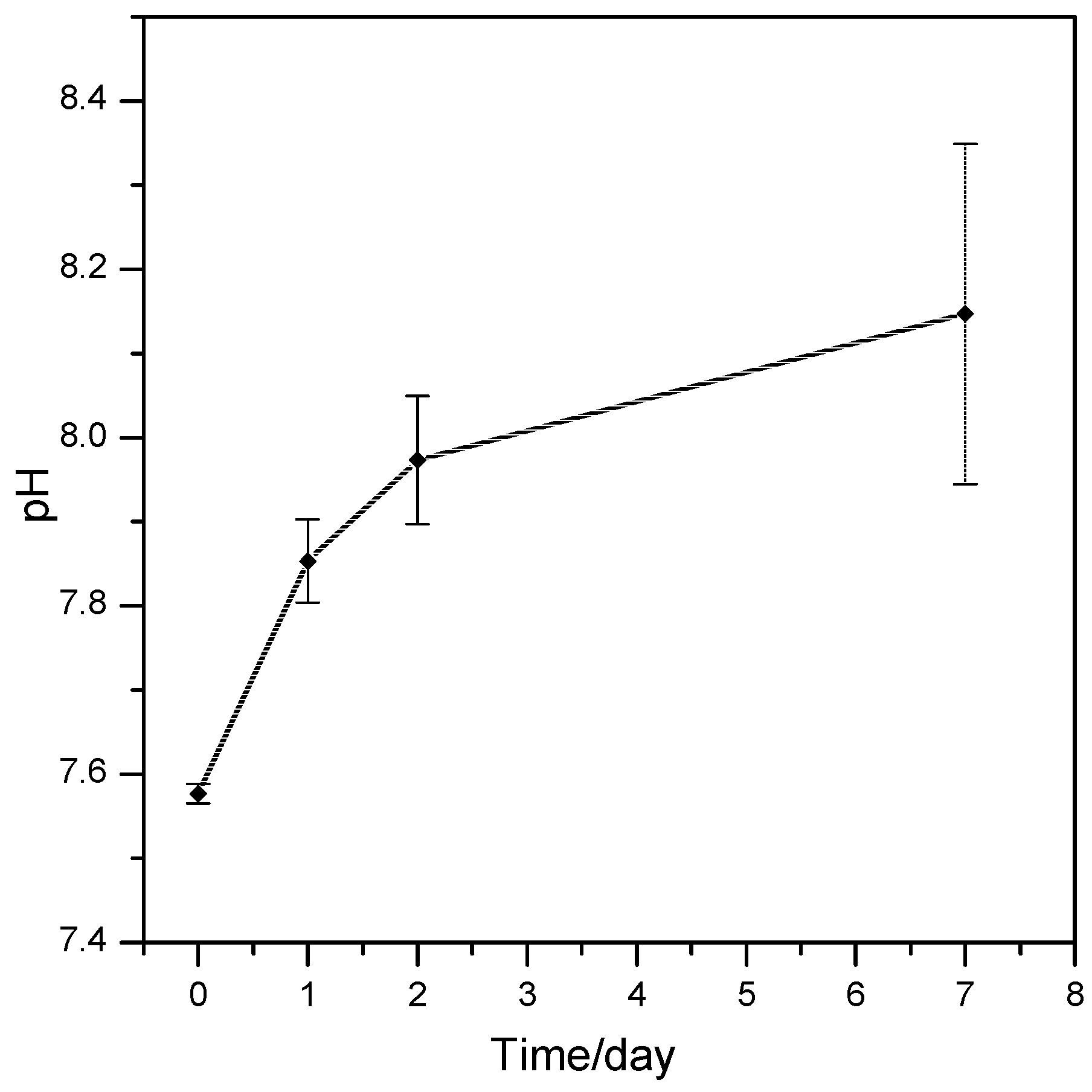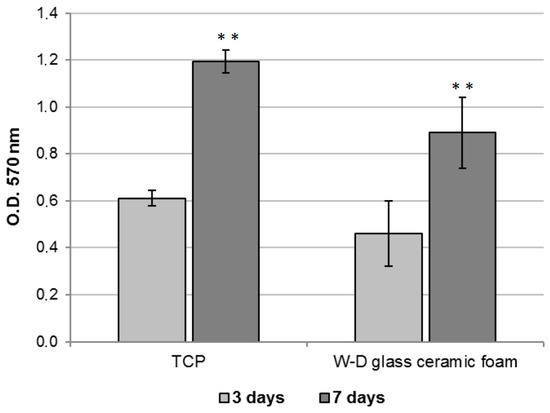 Figure 9.
MTT assay of fibroblasts cultured on TCP (control condition) or on W-D glass-ceramic foam for three and seven days. Significant difference * (
p
< 0.05); ** (
p
< 0.01); *** (
p
< 0.001).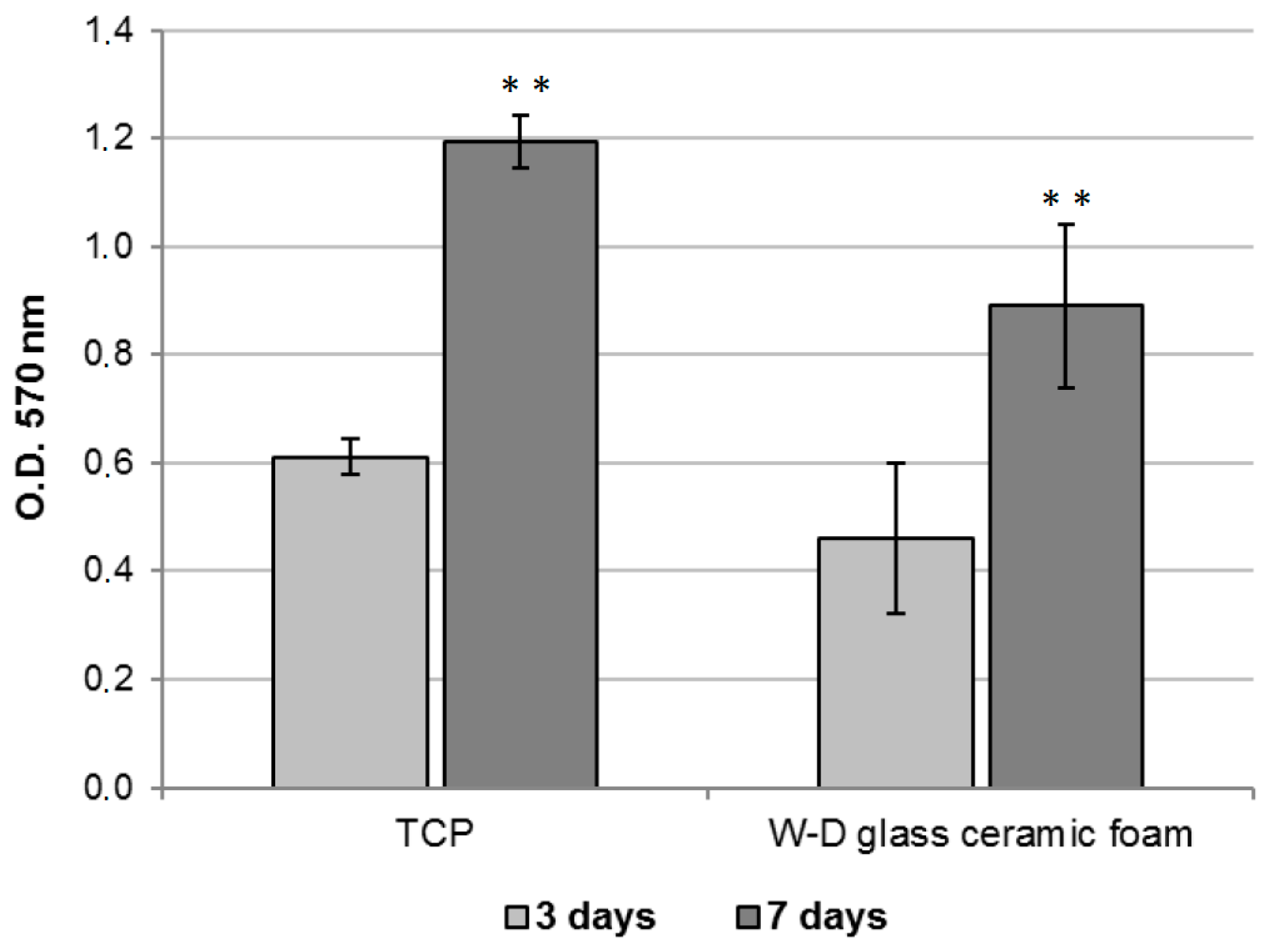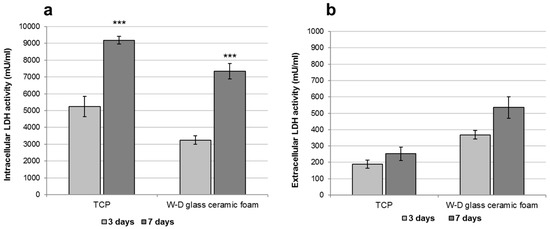 Figure 10.
LDH activity assay of fibroblasts cultured on TCP (control condition) or on W-D glass-ceramic foam for three and seven days. (
a
) Intracellular LDH activity; (
b
) Extracellular LDH activity. Significant difference * (
p
< 0.05); ** (
p
< 0.01); *** (
p
< 0.001).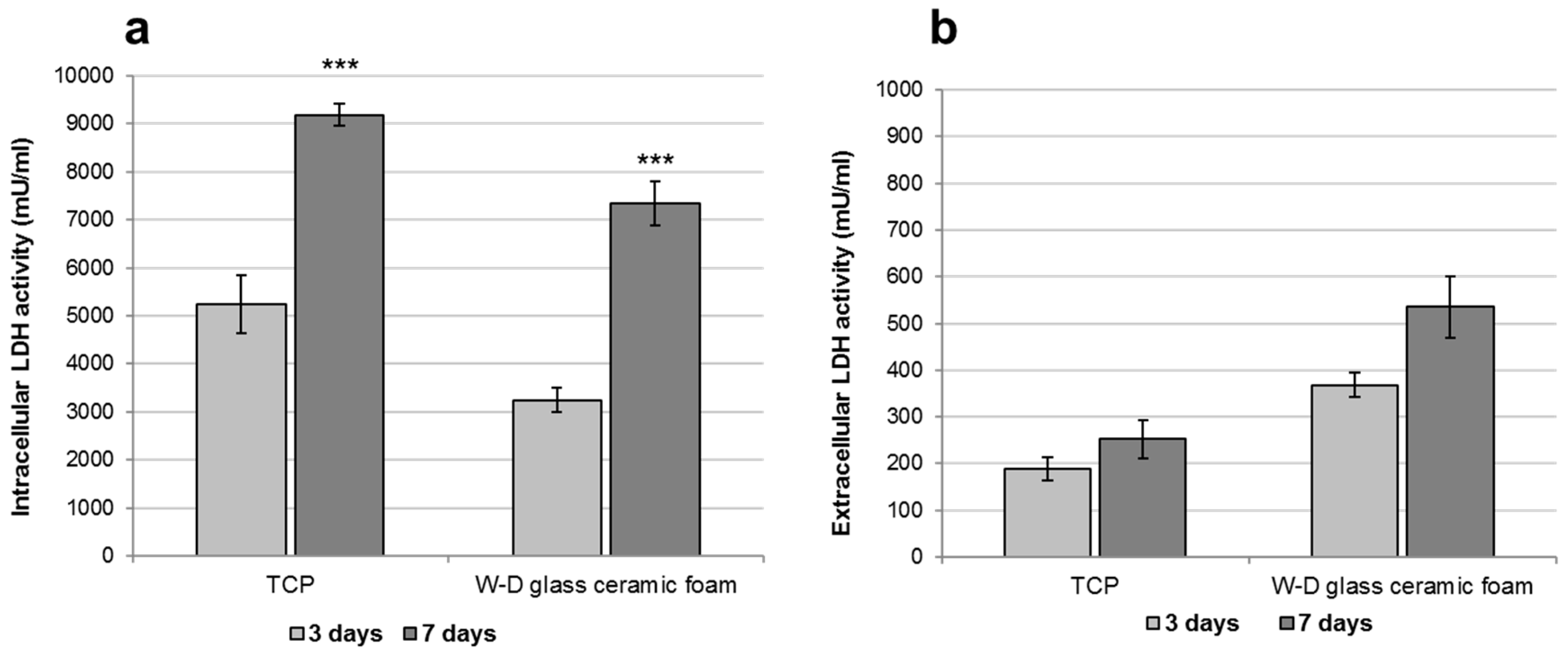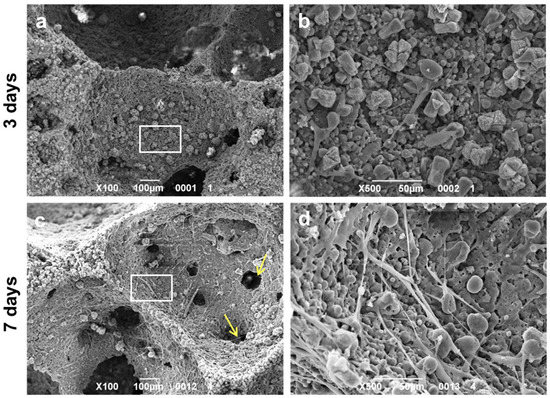 Figure 11. SEM images (100× and 500× magnification) of fibroblasts cultured on W-D glass-ceramic foam for (a,b) three and (c,d) seven days. Note that cells are able to migrate into the pores (c, yellow arrows) of the scaffold after seven days from seeding. The white boxes in (a,c) represent the areas shown at higher magnification in (b,d).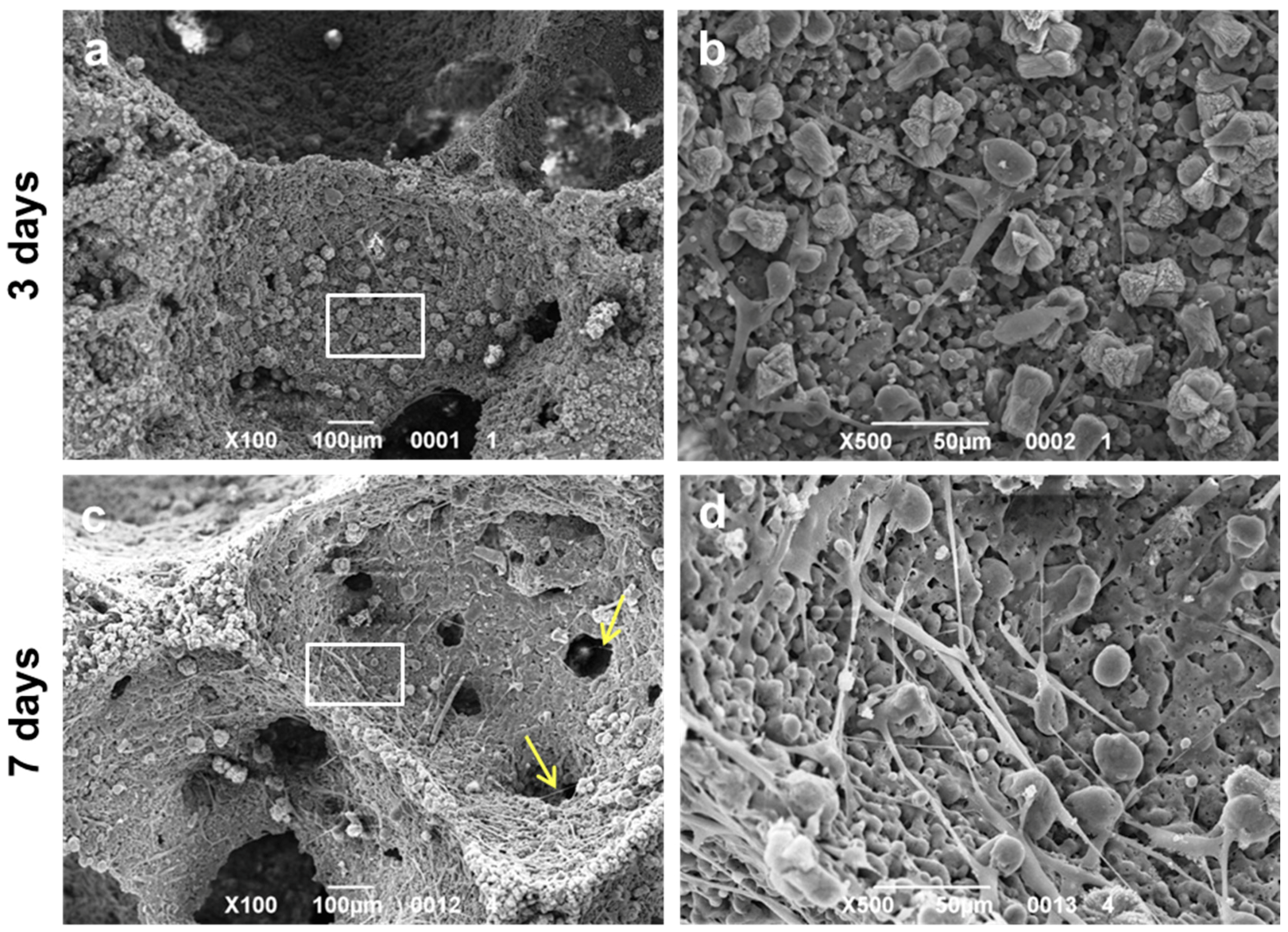 Table 1. Physical and mechanical properties of W-D glass-ceramic foams produced by different solid contents.
Table 1. Physical and mechanical properties of W-D glass-ceramic foams produced by different solid contents.
Solid Load
Heating Rate (°C/min), Up to 1000 °C
Bulk Density (g/cm3)
True Density (g/cm3)
Total Porosity (vol %)
Open Porosity (vol %)
Compressive Strength (MPa)
60 wt %
2 °C/min
0.29 ± 0.02
2.94 ± 0.01
90.6
90.1
3.50 ± 0.51
5 °C/min
0.42 ± 0.05
2.95 ± 0.02
85.6
83.8
2.17 ± 0.10
65 wt %
2 °C/min
0.44 ± 0.03
2.97 ± 0.01
86.3
85.3
2.90 ± 0.50
5 °C/min
0.53 ± 0.04
2.95 ± 0.01
81.9
81.1
5.30 ± 0.74
© 2017 by the authors. Licensee MDPI, Basel, Switzerland. This article is an open access article distributed under the terms and conditions of the Creative Commons Attribution (CC BY) license ( http://creativecommons.org/licenses/by/4.0/).