Open Access This article is
freely available
re-usable
Article
The Structure of Liquid and Amorphous Hafnia
1
X-ray Science Division, Argonne National Laboratory, Argonne, IL 60439, USA
2
Argonne Leadership Computing Facility, Argonne National Laboratory, Argonne, IL 60439, USA
3
Peter A. Rock Thermochemistry Laboratory and NEAT ORU, University of California at Davis, Davis, CA 95616, USA
4
Chemical and Engineering Materials Division, Oak Ridge National Laboratory, Oak Ridge, TN 37830, USA
5
Global Security Sciences, Argonne National Laboratory, Argonne, IL 60439, USA
6
Computing, Environment and Life Sciences, Argonne National Laboratory, Argonne, IL 60439, USA
*
Author to whom correspondence should be addressed.
Received: 15 October 2017 / Accepted: 2 November 2017 / Published: 10 November 2017
Abstract
:
Understanding the atomic structure of amorphous solids is important in predicting and tuning their macroscopic behavior. Here, we use a combination of high-energy X-ray diffraction, neutron diffraction, and molecular dynamics simulations to benchmark the atomic interactions in the high temperature stable liquid and low-density amorphous solid states of hafnia. The diffraction results reveal an average Hf–O coordination number of ~7 exists in both the liquid and amorphous nanoparticle forms studied. The measured pair distribution functions are compared to those generated from several simulation models in the literature. We have also performed ab initio and classical molecular dynamics simulations that show density has a strong effect on the polyhedral connectivity. The liquid shows a broad distribution of Hf–Hf interactions, while the formation of low-density amorphous nanoclusters can reproduce the sharp split peak in the Hf–Hf partial pair distribution function observed in experiment. The agglomeration of amorphous nanoparticles condensed from the gas phase is associated with the formation of both edge-sharing and corner-sharing HfO6,7 polyhedra resembling that observed in the monoclinic phase.
Keywords:
X-ray diffraction; neutron diffraction; molecular dynamics; liquid structure; amorphous materials; nanoparticles; hafnium oxide
1. Introduction
Of all the high dielectric constant materials considered as possible replacements for SiO
2
as a gate dielectric, the transition metal oxide HfO
2
is the material of choice for resistive random-access memory (RAM) applications [
1
,
2
,
3
]. HfO
2
can be grown as metastable amorphous phases on a silicon wafer; however, it is not a good glass former, and annealing it leads to crystallization [
4
]. While HfO
2
offers good chemical stability, defects in the HfO
2
crystalline bulk can be detrimental to the behavior of the devices, as they can lead to flat-band voltage instabilities [
3
]. A number of computer simulations have been performed in the literature to characterize and understand the atomic and electronic structure of amorphous HfO
2
and the associated oxygen diffusion [
1
,
2
,
3
,
4
,
5
,
6
,
7
,
8
]. The majority of these simulations form amorphous or glassy phases by quenching from the melt, but there is a lack of experimental data available to benchmark the various approaches. In particular, several simulations have presented atom–atom pair distribution functions (PDFs) with significantly varying structures. Here, we present X-ray and neutron PDF data on both the melt and amorphous nanoparticles prepared by gas condensation that are directly comparable to these simulations. X-ray and neutron techniques are highly complementary in the case of metal oxides; while X-ray scattering is dominated by the cations, neutrons are sensitive to oxygen positions [
9
]. In this way, the combination of PDF results provide a rigorous test of structural models and highlight the strong influence of density on the atomistic structure and oxygen diffusion within amorphous HfO
2
[
1
]. Along with changes in short-range order, medium range order, particularly connectivity between polyhedra, can change significantly with density. For amorphous HfO
2
, we show the distribution of corner to edge sharing HfO
n
units has a large influence on the structural arrangements within the nanoparticles.
3. Results
3.1. X-ray and Neutron Diffraction of Amorphous HfO2
3.2. X-ray Diffraction of Molten HfO2
The structure factor for molten HfO
2
at equilibrium is directly comparable to simulation. The X-ray structure factor of molten HfO
2
at 2900(50) °C was measured out to a Q-value of 22.5 Å
−1
. Neutron diffraction data were not collected, as the melting point was too high to achieve given the long laser-to-sample distance, which extended over several meters. The first maximum in the X-ray structure factor is located at 2.16(2) Å
−1
, and only very minor structural oscillations are observed past 12 Å
−1
. The measured G
X
(r) has a first peak maximum at 2.05(1) Å, which is ascribed to Hf–O correlations. A distinct asymmetry is present in the first shell Hf–O peak (
Figure 4
). The second peak in T
X
(r) is broad, with a maximum at 3.67(2) Å, and is dominated by Hf–Hf correlations. Taking the Q = 0 X-ray weighting factors for simplicity, we note that the underlying O–O correlations have only a 3% weighting compared to the 67% weighting of the Hf–Hf correlations. The X-ray and neutron Faber–Ziman weighting factors for the partial pair distribution functions are:
SXRAY(Q = 0) = 67∙SHfHf(Q) + 30∙SHfO(Q) + 3∙SOO(Q),
SNEUTRON(Q = 0) = 16∙SHfHf(Q) + 48∙SHfO(Q) + 36∙SOO(Q).
From inspection of the low-Q and low-r limits, the number density is estimated to be 0.070(8) atoms Å
−3
. After considering the Q-dependent Hf–O weighting factor, two Gaussians were fit to the first peak in T
X
(r), yielding a Hf–O coordination number of 7.0(6). The large error can be attributed to both uncertainty in the density and overlapping correlations on the high-
r
side of the first shell. The two Gaussian peak fit shown in
Figure 4
corresponds to Hf–O coordination numbers of 5.0 centered at 2.05 Å and 2.0 at 2.51 Å. Past 5 Å, the X-ray pair distribution function is characterized by an exponentially damped sinusoidal decay, with frequency corresponding to the 2.16 Å
−1
first peak in S
X
(Q).
A comparison of the HfO
2
melt X-ray structure factor and corresponding pair distribution function with those of amorphous hafnia is shown in
Figure 5
. Distinct oscillations in S(Q) for Q > 5 Å
−1
appear in the amorphous signal that are not readily apparent in the liquid state. These correspond to increased ordering and are manifested in the T
X
(r) as a sharpening and lengthening of the Hf–O bond peak from 2.05(1) to 2.13(1) Å and the appearance of two well-defined peaks at 3.38(1) Å and 3.89(1) Å corresponding to Hf–Hf correlations. Oscillations were found to extend to at least 15 Å in real space for amorphous hafnia.
The coordination number (CN) analysis of the X-ray data for amorphous (HfO2)0.9·(H2O)0.1 sample using NXFit yields a Hf–O coordination number of 6.8(3) using three Gaussians (comprising of CN = 5.0 at 2.12 Å, 0.9 at 2.29 Å, and 0.9 at 2.87 Å).
4. Discussion
4.1. The Hf–O Phase Diagram
The phase diagram of the Hf–O system has been studied extensively as part of an effort to understand thermal stability in refractory materials [
43
,
44
,
45
]. A phase diagram was proposed in 1990 based on thermodynamic data available at the time [
46
]. The phase diagram is complex, involving large solubility domains, eutectic and peritectic points, and allotropic phases of HfO
2
(
Figure 6
). In addition, the Hf–O binary was assessed as part of thermal equilibria studies of ternary systems such as Hf–Si–O and Zr–Si–O. A more recently proposed phase diagram incorporates density functional theory (DFT) calculations and thermodynamic CALculation of PHAse Diagrams (CALPHAD) in addition to experimental information [
47
,
48
]. Further studies, also based on DFT methods, established the relative stabilities between monoclinic, tetragonal, and cubic phases of HfO
2
with respect to cation dopants or oxygen vacancies.
4.2. Previous Experimental Studies on HfO2
The allotropic phases of HfO
2
(monoclinic, tetragonal, and cubic) and associated transformations have been studied and the results summarized by Wang et al. [
49
]. At ambient temperature, HfO
2
exists in a monoclinic crystal structure. It was demonstrated that the tetragonal-monoclinic athermal phase transformation occurs martensitically with a temperature hysteresis loop near 2023 K for pure HfO
2
[
50
] and the hysteresis loop extending for 25 K for HfO
2
[
51
]. Subsequent heating results in formation of the cubic phase at ~2973 K just prior to melting around 3073 K [
31
,
45
,
52
,
53
,
54
,
55
]. Wang et al. showed that the allotropic transformation temperatures are affected by particle size, impurities, stress, and the thermal history of materials [
56
].
In the monoclinic phase, Hf atoms are surrounded by seven oxygen atoms, with an asymmetric arrangement of Hf–O bond distances in the range 2.03 Å to 2.25 Å, corresponding to a mixture of seven-edge shared polyhedra and four-corner shared polyhedra in the unit cell [
57
]. In cubic HfO
2
, the Hf coordination increases to eight oxygen atoms at a bond distance of ~2.21 Å, and all the polyhedra are edge shared [
31
]. Additionally, in monoclinic HfO
2
, 50% of the O atoms have a coordination number equal to three and 50% have a coordination number equal to four. We find essentially the same numbers are observed both in the melt (O–Hf CN = 3.5(3)) and the amorphous solid (O–Hf CN = 3.4(3)); likewise, the distribution of bond lengths is highly asymmetric, with ~30% of the atoms involved in extended O–Hf bonds.
Experimental studies of the local structure of amorphous HfO
2
are scant. X-ray diffraction and EXAFS studies on as-deposited sputtered thin films showed a rise in amplitude of the Hf–O and Hf–Hf correlations upon annealing [
58
,
59
]. X-ray pair distribution function studies on ZrO
2
, which is isostructural to HfO
2
, revealed that the short-range order of the amorphous phase resembles that of cubic ZrO
2
rather than that of the tetragonal or monoclinic phases, with Zr–O and Zr–Zr coordination numbers of 6.7 and 12, respectively [
60
].
4.3. Previous Theoretical Studies of HfO2
The use of amorphous hafnium oxides in semiconductors has led to a large theoretical effort to understand and improve these devices. Classical molecular dynamics simulations have provided an overview of the variety of structures over a wide temperature range. Large-scale MD simulations by Schie et al. found that the amorphous supercell exhibited pronounced first-nearest-neighbor peaks, small and broadened second-nearest-neighbor peaks, but no long-range order beyond 8 Å [
2
]. In addition, Hf is mainly found to form six- and seven-fold coordination polyhedra, with some five-, eight-, and nine-fold coordination polyhedra also evident, while for oxygen the ratio of three- to four-fold coordination changes from 1:1 in the monoclinic form to almost 2:1 in the amorphous form, along with the addition of two- and five-fold coordinated species [
2
]. This is accompanied by significant broadening of the peaks in the amorphous form.
Similar results for the local coordination have been obtained in density functional theory calculations. Cressoli et al. simulated amorphous HfO
2
and also found a prevalence of six- and seven-fold coordinated Hf and three- and four-fold coordinated oxygen atoms [
4
]. However, there is a large variation in the predicted packing between the polyhedra in the different models. A study combining both classical MD and DFT calculations found domination of six-fold Hf atoms and three-fold O atoms led to significantly more corner-sharing polyhedral than edge sharing [
61
]. Other DFT calculations investigating the role of oxygen defects, namely the formation of oxygen vacancies and interstitial oxygens [
5
], have found lower average Hf–O and O–Hf coordination numbers (5.7 and 2.9, respectively). Another DFT study on O vacancy formation in amorphous HfO
2
predicts that while the Hf–O bond length is close to that in m-HfO
2
, the O–O distribution is longer and broader than the crystalline phase [
6
].
Ab initio molecular dynamics simulations have recently been performed to generate an atomic structure model of amorphous hafnium oxide via the melt-and-quench scheme [
3
]. Upon melting, they found a significant increase in the number of three-coordinated O atoms and the appearance of some two-coordinated oxygen. Similar behavior was found in ab initio MD simulations by Nishio et al., who predicted a larger number of three coordinated and smaller number of four coordinated O atoms in the melt [
7
]. The amorphous structure generated by Scopel et al. was analyzed via bond-angle and partial pair distribution functions, yielding an average Hf–O nearest-neighbor distance of 2.2(3) Å, which is longer than the average value of 2.14 Å in the monoclinic crystal [
3
]. The most striking difference is the increase in width from 0.22 Å in the crystal to ~0.6 Å in the amorphous model. Scopel et al. note that this is broader than observed in the amorphous structures of ZrO
2
, and that experimental confirmation of this result is needed [
3
].
4.4. The Effect of Density on Amorphous HfO2 Structure
5. Conclusions
A combination of complementary diffraction methods and MD simulations are used to characterize two very structurally different disordered forms of hafnia. The high-energy X-ray pair distribution functions are dominated by the Hf-correlations, and the neutron diffraction results are sensitive to the oxygen interactions and the presence of hydrogen contaminants. Experiments on the high temperature liquid at 2900 °C and an agglomeration of low-density amorphous nanoparticles made by gas condensation both reveal an average Hf–O coordination number of about seven, the same as that in the low temperature monoclinic phase. The main distinguishing feature in the atomic structure is the HfOn polyhedral connectivity and topology. Edge sharing HfO6,7 polyhedra dominate the molecular dynamics simulations of the bulk liquid and amorphous nanoparticle clusters. The formation of distinct edge- and corner-sharing units leads to a splitting and sharpening of the Hf–Hf peak(s) in the amorphous pair distribution function, indicating a strong density dependence on structural connectivity of the network. Further investigation into bulk versus surface structure of the nanoparticle is in progress.
Supplementary Materials
The following are available online at
www.mdpi.com/1996-1944/10/11/1290/s1
, Video S1: Simulation of individual amorphous HfO
2
nanoparticle; Video S2: Melt and quench of lattice of a-HfO
2
nanoparticles; Video S3: Contraction of a-HfO
2
nanoparticle lattice.
Acknowledgments
This material is based upon work supported by Laboratory Directed Research and Development (LDRD) funding from Argonne National Laboratory, provided by the Director, Office of Science, of the U.S. Department of Energy under Contract No. DE-AC02-06CH11357. This research used resources of the Advanced Photon Source, a U.S. Department of Energy (DOE) Office of Science User Facility operated for the DOE Office of Science by Argonne National Laboratory under Contract No. DE-AC02-06CH11357. An award of computer time was provided by the Innovative and Novel Computational Impact on Theory and Experiment (INCITE) program. This research used resources of the Argonne Leadership Computing Facility, which is a DOE Office of Science User Facility supported under Contract DE-AC02-06CH11357. Use of the Center for Nanoscale Materials, an Office of Science user facility, was supported by the U.S. Department of Energy, Office of Science, Office of Basic Energy Sciences, under Contract No. DE-AC02-06CH11357. A portion of this research used resources at the Spallation Neutron Source, a DOE Office of Science User Facility operated by the Oak Ridge National Laboratory. Synthesis of amorphous HfO2 samples at UC Davis was supported by the National Science Foundation Division of Materials Research under Grant No. 1506229. G. Sharma was involved in preparation of the last batch of amorphous HfO2.
Author Contributions
Leighanne C. Gallington, Lawrie B. Skinner, and Chris J. Benmore conceived and designed the experiments; Leighanne C. Gallington, Chris J. Benmore, Lawrie B. Skinner, Joerg C. Neuefeind and J. K. Richard Weber performed the experiments; John J. Low, Yasaman Ghadar, and Alvaro Vazquez-Mayagoitia performed the simulations; Chris J. Benmore, Yasaman Ghadar, John J. Low, Joerg C. Neuefeind and Leighanne C. Gallington analyzed the data; J. K. Richard Weber, Sergey V. Ushakov and Alexandra Navrotsky contributed samples; and Chris J. Benmore, Leighanne C. Gallington, Marius Stan, John J. Low, and Yasaman Ghadar wrote the paper.
Conflicts of Interest
The authors declare no conflict of interest.
Appendix A
Classical MD Simulations
The interactions between Hf and O in cubic, tetragonal and monoclinic phases of hafnium oxide were modeled using the modified charge transfer potential model (CTIP) developed by Zhou et al. [
27
,
28
]. This potential, which is an improved method upon Streitz–Mintmire potential [
64
], is made of two components: ionic and metallic. An electrostatic term is used to describe the ionic interactions in the oxide, (
Ees
), while non-electrostatic interactions are captured by the embedded atom method, (
Em
). The total energy is as a sum of these two terms in Equation (A1).
In the CTIP model, to prevent cations or anions from exceeding their valance charges, charge bounds are applied. In the modified CTIP, the electrostatic energy is given as below:
where
qmin,i
and
qmax,i
are the charge bounds of atom
i
,
qmin,i
<
qi
<
qmax,i
.
The embedded atom method (EAM) is used to represent the non-electrostatic interactions in the metallic region as follows [
27
,
64
]:
In Equation (A3),
φij
(
rij
) represents the pairwise interaction energy between atoms
i
and
j
that are at distance
rij
apart.
N
is the total number of atoms, and
iM
is the number of neighbors for atom
i
. For an alloy system, the generalized elemental pair potential is given by [
27
]:
Fi
represents the embedding energy, i.e., energy required to embed an atom
i
into a local site with electron density
ρi
[
27
]. In the above expression,
fi
(
rij
) is the electron density at the site of atom
i
arising from atom
j
separated by distance
rij
, which is given by [
27
]:
The embedding energy functions F are designed to work well over a wide electron density range. Sasikumar et al. in their work of titanium oxide used spline functions across different density ranges to obtain a smooth function [
27
].
The pair wise interaction of Hf and O (Hf–Hf, Hf–O and O–O) are described in the Equation (A4). In addition to the pair terms, the oxygen interactions also have an embedding energy based on the local electron density. Equation (A6) gives the functional form of the electron density: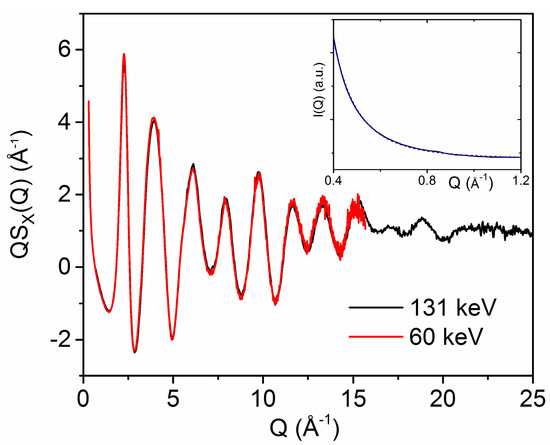 Figure 1. X-ray diffraction structure factors Q∙SX(Q) measured on the 2015 amorphous hafnia sample obtained using incident X-ray energies of 131 keV (black) and 60 keV (red). (Inset) Small angle scattering (Q = 0.4–1.2 Å−1) measured at 60 keV (blue) and fit corresponding to the equation y = a + b∙Q−3.94 (dashed line).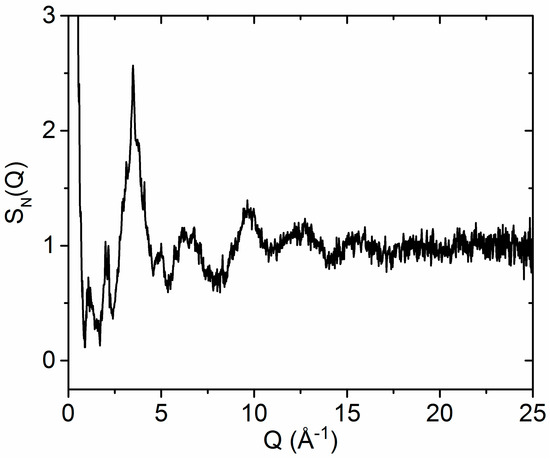 Figure 2. The neutron diffraction structure factor SN(Q) measured from the 2010 amorphous hafnia sample.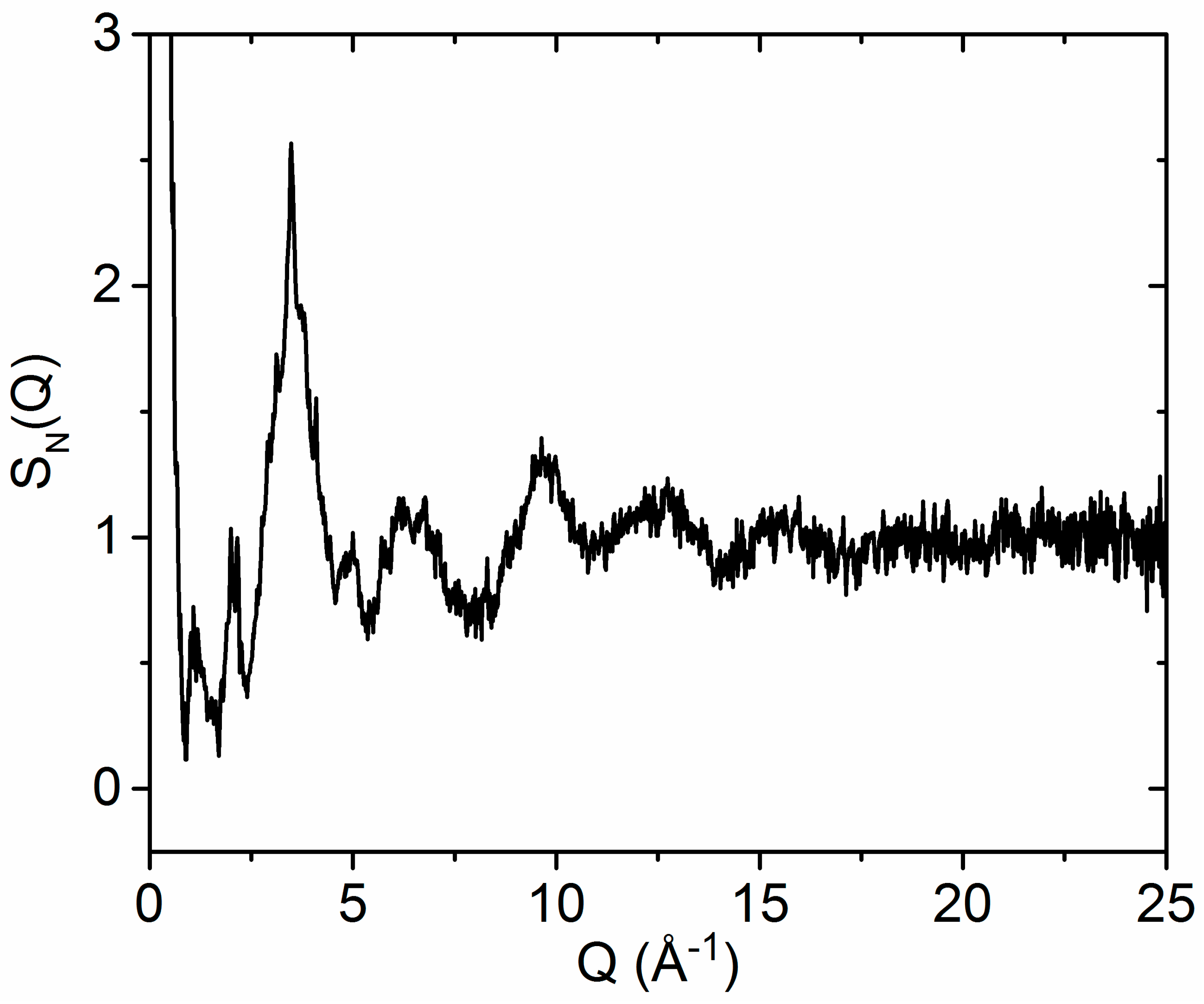 Figure 3. Simultaneous Gaussian fits (dashed red) to the measured total pair distribution functions (solid black), assuming a composition of (HfO2)0.9· (H2O)0.1. (Left) Total pair distribution function obtained from neutron data, TN(r). (Right) Total pair distribution function obtained from X-ray data, TX(r). The negative dips at 1.1 Å and 1.8 Å are assigned to intra-molecular hydrogen bonds in water and O–H groups within the amorphous hafnia network.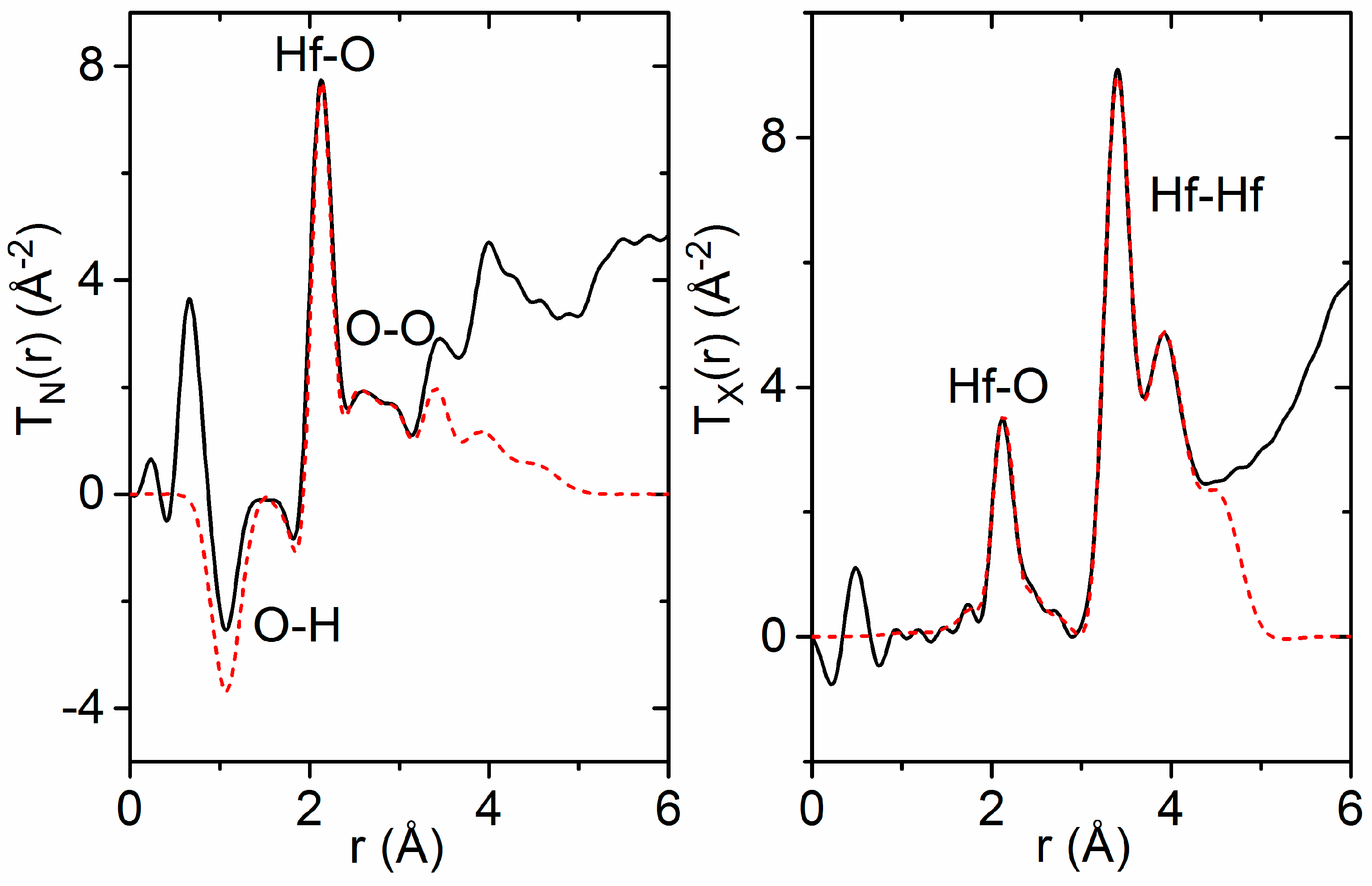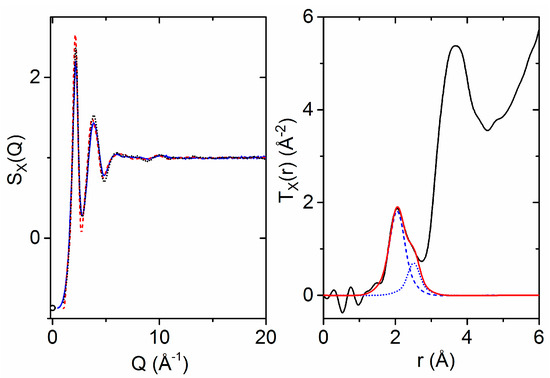 Figure 4.
(
Left
) X-ray structure factors of molten HfO
2
at 2900 °C measured on 11-ID-C (solid blue line) and at 3000 °C measured on 6-ID-D (black dots) compared to the results of the ab initio MD simulation (red dashes). The circle represents the isothermal compressibility limit at Q = 0 Å
−1
[
14
]. (
Right
) X-ray weighted total pair distribution function (black) obtained via Fourier transform with a variable modification function applied [
41
,
42
] (Q
max
= 20 Å
−1
) compared to individual Gaussian atom distributions (blue dashes/dots) convoluted with the X-ray form factors and their sum (red).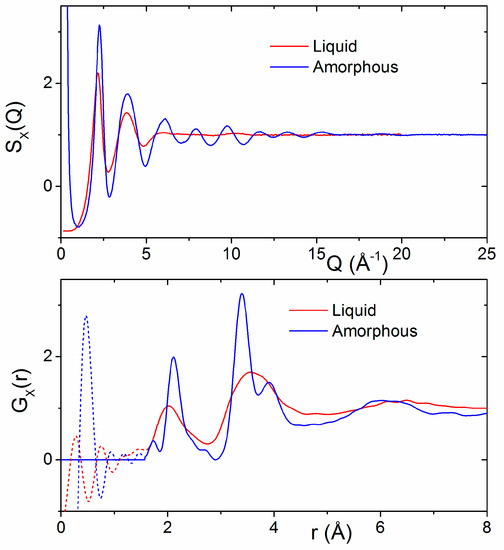 Figure 5. (Top) Comparison of the X-ray structure factors for liquid HfO2 and amorphous hafnia nanoparticles. (Bottom) A comparison of the corresponding X-ray pair distribution functions GX(r).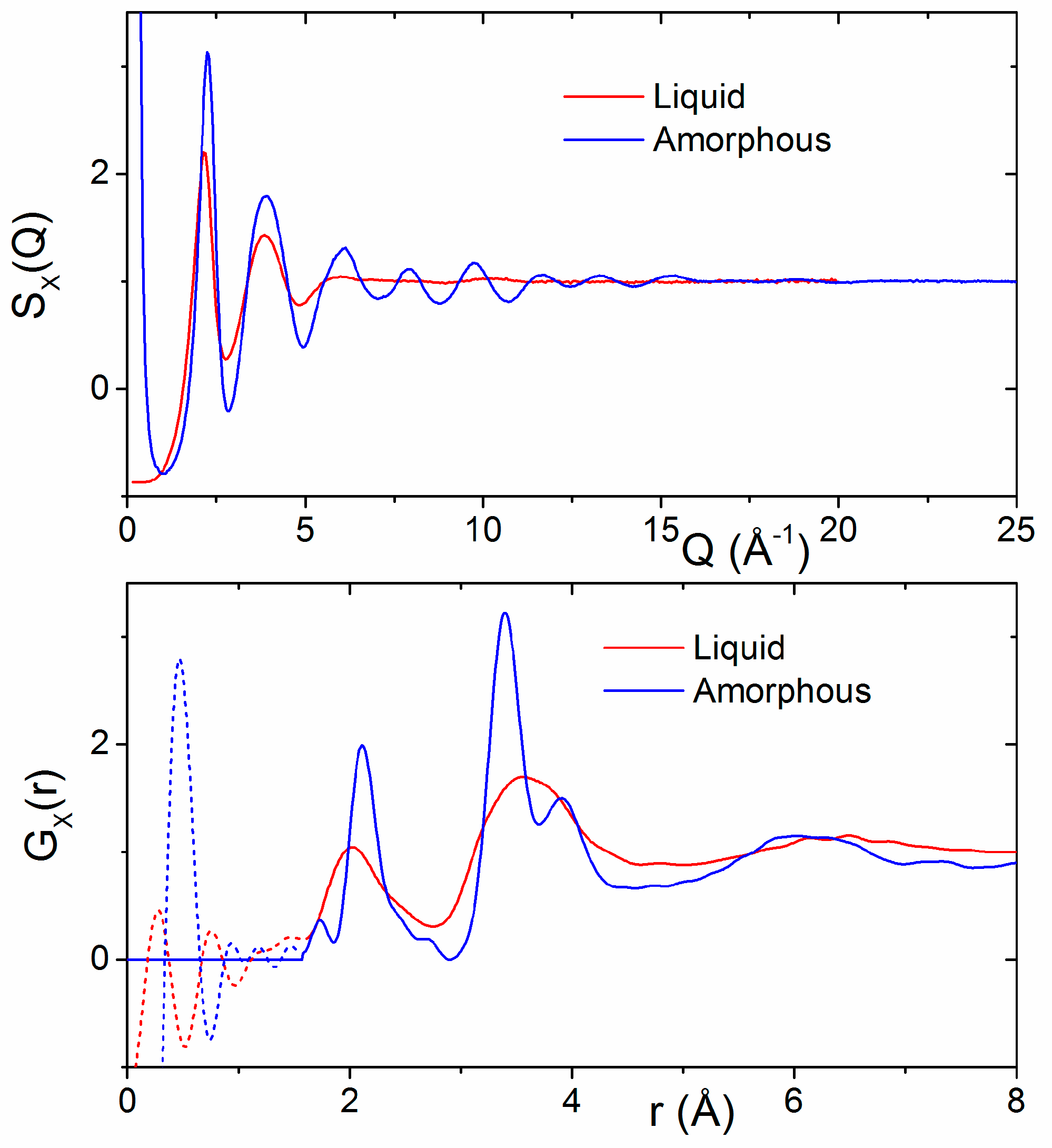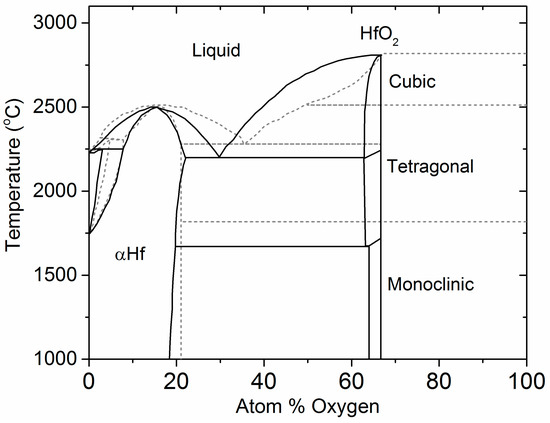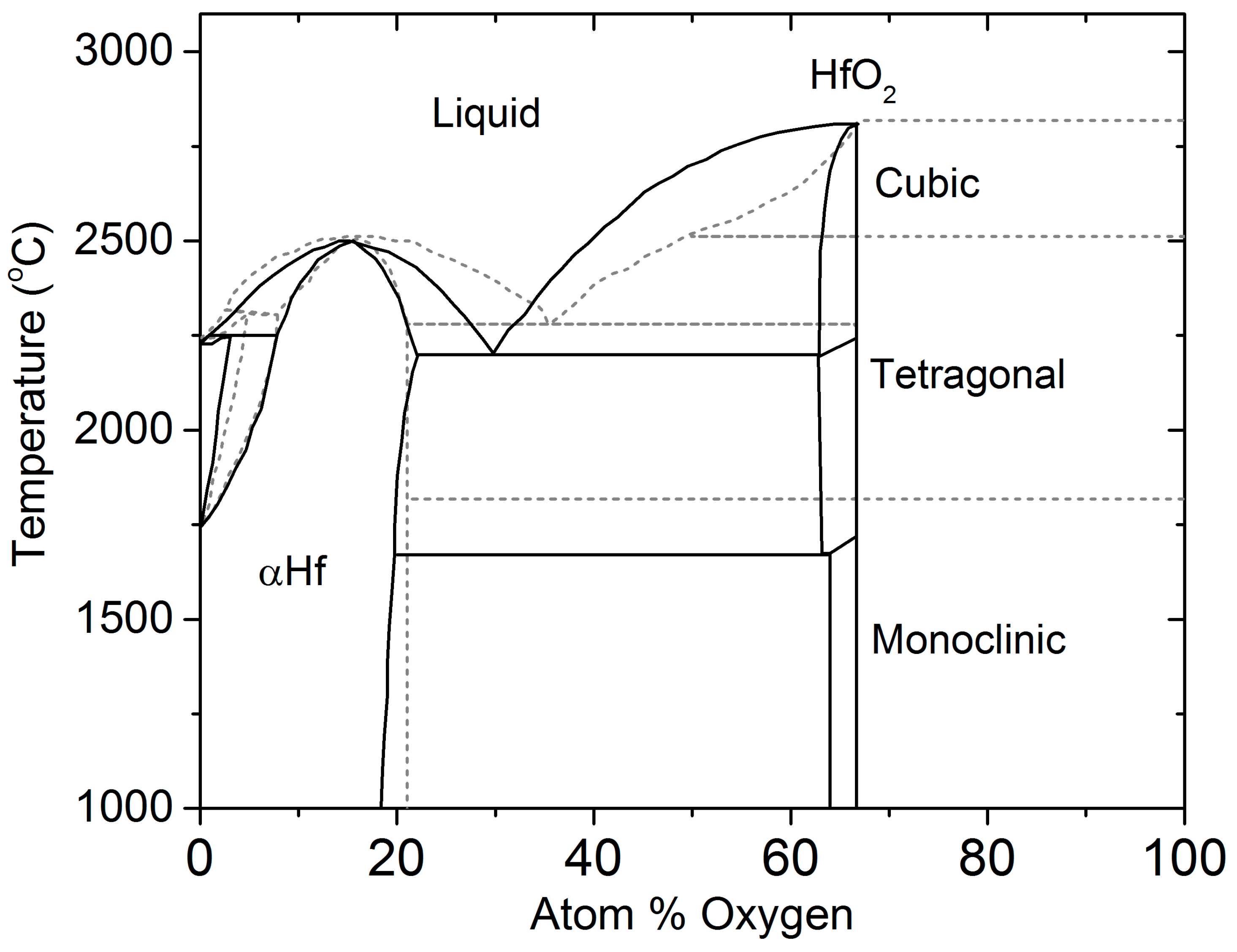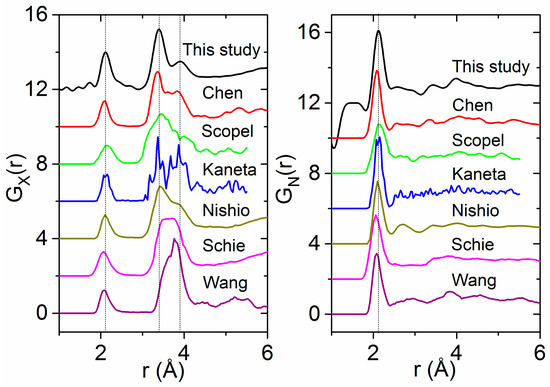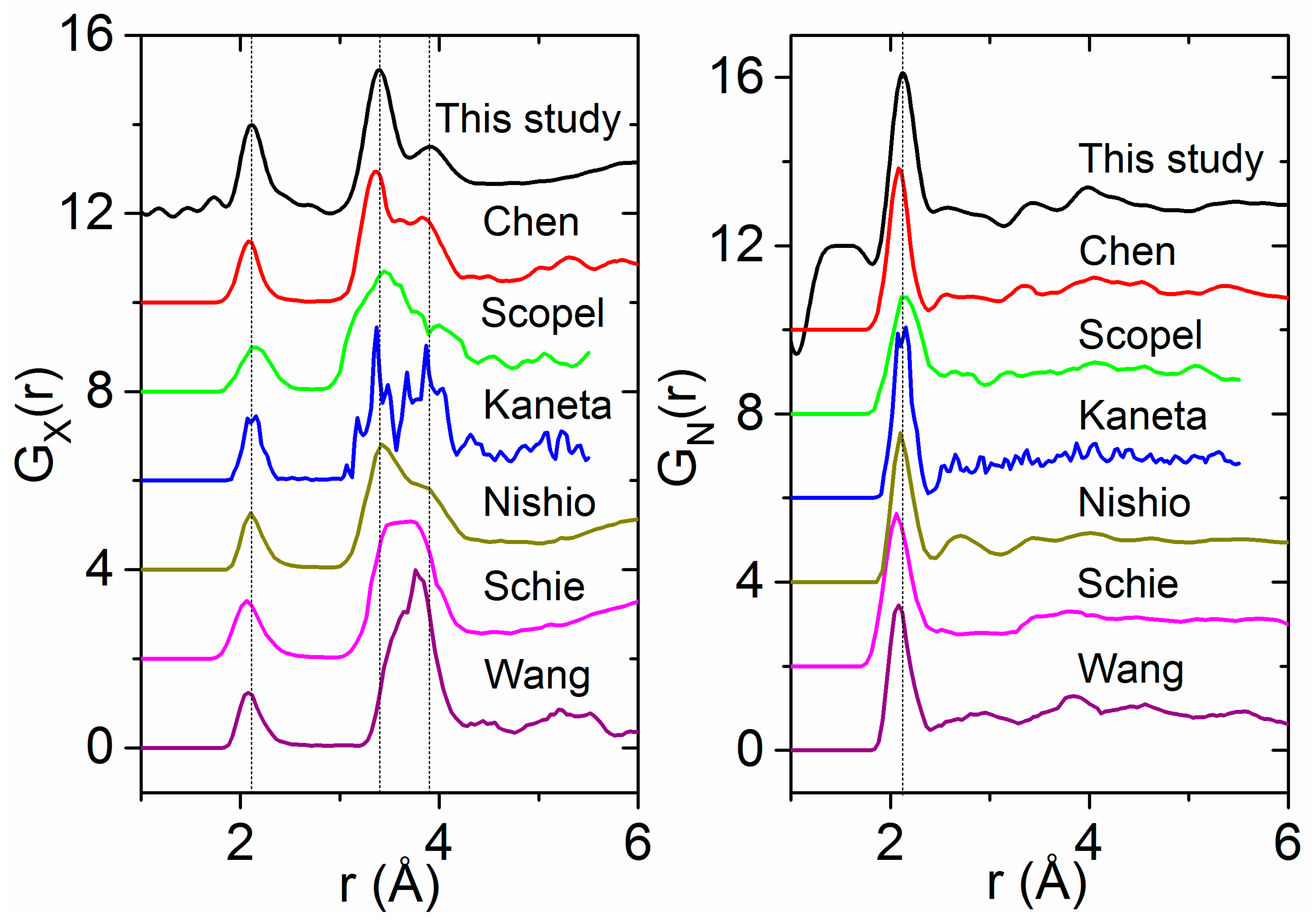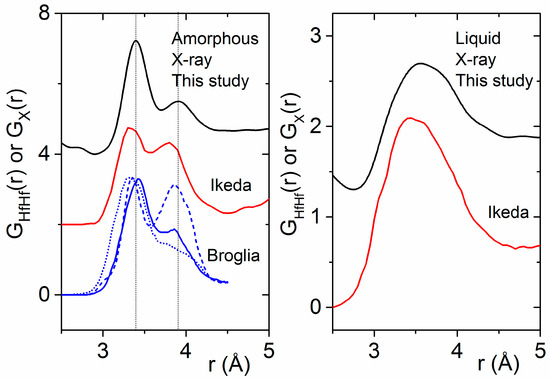 Figure 8.
(
Left
) Comparison of the experimental X-ray pair distribution functions for amorphous HfO
2
(black) with DFT simulations of the Hf–Hf partial pair distribution function taken from the literature [
1
,
8
]. Densities of 8.6, 10.19, and 11.5 g∙cm
−3
are denoted by blue dashed, solid, and dotted lines respectively. (
Right
) The same comparison made for liquid HfO
2
.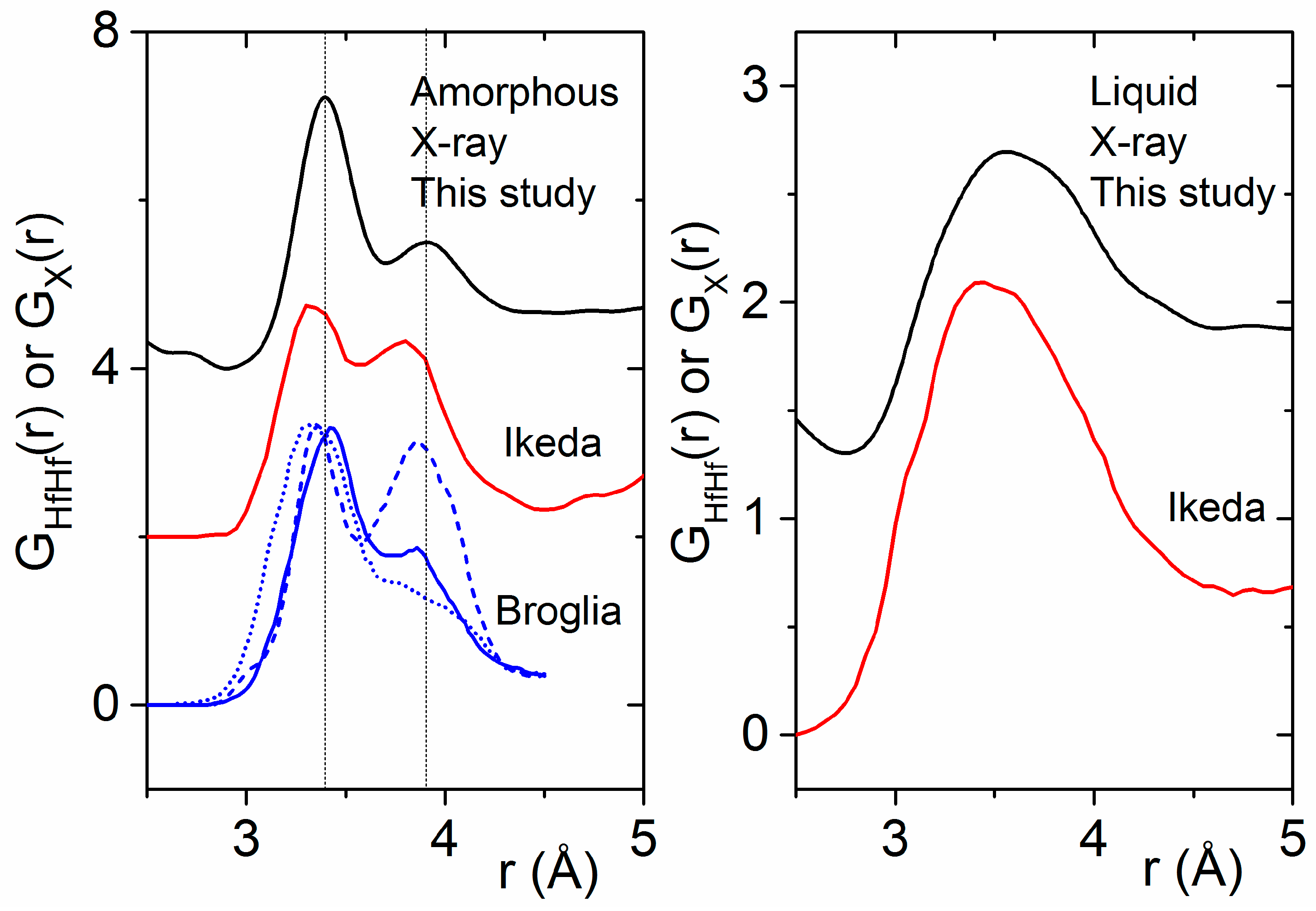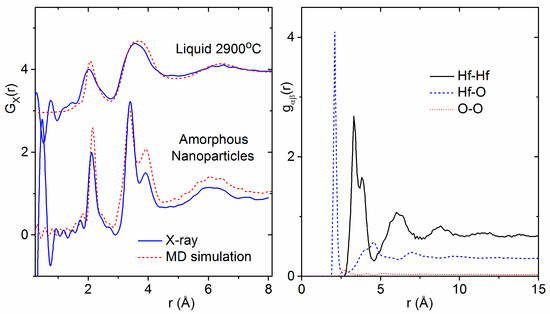 Figure 9.
(
Left
) X-ray pair distribution functions of liquid HfO
2
compared to the ab initio simulations performed in this study (shifted top, see text) and amorphous hafnia nanoparticles compared to the classical MD simulations performed in this study based on the parameters given by Broglia et al. [
1
]. (
Right
) The partial pair distribution functions for the amorphous nanoparticle simulation weighted by the Q = 0 factors for the X-ray case given in Equation (1).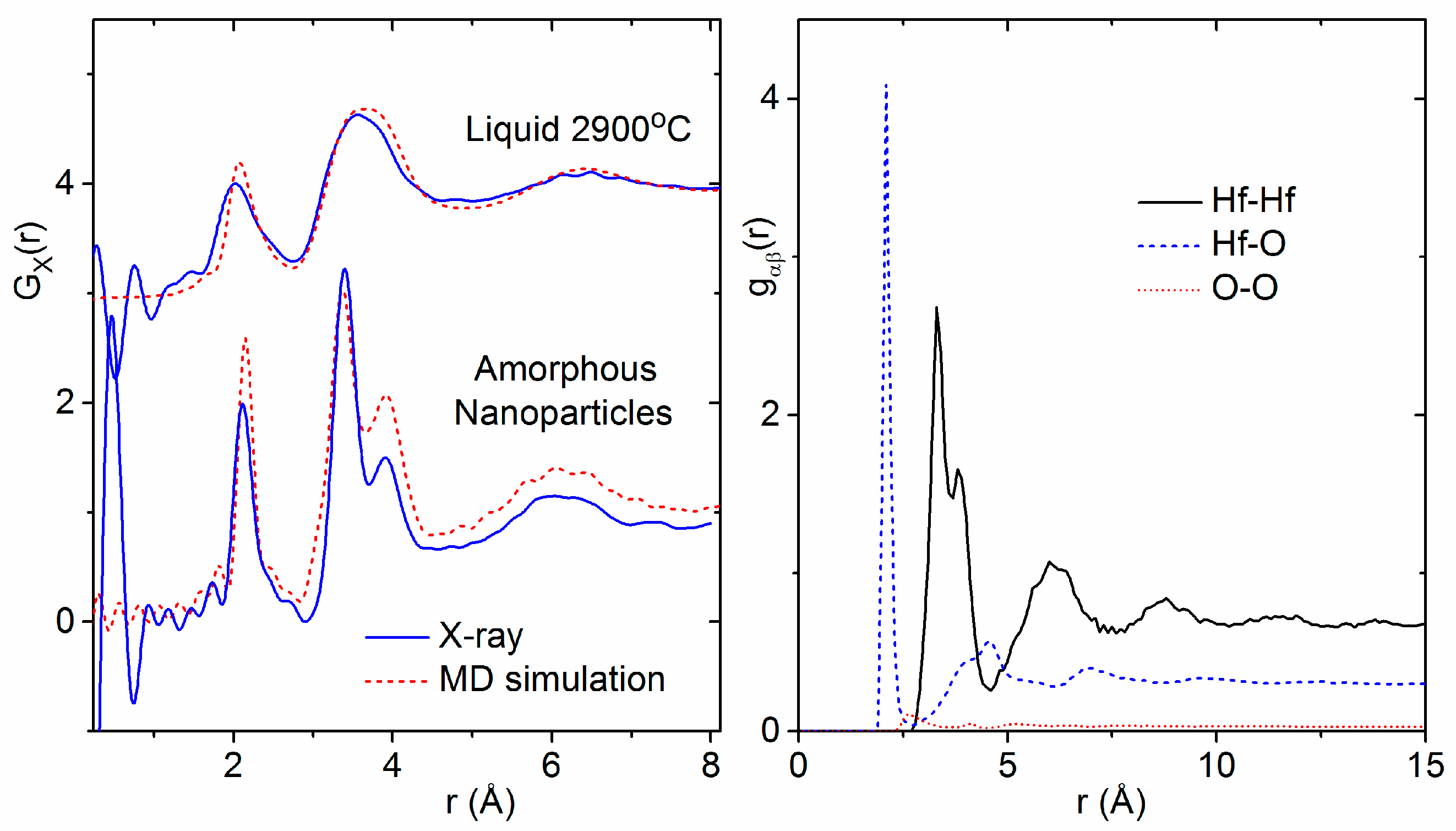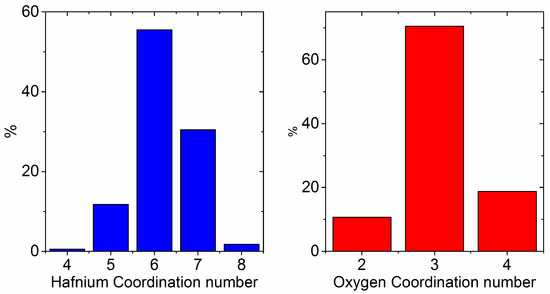 Figure 10. Probability distribution of coordination numbers corresponding to the local environments of Hf and O in amorphous HfO2 nanoparticles.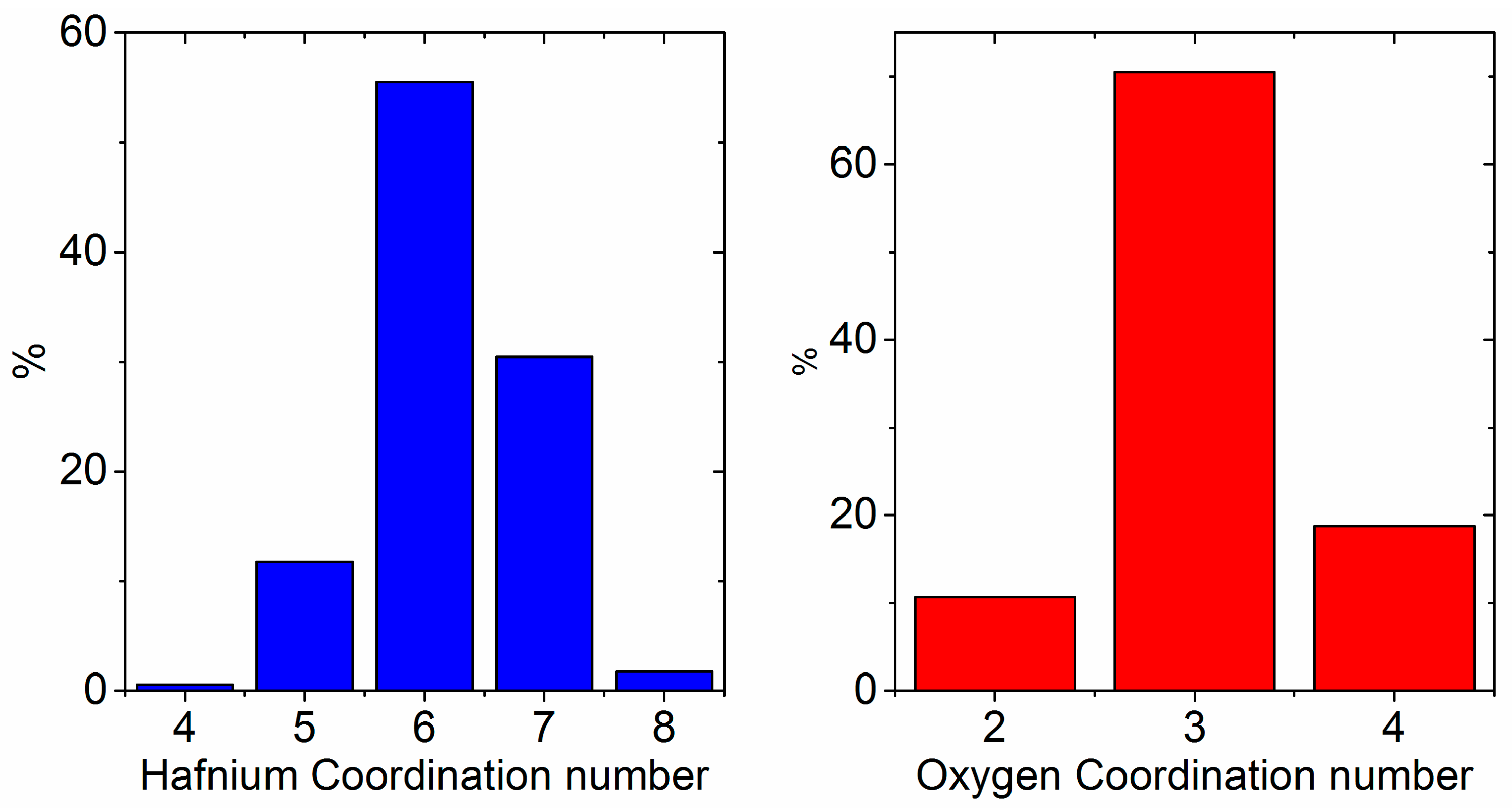 Figure 11. Distribution of bond angles monoclinic, tetragonal, and cubic HfO2 structures obtained from molecular dynamics simulations.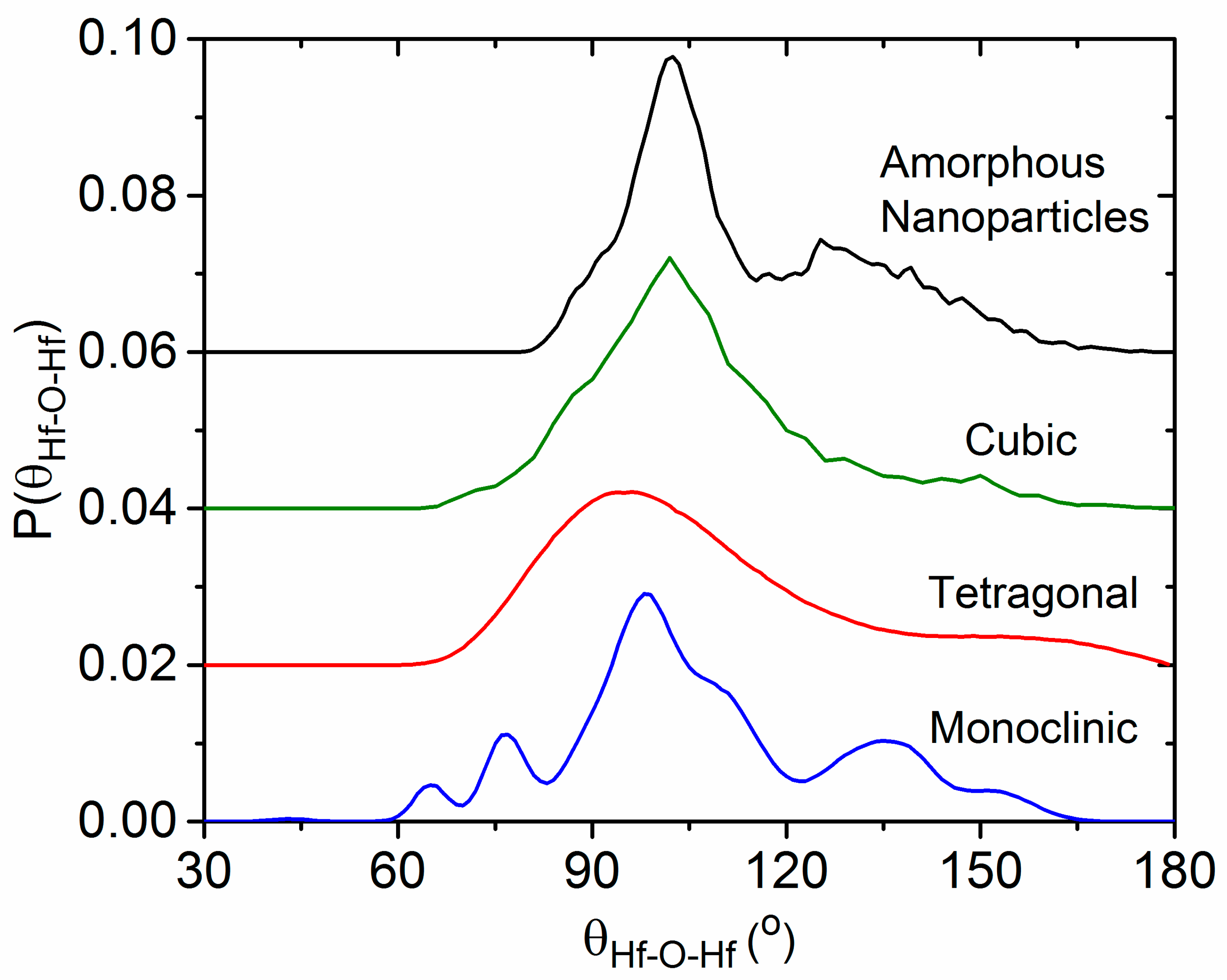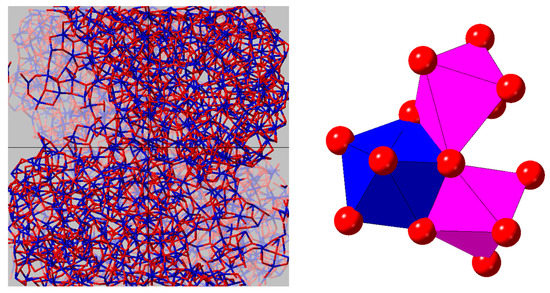 Figure 12. Snapshots taken from the MD model of amorphous hafnia nanoparticles: (Left) the agglomeration on nanoparticles within the simulation box; and (Right) edge- and corner-sharing HfOn polyhedra in the low density amorphous form.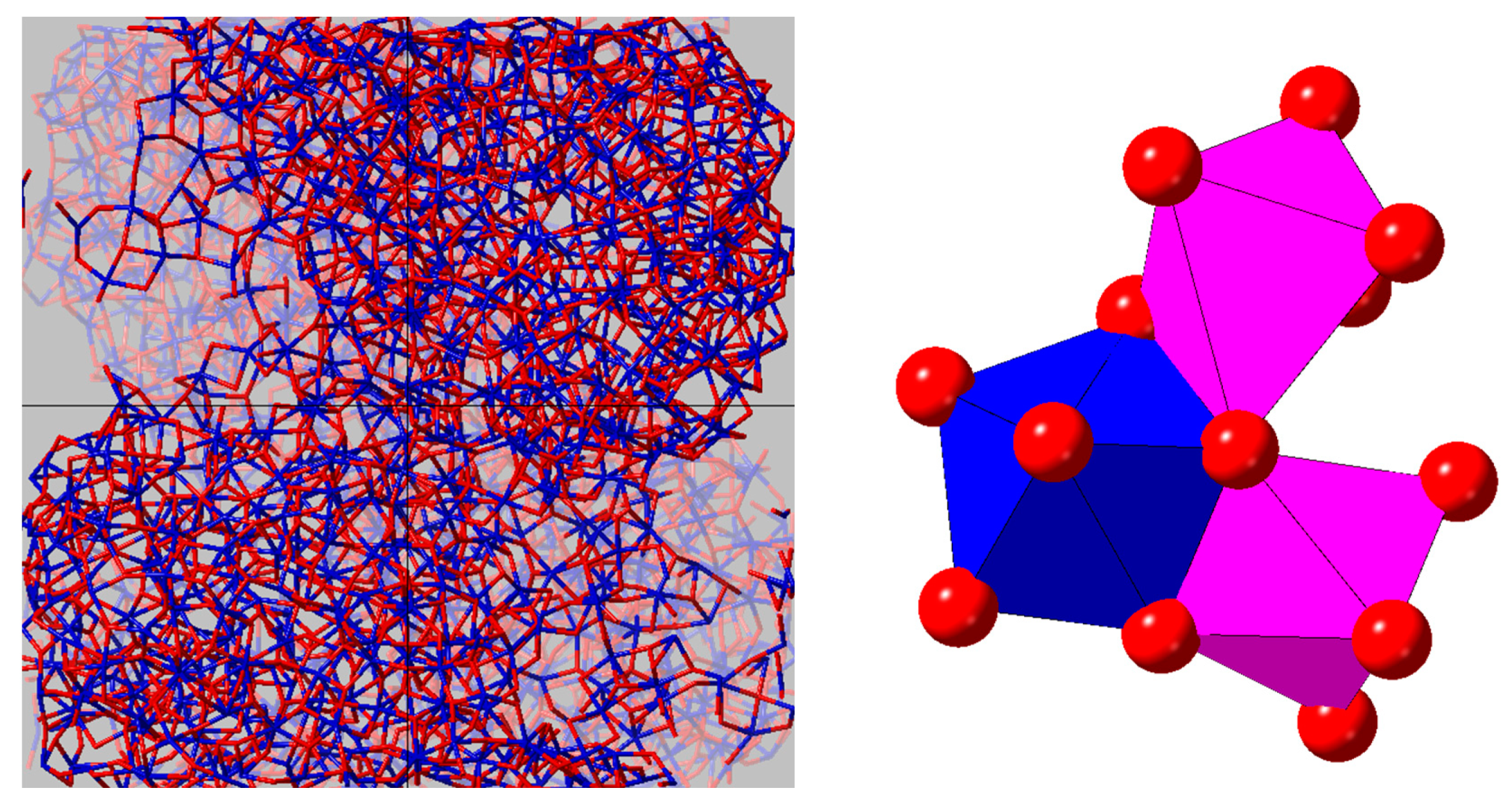 Table 1. Dimensions and number of atoms in the simulation box for cubic, tetragonal, and monoclinic HfO2.
Phase
Number of Atoms
Box Dimensions
Cubic
1500
Lx = Ly = Lz = 25.37
Tetragonal
2058
Lx = Ly = 25.04 and Lz = 36.40
Monoclinic
1500
Lx = Ly = Lz = 25.6419

xy

=

yz

= 0.0 and

xz

= −4.47

Table 2. Comparison of local structure: Hf–O and Hf–Hf distances and coordination numbers for liquid and amorphous hafnia obtained from experiment and simulation. Coordination numbers, Hf–O bond lengths, and Hf–Hf distances for the cubic and monoclinic polymorphs are included for comparison.
Technique
Hf–O CN
Hf–O Peak (Å)
Hf–Hf Peaks (Å)
Density (g∙cm−3)
Reference
X/N-PDF a-HfO2
6.8(6)
2.13(1)
3.38(1), 3.89(1)
7.69
This study
X-PDF Liquid HfO2
7.0(6)
2.05(1)
3.67(2)
8.16
This study
Liquid ZrO2 *
5.9
2.1
3.7
4.98
Kohara et al. [62]
X-PDF on a-ZrO2*
6.7
2.1
-
-
Zhang et al. [60]
DFT
6.1
2.09(30)
3.0, 4.3
8.63
Chen et al. [6]
DFT
5.7
2.12
-
8.6
Kaneta et al. [5]
DFT
6.0
-
3.3, 3.8
-
Ikeda et al. [8]
DFT
6.44
-
-
9.39
Ceresoli et al. [4]
Ab initio MD
6.76
2.2(3)
3.45, 4.00
-
Scopel et al. [3]
Ab initio MD
6.57
2.08
3.5–3.6, 3.8
9.39
Nishio et al. [7]
Classical MD
6.13
6.92
7.63
2.112
3.35, 3.86
3.41, 3.86
3.32, 3.7–4.2
8.6
10.19
11.5
Broglia et al. [1]
MD
6.2
2.15
3.37, 3.92
7.69
This study
Classical MD
5.76
2.08
3.6
7.97
Wang et al. [61]
Classical MD
6.74
2.06
3.44, 3.72
7.85
Schie et al. [2]
Cubic
8
2.21
3.62
10.45 1
Passerini et al. [31]
Monoclinic
7
2.13
3.43, 3.94
10.11
Hann et al. [57]
1 Correlations and density reported at room temperature. * ZrO2 data are included for comparison.

© 2017 by the authors. Licensee MDPI, Basel, Switzerland. This article is an open access article distributed under the terms and conditions of the Creative Commons Attribution (CC BY) license (http://creativecommons.org/licenses/by/4.0/).