Open Access This article is
freely available
re-usable
Article
Volumetric Measurements of Methane-Coal Adsorption and Desorption Isotherms—Effects of Equations of State and Implication for Initial Gas Reserves
Discipline of Petroleum Engineering, Western Australian School of Mines: Minerals, Energy and Chemical Engineering, Curtin University, 26 Dick Perry Avenue, Kensington, WA 6151, Australia
*
Author to whom correspondence should be addressed.
Received: 10 May 2019 / Accepted: 23 May 2019 / Published: 27 May 2019
Abstract
:
This study presents the effects of equations of state (EOSs) on methane adsorption capacity, sorption hysteresis and initial gas reserves of a medium volatile bituminous coal. The sorption experiments were performed, at temperatures of 25 °C and 40 °C and up to 7MPa pressure, using a high-pressure volumetric analyzer (HPVA-II). The measured isotherms were parameterized with the modified (three-parameter) Langmuir model. Gas compressibility factors were calculated using six popular equations of state and the results were compared with those obtained using gas compressibility factors from NIST-Refprop® (which implies McCarty and Arp's EOS for Z-factor of helium and Setzmann and Wagner's EOS for that of methane). Significant variations were observed in the resulting isotherms and associated model parameters with EOS. Negligible hysteresis was observed with NIST-refprop at both experimental temperatures, with the desorption isotherm being slightly lower than the adsorption isotherm at 25 °C. Compared to NIST-refprop, it was observed that equations of state that gave lower values of Z-factor for methane resulted in "positive hysteresis", (one in which the desorption isotherm is above the corresponding adsorption curve) and the more negatively deviated the Z-factors are, the bigger the observed hysteresis loop. Conversely, equations of state that gave positively deviated Z-factors of methane relatively produced "negative hysteresis" loops where the desorption isotherms are lower than the corresponding adsorption isotherms. Adsorbed gas accounted for over 90% of the calculated original gas in place (OGIP) and the larger the Langmuir volume, the larger the proportion of OGIP that was adsorbed.
Keywords:
adsorption and desorption isotherms; sorption hysteresis; medium volatile bituminous coal; equation of state; NIST-Refprop; gas compressibility factors; original gas in-place
3. Results and Discussion
4. Conclusions
This paper presents the effects of equations of state on the results of high-pressure volumetric measurements of methane adsorption and desorption isotherms on a coal sample. The results showed that all the equations of state tested gave varied deviations in the measured isotherms, calculated Langmuir parameters, observed type and degree of sorption hysteresis and original gas in-place because of the variations in the calculated Z-factors of both helium and methane relative to NIST-refprop. It can be concluded that:
(1)

Gas compressibility factors have significant effects on high-pressure adsorption and desorption isotherms of methane on coal.

(2)

Langmuir parameters also varied significantly with the choice of EOS with the SBWR-EOS having the closest values of Langmuir volumes and pressures to NIST-refprop at both test temperatures.

(3)

For each EOS, Langmuir volume and adsorbed phase density are lower at 40 °C than the corresponding values at 25 °C because of the negative effect of temperature on adsorption.

(4)

High-pressure methane-coal adsorption-desorption hysteresis is not a unique phenomenon; its existence, degree and type depend on the applied EOS.

(5)

For both test temperatures, negligible hysteresis was observed for the reference EOS while a relationship was observed between the deviations of methane Z-factor for each EOS (relative to Setzmann and Wagner's) and the type of sorption hysteresis observed. Negatively deviating EOSs produced positive sorption hysteresis while positively deviating ones gave negative sorption hysteresis for the same dataset.

(6)

Calculated OGIP is predominantly in adsorbed phase and as such, varies with Langmuir volume.
In summary, it has been demonstrated that, significant uncertainties may be incurred in estimated gas contents and gas reserves of unconventional gas reservoirs due to the choice of EOS for computing the gas compressibility factors needed for experimental data analysis.
Author Contributions
Conceptualization, J.M.E.; Data curation, J.M.E.; Formal analysis, J.M.E.; Investigation, J.M.E.; Methodology, J.M.E.; Resources, R.R.; Supervision, R.R.; Writing–original draft, J.M.E.; Writing–review & editing, R.R.
Funding
This research received no external funding.
Acknowledgments
The authors would like to acknowledge the contributions of Australian Government Research Training Program and Curtin Research Scholarships and the Unconventional Gas Research group at the discipline of Petroleum Engineering, Western Australian School of Mines: Minerals, Energy and Chemical Engineering in supporting this research.
Conflicts of Interest
The authors declare no conflict of interest.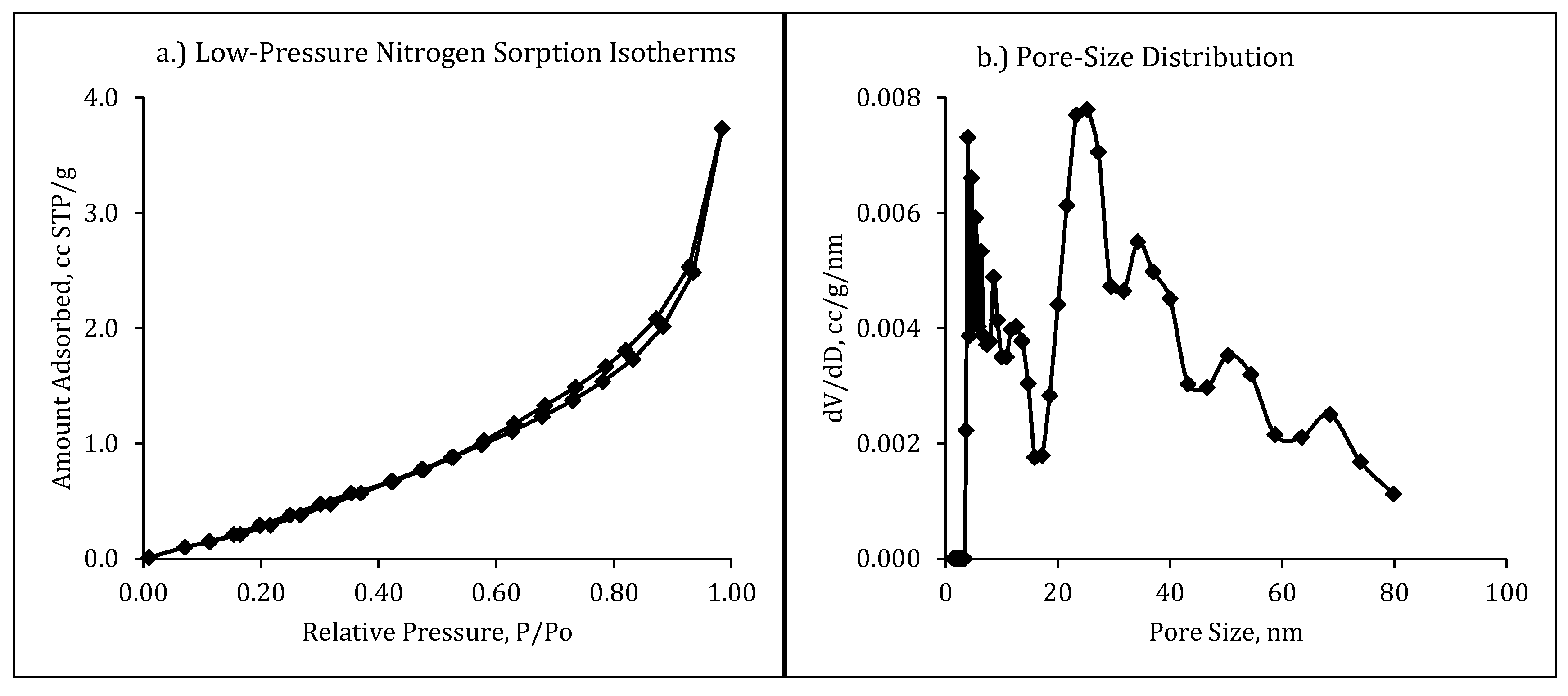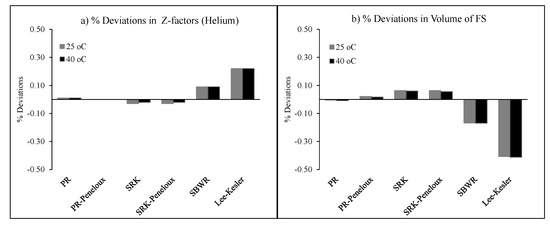 Figure 2. Effect of Equation of State on Free-Space (a) Variation in Z-factor of helium gas by EOS (b) Corresponding variation in volume of free space.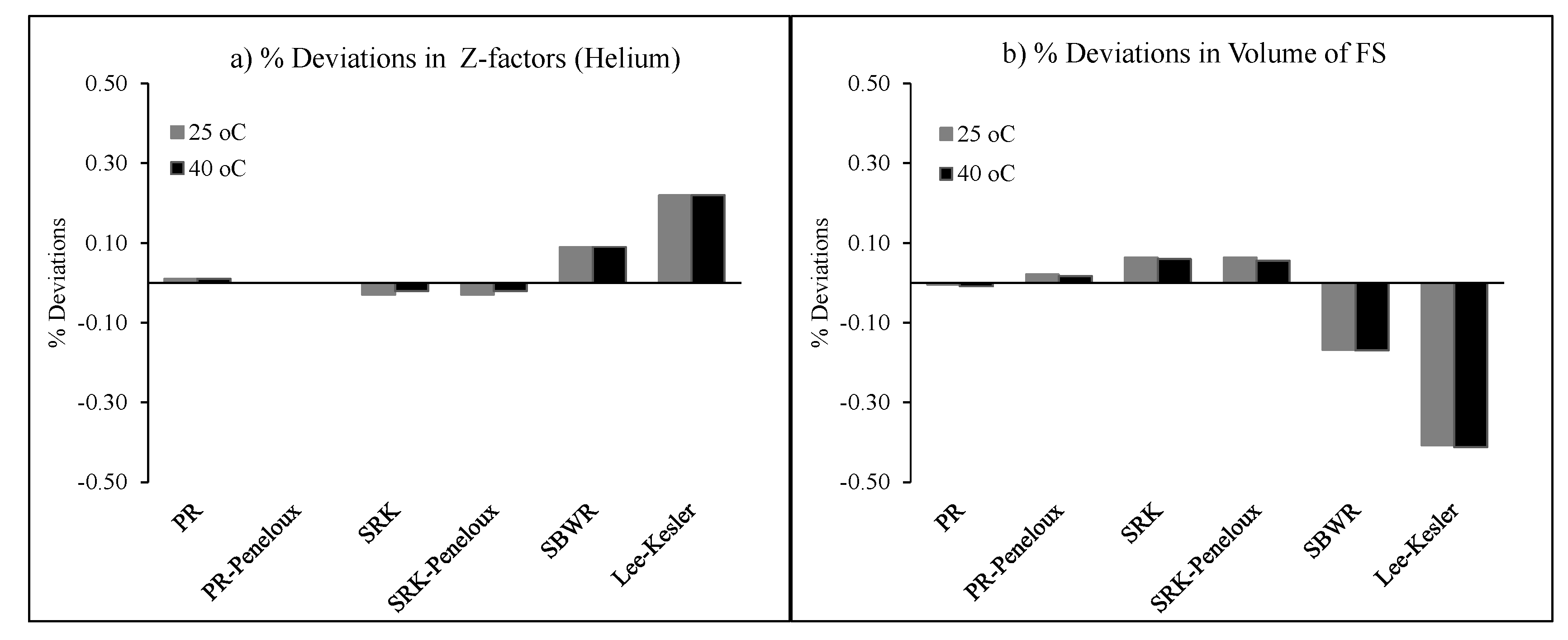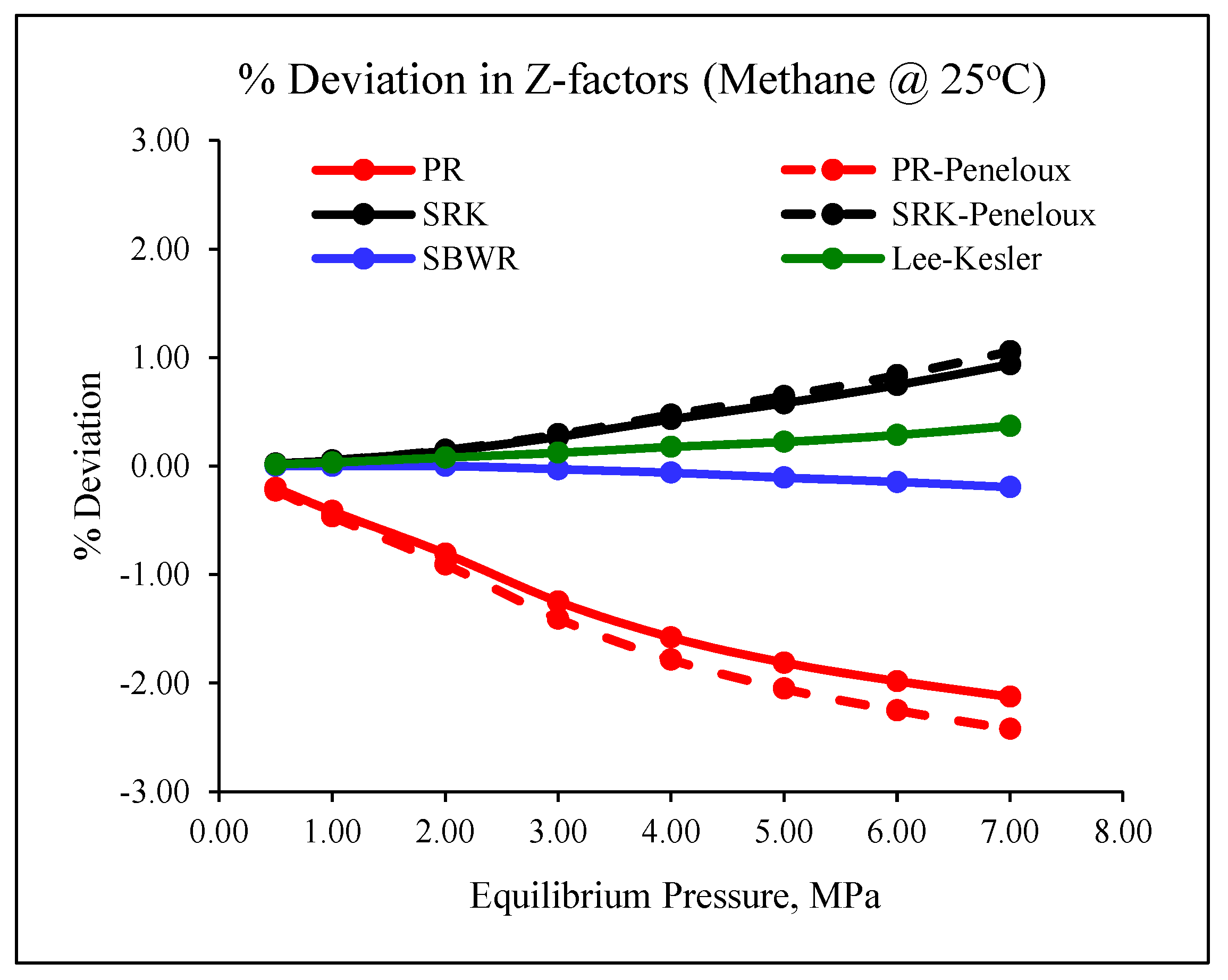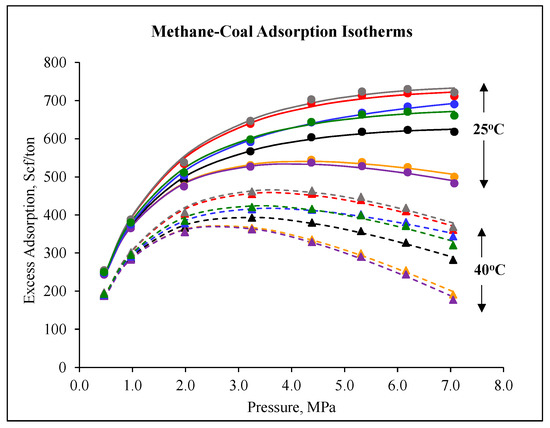 Figure 4. Methane-coal adsorption isotherms by equation of state (legends: markers = Excess adsorbed amount, lines = Langmuir fit; black = NIST-refprop, red = PR-EOS, brown = PR-Peneloux, orange = SRK-EOS, purple = SRK-Peneloux, blue = SBRW-EOS and green = Lee-Kesler).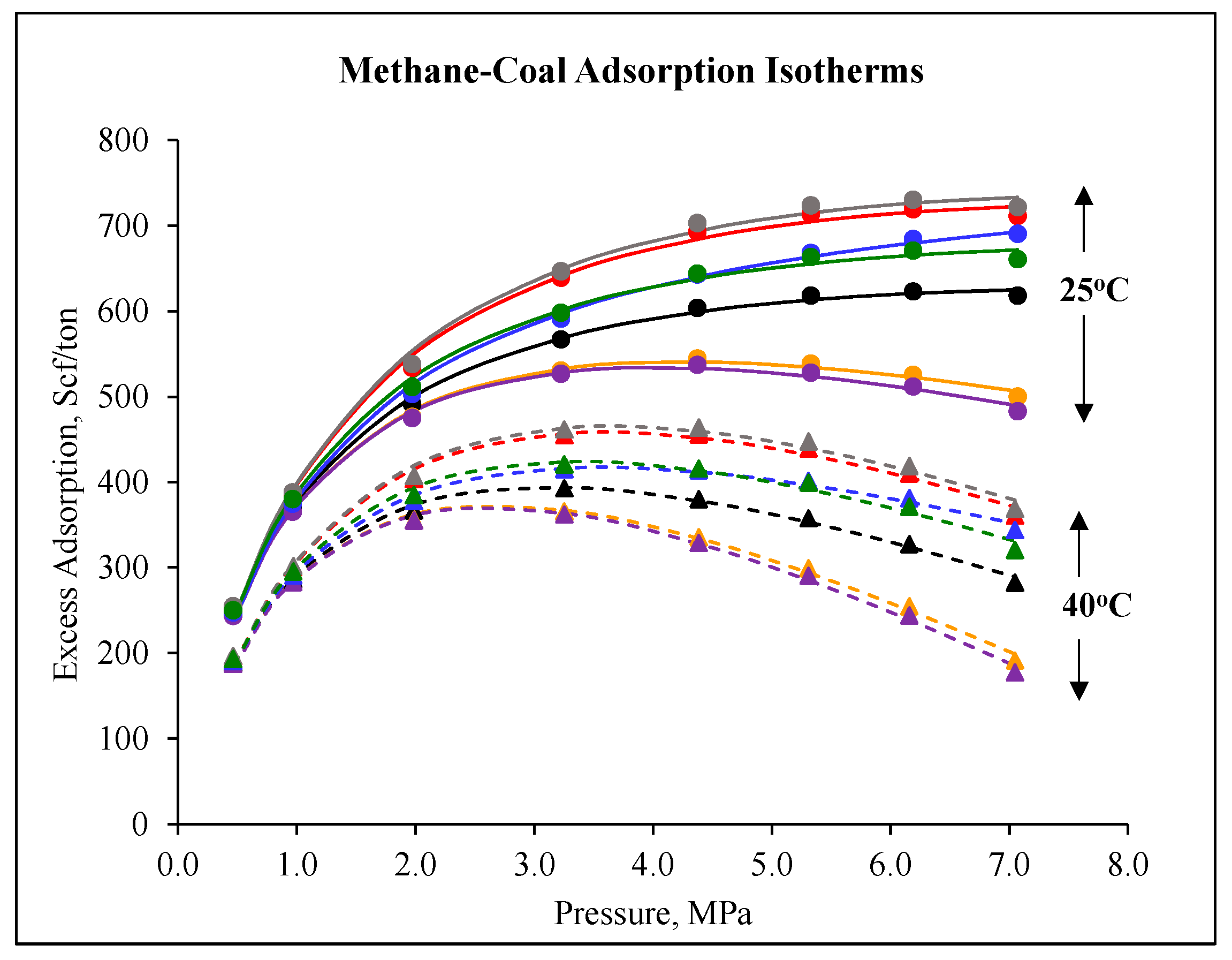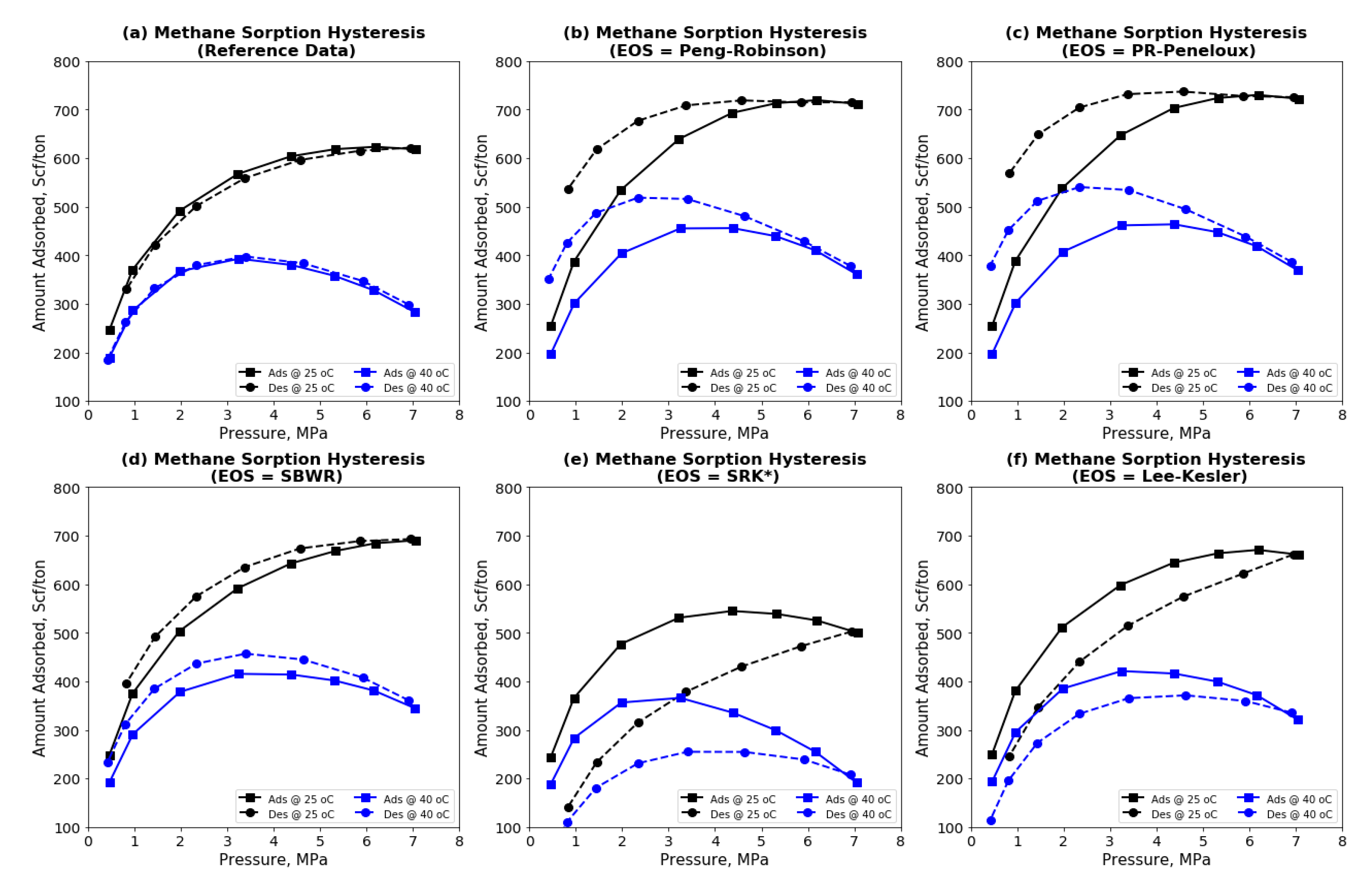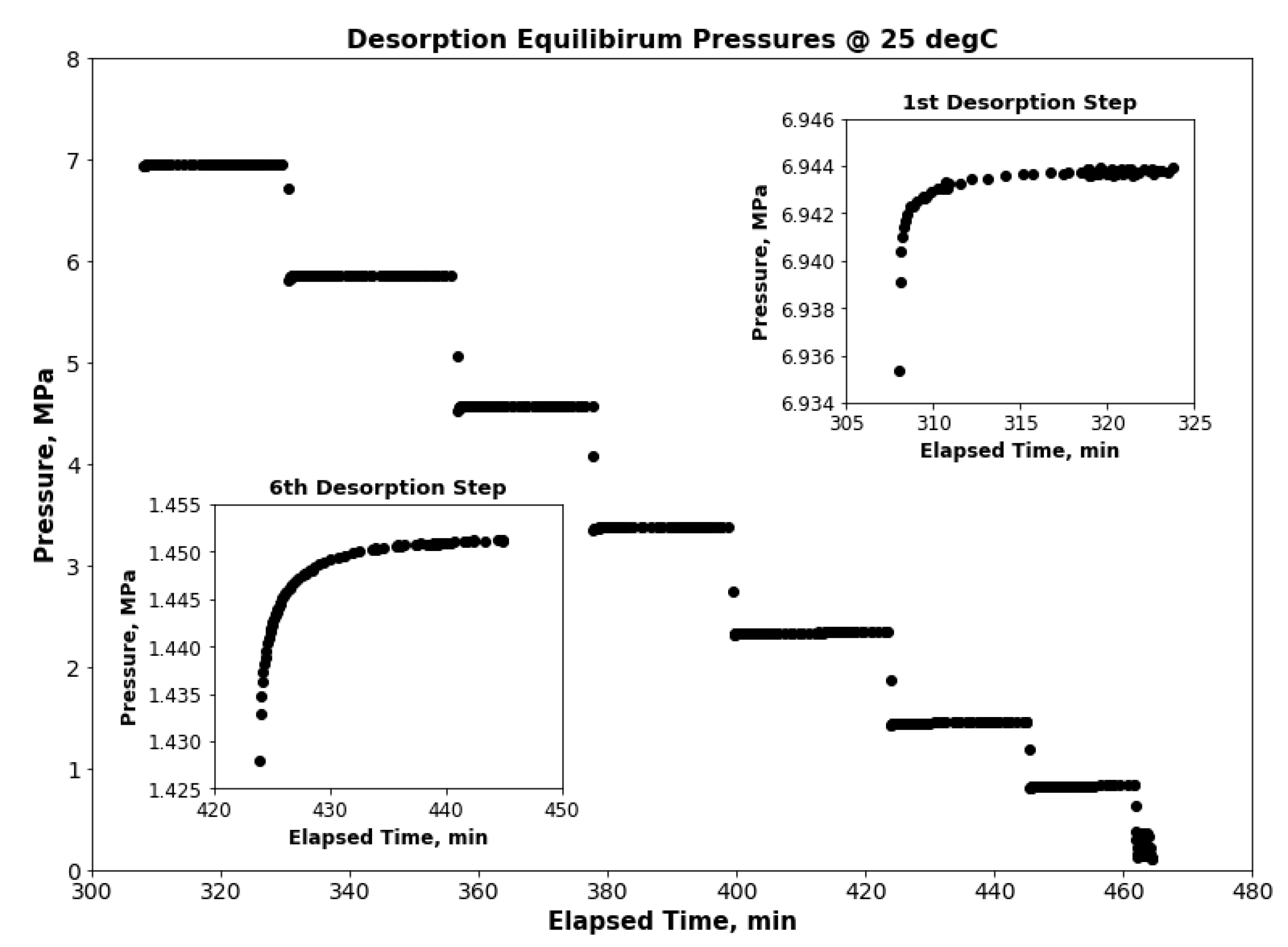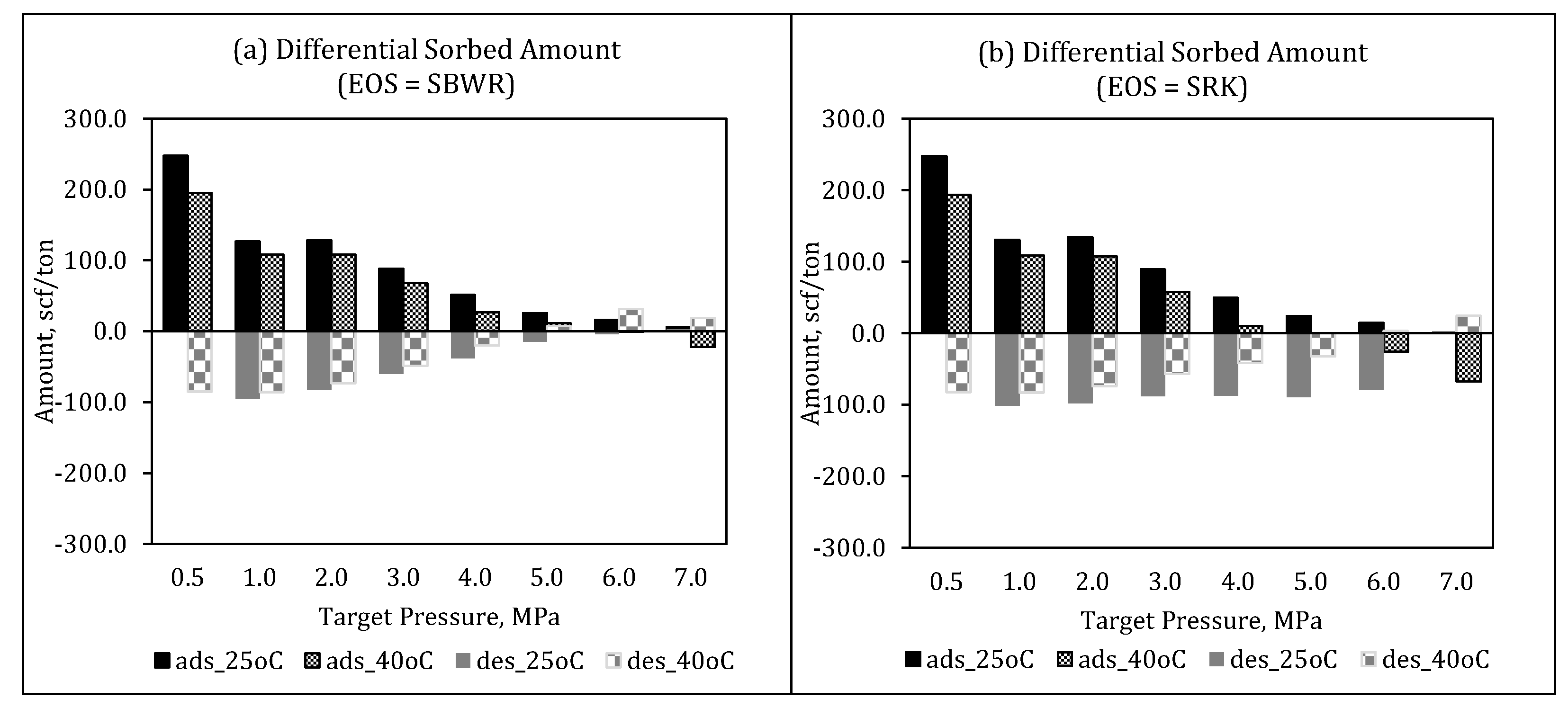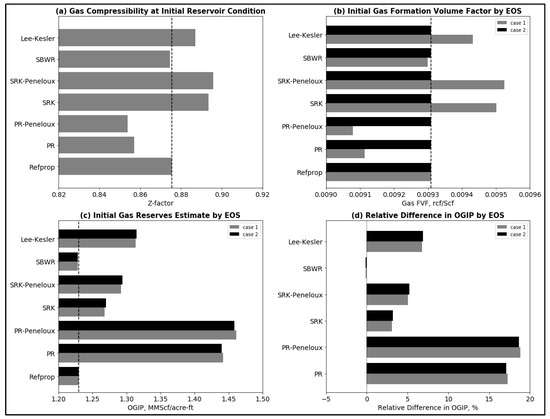 Figure 8. Effects of equation of state on OGIP (a) EOS Vs Z-factor at initial reservoir conditions (b) EOS Vs Initial FVF (c) EOS Vs OGIP (d) Relative difference in calculated OGIPs.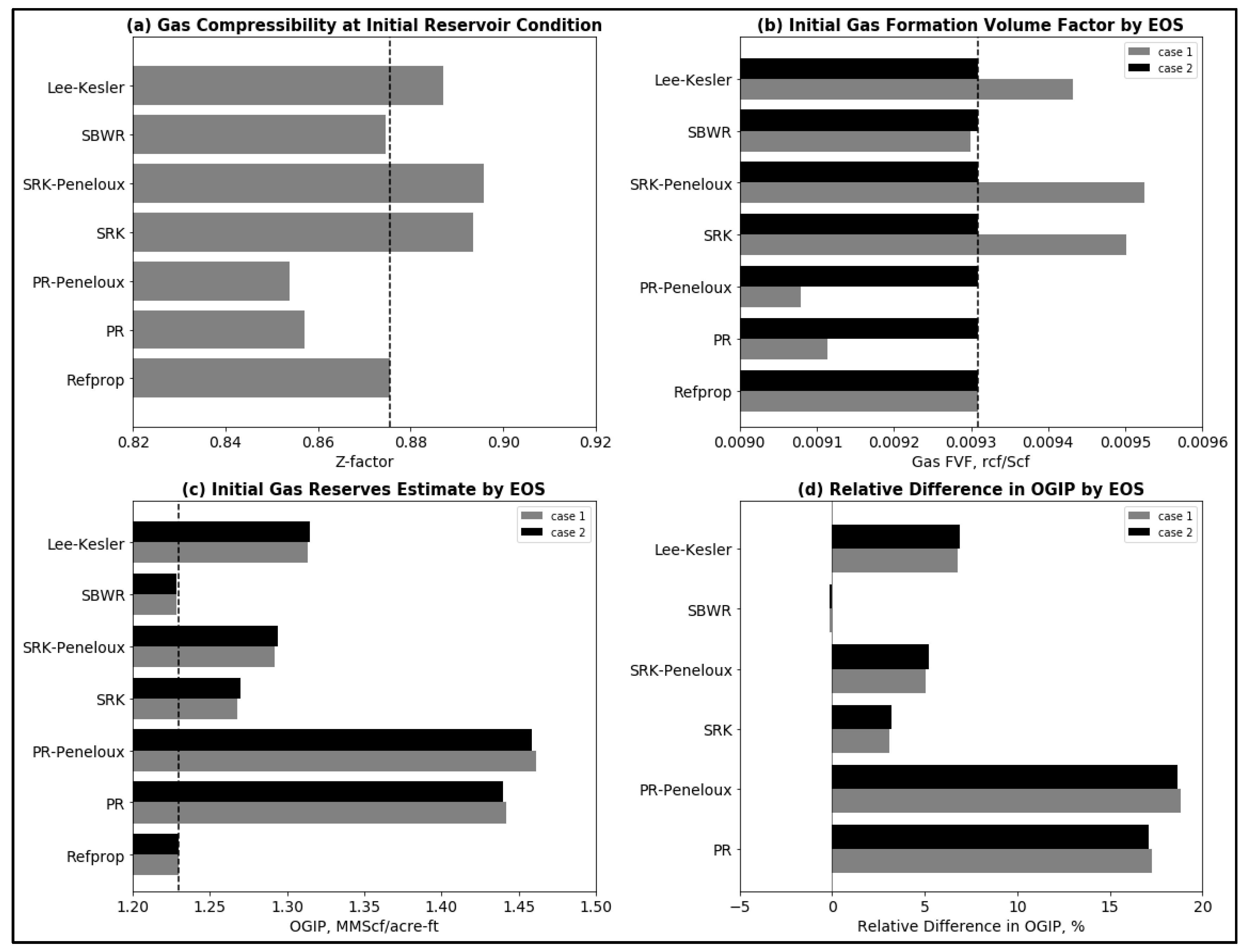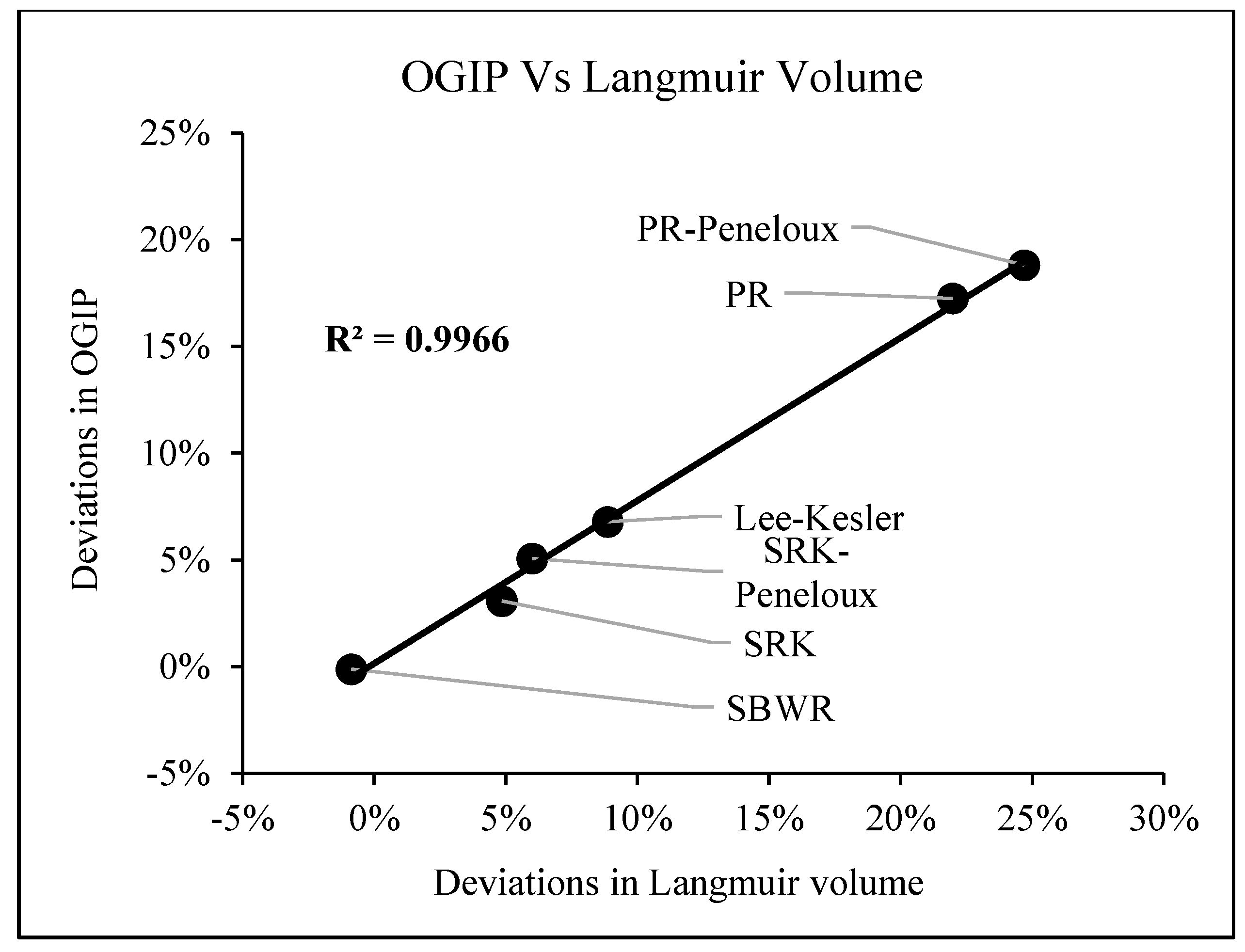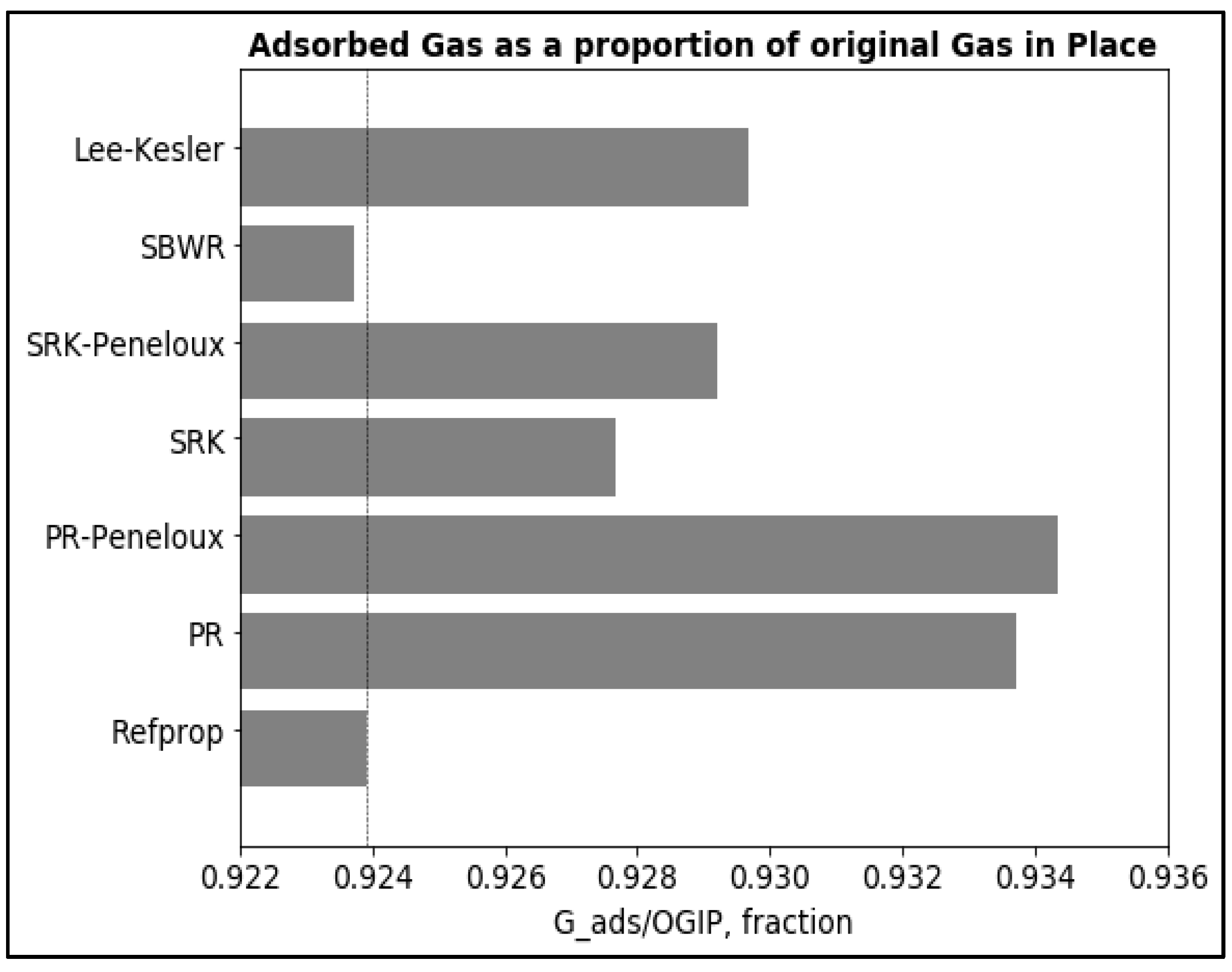 Components
Composition (%)
A. Petrographic Analysis
Vitrinite
75.0
Fusinite
3.3
Semi-fusinite
13.0
Macrinite
0.3
Inertodetrinite
4.0
Mineral matter
4.5
Mean maximum reflectance
1.43
B. Proximate Analysis
Ash content
9.6
Moisture content
1.2
Volatile matter
21.2
Fixed carbon
68.0
Parameters
Reservoir Temperature, °C
40
Initial Res. Pressure, MPa
10.34
Rock density, g/cc
1.34 *
Initial porosity, fraction
0.1 *
Initial water saturation, fraction
0.8 *
EOS
Temp.
Parameters
Refprop
PR
PR-Pen.
SRK
SRK-Pen.
SBWR
Lee-Kesler
25 °C
VL, Scf/ton
772.9
943.3
964.6
806.6
815
800
836.8
PL, MPa
1.02
1.34
1.38
1.08
1.1
1.09
1.13
ρads, Kg/m3
689.9
590.9
578.8
183.8
165.4
1.30E+09
742.9
R2
0.9985
0.9969
0.9966
0.9978
0.9977
0.9983
0.9973
40 °C
VL, Scf/ton
705.8
860.9
880.1
740
748.2
699.7
768.4
PL, MPa
1.26
1.63
1.68
1.34
1.35
1.23
1.39
ρads, Kg/m3
92.1
103.7
104.6
69.4
66.9
116.6
98.2
R2
0.9953
0.9918
0.9915
0.9946
0.9947
0.9957
0.9911

© 2019 by the authors. Licensee MDPI, Basel, Switzerland. This article is an open access article distributed under the terms and conditions of the Creative Commons Attribution (CC BY) license (http://creativecommons.org/licenses/by/4.0/).