Estimating the Double Burden of Malnutrition among 595,975 Children in 65 Low- and Middle-Income Countries: A Meta-Analysis of Demographic and Health Surveys
1
School of Social Sciences and Psychology, Western Sydney University, Penrith, NSW 2571, Australia
2
School of Public Health and Community Medicine, University of New South Wales, Sydney, NSW 2052, Australia
3
United Nations International Children's Emergency Fund, Lalitpur 44600, Nepal
*
Author to whom correspondence should be addressed.
Received: 21 June 2019 / Revised: 6 August 2019 / Accepted: 7 August 2019 / Published: 13 August 2019
Abstract
Introduction: Given the changing global nutrition landscape, the double burden of malnutrition is a major public health challenge in many developing countries. The main aim of this study is to estimate the double burden of malnutrition among children in low- and middle-income countries (LMICs). Methods: This study used cross-sectional data from Demographic and Health Surveys (2001–2016). A meta-analysis was conducted to estimate the prevalence of malnutrition indicators in 595,975 children under five years from 65 LMICs. Significant heterogeneity was detected among the various surveys (I2 >50%), hence a random-effect model was used. Sensitivity analysis was also performed, to examine the effects of outliers. Results: The pooled estimate for stunting, wasting, underweight, and overweight/obesity was 29.0%, 7.5%, 15.5%, and 5.3% respectively. Countries with the highest coexistence of undernutrition and overweight/obesity were: South Africa (stunting 27.4% (95% CI: 25.1, 29.8); overweight/obesity 13.3% (95% CI: 11.5, 15.2)), Sao Tome and Principe (stunting 29.0% (95% CI: 26.8, 31.4); overweight/obesity 10.5% (95% CI: 9.0, 12.1)), Swaziland (stunting 28.9% (95% CI: 27.3, 30.6); overweight/obesity 10.8% (95% CI: 9.7, 12.0)), Comoros (stunting 30.0% (95% CI: 28.3, 31.8); overweight/obesity 9.3% (95% CI: 8.3, 10.5)), and Equatorial Guinea (stunting 25.9% (95% CI: 23.4, 28.7); overweight/obesity 9.7% (95% CI: 8.0, 11.6)). Conclusions: There is an urgent need to strengthen existing policies on child malnutrition to integrate and scale up opportunities for innovative approaches which address the double burden of malnutrition in children under five years in LMICs.
View Full-Text
►

▼

Figures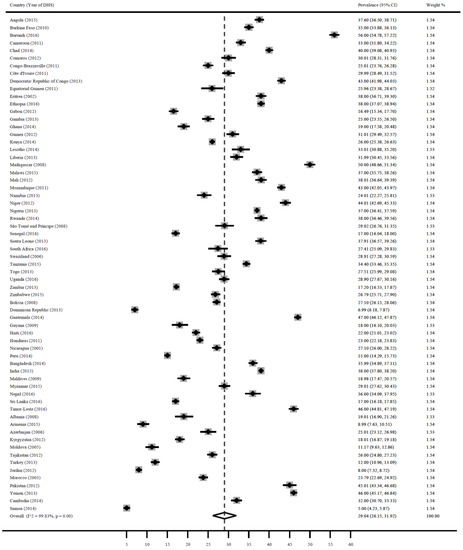 Figure 1
This is an open access article distributed under the
Creative Commons Attribution License
which permits unrestricted use, distribution, and reproduction in any medium, provided the original work is properly cited (CC BY 4.0).

Share & Cite This Article
MDPI and ACS Style
Akombi, B.J.; Chitekwe, S.; Sahle, B.W.; Renzaho, A.M. Estimating the Double Burden of Malnutrition among 595,975 Children in 65 Low- and Middle-Income Countries: A Meta-Analysis of Demographic and Health Surveys. Int. J. Environ. Res. Public Health 2019, 16, 2886.
Note that from the first issue of 2016, MDPI journals use article numbers instead of page numbers. See further details here.
Related Articles
Comments
[Return to top]