Street Dust—Bound Polycyclic Aromatic Hydrocarbons in a Saudi Coastal City: Status, Profile, Sources, and Human Health Risk Assessment
Department of Environmental Sciences, Faculty of Meteorology, Environment and Arid Land Agriculture, King Abdulaziz University, P.O. Box 80208, Jeddah 21589, Saudi Arabia
*
Author to whom correspondence should be addressed.
Received: 10 October 2018 / Revised: 25 October 2018 / Accepted: 26 October 2018 / Published: 29 October 2018
Abstract
Polycyclic aromatic hydrocarbons (PAHs) in street dust pose a serious problem threatening both the environment and human health. Street dust samples were collected from five different land use patterns (traffic areas TRA, urban area URA, residential areas REA, mixed residential commercial areas MCRA and suburban areas SUA) in Jeddah, a Saudi coastal city, and one in in Hada Al Sham, a rural area (RUA). This study aimed to investigate the status, profile, sources of PAHs and estimate their human health risk. The results revealed an average concentration of total PAHs of 3320 ng/g in street dust of Jeddah and 223 ng/g in RUA dust. PAHs with high molecular weight represented 83.38% of total PAHs in street dust of Jeddah, while the carcinogenic PAH compounds accounted 57.84%. The highest average concentration of total PAHs in street dust of Jeddah was found in TRA (4980 ng/g) and the lowest in REA (1660 ng/g). PAHs ratios indicated that the principal source of PAHs in street dust of Jeddah is pyrogenic, mainly traffic emission. Benzo(a)anthracene/chrysene (BaA/CHR) ratio suggests that PAHs in street dusts of Jeddah come mainly from emission of local sources, while PAHs in RUA might be transported from the surrounding urban areas. The estimated Incremental Lifetime Cancer Risk (ILCR) associated with exposure to PAHs in street dusts indicated that both dermal contact and ingestion pathways are major contributed to cancer risk for both children and adults. Based on BaP
equivalence
concentrations of total PAHs, ILCR
Ingestion
, ILCR
dermal
and cancer risk values for children and adults exposed to PAHs in street dust of different areas in Jeddah were found between 10
−6
and 10
−4
, indicating potential risk. The sequence of cancer risk was TRA > URA > MCRA > SUA > REA. Only exposure to BaP and DBA compounds had potential risk for both children and adults.
View Full-Text
►

▼

Figures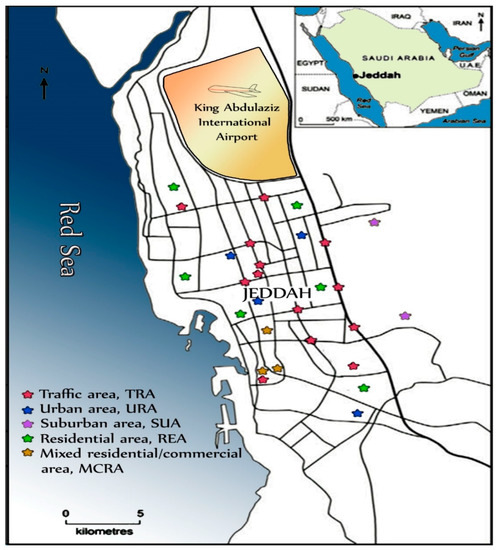 Figure 1
This is an open access article distributed under the
Creative Commons Attribution License
which permits unrestricted use, distribution, and reproduction in any medium, provided the original work is properly cited (CC BY 4.0).

Share & Cite This Article
MDPI and ACS Style
Shabbaj, I.I.; Alghamdi, M.A.; Khoder, M.I. Street Dust—Bound Polycyclic Aromatic Hydrocarbons in a Saudi Coastal City: Status, Profile, Sources, and Human Health Risk Assessment. Int. J. Environ. Res. Public Health 2018, 15, 2397.
Note that from the first issue of 2016, MDPI journals use article numbers instead of page numbers. See further details here.
Related Articles
Comments
[Return to top]