Earthworms, Rice Straw, and Plant Interactions Change the Organic Connections in Soil and Promote the Decontamination of Cadmium in Soil
1
Key Laboratory of Arable Land Conservation (Middle and Lower Reaches of Yangtze River), Ministry of Agriculture, Research Center of Micro-Elements, College of Resource and Environment, Huazhong Agricultural University, Wuhan 430070, China
2
Hubei Provincial Engineering Laboratory for New Fertilizers, Huazhong Agricultural University, Wuhan 430070, China
3
Department of Life Science, Faculty of Science and Technology, University of Comoros, Moroni 269, Comoros
4
Botany Department, Faculty of Science, Fayoum University, Fayoum 63514, Egypt
*
Author to whom correspondence should be addressed.
Received: 18 August 2018 / Revised: 16 September 2018 / Accepted: 21 September 2018 / Published: 29 October 2018
Abstract
The joint effects of earthworms and crop straw on toxic metal speciation are not clear, and very limited information is available regarding the effects of their interaction on Cd mobility in Cd contaminated soil or in remediation processes involving plants. This study evaluated their impacts on Cd mobile form changes in soil and their effects on Cd uptake by plants. Treatments included both planted and unplanted-Cd-contaminated soil with or without rice straw and/or earthworms. The results revealed that earthworms, rice straw, and plant interactions change the Cd mobile forms in soil. The order of Cd concentration of different chemical forms was as follows: exchangeable > residual > bound to Fe-Mn oxide > bound to organic matter for earthworms, and exchangeable > bound to organic matter > residual > bound to Fe-Mn oxide for rice straw treatment, with a recovery rate of 96 ± 3%. The accumulation of Cd in plants increased in the presence of earthworms and decreased in the presence of rice straw. FT-IR spectra indicated that the degradation of rice straw increases C–O, C–O–H, C–H, and O–H functional groups which could complex with Cd ions. These findings highlighted that earthworms' activities and crop straw can modify soil properties and structure and promote the remediation of heavy metal. This study suggests that the ecological context of remediation instead of being limiting on soil-earthworms-plant interaction, should integrate the natural resources forsaken which can provide a positive influence on both plant health and the remediation of heavy metal in contaminated soil.
View Full-Text
►

▼

Figures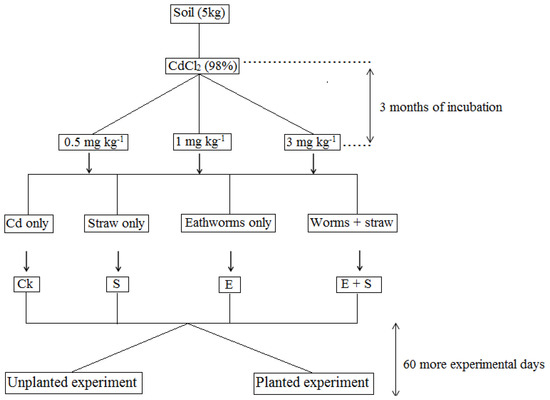 Figure 1
This is an open access article distributed under the
Creative Commons Attribution License
which permits unrestricted use, distribution, and reproduction in any medium, provided the original work is properly cited (CC BY 4.0).

Share & Cite This Article
MDPI and ACS Style
Elyamine, A.M.; Moussa, M.G.; Ismael, M.A.; Wei, J.; Zhao, Y.; Wu, Y.; Hu, C. Earthworms, Rice Straw, and Plant Interactions Change the Organic Connections in Soil and Promote the Decontamination of Cadmium in Soil. Int. J. Environ. Res. Public Health 2018, 15, 2398.
Note that from the first issue of 2016, MDPI journals use article numbers instead of page numbers. See further details here.
Related Articles
Comments
[Return to top]