Pesticide Residues on Three Cut Flower Species and Potential Exposure of Florists in Belgium
1
Gembloux Agro-Bio Tech/ULg—Laboratoire de Phytopharmacie, Passage des Déportés 2, Gembloux 5030, Belgium
2
Institut Scientifique de Santé Publique, OD Food, Medecines and Consumer Safety, Rue Juliette Wytsman 14, Brussels 1050, Belgium
*
Author to whom correspondence should be addressed.
Academic Editor: Ricardo Bello-Mendoza
Received: 11 July 2016 / Revised: 2 September 2016 / Accepted: 19 September 2016 / Published: 23 September 2016
Abstract
In order to assess the prevalence of pesticide contamination and the risk of florists' exposure when handling cut flowers, sampling and analysis of 90 bouquets of the most commonly sold cut flowers in Belgium (50 bouquets of roses; 20 of gerberas, and 20 of chrysanthemums) were carried out. The bouquets were collected from 50 florists located in the seven largest cities of Belgium (Antwerp, Brussels, Charleroi, Ghent, Leuven, Liege, and Namur) and from five supermarkets located in the different regions. To have a better understanding of the route of exposure and professional practices a questionnaire was also addressed to a group of 25 florists who volunteered to take part in the survey. All florists were interviewed individually when collecting the questionnaire. The residual pesticide deposit values on cut flowers were determined in an accredited laboratory using a multi-residue (QuEChERS Quick Easy Cheap Effective Rugged Safe) method and a combination of gas chromatography (GC) and liquid chormatograhphy (LC) analysis. A total of 107 active substances were detected from all samples; i.e., an average of about 10 active substances per bouquet. The most severely contaminated bouquet accumulated a total concentration of residues up to 97 mg/kg. Results show that roses are the most contaminated cut flowers; with an average of 14 substances detected per sample and a total concentration per rose sample of 26 mg/kg. Some active substances present an acute toxicity (acephate, methiocarb, monocrotophos, methomyl, deltamethrin, etc.) and exposure can generate a direct effect on the nervous system of florists. Nevertheless, fungicides (dodemorph, propamocarb, and procymidone) were the most frequently detected in samples and had the highest maximum concentrations out of all the active substances analysed. Dodemorph was the most frequently detected substance with the highest maximum concentration (41.9 mg/kg) measured in the rose samples. It appears from the survey that, despite being exposed to high deposits of residues, florists usually do not protect themselves from contact with residues even if they spend several hours handling cut flowers and preparing bouquets (from 2 to 6 h/day, depending on the time of year and/or selling periods) daily. Bad habits (eating, drinking, or smoking at work) and absence of personal protective equipment of most florists also increase the risk of contact with pesticide residues.
View Full-Text
►

▼

Figures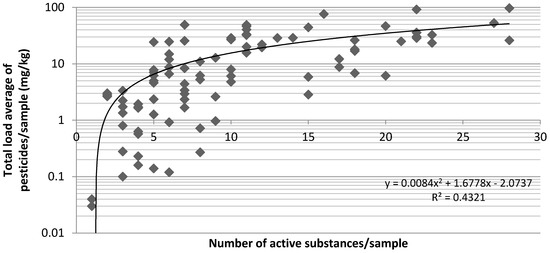 Figure 1
This is an open access article distributed under the
Creative Commons Attribution License
which permits unrestricted use, distribution, and reproduction in any medium, provided the original work is properly cited (CC BY 4.0).

Share & Cite This Article
MDPI and ACS Style
Toumi, K.; Vleminckx, C.; Van Loco, J.; Schiffers, B. Pesticide Residues on Three Cut Flower Species and Potential Exposure of Florists in Belgium. Int. J. Environ. Res. Public Health 2016, 13, 943.
Note that from the first issue of 2016, MDPI journals use article numbers instead of page numbers. See further details here.
Related Articles
Comments
[Return to top]