In Vitro Vascular-Protective Effects of a Tilapia By-Product Oligopeptide on Angiotensin II-Induced Hypertensive Endothelial Injury in HUVEC by Nrf2/NF-κB Pathways
1
College of Food Science and Technology, Guangdong Ocean University, Zhanjiang 524088, China
2
School of Chemistry and Environmental Science, Guangdong Ocean University, Zhanjiang 524088, China
3
Shenzhen Institute of Guangdong Ocean University, Shenzhen 518108, China
*
Authors to whom correspondence should be addressed.
Received: 3 June 2019 / Revised: 20 July 2019 / Accepted: 22 July 2019 / Published: 23 July 2019
Abstract
Angiotensin II (Ang II) is closely involved in endothelial injury during the development of hypertension. In this study, the protective effects of the tilapia by-product oligopeptide Leu-Ser-Gly-Tyr-Gly-Pro (LSGYGP) on oxidative stress and endothelial injury in Angiotensin II (Ang II)-stimulated human umbilical vein endothelial cells (HUVEC) were evaluated. LSGYGP dose-dependently suppressed the fluorescence intensities of nitric oxide (NO) and reactive oxygen species (ROS), inhibited the nuclear factor-kappa B (NF-κB) pathway, and reduced inducible nitric oxide synthase (iNOS), cyclooxygenase-2 (COX-2), and endothelin-1 (ET-1) expression, as shown by western blot. In addition, it attenuated the expression of gamma-glutamyltransferase (GGT) and heme oxygenase 1 (HO-1), as well as increasing superoxide dismutase (SOD) and glutathione (GSH) expression through the nuclear factor erythroid 2-related factor 2 (Nrf2) pathway. Other experiments revealed that LSGYGP increased the apoptotic inhibition ratio between cleaved-caspase-3/procaspase-3, reduced expressions of pro-apoptotic ratio between Bcl-2/Bax, inhibited phosphorylation of mitogen-activated protein kinases (MAPK), and increased phosphorylation of the serine/threonine kinase (Akt) pathway. Furthermore, LSGYGP significantly decreased Ang II-induced DNA damage in a comet assay, and molecular docking results showed that the steady interaction between LSGYGP with NF-κB may be attributed to hydrogen bonds. These results suggest that this oligopeptide is effective in protecting against Ang II-induced HUVEC injury through the reduction of oxidative stress and alleviating endothelial damage. Thus, it has the potential for the therapeutic treatment of hypertension-associated diseases.
View Full-Text
►

▼

Figures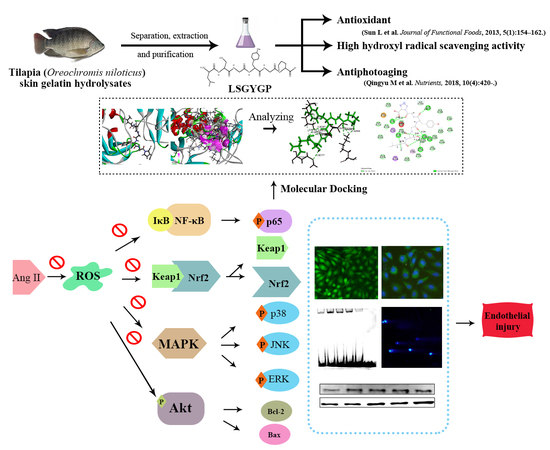 Graphical abstract
This is an open access article distributed under the
Creative Commons Attribution License
which permits unrestricted use, distribution, and reproduction in any medium, provided the original work is properly cited (CC BY 4.0).

Share & Cite This Article
MDPI and ACS Style
Chen, J.; Gong, F.; Chen, M.-F.; Li, C.; Hong, P.; Sun, S.; Zhou, C.; Qian, Z.-J. In Vitro Vascular-Protective Effects of a Tilapia By-Product Oligopeptide on Angiotensin II-Induced Hypertensive Endothelial Injury in HUVEC by Nrf2/NF-κB Pathways. Mar. Drugs 2019, 17, 431.
Note that from the first issue of 2016, MDPI journals use article numbers instead of page numbers. See further details here.
Related Articles
Comments
[Return to top]