Redesigning Arenicin-1, an Antimicrobial Peptide from the Marine Polychaeta
Arenicola marina

, by Strand Rearrangement or Branching, Substitution of Specific Residues, and Backbone Linearization or Cyclization

1

Institute of Experimental Medicine, 12 Academic Pavlov str., St. Petersburg 197376, Russia

2

St. Petersburg Academic University, 8/3 Khlopina str., St. Petersburg 194021, Russia

3

Department of Life Sciences, University of Trieste, Building Q, Via Giorgieri 5, 34127 Trieste, Italy

4

International Centre for Genetic Engineering and Biotechnology, AREA Science Park, Padriciano 99, 34149 Trieste, Italy

5

M.M. Shemyakin & Yu.A. Ovchinnikov Institute of Bioorganic Chemistry, the Russian Academy of Sciences, Mikhluho-Maklaya str. 16/10, Moscow 117997, Russia

6

Department of Biotechnology, I.M. Sechenov First Moscow State Medical University, Moscow 119991, Russia

*

Author to whom correspondence should be addressed.

†

These authors contributed equally to this work.

Received: 20 May 2019 / Revised: 19 June 2019 / Accepted: 21 June 2019 / Published: 23 June 2019
Abstract
Arenicin-1, a β-sheet antimicrobial peptide isolated from the marine polychaeta
Arenicola marina
coelomocytes, has a potent, broad-spectrum microbicidal activity and also shows significant toxicity towards mammalian cells. Several variants were rationally designed to elucidate the role of structural features such as cyclization, a certain symmetry of the residue arrangement, or the presence of specific residues in the sequence, in its membranolytic activity and the consequent effect on microbicidal efficacy and toxicity. The effect of variations on the structure was probed using molecular dynamics simulations, which indicated a significant stability of the β-hairpin scaffold and showed that modifying residue symmetry and β-strand arrangement affected both the twist and the kink present in the native structure. In vitro assays against a panel of Gram-negative and Gram-positive bacteria, including drug-resistant clinical isolates, showed that inversion of the residue arrangement improved the activity against Gram-negative strains but decreased it towards Gram-positive ones. Variants with increased symmetry were somewhat less active, whereas both backbone-cyclized and linear versions of the peptides, as well as variants with R→K and W→F replacement, showed antimicrobial activity comparable with that of the native peptide. All these variants permeabilized both the outer and the inner membranes of
Escherichia coli
, suggesting that a membranolytic mechanism of action was maintained. Our results indicate that the arenicin scaffold can support a considerable degree of variation while maintaining useful biological properties and can thus serve as a template for the elaboration of novel anti-infective agents.
View Full-Text
►

▼

Figures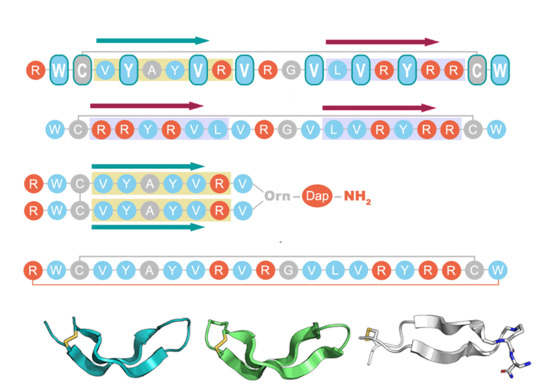 Graphical abstract
This is an open access article distributed under the
Creative Commons Attribution License
which permits unrestricted use, distribution, and reproduction in any medium, provided the original work is properly cited (CC BY 4.0).

Share & Cite This Article
MDPI and ACS Style
Orlov, D.S.; Shamova, O.V.; Eliseev, I.E.; Zharkova, M.S.; Chakchir, O.B.; Antcheva, N.; Zachariev, S.; Panteleev, P.V.; Kokryakov, V.N.; Ovchinnikova, T.V.; Tossi, A. Redesigning Arenicin-1, an Antimicrobial Peptide from the Marine Polychaeta Arenicola marina, by Strand Rearrangement or Branching, Substitution of Specific Residues, and Backbone Linearization or Cyclization. Mar. Drugs 2019, 17, 376.
Note that from the first issue of 2016, MDPI journals use article numbers instead of page numbers. See further details here.
Related Articles
Comments
[Return to top]