Characterization of the First Conotoxin from
Conus ateralbus

, a Vermivorous Cone Snail from the Cabo Verde Archipelago

1

Department of Biology, University of Utah, 257 S 1400 E, Salt Lake City, UT 84112, USA

2

CIIMAR/CIMAR—Interdisciplinary Centre of Marine and Environmental Research, Terminal de Cruzeiros, do Porto de Leixões, 4450-208 Porto, Portugal

3

FECM—Faculty of Engineering and Marine Science, University of Cabo Verde, Mindelo CP 163, Cabo Verde

4

Langone Medical Center, Department of Biochemistry and Molecular Pharmacology, New York University, New York, NY 10016, USA

5

Department of Biology, Faculty of Sciences, University of Porto, 4169-007 Porto, Portugal

*

Author to whom correspondence should be addressed.

Received: 24 April 2019 / Revised: 15 July 2019 / Accepted: 19 July 2019 / Published: 24 July 2019
Abstract
Conus ateralbus
is a cone snail endemic to the west side of the island of Sal, in the Cabo Verde Archipelago off West Africa. We describe the isolation and characterization of the first bioactive peptide from the venom of this species. This 30AA venom peptide is named conotoxin AtVIA (δ-conotoxin-like). An excitatory activity was manifested by the peptide on a majority of mouse lumbar dorsal root ganglion neurons. An analog of AtVIA with conservative changes on three amino acid residues at the C-terminal region was synthesized and this analog produced an identical effect on the mouse neurons. AtVIA has homology with δ-conotoxins from other worm-hunters, which include conserved sequence elements that are shared with δ-conotoxins from fish-hunting
Conus
. In contrast, there is no comparable sequence similarity with δ-conotoxins from the venoms of molluscivorous
Conus
species. A rationale for the potential presence of δ-conotoxins, that are potent in vertebrate systems in two different lineages of worm-hunting cone snails, is discussed.
View Full-Text
►

▼

Figures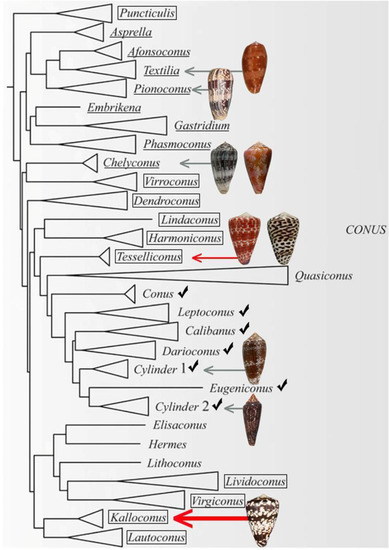 Figure 1
This is an open access article distributed under the
Creative Commons Attribution License
which permits unrestricted use, distribution, and reproduction in any medium, provided the original work is properly cited (CC BY 4.0).

Share & Cite This Article
MDPI and ACS Style
Neves, J.L.B.; Imperial, J.S.; Morgenstern, D.; Ueberheide, B.; Gajewiak, J.; Antunes, A.; Robinson, S.D.; Espino, S.; Watkins, M.; Vasconcelos, V.; Olivera, B.M. Characterization of the First Conotoxin from Conus ateralbus, a Vermivorous Cone Snail from the Cabo Verde Archipelago. Mar. Drugs 2019, 17, 432.
Note that from the first issue of 2016, MDPI journals use article numbers instead of page numbers. See further details here.
Related Articles
Comments
[Return to top]