Structural and Serological Studies of the O6-Related Antigen of
Aeromonas veronii

bv.

sobria

Strain K557 Isolated from

Cyprinus carpio

on a Polish Fish Farm, which Contains

l

-perosamine (4-amino-4,6-dideoxy-

l

-mannose), a Unique Sugar Characteristic for

Aeromonas

Serogroup O6

1

Department of Genetics and Microbiology, Maria Curie-Skłodowska University in Lublin, Akademicka 19, 20-033 Lublin, Poland

2

Laboratory of General Microbiology, Department of Biology of Bacteria, Faculty of Biology and Environmental Protection, University of Łódź, Banacha 12/16, 90-237 Łódź, Poland

3

Department of Fish Diseases, National Veterinary Research Institute, Partyzantów 57, 24-100 Puławy, Poland

*

Author to whom correspondence should be addressed.

Received: 10 June 2019 / Revised: 27 June 2019 / Accepted: 3 July 2019 / Published: 5 July 2019
Abstract
Amongst
Aeromonas
spp. strains that are pathogenic to fish in Polish aquacultures, serogroup O6 was one of the five most commonly identified immunotypes especially among carp isolates. Here, we report immunochemical studies of the lipopolysaccharide (LPS) including the O-specific polysaccharide (O-antigen) of
A. veronii
bv.
sobria
strain K557, serogroup O6, isolated from a common carp during an outbreak of motile aeromonad septicemia (MAS) on a Polish fish farm. The O-polysaccharide was obtained by mild acid degradation of the LPS and studied by chemical analyses, mass spectrometry, and
1
H and
13
C NMR spectroscopy. It was revealed that the O-antigen was composed of two O-polysaccharides, both containing a unique sugar 4-amino-4,6-dideoxy-
l
-mannose (
N
-acetyl-
l
-perosamine,
l
-Rha
p
4NAc). The following structures of the O-polysaccharides (O-PS 1 and O-PS 2) were established: O-PS 1: →2)-α-
l
-Rha
p
4NAc-(1→; O-PS 2: →2)-α-
l
-Rha
p
4NAc-(1→3)-α-
l
-Rha
p
4NAc-(1→3)-α-
l
-Rha
p
4NAc-(1→. Western blotting and an enzyme-linked immunosorbent assay (ELISA) showed that the cross-reactivity between the LPS of
A. veronii
bv.
sobria
K557 and the
A. hydrophila
JCM 3968 O6 antiserum, and
vice versa
, is caused by the occurrence of common α-
l
-Rha
p
4NAc-(1→2)-α-
l
-Rha
p
4NAc and α-
l
-Rha
p
4NAc-(1→3)-α-
l
-Rha
p
4NAc disaccharides, whereas an additional →4)-α-
d
-Gal
p
NAc-associated epitope defines the specificity of the O6 reference antiserum. Investigations of the serological and structural similarities and differences in the O-antigens provide knowledge of the immunospecificity of
Aeromonas
bacteria and are relevant in epidemiological studies and for the elucidation of the routes of transmission and relationships with pathogenicity.
View Full-Text
►

▼

Figures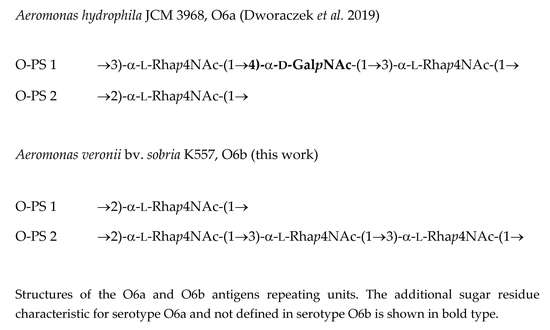 Graphical abstract
This is an open access article distributed under the
Creative Commons Attribution License
which permits unrestricted use, distribution, and reproduction in any medium, provided the original work is properly cited (CC BY 4.0).

Share & Cite This Article
MDPI and ACS Style
Dworaczek, K.; Drzewiecka, D.; Pękala-Safińska, A.; Turska-Szewczuk, A. Structural and Serological Studies of the O6-Related Antigen of Aeromonas veronii bv. sobria Strain K557 Isolated from Cyprinus carpio on a Polish Fish Farm, which Contains l-perosamine (4-amino-4,6-dideoxy-l-mannose), a Unique Sugar Characteristic for Aeromonas Serogroup O6. Mar. Drugs 2019, 17, 399.
Note that from the first issue of 2016, MDPI journals use article numbers instead of page numbers. See further details here.
Related Articles
Comments
[Return to top]