Probing Multi-Target Action of Phlorotannins as New Monoamine Oxidase Inhibitors and Dopaminergic Receptor Modulators with the Potential for Treatment of Neuronal Disorders
1
Department of Food and Life Science, Pukyong National University, Busan 48513, Korea
2
Department of Food Science and Technology, Pukyong National University, Busan 48513, Korea
3
Department of Food Science and Human Nutrition, Chonbuk National University, Jeonju 54896, Korea
*
Authors to whom correspondence should be addressed.
Received: 21 May 2019 / Revised: 18 June 2019 / Accepted: 20 June 2019 / Published: 24 June 2019
Abstract
Modulation of multiple protein targets with a single compound is essential for the effective treatment of central nervous system disorders. In our previous G protein-coupled receptor (GPCR) cell-based study, a selective human monoamine oxidase (
h
MAO)-A inhibitor, eckol, stimulated activity of dopamine D
3
and D
4
receptors. This result led to our interest in marine phlorotannin-mediated modulation of
h
MAO enzymes and related GPCRs in neuronal disorders. Here, we evaluate the multi-target effects of phloroglucinol, phlorofucofuroeckol-A (PFF-A), and dieckol by screening their modulatory activity against
h
MAO-A and -B and various neuronal GPCRs. Among the tested phlorotannins, PFF-A showed the strongest inhibitory activity against both
h
MAO isoforms, with higher selectivity toward
h
MAO-B than
h
MAO-A. Enzyme kinetics and docking data revealed that PFF-A noncompetitively acts on
h
MAOs into the alternative binding pocket of enzymes with allosteric functions. In a functional assay for GPCR screening, dieckol and PFF-A exhibited a multi-target combination of D
3
R/D
4
R agonism and D
1
/5HT
1A
/NK
1
antagonism. In particular, they effectively stimulated D
3
R and D
4
R, compared to other GPCRs. Docking analysis confirmed that dieckol and PFF-A successfully docked into the conserved active sites of D
3
R and D
4
R and interacted with aspartyl and serine residues in the orthosteric binding pockets of the respective receptors. Based on our experimental and computational data, we established the structure-activity relationship between tested phlorotannins and target proteins, including
h
MAOs and GPCRs. Our current findings suggest that
h
MAO inhibitors dieckol and PFF-A, major phlorotannins of edible brown algae with multi-action on GPCRs, are potential agents for treatment of psychological disorders and Parkinson's disease.
View Full-Text
►

▼

Figures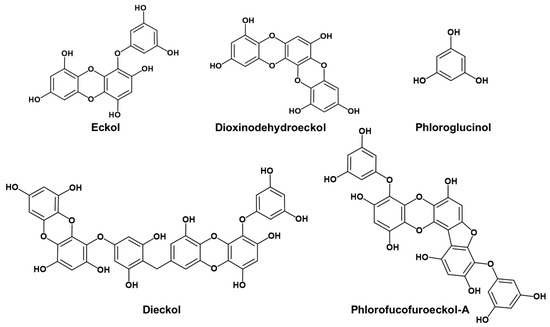 Figure 1
This is an open access article distributed under the
Creative Commons Attribution License
which permits unrestricted use, distribution, and reproduction in any medium, provided the original work is properly cited (CC BY 4.0).

Share & Cite This Article
MDPI and ACS Style
Seong, S.H.; Paudel, P.; Choi, J.-W.; Ahn, D.H.; Nam, T.-J.; Jung, H.A.; Choi, J.S. Probing Multi-Target Action of Phlorotannins as New Monoamine Oxidase Inhibitors and Dopaminergic Receptor Modulators with the Potential for Treatment of Neuronal Disorders. Mar. Drugs 2019, 17, 377.
Note that from the first issue of 2016, MDPI journals use article numbers instead of page numbers. See further details here.
Related Articles
Comments
[Return to top]