Marine Compound 3-Bromo-4,5-dihydroxybenzaldehyde Protects Skin Cells against Oxidative Damage via the Nrf2/HO-1 Pathway
School of Medicine and Jeju Research Center for Natural Medicine, Jeju National University, Jeju 63243, Korea
*
Author to whom correspondence should be addressed.
Received: 14 March 2019 / Revised: 13 April 2019 / Accepted: 17 April 2019 / Published: 19 April 2019
Abstract
In this study, we aimed to illustrate the potential bio-effects of 3-bromo-4,5-dihydroxybenzaldehyde (3-BDB) on the antioxidant/cytoprotective enzyme heme oxygenase-1 (HO-1) in keratinocytes. The antioxidant effects of 3-BDB were examined via reverse transcription PCR, Western blotting, HO-1 activity assay, and immunocytochemistry. Chromatin immunoprecipitation analysis was performed to test for nuclear factor erythroid 2-related factor 2 (Nrf2) binding to the antioxidant response element of the HO-1 promoter. Furthermore, the 3-(4,5-dimethylthiazol-2-yl)-2,5-diphenyltetrazolium bromide assay showed that the cytoprotective effects of 3-BDB were mediated by the activation of extracellular signal-regulated kinase (ERK) and protein kinase B (PKB, Akt) signaling. Moreover, 3-BDB induced the phosphorylation of ERK and Akt, while inhibitors of ERK and Akt abrogated the 3-BDB-enhanced levels of HO-1 and Nrf2. Finally, 3-BDB protected cells from H
2
O
2
- and UVB-induced oxidative damage. This 3-BDB-mediated cytoprotection was suppressed by inhibitors of HO-1, ERK, and Akt. The present results indicate that 3-BDB activated Nrf2 signaling cascades in keratinocytes, which was mediated by ERK and Akt, upregulated HO-1, and induced cytoprotective effects against oxidative stress.
View Full-Text
►

▼

Figures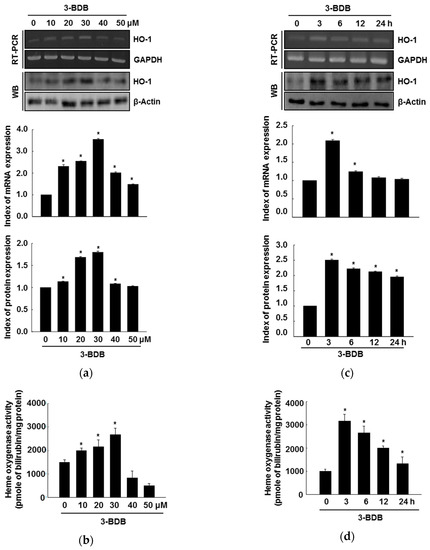 Figure 1
This is an open access article distributed under the
Creative Commons Attribution License
which permits unrestricted use, distribution, and reproduction in any medium, provided the original work is properly cited (CC BY 4.0).

Share & Cite This Article
MDPI and ACS Style
Ryu, Y.S.; Fernando, P.D.S.M.; Kang, K.A.; Piao, M.J.; Zhen, A.X.; Kang, H.K.; Koh, Y.S.; Hyun, J.W. Marine Compound 3-Bromo-4,5-dihydroxybenzaldehyde Protects Skin Cells against Oxidative Damage via the Nrf2/HO-1 Pathway. Mar. Drugs 2019, 17, 234.
Note that from the first issue of 2016, MDPI journals use article numbers instead of page numbers. See further details here.
Related Articles
Comments
[Return to top]