Heterologous Expression of the Marine-Derived Quorum Quenching Enzyme MomL Can Expand the Antibacterial Spectrum of
Bacillus brevis
1
MOE Key Laboratory of Marine Genetics and Breeding, College of Marine Life Sciences, Ocean University of China, Qingdao 266003, China
2
Laboratory for Marine Ecology and Environmental Science, Qingdao National Laboratory for Marine Science and Technology, Qingdao 266071, China
3
Institute of Evolution & Marine Biodiversity, Ocean University of China, Qingdao 266003, China
*
Author to whom correspondence should be addressed.
Received: 25 January 2019 / Revised: 14 February 2019 / Accepted: 18 February 2019 / Published: 21 February 2019
Abstract
Quorum sensing (QS) is closely associated with the production of multiple virulence factors in bacterial pathogens.
N
-acyl homoserine lactones (AHLs) are important QS signal molecules that modulate the virulence of gram-negative pathogenic bacteria. Enzymatic degradation of AHLs to interrupt QS, termed quorum quenching (QQ), has been considered a novel strategy for reduction of pathogenicity and prevention of bacterial disease. However, the low expression levels of QQ proteins in the original host bacteria has affected the applications of these proteins. Previously, we identified a novel marine QQ enzyme, named MomL, with high activity and promising biocontrol function. In this study, we linked the target fragment
momL
to pNCMO2, which provided a basis for the first heterologous expression of MomL in the antifungal and anti-gram-positive-bacteria biocontrol strain
Bacillus brevis
, and obtaining the recombinant strain named
Bb
MomL. The QQ activity of
Bb
MomL was confirmed using a series of bioassays.
Bb
MomL could not only degrade the exogenous signal molecule C6-HSL, but also the AHL signal molecules produced by the gram-negative pathogens
Pectobacterium carotovorum
subsp.
carotovorum
(
Pcc
) and
Pseudomonas aeruginosa
PAO1. In addition,
Bb
MomL significantly reduced the secretion of pathogenic factors and the pathogenicity of
Pcc
and
P. aeruginosa
PAO1. We tested the biocontrol function of
Bb
MomL for prevention of plant diseases in vitro. The result indicates that
Bb
MomL has a broad antibacterial spectrum. Compared with wild-type
B. brevis
,
Bb
MomL not only inhibited fungi and gram-positive bacterial pathogens but also considerably inhibited gram-negative bacterial pathogens. Moreover, the
Bacillus brevis
expression system has good application prospects and is an ideal host for expression and secretion of foreign proteins.
View Full-Text
►

▼

Figures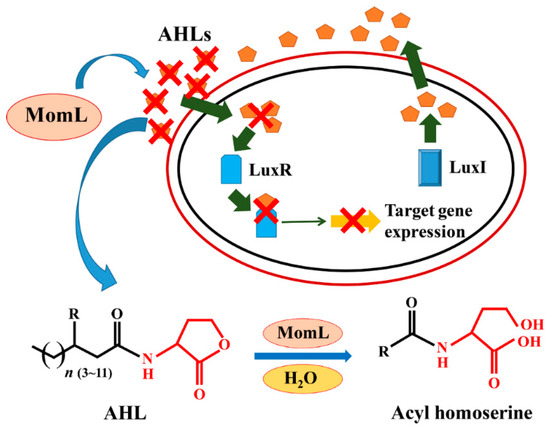 Figure 1
This is an open access article distributed under the
Creative Commons Attribution License
which permits unrestricted use, distribution, and reproduction in any medium, provided the original work is properly cited (CC BY 4.0).

Share & Cite This Article
MDPI and ACS Style
Zhang, J.; Wang, J.; Feng, T.; Du, R.; Tian, X.; Wang, Y.; Zhang, X.-H. Heterologous Expression of the Marine-Derived Quorum Quenching Enzyme MomL Can Expand the Antibacterial Spectrum of Bacillus brevis. Mar. Drugs 2019, 17, 128.
Note that from the first issue of 2016, MDPI journals use article numbers instead of page numbers. See further details here.
Related Articles
Comments
[Return to top]