UVA and UVB Photoprotective Capabilities of Topical Formulations Containing Mycosporine-like Amino Acids (MAAs) through Different Biological Effective Protection Factors (BEPFs)
1
Department of Ecology and Geology, Faculty of Science, University of Malaga, Campus Universitario de Teatinos s/n, E-29071 Malaga, Spain
2
Photobiology Laboratory, Central Service for Research Support (SCAI), University of Malaga, Campus Universitario de Teatinos s/n, E-29071 Malaga, Spain
3
Photobiological Dermatology Laboratory, Medical Research Centre, University of Malaga, Campus Universitario de Teatinos s/n, E-29071 Malaga, Spain
4
Department of Dermatology and Medicine, Faculty of Medicine, University of Malaga, Campus Universitario de Teatinos s/n, E-29071 Malaga, Spain
*
Author to whom correspondence should be addressed.
Received: 13 November 2018 / Revised: 21 December 2018 / Accepted: 3 January 2019 / Published: 14 January 2019
Abstract
The safety and stability of synthetic UV-filters and the procedures for evaluating the photoprotective capability of commercial sunscreens are under continuous review. The influence of pH and temperature stressors on the stability of certain Mycosporine-like amino acids (MAAs) isolated at high purity levels was examined. MAAs were highly stable at room temperature during 24 h at pH 4.5–8.5. At 50 °C, MAAs showed instability at pH 10.5 while at 85 °C, progressive disappearances were observed for MAAs through the studied pH range. In alkaline conditions, their degradation was much faster. Mycosporine-serinol and porphyra-334 (+shinorine) were the most stable MAAs under the conditions tested. They were included in four cosmetically stable topical sunscreens, of which the Sun Protection Factor (SPF) and other Biological Effective Protection Factors (BEPFs) were calculated. The formulation containing these MAAs showed similar SPF and UVB-BEPFs values as those of the reference sunscreen, composed of synthetic UV absorbing filters in similar percentages, while UVA-BEPFs values were slightly lower. Current in vitro data strongly suggest that MAAs, as natural and safe UV-absorbing and antioxidant compounds, have high potential for protection against the diverse harmful effects of solar UV radiation. In addition, novel complementary in vitro tests for evaluation of commercial sunscreens efficacy are proposed.
View Full-Text
►

▼

Figures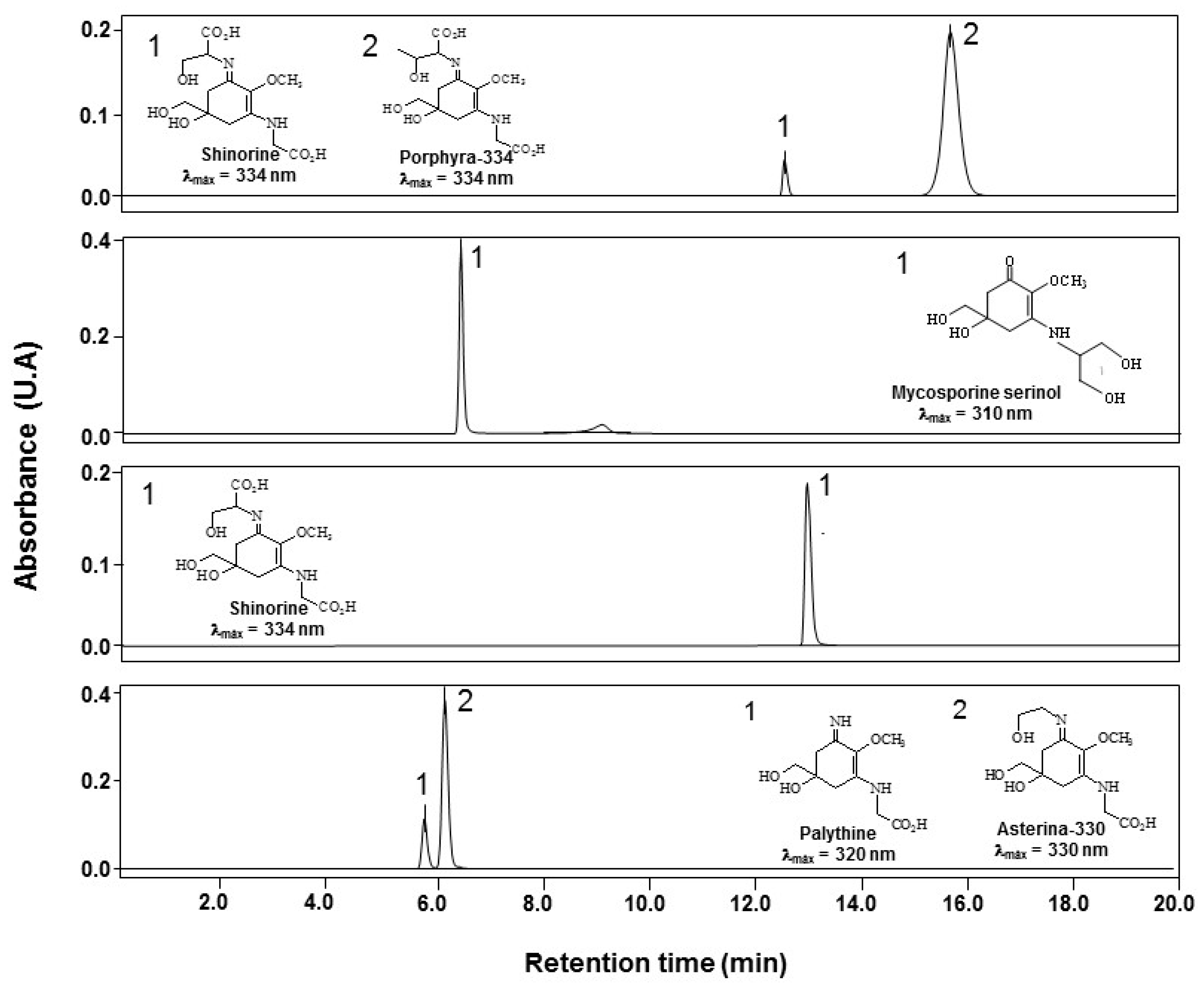 Figure 1
This is an open access article distributed under the
Creative Commons Attribution License
which permits unrestricted use, distribution, and reproduction in any medium, provided the original work is properly cited (CC BY 4.0).

Share & Cite This Article
MDPI and ACS Style
de la Coba, F.; Aguilera, J.; Korbee, N.; de Gálvez, M.V.; Herrera-Ceballos, E.; Álvarez-Gómez, F.; Figueroa, F.L. UVA and UVB Photoprotective Capabilities of Topical Formulations Containing Mycosporine-like Amino Acids (MAAs) through Different Biological Effective Protection Factors (BEPFs). Mar. Drugs 2019, 17, 55.
Note that from the first issue of 2016, MDPI journals use article numbers instead of page numbers. See further details here.
Related Articles
Comments
[Return to top]