Open Access This article is
freely available
re-usable
Review
Exopolysaccharides from Marine and Marine Extremophilic Bacteria: Structures, Properties, Ecological Roles and Applications
Department of Chemical Sciences, University of Naples "Federico II", 80126 Naples, Italy
*
Author to whom correspondence should be addressed.
Received: 29 January 2018 / Accepted: 16 February 2018 / Published: 20 February 2018
Abstract
:
The marine environment is the largest aquatic ecosystem on Earth and it harbours microorganisms responsible for more than 50% of total biomass of prokaryotes in the world. All these microorganisms produce extracellular polymers that constitute a substantial part of the dissolved organic carbon, often in the form of exopolysaccharides (EPS). In addition, the production of these polymers is often correlated to the establishment of the biofilm growth mode, during which they are important matrix components. Their functions include adhesion and colonization of surfaces, protection of the bacterial cells and support for biochemical interactions between the bacteria and the surrounding environment. The aim of this review is to present a summary of the status of the research about the structures of exopolysaccharides from marine bacteria, including capsular, medium released and biofilm embedded polysaccharides. Moreover, ecological roles of these polymers, especially for those isolated from extreme ecological niches (deep-sea hydrothermal vents, polar regions, hypersaline ponds, etc.), are reported. Finally, relationships between the structure and the function of the exopolysaccharides are discussed.
Keywords:
exopolysaccharides; chemical characterization; capsular polysaccharide; purification; EPS; extremophile; marine; NMR; GC-MS; structure/activity relationship
1. Introduction
The common sources of industrial polysaccharide are plants, animals, fungi, algae and bacteria. However, fungi and bacteria have the advantage to give a high structure reproducibility due to the severely monitored conditions of microorganism growth. This is not possible for plant and animal sources, for which the polysaccharide structures depend on climate, environmental and feed conditions. According to these preliminary remarks, the research of new microorganisms for obtaining polysaccharides, with novel structures and properties virtually useful for new or improved industrial applications, is nowadays demanding.
To this aim, scientists have addressed their attention to oceans, which cover 71% of the Earth's surface, with an average depth of 3.8 km, an average pressure of 38 MPa (corresponding to 375 atm) and an average temperature of 2 °C. These features cause the existence of various extreme habitats in marine ecosystem, including deep-sea, hydrothermal vents, volcanic and hydrothermal marine areas, marine salterns and salts lake and sea ice in polar regions, niches where extremophilic bacteria thrive and can virtually produce peculiar exopolysaccharide structures.
Aim of this review is to collect the majority of papers containing structural characterization focusing on relationships with polysaccharide activities or properties. A better understanding of the structure property relationships of marine bacteria EPSs is important to evaluate their ecological roles and for exploring their possible biotechnological and industrial applications.
2. Purification and Characterization Methodologies
2.1. Extraction from Cell-bound Polysaccharides: Capsular Polysaccharides (CPSs)
Exopolysaccharide isolation is different depending on the polymer localization. Capsular polysaccharides, visualized by Transmission Electron Microscopy [
34
] and/or light microscopy [
35
], are mainly recovered from the cells (
Figure 2
). Indeed, they are strictly associated to the membrane and form ionic interactions with the molecules included in the membrane. The first step consists in the separation of cells from growth medium by centrifugation. During this operation, some CPS molecules could pass into the growth medium, distributing the polymers into the two phases. It turns out that the polymer yield calculation is quite complex.
Then, the isolation of capsular polysaccharides proceeds with a solvent extraction of the cells, usually by saline solution [
36
] or by the hot phenol/water method [
37
,
38
]. Since with the last procedure LPSs are extracted from the cells together with the CPSs, an acetic acid hydrolysis is demanding to remove the glycolipid portion (lipid A) from the polysaccharide sample. After extraction and taking into consideration the sample characteristics, anionic exchange chromatography and/or gel filtration are usually performed.
2.2. Extraction from Growth Medium: Medium-released Polysaccharides (MRPs)
MRP-EPSs can be obtained from the growth medium, after centrifugation or filtration of the cells. Then, the supernatant is treated with various chemical substances in order to obtain a precipitate (
Figure 2
). The majority of the reports indicate alcohol precipitation as the main method for obtaining polysaccharidic material, either by ethanol or 2-propanol. In addition, acetone [
39
] or detergent salts such as the cetylpyridinium chloride [
40
], can be used. However, since it is hard to directly obtain a purified polysaccharide, the chromatographic step is determining.
2.3. Extraction of EPS from Biofilm
Extraction of polysaccharides from biofilm is much more difficult, due to the necessity to firstly break down the interactions between the EPSs and the complex matrix, mainly constituted by proteins and nucleic acids, where they are embedded [
41
]. EPSs can be extracted from biofilm by EDTA [
42
,
43
,
44
], NaOH [
43
], NaCl [
45
] and formaldehyde [
44
]. EPSs can also be extracted by centrifugation, as reported for
Pseudomonas aeruginosa
[
46
]. After extraction and precipitation by ethanol, chromatographies are requested to obtain a pure sample of EPS.
2.4. Methods for Structural Characterization
Spectroscopic methods include Infrared Spectroscopy (IR) and Nuclear Magnetic Resonance (NMR). FT-IR can furnish several information about polysaccharide structures, such as the type of sugar rings, the presence of amino sugars, uronic acids and sulphate groups. Nevertheless, infrared spectroscopy is not suitable for an in-depth structural analysis.
All these methods allow the determination of the primary structure of EPSs, that is only the first step to understand the relationship between the polysaccharidic structure and its function and/or activity. Therefore, secondary structure definition, that is the conformation of the polymer in a solution and in some cases, supramolecular structures characterization, are mandatory to define the shape of the macromolecules in solution.
3. Structure of Exopolysaccharides (EPSs) from Marine Bacteria and Archaebacteria
In the following sections, the structural features of EPSs produced by marine bacteria will be reported. The reported EPSs come from species belonging to both Archaea and Bacteria domains. Since many bacteria are ubiquitous, in this review we have considered only marine strains.
3.2. Bacillus and Geobacillus
3.3. Colwellia
The genus
Colwellia
comprises heterotrophic and halophilic Gammaproteobacteria. It contains 12 psychrophilic species [
128
,
129
] and among them
Colwellia psychrerythraea
34H (
Cp
34H) is the one best characterized [
130
,
131
,
132
].
Cp
34H was isolated from enriched Arctic marine sediments at −1 °C and it is considered a model organism for cold-adaptation mechanisms [
133
]. This strain, when grown in marine broth at 4 °C, is able to produce cryoprotectant carbohydrate polymers, an EPS [
78
,
79
] and a CPS [
37
]. In addition, it has been reported that these polymers can be useful for overcoming threshold requirements for dissolved organic carbon in cold environments [
131
].
The repeating unit of both CPS and EPS have been completely delucidated and both contain amino sugars and uronic acids (
Figure 4
e,f,
Table 2
). Another common feature is the presence of an amino acidic decoration, consisting of a threonine and an alanine in CPS and EPS, respectively. The shape of these two polymers in aqueous solution can explain the ice recrystallization inhibition (IRI) activity, measured for both molecules.
When
Colwellia
is grown at 8 °C, it is able to produce a third polysaccharide, which is not endowed with antifreeze activity. This is a polymer containing amino sugars and aminouronic acids and it is not decorated by amino acids (
Figure 4
g,
Table 2
) [
80
]. It has been hypothesized that the lack of these substituents does not settle the equilibrium between the hydrophobic and the hydrophilic regions necessary to the establishment of the IRI activity.
3.5. Hyphomonas
Members of
Hyphomonas
genus are Gram-negative bacteria, which are usually colonizer of marine environments. Species of the genus
Hyphomonas
divide by budding, forming a flagellated cell at the tip of the prosthecum [
139
]. Two marine
Hyphomonas
strains, MHS-3 and VP-6, are reported to produce exopolysaccharides.
Hyphomonas
strains MHS-3, isolated from shallow marine sediments in Puget Sound, produces colonies with different morphology, ranging from a slime-producing (MHS-3) to a non-slime-producing (MHS-3 rad) phenotypes [
95
]. The EPS produced may be involved in the first phase of adhesion process for the formation of the biofilm matrix.
The capsule-like exopolysaccharide, produced by MHS-3, is recognized by a GalNAc-specific lectin, suggesting that it contains the amino sugar
N
-acetylgalactosamine (
Table 2
). MHS-3 EPS is an acidic polysaccharide, as confirmed by HPAE and IR analyses and may contain
N
-acetyl-galactosaminuronic acid, due to the binding to the cationic polyferritin [
96
]. Moreover, it has been reported that MHS-3 EPS has also the ability to sequester gold cations, thus confirming the ionic interactions between the EPS and metal ions [
97
].
3.6. Idiomarina
Mata et al. [
71
] reported the production of EPSs from two γ-proteobacteria belonging to Alteromonadaceae family,
Idiomarina fontislapidosi
F23 and
Idiomarina ramblicola
R22.
Idiomarina fontislapidosi
F23 was isolated from Fuente de Piedra lagoon in Spain [
135
], while
Idiomarina ramblicola
R22 from Spanish rambla, a steep-sided water course, often dry but subject to flash flooding [
135
]. Each bacterium produced two different molecular-mass EPSs, mainly composed of Glc, Man, Xyl and Rha, with traces of sulphate and phosphate groups (
Table 2
). The EPSs produced very stable emulsions, composed of small and uniform droplets, making them good emulsifier agents [
71
].
3.8. Pseudomonas
Pseudomonas
species are widespread in marine ecosystems and therefore many EPSs from this genus have been isolated, characterised and tested for their properties and abilities. One of the first species reported to produce exopolysaccharides involved in adhesion properties of the bacterium is the strain NCMB 2021. Two different polysaccharides have been isolated from this strain, of which polysaccharide A was able to form gel, with the ability to bind multivalent cations [
111
], in contrast with polysaccharide B which is not able to precipitate in the presence of cations. These properties may be related to the glycosyl composition (
Table 2
), which is completely different in the two polymers (
Table 2
). Indeed, the solution of polysaccharide B showed low viscosity, suggesting that it has a very flexible chain (random coil). Another EPS involved in the adhesion properties of bacterial cells is that from
Pseudomonas
sp. S9. Under laboratory conditions, the cells were grown in static and, after 1 to 5 h of starvation, they were detected to be surrounded by an exopolymer material [
112
]. In this case, the cells did not show adhesion to hydrophobic surfaces. With extended starvation, the cells appeared to gradually lose the extracellular layer of polysaccharides. When the cells were grown under agitated conditions, the adhesion characteristic grew between 1 and 4 h of starvation, followed by a slow decrease in attachment with time. In this case, no exopolymer was observed around the cells. Three neutral sugars were revealed for the purified exopolysaccharide (
Table 2
), even if no relationships with adhesion properties of the cells were suggested.
Sulphated exopolysaccharides are usually isolated from algae and, due to their similarity with glycosaminoglycans, very often display biological activity, anticoagulant, antiviral and immuno-inflammatory activities that might find relevance in nutraceutical/functional food, cosmetic/cosmeceutical and pharmaceutical applications [
149
]. An anti-cancer sulphated polysaccharide has been isolated and characterised from
Pseudomonas
sp. WAK1 [
113
]. The structure, obtained by methylation analysis and both mono- and two-dimensional NMR experiments, indicated a backbone of two sulphated galactoses, of which one is branched at 6 positions with a glucose unit (
Table 2
) [
113
]. This polymer, showing a cytotoxic effect towards human cancer cell lines MT-4, could provide an example of bacterial exopolysaccharide with suitable functions for obtaining new drugs. Among the most interesting bioactive polysaccharides isolated from
Pseudomonas
species there is the recently reported polymer from
P. stutzeri
273, which showed anti-biofilm, anti-biofouling and antioxidant activities (
Table 2
) [
114
]. All these properties indicated that it could be find applications in challenging bacterial biofilm-associated infection, food-processing contamination and marine biofouling. The glycosyl analysis indicated only neutral and amino sugars, even if the presence of carboxylic acids was suggested by the IR spectrum [
114
]. Therefore, an in-depth analysis of the primary and secondary structures of this polysaccharide would be interesting in order to advance knowledge of antibiofilm activity mechanism.
A cryoprotectant polysaccharide, containing both neutral monosaccharides and uronic acids, has been isolated and purified from the Antarctic cold-adapted
Pseudomonas
sp ID1 cells (
Table 2
). Interestingly, the chemical analysis revealed also the presence of amino acids, which could be part of the EPS [
115
], a feature revealed also for
Colwellia psychrerythraea
34H CPS and EPS [
37
,
79
]. In addition, the polysaccharide was revealed to possess the ability to form a long-term stable emulsion against different food and cosmetic oils, such as olive, sunflower and corn oils and cetiol V oil, respectively [
115
].
3.9. Rhodococcus
Rhodococcus
sp. 33, a marine bacterium of genus
Rhodococcus
, was isolated from Port Botany (Sidney), in a contaminated site near a chemical plant [
150
]. This bacterium is able to tolerate and degrade highs levels of benzene. Aizawa et al. [
116
] reported a different benzene-tolerance for rough and mucoid
Rhodococcus
sp. 33 cells. They demonstrated that the spontaneous mutants rough-type, producing very low amount of EPS, were more sensitive to benzene, resulting in an absent or reduced growth in the presence of the pollutant. In a different way, wild-type colonies that produced EPS appeared mucoid and they were resistant to benzene. These data suggested the direct involvement of exopolysaccharides in the protection against this pollutant [
116
]. The EPS, purified through an enzymatic digestion and gel filtration chromatography, was analysed by way of chemical and spectroscopic experiments. The polymer consists of a tetrasaccaridic repeating unit containing Glc, Gal, GlcA and Man substituted by a pyruvic acid (
Table 2
,
Figure 4
m). Authors demonstrated that the pyruvic residue and the uronic carboxyl group were responsible for the protecting activity, since the de-pyruvylated and carboxyl-reduced EPS that tested for benzene sensitivity showed no activity [
117
].
Rhodococcus erythropolis
PR4 was isolated from Pacific Ocean, in Japan. As reported for other strains [
151
,
152
,
153
,
154
],
R. erythropolis
produces a FACEPS, a fatty acid containing exopolysaccharide.
R. erythropolis
was grown on IB agar plates at 25°C; the EPS purified through an ion exchange chromatography, showed two peaks, named FR1 and FR2, displaying different monosaccharide composition and emulsifying activity. EPS FR1 contained Glc, GlcN, Man and GlcA and did not show any emulsifying activity. Differently, EPS FR2 showed good activity, probably related to the different chemical structure. Indeed, it displays a tetrasaccharidic repeating unit containing Gal, Glc, Man and GlcA and a pyruvic acid substituting the mannose residue (
Table 2
,
Figure 4
m). Furthermore, only FR2 EPS contained stearic and palmitic acids. These data allowed the conclusion that EPS FR2—named PR4—was the FACEPS, while FR1 was assigned as a mucoidan (
Table 2
) [
118
].
3.10. Shewanella
The genus
Shewanella
comprises species largely distributed in marine environments, typically isolated from the deep-sea [
155
,
156
]. They can be both mesophiles and psychrophiles.
Shewanella
genus belongs to Gammaproteobacteria and about 60 species have been isolated and characterised. Among these, there are
S. onedeinsis
MR-4 [
157
] and
S. colwelliana
[
158
,
159
]. Both species produce capsular polysaccharides. In particular,
S. oneidensis
polymer has been fully characterised, where neutral monosaccharides, amino sugars and uronic acids are included (
Table 2
,
Figure 4
o) [
38
]. The repeating unit has been identified on the basis of chemical analysis and NMR experiments. Instead,
S. colwelliana
capsule has been characterised by cross-reaction with six monoclonal anti-bodies [
120
], indicating a specific and identical epitope recognition. Unfortunately, no structure has been identified in this case, only glycosyl analysis and pyruvate content have been reported (
Table 2
) [
120
].
3.12. Other EPS-Producing Bacteria
4. Structure-Function Relationships and Ecological Role
5. Biotechnological Applications of Marine EPS
Polysaccharides are used in several industrial fields, as thickeners, stabilisers and gelling agents in food products and as antitumoral, antioxidant and/or prebiotic in pharmacology [
198
]. They derived from a variety of sources: bacteria, fungi, algae and plants. Despite all these sources, the world market is dominated by polysaccharides from algae [
199
], like carrageenans, agar and alginates [
200
,
201
] and from lactic acid bacteria, due to the high number of EPSs recovered after the extraction.
In the last years, EPSs produced by marine bacteria have been attracted the interest of several researchers for their unique properties of considerable biotechnological importance and, therefore, of commercial significance. Currently, despite the vast number and biodiversity of the marine EPSs, these polymers represent only a small fraction of the current polymers market, due to the very low amount of purified polysaccharide obtained. Therefore, to achieve a larger amount to be commercialized is necessary to proceed with an enhancement of the production. Particularly, microbial polysaccharides production is greatly influenced by fermentation conditions. Indeed, the structure, the composition and the viscosity of EPSs depend on several factors, such as the composition of the culture medium, the sources of carbon and nitrogen and the precursor molecules, the mineral salts, trace elements, the type of the strain and the fermentation conditions such as pH, temperature, oxygen concentration and agitation [
202
]. In addition, engineering modifications of genes involved in the polysaccharide biosynthesis could also be convenient.
During the last years, diverse marine microbial exopolysaccharides turned out to be promising candidates in biotechnology field. They span from the exopolysaccharides displaying biological activity, exploitable in the pharmaceutical and medical industry [
83
,
99
,
102
,
114
,
121
], with particular regard to the sulphated polysaccharides [
62
,
63
,
113
], to the emulsifier EPSs, that find application in the food, pharmaceutical, cosmetic and petroleum industries [
71
,
85
,
86
,
87
,
118
,
125
,
126
]. Furthermore, it is important to consider the applications of the cryoprotectant and anti-freezing EPSs in many industrial fields [
37
,
40
,
79
,
99
,
106
,
107
,
115
].
6. Conclusions
From the above data, it is possible to highlight the difficulty to carry out an accurate structural determination of a polysaccharide, which is the preliminary step to establish a relationship with its properties and/or functions. The same study is not possible having only the glycosyl composition information, which, however, are useful to explain some properties. An interesting speculation arising from glycosyl composition regards the land plants grown in saline water. These plants produced polysaccharides containing negative charged groups, as carboxyl groups [
203
], when grown under salt-stress conditions. Strikingly, marine bacteria seem to have been chosen carboxyl groups, instead of sulphates of sea-weeds, to make their polysaccharides negatively charged, as it results by the common presence of uronic acids in marine EPSs.
In our opinion, this review suggests to further investigate on the structural determination of exopolysaccharides from marine bacteria, both for potential biotechnological applications and to study in depth their biological functions in the biofilm formation. The high difficulty to make this work requires further developments in the polysaccharide purification techniques, microscopic analyses and more sensitive spectroscopic methods. Future developments could be related to the establishment of correlations between the regulation of the genes responsible of exopolysaccharide structures and the conditions of marine environments.
Acknowledgments
This research was supported by the Ministero dello Sviluppo Economico (MISE), project INDUSTRIA 2015 000023_MADEINITALY_MIO1_00007.
Author Contributions
A.C. and M.M.C. wrote and revised the whole paper; R.L. and M.P. revised the final Manuscript.
Conflicts of Interest
The authors declare no conflict of interest.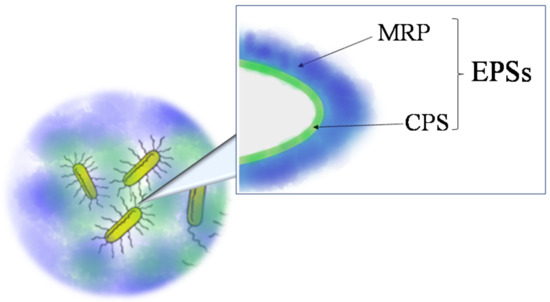 Figure 1. Schematic picture illustrating the typology of exopolysaccharides (EPSs): medium released exopolysaccharides (MRPs) and capsular polysaccharides (CPSs).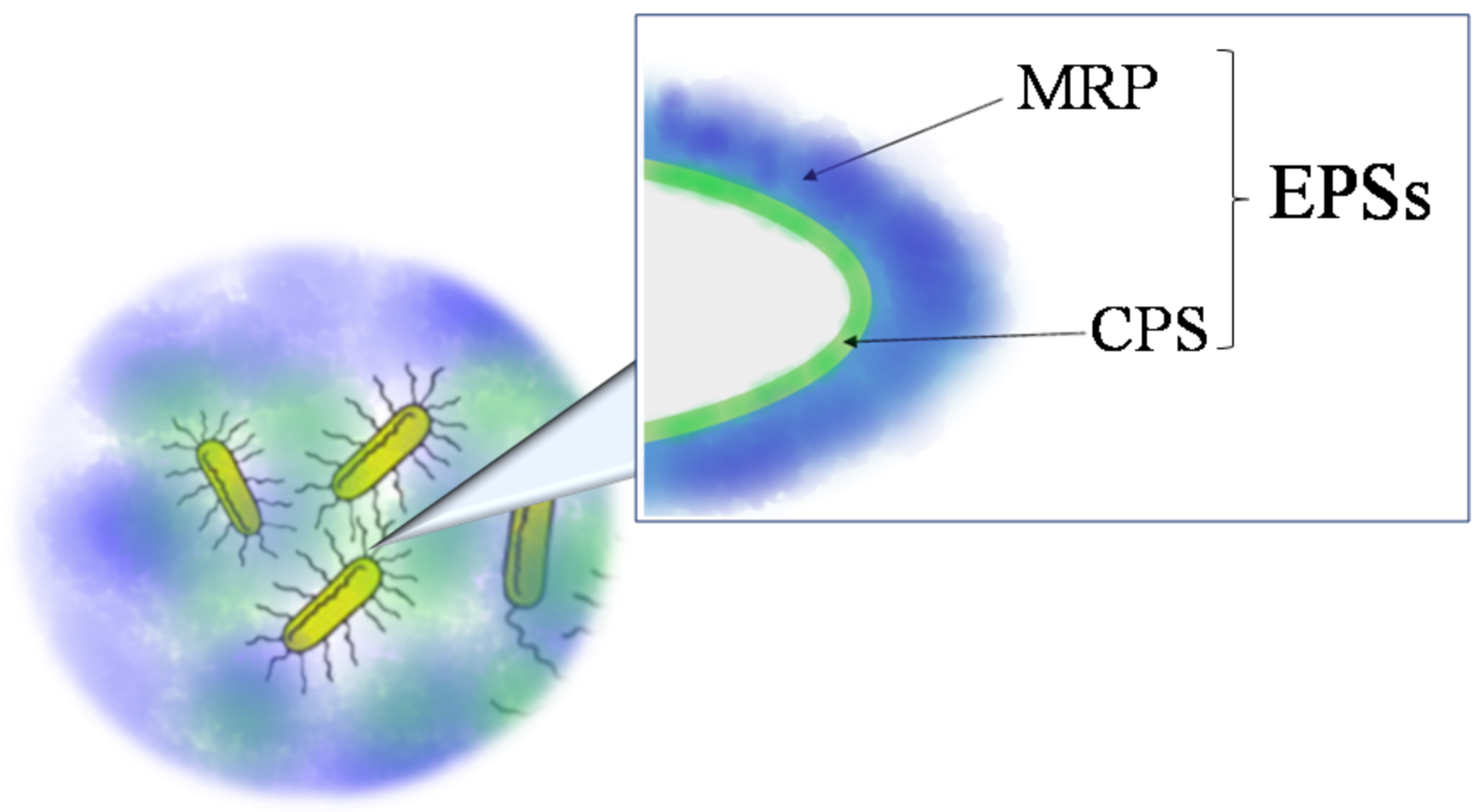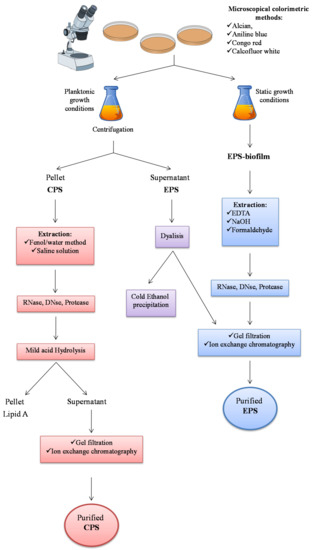 Figure 2. General scheme illustrating detection, extraction and purification of exopolysaccharides from microorganism's planktonic and sessile growth.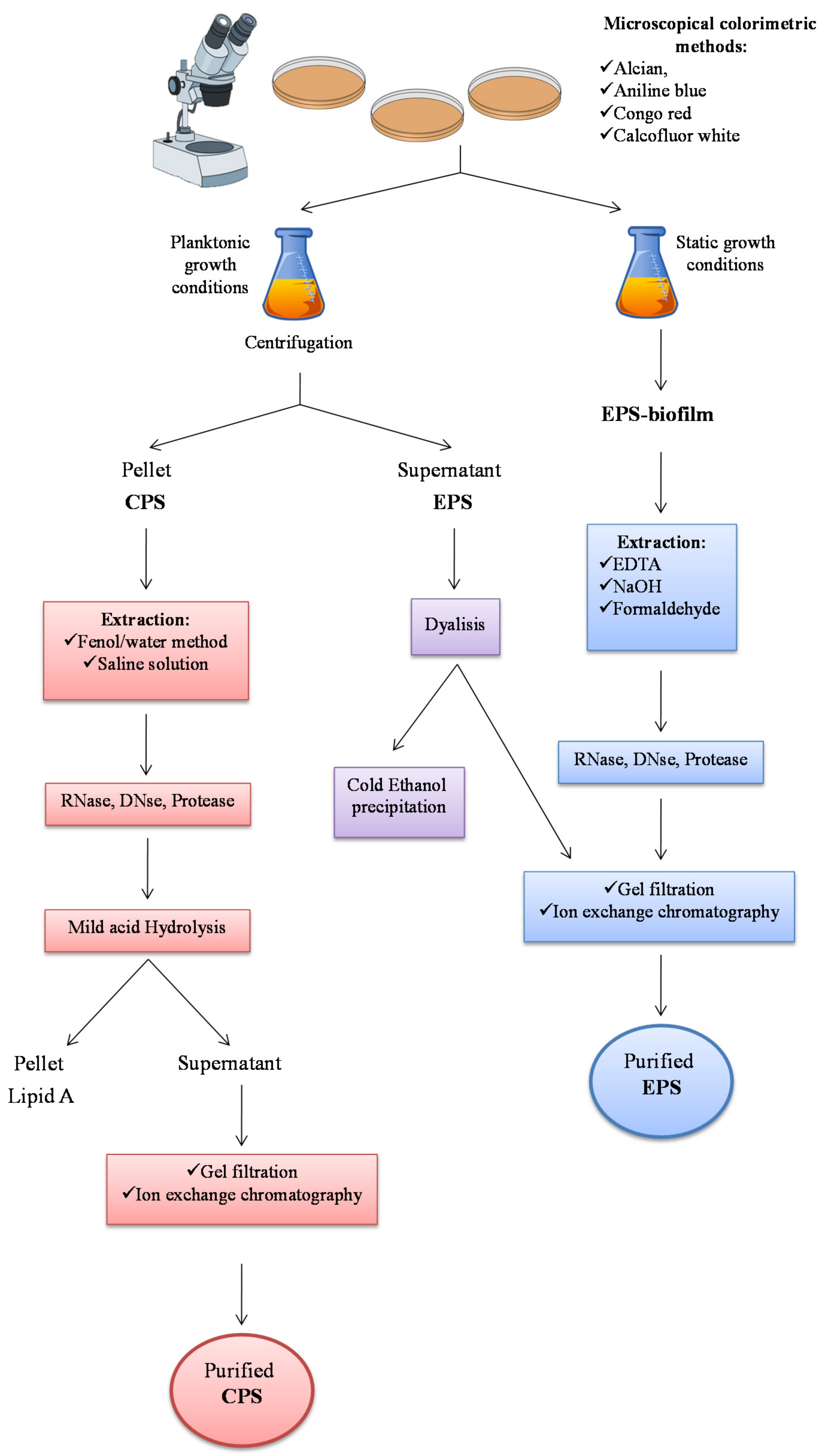 Figure 3. General flow diagram for the characterization of polysaccharide primary and secondary structures performed during each step of purification.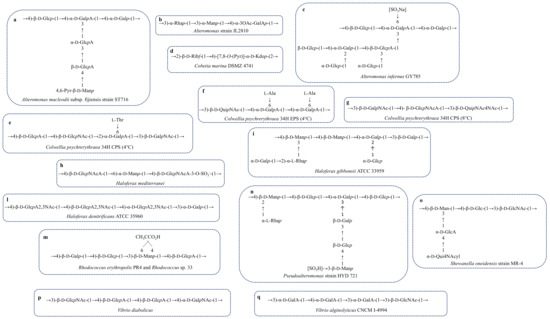 Figure 4.
Repeating units of EPS and CPS structures from marine bacteria and archaebacteria. (
a
)
Alteromonas macleodii
subsp. fijiensis strain ST716; (
b
)
Alteromonas
strain Jl2810; (
c
)
Alteromonas infernus
GY 785; (
d
)
Cobetia marina
DSMZ 4741; (
e
)
Colwellia psychrerythraea
34H CPS (4 °C); (
f
)
Colwellia psychrerythraea
34H EPS (4 °C); (
g
)
Colwellia psychrerythraea
34H CPS (8 °C); (
h
)
Haloferax mediterranei
; (
i
)
Haloferax gibbonsi
ATCC 33959; (
l
)
Haloferax denitrificans
ATCC 35960; (
m
)
Rhodococcus erythropolis
PR4 and
Rhodococcus
sp. 33; (
n
)
Pseudoalteromonas
strain HYD 721; (
o
)
Shewanella oneidensis
MR-4; (
p
)
Vibrio diabolicus
(
m
); (
q
)
Vibrio alginolyticus
CNCM I-4994.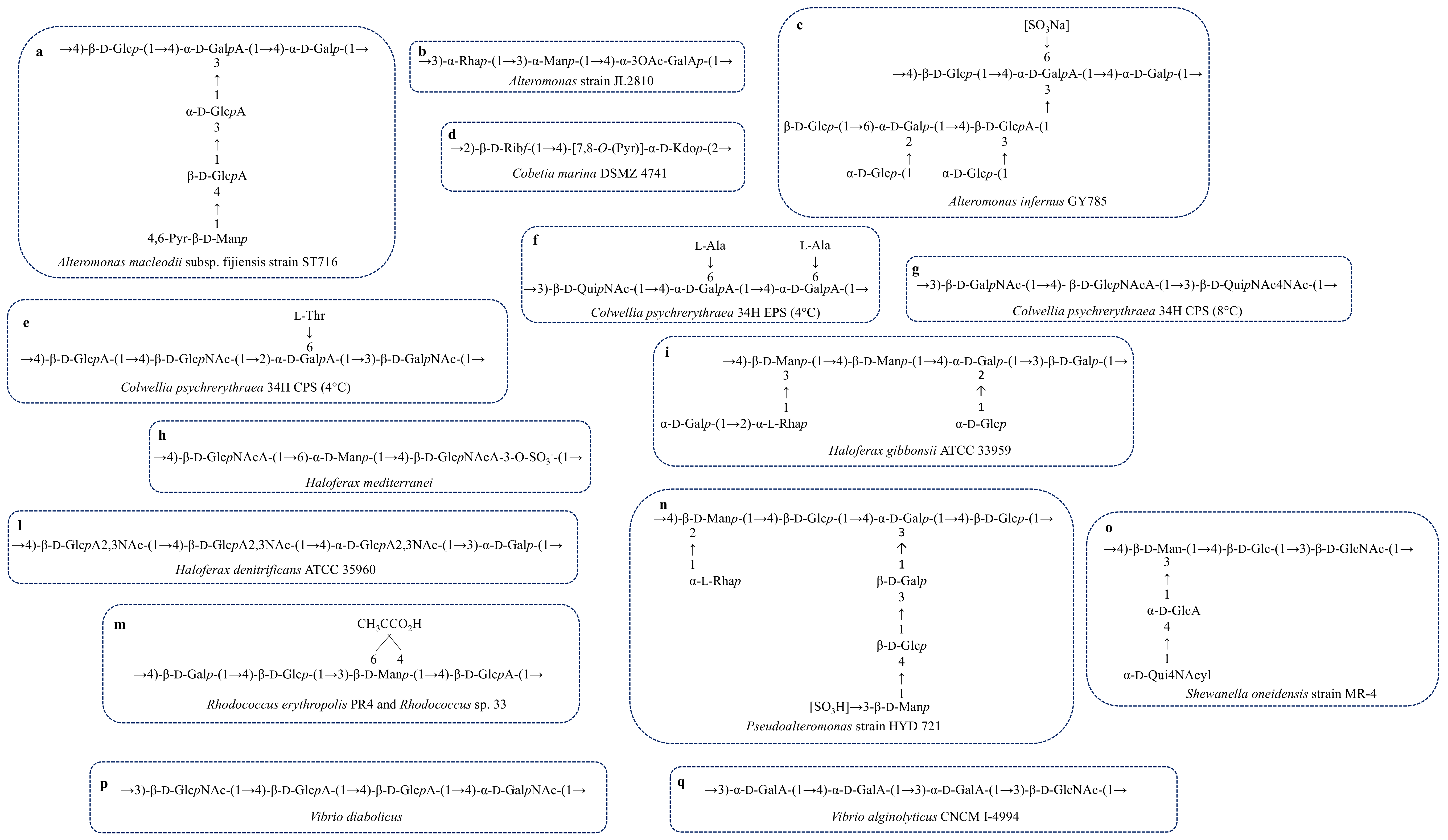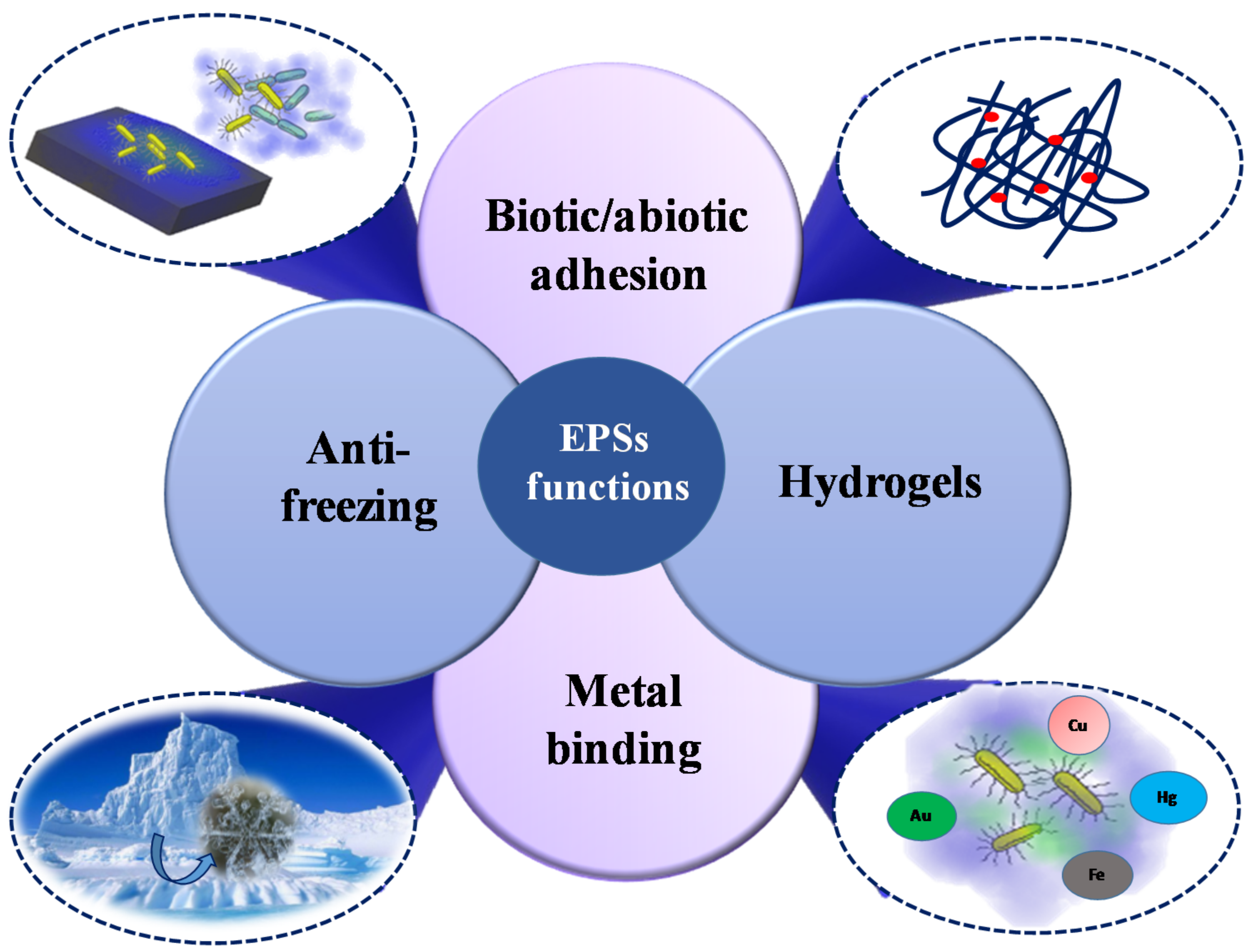 Monosaccharides
Example
Pentoses
arabinose (Ara), ribose (Rib), xylose (Xyl)
Hexoses
glucose (Glc), galactose (Gal), mannose (Man)
Deoxy-hexoses
quinovose (Qui), fucose (Fuc), rhamnose (Rha)
Uronic acids
glucuronic acid (GlcA), galacturonic acid (GalA), mannuronic acid (ManA)
Amino sugars
glucosamine (GlcN), galactosamine (GalN), mannosamine (ManN)
Uncommon sugars
3-deoxy-

d

-manno-2-octulosonic acid (Kdo), neuraminic acid (Neu)
Microorganism
Source
EPS Structure or Monosaccharide Composition
Functions and Applications
Reference

Alteromonas

A. macleodii

sub. fijiensis biovar deepsane HYD 657
Deep-sea hydrothermal vent polychaete annelid
Fuc:Rha:Glc:Gal:Man:GlcA:GalA
1:2.5:2.6:5.9:1.4:2:1.9
Sulphate, lactate and pyruvate groups
Cosmetic, keratinocytes protection
[62,63]

A

. strain HYD-1545
Hydrothermal vent polychaete annelid
Gal, Glc, GlcA, GalA, GalX
2.5:3:2:2:1
X = pyruvate
-
[64]

A. macleodii

sub. fijiensis strain ST716
Deep-sea hydrothermal vent
Structure, Figure 4a
Gel forming
[65,66]

A

. strain JL2810
Sea water
Structure, Figure 4b
Biosorption of heavy metal
[67,68]

A. infernus

GY785
Hydrothermal vent
Structure, Figure 4c
Metal recover
[69,70]

A. hispanica

F32
Hypersaline inland
Glc:Man:Rha:Xyl 18:63:7:12
Sulphate and phosphate groups
-
[71]

Bacillus

B

. strain B3-15
halophile
Marine hot spring
Man
-
[72,73]

B

. strain B3-72
thermophile
Hydrothermal vent
EPS1, Man:Glc 0.3:1
EPS2, Man:Glc1:0.2
-
[74]

B

. strain I-450 haloalkaliphile
Mudflats
Glc, Gal, Fru
Gel forming
[75,76]

Cobetia marina

DSMZ 4741
Coast
Structure, Figure 4d
-
[77]

Colwellia

C. psychrerythraea


34H
psychrophile
Sea sediments, sea ice
Structure, Figure 4e
Anti-freeze
[37]

C. psychrerythraea


34H
Sea sediments, sea ice
Structure, Figure 4f
Anti-freeze
[78,79]

C. psychrerythraea


34H
Sea sediments, sea ice
Structure, Figure 4g
No anti-freeze activity
[80]

Flavobacterium uliginosum

MP-55
Sea weed
Glc:Man:Fuc 7:2:1.
Marinactan
[81]

Geobacillus

G

. strain 4004 thermophile
Sea water
EPS1, Man:Glc:Gal 0.5:1:0.3
EPS2, Man:Glc:Gal 1:0.3:traces
EPS3, Gal:Man:GlcN:Ara 1:0.8:0.4:0.2
-
[82]

G. tepidamans

V264 thermophile
Hot spring
Glucan
Immunomodulant, anti-viral
[83]

G. thermodenitrificans

thermophile
Shallow marine vent
Man, Glc
[84]

Hahella chejuensis


strain 96CJ1035
Marine sediments
Glc:Gal 1:6.8
Traces of xylose and ribose
Emulsifier
[85,86]

Halomonas

H. eurihalina

F2-7
Dead Sea
Glc:Man:Rha 2.9:1.5:1
Uronic acids, amino sugars, sulphate groups
Emulsifier
[87,88]

H. maura


halophile
Solar saltern
Man:Gal:Glc:GlcA
34.8:14:29.3:21.9
Sulphate groups
Viscous, pseudoplastic
[89,90]

H

. sp. OKOH halophile
Bottom sediments
No structure
Flocculant
[91]

H

. sp AAD6 (JCM 15723)
Soil saltern
Levan
-
[92,93]

H. alkaliantarctica


strain CRSS
Salt lake
EPS1, Mannan
EPS2, Xylo-mannan
EPS3, Fructo-glucan
-
[94]

Hyphomonas

H

. strain MHS-3
Shallow marine sediments
GalNAcA
Adhesion
[95,96,97]

H

. strainVP-6
Vent region
No structure
Adhesion
[98]

Idiomarina

I. fontislapidosi

F23T
Lagoon
Glc, Man, Xyl, Rha
Sulphate and phosphate groups
Emulsifier, metal binding
[71]

I. ramblicola

R22T
Water-course
Glc, Man, Xyl, Rha
Sulphate and phosphate groups
Emulsifier, metal binding
[71]

Polaribacter

sp. SM1127 psychrophile
Artic brown alga Laminaria
Rha:Fuc:GlcA:Man:Glc:GlcN
0.8:7.4:21.4:23.4:17.3:1.6:28.0
Cryoprotectant, anti-oxidant
[99]

Pseudoalteromonas

P

. strain HYD721
Deep-sea hydrothermal vent
Structure, Figure 4n
-
[100]

P

. strain TG12
Sea-water
Rha:Fuc:Gal:GalNAc:Glc:GlcNAc
1.2:0.5:0.9:0.7:10.4:24.8
Man:Xyl:MurA:GalA:GlcA
4.8:27.7:0.3:23.1:5.6
Metal binding
[101]

P. ulvae

TC14
Marine biofilm
LB-EPS, Glc, uronic acids
TB-EPS, Glc, uronic acids
Sol-EPS, Glc
Anti-biofilm
[102]

P. ruthenica

Sea-water
Man, traces of uronic acids
Pseudoplastic
[103]

P

. sp. strain MD12-642
Marine sediments
GalA:GlcA:Rha:GlcNAc
44:28:15:14
Viscosity
[104]

P. haloplanktis

TAC125 psychrophile
Antarctic sea water
Man, Glc
Phosphate groups
-
[105]

P

. sp. strain SM20310 psychrophile
Arctic sea-ice
Rha:Xyl:Man:Gal:Glc:GalNAc:GlcNAc
2.1:0.9:71.7:9.0:10.7:1.5:4.0
Cryoprotectant
[106]

P. arctica

KOPRI 21653 psychrophile
Sea-side sediments
Glc:Gal
1.5:1
Cryoprotectant
[107]

P. elyakovii

Arcpo 15 psychrophile
Not reported
Man:GalA
3.3:1
Cryoprotectant
[40]

P

. sp. CAM025 psychrophile
Particles form Antarctic sea
Glc:GalA:Rha:Gal
1:0.5:0.1:0.08
Adhesion
[108]

P

. sp. CAM036 psychrophile
Particles from Southern Ocean
GalA:Glc:Man:GalNAc:Ara
1:0.8:0.84:0.36:0.13
-
[108]

P

. sp. SM9913 psychrophile
Deep-sea sediment
Glc, Gal, Xyl, Ara
Metal binding
[109]

P

. sp. MER144 psychrophile
Terra Nova Bay, Ross SeaAntarctic
Glc:Man:GalN:Ara:GlcA:GalA:Gal
1:0.36:0.26:0.06:0.06:0.05:0.03
-
[110]

Pseudomonas

P

. sp. NCMB 2021
Not reported
Pol A, Glc:Gal:GlcA:GalA
1.45:1.18:0.64:0.43
Pol B, GlcNAc, deoxy-Hex, Kdo
metal binding (A) Adhesion (B)
[111]

P

. sp. S9 psychrophile
Polar basin
Glc:GlcNAc:GalNAc
28:35:37
Adhesion
[112]

P

. sp. WAK1
Brown seaweed Undaria pinnatifida
Gal:Glc 2:1
Sulphate groups
Anti-cancer
[113]

P. stutzeri

273
Marine sediments
GlcN:Rha:Glc:Man
35.4:28.6:27.2:8.7
Anti-biofilm, anti-biofouling, antioxidant
[114]

P

. sp. ID1
Marine sediments
Glc:Gal:Fuc
2:1:1
Cryoprotectant
[115]

Rhodococcus

R

. sp. 33
Contaminate site near a chemical plant
Structure, Figure 4m
-
[116,117]

R

. erythropolis PR4
Ocean
FR2
Structure, Figure 4m
Emulsifier
[118]
FR1
Glc:GlcN:GlcA:Fuc
2:1:1:1
-

Salipinger mucosus

A3Thalophile
Solar saltern
Glc:Man:Gal:Fuc
1.5:2.5:2.5:1
Sulphate and phosphate groups
Metal binding, emulsifier, pseudoplastic
[119]

Shewanella

S. oneidensis

MR-4
Dead Sea
Structure, Figure 4o
-
[38]

S. colwelliana

Associate bivalve
Man:Glc:Gal:pyruvate
1:2:2:4
-
[120]

Vibrio

V. diabolicus

Deep-Sea hydrothermal ventA. pompejana
Structure, Figure 4p
Filler of bone defects in rat calvaria
[121,122]

V. alginolyticus

Sea water
Glc:Xyl:RibN:AraN
2:1:9:1
Shearing properties
[123]

V. alginolyticus


CNCM I 4994
Sea water
Structure, Figure 4q
-
[124]

V. harveji

VB23
Sea water
Gal:Glc:Rha:Fuc:Man:Rib:Ara:Xyl
10.08:3.6:0.7:0.15:1.56:0.2:0.3:0.45
Emusilfier
[125]

V. furnissii


strain VB0S3
Sea water
Gal:Glc:Rha:Fuc:Man:Rib:Ara
5.21:4.68:1.0:0.79:1.43:0.16:0.19
Emusilfier
[126]

V

. sp. QY101
Laminaria thallus
Glc:Gal:GlcA:GalA:Rha:Fuc:GlcN:Man
6.57:6.89:21.47:23.05:23.9:3.61:12.15:2.36
Anti-biofilm
[127]

Zooglea

sp. KCCM100376
Seaweed Undaria
CBP, Glc:Gal:Man 1:2:2
WSP, Glc:Gal:Man 2:2:3
Water-holding capacity
[39]
Microorganism
Source
EPS Structure or Monosaccharide Composition
Functions and Applications
Reference

Haloarcula

H. japonica

T5
halophile
Marine saltern
Man:Gal:GlcA
2:1:3
-
[172]

H. japonica

T6–T7
halophile
Marine saltern
Man:Gal:Glc:GlcA
1:0.2:0.2:traces
-
[172]

H. hispanica


ATCC 33960
halophile
Solar saltern
Man:Gal:Glc
55.9:43.2:0.9
Sulphate groups
-
[173]

Haloferax

H. mediterranei

R-4
ATCC 33500
halophile
Salt ponds
Structure, Figure 4h
Pseudoplastic
[174,175]

H. gibbonsii


ATCC 33959
halophile
Marine saltern Dead Sea
Structure, Figure 4i
-
[176]

H. denitrificans


ATCC 35960
halophile
Saltern
Structure, Figure 4l
-
[177]

Thermococcus litoralis

DSM5 473 e DSM 3638
Shallow marine
Thermal spring
Man
Adhesion
[178]

© 2018 by the authors. Licensee MDPI, Basel, Switzerland. This article is an open access article distributed under the terms and conditions of the Creative Commons Attribution (CC BY) license (http://creativecommons.org/licenses/by/4.0/).