Association of Alpha Tocopherol and Ag Sulfadiazine Chitosan Oleate Nanocarriers in Bioactive Dressings Supporting Platelet Lysate Application to Skin Wounds
1
Department of Drug Sciences, University of Pavia, 27100 Pavia, Italy
2
Department of Public Health Experimental and Forensic Medicine, University of Pavia, 27100 Pavia, Italy
3
Immunohaematology and Transfusion Service and Cell Therapy Unit of Fondazione IRCCS, S. Matteo, 27100 Pavia, Italy
*
Author to whom correspondence should be addressed.
Received: 13 January 2018 / Revised: 31 January 2018 / Accepted: 6 February 2018 / Published: 9 February 2018
Abstract
Chitosan oleate was previously proposed to encapsulate in nanocarriers some poorly soluble molecules aimed to wound therapy, such as the anti-infective silver sulfadiazine, and the antioxidant α tocopherol. Because nanocarriers need a suitable formulation to be administered to wounds, in the present paper, these previously developed nanocarriers were loaded into freeze dried dressings based on chitosan glutamate. These were proposed as bioactive dressings aimed to support the application to wounds of platelet lysate, a hemoderivative rich in growth factors. The dressings were characterized for hydration capacity, morphological aspect, and rheological and mechanical behavior. Although chitosan oleate nanocarriers clearly decreased the mechanical properties of dressings, these remained compatible with handling and application to wounds. Preliminary studies in vitro on fibroblast cell cultures demonstrated good compatibility of platelet lysate with nanocarriers and bioactive dressings. An in vivo study on a murine wound model showed an accelerating wound healing effect for the bioactive dressing and its suitability as support of the platelet lysate application to wounds.
View Full-Text
►

▼

Figures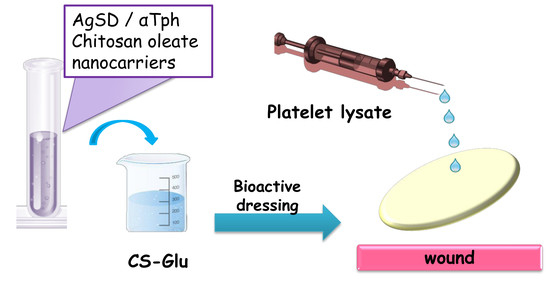 Graphical abstract
This is an open access article distributed under the
Creative Commons Attribution License
which permits unrestricted use, distribution, and reproduction in any medium, provided the original work is properly cited (CC BY 4.0).

Share & Cite This Article
MDPI and ACS Style
Bonferoni, M.C.; Sandri, G.; Rossi, S.; Dellera, E.; Invernizzi, A.; Boselli, C.; Cornaglia, A.I.; Del Fante, C.; Perotti, C.; Vigani, B.; Riva, F.; Caramella, C.; Ferrari, F. Association of Alpha Tocopherol and Ag Sulfadiazine Chitosan Oleate Nanocarriers in Bioactive Dressings Supporting Platelet Lysate Application to Skin Wounds. Mar. Drugs 2018, 16, 56.
Note that from the first issue of 2016, MDPI journals use article numbers instead of page numbers. See further details here.
Related Articles
Comments
[Return to top]