Modulation of Human Complement System by Antimicrobial Peptide Arenicin-1 from
Arenicola marina
1
Institute of Experimental Medicine, Acad. Pavlov Str. 12, Saint Petersburg 197376, Russia
2
Research Institute of Highly Pure Biopreparations, Pudozhskaya Str., 7, Saint Petersburg 197110, Russia
3
Department of Biochemistry, Saint-Petersburg State University, Universitetskaya Embankment, 7/9, Saint-Petersburg 199034, Russia
4
M.M. Shemyakin and Yu. A. Ovchinnikov Institute of Bioorganic Chemistry, Russian Academy of Sciences, Miklukho-Maklaya Str., 16/10, Moscow 117997, Russia
*
Author to whom correspondence should be addressed.
Received: 17 October 2018 / Revised: 13 November 2018 / Accepted: 27 November 2018 / Published: 1 December 2018
Abstract
Antimicrobial peptides from marine invertebrates are known not only to act like cytotoxic agents, but they also can display some additional activities in mammalian organisms. In particular, these peptides can modulate the complement system as was described for tachyplesin, a peptide from the horseshoe crab. In this work, we investigated the influence on complement activation of the antimicrobial peptide arenicin-1 from the marine polychaete
Arenicola marina
. To study effects of arenicin on complement activation in human blood serum, we used hemolytic assays of two types, with antibody sensitized sheep erythrocytes and rabbit erythrocytes. Complement activation was also assessed, by the level of C3a production that was measured by ELISA. We found that the effect of arenicin depends on its concentration. At relatively low concentrations the peptide stimulates complement activation and lysis of target erythrocytes, whereas at higher concentrations arenicin acts as a complement inhibitor. A hypothetical mechanism of peptide action is proposed, suggesting its interaction with two complement proteins, C1q and C3. The results lead to the possibility of the development of new approaches for therapy of diseases connected with complement dysregulation, using peptide regulators derived from natural antimicrobial peptides of invertebrates.
View Full-Text
►

▼

Figures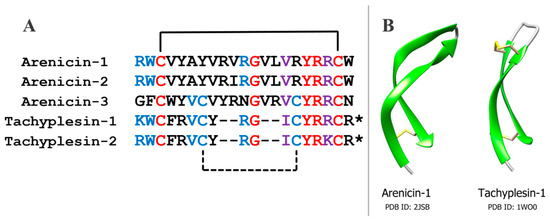 Figure 1
This is an open access article distributed under the
Creative Commons Attribution License
which permits unrestricted use, distribution, and reproduction in any medium, provided the original work is properly cited (CC BY 4.0).

Share & Cite This Article
MDPI and ACS Style
Umnyakova, E.S.; Gorbunov, N.P.; Zhakhov, A.V.; Krenev, I.A.; Ovchinnikova, T.V.; Kokryakov, V.N.; Berlov, M.N. Modulation of Human Complement System by Antimicrobial Peptide Arenicin-1 from Arenicola marina. Mar. Drugs 2018, 16, 480.
Note that from the first issue of 2016, MDPI journals use article numbers instead of page numbers. See further details here.
Related Articles
Comments
[Return to top]