Synthesis and Antiproliferative Activity of Marine Bromotyrosine Purpurealidin I and Its Derivatives
1
Drug Research Program, Division of Pharmaceutical Chemistry and Technology, Faculty of Pharmacy, Viikinkaari 5 E (P.O. Box 56), University of Helsinki, FI-00014 Helsinki, Finland
2
Drug Research Program, Division of Pharmaceutical Biosciences, Faculty of Pharmacy, Viikinkaari 5 E (P.O. Box 56), University of Helsinki, FI-00014 Helsinki, Finland
3
Institute of Chemistry, Technische Universität Chemnitz, 09107 Chemnitz, Germany
*
Author to whom correspondence should be addressed.
†
Current address: Government First Grade College, Chamarajanagar 571313 (Affiliated to University of Mysore), India.
Received: 6 November 2018 / Revised: 20 November 2018 / Accepted: 27 November 2018 / Published: 3 December 2018
Abstract
The first total synthesis of the marine bromotyrosine purpurealidin I (
1
) using trifluoroacetoxy protection group and its dimethylated analog (
29
) is reported along with 16 simplified bromotyrosine derivatives lacking the tyramine moiety. Their cytotoxicity was evaluated against the human malignant melanoma cell line (A-375) and normal skin fibroblast cells (Hs27) together with 33 purpurealidin-inspired simplified amides, and the structure–activity relationships were investigated. The synthesized simplified analogs without the tyramine part retained the cytotoxic activity. Purpurealidin I (
1
) showed no selectivity but its simplified pyridin-2-yl derivative (
36
) had the best improvement in selectivity (Selectivity index 4.1). This shows that the marine bromotyrosines are promising scaffolds for developing cytotoxic agents and the full understanding of the elements of their SAR and improving the selectivity requires further optimization of simplified bromotyrosine derivatives.
View Full-Text
►

▼

Figures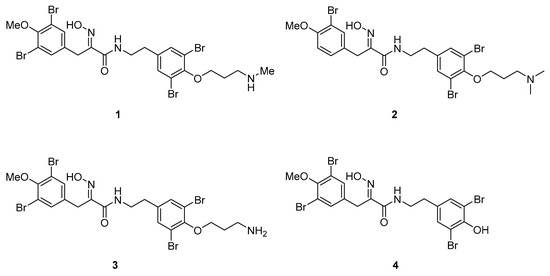 Figure 1
This is an open access article distributed under the
Creative Commons Attribution License
which permits unrestricted use, distribution, and reproduction in any medium, provided the original work is properly cited (CC BY 4.0).

Share & Cite This Article
MDPI and ACS Style
Bhat, C.; Ilina, P.; Tilli, I.; Voráčová, M.; Bruun, T.; Barba, V.; Hribernik, N.; Lillsunde, K.-E.; Mäki-Lohiluoma, E.; Rüffer, T.; Lang, H.; Yli-Kauhaluoma, J.; Kiuru, P.; Tammela, P. Synthesis and Antiproliferative Activity of Marine Bromotyrosine Purpurealidin I and Its Derivatives. Mar. Drugs 2018, 16, 481.
Note that from the first issue of 2016, MDPI journals use article numbers instead of page numbers. See further details here.
Related Articles
Comments
[Return to top]