Fucoidan Extracted from the New Zealand
Undaria pinnatifida

—Physicochemical Comparison against Five Other Fucoidans: Unique Low Molecular Weight Fraction Bioactivity in Breast Cancer Cell Lines

1

College of Life Sciences and Oceanography, Shenzhen University, Shenzhen 518071, China

2

School of Science, Faculty of Health and Environmental Sciences, Auckland University of Technology, Auckland 1010, New Zealand

3

College of Food Engineering and Nutritional Science, Shaanxi Normal University, Xi'an 710119, China

4

School of Interprofessional Health Studies, Faculty of Health and Environmental Sciences, Auckland University of Technology, Auckland 1010, New Zealand

5

Institute of Biomedical Technology, Auckland University of Technology, Auckland 1010, New Zealand

6

State Key Laboratory of Food Science and Technology, Nanchang University, Nanchang 330047, China

7

Department of Medical Biochemistry and Molecular Biology, Faculty of Medicine, Cairo University, Cairo 12613, Egypt

8

AUT-Roche Diagnostics Laboratory, School of Science, Faculty of Health and Environmental Sciences, Auckland University of Technology, Auckland 1010, New Zealand

9

Xinjiang Key Laboratory of Biological Resources and Genetic Engineering, College of Life Science and Technology, Xinjiang University, Urumqi 830046, Xinjiang, China

10

Key Laboratory of Medical Molecular Virology of MOE/MOH, Shanghai Medical College, Fudan University, 130 Dong An Road, Shanghai 200032, China

*

Authors to whom correspondence should be addressed.

Received: 5 November 2018 / Revised: 20 November 2018 / Accepted: 21 November 2018 / Published: 22 November 2018
Abstract
Fucoidan, the complex fucose-containing sulphated polysaccharide varies considerably in structure, composition, and bioactivity, depending on the source, species, seasonality, and extraction method. In this study, we examined five fucoidans extracted from the same seaweed species
Undaria pinnatifida
but from different geological locations, and compared them to the laboratory-grade fucoidan from Sigma (S). The five products differed in molecular composition. The amount of over 2 kDa low molecular weight fraction (LMWF) of the New Zealand crude fucoidan (S1) was larger than that of S, and this fraction was unique, compared to the other four fucoidans. The difference of molecular compositions between S and S1 explained our previous observation that S1 exhibited different anticancer profile in some cancer cell lines, compared with S. Since we observed this unique LMWF, we compared the cytotoxic effects of a LMWF and a high molecular weight fucoidan (HMWF) in two breast cancer cell lines—MCF-7 and MDA-MB-231. Results indicated that the molecular weight is a critical factor in determining the anti-cancer potential of fucoidan, from the New Zealand
U. pinnatifida
, as the LMWF exhibited a dose-dependent inhibition on the proliferation of breast cancer cells, significantly better than the HMWF, in both cell lines. A time-dependent inhibition was only observed in the MCF-7. Induction of caspase-dependent apoptosis was observed in the MDA-MB-231 cells, through the intrinsic apoptosis pathway alone, or with the extrinsic pathway. LMWF stimulated a dose-dependent NOS activation in the MDA-MB-231 cells. In conclusion, the fucoidan extracted from the New Zealand
U. pinnatifida
contains a unique LMWF, which could effectively inhibit the growth of breast cancer cell lines. Therefore, the LMWF from New Zealand
U. pinnatifida
could be used as a supplement cancer treatment.
View Full-Text
►

▼

Figures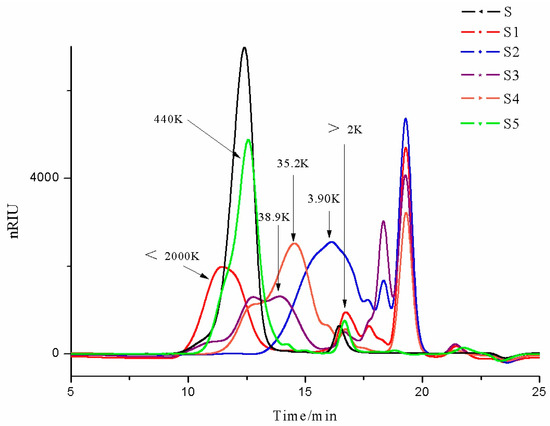 Figure 1
This is an open access article distributed under the
Creative Commons Attribution License
which permits unrestricted use, distribution, and reproduction in any medium, provided the original work is properly cited (CC BY 4.0).

Share & Cite This Article
MDPI and ACS Style
Lu, J.; Shi, K.K.; Chen, S.; Wang, J.; Hassouna, A.; White, L.N.; Merien, F.; Xie, M.; Kong, Q.; Li, J.; Ying, T.; White, W.L.; Nie, S. Fucoidan Extracted from the New Zealand Undaria pinnatifida—Physicochemical Comparison against Five Other Fucoidans: Unique Low Molecular Weight Fraction Bioactivity in Breast Cancer Cell Lines. Mar. Drugs 2018, 16, 461.
Note that from the first issue of 2016, MDPI journals use article numbers instead of page numbers. See further details here.
Related Articles
Comments
[Return to top]