6-Bromoindole Derivatives from the Icelandic Marine Sponge
Geodia barretti

: Isolation and Anti-Inflammatory Activity

1

Faculty of Pharmaceutical Sciences, University of Iceland, Hagi, Hofsvallagata 53, IS-107 Reykjavik, Iceland

2

Department of Immunology and Centre for Rheumatology Research Landspitali-The National University Hospital of Iceland, Hringbraut, IS-101 Reykjavik, Iceland

3

GEOMAR Centre for Marine Biotechnology (GEOMAR-Biotech), Marine Natural Products Chemistry Research Unit, GEOMAR Helmholtz Centre for Ocean Research Kiel, Am Kiel-Kanal 44, 24106 Kiel, Germany

4

Faculty of Medicine, Biomedical Center, University of Iceland, Vatnsmyrarvegur 16, IS-101 Reykjavik, Iceland

5

Department of Chemistry and Biochemistry and Skaggs School of Pharmacy and Pharmaceutical Sciences, University of California, San Diego, La Jolla, CA 92093, USA

6

Faculty of Mathematics and Natural Sciences, Kiel University, Christian-Albrechts-Platz 4, 24118 Kiel, Germany

*

Author to whom correspondence should be addressed.

†

Current address: Univ. de Bordeaux, UFR des Sciences Pharmaceutiques, Unité de recherche Œnologie EA 4577, USC 1366 INRA, ISVV, 210 Chemin de Leysotte, CS 50008, 33882 Villenave d'Ornon, France.

Received: 18 October 2018 / Revised: 5 November 2018 / Accepted: 6 November 2018 / Published: 8 November 2018
Abstract
An UPLC-qTOF-MS-based dereplication study led to the targeted isolation of seven bromoindole alkaloids from the sub-Arctic sponge
Geodia barretti
. This includes three new metabolites, namely geobarrettin A–C (
1
–
3
) and four known compounds, barettin (
4
), 8,9-dihydrobarettin (
5
), 6-bromoconicamin (
6
), and
l
-6-bromohypaphorine (
7
)
.
The chemical structures of compounds
1
–
7
were elucidated by extensive analysis of the NMR and HRESIMS data. The absolute stereochemistry of geobarrettin A (
1
) was assigned by ECD analysis and Marfey's method employing the new reagent
l
-
N
α
-(1-fluoro-2,4-dinitrophenyl)tryptophanamide (
l
-FDTA). The isolated compounds were screened for anti-inflammatory activity using human dendritic cells (DCs). Both
2
and
3
reduced DC secretion of IL-12p40, but
3
concomitantly increased IL-10 production. Maturing DCs treated with
2
or
3
before co-culturing with allogeneic CD4
+
T cells decreased T cell secretion of IFN-γ, indicating a reduction in Th1 differentiation. Although barettin (
4
) reduced DC secretion of IL-12p40 and IL-10 (IC
50
values 11.8 and 21.0 μM for IL-10 and IL-12p40, respectively), maturing DCs in the presence of
4
did not affect the ability of T cells to secrete IFN-γ or IL-17, but reduced their secretion of IL-10. These results indicate that
2
and
3
may be useful for the treatment of inflammation, mainly of the Th1 type.
View Full-Text
►

▼

Figures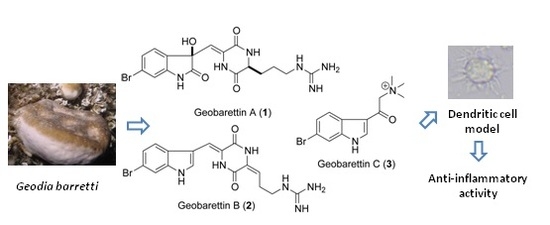 Graphical abstract
This is an open access article distributed under the
Creative Commons Attribution License
which permits unrestricted use, distribution, and reproduction in any medium, provided the original work is properly cited (CC BY 4.0).

Share & Cite This Article
MDPI and ACS Style
Di, X.; Rouger, C.; Hardardottir, I.; Freysdottir, J.; Molinski, T.F.; Tasdemir, D.; Omarsdottir, S. 6-Bromoindole Derivatives from the Icelandic Marine Sponge Geodia barretti: Isolation and Anti-Inflammatory Activity. Mar. Drugs 2018, 16, 437.
Note that from the first issue of 2016, MDPI journals use article numbers instead of page numbers. See further details here.
Related Articles
Comments
[Return to top]