Folate Receptor-Targeted and GSH-Responsive Carboxymethyl Chitosan Nanoparticles Containing Covalently Entrapped 6-Mercaptopurine for Enhanced Intracellular Drug Delivery in Leukemia
1
Department of Pharmaceutical Engineering, School of Chemistry, Chemical Engineering and Life Science, Wuhan University of Technology, Wuhan 430070, China
2
Department of Chemical and Biological Engineering, Iowa State University, Ames, IA 50011, USA
3
Hubei Provincial Key Laboratory of Antiviral Drugs, Wuhan East Lake High-Tech Development Zone, Wuhan 430070, China
*
Authors to whom correspondence should be addressed.
Received: 29 October 2018 / Revised: 4 November 2018 / Accepted: 5 November 2018 / Published: 8 November 2018
Abstract
For enhanced intracellular accumulation of 6-mercaptopurine (6-MP) in leukemia, a folate receptor-targeted and glutathione (GSH)-responsive polymeric prodrug nanoparticle was made. The nanoparticles were prepared by conjugating 6-MP to carboxymethyl chitosan via a GSH-sensitive carbonyl vinyl sulfide linkage, ultrasonic self-assembly and surface decoration with folate. The TEM graphs shows that the as-synthesized nanoparticles are spherical with a particle size of 170~220 nm. In vitro drug release of nanoparticles demonstrated acceptable stability in PBS containing 20 μM GSH at pH 7.4. However, the cumulative drug release rate of the samples containing 20 mM and 10 mM GSH medium reached 78.9% and 64.8%, respectively, in pH 5.0 at 20 h. This indicated that this nano-sized system is highly sensitive to GSH. The inhibition ratio of folate-modified nanoparticles compared to unmodified nanoparticles was higher in cancer cells (human promyelocytic leukemia cells, HL-60) while their cytotoxicity was lower in normal cells (mouse fibroblast cell lines, L929). Furthermore, in vitro cancer cell incubation studies confirmed that folate-modified nanoparticles therapeutics were significantly more effective than unmodified nanoparticles therapeutics. Our results suggest that folate receptor-targeting and GSH-stimulation can significantly elevate tumour intracellular drug release. Therefore, folate-modified nanoparticles containing chemoradiotherapy is a potential treatment for leukemia therapy.
View Full-Text
►

▼

Figures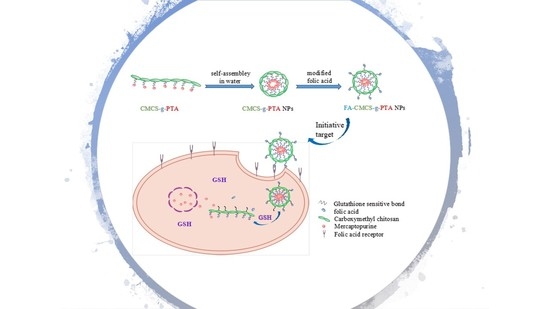 Graphical abstract
This is an open access article distributed under the
Creative Commons Attribution License
which permits unrestricted use, distribution, and reproduction in any medium, provided the original work is properly cited (CC BY 4.0).

Share & Cite This Article
MDPI and ACS Style
Wei, X.; Liao, J.; Davoudi, Z.; Zheng, H.; Chen, J.; Li, D.; Xiong, X.; Yin, Y.; Yu, X.; Xiong, J.; Wang, Q. Folate Receptor-Targeted and GSH-Responsive Carboxymethyl Chitosan Nanoparticles Containing Covalently Entrapped 6-Mercaptopurine for Enhanced Intracellular Drug Delivery in Leukemia. Mar. Drugs 2018, 16, 439.
Note that from the first issue of 2016, MDPI journals use article numbers instead of page numbers. See further details here.
Related Articles
Comments
[Return to top]