Open Access This article is
freely available
re-usable
Review
A Review of the Biological Activities of Microalgal Carotenoids and Their Potential Use in Healthcare and Cosmetic Industries
Department of Biotechnology, Sangmyung University, Seoul 03016, Korea
*
Author to whom correspondence should be addressed.
Received: 17 November 2017 / Accepted: 8 January 2018 / Published: 12 January 2018
Abstract
:
Carotenoids are natural pigments that play pivotal roles in many physiological functions. The characteristics of carotenoids, their effects on health, and the cosmetic benefits of their usage have been under investigation for a long time; however, most reviews on this subject focus on carotenoids obtained from several microalgae, vegetables, fruits, and higher plants. Recently, microalgae have received much attention due to their abilities in producing novel bioactive metabolites, including a wide range of different carotenoids that can provide for health and cosmetic benefits. The main objectives of this review are to provide an updated view of recent work on the health and cosmetic benefits associated with carotenoid use, as well as to provide a list of microalgae that produce different types of carotenoids. This review could provide new insights to researchers on the potential role of carotenoids in improving human health.
Keywords:
carotenoids; microalgae; anti-angiogenic; cardioprotective activity; anti-cancer; anti-diabetic; anti-inflammatory; anti-obesity; anti-oxidant; beauty
2. Types of Carotenoids
The two main groups of carotenoids are carotenes and xanthophylls. Some familiar carotenes are β-carotene and lycopene—both these carotenoids are strict hydrocarbon carotenoids, and do not possess any substituent (or even oxygen) in their structures. Xanthophylls or oxycarotenoids, which belong to the second group, are oxygen-containing molecules. Lutein and zeaxanthin are two xanthophylls with –OH groups in their structures, whereas canthaxanthin and echinenone contain =O groups. Astaxanthin has both –OH and =O groups in its structure. Furthermore, some carotenoids such as violaxanthin and diadinoxanthin contain epoxy groups, and others such as dinoxanthin and fucoxanthin have acetyl groups in their structures. The two carotenoids with acetyl groups also contain the C=C=C (allene) group in their structures, which is unique to natural products [
15
]. In addition, some carotenoids such as allo-, diato-, diadino-, hetero-, croco-, pyro-, and monadoxanthin contain C≡C (acetylene) groups in their structures. The different types of carotenoids mentioned above are naturally produced by the microalgae showed in
Table 1
.
3. Functions in Algal Cells
In plants, carotenoids play a significant role in the photosynthetic process by forming pigment–protein complexes in the thylakoid membrane; in cyanobacteria, however, they may also be found in the plasma membrane, and function in protecting the cells during exposure to high light intensities [
52
,
53
]. In algae, carotenoids protect chlorophyll from the effects of excess light exposure (by scavenging reactive oxygen species (ROS) such as singlet oxygen molecules and free radicals [
54
]) and are also required for phototropism and phototaxis [
55
] as they are present in algal eyespots [
56
]. Previous studies have reported that β-carotene also plays a role in protecting cells from free radicals, and that other carotenoids are mainly involved in light-harvesting functions [
57
]. In addition, fucoxanthin in algae acts as a primary light-harvesting carotenoid that transfers energy to chlorophyll–protein complexes. The fucoxanthin molecule exhibits high energy transfer efficiency (~80%), a property that is attributed to the unique structure of this carotenoid [
58
]. Fucoxanthin also participates in photoprotection and has strong antioxidant activity [
40
,
59
]. In addition, under unfavorable conditions, certain microalgae defend themselves by producing secondary metabolites via the carotenogenesis pathway [
20
]. To date, little information is available in the public database about the genes and enzymes involved in the algal carotenogenesis pathway [
60
].
4. Molecular Details of the Carotenoid Pathway in Microalgae
Our current understanding of the carotenoid metabolic pathway and its regulation in microalgae is unclear, and is mainly inferred from our knowledge of the process in higher plants. In chloroplasts, several nucleus-encoded membrane proteins are involved in the synthesis of carotenoids. These proteins are produced in the cytoplasm as precursor polypeptides with amino-terminal extensions that target them to chloroplasts. There are many publications that comprehensively review the carotenoid biosynthetic pathway [
61
,
62
,
63
,
64
].
Carotenoids are synthesized from a C5 building block, a common precursor to all isoprenoids, which is the isopentenyl pyrophosphate (IPP) molecule, via the plastidial 2-C-methyl-
d
-erythriol 4-phosphate (MEP) pathway [
65
]. The first step in carotenoid biosynthesis is the condensation of two molecules of geranyl geranyl pyrophosphate (GGPP), catalyzed by the enzyme phytoene synthase (PSY), to yield phytoene, the first but uncolored carotenoid. Following this step, phytoene undergoes a series of sequential desaturations catalyzed by phytoene desaturase (PDS) and ζ-carotene desaturase (ZDS), which result in the formation of pro-lycopene. Pro-lycopene is then isomerized by a specific carotenoid isomerase (CRTISO) into all-trans lycopene. After this step, the pathway is divided into two branches. In one branch of the synthetic pathway, lycopene is cyclized at both ends by lycopene β-cyclase (LCYB), yielding β-carotene with two β–ionone end groups. These can be further hydroxylated by a non-heme di-iron hydroxylase, called β-carotene hydroxylase (CHYB), to yield zeaxanthin. In the other branch of the synthetic pathway, the combined actions of LCYB and lycopene ε-cyclases (LCYEs) result in the formation of α-carotene. The quantities of carotenoids produced by each branch of the pathway are determined by the absolute activities of LCYE and LCYB. The hydroxylation of α-carotene is catalyzed by two heme-containing cytochrome P450 monoxygenases (namely, carotene β-hydroxylase and carotene ε-hydroxylase), which leads to the formation of lutein. In another branch, zeaxanthin is converted to violaxanthin by zeaxanthin epoxidase (ZEP), which inserts two epoxy groups at positions C-5,6 and C-5′,6′ [
62
]. In another branch of the pathway, zeaxanthin is converted to the di-keto carotenoid canthaxanthin, and violaxanthin is converted to astaxanthin by the enzyme β-carotene ketolase (BKT) (
Figure 1
).
In most microalgae, the basic carotenoid synthesis pathways are highly conserved, although some species are able to accumulate unusual carotenoids via specific biosynthetic routes. In higher plants, most of the genes encoding enzymes for the carotenoid biosynthetic pathway have been isolated and characterized by functional complementation experiments [
66
]. In microalgae, most of the carotenoid biosynthetic pathway genes have also been isolated and characterized [
67
].
5. Carotenoids and Their Biological Activities
5.1. Anti-Angiogenic Activity
Angiogenesis is the process of formation of new blood vessels from pre-existing capillaries and involves a sequence of events that are fundamental to many physiological and pathological processes [
68
]. It occurs throughout life, during both healthy and diseased conditions, and is tightly regulated under normal physiological conditions such as during embryogenesis, ovary cycling, and wound healing. Chronic, unregulated angiogenesis can lead to several anomalous angiogenic conditions such as inflammatory diseases, rheumatoid arthritis, and tumor metastasis [
69
]. Tumor growth and metastasis are processes that are highly dependent on the formation of new blood vessels. Therefore, preventing angiogenesis under pathological conditions (such as cancer and other angiogenesis related diseases) is a promising approach for controlling or eradicating such diseases.
Studies involving in vivo and in vitro experiments on male C57BL/6 mice and B16F-10 cells have been used to evaluate the anti-angiogenic effects of β-carotene by Guruvayoorappan and Kuttan [
70
]. Their study found that treatment with β-carotene significantly reduces the number of tumor-directed capillaries (associated with altered serum cytokine levels) formed, and suppresses the proliferation, migration, and tube formation of endothelial cells. In addition, β-carotene treatment also inhibited the activation and nuclear translocation of p65, p50, and c-Rel sub-units of nuclear factor-κB (NF-κB), as well as other transcription factors such as c-fos, activated transcription factor-2, and cyclic adenosine monophosphate response element-binding protein in B16F-10 melanoma cells [
70
]. This study clearly showed that the anti-angiogenic effect of β-carotene occurs by affecting serum cytokine levels, and that β-carotene could inhibit the activation and nuclear translocation of transcription factors.
In another study, Sugawara et al. [
71
] reported that fucoxanthin (at concentrations of >10 µM) can significantly inhibit tube formation and proliferation in human umbilical vein endothelial cells (HUVECs). Fucoxanthin significantly suppressed the differentiation of endothelial progenitor cells into endothelial cells during the formation of new blood vessel. Fucoxanthin and its metabolite fucoxanthinol also suppressed the growth of microvessels during in vitro and ex vivo experiments using rat aortic rings [
71
]. In addition, a study in 2013 used HUVECs to understand the molecular mechanisms responsible for the anti-angiogenic activity of fucoxanthin [
72
]. The results of this study showed that fucoxanthin significantly reduced the genetic expression, and hence, mRNA levels of fibroblast growth factor 2 (FGF-2), its receptor (FGFR-1), as well as their trans-activation factor, EGR-1. However, the study found no significant changes in the mRNA levels of the vascular endothelial growth factor receptor-2 (VEGFR-2). Furthermore, fucoxanthin was found to down-regulate the phosphorylation of FGF-2-mediated intracellular signaling proteins such as extracellular signal-reduced kinase and protein kinase B (ERK1/2 and Akt). Matrigel invasion assays showed that fucoxanthin not only inhibited the migration of endothelial cells, but also inhibited their differentiation into tube-like structures by suppressing the phosphorylation of the FGF-2-mediated intracellular signaling proteins. However, there was no evidence to indicate that carotenoids activate the angiopoietins 1 and 2 (Ang1 and Ang2) pathways. The possible molecular mechanisms responsible for the anti-angiogenic effects of carotenoids are shown in
Figure 2
.
5.2. Cardioprotective Activity
A study in 2005 by Hussein et al. [
73
] reported the anti-hypertensive effects of astaxanthin in spontaneously hypertensive rats (SHRs). In their study, Hussein et al. [
73
] found that oral administration of astaxanthin (at a concentration of 50 mg/kg) for 14 days led to a significant decrease in blood pressure in the SHRs. In addition, long-term administration of astaxanthin (for 5 weeks) also considerably reduced blood pressure and postponed the occurrence of heart strokes in these rats. On the 4th day of treatment, 60% of the rats in the placebo group showed signs of heart stroke, whereas none of the rats in the astaxanthin-treated group showed any signs of heart stroke. In later studies, the same authors also reported the mechanism of how astaxanthin works to prevent heart strokes [
74
]. The authors found that SHRs treated with astaxanthin showed significantly higher levels of vasorelaxation in response to nitric oxide (NO), which enhanced thoracic aorta contractions, as compared to rats not treated with astaxanthin. These results suggest that the anti-hypertensive effect of astaxanthin is mediated by NO-related mechanisms. In addition, another study carried out on SHRs to explore the beneficial effects of astaxanthin on blood rheology found that the transit times of whole blood in astaxanthin-treated SHRs were significantly lower than those of placebo-treated SHRs. Histopathological measures, such as levels of vascular elastin in the aorta and arterial wall thickness were also improved in SHRs treated with astaxanthin [
73
,
74
]. A study by Preuss et al. [
75
] in Zucker fatty rats found that administration of 25 mg/kg of astaxanthin for one month significantly lowered systolic blood pressure. In addition, the astaxanthin treatment also decreased the activity of the renin-angiotensin system, which indicates that the lowering in blood pressure was dependent on changes in the renin-angiotensin, as well as the NO systems. Furthermore, in heat stress experiments, all rats fed with astaxanthin survived, whereas, >60% of the rats in the placebo group died.
In another study, female BALB/c mice treated with 800 mg/kg astaxanthin for eight weeks exhibited higher heart mitochondrial membrane potentials and contractility indices than mice in a placebo group [
76
]. An ex vivo study of 24 adult humans showed that astaxanthin has the potential to prevent atherosclerosis by delaying the prolonged oxidation of low-density lipoprotein (LDL)-cholesterol. In this study, volunteers consumed astaxanthin at doses of 1.8, 3.6, 14.4, or 21.6 mg/day for 14 days and the LDL lag times were longer (5.0%, 26.2%, 42.3%, and 30.7%, respectively) compared with the initial day [
77
]. Experiments by Miyawaki et al. [
78
] to determine the health benefits of astaxanthin extracted from
Haematococcus pluvialis
on human blood rheology were carried out on 20 adult men. After 10 days of astaxanthin (6 mg/day) administration, the whole blood transit time of the experimental group decreased from 52.8 ± 4.9 s to 47.6 ± 4.2 s, which is considerably lower than that of the control group (54.2 ± 6.7 s) [
78
]. In addition, another study carried out on humans in an age group of 25–60 years [
79
] showed that 12 weeks of astaxanthin administration significantly decreased serum triglyceride levels, while significantly increasing high density lipoprotein (HDL)-cholesterol levels. However, LDL-cholesterol levels remained unchanged. Furthermore, astaxanthin intake increased serum adiponectin levels, which are positively correlated with changes in HDL-cholesterol levels independent of age and body mass index (BMI) [
79
]. Fucoxanthin and its derivative fucoxanthinol show cardioprotective activity; administration of these carotenoids in an in vivo study reduced triglyceride levels in blood (high triglyceride levels in blood are related to the development of atherosclerotic vascular disease) [
80
]. When rats were fed with 2 mg/kg of fucoxanthin or fucoxanthinol, they showed a significant reduction in triglyceride absorption in their jugular veins on being fed with non-pre-digested 10% soybean oil.
5.3. Anti-Cancer Activity
5.4. Anti-Diabetic Activity
5.5. Anti-Inflammatory Activity
The first response of the immune system to infection or irritation is inflammation, which is also referred to as the innate cascade. However, some inflammatory reactions can have adverse effects on host cells or tissues; for example, chronic inflammation can cause many conditions such as arthritis, hepatitis, gastritis, periodontal disease, colitis, atherosclerosis, pneumonia, and neuro-inflammatory diseases [
138
]. Therefore, natural anti-inflammatory substances, especially carotenoids, are receiving much attention from researchers; carotenoids could potentially be used as drugs for preventing and controlling chronic inflammatory conditions due to their inhibitory effects on the production of NO, prostaglandin E
2
(PGE
2
), and proinflammatory cytokines, as well as their inhibitory effects on enzymes such as inducible nitric oxide synthase (iNOS) and cyclooxygenase-2 (cox-2) [
139
,
140
].
Recently, astaxanthin has garnered much attention due to its potential as an anti-inflammatory agent. Both, in vitro and in vivo studies have been carried out in rat models to investigate the effects of astaxanthin on lipopolysaccharide (LPS)-induced inflammatory reactions [
141
,
142
]. The inhibitory effects of astaxanthin were compared with those of the common anti-inflammatory drug, prednisolone. The anti-inflammatory effect of astaxanthin (at a concentration of 100 mg/kg) was higher than that of 10 mg/kg of prednisolone [
141
]. LPS-fed mice treated with astaxanthin showed a dose-dependent anti-inflammatory effect; astaxanthin has been shown to function by suppressing the production of NO, PGE
2
, TNF-α, and interleukin-1β (IL-1β), as well as by blocking the activity of NOS enzymes in RAW 264.7 cells. The results of this study agree with those of a previously conducted study, which showed that astaxanthin inhibited NO production, as well as the expression of iNOS and COX-2 in LPS-stimulated BV2 microglial cells [
143
].
Lee et al. [
144
] also reported that astaxanthin can inhibit the production of NO, PGE
2
, as well as the expression of pro-inflammatory genes by suppressing the function of NF-κB. Furthermore, astaxanthin also suppressed the activity of the iNOS promoter by inhibiting IKK (IκB kinase) activity. A similar study found that LPS-stimulated mouse neutrophils treated with astaxanthin produce significantly lower levels of the proinflammatory cytokines TNF-α and IL-6. Macedo et al. [
145
] also report that treatment with 5 mM astaxanthin improved the phagocytic and microbicidal activity of neutrophils. In addition, oxidative damage to lipids and proteins in human neutrophils were significantly lower after astaxanthin treatment. The inhibitory activity of this xanthophyll carotenoid on the secretion of IL-1β, IL-6, and TNF-α has also been observed in U937 (a human lymphoma cell line) cells treated with H
2
O
2
. Cytokine levels in cells pre-incubated with 10 mM astaxanthin before H
2
O
2
stimulation were significantly lower (less than half) of the levels seen in control cells (cells not pre-treated with astaxanthin). Furthermore, cells pre-incubated with astaxanthin also showed restoration of SHP-1 (a protein tyrosine phosphate) expression levels and reduced levels of NF-
κ
B expression [
146
]. Bennedsen et al. [
147
] reported that
Helicobacter pylori
-infected mice fed with astaxanthin extracted from the microalga
H. pluvialis
, showed reduced levels of gastric inflammation. Mice fed with 200 mg/kg of algal extract for 10 days, showed significantly lower levels of inflammation and mucosa-bacterial loads in their stomachs than untreated mice. These results indicate a change in the T-lymphocyte response in mice; the response changes from a predominantly Th1-response to a mixed Th1/Th2-response. This shift was found to occur because of a block in IFN-γ release that boosts IL-4 release in splenocytes in the infected mice pre-treated with astaxanthin. A clinical study to investigate the anti-oxidative and anti-inflammatory effects of astaxanthin was also undertaken on a cohort of healthy young women [
148
]. In this study, the women who ingested 2 mg of astaxanthin for 8 weeks had lowered blood levels of C-reactive protein, indicating that this compound has anti-inflammatory activity. In addition, the study also found that astaxanthin could reduce ROS production by down-regulating NF-κB and AP-1 transcription factors, as well as inflammatory cytokine production. From these results, it is clear that astaxanthin ingestion can decrease DNA damage, reduce acute phase protein levels, and enhance immune responses in healthy young women [
148
]. Overall, these studies indicate that astaxanthin inhibits inflammatory processes by blocking the expression of pro-inflammatory genes through suppression of NF-κB activation; a diagrammatic representation of this mechanism is represented in
Figure 5
.
5.6. Anti-Obesity Activity
Obesity is a condition where excessive accumulation and storage of fat in the body occurs, leading to inordinate increases in body weight [
149
]. Obesity leads to, and exacerbates several conditions, particularly those related to cardiovascular diseases, T2DM, obstructive sleep apnea, certain types of cancer, osteoarthritis, and depression [
150
]. Since the first half of this century, obesity has been one of the foremost issues of concern regarding public health. In developing countries, increased industrialization has increased the incidence of obesity in teenagers and senior citizens, causing a worrying health trend [
151
]. Therefore, the search for safe anti-obesity agents is now of great importance.
Wang et al. [
152
] reported that in obese individuals, there is an excessive accumulation of adipose tissue in organs that have large numbers of fat cells. Obesity is thought to result from adipocyte hypertrophy and the recruitment of new adipocytes from precursor cells. For this reason, the regulation of adipogenesis may be a potential strategy for the treatment of obesity. Okada et al. [
153
] reported that the chemical structures of carotenoids are important for suppression of adipocyte differentiation; investigations on 13 naturally occurring carotenoids have revealed that molecules with keto or epoxy groups, as well as epoxy-hydroxy carotenoids, hydroxyl-carotenoid, and keto-hydroxy carotenoid have no suppressive effects on adipocyte differentiation. The study found that only fucoxanthin and neoxanthin could significantly suppress adipocyte differentiation, suggesting that the presence of the allenic bond is an important factor for carotenoids to exhibit anti-obesity functions. From these results, it could be hypothesized that carotenoids containing an allenic group and an additional hydroxyl group may be effective in controlling adipocyte differentiation.
Maeda et al. [
154
] used a mouse model to show that oral intake of fucoxanthin could significantly decrease the amount of abdominal white adipose tissue (WAT) in obese mice. In addition, the study also found that this treatment had no such effects on normal mice kept on normal diets. This indicates that fucoxanthin specifically suppresses adiposity in obese mice. This study suggests that the anti-obesity effect of fucoxanthin is mediated by alterations in the functioning of lipid-regulating enzymes that could raise plasma adipokine levels and promote higher expression levels of uncoupling protein 1 (UCP1) and β3-adrenergic receptor (Adrb3) in abdominal fat tissues (
Figure 6
A). UCP1, which is abundant in the inner membrane of the mitochondria, is specifically expressed at high levels in brown adipocytes. UCP1 can dissipate energy by uncoupling the process of oxidative phosphorylation, which then produces heat instead of ATP (
Figure 6
B). It is well-known that brown adipose tissue (BAT) plays a vital role in the prevention and treatment of obesity [
155
]. The role of UCP1 in BAT is known to be a significant component of the regulatory system governing whole-body energy expenditure, and the protein is thought to be important in preventing the development of obesity [
156
]. Increasing UCP1 expression in BAT could be considered as a useful anti-obesity treatment option [
157
]. However, in humans, most of the body fat is stored in WAT [
158
]. Furthermore, WAT has now been recognized to function as an endocrine and active secretory organ as its produces biologically active mediators known as adipokines [
159
]. Fucoxanthin is likely to emerge as an important and attractive anti-obesity agent [
94
]. However, further studies are needed to clarify the various molecular mechanisms and intracellular signaling pathways that are involved in the anti-obesity activities of fucoxanthin. These studies indicate that natural pigments may play a vital role in the treatment and prevention of obesity, as these molecules may act as regulators of lipid metabolism in fat tissues. Natural pigments obtained from microalgae can be used in functional foods and pharmaceuticals, as these substances can be obtained at relatively low production costs, exhibit low cytotoxicity, and have gained wide acceptance as food supplements. Among the different types of carotenoids, fucoxanthin derived from marine algae may be considered a promising food supplement and weight-loss drug for the prevention and management of obesity.
5.7. Anti-Oxidant Activity
ROS and reactive nitrogen species (RNS) are generated during aerobic metabolism processes that occur in the cell; these include processes such as signal transduction, gene expression, and activation of cell signaling cascades [
160
]. ROS can damage biologically important molecules such as lipids, DNA, and proteins, which can in turn, negatively affect the integrity of cell membrane structures, enzyme functions, and gene expression; ROS are well-known to be involved in the patho-biochemistry of degenerative diseases [
161
]. The antioxidant defense systems in living organisms are complex networks that are comprised of several enzymatic and non-enzymatic antioxidants [
162
].
Carotenoids are known to play important roles in scavenging ROS such as singlet molecular oxygen (
1
O
2
) and peroxyl radicals, but there is little information regarding their roles in cellular defenses against RNS. Raposo et al. [
13
] have reported that the structural features of carotenoids play a significant role in their antioxidant activities. Fucoxanthin extracts from algae show great potential as antioxidants [
163
]. Fucoxanthin has strong radical-scavenging activity due to the presence of the unusual double allenic bonds at the C-7' position of its structure, as demonstrated by Sachindra et al. [
164
]. Miyashita [
165
] has reported that fucoxanthin can significantly affect human health by altering the gene expression profiles of proteins involved in cell metabolism. Many studies have tested the antioxidant effects of fucoxanthin on different cell lines and animal models [
166
,
167
]. Another important carotenoid exhibiting strong antioxidant activity is astaxanthin, which shows higher levels of antioxidant activity than other carotenoids such as β-carotene, zeaxanthin, and canthaxanthin [
168
]. Rodrigues et al. [
169
] have reported that astaxanthin acts as a scavenger of various reactive species such as LOO•, HOCl, and ONOO
−
. Several studies have reported that dietary intake of carotenoids can protect humans and animals from oxidative damage to lipophilic parts of cells; this is because carotenoids can limit lipid peroxidation events by scavenging the ROS formed during photo-oxidative processes [
13
]. To prevent oxidative damage, and disease conditions arising from such damage, a combination of carotenoids possessing different chemical characteristics can be used. Microalgae such as
Spirulina platensis
,
H. pluvialis
, and
Dunaliella salina
might be of great value in the production of various types of such carotenoids (
Table 1
).
5.8. Beauty-Enhancing Effect
Skin has naturally occurring antioxidant agents which can block the effects of ROS and suppress cell disruption and damage [
170
]. However, when high levels of ROS are produced by ultraviolet (UV)-exposure, these defenses may not provide adequate protection. Apoptosis and necrosis are the two major modes of cell death that occur due to the accumulation of ROS in cells; excessive cell death can lead to wrinkling and dryness of skin. ROS accumulation also plays an important role in photo-aging conditions such as cutaneous inflammation, melanoma, and skin cancer [
171
]. Natural pigments can be used as therapeutic agents to overcome these problems. As many consumers prefer naturally derived compounds in their cosmetics, there is an increasing global demand for naturally derived carotenoids rather than those synthetized chemically. Due to this demand, the price of natural pigments isolated from algae is roughly double (~700 Euros/kg) of that of synthetic products [
172
].
Astaxanthin is an excellent antioxidant, exhibiting higher antioxidant activity than vitamins C and E; furthermore, this molecule aids in the preservation of proteins and essential lipids in human lymphocytes as it boosts superoxide dismutase and catalase enzyme activities [
12
,
173
]. Tominaga et al. [
174
] reported that both topical and oral use of astaxanthin can suppress skin hyper-pigmentation, inhibit synthesis of melanin, and improve the condition of all skin layers. Fucoxanthin has been reported to suppress tyrosinase activity in UVB-irradiated guinea pigs, and melanogenesis in UVB-irradiated mice. Studies have also found that oral administration of fucoxanthin decreases the mRNA levels of proteins linked to melanogenesis in skin cells. This indicates that fucoxanthin can negatively regulate melanogenesis factors at the transcriptional level [
175
]. In addition, fucoxanthin has the ability to counteract oxidative stresses caused by UV radiation, due to which it is currently used in cosmeceuticals [
176
]. Another important carotenoid exhibiting strong antioxidant activity is β-carotene, which helps in preventing the formation of free radicals that can cause premature aging in skin cells. In the epidermal and dermal layers of skin, the carotenoid lutein has been shown to protect against UV-induced oxidative damage, especially in combination with other antioxidant systems and immunoprotective substances [
177
].
A study conducted by Darvin et al. [
178
], which compared skin roughness with age in a cohort of women aged 40–50 years, indicated that there was no significant correlation between the two parameters. However, skin roughness was clearly correlated with the concentration of lycopene present in skin. Individuals with higher levels of antioxidants in their skin showed fewer furrows and wrinkles than those with lower levels of antioxidants [
178
].
Figure 7
A shows that UV radiation from the sun is one of the major causes of premature skin aging.
Figure 7
B shows that UV radiation from sun rays destroys elastin and collagen fibers in the skin [
179
]. High concentrations of antioxidants such as carotenoids can efficiently neutralize free radicals before they can cause damage. These studies confirm the results of a study conducted by Heinrich et al. [
180
], which showed that a significant reduction in skin roughness could be achieved with supplements of antioxidant micronutrients such as lycopene.
7. Conclusions and Future Direction of Research
Microalgae are rich sources of carotenoids, with great industrial potential and accessibility, and thus are likely to have a wide range of applications in the healthcare and cosmetic industries. Most studies on carotenoids have been focused mainly on the preventive and protective effects of these molecules in various chronic diseases such as diabetes mellitus, metabolic syndrome, cancer, and cardiovascular diseases. Recent studies, however, report that carotenoids might also play a significant role in the treatment of various other diseases. Although the mechanisms of antioxidant activity for some carotenoids have been well studied, most of the other effects of carotenoids, such as their pro-vitamin A activity, metabolic activity, effects on the immune and endocrine systems, as well as their effects on cell cycle regulation, apoptosis, and cell differentiation have not yet been studied in detail. Although there are a number of ongoing studies investigating the use of carotenoids to enhance healthcare and beauty, most of these studies have been carried out in animal models, with very few human clinical trials. Future areas of research will need to focus on human clinical trials. In addition, these studies must collect detailed data on subject selection, end point measurements and levels of carotenoids being tested. It is hoped that such studies, will help researchers understand the roles and potential uses of carotenoids in developing new strategies for the prevention, treatment, and management of diseases.
Acknowledgments
We thank S. Abassi for critical comments and English editing on the early version of manuscript. This work was supported by the National Research Foundation of Korea Grant funded by the Korean Government (2015M1A5A1041805 and 2016R1D1A1A09920198), and by a grant from the National Fisheries Research and Development (R2017047) funded to J.-S. Ki.
Conflicts of Interest
The authors declare no conflict of interest.
Figure 1. Carotenoid biosynthesis pathway in chlorophytes. GGPP—geranylgeranyl pyrophosphate; PSY—phytoene synthase; PDS—phytoene desaturase; Z-ISO—ζ-carotene isomerase; ZDS—ζ-carotene desaturase; CRTISO—carotene isomerase; LCYE—lycopene ε-cyclase; LCYB—lycopene β-cyclase; CYP97C3—cytochrome P450 ε-hydroxylase; CYP97A5—cytochrome P450 β-hydroxylase; CHYB—carotene β-hydroxylase; BKT—β-carotene oxygenase; ZEP—zeaxanthin epoxidase; VDE—violaxanthin de-epoxidase.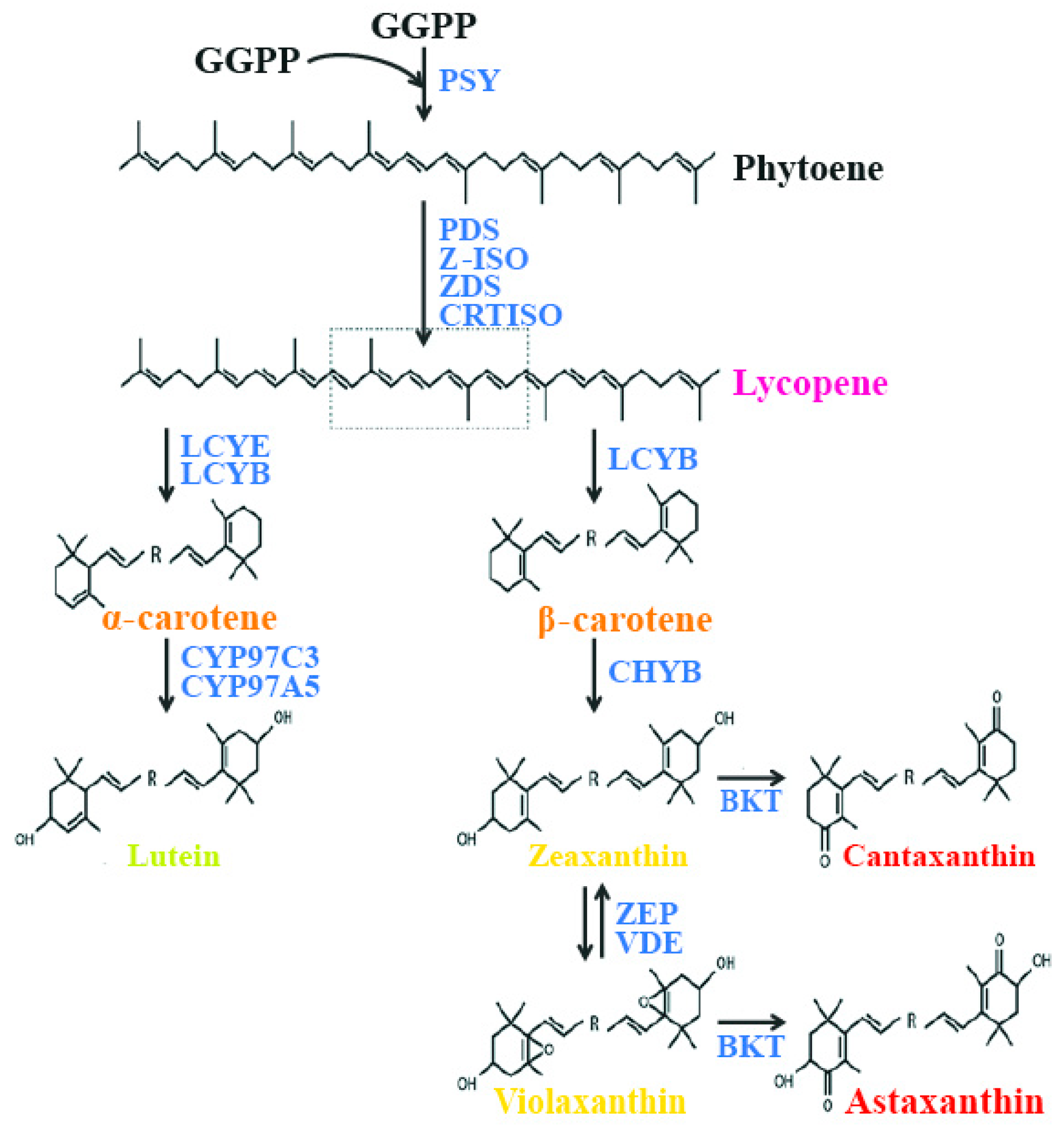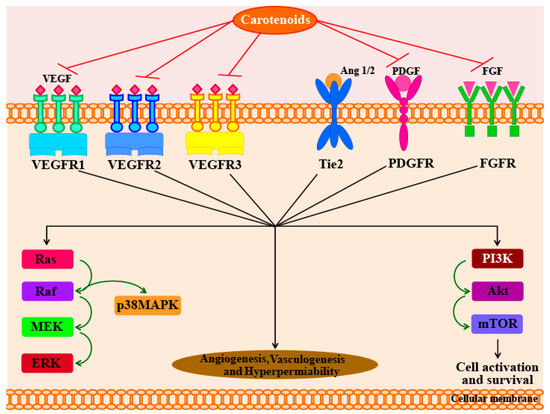 Figure 2. Diagrammatic representation of anti-angiogenic effect of carotenoid. Both VEGF and non-VEGF dependent pathways are noted. Akt—protein kinase B; ERK—extracellular signal-reduced kinase; FGF—fibroblast growth factor; FGFR—fibroblast growth factor receptor; MEK—mitogen-activated protein kinase/extracellular signal-reduced kinase kinase; mTOR—mechanistic target of rapamycin; p38 MAPK—p38 mitogen-activated protein kinase; PDGF—platelet-derived growth factor; PDGFR—platelet-derived growth factor receptor; PI3K—phosphoinositide 3-kinase; Tie2—tyrosine kinase with immunoglobulin-like and EGF-like domains 1; RAF—rapidly accelerated fibrosarcoma; RAS—rat sarcoma; VEGF—vascular endothelial growth factor; VEGFR—vascular endothelial growth factor receptor.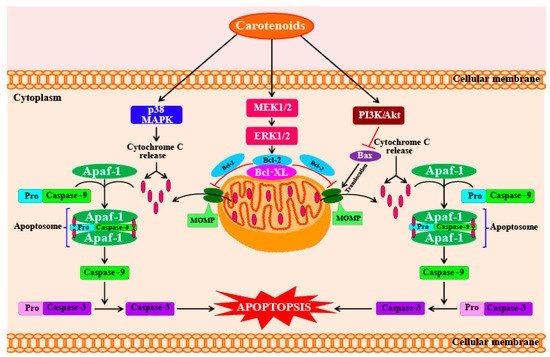 Figure 3. Factors (molecules and mechanisms) regulated by carotenoids, resulting in their anti-carcinogenic effects. Carotenoids induce the activation of PI3K/Akt survival pathway, trigger the phosphorylation-dependent inactivation of Bax (Bcl-2 associated X), which leads to apoptosis by decrease in caspase activity. Carotenoids also maintain the mitochondrial integrity by regulating the p38 MAPK signaling pathway, which leads to a decrease in cytochrome c release and inhibits caspase-dependent apoptotic cell death. APAF-1—Apoptotic protease activating factor-1; BAX—Bcl-2 associated X; Bcl-2—B-cell lymphoma 2; Bcl-XL—B-cell lymphoma-extra-large; ERK—extracellular signal-reduced kinase; MEK—mitogen-activated protein kinase/extracellular signal-reduced kinase kinase; MOMP—mitochondrial outer membrane permeabilization; p38 MAPK—p38 mitogen-activated protein kinase; PI3K—phosphoinositide 3-kinase.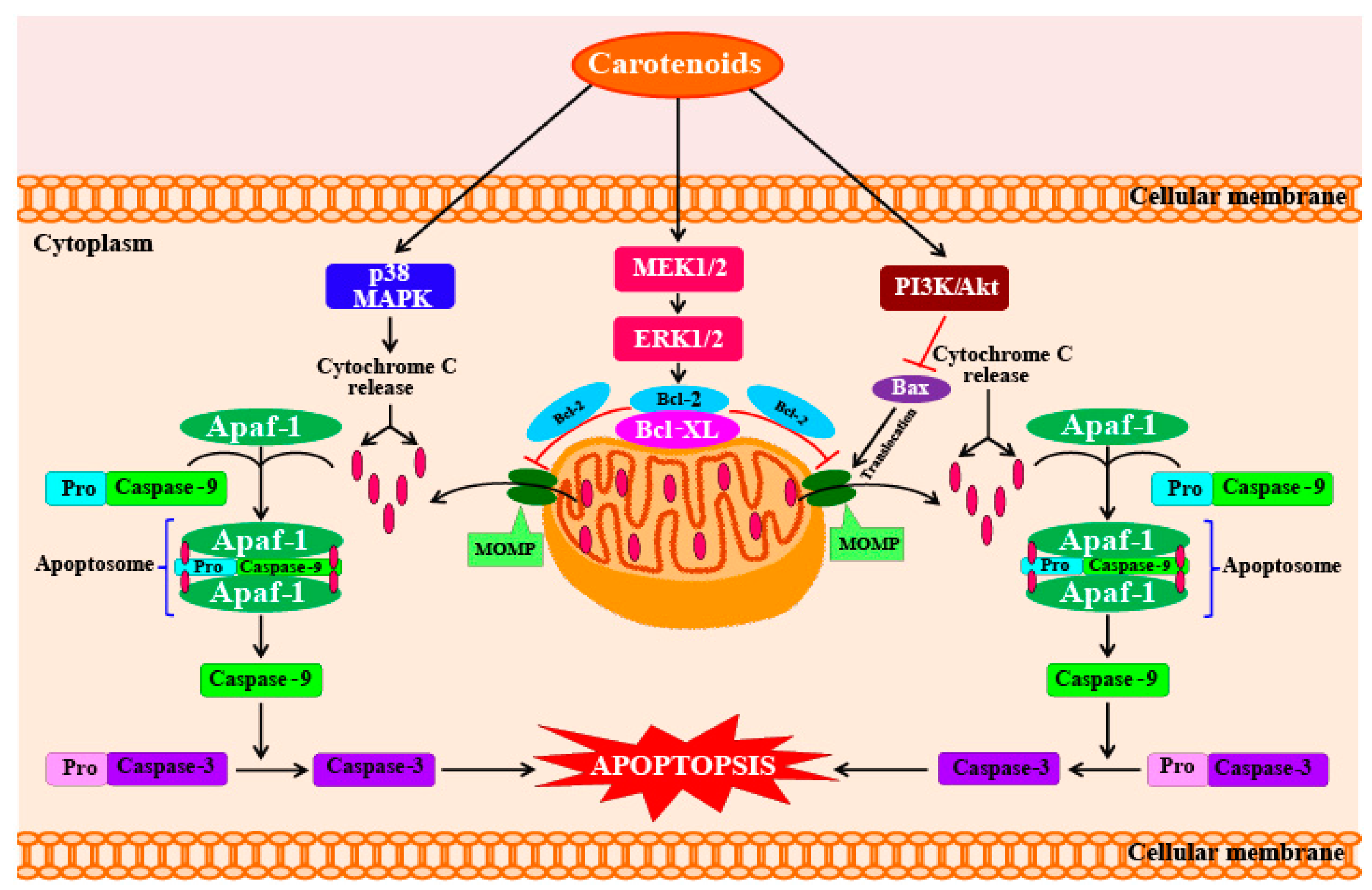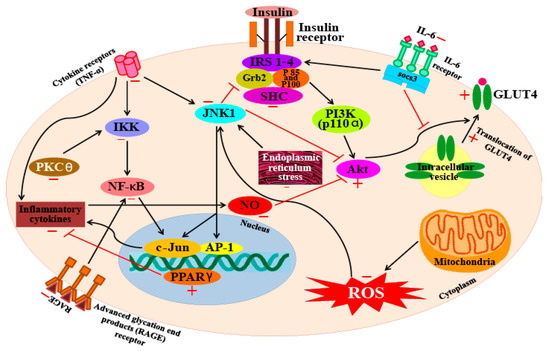 Figure 4. An overview on the targets of carotenoid with respect to their anti-diabetic effects. +, promote/activate; −, inactivate/inhibit. Akt—protein kinase B; AP1—activator protein 1 (c-jun and c-fos); GLUT 4—glucose transporter 4; Grb2—growth factor receptor-bound protein 2; IKK—IκB kinase; IL-6—interleukin-6; IRS 1–4—insulin receptor substrate 1–4; JNK 1—jun amino-terminal kinases 1; NF-κB—nuclear factor κB; NO—nitric acid; PI3K—phosphoinositide 3-kinase; PKCθ—protein kinase C θ; RAGE—receptor for advanced glycation end products; SHC—SH2-containing collagen-related proteins.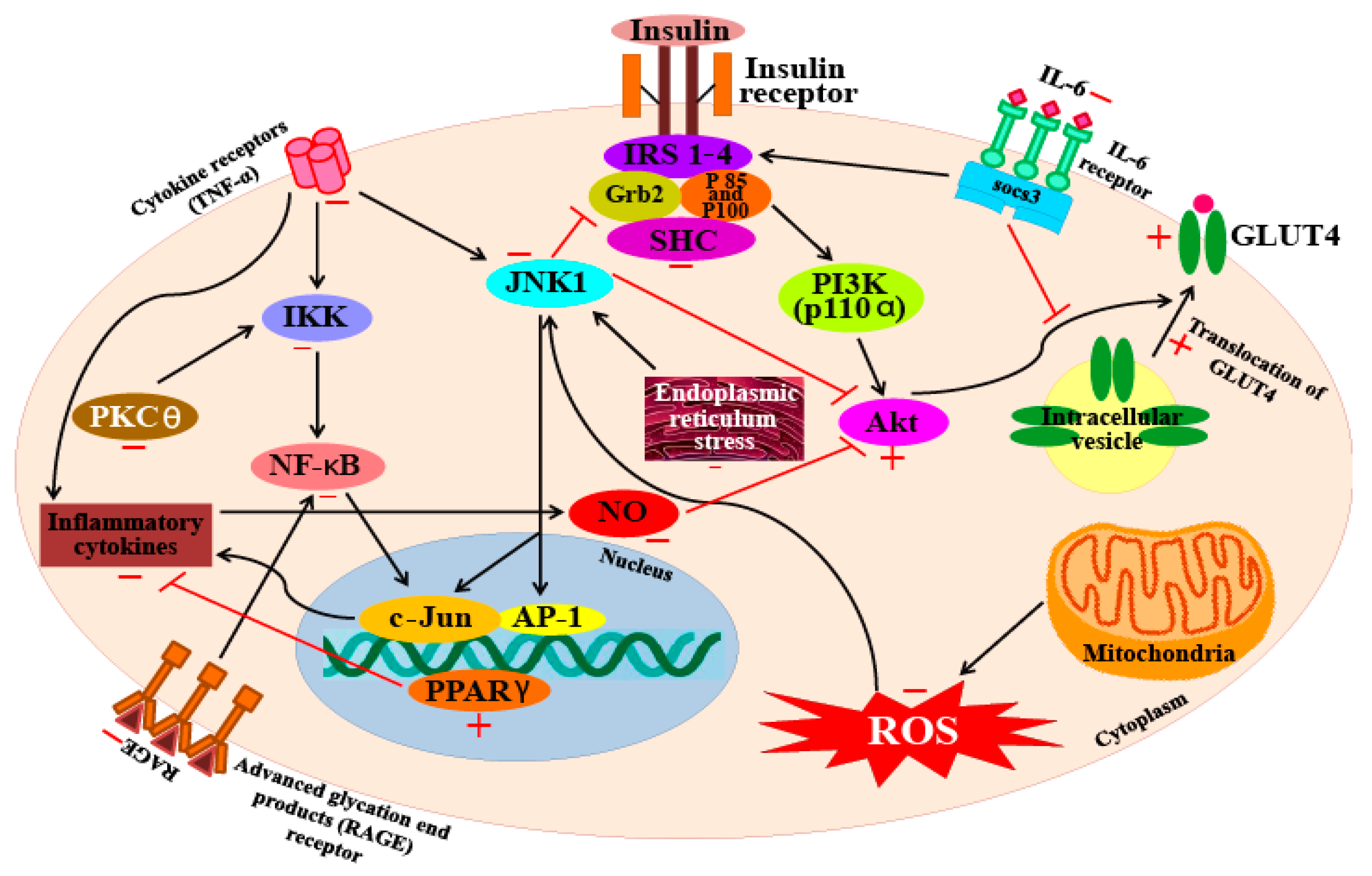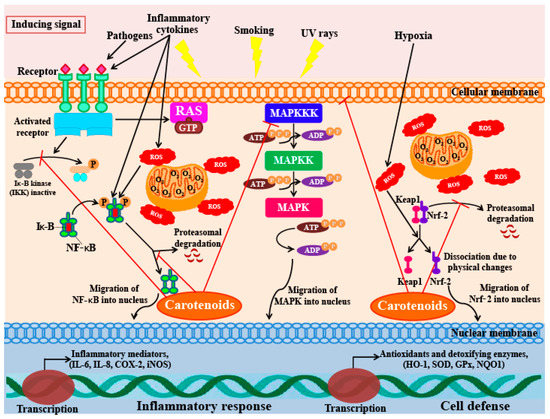 Figure 5. Schematic diagram of the interactions of anti-inflammatory signaling pathways and carotenoids. In the cytoplasm during the resting stage the NF-κB (nuclear factor-κB) is inactivated, which is bound to its inhibitory protein IκB (inhibitor of kappa B). During oxidative stress, inflammatory cytokines, or hypoxia, IκB protein is phosphorylated by the IKK (IκB kinase) complex, which leads to the ubiquitination and proteasomal degradation of IκB protein. At this time NF-κB was released which will migrate to the nucleus and the transcription of inflammatory mediators will start. It is assumed that carotenoids and their metabolites may interact with cysteine residues of the IKK and/or NF-κB subunits, which will inhibit the NF-κB pathway. In cytosol the Nrf2 (Nuclear factor (erythroid-derived 2)-like 2) is kept inactive by Keap1 (kelch-like ECH-associated protein 1) especially by poly-ubiquitination and rapid degradation through the proteasome. During redox imbalance, the Keap1-Nrf2 complex is disturbed, which leads to dissociation of Nrf2 from the complex. This Nrf2 migrates to the nucleus, which will induce the transcription of antioxidant and detoxifying enzymes, which promote cell protection. Carotenoids and their metabolites may interact with Keap1 by changing its physical properties. MAPK (mitogen-activated protein kinase) refers to a family of serine/threonine protein kinases. MAPK signaling cascades undergo consecutive and sequential step. MAPKs are phosphorylated and activated by MAPK-kinases (MAPKKs), which are further phosphorylated and activated by MAPKK-kinases (MAPKKKs). The MAPKKKs are in turn activated by interaction with small GTPases and/or other protein kinases family, which connect the MAPK module to cell surface receptors or external stimuli. However, it is still remains unclear how the carotenoids interact with the MAPK signaling pathway. COX—cyclooxygenase; GPx—glutathione peroxidase; GTP—guanine triphosphate; HO-1—heme oxygenase-1; IL-6—interleukin-6; iNOS—nitric oxide synthase 2; RAS—rat sarcoma; ROS—reactive oxygen species; SOD—superoxide dismutase; NQO1—NAD(P)H: quinone oxidoreductase 1.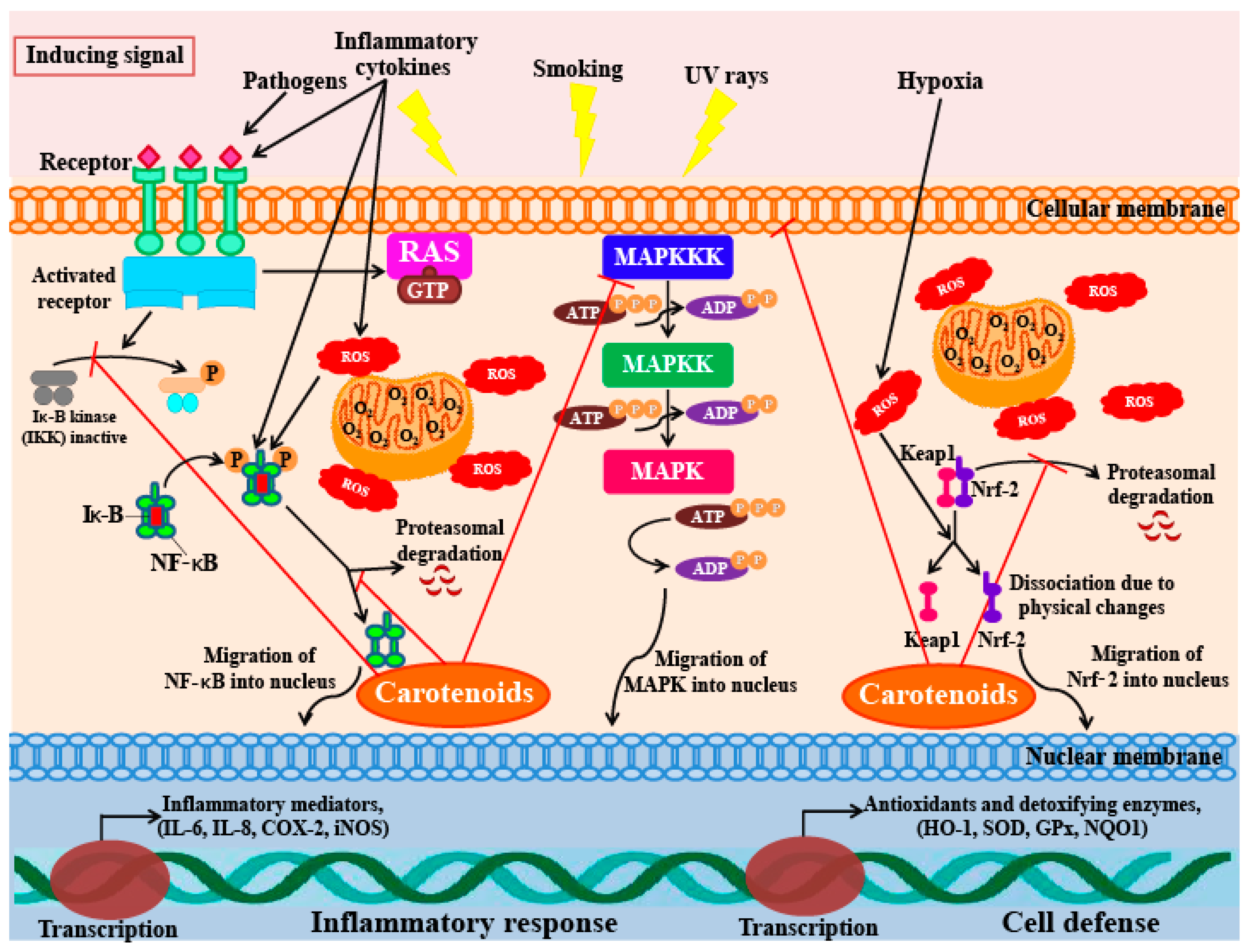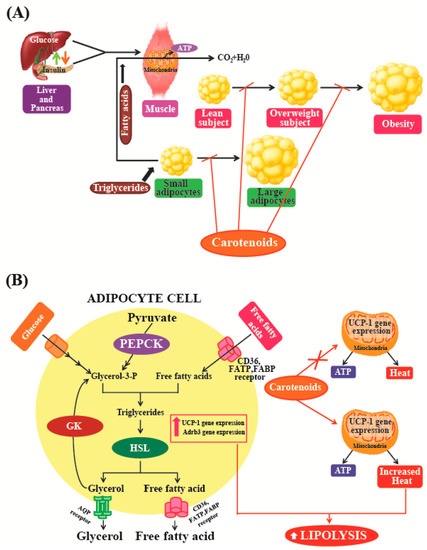 Figure 6. (A,B) Effects of carotenoid on thermogenesis and lipolysis: the muscle (A) and the adipose tissue (B). During excess caloric intake in the body, adipocytes take up free fatty acids (FFA), which are stored in the form of triglycerides (TG). For the synthesis of TG other metabolites are required, glycerol-3-phosphate, proceeds from three metabolic sources: (i) glucose; (ii) glycerol derived from lipolysis, which is phosphorylated by glycerol kinase (GK) and (iii) pyruvate, which is converted to glycerol by the activity of phosphoenolpyruvate carboxykinase (PEPCK). During fasting or exercise, TG are hydrolyzed to glycerol and FFA by the hormone-sensitive lipase (HSL) and released into the bloodstream. Several membrane proteins, including fatty acid binding protein (FABP), fatty acid translocase (FAT, CD36) or fatty acid transporter protein (FATP), facilitate the free fatty acid transport across the membrane. At this time, the uncoupling protein 1 (UCP1) and β3-adrenergic receptor (Adrb3) mRNA expression in the abdominal fat tissues and plasma adipokine levels was increased. Carotenoid plays an anti-obesity effect mainly by stimulating uncoupling protein-1 (UCP-1) expression in white adipose tissue (WAT). AQP—aquaporin; CD36—cluster of differentiation 36. 'X'—indicates that mechanism occur in the absence of carotenoid.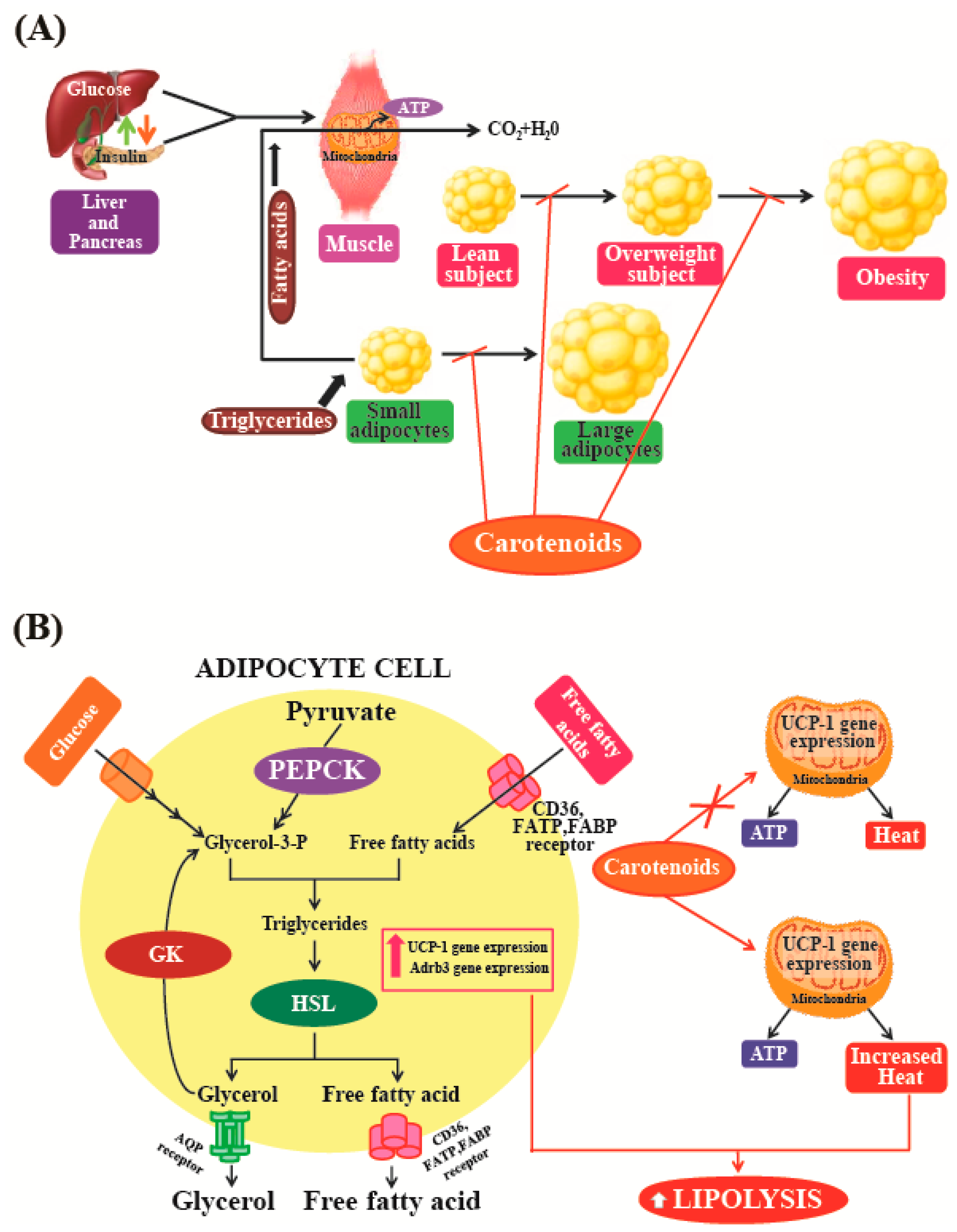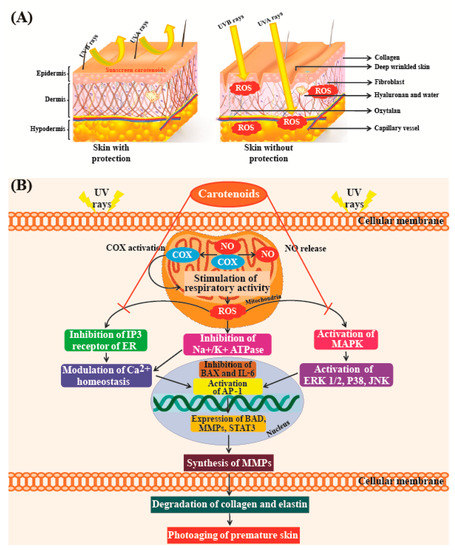 Figure 7. (A) Schematic diagram showing penetration of UV rays into the layers of the human skin. UVB rays do not penetrate the skin deeply because they are blocked by the epidermis, whereas UVA penetrate deep into the skin, which leads to damage of elastin and collagen fibers. Carotenoids act as a sunscreen and protect the skin from UV rays; (B) Inhibitory effects of UV rays-induced photodamage in premature skins. AP-1—activator protein-1; BAD—BCL2 associated agonist of cell death; BAX—Bcl-2 associated X; COX—cyclooxygenase; ER—endoplasmic reticulum; ERK—extracellular signal-reduced kinase; IL-6—interleukin-6; IP3—inositol 1,4,5-triphosphate; JNK—jun amino-terminal kinase; MAPK—mitogen-activated protein kinase; MMPs—matrix metalloproteinases; NO—nitric acid; ROS—reactive oxygen species; STAT3—signal transducer and activator of transcription 3.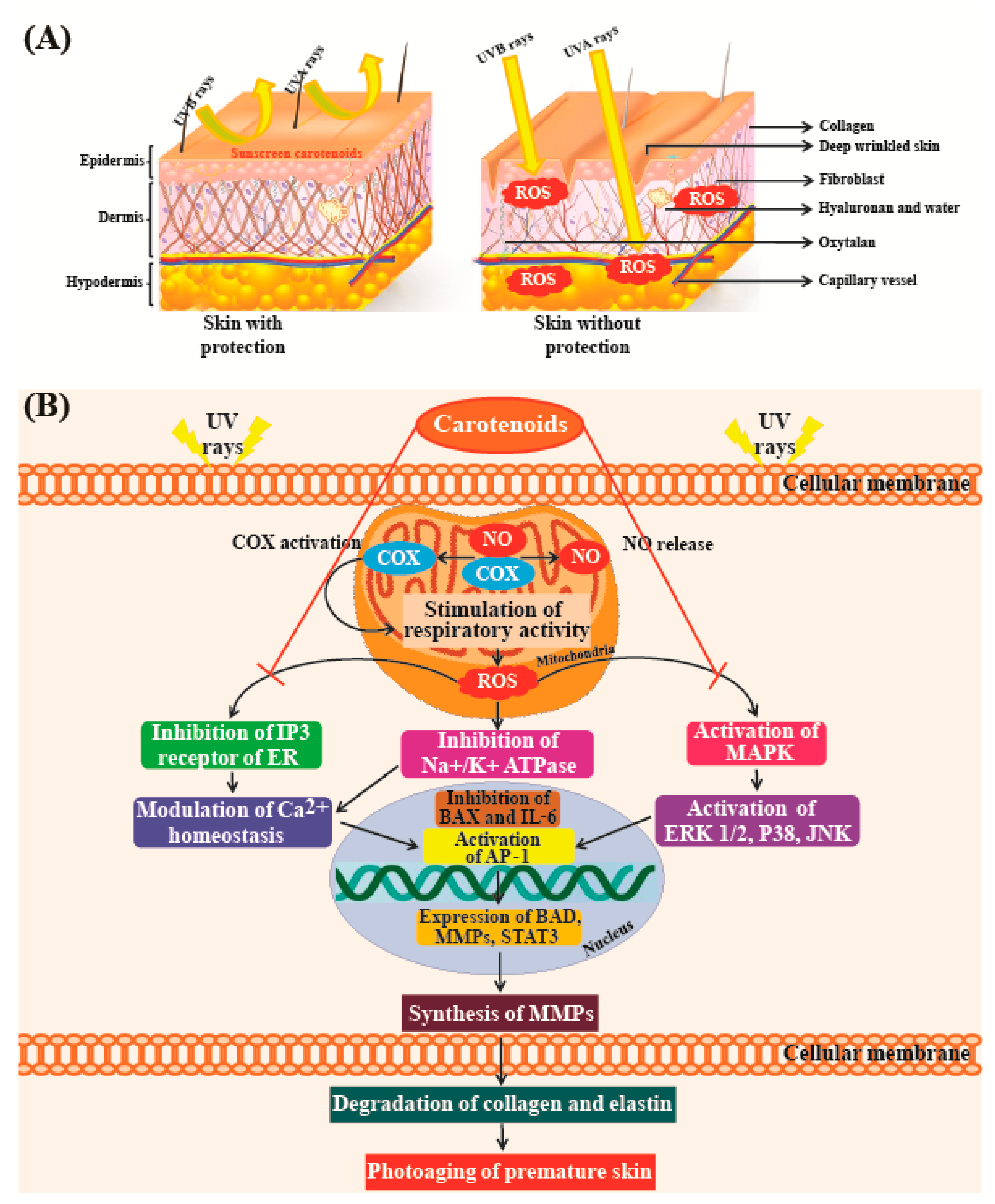 Main Carotenoid
Microalgae
Other Carotenoids
Concentration
General Uses
References
Astaxanthin

Haematococcus pluvialis

β-carotene, Lutein, Canthaxanthin, Neoxanthin, Violaxanthin, Zeaxanthin, Echinenone
Up to 7% DW; 75% TC
In benign prostatic hyperplasia and prostate and liver tumors
Anti–inflammatory properties
Active against liver neoplasms
Strong anti-oxidant property
Cardiovascular health
[13,16,17,18,19,20]

Chlorella zofingiensis

-
3.7% DW
[21]
β-carotene

Chlorella zofingiensis

Canthaxanthin (97% DW), Astaxanthin (0.7% DW)
0.9% DW
Provitamin A function
In colorectal cancer
In the prevention of acute and chronic coronary syndromes
Photoprotection of skin against UV light
Prevent night blindness
Anti-oxidant property
Prevents liver fibrosis
[3,4,13,22,23,24,25,26,27,28,29,30,31,32]

Dunaliella salina

Zeaxanthin, Lutein, α-carotene
10–13% DW

Spirulina maxima

Astaxanthin, Lutein, β-cryptoxanthin, Zeaxanthin, Echinenone, Oscillaxanthin, Myxoxanthophyll
80% TC
Canthaxanthin

Coelastrella striolata

var.

multistriata

Astaxanthin (0.15% DW), β-carotene (0.7% DW)
4.75% DW
Create a tan color
Anti-oxidant property
[33]
Canthaxanthin and Lutein

Chlorella vulgaris

Astaxanthin 12.5% TC
Violaxanthin
45% TC
Create a tan color
Anti-oxidant property
In the prevention of acute and chronic coronary syndromes and stroke
In the prevention of cataracts
To prevent macular degeneration associated with age
In the prevention of retinitis
To avoid gastric infection by

H. pylori

[34,35]
Echinenone

Botryococcus braunii

Botryoxanthins A and B—0.03% DW
Braunixanthins 1 and 2—0.06% DW
0.17% DW
-
[36]
Fucoxanthin

Cyclotella

cf.

cryptica

-
0.7 mg g−1
Anti-obesity
Anti-oxidant property
[37]

Cyclotella meneghiniana

-
2.3 mg g−1
[37]

Cylindrotheca closterium

-
0.52% DW
[38]

Isochrysis

aff.

galbana

-
1.8% DW
[39]

Mallomonas

sp. SBV13
-
26.6 mg g−1
[37]

Nitzschia

cf.

carinospeciosa

-
5.5 mg g−1
[37]

Odontella aurita

Diadinoxanthin, β-carotene
up to 2.2% DW
[40]

Paralia longispina

-
1.4 mg g−1
[37]

Phaeodactylum tricornutum

Diadinoxanthin, Zeaxanthin, Neoxanthin, Violaxanthin, β-carotene
1.65% DW
[39,41,42]
-
10.2 mg g−1
[37]
Lutein

Auxenochlorella protothecoides

Astaxanthin
0.76 mg g−1
In the prevention of acute and chronic coronary syndromes and stroke
Helps to maintain a normal visual function
In the prevention of cataracts
To prevent macular degeneration associated with age
In the prevention of retinitis
To avoid gastric infection by

H. Pylori


Anti-oxidant property
Anti-cancer activity
[43]

Chlorella protothecoides

-
5.4 mg g−1
[44]

Chlorella pyrenoidosa

Violaxanthin, Loroxanthin, α- and β-carotene
0.2–0.4% DW
[13,18,25,45,46,47]

Chlorella sorokiniana

Astaxanthin
5.90 mg g−1
[43]

Chlorella

sp.
Astaxanthin
2.26 mg g−1
[43]

Coelastrella

sp.
Astaxanthin
6.49 mg g−1
[43]

Galdieria sulphuraria

-
0.4 mg g−1
[48]

Parachlorella kessleri

Astaxanthin
0.28 mg g−1
[43]

Scenedesmus almeriensis

-
0.54% DW
[49]

Scenedesmus bijugus

Astaxanthin
2.9 mg g−1
[43]

Scenedesmus

sp.
Astaxanthin
1.8 mg g−1
[43]

Vischeria stellata

Astaxanthin
1.50 mg g−1
[43]
Violaxanthin

Chlorella ellipsodea

Antheraxanthin, Zeaxanthin
-
Anti-inflammatory activity
[35,50]
Zeaxanthin

Porphyridium cruentum

β-carotene
97.4% TC
In the prevention of acute and chronic coronary syndromes
Helps to maintain a normal visual function
In the prevention of cataracts
To prevent macular degeneration associated with age
[13,19,25,46,47,51]
DW—Dry weight; TC—Total carotenoids; '-'—No data available.

© 2018 by the authors. Licensee MDPI, Basel, Switzerland. This article is an open access article distributed under the terms and conditions of the Creative Commons Attribution (CC BY) license (http://creativecommons.org/licenses/by/4.0/).