Cloning and Functional Characterization of a Lycopene β-Cyclase from Macrophytic Red Alga
Bangia fuscopurpurea
1
State Key Laboratory of Pharmaceutical Biotechnology, School of Life Sciences, Nanjing University, Nanjing 210023, China
2
Jiangsu Institute of Oceanology and Marine Fisheries, Nantong 226007, China
*
Authors to whom correspondence should be addressed.
Academic Editor: Tatsuya Sugawara
Received: 10 November 2016 / Revised: 16 March 2017 / Accepted: 29 March 2017 / Published: 11 April 2017
Abstract
Lycopene cyclases cyclize the open ends of acyclic lycopene (ψ,ψ-carotene) into β- or ε-ionone rings in the crucial bifurcation step of carotenoid biosynthesis. Among all carotenoid constituents, β-carotene (β,β-carotene) is found in all photosynthetic organisms, except for purple bacteria and heliobacteria, suggesting a ubiquitous distribution of lycopene β-cyclase activity in these organisms. In this work, we isolated a gene (
BfLCYB
) encoding a lycopene β-cyclase from
Bangia fuscopurpurea
, a red alga that is considered to be one of the primitive multicellular eukaryotic photosynthetic organisms and accumulates carotenoid constituents with both β- and ε-rings, including β-carotene, zeaxanthin, α-carotene (β,ε-carotene) and lutein. Functional complementation in
Escherichia coli
demonstrated that BfLCYB is able to catalyze cyclization of lycopene into monocyclic γ-carotene (β,ψ-carotene) and bicyclic β-carotene, and cyclization of the open end of monocyclic δ-carotene (ε,ψ-carotene) to produce α-carotene. No ε-cyclization activity was identified for BfLCYB. Sequence comparison showed that BfLCYB shares conserved domains with other functionally characterized lycopene cyclases from different organisms and belongs to a group of ancient lycopene cyclases. Although
B. fuscopurpurea
also synthesizes α-carotene and lutein, its enzyme-catalyzing ε-cyclization is still unknown.
View Full-Text
►

▼

Figures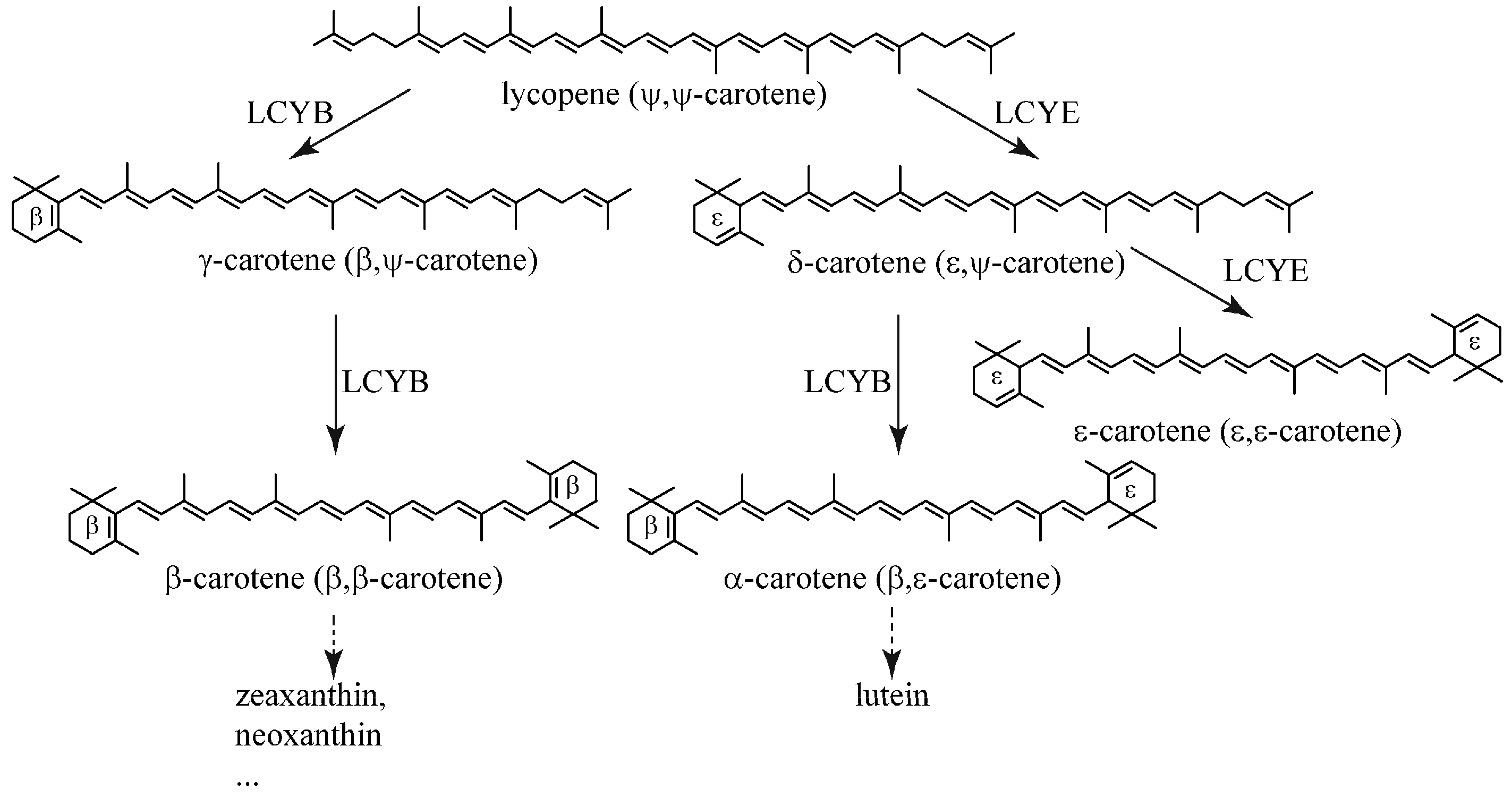 Figure 1
This is an open access article distributed under the
Creative Commons Attribution License
which permits unrestricted use, distribution, and reproduction in any medium, provided the original work is properly cited (CC BY 4.0).

Share & Cite This Article
MDPI and ACS Style
Cao, T.-J.; Huang, X.-Q.; Qu, Y.-Y.; Zhuang, Z.; Deng, Y.-Y.; Lu, S. Cloning and Functional Characterization of a Lycopene β-Cyclase from Macrophytic Red Alga Bangia fuscopurpurea. Mar. Drugs 2017, 15, 116.
Note that from the first issue of 2016, MDPI journals use article numbers instead of page numbers. See further details here.
Related Articles
Comments
[Return to top]