Discovery of Novel Bromophenol Hybrids as Potential Anticancer Agents through the Ros-Mediated Apoptotic Pathway: Design, Synthesis and Biological Evaluation
1
Key Laboratory of Experimental Marine Biology, Institute of Oceanology, Chinese Academy of Sciences, Qingdao 266071, Shandong, China
2
Laboratory for Marine Drugs and Bioproducts, Qingdao National Laboratory for Marine Science and Technology, Qingdao 266071, Shandong, China
3
University of Chinese Academy of Sciences, Beijing 10049, China
*
Author to whom correspondence should be addressed.
†
These authors contributed equally to this work.
Received: 23 September 2017 / Revised: 18 October 2017 / Accepted: 30 October 2017 / Published: 1 November 2017
Abstract
A series of bromophenol hybrids with N-containing heterocyclic moieties were designed, and their anticancer activities against a panel of five human cancer cell lines (A549, Bel7402, HepG2, HCT116 and Caco2) using MTT assay in vitro were explored. Among them, thirteen compounds (
17a
,
17b
,
18a
,
19a
,
19b
,
20a
,
20b
,
21a
,
21b
,
22a
,
22b
,
23a
, and
23b
) exhibited significant inhibitory activity against the tested cancer cell lines. The structure-activity relationships (SARs) of bromophenol derivatives were discussed. The promising candidate compound
17a
could induce cell cycle arrest at G0/G1 phase and induce apoptosis in A549 cells, as well as caused DNA fragmentations, morphological changes and ROS generation by the mechanism studies. Furthermore, compound
17a
suppression of Bcl-2 levels (decrease in the expression of the anti-apoptotic proteins Bcl-2 and down-regulation in the expression levels of Bcl-2) in A549 cells were observed, along with activation caspase-3 and PARP, which indicated that compound
17a
induced A549 cells apoptosis in vitro through the ROS-mediated apoptotic pathway. These results might be useful for bromophenol derivatives to be explored and developed as novel anticancer drugs.
View Full-Text
►

▼

Figures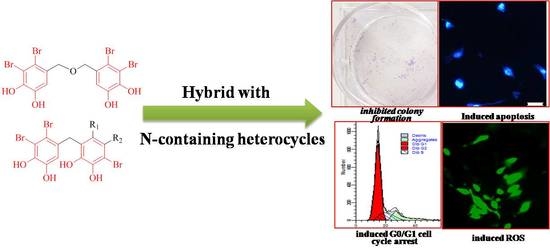 Graphical abstract
This is an open access article distributed under the
Creative Commons Attribution License
which permits unrestricted use, distribution, and reproduction in any medium, provided the original work is properly cited (CC BY 4.0).

Share & Cite This Article
MDPI and ACS Style
Wang, L.-J.; Guo, C.-L.; Li, X.-Q.; Wang, S.-Y.; Jiang, B.; Zhao, Y.; Luo, J.; Xu, K.; Liu, H.; Guo, S.-J.; Wu, N.; Shi, D.-Y. Discovery of Novel Bromophenol Hybrids as Potential Anticancer Agents through the Ros-Mediated Apoptotic Pathway: Design, Synthesis and Biological Evaluation. Mar. Drugs 2017, 15, 343.
Note that from the first issue of 2016, MDPI journals use article numbers instead of page numbers. See further details here.
Related Articles
Comments
[Return to top]