Open Access This article is
freely available
re-usable
Review
Recent Advances in the Isolation, Synthesis and Biological Activity of Marine Guanidine Alkaloids
1
State Key Laboratory of Drug Research, Shanghai Institute of Materia Medica, Chinese Academy of Sciences, 555 Zu Chong Zhi Road, Zhangjiang Hi-Tech Park, Shanghai 201203, China
2
Nano Science and Technology Institute, University of Science and Technology of China, 166 Ren Ai Road, Suzhou 215123, China
*
Authors to whom correspondence should be addressed.
Received: 8 September 2017 / Accepted: 16 October 2017 / Published: 24 October 2017
Abstract
:
Marine organisms are prolific resources of guanidine-containing natural products with intriguing structures and promising biological activities. These molecules have therefore attracted the attention of chemists and biologists for their further studies towards potential drug leads. This review focused on the guanidine alkaloids derived from marine sources and discussed the recent progress on their isolation, synthesis and biological activities, covering the literature from the year 2010 to the present.
Keywords:
marine guanidine alkaloids; sponge; mollusk; ascidian; total synthesis; biological activity
Acknowledgments
This review was financially supported by the Natural Science Foundation of China (Nos. 81520108028, 41676073, 21672230, 81603022, 41476063, 41506187) and STCSM Projects (Nos. 14431901100, 15431901000). The SKLDR/SIMM Projects (Nos. SIMM1705ZZ-01, SIMM1705KF-13). X.-W. Li is thankful for the financial support of the "Youth Innovation Promotion Association" (No. 2016258) from the Chinese Academy of Sciences, the "Young Elite Scientists Sponsorship" from the China Association for Science and Technology (No. 2016QNRC001), and the Shanghai "Pujiang Program" (No. 16PJ1410600).
Author Contributions
Jin Liu did the literature investigation and wrote the rough manuscript; Xu-Wen Li and Yue-Wei Guo reinvestigated the literature and greatly revised the paper.
Conflicts of Interest
The authors declare no conflict of interest.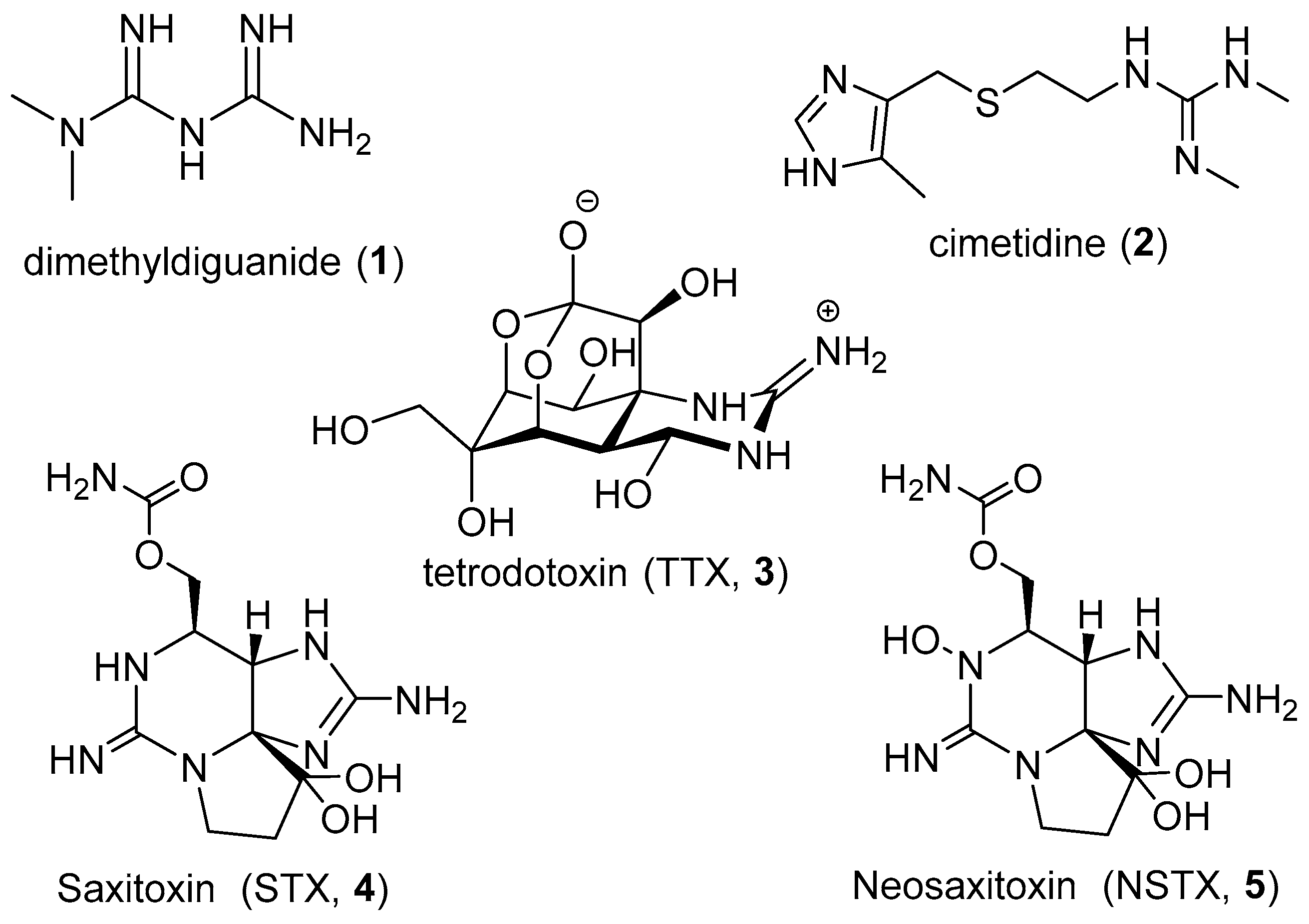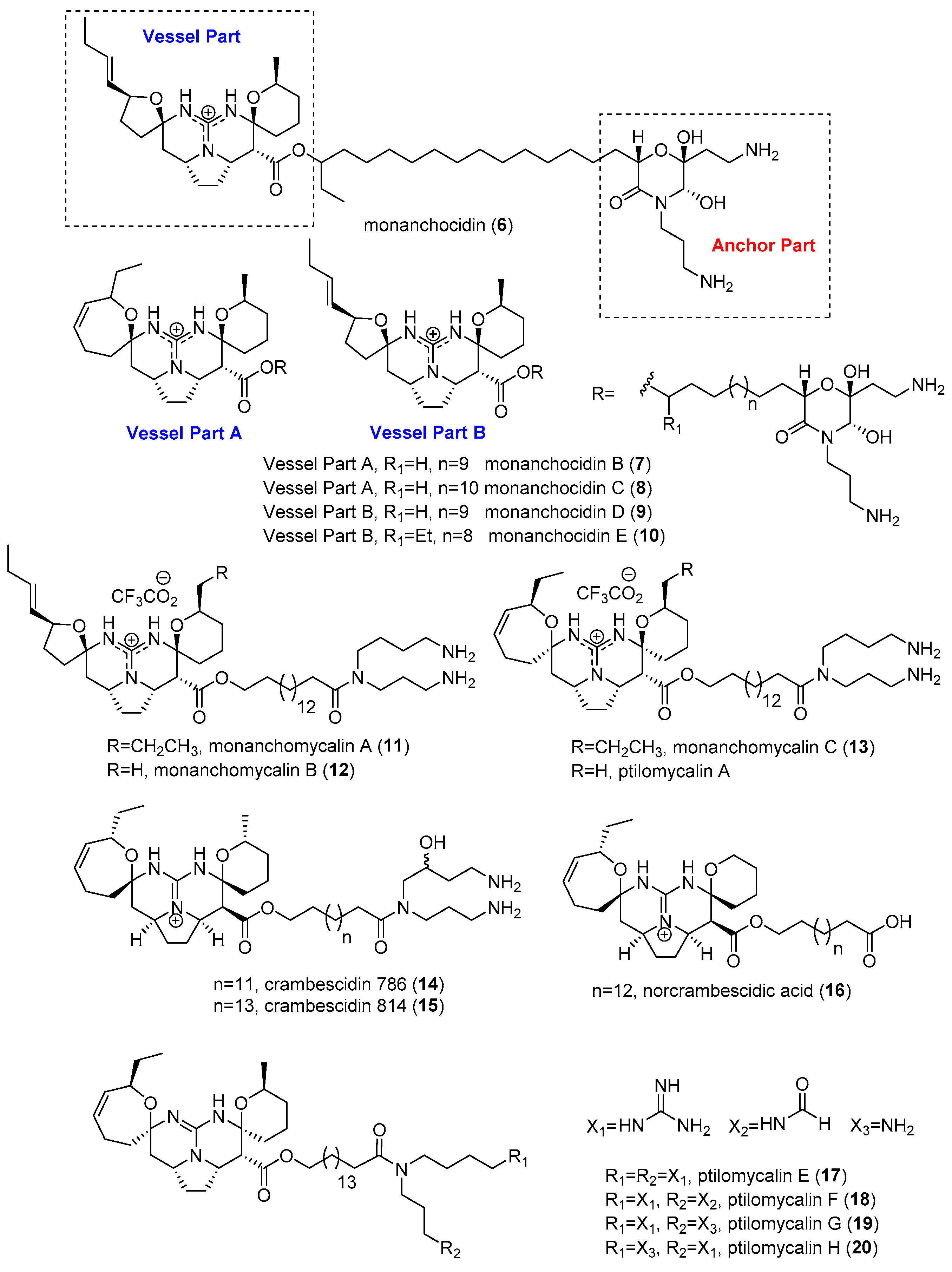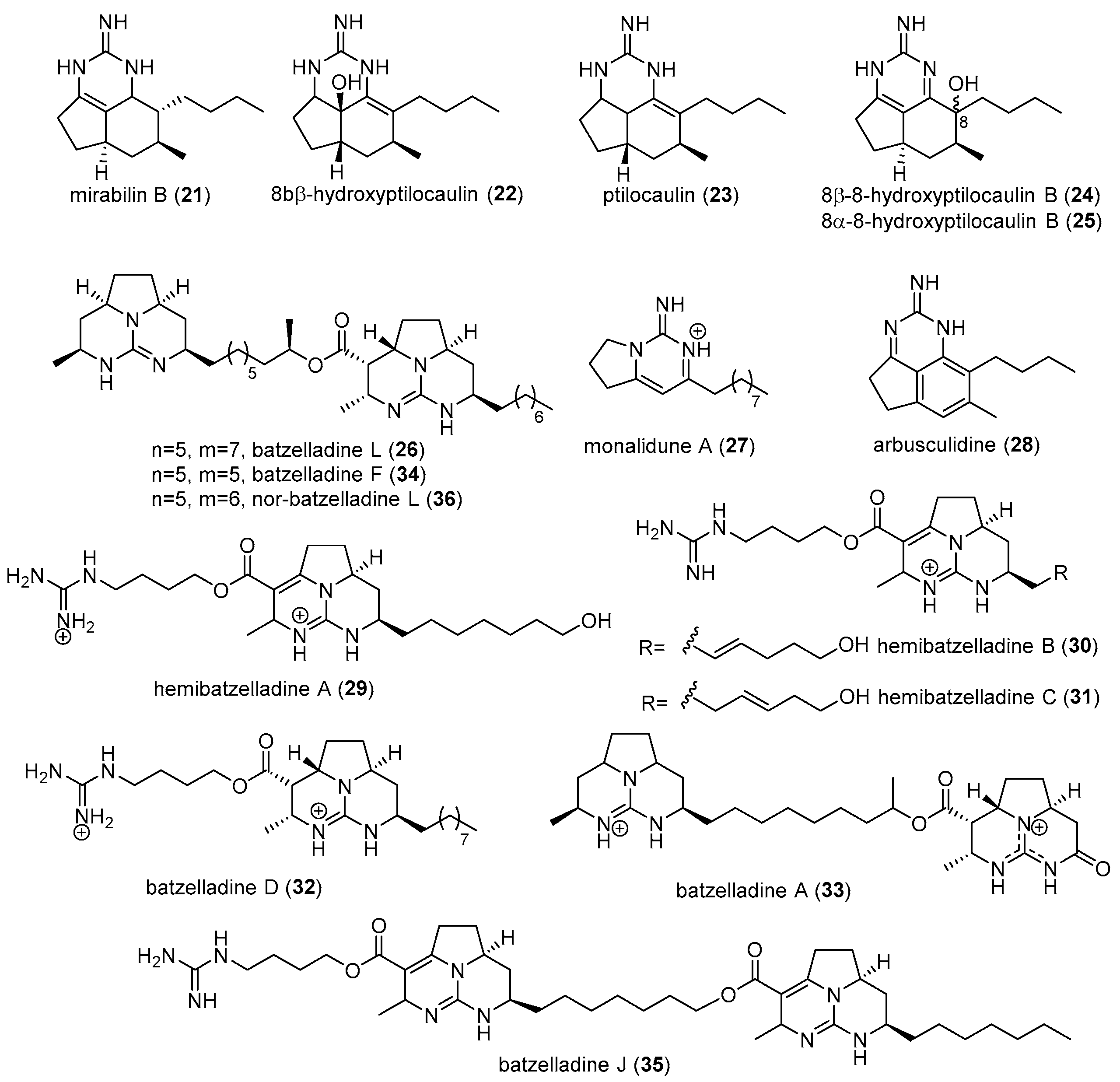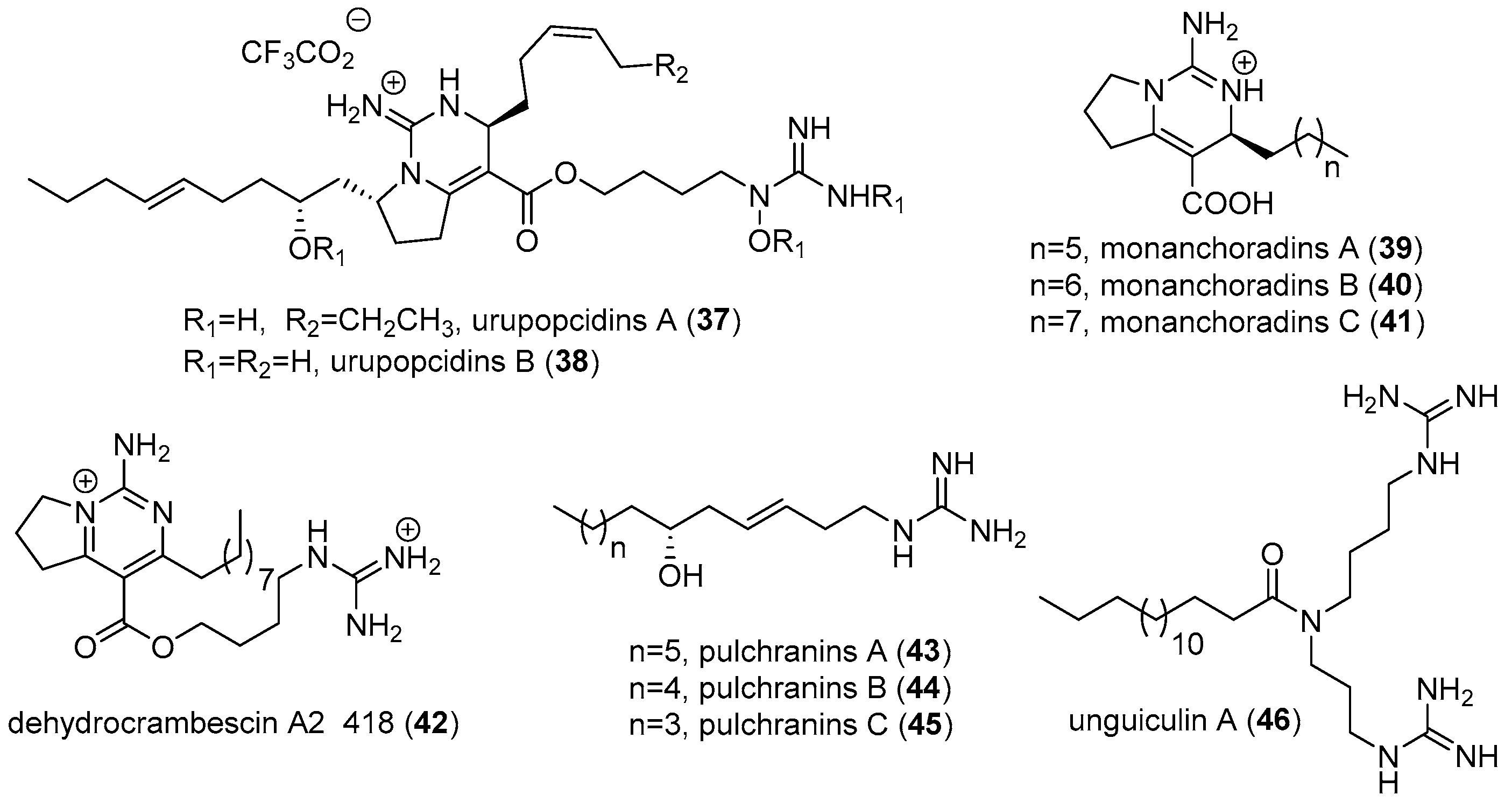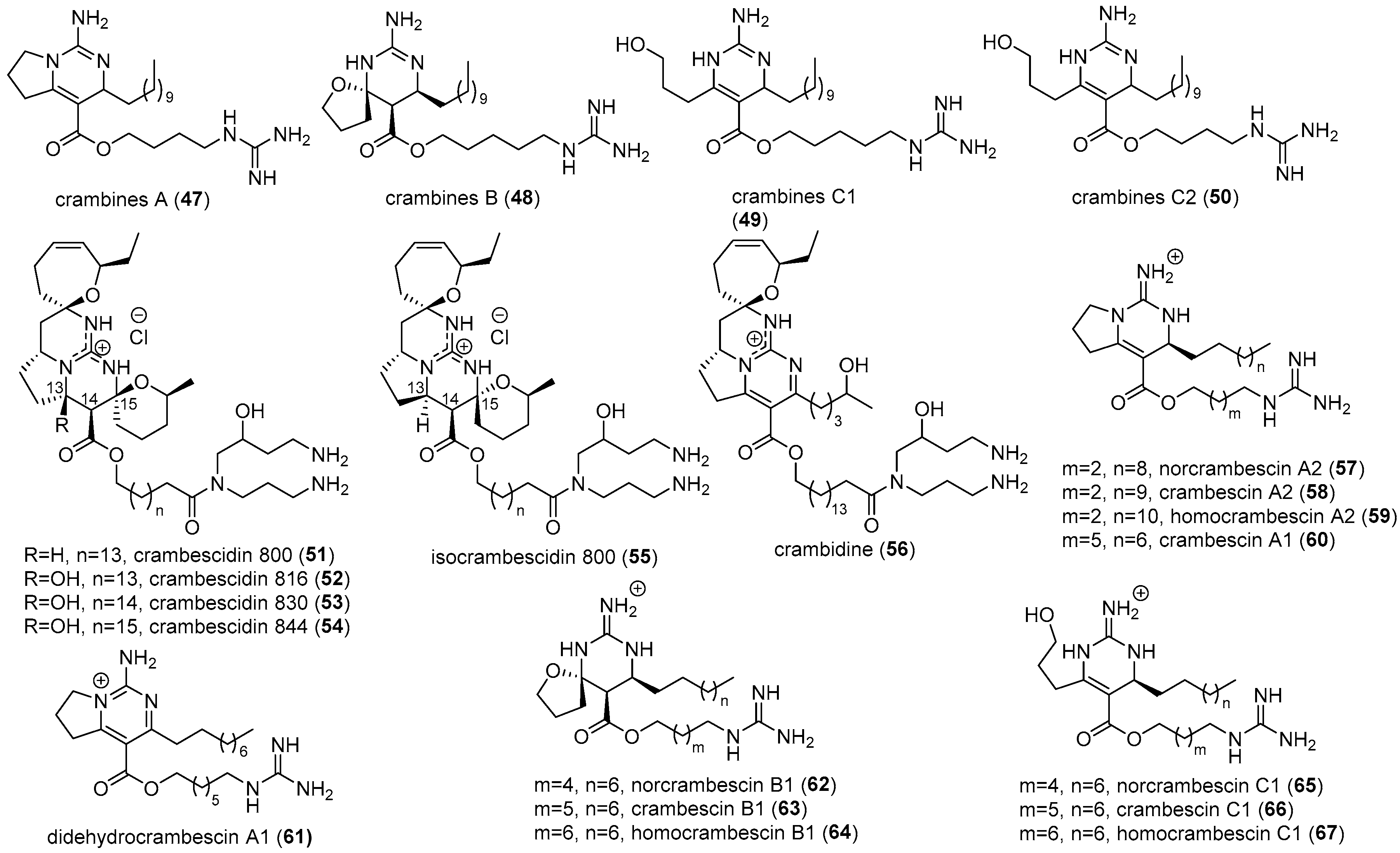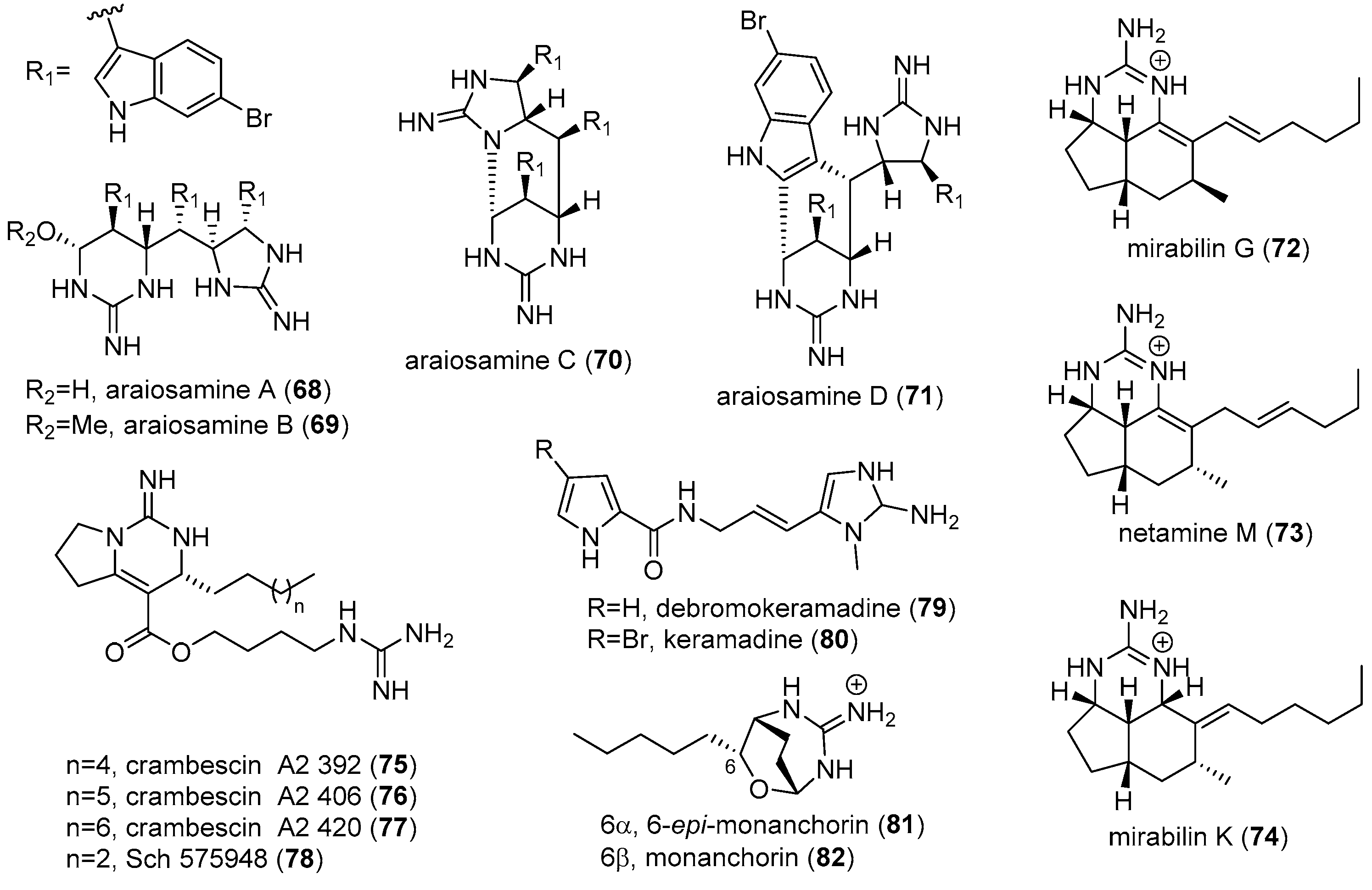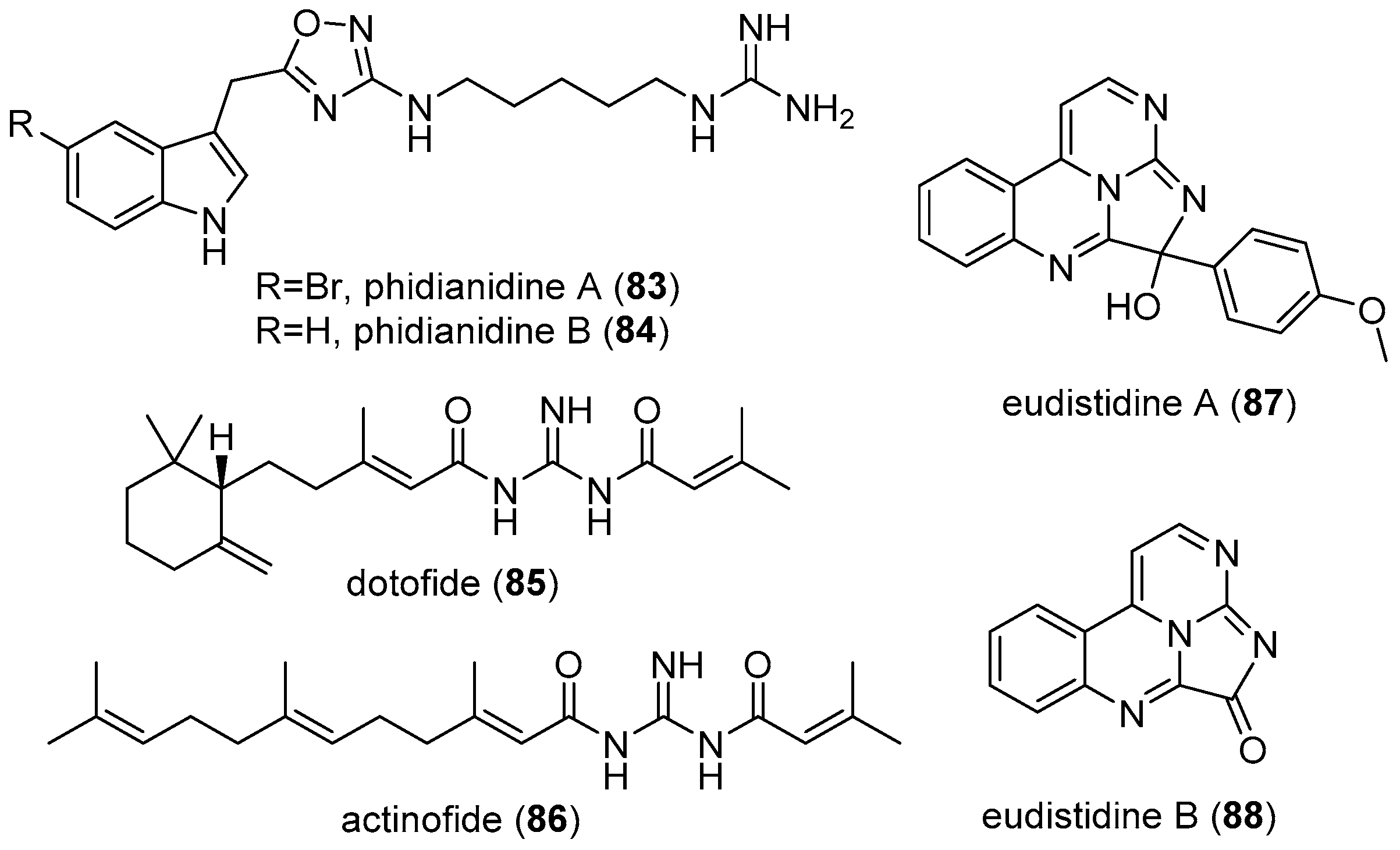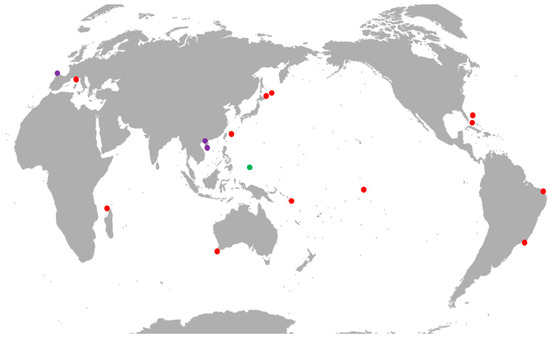 Figure 8. The global distribution of the MGA-containing marine organisms, which have been chemically investigated since 2010 (red means sponges, violet means mollusks, green means ascidians).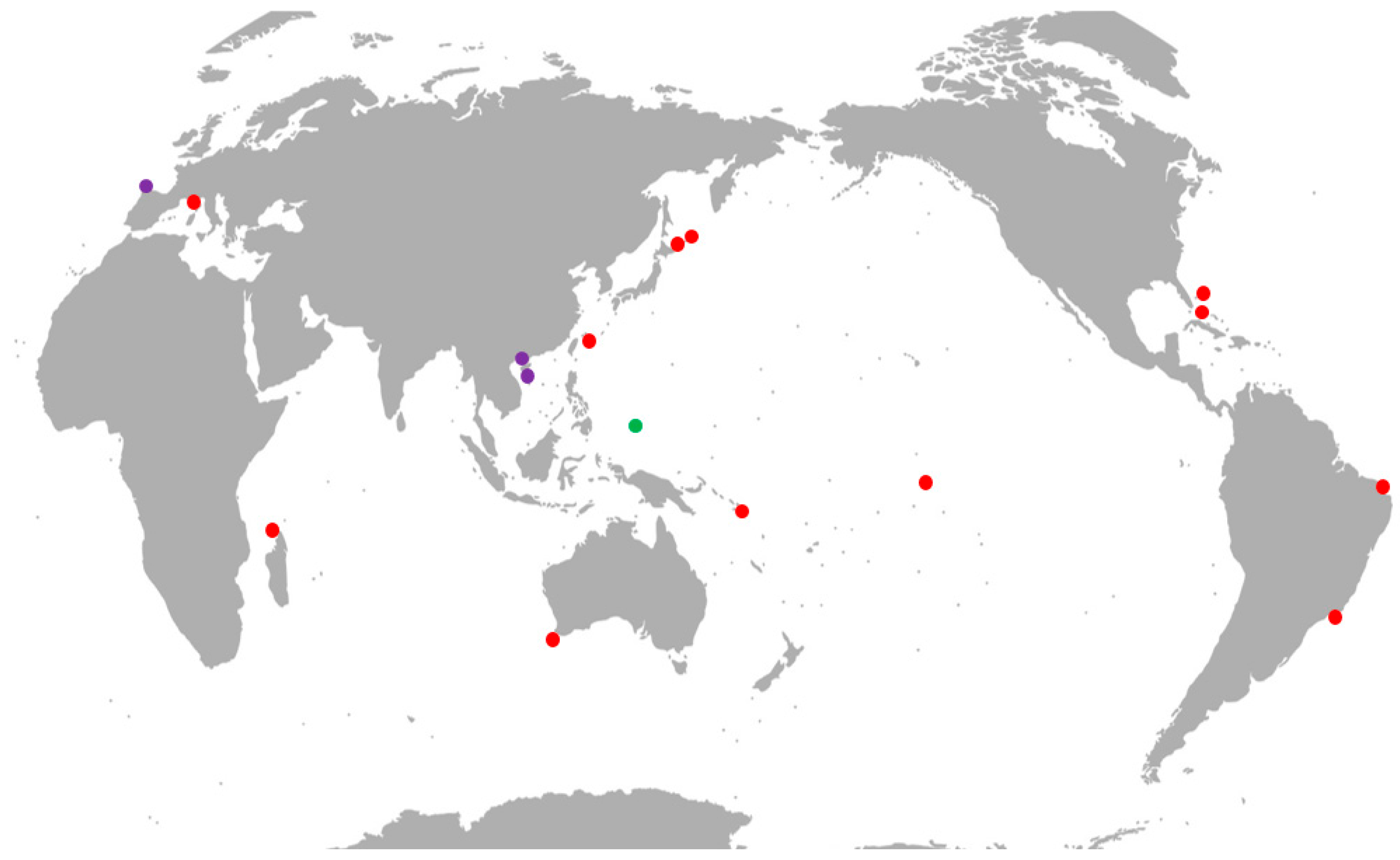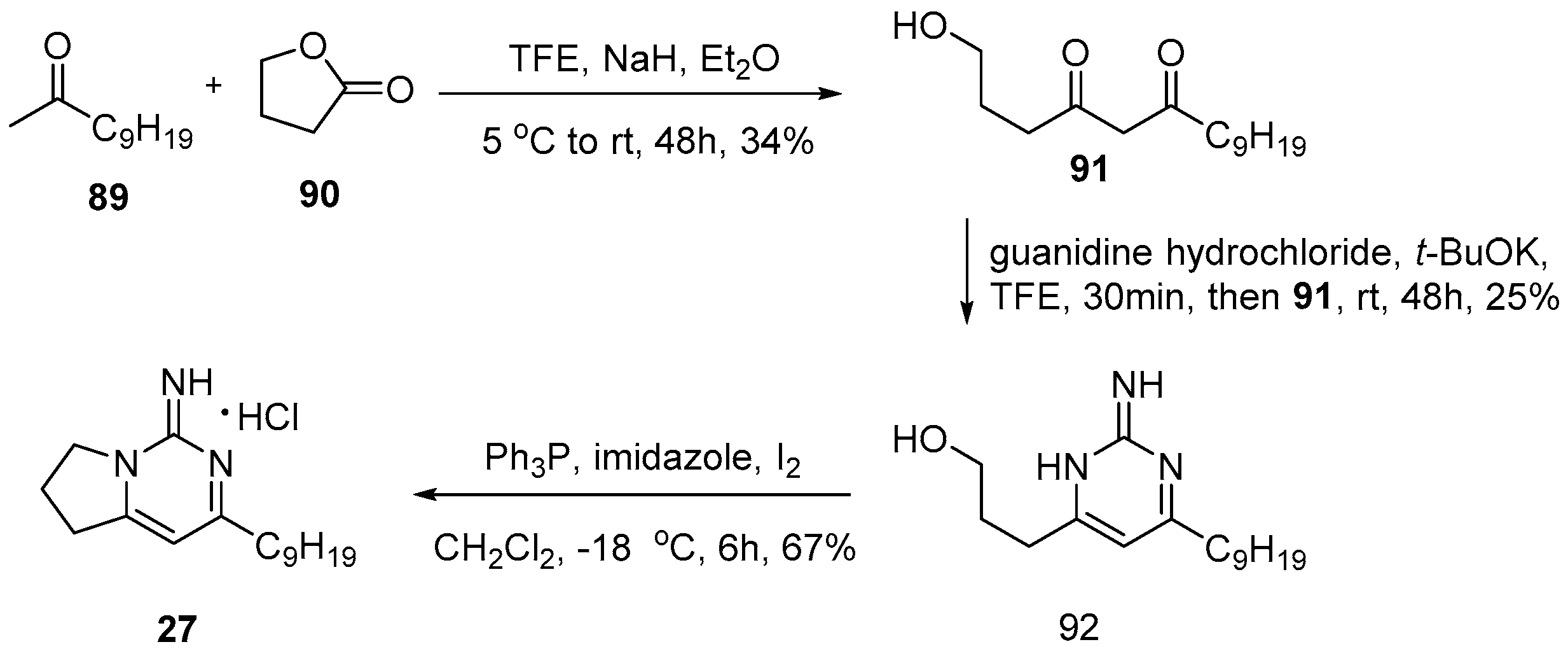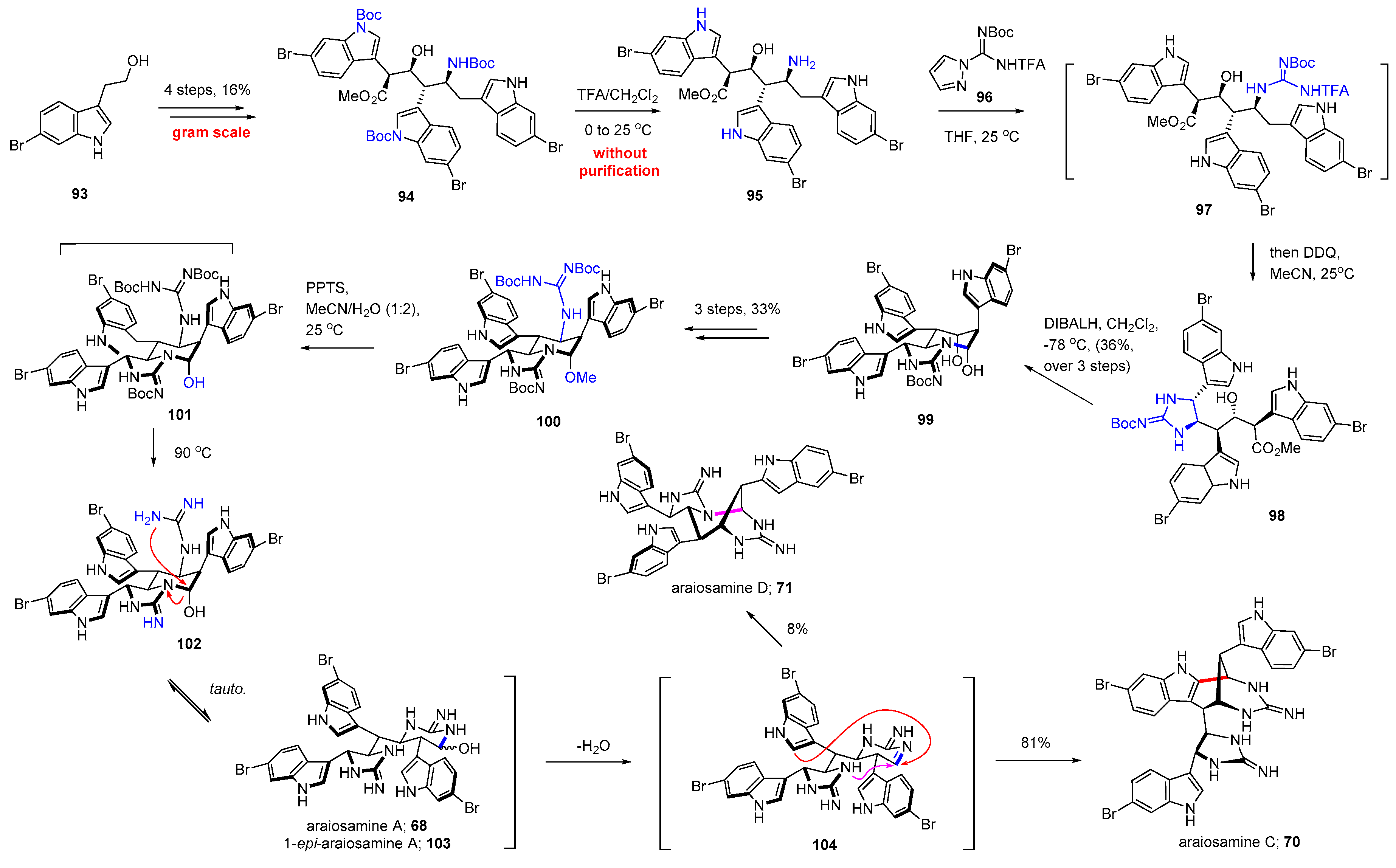 Scheme 3. The synthesis of keramadine, debromokeramadine, and their analogs by a one-pot two-step reaction with regioselectivity.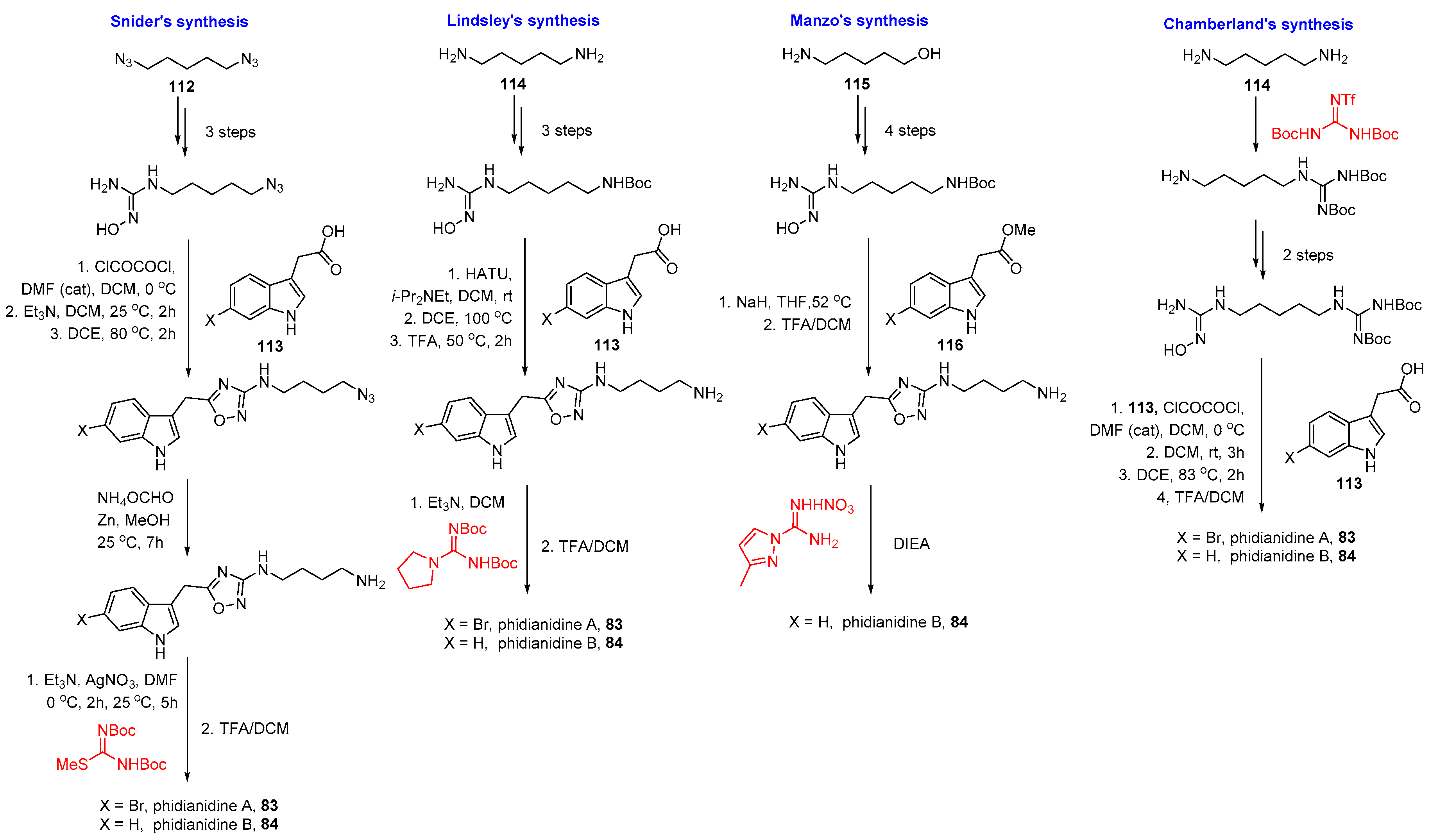 © 2017 by the authors. Licensee MDPI, Basel, Switzerland. This article is an open access article distributed under the terms and conditions of the Creative Commons Attribution (CC BY) license (http://creativecommons.org/licenses/by/4.0/).