Open Access This article is
freely available
re-usable
Review
Marine Carotenoids against Oxidative Stress: Effects on Human Health
1
Human and Clinical Nutrition Unit, Department of Medical Oral and Biotechnological Sciences, Via Dei Vestini, "G. D'Annunzio" University, Chieti 66013, Italy
2
Cardiology Unit, San Camillo De Lellis Hospital, Manfredonia 71043, Foggia, Italy
*
Author to whom correspondence should be addressed.
Academic Editor: Paul Long
Received: 29 May 2015 / Accepted: 22 September 2015 / Published: 30 September 2015
Abstract
:
Carotenoids are lipid-soluble pigments that are produced in some plants, algae, fungi, and bacterial species, which accounts for their orange and yellow hues. Carotenoids are powerful antioxidants thanks to their ability to quench singlet oxygen, to be oxidized, to be isomerized, and to scavenge free radicals, which plays a crucial role in the etiology of several diseases. Unusual marine environments are associated with a great chemical diversity, resulting in novel bioactive molecules. Thus, marine organisms may represent an important source of novel biologically active substances for the development of therapeutics. In this respect, various novel marine carotenoids have recently been isolated from marine organisms and displayed several utilizations as nutraceuticals and pharmaceuticals. Marine carotenoids (astaxanthin, fucoxanthin, β-carotene, lutein but also the rare siphonaxanthin, sioxanthin, and myxol) have recently shown antioxidant properties in reducing oxidative stress markers. This review aims to describe the role of marine carotenoids against oxidative stress and their potential applications in preventing and treating inflammatory diseases.
Keywords:
marine carotenoids; oxidative stress; antioxidants; inflammatory diseases
1. Introduction
Oceans cover most of the earth's surface, constituting a wide resource for the discovery of potential therapeutics. Over the last decades, numerous substances with interesting pharmaceutical activities have been identified in marine organisms. The diversity of marine environments provides an important source of bioactive compounds. This may lead to potential new drug candidates of natural origin with efficacy and low toxicity in the therapeutic strategy against many diseases characterized by cellular redox state alterations.
In recent years it has become evident that the oxidation of lipids is a fundamental step in the pathogenesis of several diseases, in both adult and infant patients. Lipid peroxidation is a process naturally generated in small amounts in the body, mainly by the effect of some reactive oxygen species (ROS), such as hydroxyl radical and hydrogen peroxide. Both enzymatic and non-enzymatic natural antioxidant defenses exist; however, these protective mechanisms may be overcome. Then a self-propagating chain-reaction starts and oxidative stress can result in significant tissue damage.
Oxidative stress and chronic inflammation are the main pathophysiological factors contributing to the development of chronic inflammatory diseases, such as diabetes, atherosclerosis, and hypertension. Appropriate and effective interventions, including nutrition, pharmacology, and physical exercise, are necessary in order to activate the expression of cellular antioxidant systems, thus preventing inflammatory and degenerative processes. In fact, inflammatory diseases derive from a continuum of patho-physiological processes: for example, cardiovascular disorders advance from a local redox disequilibrium to endothelial dysfunction, inflammation, and excessive vascular remodeling, which slowly leads to atherosclerosis and subsequent cardiovascular accidents such as coronary artery disease, myocardial infarction, and stroke [
1
]. A nutritional approach through natural antioxidant substances represents an important new frontier in both the prevention and treatment of cardiovascular diseases. Scientific evidence supports the beneficial roles of phytochemicals against some inflammatory and chronic diseases. Several naturally-occurring antioxidant bioactives have been associated with their prevention.
For example, many carotenoids with great antioxidant properties displayed a risk reduction both in epidemiological studies and supplementation human trials, indicating the presence of a strong link between oxidative stress, a pro-inflammatory systemic environment, and a wide number of chronic diseases [
2
]. Consequently, consistent dietary improvement may shift human health toward decreased morbidity and mortality as well as a better quality of life.
2. Oxidative Stress: The Role of Antioxidants
ROS are molecules containing oxygen, with unpaired valence electrons. They are generated as a natural product of normal cellular functioning and oxygen metabolism and have important roles in both cell signaling and intercellular homeostasis. ROS effects on cells include not only roles in apoptosis (programmed cell death) but also positive effects, such as the induction of host defense genes [
3
], the stimulation of the adaptive immune system via the recruitment of leukocytes, and mobilization of ionic transport systems in the so-called redox or oxidative signaling. However, ROS levels can augment dramatically due to environmental stress, such as ionizing radiation, UV, or heat exposure [
4
]; this increase can result in significant cellular damage, which cumulatively constitutes oxidative stress. ROS can damage DNA, RNA, and proteins; they can determine oxidations of both amino acids in proteins and polyunsaturated fatty acids in lipids and can oxidatively inactivate specific enzymes by oxidation of co-factors, thus contributing to the physiology of aging. Oxidative stress caused by the imbalance between ROS and biological antioxidant systems and consequent oxidative stress can lead to modification of these macromolecules (
Figure 1
); subsequently, in the case of excessive amounts, ROS can determine deleterious effects [
5
]. Free radicals play a crucial role in the progression of many pathologies, such as atherosclerotic processes [
6
], myocardial and cerebral ischemia [
7
], renal failure [
8
], rheumatoid arthritis [
9
], inflammatory bowel disease, retinopathy of prematurity, asthma, Parkinson's disease, kidney damage, preeclampsia [
10
], and more general inflammation, as well as all the chronic degenerative diseases. In fact, ROS can attack the polyunsaturated fatty acids in the cell membrane, initiating a self-propagating chain reaction: this peroxidative rupture of cellular membranes and the end-products of such lipoperoxidation reactions are dangerous for cells and tissues, in a self-propagating chain-reaction whereby the initial oxidation of only a few molecules can result in significant tissue damage. Oxidative stress is a powerful contributor to aging, although the accumulation of oxidative damage and its implications for senescence depends on the particular tissue type where it occurs. Normally, cells defend themselves against ROS damage through intracellular and extracellular defenses, in particular through enzymes such as superoxide dismutases (SOD), catalases (CAT), lactoperoxidases, and glutathione peroxidases. Exogenous antioxidants such as ascorbic acid (vitamin C), tocopherol (vitamin E), and polyphenols also play important roles in preventing ROS damage by scavenging free radicals.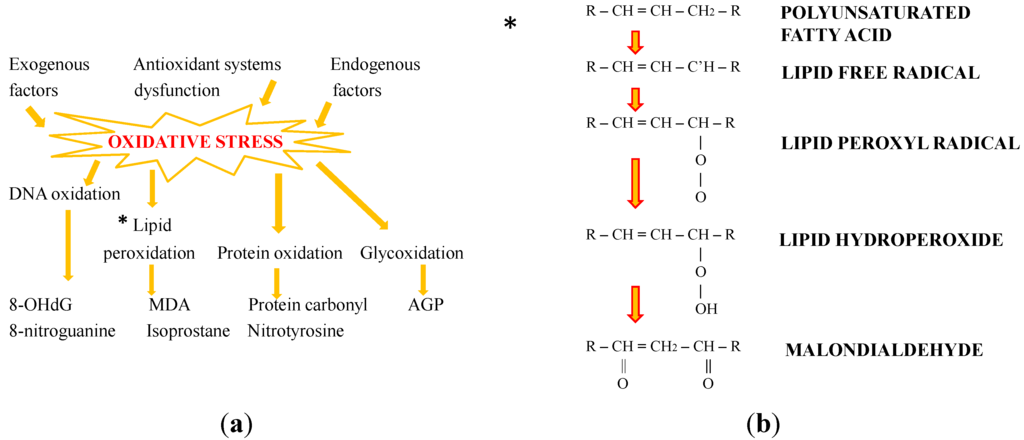 Figure 1. Sources, effects, and markers of oxidative stress. In detail, (a) schematic steps of MDA formation from polyunsaturated fatty acids (MDA: malondialdehyde; AGP: advanced glycation end-products; 8-OHdG: 8-hydroxy-2′-deoxyguanosine); (b) Lipid peroxidation and MDA production.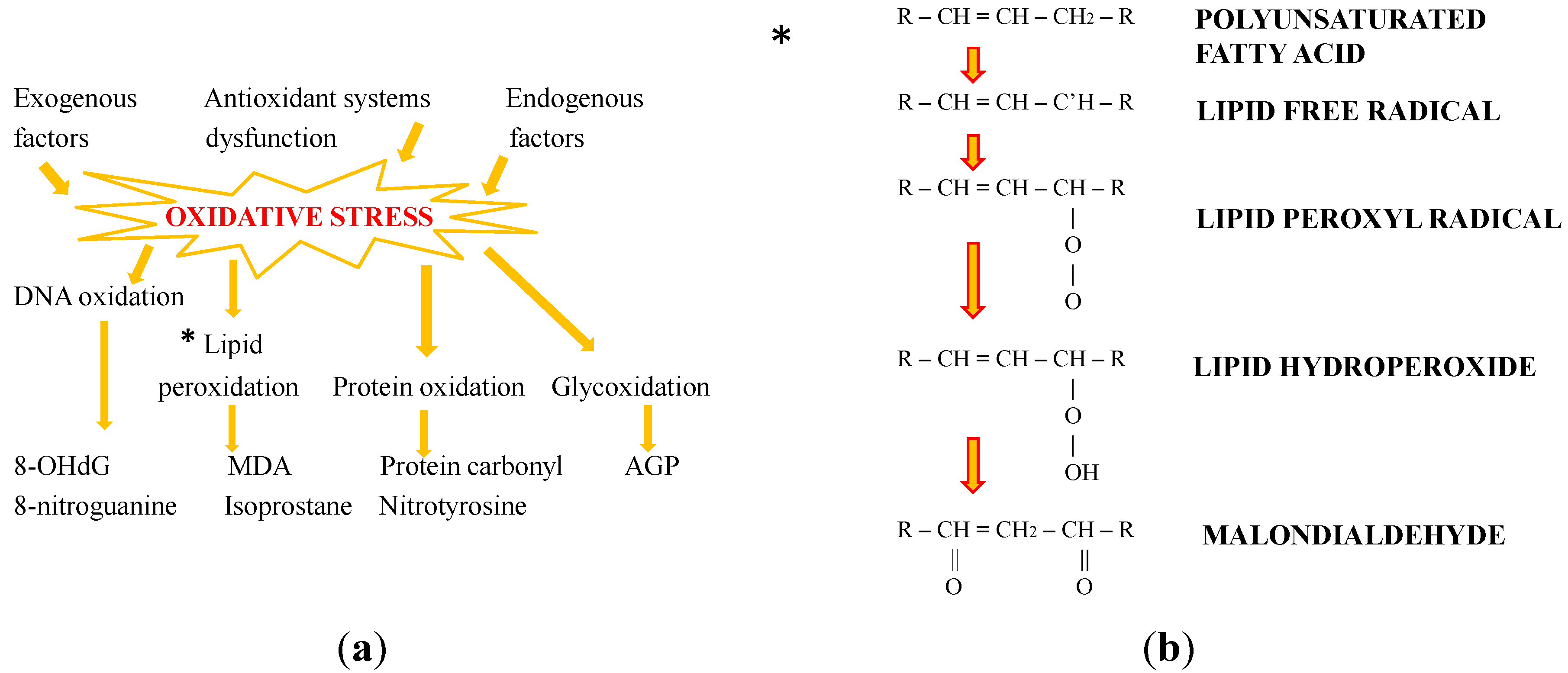 In a similar manner, carotenoids' pigments, which have been shown to possess strong antioxidant properties, have been attracting increasing attention due to their beneficial effects on human health, in particular because of their potential against cancer and cardiovascular diseases [
11
].
3. Bioactivity and the Protective Effects of Natural Carotenoids: New Perspectives from the Sea
Carotenoids are lipid-soluble pigments produced by some plants, algae, fungi, and bacterial species. They are responsible for some food's orange-yellow hues. Carotenoids, which play a crucial role in the complex network of antioxidant phytochemicals, should certainly be constituents of a healthy diet. They are excellent light filters and efficient quenchers of both singlet oxygen and excited triplet state molecules. Their lipophilicity determines their peculiar sub-cellular distribution: they are more represented in membranes and lipophilic cell compartments. This makes them suitable photo-protectants, not only for plants but also for humans. In fact, carotenoids absorb light, thus providing photo-protection and defense from photo-oxidative damage not only to photo-synthetic organisms, but also to the eye and the skin. Skin protection involves the carotenes β-carotene and lycopene, while protection of the macula involves the xanthophylls zeaxanthin and lutein.
Carotenoids are antioxidants thanks to their ability to quench singlet oxygen, to be oxidized, and to be isomerized. The protection mechanisms involve singlet oxygen quenching and free radicals scavenging. However, they scavenge reactive free radicals and become carotenyl radicals after reaction through hydrogen abstraction: this process can lead to a switch from a beneficial antioxidant process to a damaging pro-oxidative one [
12
]. This potential antioxidant role has been suggested to be the main mechanism for their preventive effects against cancer and inflammatory diseases. About 700 carotenoids with different structures have been isolated from natural source; the evaluation of their pharmaceutical potential may be a promising field of medical research.
However, the carotenoid species so far studied for this purpose are restricted to a small number, including the dicyclic β-carotene, β-cryptoxanthin, canthaxanthin, α-carotene and lutein, and the acyclic carotenoid lycopene. Typical carotenoids, as well as marine ones, displayed a wide range of beneficial effects on human health.
In this respect, novel marine carotenoids, such as fucoxanthin, astaxanthin, zeaxanthin, and, more recently, rare marine carotenoids such as sioxanthin, saproxanthin, myoxol, and siphoxanthin, are gaining attention and need to be evaluated for their important potential as development materials for pharmaceuticals or functional foods, in order to prevent such disorders as cancer and cardiovascular diseases. Marine carotenoids are important bioactive compounds principally derived from algae, with antioxidant activities deriving from their chemical structure and interaction with biological membranes. These bioactive substances recently showed unique and remarkable properties that explain their potentially beneficial effects on human health.
The potential benefits of marine carotenoids have been studied particularly in astaxanthin and fucoxanthin, which are the main marine carotenoids [
13
]. Both carotenoids show strong antioxidant activity, which is attributed to quenching singlet oxygen and scavenging free radicals.
4. Antioxidant and Pro-Oxidant Activities of Carotenoids
5. Conclusions
In conclusion, natural bioactives may be used for therapeutic purposes, in order to protect cells against oxidative conditions. In particular, rare carotenoids need to be evaluated for their potential as development materials for pharmaceuticals and/or functional foods. It is hoped that this review will promote exploration of marine carotenoids best utilized.
Author Contributions
Maria Alessandra Gammone researched data and wrote the manuscript. Nicolantonio D'Orazio designed the project. Graziano Riccioni contributed to constructive discussions.
Conflicts of Interest
The authors declare no conflict of interest.
© 2015 by the authors; licensee MDPI, Basel, Switzerland. This article is an open access article distributed under the terms and conditions of the Creative Commons Attribution license (http://creativecommons.org/licenses/by/4.0/).