Open Access This article is
freely available
re-usable
Review
Strategies to Overcome Heparins' Low Oral Bioavailability
1
Organic Chemistry and Pharmaceutical Laboratory, Department of Chemical Sciences, Faculty of Pharmacy, University of Porto, Rua Jorge Viterbo Ferreira 228, 4050-313 Porto, Portugal
2
Interdisciplinary Centre of Marine and Environmental Research (CIIMAR/CIMAR), University of Porto, Rua dos Bragas 289, 4050-123 Porto, Portugal
*
Author to whom correspondence should be addressed.
†
These authors contributed equally to this work.
Academic Editor: Jean Jacques Vanden Eynde
Received: 22 April 2016 / Accepted: 23 June 2016 / Published: 29 June 2016
Abstract
:
Even after a century, heparin is still the most effective anticoagulant available with few side effects. The poor oral absorption of heparins triggered the search for strategies to achieve oral bioavailability since this route has evident advantages over parenteral administration. Several approaches emerged, such as conjugation of heparins with bile acids and lipids, formulation with penetration enhancers, and encapsulation of heparins in micro and nanoparticles. Some of these strategies appear to have potential as good delivery systems to overcome heparin's low oral bioavailability. Nevertheless, none have reached the market yet. Overall, this review aims to provide insights regarding the oral bioavailability of heparin.
Keywords:
heparin; anticoagulant; oral bioavailability
1. Introduction
The development of a non-invasive delivery of heparin is undoubtedly an unmet clinical need. Therefore, several strategies that promote the absorption of heparins in GI tract have been investigated in the last decades.
This review focus on (physico-)chemical-biological and technological strategies that are expected to improve oral bioavailability of heparins, namely the increase of lipophilicity, target receptor-mediated endocytosis, modifications of the tight junctions, enhancement of cell permeabilization, and protection against acidic pH of the stomach and GI metabolism.
3. Co-Administration with Penetration Enhancers
In this section, penetration enhancers that have already been used to improve UFH and LMWHs absorption is revised. The weak association between penetration enhancers and drugs allows the spontaneous release of the drug into the circulation [
52
]. However, in contrast to drug conjugate strategy, some dissociation before absorption cannot be excluded.
Penetration enhancers improve absorption of drugs in the GI tract either through paracellular absorption, by opening the tight junctions between adjacent cells, or through transcellular absorption, by increasing the lipophilic properties of the drug (
Figure 5
) [
21
,
53
]. Many of the penetration enhancers that act through paracellular absorption are described as causing cytotoxicity or membrane damage [
54
].
3.1. Paracellular Absorption
3.2. Transcellular Absorption
4. Micro and Nanoparticles
Micro and nanoparticles have received considerable interest in recent years due to their ability to control the pattern of drugs' release and due to their good pharmacokinetics.
5. Conclusions
Heparin has unique properties that are not achieved with new oral anticoagulants. The development of an orally active heparin will avoid the inconvenience of parenteral administration. In the last few years, several strategies have been attempted in order to overcome heparin's poor bioavailability: conjugation with lipophilic molecules, co-administration with penetration enhancers, and micro and nanoparticles. While the chemical structure of heparins is preserved with penetration enhancers and the release from the therapeutic agent occurs spontaneously, dissociation before absorption is avoided by chemical conjugation. With both strategies, heparin's degradation is not circumvented. In contrast, micro and nanoparticles protect heparins from pH and enzymatic degradation and are able to avoid the first pass metabolism. Efficient absorption with minimal toxicity has been the major concern. In fact, some of these strategies may modified tight junctions and led to systemic toxicity. Considering the use of naturally occurring substances as carriers, conjugation can correspond to a more suitable strategy. Nevertheless, none have reached the market yet. With the gathered information, we hope to assist in the rational planning of strategies to overcome heparin's bioavailability and expect this century to be fruitful in rendering an oral active heparin or heparin-like to reach the market.
Acknowledgments
This work was supported by ERDF, COMPETE, and FCT under the Strategic Funding UID/Multi/04423/2013, projects PTDC/MAR-BIO/4694/2014 and PTDC/AAG-TEC/0739/2014, and INNOVMAR—Innovation and Sustainability in the Management and Exploitation of Marine Resources, reference NORTE-01-0145-FEDER-000035, Research Line NOVELMAR.
Author Contributions
The manuscript was conceived by M.C.S., E.S., and M.P.; A.R.N. and M.C.S. performed literature review and wrote draft manuscripts. M.P. and E.S. supervised development of the manuscript, and assisted in data interpretation, manuscript evaluation, and editing.
Conflicts of Interest
The authors declare no conflict of interest.
Abbreviations
The following abbreviations are used in this manuscript:
ATIII
Antithrombin III
DMC

N

,

N

-Dimethyl chitosan
DMSO
Dimethylsulfoxide
DOCA
Deoxycholic acid
DOCA-NH2

N

-Deoxycholylethylamine
FXa
Factor Xa
GA
18β-Glycyrrhetinic acid
GI
Gastrointestinal
GSH
Glutathione
LMWHs
Low molecular weight heparins
MCC
Mono-

N

-carboxymethyl chitosan
PCP-Cys
Polycarbophil-cystein
SNAC
Sodium

N

-(8-[2-hydroxybenzoyl] amino) caprylate
SNAD
Sodium

N

-[10-(2-hydroxybenzoyl) amino] decanoate
SNOCC

N

,

O

-carboxymethyl chitosan
UFH
Unfractioned heparin
VKA
Vitamin K antagonists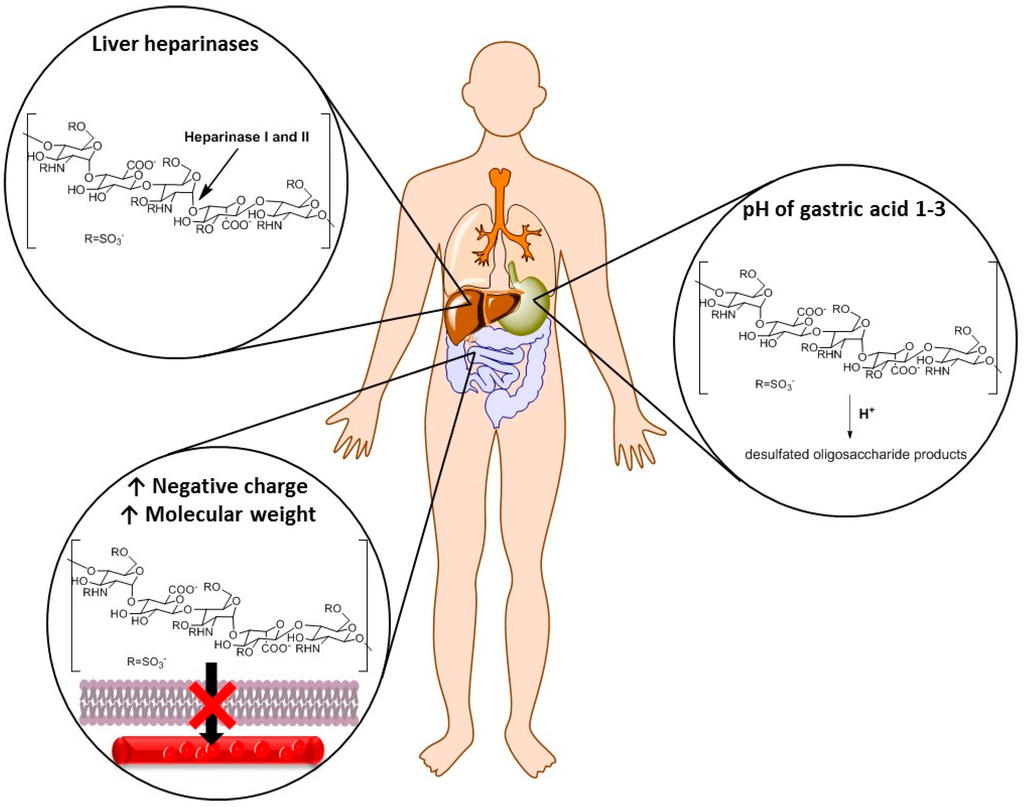 Figure 1. Structural features of heparins that limit their oral bioavailability. UFH—Unfractioned heparin.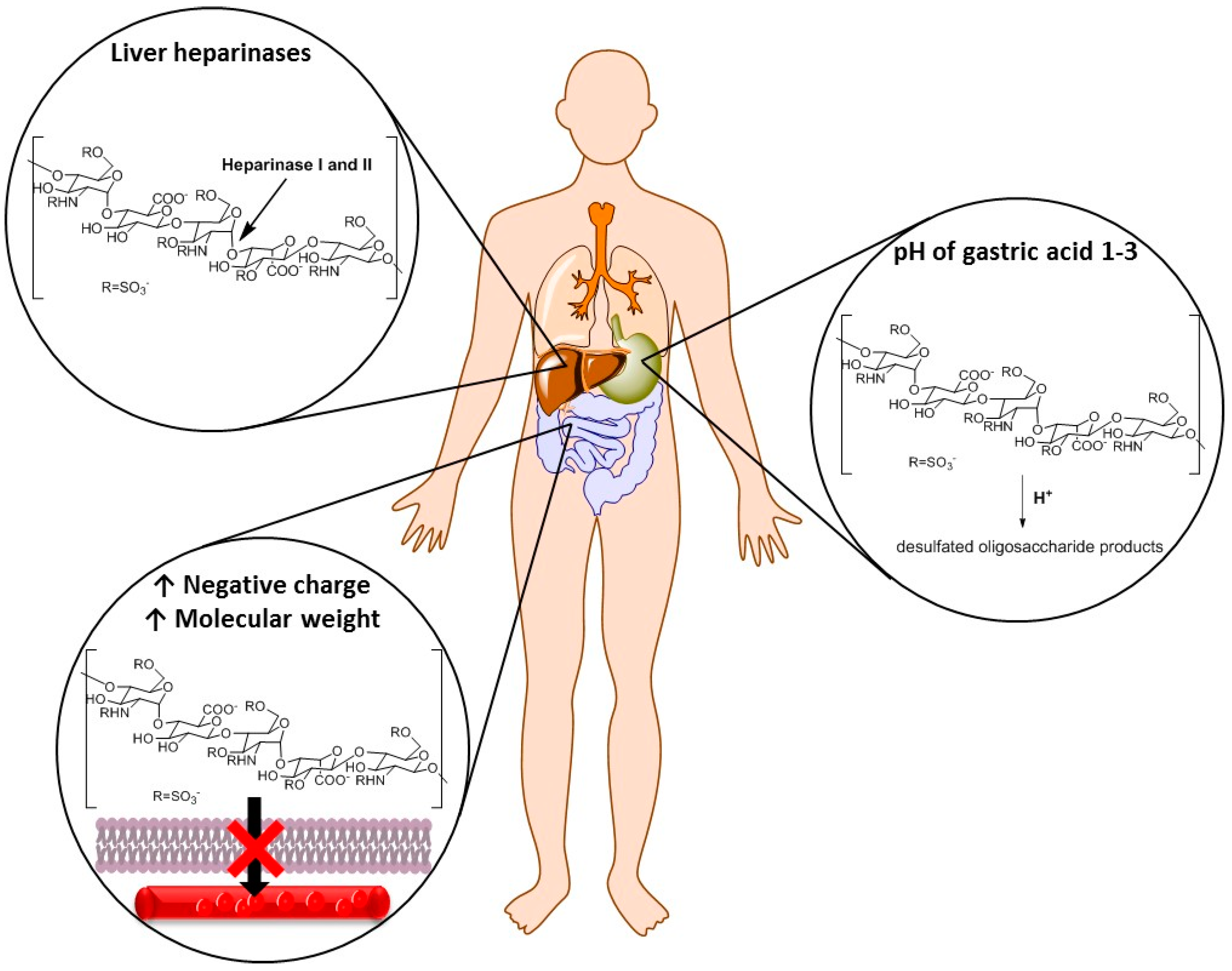 Figure 2. Advantages of heparins over vitamin K antagonists (VKA) and new oral anticoagulants (NOACs) drugs.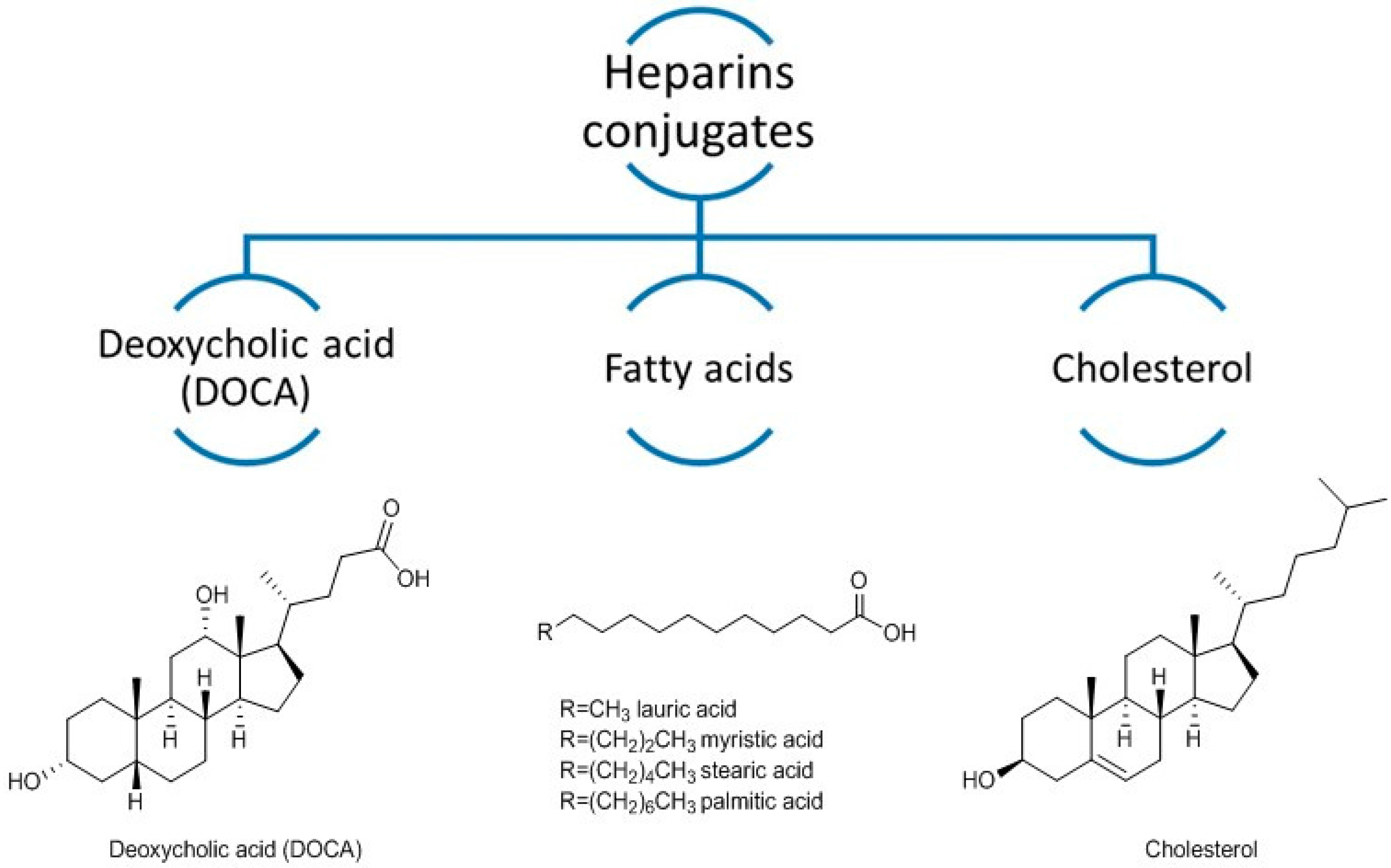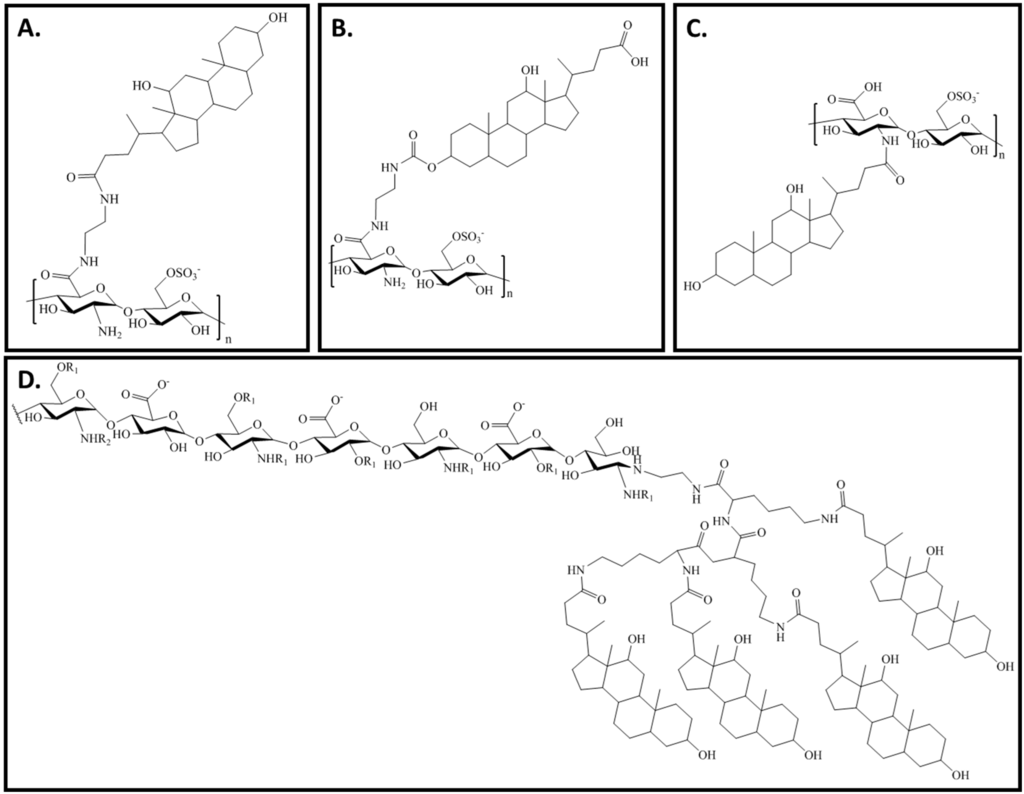 Figure 4.
Structure of different heparins-DOCA conjugates. (
A
) Heparin-DOCA conjugate in which both carboxylic groups of heparin and DOCA were conjugated through a linker [
22
,
23
,
24
,
30
,
31
,
33
]; (
B
) Heparin-DOCA conjugate in which a carboxylic group of heparin and a hydroxyl group of DOCA were conjugated through a linker [
29
]; (
C
) Heparin-DOCA conjugate in which an amine group of heparin and a carboxylic group of DOCA were conjugated without a linker [
25
,
26
,
27
,
28
,
32
]; (
D
) Heparin-tetrameric DOCA conjugate [
37
].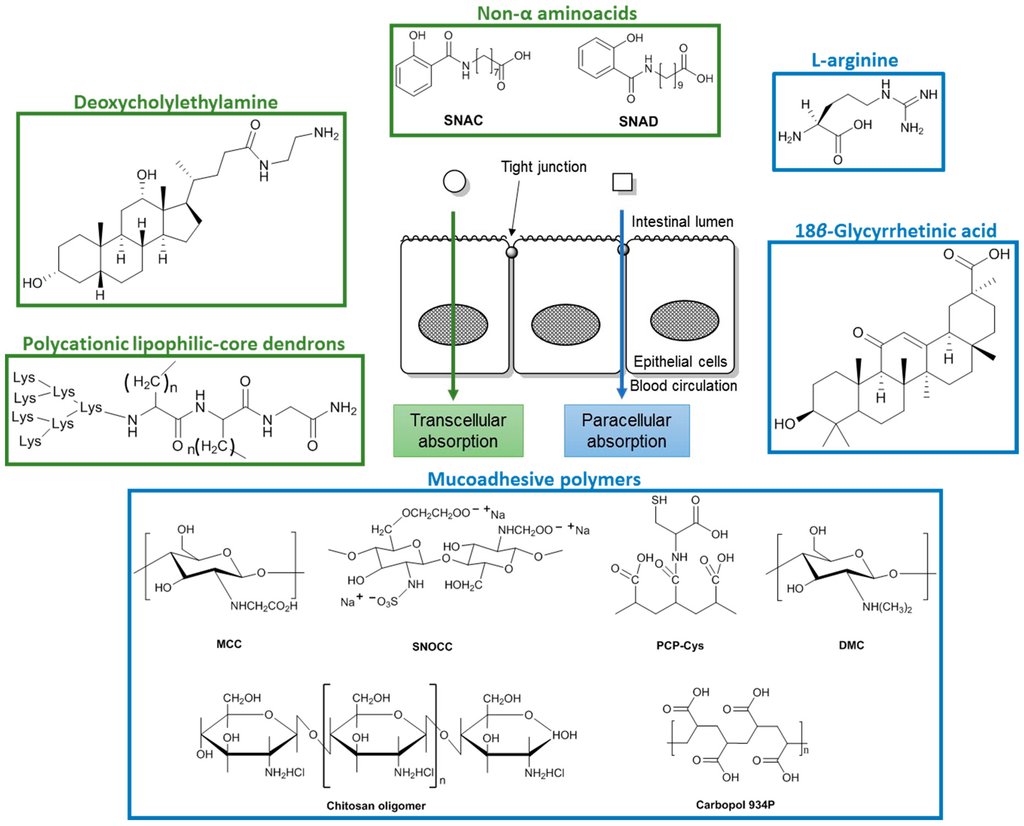 Figure 5.
Chemical structure of penetration enhancers that increase oral bioavailability of heparins. MCC—Mono-
N
-carboxymethyl chitosan; SNOCC:
N
,
O
-Carboxymethyl chitosan; PCP-Cys: Polycarbophil-cystein; DMC—
N
,
N
-Dimethyl chitosan; SNAD—Sodium
N
-[10-(2-hydroxybenzoyl) amino decanoate; SNAC: Sodium
N
-(8-[2-hydroxybenzoyl] amino) caprylate.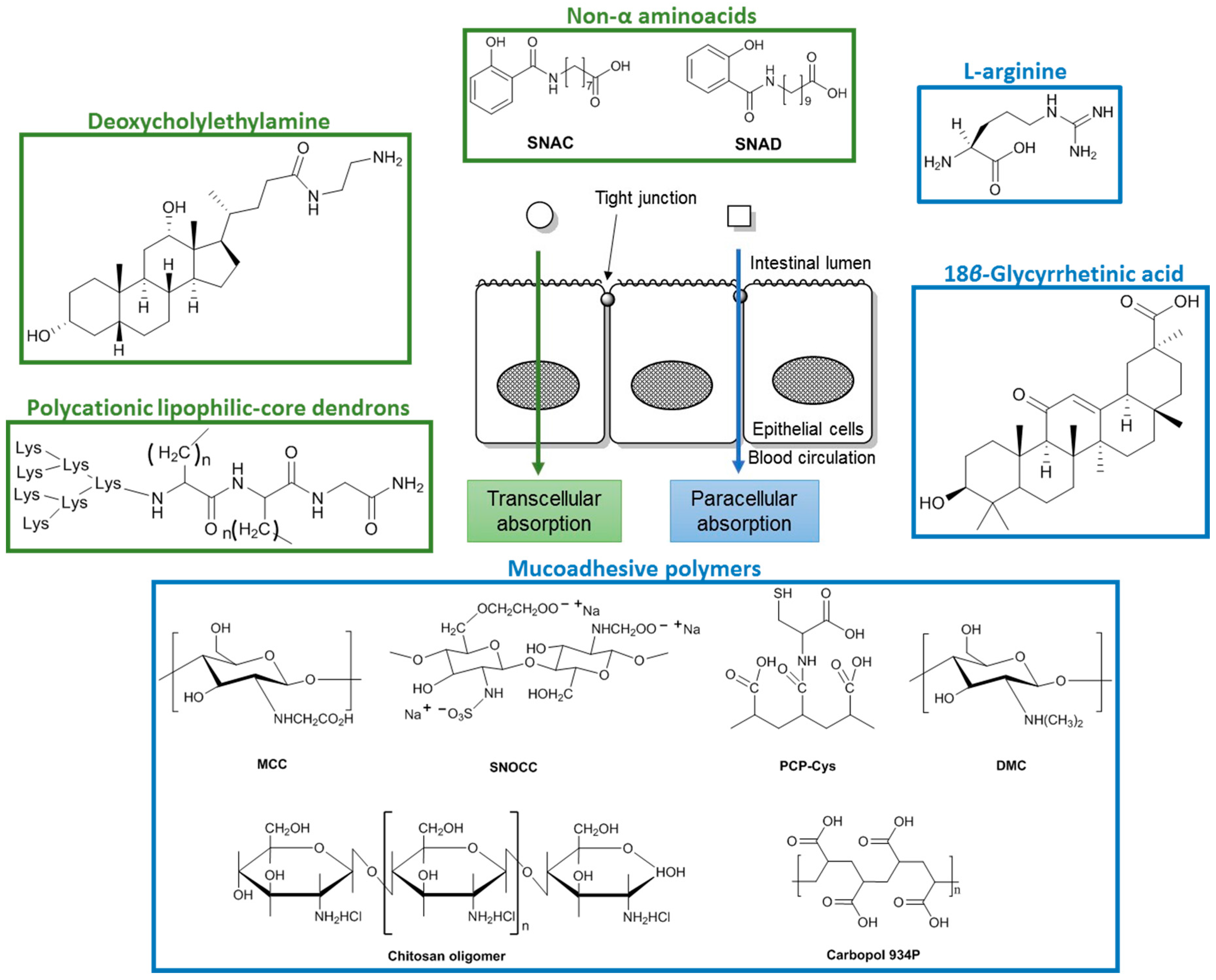 © 2016 by the authors. Licensee MDPI, Basel, Switzerland. This article is an open access article distributed under the terms and conditions of the Creative Commons Attribution (CC-BY) license ( http://creativecommons.org/licenses/by/4.0/).