Potential Use of Antimicrobial Peptides as Vaginal Spermicides/Microbicides
1
Chronic Disease Program, Ottawa Hospital Research Institute, Ottawa, Ontario K1H 8L6, ON, Canada
2
Department of Obstetrics and Gynecology, Faculty of Medicine, University of Ottawa, Ottawa, Ontario K1H 8L6, ON, Canada
3
Department of Biochemistry, Microbiology, Immunology, Faculty of Medicine, University of Ottawa, Ottawa, Ontario K1H 8M5, ON, Canada
4
Department of Zoology, Faculty of Science, Kasetsart University, Bangkok 10900, Thailand
5
Division of Dengue Hemorrhagic Fever Research Unit, Office of Research and Development, Faculty of Medicine Siriraj Hospital, Mahidol University, Bangkok 10700, Thailand
6
Key Laboratory of Reproduction Regulation of NPFPC, Shanghai Institute of Planned Parenthood Research, and School of Public Health, Fudan University, Shanghai 200032, China
7
Reproductive Proteomics, Department of Science and Information technology, University of Newcastle, Callaghan Drive, Newcastle, NSW 2308 Australia
8
Department of Pathology and Microbiology, College of Medicine, University of Nebraska Medical Center, 986495 Nebraska Medical Center, Omaha, NE 68198-6495, USA
9
Division of Urology, Department of Surgery, Faculty of Medicine, University of Ottawa, Ottawa, Ontario K1Y 4E9, ON, Canada
†
These authors contributed equally to this work.
*
Author to whom correspondence should be addressed.
Academic Editor: Jean Jacques Vanden Eynde
Received: 25 January 2016 / Revised: 1 March 2016 / Accepted: 3 March 2016 / Published: 11 March 2016
Abstract
The concurrent increases in global population and sexually transmitted infection (STI) demand a search for agents with dual spermicidal and microbicidal properties for topical vaginal application. Previous attempts to develop the surfactant spermicide, nonoxynol-9 (N-9), into a vaginal microbicide were unsuccessful largely due to its inefficiency to kill microbes. Furthermore, N-9 causes damage to the vaginal epithelium, thus accelerating microbes to enter the women's body. For this reason, antimicrobial peptides (AMPs), naturally secreted by all forms of life as part of innate immunity, deserve evaluation for their potential spermicidal effects. To date, twelve spermicidal AMPs have been described including LL-37, magainin 2 and nisin A. Human cathelicidin LL-37 is the most promising spermicidal AMP to be further developed for vaginal use for the following reasons. First, it is a human AMP naturally produced in the vagina after intercourse. Second, LL-37 exerts microbicidal effects to numerous microbes including those that cause STI. Third, its cytotoxicity is selective to sperm and not to the female reproductive tract. Furthermore, the spermicidal effects of LL-37 have been demonstrated
in vivo
in mice. Therefore, the availability of LL-37 as a vaginal spermicide/microbicide will empower women for self-protection against unwanted pregnancies and STI.
View Full-Text
►

▼

Figures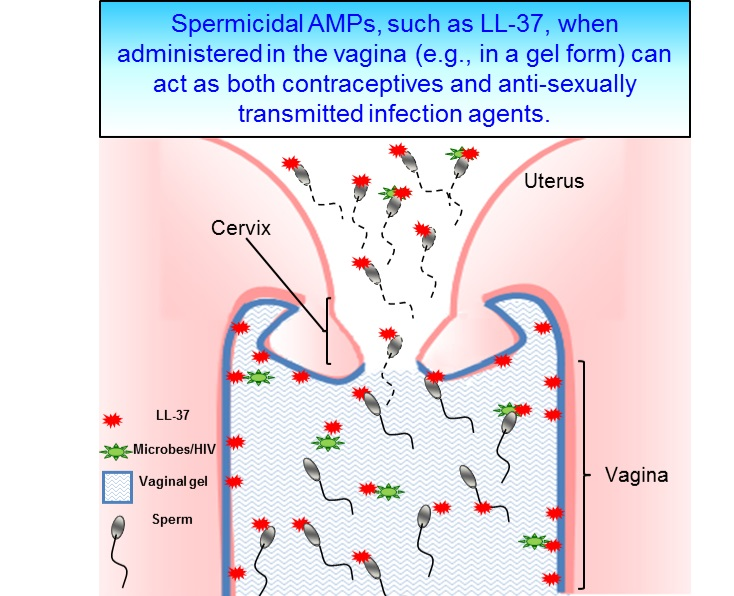 Graphical abstract
This is an open access article distributed under the
Creative Commons Attribution License
which permits unrestricted use, distribution, and reproduction in any medium, provided the original work is properly cited (CC BY 4.0).

Share & Cite This Article
MDPI and ACS Style
Tanphaichitr, N.; Srakaew, N.; Alonzi, R.; Kiattiburut, W.; Kongmanas, K.; Zhi, R.; Li, W.; Baker, M.; Wang, G.; Hickling, D. Potential Use of Antimicrobial Peptides as Vaginal Spermicides/Microbicides. Pharmaceuticals 2016, 9, 13.
Note that from the first issue of 2016, MDPI journals use article numbers instead of page numbers. See further details here.
Related Articles
Comments
[Return to top]