Open Access This article is
freely available
re-usable
Review
Thermosensitive Nanosystems Associated with Hyperthermia for Cancer Treatment
1
Faculdade de Farmácia, Universidade Federal de Minas Gerais, 31279-901 Belo Horizonte, Brazil
2
Department of Nuclear Medicine, Radiology, Neuroradiology, Medical Physics, Clinical Laboratory, Microbiology, Pathology, Trasfusional Medicine, Santa Maria della Misericordia Hospital, 45100 Rovigo, Italy
3
Department of Drug Discovery and Pharmaceutical Sciences, Medical University of South Carolina, Charleston, SC 29425, USA
†
These authors contributed equally to this work.

Received: 9 October 2019 / Accepted: 21 November 2019 / Published: 25 November 2019
Abstract
:
Conventional chemotherapy regimens have limitations due to serious adverse effects. Targeted drug delivery systems to reduce systemic toxicity are a powerful drug development platform. Encapsulation of antitumor drug(s) in thermosensitive nanocarriers is an emerging approach with a promise to improve uptake and increase therapeutic efficacy, as they can be activated by hyperthermia selectively at the tumor site. In this review, we focus on thermosensitive nanosystems associated with hyperthermia for the treatment of cancer, in preclinical and clinical use.
Keywords:
hyperthermia; thermosensitive systems; cancer treatment
1. Introduction
Cancer is considered a public health problem due to the high incidence and mortality. The World Health Organization (WHO) estimates 27 million cases of cancer and 17 million deaths from this disease for the year 2030 [
1
]. Currently, conventional chemotherapy regimens have limitations, such as low specificity, which generates adverse effects that compromise the treatment and the health of the patient. Targeted drug delivery systems are emerging as a powerful strategy to overcome the toxicity that can limit the successful treatment of cancer patients. Specifically, thermosensitive nanomaterials are promising in the treatment of cancer because of their ability to act at specific sites when associated with hyperthermia [
2
,
3
,
4
]. Thermosensitive carrier systems are composed of lipids or polymers that transition from the gel phase to the crystalline liquid phase in response to heat, thus allowing drug release specifically in the heated region [
5
]. Hyperthermia is a method used to treat tumors by raising local or regional temperature through the use of controlled heat sources. The treatment might be applied in combination with other approaches in order to allow greater accumulation of drugs in the heated region and may increase efficacy and decrease side effects [
6
,
7
]. Therefore, the purpose of this review was to describe the most common thermosensitive nanocarriers used for tumor-specific drug release. In addition, we reviewed the most recent preclinical studies (2009–2019) involving thermosensitive systems associated with hyperthermia for the treatment of cancer.
2. Hyperthermia
Types of Hyperthermia Treatments
3. Heating Modalities Used to Induce Hyperthermia
4. Thermosensitive Systems for Cancer Treatment
Drug targeting systems have been developed specifically for the desired target, which may increase the effectiveness of therapeutic agents and delay the development of resistance. Given that the bioavailability of drugs at the cancer cells is very important, a nanocarrier system incorporated with temperature would be useful to overcome some of the systemic and intracellular delivery barriers. Therefore, the advancement in material science has led to the design of a variety of materials, which are used for the development of thermo-responsive nanocarrier systems [
53
]. Nanoparticle-based hyperthermia strategies have been considered promising nanocarriers for antitumoral drug delivery systems and their development has increased considerably in the last few decades [
3
,
54
].
These thermosensitive nanocarriers stand out for their stability at physiological temperature; however, they quickly release the drug into pre-selected sites in response to changes in the local temperature [
4
,
55
]. The use of these systems has assumed an important role as an alternative to improve the biodistribution profile of drugs, since they can increase the intratumoral drug accumulation and reduce systemic toxicity [
56
]. The literature is vast in advances in synthesis, characterization, and application of different thermosensitive nanoparticles. Although they can be composed of different kinds of materials, including biocompatible polymers, lipids, and self-assembling amphiphilic micelles, most of them have shown a polymeric composition [
53
,
57
]. In this review, we describe the most common nanocarriers used for a thermo-responsive antitumor drug release. In addition, we review the most recent preclinical studies (2009–2019) involving thermosensitive systems associated with hyperthermia for the treatment of cancer.
4.1. Polymeric Nanocarriers
Among the wide variety of thermosensitive nanosystems, micelles, polymer nanoparticles, and polymersomes are the most frequently studied.
4.1.2. Core–Shell Nanoparticles
Nanoparticles with inorganic cores and thermosensitive polymer shells are an interesting class of composite materials. They combine the properties of both the core and the shell [
58
]. Thermo-responsive core–shell nanoparticles are also studied for drug delivery applications [
58
]. In general, the thermo-responsive molecule is located on the surface and the core can be constituted by either a hard metallic (gold, magnetic) or a soft (dendrimers, chitosan, silica, nanogels) nanoparticle [
2
,
75
]. The rationale is to combine polymers and superparamagnetic nanoparticles to trigger drug release. Their incorporation into biopolymer coatings enables the preparation of magnetic field-responsive, biocompatible nanoparticles that are well dispersed in aqueous media [
78
]. Therefore, thermo-responsive nanomaterials of greater interest are those that respond to other stimuli besides temperature. With this, additional stimuli-responsive characteristics (magnetic field, ultrasound, light, and heat) can be added to the thermal response [
53
]. In order for the nanomaterials to exhibit such a response, either iron oxide or gold can be incorporated in the form of nanoparticles to the polymer matrix [
79
]. Iron oxide-based magnetic nanoparticles are extensively investigated in nanomedicine for their biocompatibility, their contrast agent properties, and their ability to generate heat when submitted to an alternating magnetic field [
80
,
81
]. Wang et al. designed a multiple magnetic hyperthermia-mediated release system for combination therapy using an injectable, biodegradable, and thermosensitive polymeric hydrogel [
82
]. Wang et al. noted that the therapeutic effect of the combination therapy in vivo significantly reduced the tumors and was dependent on the number of cycles of hyperthermia [
82
].
Li et al. synthesized magnetothermal responsive nanocarriers of DOX with targeting molecules, which allows the antitumor drug to locate tumor sites efficiently [
83
]. Magnetic nanoparticles composed of manganese–zinc (Mn–Zn) could target hepatoma cells actively and improved the drug concentration in the tumor sites. The shell of the nanoparticles was composed of an amphiphilic and thermosensitive copolymer to which DOX was associated. Therefore, an external alternating magnetic field elevated the temperature of the thermomagnetic particles, resulting in structural changes in the thermosensitive copolymer, thereby releasing DOX [
83
]. In another study, Shen et al. synthesized a thermo-responsive system, which encapsulated magnetic iron oxide nanoparticles and 5-fluorouracil using PNIPAM polymer. The results showed great potential in drug delivery and cancer therapy [
84
]. Other applications of hyperthermia-associated magnetic nanoparticles are described in
Section 5
of this article.
Hydrogels have a cross-linked three-dimensional structure and are composed of hydrophilic polymers. The presence of hydrophilic groups such as amino (–NH2), carboxylic (–COOH), and sulfate (–SO3H) groups provides the ability to mimic natural living tissues [
85
]. Moderate temperature increases alter the interaction between the hydrophilic and hydrophobic segments in the polymer, inducing a change in network solubility, causing the sol–gel phase transition. Thus, the polymer is soluble below a certain critical temperature and insoluble when it is above this temperature [
86
]. The most common release mechanism of thermosensitive hydrogels occurs through passive diffusion, and different biotherapeutic molecules which are entrapped in the gel matrix can diffuse freely depending on the size of the mesh of this matrix. The hydrogels most studied are also based on pNiPAAm [
87
]. Copolymerization of pNiPAAm with more hydrophilic monomers increases polymer hydrophilicity, and stronger polymer–water interactions allow changes in the critical system temperature value. [
88
,
89
]. This copolymerization can be performed with polysaccharides, such as cellulose or chitosan, which are biodegradable and non-toxic compared to other natural polymers [
90
]. Turabbe and collaborators designed a thermosensitive hydrogel from pluronic F127 (PF127) and N,N,N-trimethyl chitosan in order to deliver DOX for glioblastoma multiforme [
91
]. This hydrogel showed a sustained release of tumor-suppressed DOX, suggesting it as a potential candidate for an anticancer chemotherapeutic delivery system for brain tumors [
91
]. In the same year, Pesoa and co-workers prepared paclitaxel-loaded poly(lactide-co-glycolide) microparticles contained in a chitosan-sensitive gelling solution. This system allowed a more sustained and controlled administration of paclitaxel, leading to a long-term effect at the site of action. The formulation showed a tumor volume inhibition of 63.0% compared to the control group [
92
].
5. MRI-Guided Thermometry: A Strategy for Real-Time Monitoring and Control of Drug Release
6. Clinical Trials
The first thermosensitive formulation of liposomes in the clinical trial phase is ThermoDox
®
(Lawrenceville, GA, USA) [
24
]. This formulation is composed of DPPC/MSPC/DSPE-PEG
2000
(86.5/9.7/3.8) with a concentration of 2 mg/mL Doxorubicin. DPPC presents a phase transition temperature of DPPC near 42 °C and the presence of MSPC provokes a reduction in this temperature. Thus, phase changes are easily reached by the use of mild hyperthermia [
75
]. ThermoDox
®
is administered by the intravenous route in combination with radiofrequency ablation (RFA) for treatment of primary liver cancer, as well as recurring chest wall breast cancer. As the Phase I results in patients with hepatocellular carcinoma were promising, this combination of treatment was directly evaluated in Phase III. The initial Phase III results did not show any progression of survival with the combination (TermoDox
®
plus RFA, Lawrenceville, GA, USA) compared to RFA alone. The reasons for the failure of the heating test were related to problems with the clinical trial design, few preclinical supportive data, and required improvements in heating control. However, an analysis of the patients' subgroup who received RFA for at least 45 min showed an improvement in overall survival [
24
].
Another thermosensitive nanosystem under clinical investigation is a core–shell, a gold nanoparticle coated by polyethylene glycol (PEG), AuroLase™ (Houston, TX, USA) [
110
]. The multicenter, single-dose pilot study of AuroLase
TM
therapy was applied in the treatment of patients with refractory and/or recurrent tumors of the head and neck. Three treatment groups of five patients each were enrolled and observed for six months following treatment. Each group received a single dose of this nanoparticle, followed by one or more interstitial illuminations with an 808 nm laser. This gold nanoparticle consists of a non-conducting silica core and acts as the exogenous absorber of the near-infrared laser energy delivered by the probe. A currently active trial uses AuroLase
TM
as an imaging technology during focal ablation of prostate tissue using nanoparticle-directed laser irradiation. Since no active drug is used in this approach, AuroLase
TM
is activated externally at the target site, thus avoiding any toxicity towards the normal cells [
110
,
111
].
7. Conclusions
In conclusion, mild hyperthermia is not associated with toxicity in contrast to radiotherapy and chemotherapy. However, hyperthermia has not been widely used in the clinic. The major hurdles in the clinical translation and widespread use of hyperthermia are largely centered on technical challenges and infrastructure. Contrary to most other nanoparticle approaches, thermosensitive liposomes can be easily employed for image-guided drug delivery, where the goal is to deliver the drug to a region identified by medical imaging. Based on the studies carried out in recent years, therapy with thermosensitive nanosystems associated with hyperthermia has been shown to overcome challenges faced by therapies based on free drugs or non-thermosensitive nanosystems. A large number of available approaches to generate these smart nanocarriers illustrates the versatility of the system and the great potential to be explored for future applications.
The key to future research and development of nanosystems associated with hyperthermia relies on the development of valid and non-invasive ways to promote and measure temperature, as well as to understand the variability in the individual physiological responses and extrapolating laboratory studies to field settings. Thus, more advanced preclinical studies are required, in addition to clinical studies, to prove the efficacy of these systems.
Funding
This research received no external funding.
Acknowledgments
The authors thank Conselho Nacional de Desenvolvimento Científico e Tecnológico (CNPq-Brazil), Fundação de Amparo à Pesquisa do Estado de Minas Gerais (FAPEMIG-Brazil), and Coordenação de Aperfeiçoamento de Pessoal de Nível Superior (CAPES) for their financial support and fellowships.
Conflicts of Interest
The authors declare no conflict of interest.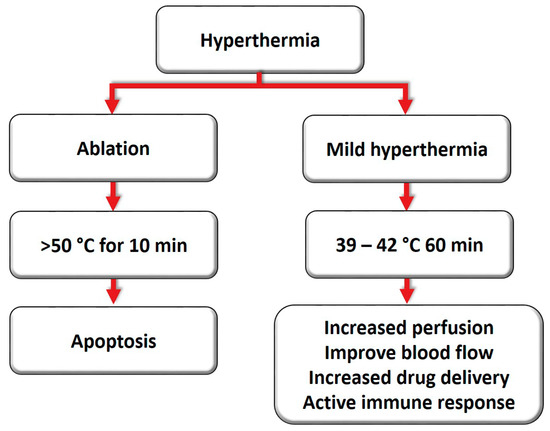 Figure 1. Ablation and mild hyperthermia induce distinct cell injury based on the intensity and duration.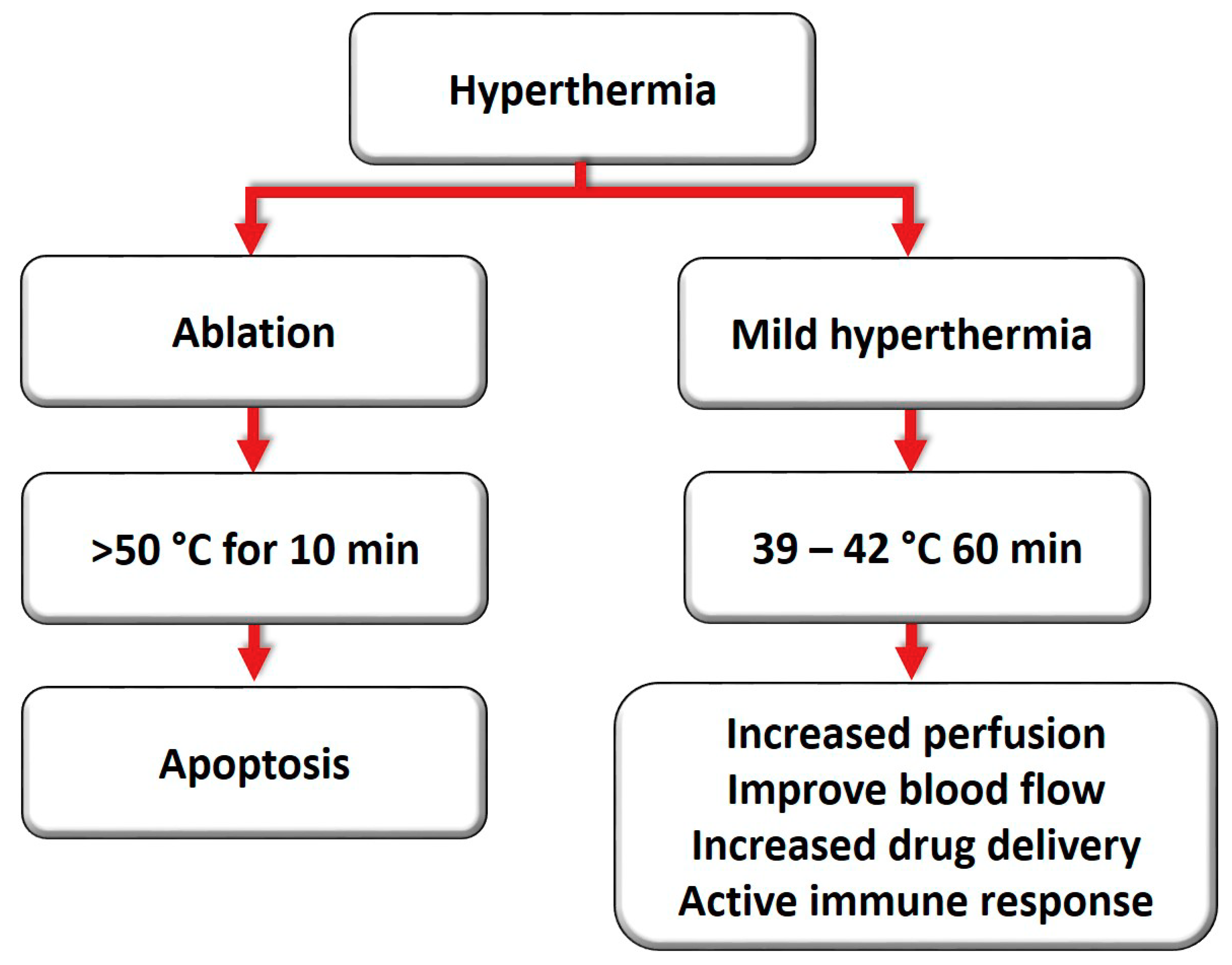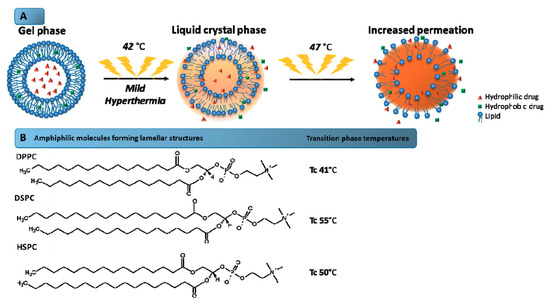 Figure 2. Mechanism of drug release from thermosensitive liposomes. (A) Schematic illustration of the mechanism of phase transition of the lipids that form the liposome bilayer. The increase of the temperature above the transition phase temperature (47 °C) leads to higher bilayer permeability, and consequently, the drug release is favored. (B) Amphiphilic molecules forming lamellar structures and their transition phase temperatures. Tc: Phase transition temperature.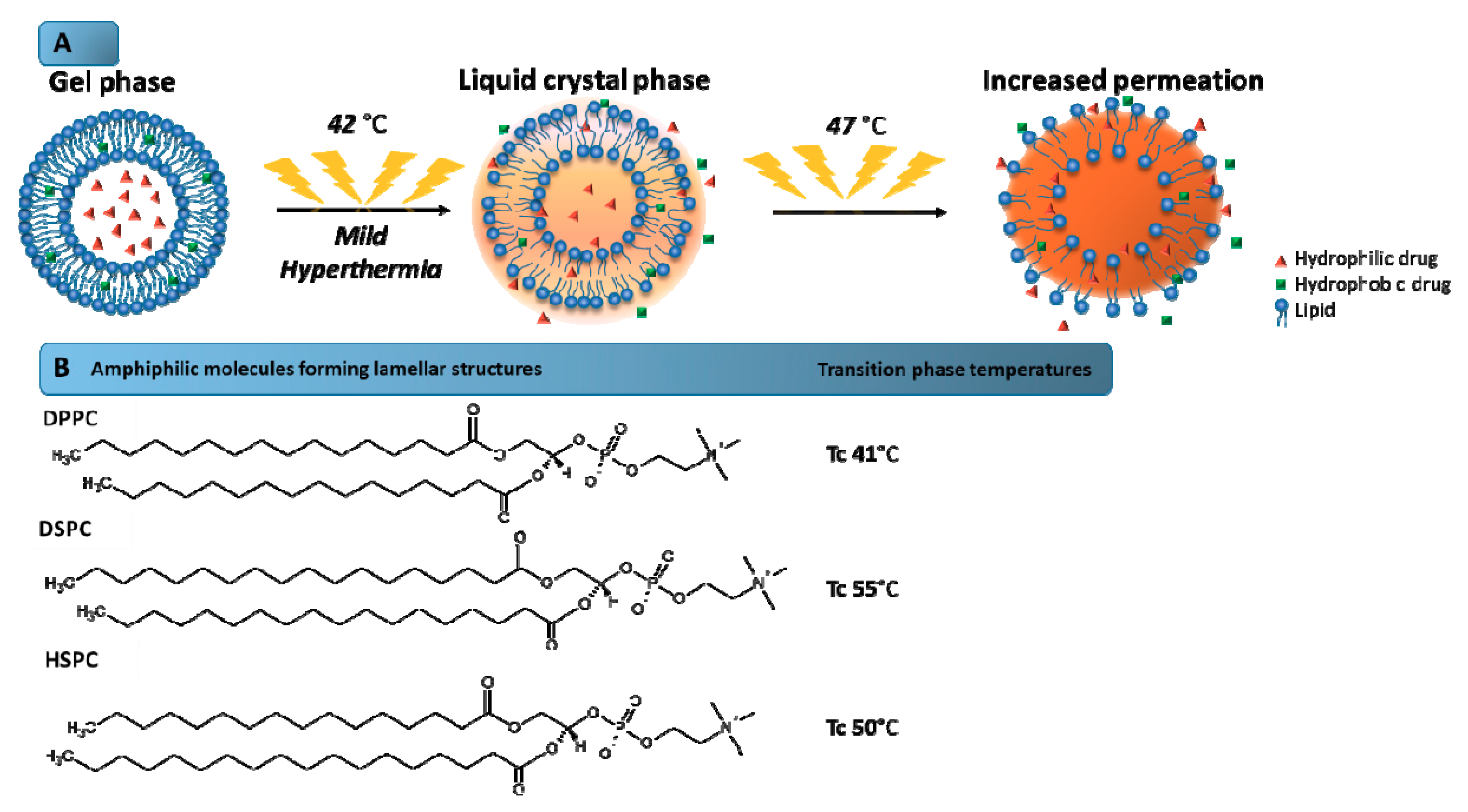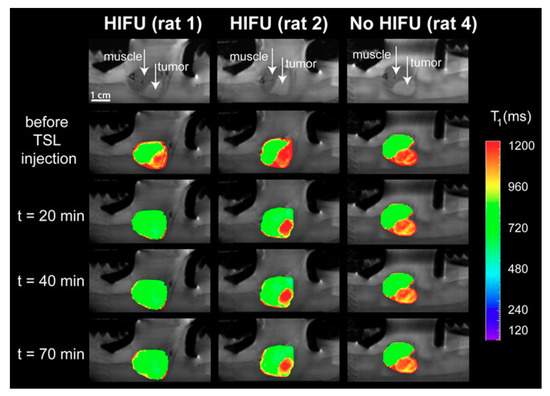 Figure 3.
Anatomical MRI of tumor-bearing rats in the small animal HIFU setup (upper row) and T1 maps of the tumor and leg overlaid on the anatomical images at different time points: Before the TSL injection, after the first hyperthermia period (t = 20 min), after the second hyperthermia period (t = 40 min), and 70 min after TSL injection. Left: HIFU-treated tumor showing a large T1 response (rat 1); middle: HIFU-treated tumor showing a less sensitive response (rat 2); right: Untreated tumor (no HIFU, rat 4). Reproduced with permission from [
107
].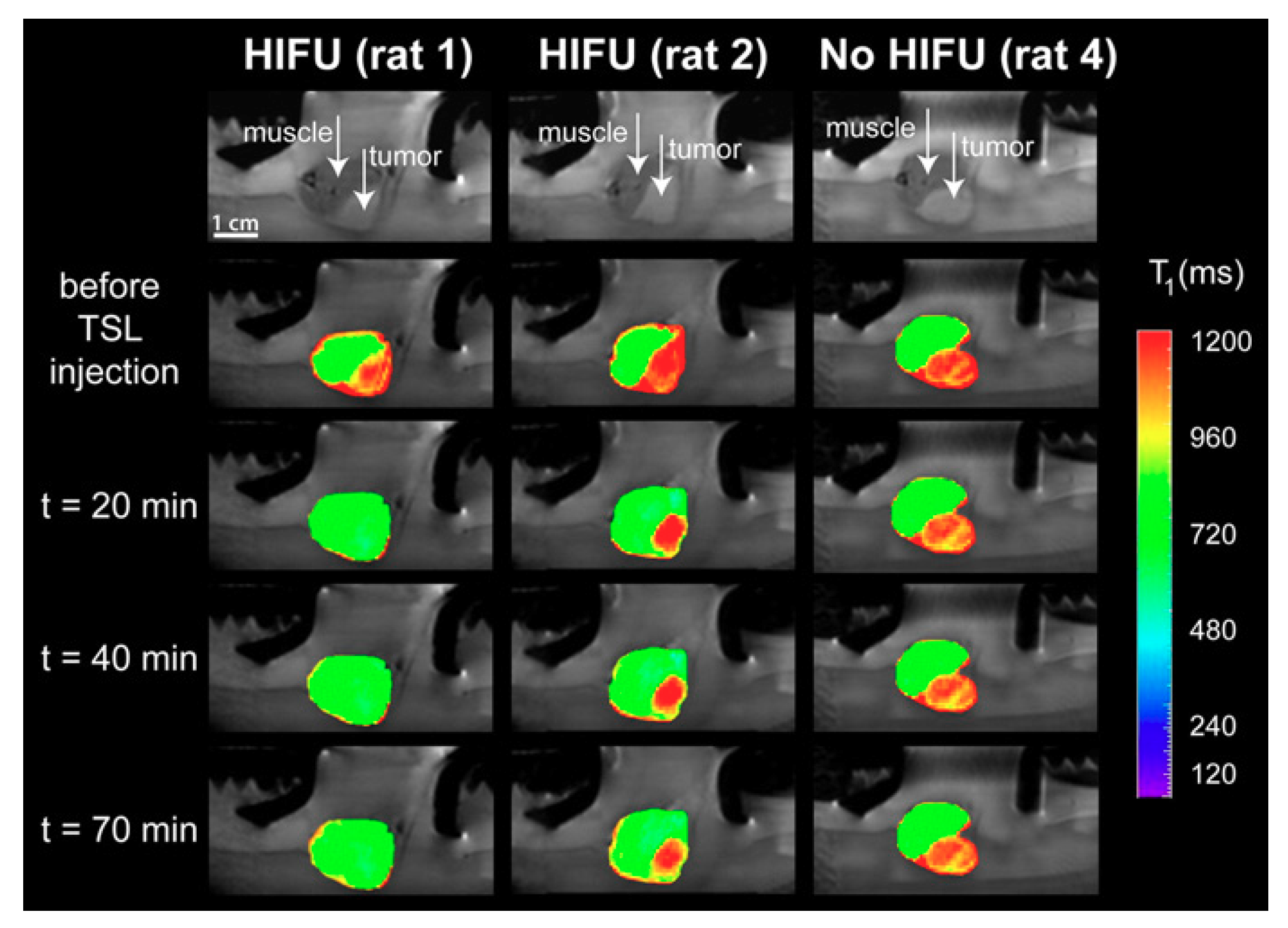 Figure 4.
Experimental set-up for mild hyperthermia in rabbit V × 2 tumors using a clinical MRI–HIFU system. Axial survey image of a rabbit on top of a water-filled animal adaptor. A waterproofed receive-only imaging coil is fitted around the lower leg. The bottom film of the animal adaptor is coupled to the window of the clinical HIFU system by a gel pad; the HIFU transducer is in the oil bath below. Overlays indicate the relative size of the ultrasound beam path (dashed) and treatment cell (shaded). Right: Rendering of the animal adaptor designed for the clinical HIFU system. The detachable lid (
A
) is a polyimide film glued to an acrylic ring. The cylindrical water bath (
B
) is a 3D-printed shell that holds a volume of degassed water, which is heated by water pumped through a coiled channel printed into the walls of the cylinder. Polyimide film (
C
) forms the base. Reproduced with permission from [
108
].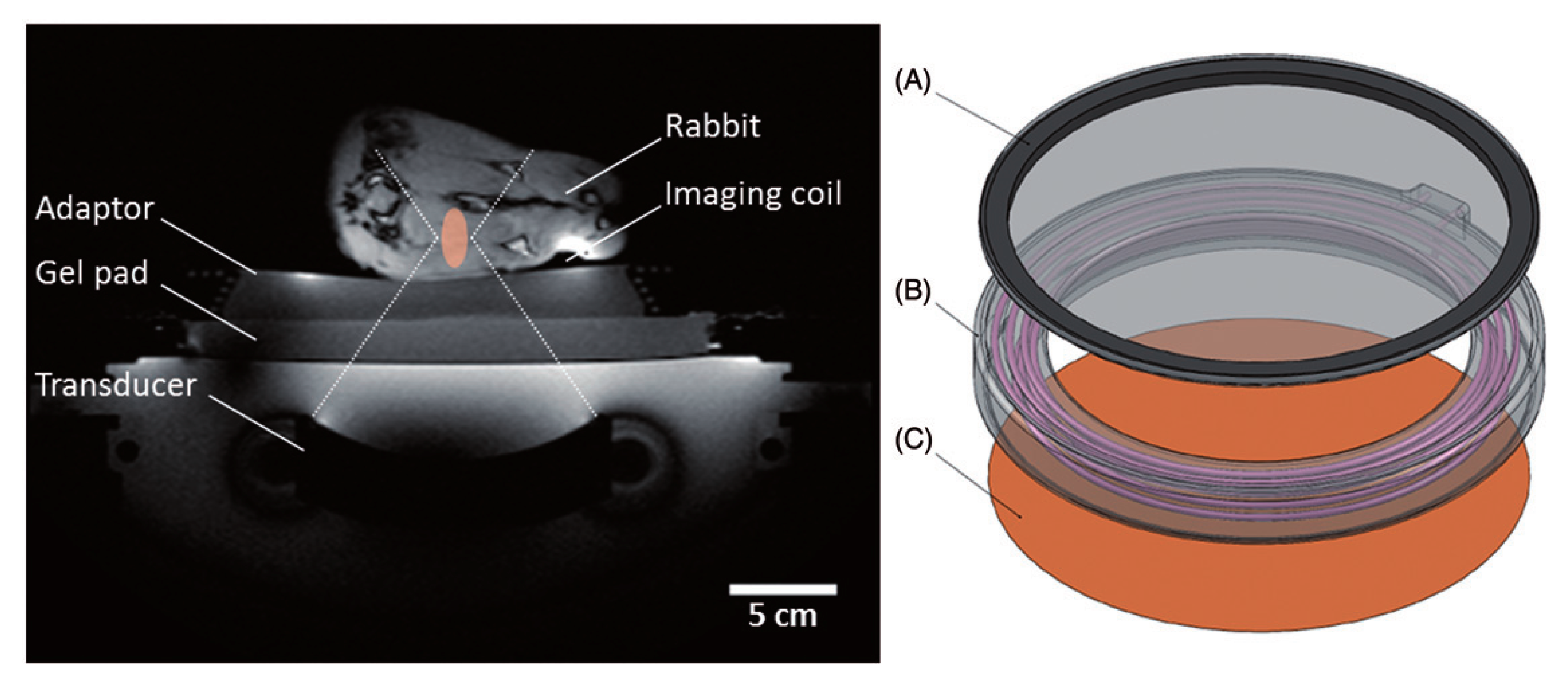 Hyperthermia and Chemotherapy
Drug
Target
Clinical Trial
Response
Reference
Etoposide, ifosfamide, and doxorubicin
High-risk soft tissue sarcoma
Randomized phase III multicenter study
Local control, overall survival and response rate were better with HT+CT
[30]
Cisplatin and gemcitabine
Pancreatic carcinoma
Retrospective clinical study
HT+CT was well tolerated, and had an acceptable survival profile
[31]
Cisplatin and irinotecan
Malignant mesothelioma of the pleura
Case report
Increase in survival without any disease for more than 7 years
[32]
Nimustine
High-grade glioma
Phase I clinical study
HT+CT was tolerable in patients with relapse of high-grade gliomas
[33]
Trabectedin
Soft tissue sarcoma
Randomized clinical trial
High feasibility, no uncommon side effects, did not increase toxicity, and progression-free survival
[23]
Hyperthermia and Radiotherapy
Drug
Target
Clinical Trial
Response
Reference
-
Cervical carcinoma
Long-term result after the 12-year segment
Local control and survival were better with HT+RT
[34]
-
Bladder, cervix, and rectum
Prospective, randomized, multicenter study
Complete response rates, local control, and survival were better with HT+RT
[26]
-
Breast cancer
Toxicity study
HT+RT was more effective for locally advanced or recurrent breast cancer than RT alone
[35]
HT: Hyperthermia; RT: Radiotherapy; CT: Chemotherapy.
Thermosensitive Micelles
Composition
HT
Drug
Target
Response
Ref.
Poly(N-isopropylacrylamide-co-acrylamide)-b-poly(DL-lactide)
Water bath
Docetaxel
Lung cancer
Higher antitumor efficacy in mice treated with docetaxel-loaded micelles accompanied by hyperthermia
[76]
Poly(N-isopropylacrylamide-co-acrylamide)-b-poly(DL-lactide)
Water bath
Docetaxel and Paclitaxel
Gastric Cancer
Weight growth percentage inhibition of more than 80%
[77]
P(FAA-NIPA-co-AAm-co-ODA) and P(FPA-NIPA-co-AAm-co-ODA)
Water bath
Paclitaxel
Lung cancer
Increased accumulation of paclitaxel at tumor sites, local drug concentration was greatly enhanced
[75]
HT: Hyperthermia; P(FAA-NIPA-co-AAm-co-ODA): Poly(folate acrylic acid-N-Isopropylacrylamide-co-octadecyl acrylate); P(FPA-NIPA-co-AAm-co-ODA): Poly(folate-PEG acrylic acid-N-Isopropylacrylamide-co-octadecyl acrylate).
Thermosensitive Liposomes
Composition
HT
Drug
Target
Response
Ref.
DPPC/DSPC/DSPE–PEG2000
70/25/5
Water bath
DOX
Breast cancer
Significant increase in tumor response to liposome and HT treatment
[103]
DPPC/DSPC/DPPG2 50/20/30
Laser light
DOX
Soft tissue sarcoma
High selective DOX uptake and increase of DOX concentration in the heated tumor tissue
[101]
DPPC/DSPC/DPPG2 50/20/30
Laser light
DOX
Soft tissue sarcoma
Effective DOX delivery by liposome found in the heated tumors in comparison with the non-heated tumors
[102]
DPPC/DSPC/DPPG2 50/20/30
HIFU
Gemcitabine
Soft tissue sarcoma
Significant improvement in tumor growth delay
[100]
DPPC/MSPC/DSPE–PEG2000/DSPG
83/3/10/4
Water bath
Paclitaxel
Lung cancer
Tumor growth suppression, compared with non-temperature-sensitive liposome and free drug
[82]
HT: Hyperthermia; DPPC: 1,2-Dipalmitoyl-sn-glycero-3-phosphocholine; DSPC: 1,2-Distearoyl-sn-glycero-3-phosphocholine; DSPE: 1,2-Distearoyl-sn-glycero-3-phosphoethanolamine; DPPG2: 1,2-Dipalmitoyl-sn-glycero-3-phospho-rac-glycerol; MSPC: 1-Myristoyl-2-stearoyl-sn-glycero-3–phosphocholine; PEG: Polyethylene glycol.

© 2019 by the authors. Licensee MDPI, Basel, Switzerland. This article is an open access article distributed under the terms and conditions of the Creative Commons Attribution (CC BY) license (http://creativecommons.org/licenses/by/4.0/).