Open Access This article is
freely available
re-usable
Review
Chemical Probes for the Adenosine Receptors
Department of Chemical and Pharmaceutical Sciences, University of Trieste, Via Licio Giorgeri 1, 34127 Trieste, Italy
*
Author to whom correspondence should be addressed.
Received: 26 September 2019 / Accepted: 7 November 2019 / Published: 12 November 2019
Abstract
:
Research on the adenosine receptors has been supported by the continuous discovery of new chemical probes characterized by more and more affinity and selectivity for the single adenosine receptor subtypes (A1, A2A, A2B and A3 adenosine receptors). Furthermore, the development of new techniques for the detection of G protein-coupled receptors (GPCR) requires new specific probes. In fact, if in the past radioligands were the most important GPCR probes for detection, compound screening and diagnostic purposes, nowadays, increasing importance is given to fluorescent and covalent ligands. In fact, advances in techniques such as fluorescence resonance energy transfer (FRET) and fluorescent polarization, as well as new applications in flow cytometry and different fluorescence-based microscopic techniques, are at the origin of the extensive research of new fluorescent ligands for these receptors. The resurgence of covalent ligands is due in part to a change in the common thinking in the medicinal chemistry community that a covalent drug is necessarily more toxic than a reversible one, and in part to the useful application of covalent ligands in GPCR structural biology. In this review, an updated collection of available chemical probes targeting adenosine receptors is reported.
Keywords:
adenosine receptors; fluorescent ligands; radioligands; radiotracers; covalent ligands; GPCR probes
1. Introduction
Since their discovery in the mid seventies [
1
,
2
], adenosine receptors (ARs) have attracted research interest for their implication in a wide range of physiological and pathological processes (i.e., asthma, ischemia, cancer, Parkinson's disease, etc.) [
3
]. As a consequence, at the same time research commenced on specific receptor probes that are essential tools for receptor characterization [
4
,
5
]. ARs exist as four different subtypes: A
1
, A
2A
, A
2B
and A
3
ARs [
6
,
7
]. Due to the advancement in techniques for detection and characterization of receptors, and in particular of G protein-coupled receptors (GPCRs) [
8
,
9
,
10
,
11
,
12
], the availability of suitable probes is a constant need. In particular, this review covers three specific chemical probe families for ARs: radioactive, covalent and fluorescent ligands. Radioactive ligands, properly called radioligands, are the oldest class of AR probes, and still represent the principal tool in drug discovery since their use in binding assays [
7
]. Recently, the broad interest in radioactive ligands is due to their development as radiotracers in positron emission tomography (PET), leading to new diagnostic possibilities [
13
,
14
]. On the other hand, covalent ligands for GPCRs, which were in the past used as tools to purify, isolate or pharmacologically characterize receptors, have recently attracted the interest of the scientific community for their ability to stabilize their target protein, increasing the probability of obtaining X-ray crystal structures [
10
]. This strategy was successfully applied for the A
1
AR subtype [
15
,
16
]. Since A
2B
and A
3
AR crystal structures are still lacking, it is easy to imagine that several works will focus on development of covalent ligands for these receptor subtypes in the near future. Finally, the last few years have been characterized by the application of a variety of fluorescence-based methods for GPCR structure biology and drug discovery [
17
]. These techniques involve the introduction of a fluorescent tag on a GPCR or on a GPCR ligand, leading to fluorescent ligands, which are discussed here [
9
,
18
,
19
,
20
]. The aim of this review is to give a panorama of the available chemical probes for the ARs to researchers working in this field or medicinal chemists working on ARs or other GPCR targets.
2. Radioligands and Radiotracers
It is well known, that radioligand probes are useful for studying both the distribution and functions of receptors. In this class of compounds, two families of derivatives should be considered: i) radioligands, generally tritiated or iodinated, for binding studies; ii) radioligands used for imaging, in general probes including isotopes such as 11C, 18F and 15O.
In the first class of compounds, in the last decades, several examples of radioligands for all AR subtypes, both agonists and antagonists, with different degrees of potency and selectivity have been reported and extensively reviewed [
7
,
21
,
22
,
23
,
24
]. Our purpose is to give a brief update of the work developed in this field in this review.
Considering labeled derivatives for binding studies only an agonist for A
2B
AR named [
3
H]-BAY60-6583 (
1
) was recently reported by the group of Prof. C.A. Müller (
Figure 1
) [
25
].
This partial agonist in its tritiated form (the position of tritium is not reported) failed to be a good probe for binding studies. This is probably due to its moderate affinity at the human A
2B
receptor and high level of non-specific binding. The only results obtained using this radioligand indicate that nucleoside and non-nucleoside agonists most probably bind the receptor in different conformations [
25
].
In contrast to the development of tritiated or
125
I radioligands, in the last few years great efforts have been made in the field of radiotracers for imaging [
14
]. In particular, several examples of
11
C or
18
F derivatives for the different AR subtypes have been reported.
Regarding the
11
C derivatives, some recent examples (compounds
2
–
5
) have been reported in
Figure 2
, in particular, regarding the A
1
and A
2A
ARs.
One of the most studied derivatives is xanthine derivative [1-methyl-
11
C]8-dicyclopropylmethyl-1-methyl-3-propylxanthine (
11
C-MPDX,
2
). This compound has been utilized for various studies [
26
,
27
,
28
]. For example, Paul and coworkers performed in vivo binding studies in rats hypothesizing that agonists and antagonists may bind in different sites at the A
1
receptor [
26
]. The same derivative was also utilized to evaluate A
1
AR alterations in patients with chronic diffuse axonal injury [
27
] or to investigate the density of A
1
ARs in patients with early-stage Parkinson's disease [
28
].
Another interesting ligand for the A
1
AR, is the pyridine derivative
3
reported by Guo et al. This compound could be considered the first brain blood barrier (BBB)-permeable A
1
partial agonist with promising properties of detection of endogenous adenosine fluctuations [
29
].
Also in the field of A
2A
AR antagonists, some labeled compounds have been recently reported, in particular the styryl-xanthine derivative [7-methyl-
11
C]-(E)-8-(3,4,5-trimethoxystyryl)-1,3,7-trimethylxanthine (
11
C-TMSX,
4
) that has been utilized for demonstrating that A
2A
receptors could be a future target to enhance brown adipose tissue (BAT) metabolism [
30
]. In addition, the non-xanthine labeled derivative
11
C-preladenant (
5
) has been reported to be an interesting probe for investigating cerebral distribution of A
2A
ARs and other kinetic aspects such as its extensive distribution in the striatum [
31
,
32
].
Nevertheless, one of the major problems of the use of
11
C-labeled compounds is the short half-life of this isotope (20 min), this means that the compound has to be prepared and immediately utilized before its inactivation. For this reason, other isotopes are preferred to
11
C such as
18
F, which has a half-life of 109 min. In this field, some promising agents for A
1
, A
2B
and A
3
receptors (
6
–
10
) have been reported (
Figure 3
).
One of the most used
18
F-labeled compounds could be considered to be the xanthine derivative
18
F-8-cyclopentyl-3-(3-fluoropropyl)-1-propylxanthine (
18
F-CPFPX,
6
). This compound has been extensively used for developing suitable pharmacokinetic models for the quantification of cerebral A
1
ARs [
33
].
It has also been utilized to visualize and quantify the in vivo occupancy of the human cerebral adenosine A
1
receptor by caffeine [
34
], and demonstrated that its chronic use did not lead to persistent changes in functional availability of A
1
ARs [
35
].
Taking into account the results obtained with these derivatives, Kreft and coworkers developed other
18
F-CPFPX structurally-related derivatives named CBCPM (8-cyclobutyl-1-cyclopropymethyl-3-(3-fluoropropyl)xanthine,
7
) and CPMMCB (1-cyclopropylmethyl-3-(3-fluoropropyl)-8-(1-methylcyclobutyl)xanthine,
8
), respectively, which showed similar behavior to the reference compound in preliminary PET studies [
36
].
In addition, a promising labeled derivative, named
18
[email protected]
(5-(2-fluoroethyl)2,4-diethyl-3-(ethylsulfanylcarbonyl)-6-phenylpyridine-5-carboxylate,
9
), has been developed for the A
3
AR, which has been shown to be a tracer for studying pharmacokinetic aspects and mapping A
3
ARs in rats [
37
,
38
].
Very recently, a
18
F-labeled form of a pyrazine A
2B
AR antagonists (
10
) has been reported by Lindemann et al. [
39
]. Preliminary studies on this compound, which showed binding affinity in the nanomolar range towards the human A
2B
AR, clearly indicated the potential of this derivative as a tracer for studying this receptor subtype and provided an important basis for the development of new tracers for A
2B
AR [
39
].
3. Covalent Ligands
It is well known that covalent ligands may be considered important pharmacological tools for the study of the receptors; in fact, the irreversible blockade of the receptors could reveal details of both structural binding interactions and the patho-physiological role of the examined receptor.
The strategy utilized for obtaining irreversible ligands is generally based on the introduction of chemoreactive moieties on the scaffold of well-known agonists and/or antagonists. The limiting step in preparing this kind of probe is the position on which the chemoreactive group should be introduced in order to obtain irreversible block of the receptor without losing both affinity and selectivity. For this reason, several structure–activity relationship studies (SAR) have been performed in order to optimize the structural requirements that are indispensable for obtaining irreversible probes that retain affinity and selectivity.
In the field of ARs, several examples of covalent agonists and antagonists have been reported in the last decades. We wish, for this reason, to briefly summarize the results obtained in this research area.
The strategy to obtain irreversible agonists for ARs is based on the core modification of the natural nucleoside adenosine.
In addition, several irreversible antagonists for ARs have been reported. We could classify the obtained compounds in two major classes: i) xanthine derivatives (the natural antagonists for ARs), and ii) non-xanthine derivatives.
5. Conclusions
From this review, it is clear that even if ARs were discovered more than forty years ago, their complex mechanism of action, which includes, but is not limited to, activation, oligomerization and internalization processes, is not fully elucidated. Over the last years, great progress in the field has been obtained thanks to the advancements made in structural biology. AR probes were continuously applied to new available techniques, which allowed deep investigation of the receptors, but at the same time, obtained information that is useful for designing new, more specific, drugs and probes, which in turn has contributed to the improvement in the AR research field. In particular, a better understanding of the role and the mechanism of action of these receptors could allow design of more specific therapies for several pathological conditions in which these receptors are involved, and for that reason, ARs remain a very interesting and intriguing therapeutic target.
Author Contributions
Conceptualization, S.F. and G.S.; writing—original draft preparation, S.F., L.L., G.S.; writing—review and editing, S.F. and G.S.
Funding
This research was funded by MINISTRO DELL'ISTRUZIONE, DELL'UNIVERSITÀ E DELLA RICERCA, grant number PRIN2017 2017MT3993 and by UNIVERSITÀ DEGLI STUDI DI TRIESTE grant FRA2018.
Conflicts of Interest
The authors declare no conflict of interest.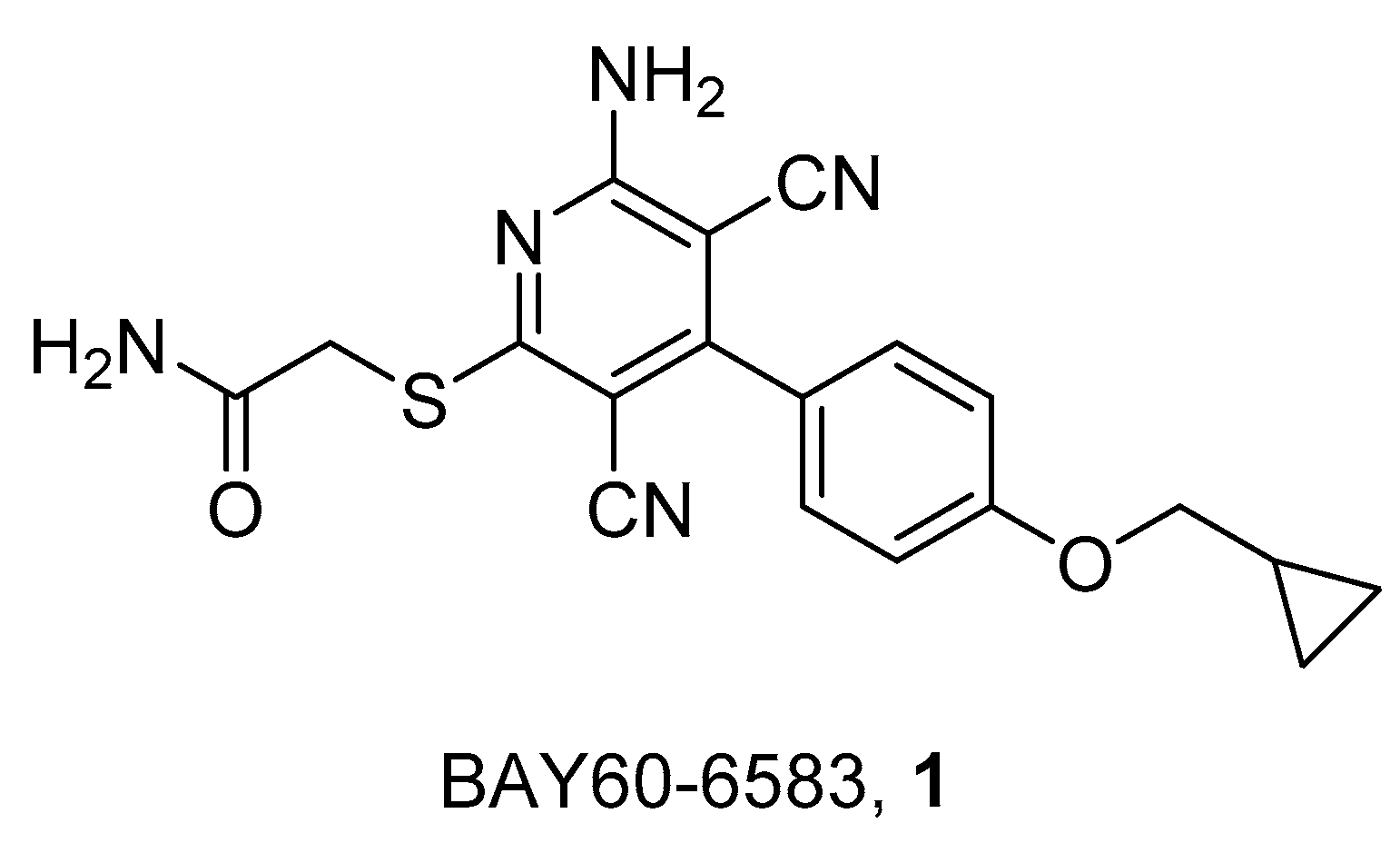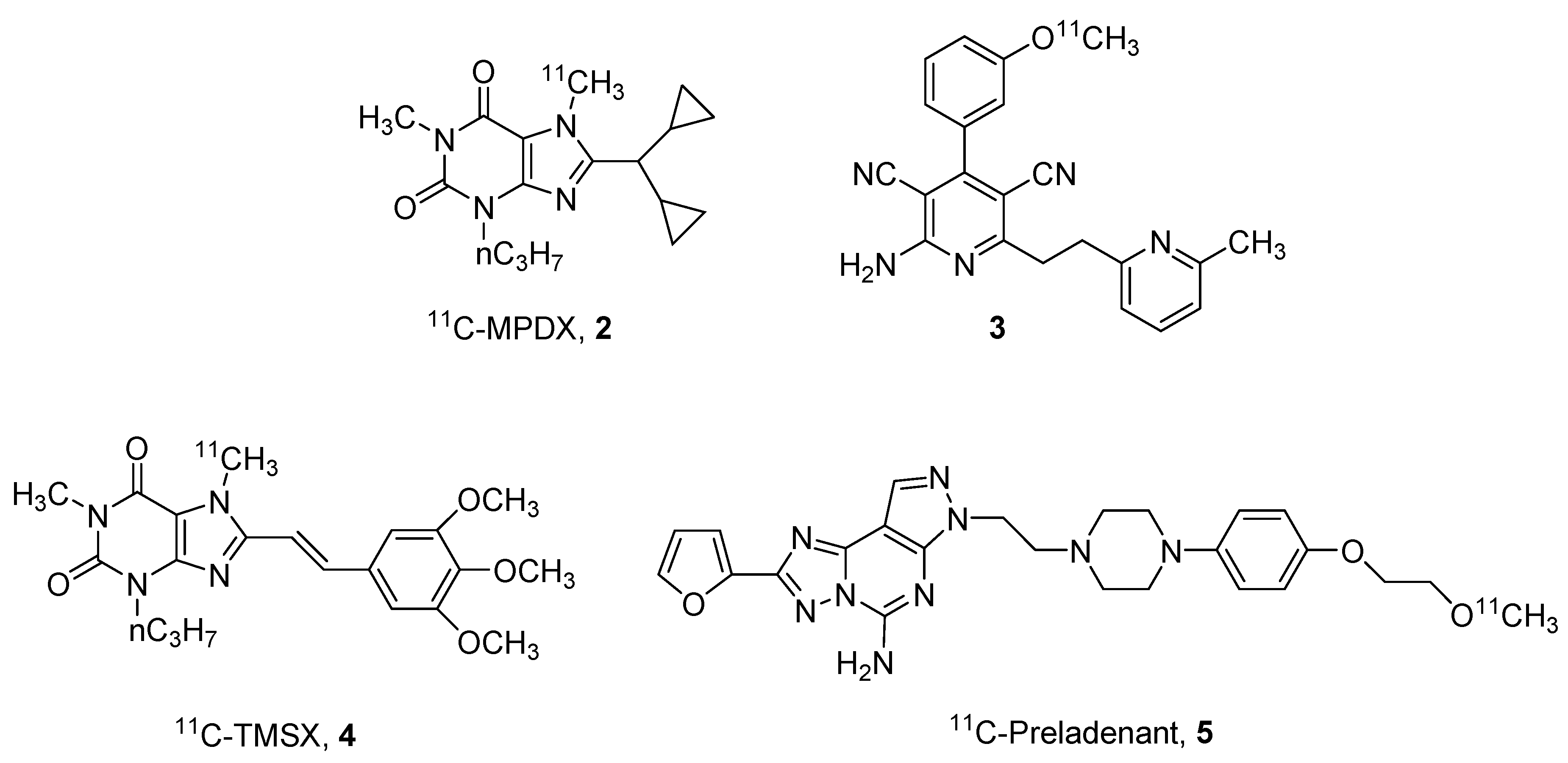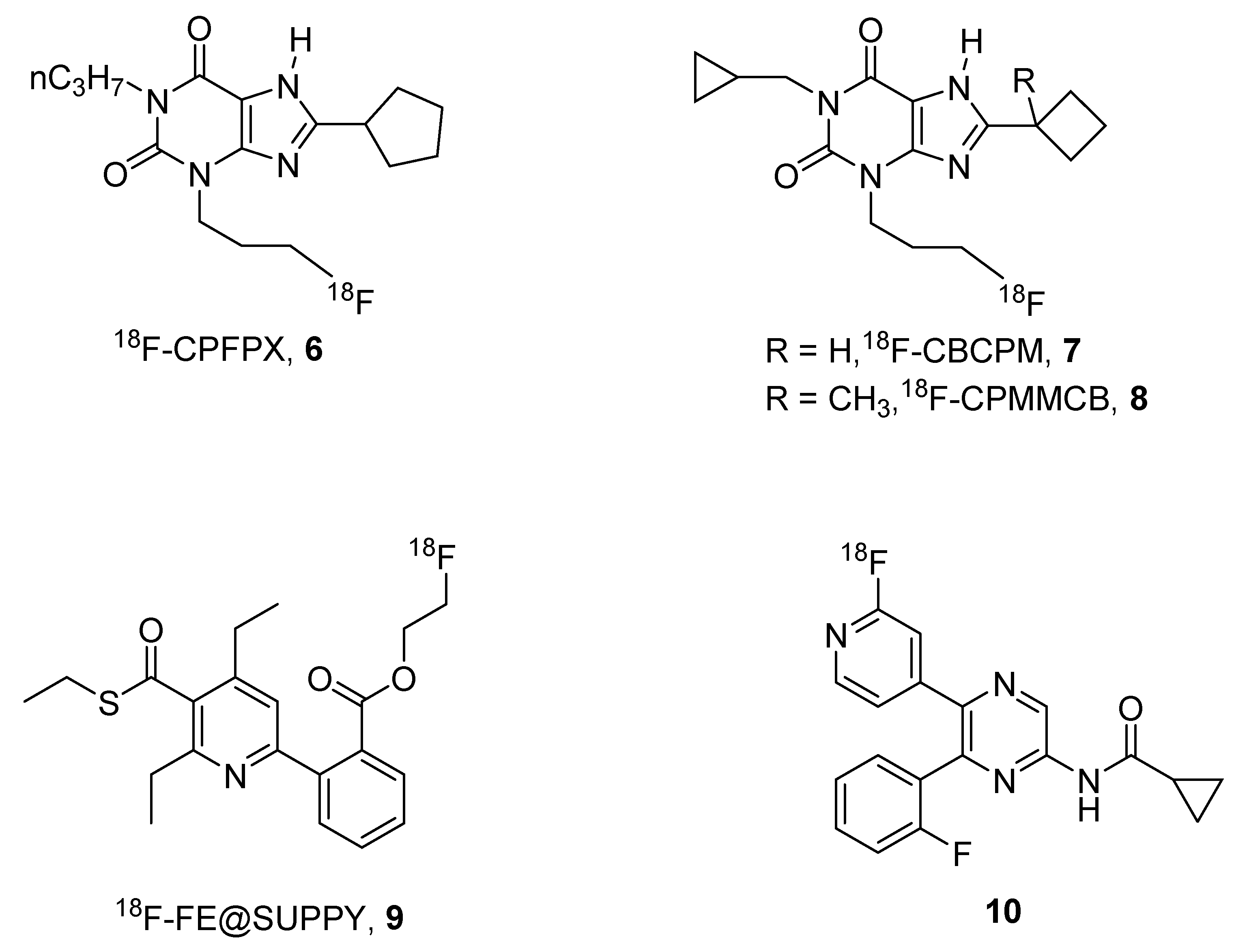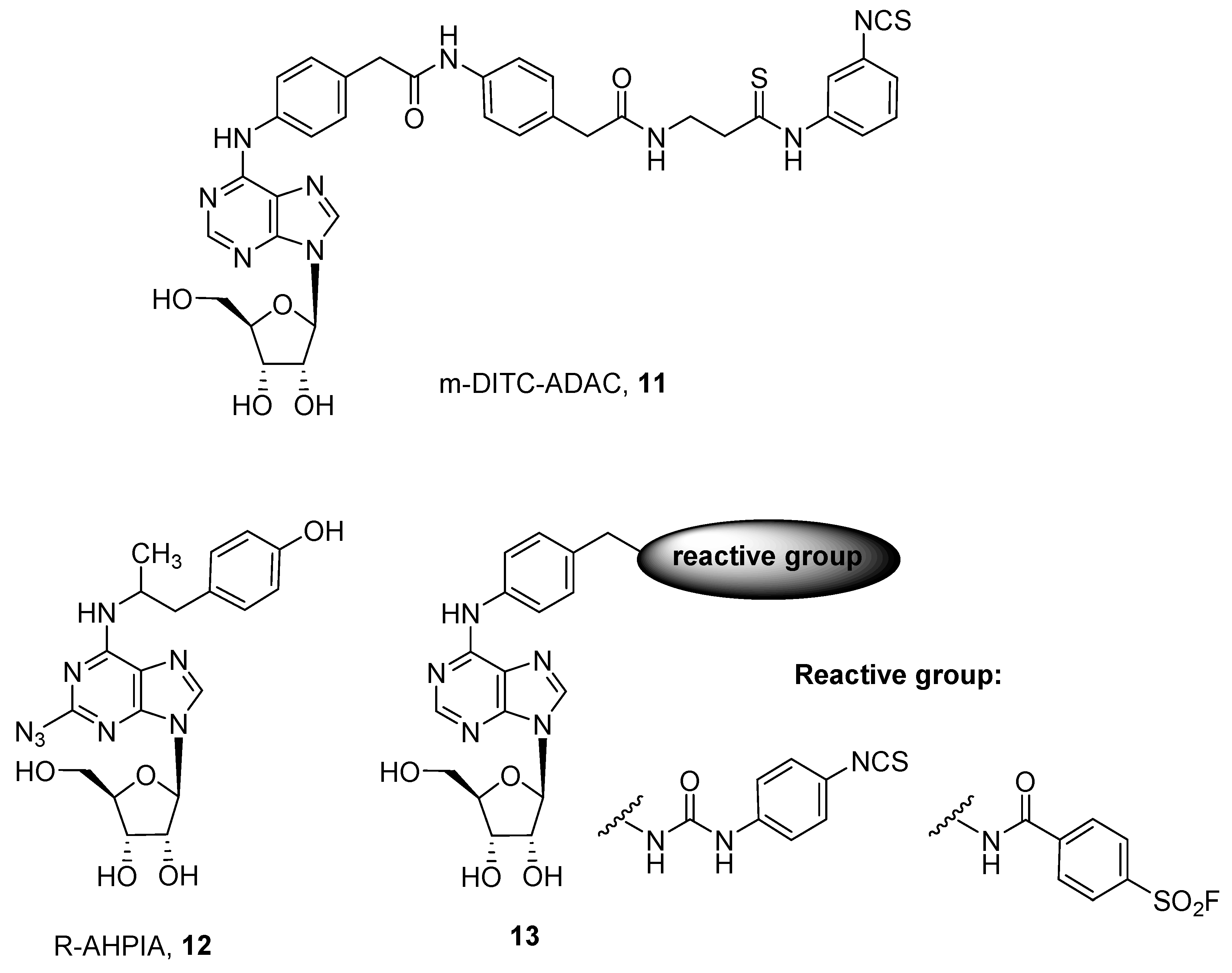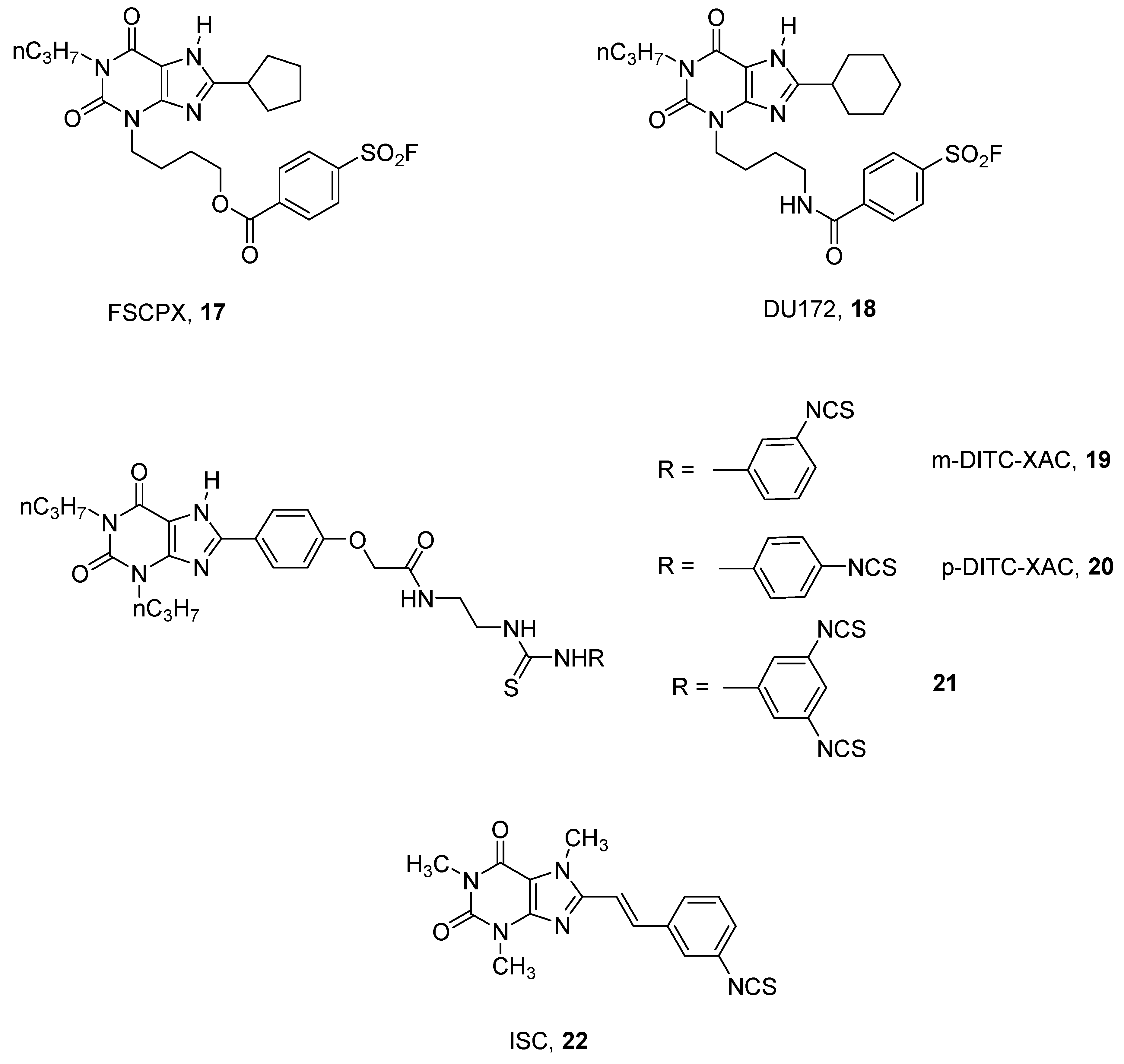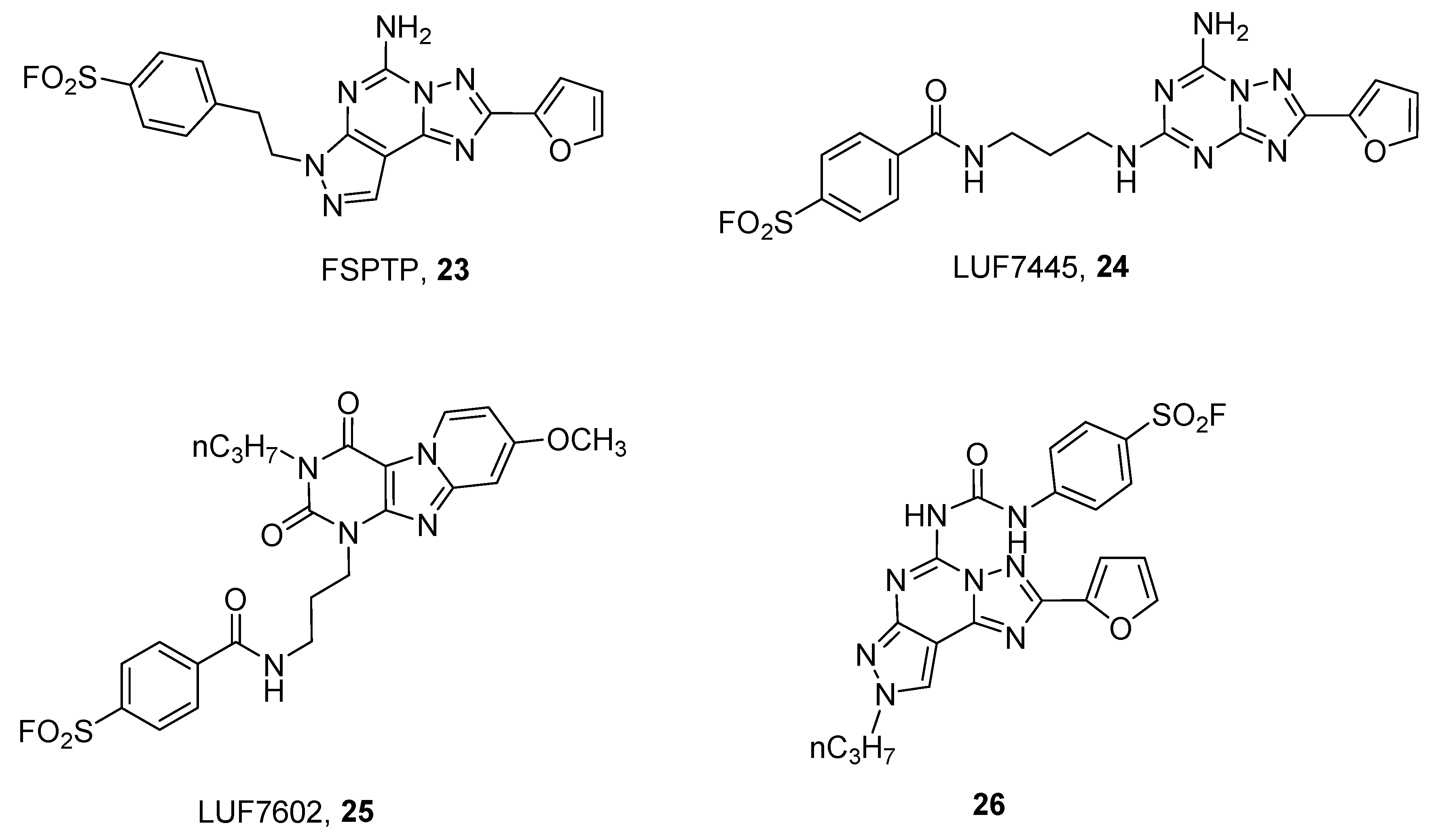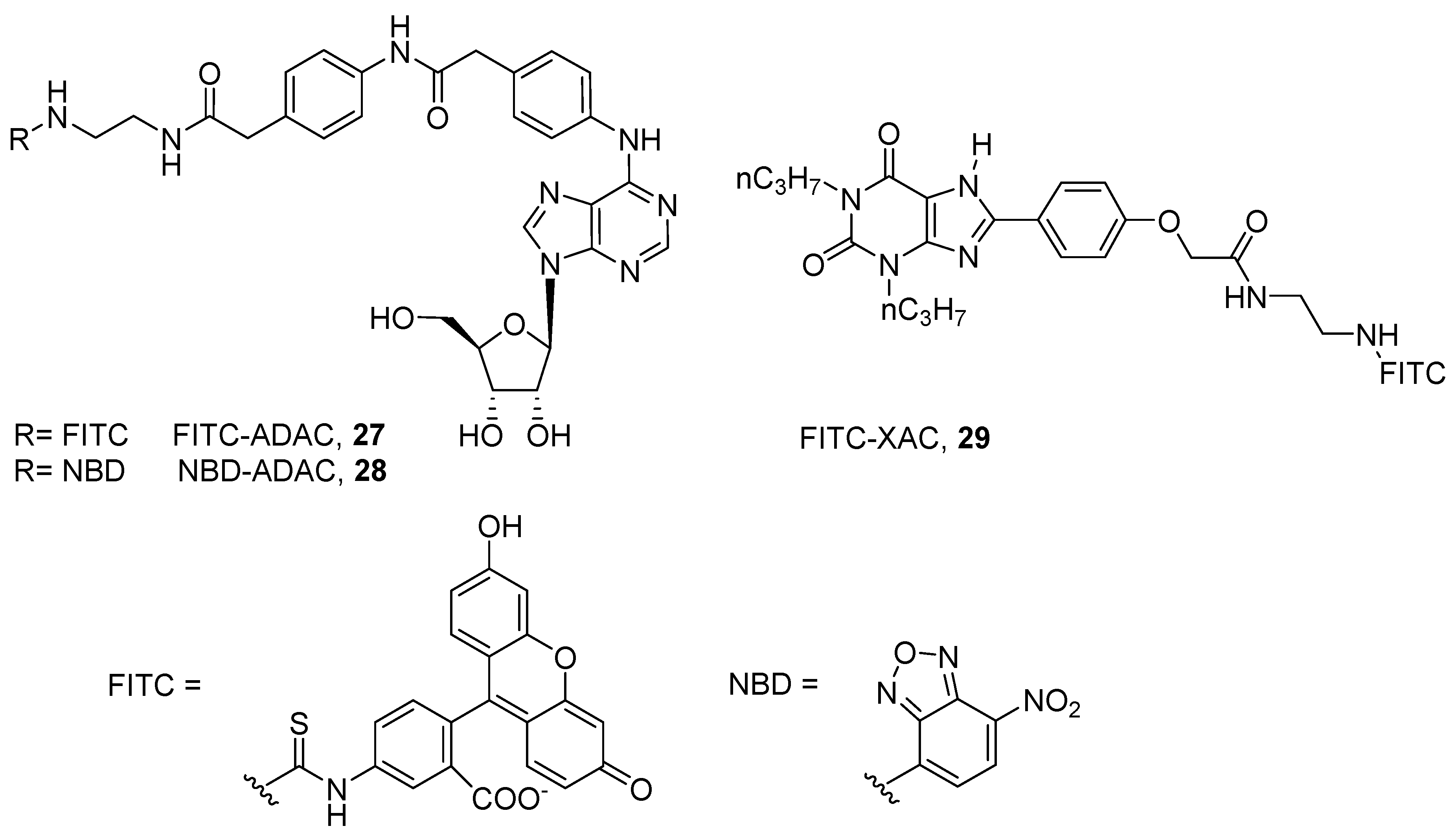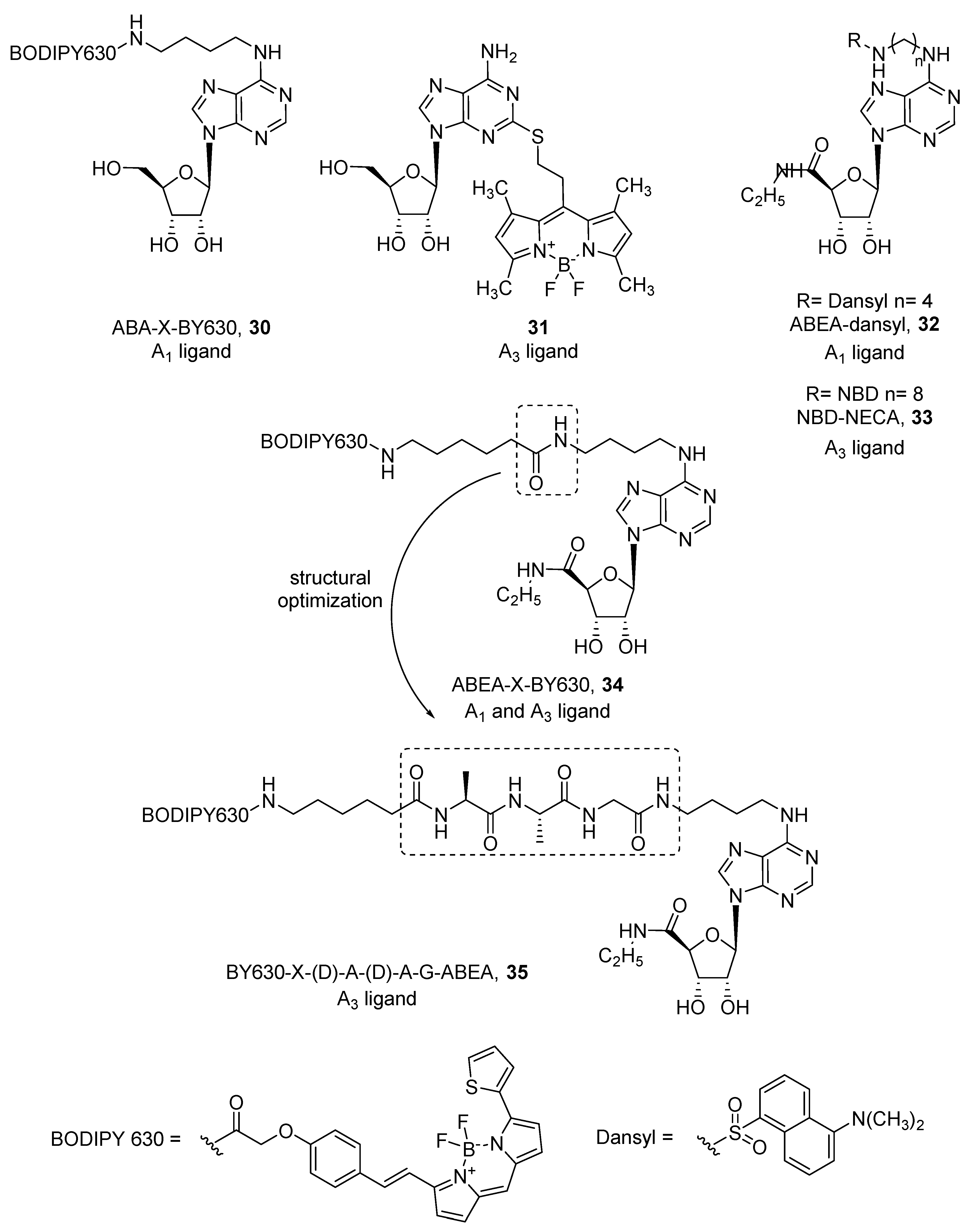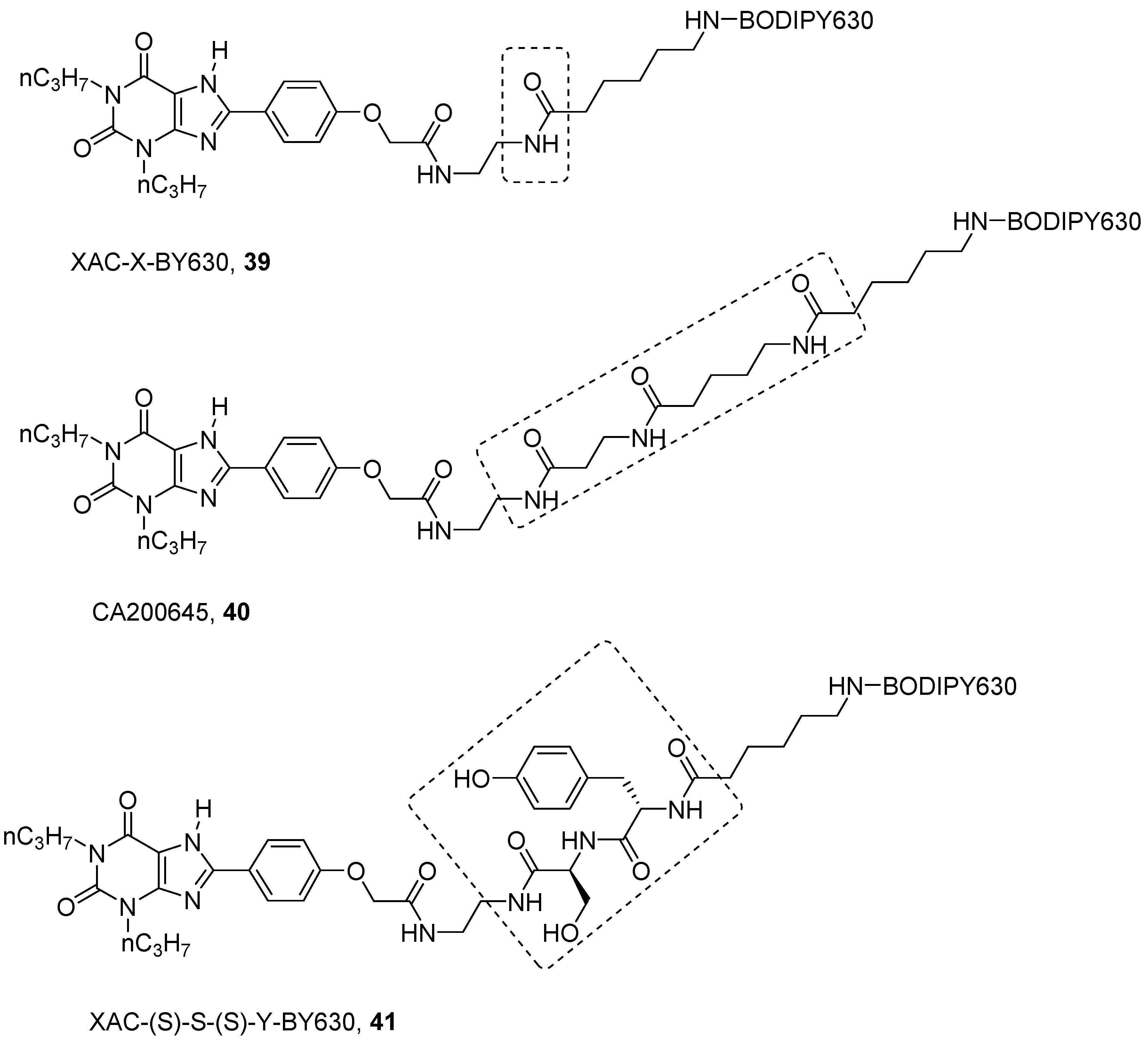 Figure 13. Structures of tricyclic fluorescent A2A and A3 ARs antagonists. aAlexa Fluor 488 5 isomer.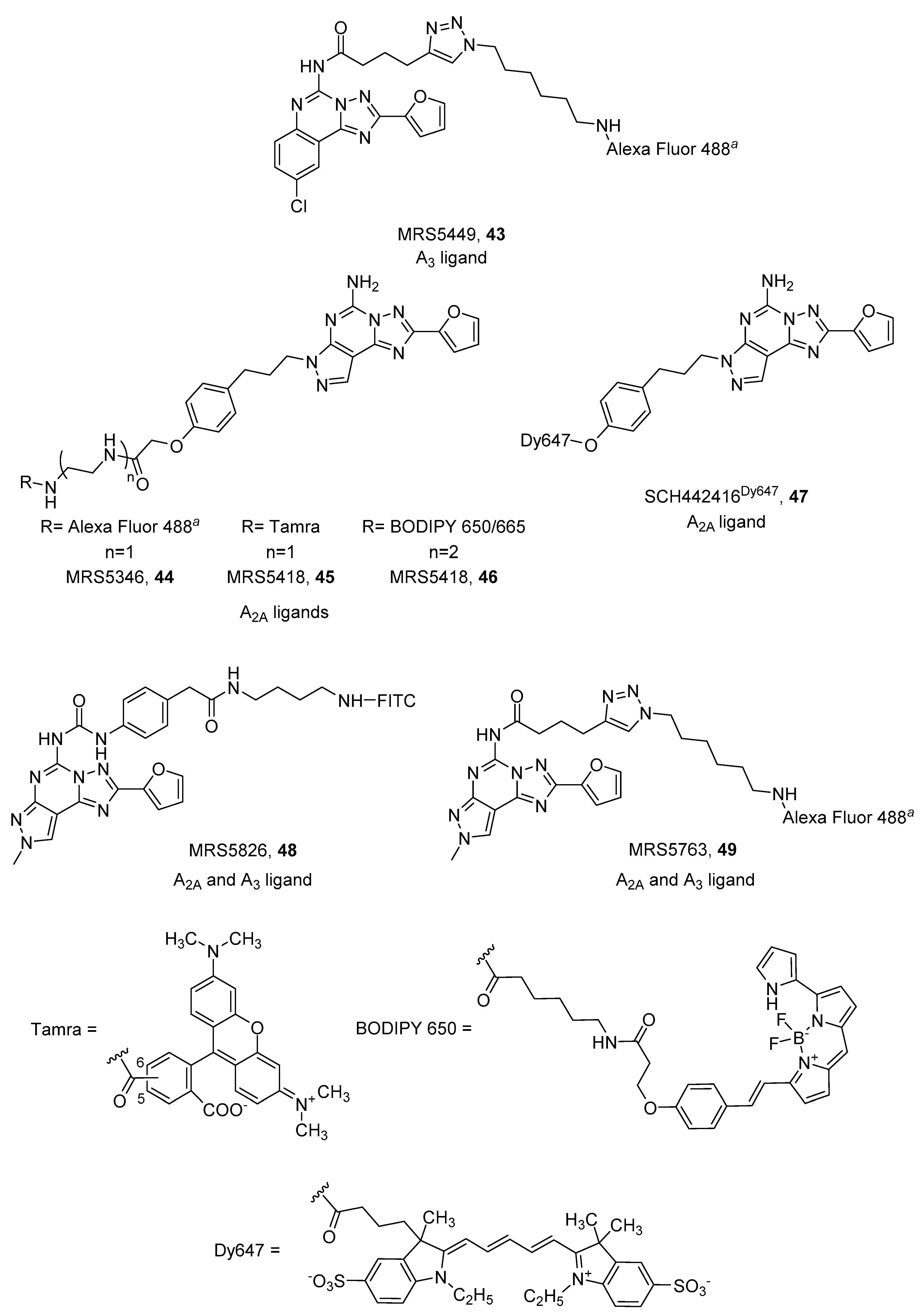 © 2019 by the authors. Licensee MDPI, Basel, Switzerland. This article is an open access article distributed under the terms and conditions of the Creative Commons Attribution (CC BY) license (http://creativecommons.org/licenses/by/4.0/).