Open Access This article is
freely available
re-usable
Review
Multilevel Impacts of Iron in the Brain: The Cross Talk between Neurophysiological Mechanisms, Cognition, and Social Behavior
1
Centro Interdisciplinar de Ciências Sociais (CICS.NOVA), Faculdade de Ciências Sociais e Humanas da Universidade NOVA de Lisboa (NOVA FCSH), 1069-061 Lisbon, Portugal
2
School of Business and Economics, NOVA University of Lisbon, 2775-405 Lisbon, Portugal
3
Chronic Diseases Research Center (CEDOC)/NOVA Medical School, Universidade NOVA de Lisboa, 1180-052, 1150-082 Lisbon, Portugal
*
Author to whom correspondence should be addressed.
Received: 5 August 2019 / Accepted: 27 August 2019 / Published: 29 August 2019
Abstract
:
Iron is a critical element for most organisms, which plays a fundamental role in the great majority of physiological processes. So much so, that disruption of iron homeostasis has severe multi-organ impacts with the brain being particularly sensitive to such modifications. More specifically, disruption of iron homeostasis in the brain can affect neurophysiological mechanisms, cognition, and social behavior, which eventually contributes to the development of a diverse set of neuro-pathologies. This article starts by exploring the mechanisms of iron action in the brain and follows with a discussion on cognitive and behavioral implications of iron deficiency and overload and how these are framed by the social context. Subsequently, we scrutinize the implications of the disruption of iron homeostasis for the onset and progression of psychosocial disorders. Lastly, we discuss the links between biological, psychological, and social dimensions and outline potential avenues of research. The study of these interactions could ultimately contribute to a broader understanding of how individuals think and act under physiological and pathophysiological conditions.
Keywords:
iron; brain; neurophysiology; cognition; social behavior
3. Iron Metabolism
Despite the numerous mechanisms regulating iron homeostasis in the brain, this tight regulation can still be disrupted. The following section addresses these mechanisms and the impacts of their disruption.
4. The Cytotoxicity of Iron in the Brain
5. Neural Circuits and Social Behavior
Social behavior is one of the main areas of current research in fields as diverse as anthropology, sociology, psychology, or neuroscience. Simply put, social behavior is how we do things in social contexts. If one focuses on human social behavior, we are talking, for instance, about how we perform our jobs or how we spend our holidays, how we discuss things with others, or how we run away from them. Any of the above-mentioned behaviors are framed by knowledge and dispositions that we have embodied through our life trajectories, perceptions of the situation that we are being confronted with, and its broader social-economic contexts, our motivations, and expectations, as well as biological factors, mechanisms, and the more general physiological status. Changes in these processes characterize many neuropsychiatric disorders and psychosocial dysfunctions. This justifies an increasing interest in understanding the molecular mechanisms regulating neural circuits involved in the development of social behaviors. Since most genes are conserved across species, once again, research in rodents was fundamental to dissect specific brain networks involved in the development of social behavior. In human subjects, the brain structures involved in cognitive processes were originally identified through magnetic resonance imaging (MRI) studies, which revealed activation of specific regions upon the development of specific social tasks [
91
]. The somatosensory and temporal cortex are involved in perception and recognition of facial emotions [
92
]. The amygdala is involved in fear processing and threat detection [
93
] and the prefrontal cortex is responsible for decision-making and behavior, as well as performing executive functions [
94
]. Changes in the amygdala response can result in social anxiety disorders, and damages to the frontal cortex can underlie psychopathological and antisocial behavior [
95
]. Still, the existence of neural circuits interlinking specialized cortical and sub-cortical structures ensure that these areas work together to ensure that a certain behavior takes place [
91
].
From a molecular point of view, a series of neurotransmitters and neuromodulators regulate the activity and maturation of these brain areas. Although glutamate, GABA, serotonin, and noradrenaline contribute to modulate pre-frontal-striatal circuits, among neurotransmitters, dopamine stands out. The involvement of dopaminergic projections is responsible to exert functions resulting from the cooperation of all previously described areas for sustained attention, memory storage and retrieval, emotion regulation, and motivation. Since iron impairs dopamine synthesis, by influencing the activity of the enzyme that produces it, i.e., tyrosine hydroxylase, and fosters the production of ROS through dopamine catabolism [
96
], others have suggested that the outcomes of neurocognitive tasks are highly influenced by any disturbance in iron homeostasis [
47
]. It is precisely the link between brain iron homeostasis, cognition, and social behavior that will be addressed in the following sections of this article. Special attention will be devoted to studies with human subjects.
6. Linking Iron Deficiency to Cognition and Social Behavior in Human Subjects
At this point, there are several important arguments to put forward. First, the brain works as an integrated system and, as such, responses are unlikely the result of impairments in the action of specific neurotransmitters, regions, circuits or processes, but rather result from the concerted action of interconnected and interdependent neurotransmitters, processes, circuits, and regions. Second, other dimensions could have a role in mediating or potentiating the biological and neurophysiological impacts of iron deficiency. In this line of reasoning, a very important dimension to consider when analyzing the impacts of iron deficiency in cognition and social behavior in human subjects was not yet addressed in this section. What is the role, if any, of the social dimension? Social psychology and sociology have shown that the social context in which individuals are embedded influences individual cognition and action. However, there is little, if any, evidence of how it acts concertedly with the neurophysiological impacts of iron deficiency.
Altogether, this clearly points to a role of iron deficiency and psychological and social processes in the development of cognition and social behaviors. The point being made here is that, despite the relevance of iron and of its neurophysiological action, these mechanisms are most likely interdependent with psychological and social dimensions, as individuals live in social contexts, grow in social contexts, learn in social contexts, and construct their memories in social contexts. Future studies should provide an in-depth characterization of all these dimensions, as well as of the specific interconnections among them.
7. Increased Iron Levels, Cognition, and Social Behavior in Human Subjects
8. Linking Iron with Chronic Stress, Anxiety, and Depression
9. Discussion
Dysregulation of iron levels in human subjects is a relatively common phenomenon. On the one hand, we have iron deficiency, which is the most prevalent nutrient deficiency worldwide, and, on the other hand, iron overload, which is common in the increasing aging population as well as in pathologies such as neurodegenerative diseases and psychosocial disorders. For both cases, the impacts of iron dysregulation in neurophysiological structures and mechanisms have been studied, with consistent data published in both animal models and human subjects. The association between iron dysfunction and motor and cognitive impairment, as well as modified social behavior, is also very consistent. However, while most studies show that iron interventions could correct for altered iron levels, this type of intervention was mostly unable to revert cognitive or behavioral modifications. Within the iron community, many authors either underline the methodological insufficiencies of intervention studies or argue that iron dysregulation during critical periods, cannot be reverted. Other authors argue that correction of iron levels necessarily needs to be complemented with cognitive stimuli and other types of social interventions, which is a proposal that is completely in line with the findings of social psychology and sociology.
It is our understanding that, while biological impacts or iron dysregulation are undeniable and deserve to be studied and discussed in great detail, its associated cognitive and social blueprints could be further exacerbated by psychosocial contexts that do not promote regular cognitive function and normative social behavior. The study of these interactions is of the utmost relevance for the design of future research aiming to understand how individuals think and act under physiological and pathophysiological conditions.
Funding
A.F. is funded by national funds through the FCT – Fundação para a Ciência e a Tecnologia, I.P., under the Norma Transitória – DL57/2016/CP1453/CT0077, and receives research funding from FCT/MCTES grant PTDC/IVC-ESCT/0073/2014. PN is funded through FCT – Fundação para a Ciência e a Tecnologia (UID/ECO/00124/2013, UID/ECO/00124/2019 and Social Sciences DataLab, LISBOA-01-0145-FEDER-022209), POR Lisboa (LISBOA-01-0145-FEDER-007722, LISBOA-01-0145-FEDER-022209), and POR Norte (LISBOA-01-0145-FEDER-022209). RG is funded by FCT – Fundação para a Ciência e a Tecnologia (IF/01495/2015) and receives research funding from FCT-PAC (03/SAICT/2015) and EOS MODEL-IDI 30826052. A.F., P.N., and R.G. also received research funding from Santander Totta/NOVA University of Lisbon (Collaborative Investigation Price 2017).
Conflicts of Interest
The authors declare no conflict of interest.
Figure 1. Processes underlying disruption of brain iron homeostasis. Social context, integrating structural (e.g., socio-economic context, life trajectories, socio-economic status, education, knowledge and skills, norms and values), social interactions (e.g., the specific context of interactions; who is present) and individual dimensions (e.g., appraisal, perceptions, motivations and expectations, and reflexivity) frames the pathophysiological mechanisms of an inadequate nutrition (e.g., poor diets, excessive milk intake, vegetarian diets), pathologies associated with inadequate iron absorption (e.g., Celiac disease) or excessive iron loss (e.g., blood loss, parasitic infections), aging, neurodegenerative diseases (e.g., Alzheimer's and Parkinson's disease) or psychosocial disorders (e.g., chronic social defeat stress, anxiety, depression). All these conditions are associated with a disruption of brain iron homeostasis.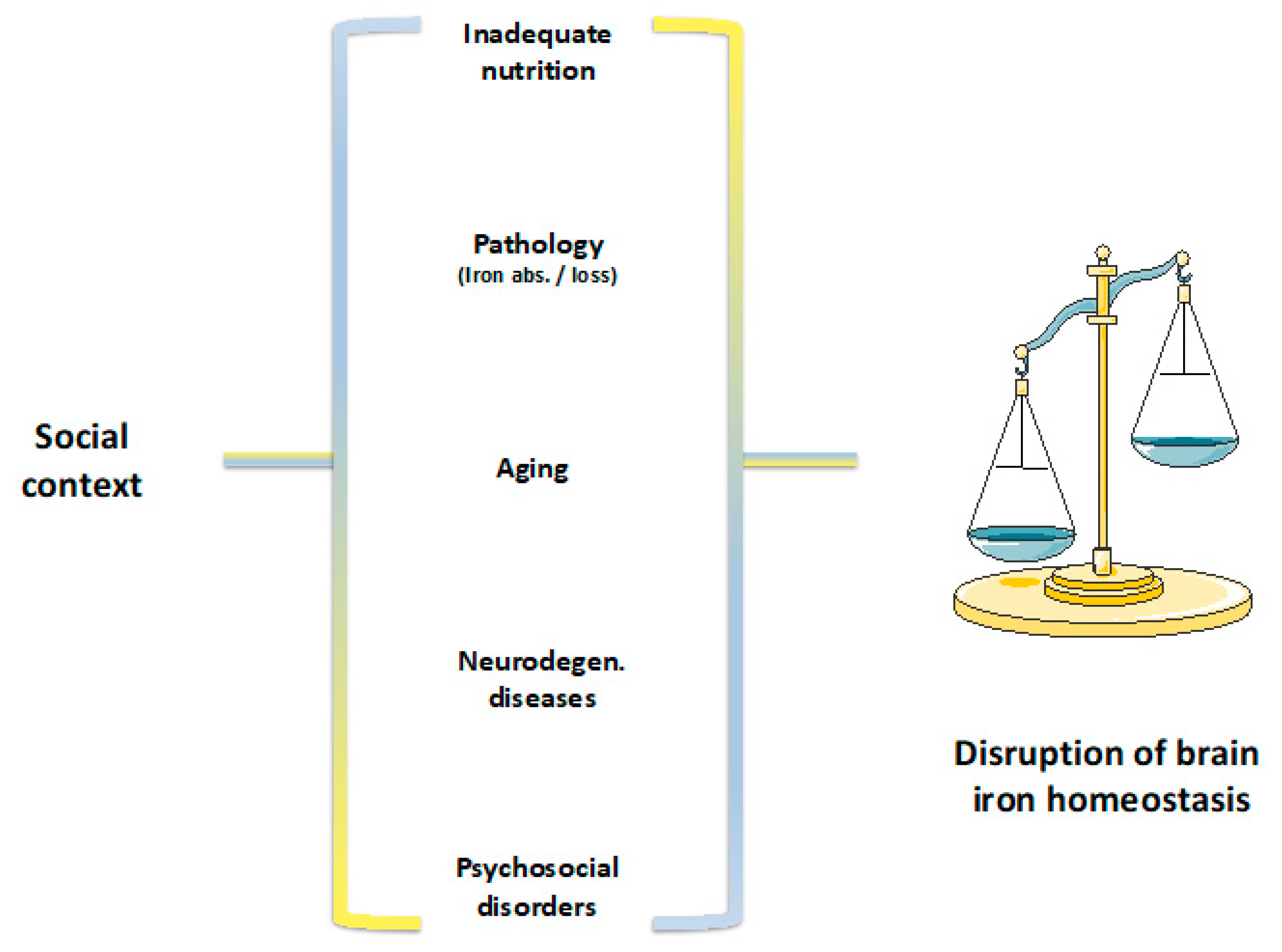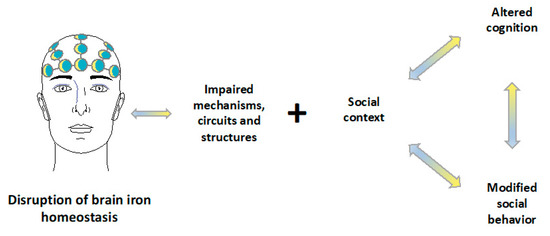 Figure 2. Impacts of disruption of brain iron homeostasis. Dysregulation of brain iron metabolism profoundly affects neurophysiological mechanisms (e.g., neurotransmitter synthesis and metabolism, axon myelination, neural transmission), neural circuits (e.g., mesocortical, mesolimbic, nigrostriatal, and tuberohypophyseal dopaminergic pathways) and brain structures. In the presence of a social context that does not provide stimuli to promote regular cognition and normative social behavior, disruption of brain iron homeostasis is associated with altered cognition (e.g., executive function, attention, memory) and modified social behavior (e.g., functional isolation, wariness, and hesitance behaviors).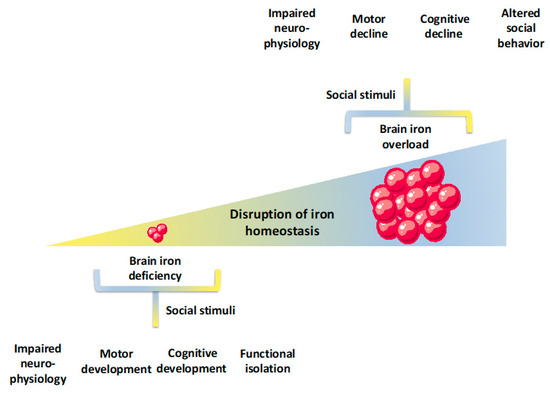 Figure 3. Multilevel repercussions of iron deficiency and iron overload in the brain. Brain iron deficiency is associated with disruption of neurophysiological mechanisms that, within a social context that does not provide regular stimuli, compromises motor and cognitive development (e.g., impaired motor sequencing and bi-manual coordination, poor executive function, attention, and memory). Subsequently, these can impact social behavior, which leads to, for instance, functional isolation. As for the impaired neurophysiological mechanisms associated with brain iron overload (e.g., exacerbated brain oxidative stress, neuronal cell death), these are associated with motor and cognitive declines (e.g., motor slowing, insufficient adjustment and altered feedback processing and sensitivity, memory loss, and impaired decision-making). Within a social context that does not provide suitable stimuli, these might impact social behavior leading to, for instance, hesitant behavior and unwillingness to interact with others.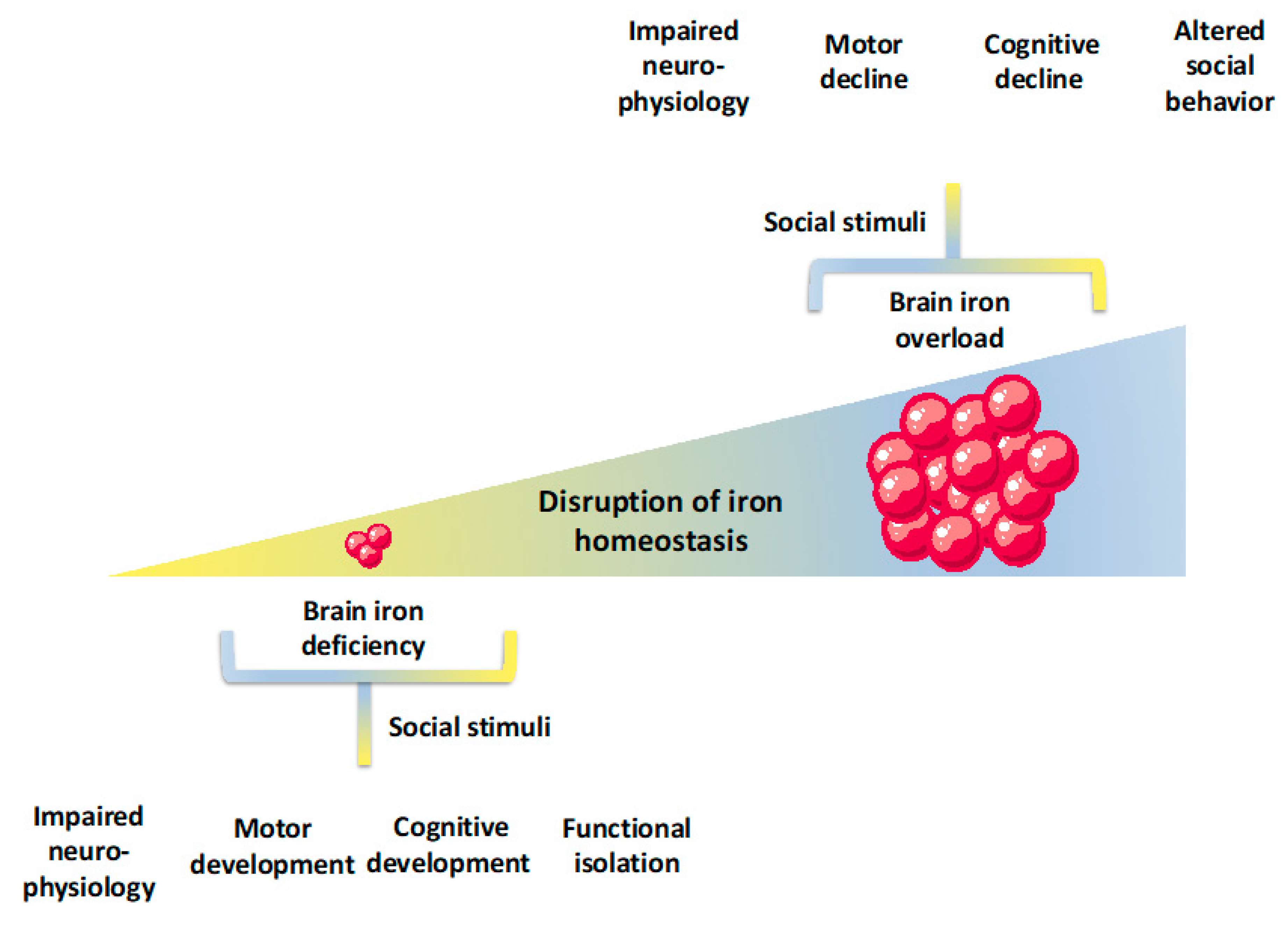 © 2019 by the authors. Licensee MDPI, Basel, Switzerland. This article is an open access article distributed under the terms and conditions of the Creative Commons Attribution (CC BY) license (http://creativecommons.org/licenses/by/4.0/).