Open Access This article is
freely available
re-usable
Review
Role of Microbiota and Tryptophan Metabolites in the Remote Effect of Intestinal Inflammation on Brain and Depression
Department of Molecular Immunology and Microbiology, Groningen Biomolecular Sciences and Biotechnology Institute (GBB), University of Groningen, Nijenborgh 7, 9747 AG Groningen, The Netherlands
*
Author to whom correspondence should be addressed.
Received: 26 May 2018 / Accepted: 22 June 2018 / Published: 25 June 2018
Abstract
:
The human gastrointestinal tract is inhabited by trillions of commensal bacteria collectively known as the gut microbiota. Our recognition of the significance of the complex interaction between the microbiota, and its host has grown dramatically over the past years. A balanced microbial community is a key regulator of the immune response, and metabolism of dietary components, which in turn, modulates several brain processes impacting mood and behavior. Consequently, it is likely that disruptions within the composition of the microbiota would remotely affect the mental state of the host. Here, we discuss how intestinal bacteria and their metabolites can orchestrate gut-associated neuroimmune mechanisms that influence mood and behavior leading to depression. In particular, we focus on microbiota-triggered gut inflammation and its implications in shifting the tryptophan metabolism towards kynurenine biosynthesis while disrupting the serotonergic signaling. We further investigate the gaps to be bridged in this exciting field of research in order to clarify our understanding of the multifaceted crosstalk in the microbiota–gut–brain interphase, bringing about novel, microbiota-targeted therapeutics for mental illnesses.
Keywords:
microbiota; kynurenine pathway; serotonin; inflammation; gut motility
Author Contributions
Conceptualization, B.W., S.E.A.; Writing-Original draft, B.W., S.E.A.; Writing-Review and Editing, B.W., S.E.A.; Funding Acquisition, S.E.A.
Funding
This research was funded by Rosalind Franklin Fellowships, co-funded by the European Union and University of Groningen.
Conflicts of Interest
The authors declare no conflicts of interest.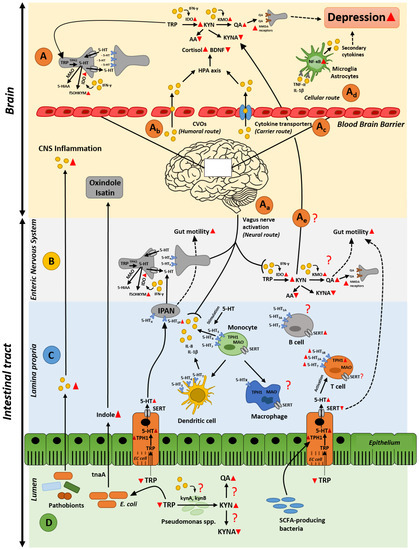 Figure 1.
Gut microbiota remotely influences brain and depression. Potential routes by which the gut microbiota could govern the comorbidity of gut inflammation, disruption in tryptophan metabolism, and induction of depression. (
A
) Signaling mechanisms in the brain stimulated by inflammatory molecules in the gut; (
B
) molecular mechanisms by which the enteric nervous system affects gut motility and tryptophan metabolism during intestinal inflammation; (
C
) possible alterations of serotonin signaling in lamina propria resulting in gut hypermobility and inflammatory response; (
D
) influence of the gut microbiota and its secreted compounds on disruption on tryptophan metabolism and gut inflammation. Red triangles represent decreased/increased production or expression. Red question marks indicate missing links in this multi-faceted crosstalk. Dotted lines depict effects on gut motility. Abbreviations: 5-HIAA = 5-hydroxyindoleacetic acid; 5-HT = serotonin; 5-HT
x
= serotonin receptors; AA = anthranilic acid; BDNF = brain-derived neurotrophic factor; CVOs = circumventricular organs; EC cell = enterochromaffin cell; HPA axis = hypothalamus-pituitary adrenal axis; IDO = indoleamine-2,3-dioxygenase; IFN-γ = interferon γ; IPAN = intrinsic primary afferent neuron; KMO = kynurenine-3-monooxygenase; KYN = kynurenine; KYNA = kynurenic acid; MAO = monoamine oxidase; NMDA receptors =
N
-methyl-
d
-aspartate receptors; QA = quinolinic acid; SCFAs = short-chain fatty acids; SERT = serotonin transporter; TNF-α = tumor necrosis factor α; TPH1 = tryptophan hydroxylase; TRP = tryptophan; f5OHKYM = formyl-5-hydroxykynuramine; kynA = tryptophan-2,3-dioxygenase from Pseudomonas spp.; kynB = kynurenine formamidase from Pseudomonas spp.; tnaA = tryptophanase.

© 2018 by the authors. Licensee MDPI, Basel, Switzerland. This article is an open access article distributed under the terms and conditions of the Creative Commons Attribution (CC BY) license (http://creativecommons.org/licenses/by/4.0/).