Insights into Macrophage Heterogeneity and Cytokine-Induced Neuroinflammation in Major Depressive Disorder
1
Center for Molecular Immunology and Infectious Diseases, The Pennsylvania State University, University Park, State College, PA 16802, USA
2
Department of Veterinary and Biomedical Sciences, The Pennsylvania State University, University Park, State College, PA 16802, USA
*
Author to whom correspondence should be addressed.
Received: 31 May 2018 / Revised: 21 June 2018 / Accepted: 22 June 2018 / Published: 25 June 2018
Abstract
Over 350 million individuals suffer from depression, a psychiatric illness classified as major depressive disorder (MDD) with symptoms that include a loss of interest or pleasure in life accompanied by depressed mood. The present understanding of major depressive disorder does not encompass a systematic characterization of the neurobiological processes that drive the behavioral physiology in patients diagnosed with major depressive disorder. Psychiatric illness is a complex intersection between genetics, physiology, immunology and environmental stress. The increased attention to the relevance of depression has led to new discoveries that highlight the biological significance of 'neuroinflammation' and immunity underlying a spectrum of psychiatric illnesses. The process of neuroinflammation involves sentinel immune cells in the central nervous system (CNS). The activation and polarization of microglia, CNS-resident macrophages, modulates the production and secretion of pro-inflammatory cytokines implicated in the etiology of major depressive disorder, and this phenomenon has been aptly titled the 'macrophage theory of depression'. Of particular interest are three hallmark cytokines, IL-6, TNFα and IL-1β, which have been studied extensively in basic research, cell-receptor signaling and drug development. The field of inflammasome-mediated neuroinflammation is an emerging area of MDD research that is providing new cellular insight into how macrophages mechanistically support cytokine-associated neuropathology, particularly in the case of IL-1β-associated inflammation in MDD. With the increasing number of individuals identified with depression, a comprehensive understanding of macrophage-cytokine signaling pathways in the CNS in depression is necessary for developing effective anti-depressant therapeutics.
View Full-Text
►

▼

Figures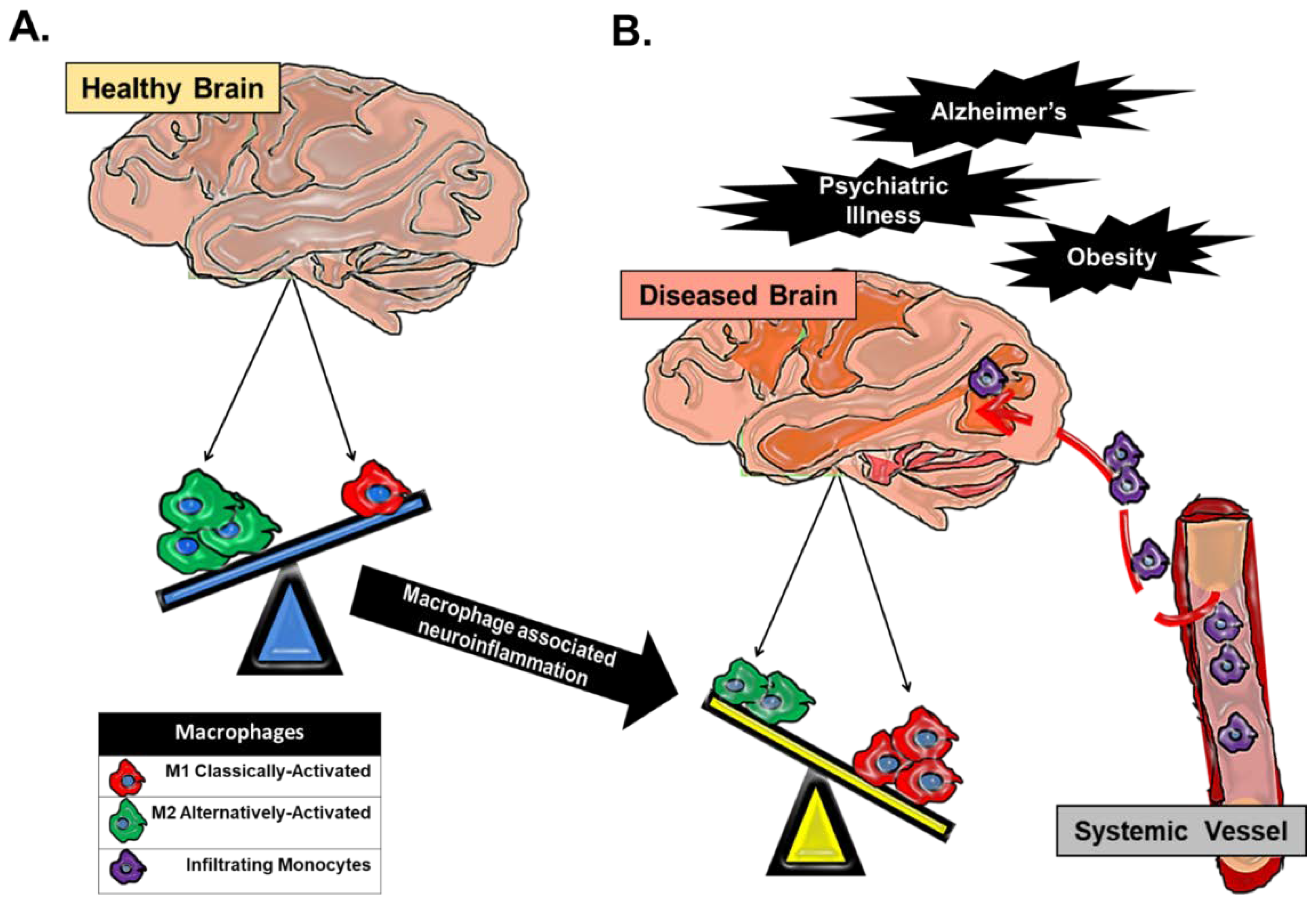 Figure 1
This is an open access article distributed under the
Creative Commons Attribution License
which permits unrestricted use, distribution, and reproduction in any medium, provided the original work is properly cited (CC BY 4.0).

Share & Cite This Article
MDPI and ACS Style
Dey, A.; Hankey Giblin, P.A. Insights into Macrophage Heterogeneity and Cytokine-Induced Neuroinflammation in Major Depressive Disorder. Pharmaceuticals 2018, 11, 64.
Note that from the first issue of 2016, MDPI journals use article numbers instead of page numbers. See further details here.
Related Articles
Comments
[Return to top]