Open Access This article is
freely available
re-usable
Editorial
Glycosaminoglycans and Proteoglycans
1
Program of Glycobiology, Institute of Medical Biochemistry Leopoldo de Meis and University Hospital Clementino Fraga Filho, Federal University of Rio de Janeiro, Rio de Janeiro, RJ 21941-913, Brazil
2
Glycosciences Laboratory, Department of Medicine, Imperial College London, Burlington Danes Building, Du Cane Road, London W12 0NN, UK
*
Author to whom correspondence should be addressed.
Received: 19 February 2018 / Accepted: 26 February 2018 / Published: 27 February 2018
Abstract
:
In this editorial to MDPI
Pharmaceuticals
special issue "
Glycosaminoglycans and Proteoglycans
" we describe in outline the common structural features of glycosaminoglycans and the characteristics of proteoglycans, including the intracellular proteoglycan, serglycin, cell-surface proteoglycans, like syndecans and glypicans, and the extracellular matrix proteoglycans, like aggrecan, perlecan, and small leucine-rich proteoglycans. The context in which the pharmaceutical uses of glycosaminoglycans and proteoglycans are presented in this special issue is given at the very end.
Keywords:
chondroitin sulfate; decorin; dermatan sulfate; glycosaminoglycans; glypican; heparan sulfate; heparin; hyaluronan; keratan sulfate; perlecan; proteoglycans; serglycin; syndecan
Conflicts of Interest
The authors declare no conflict of interest.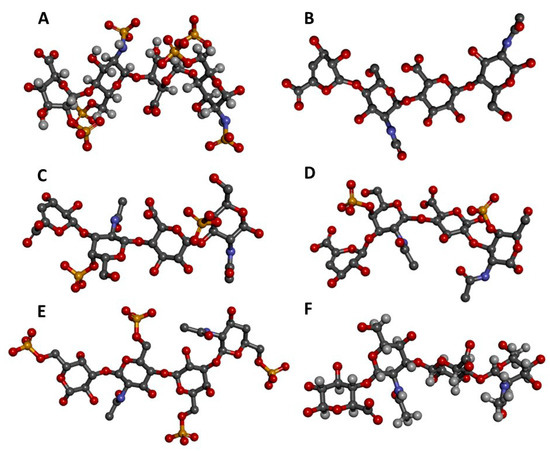 Figure 1. Three-dimensional tetrasaccharide representations, taken from files in the PDB as indicated, of: (A) Heparin [IdoA2S(α1→4)GlcNS6S(α1→4)IdoA2S(α1→4)GlcNS6S] from 1HPN; (B) heparan sulfate [GlcA(β1→4)GlcNAc(α1→4)GlcA(β1→4)GlcNAc] from 3E7J; (C) chondroitin 4-sulfate [GlcA(β1→3)GalNAc4S(β1→4)GlcA(β1→3)GalNAc4S] from 1OFM; (D) dermatan sulfate [IdoA(α1→3)GalNAc4S(β1→4)IdoA(α1→3)GalNAc4S] from 1OFL; (E) keratan sulfate [Gal6S(β1→4)GlcNAc6S(β1→3)Gal6S(β1→4)GlcNAc6S] from 1KES; and (F) hyaluronan [GlcA(β1→3)GlcNAc(β1→4)GlcA(β1→3)GlcNAc] from 2BVK. The atoms in the ball-stick representations are carbon (grey), nitrogen (blue), hydrogen (light grey); oxygen (red) and sulfur (yellow). A and F are NMR solution structures, and non-exchangeable protons are shown; the others are crystal structures so are shown without protons.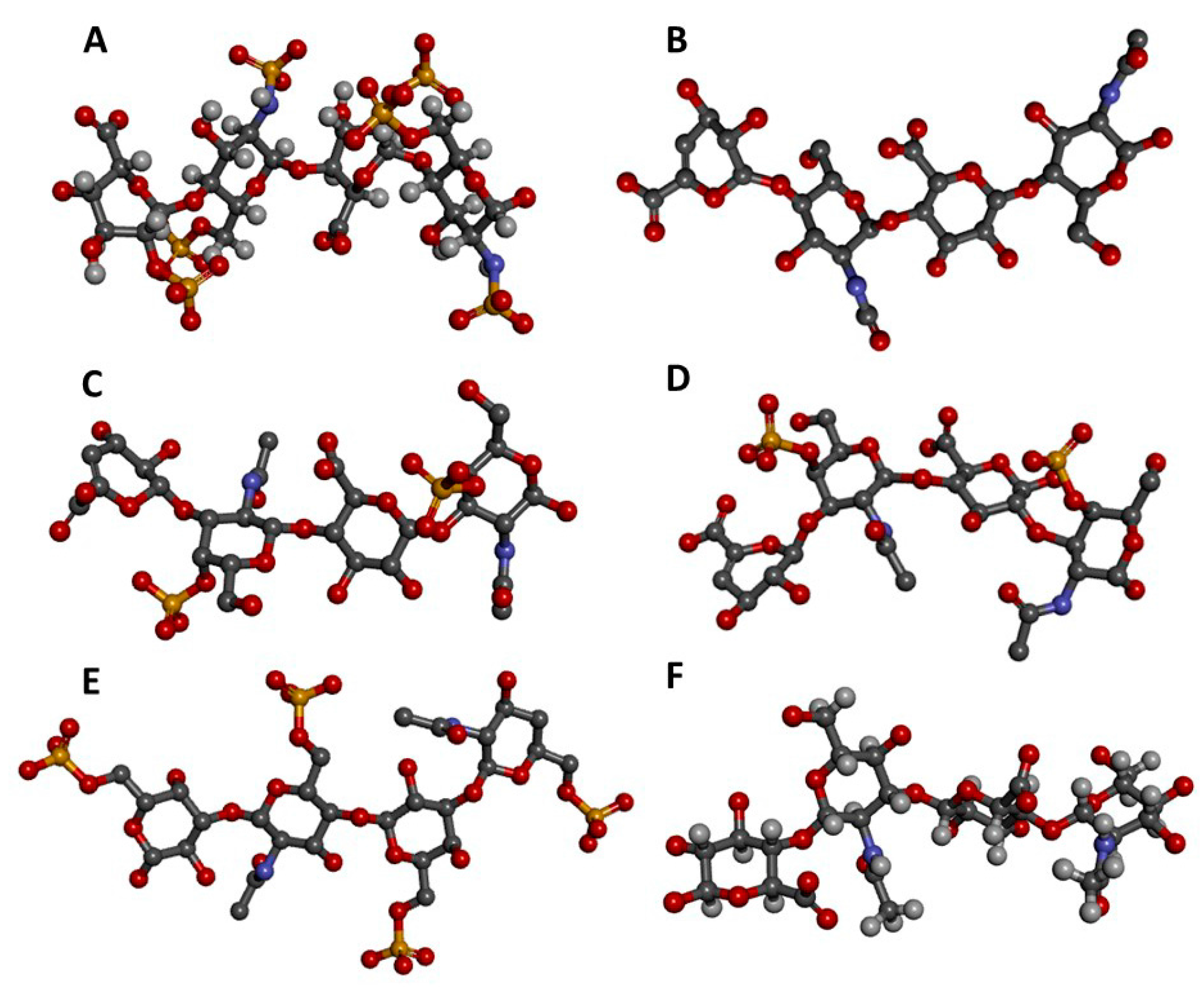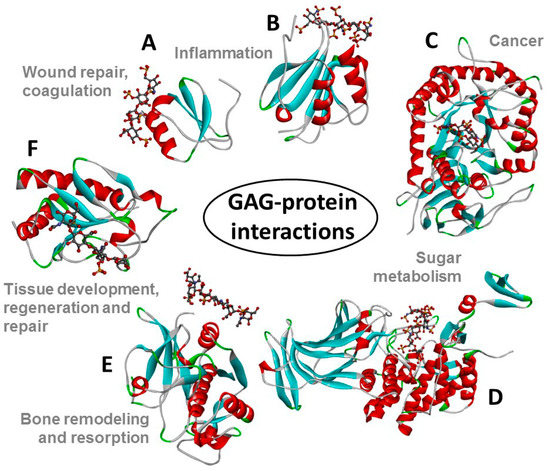 Figure 2.
Structural representations from the crystal structures of some illustrative GAG-protein complexes in PDB: (
A
) macrophage inflammatory protein 1-alpha (CCL3) monomer + Hp 4-mer (from 5D65); (
B
) platelet factor 4 (CXCL4) dimer + fondaparinux (antithrombin-high affinity Hp 5-mer) (from 4R9W); (
C
) human heparanase complex + Hp tetrasaccharide (from 5E9C); (
D
)
d
-glucuronyl C5-epimerase + Hp 6-mer (from 4PXQ); (
E
) cathepsin K monomer + DS 6-mer (from 4N79); and (
F
) Sonic Hedgehog (Shh) monomer + CS-A 4-mer (from 4C4M). The atoms of the GAG ligands represented in the ball-stick view are carbon (grey), nitrogen (blue), hydrogen (light grey); oxygen (red) and sulfur (yellow). In the proteins, the alpha-helices, beta-sheets, loops, and random coils are represented, respectively, in red, blue, green and grey. The pathophysiological systems in which these complexes play a role are indicated by grey fonts in the panel.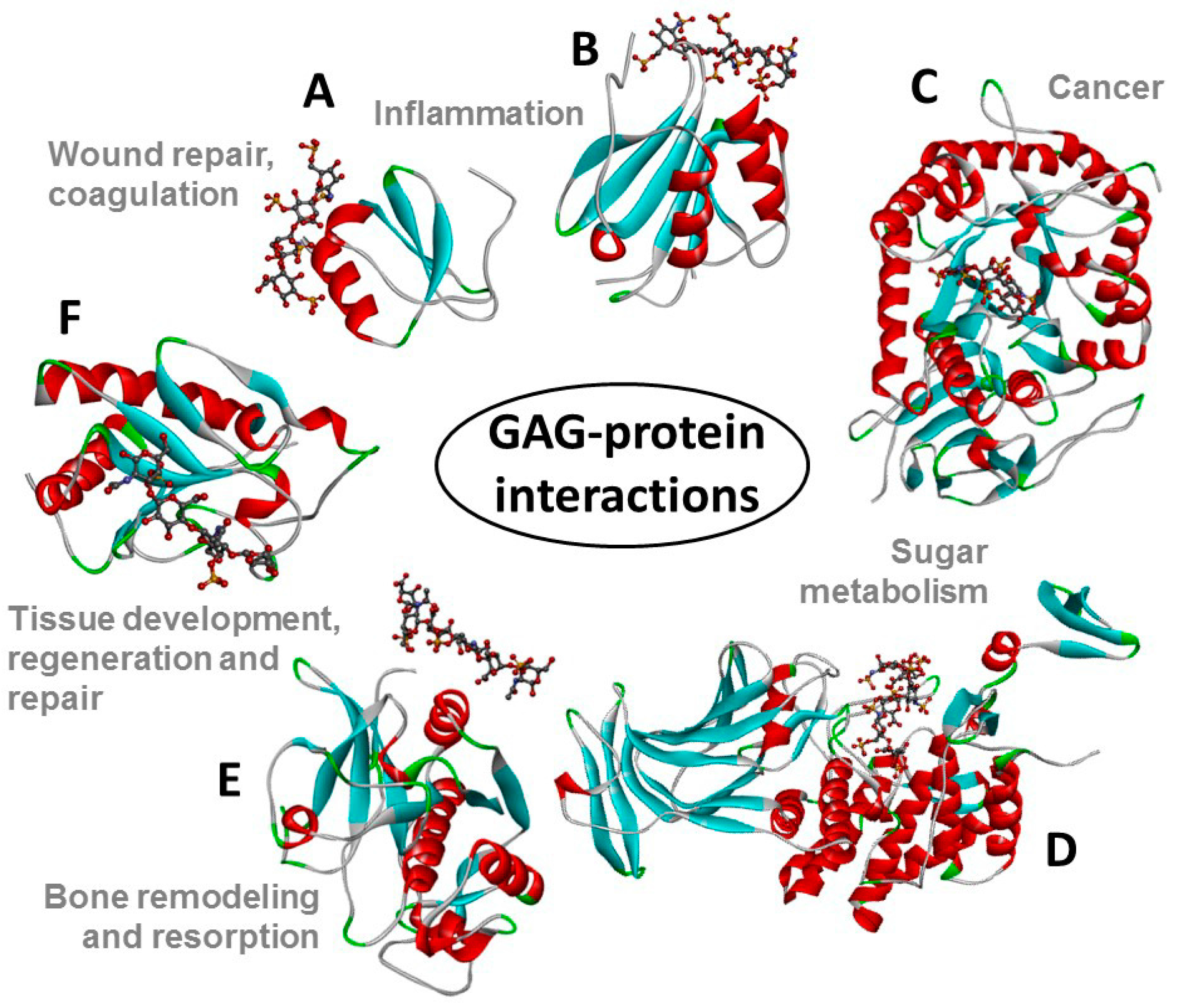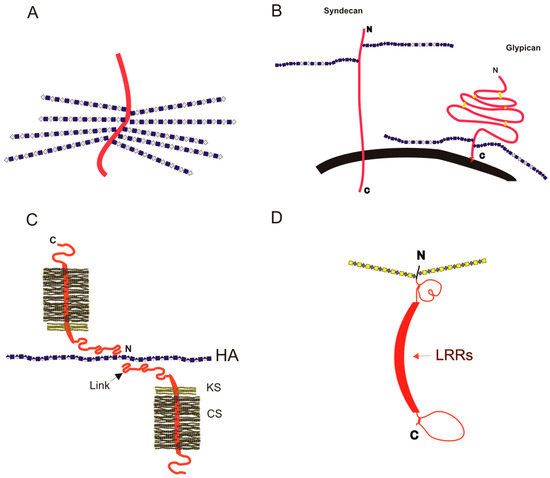 Figure 3.
Schematic cartoon images (not to scale) for PGs on the cell surface and in the ECM. Protein chains are shown as red ribbons, and GAG chains are depicted in a simplified form of the symbology recommended by the Consortium for Structural Glycomics [
40
]; (
A
) the intracellular PG serglycin, bearing closely packed Hp (or oversulfated chondroitin) chains, on a small peptide core; (
B
) cell-surface PGs syndecan and glypican; the cell membrane is shown in black; (
C
) the complex between aggrecan and HA, mediated by Link protein, that forms the structural basis for cartilage elasticity; and (
D
) a generic diagram of a SLRP, such as biglycan or decorin. Between the globular regions near the N- and C-termini the leucine-rich repeats (LRRs) form a curved structure; the dimers can form by interaction between the two offset concave faces of monomers.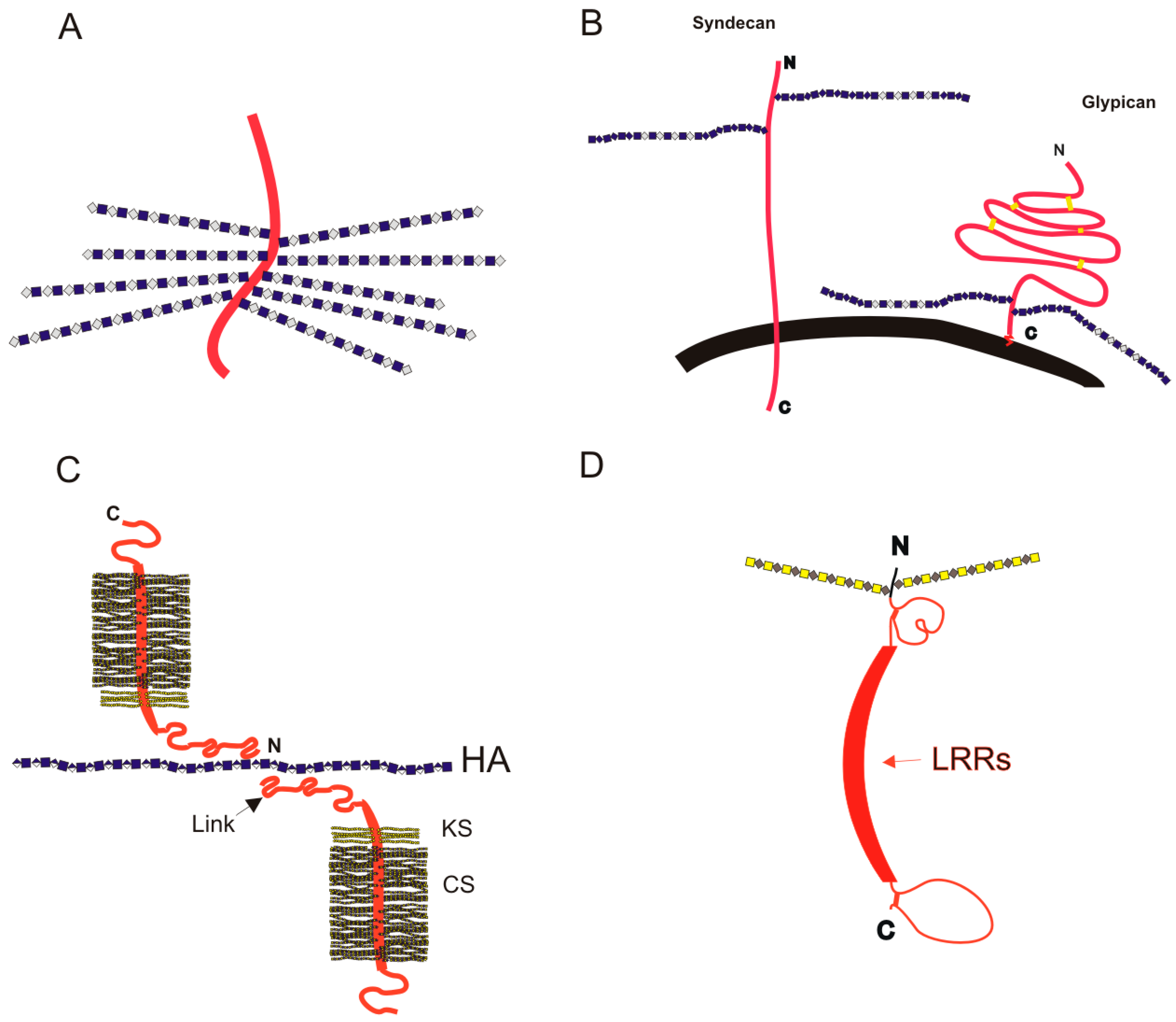 © 2018 by the authors. Licensee MDPI, Basel, Switzerland. This article is an open access article distributed under the terms and conditions of the Creative Commons Attribution (CC BY) license (http://creativecommons.org/licenses/by/4.0/).