Open Access This article is
freely available
re-usable
Article
Application of Nanoparticle Technology to Reduce the Anti-Microbial Resistance through β-Lactam Antibiotic-Polymer Inclusion Nano-Complex
1
Facultad de Ciencias Naturales, Universidad Icesi, Calle 18 No. 122-135, Cali 760031, Colombia
2
SIT Biotech GmbH, BMZ 2 Otto-Hahn-Str. 15, 44227 Dortmund, Germany
*
Author to whom correspondence should be addressed.
Received: 16 January 2018 / Accepted: 7 February 2018 / Published: 10 February 2018
Abstract
:
Biocompatible polymeric materials with potential to form functional structures in association with different therapeutic molecules have a high potential for biological, medical and pharmaceutical applications. Therefore, the capability of the inclusion of nano-Complex formed between the sodium salt of poly(maleic acid-
alt
-octadecene) and a β-lactam drug (ampicillin trihydrate) to avoid the chemical and enzymatic degradation and enhance the biological activity were evaluated. PAM-18Na was produced and characterized, as reported previously. The formation of polymeric hydrophobic aggregates in aqueous solution was determined, using pyrene as a fluorescent probe. Furthermore, the formation of polymer-drug nano-complexes was characterized by Differential Scanning Calorimetry-DSC, viscometric, ultrafiltration/centrifugation assays, zeta potential and size measurements were determined by dynamic light scattering-DLS. The PAM-18Na capacity to avoid the chemical degradation was studied through stress stability tests. The enzymatic degradation was evaluated from a pure β-lactamase, while the biological degradation was determined by different β-lactamase producing
Staphylococcus aureus
strains. When ampicillin was associated with PAM-18Na, the half-life time in acidic conditions increased, whereas both the enzymatic degradation and the minimum inhibitory concentration decreased to a 90 and 75%, respectively. These results suggest a promissory capability of this polymer to protect the β-lactam drugs against chemical, enzymatic and biological degradation.
Keywords:
polymer-drug association; inclusion nano-complex; an amphiphilic polymer; polysoaps; antibiotic resistance; ampicillin trihydrate
1. Introduction
Nowadays, bacterial antibiotic resistance stands as a significant public health problem in our society and, the considerable challenge of finding new antibiotic molecules or improving the activity of the existing ones demands a joint effort of multiple disciplines [
1
,
2
,
3
]. Antibiotic resistance results naturally from the inherent ability of bacteria to multiply rapidly and mutate as an adaptation strategy. However, patient misuse, the doctors' mis-prescription and their overuse in the food industry have exacerbated the problem of antibiotic resistance [
2
]. This issue is becoming even more significant due to the recent decrease in research efforts to produce new antibiotics [
4
]. Pharmaceutical companies, government agencies and academia are not investing enough resources to face the emerging strains of multidrug-resistant "superbugs". Many bacteria show resistance to antibiotics but
Staphylococcus aureus
stands as one of the most relevant due to the high morbidity and mortality due to its bacteremia [
5
,
6
]. The high prevalence of
S. aureus
in nosocomial infections and its high rate of penicillin resistance makes this pathogen the primary cause of resistant bacteria-related diseases, worldwide. The mechanisms of bacterial resistance are multiple and can be conjugate but the most common one involves the production of β-lactamases. These are a series of enzymes, which can hydrolyze the β-lactam ring present in the penicillin-like antibiotics [
7
].
Several alternatives have been developed to treat infections with antibiotics resistant to
S. aureus
. Initially, the first line of defense was the use of β-lactamase resistant molecules like methicillin and oxacillin. However, only two years after their introduction a
S. aureus
strain resistant to methicillin (MRSA) emerged [
8
,
9
,
10
]. Today, MRSA strains are endemic in hospitals worldwide. MRSA infections are commonly treated with non-β-lactam antibiotics like clindamycin but there are resistant strains as well. These strategies involve the use of new molecules that merely test the refined ability of the microbes to evolve and adapt. The continuous emergence of resistant strains highlights the need for the development of new strategies to treat bacterial infections. Recent plans that seek to improve the effectiveness of conventional antibiotics against resistant bacteria include their use along with inhibitors of β-lactamases [
11
,
12
] and, to a lesser extent, the control of β-lactamase expression [
13
,
14
]. However, there is few available information on the use of polymeric materials to avoid antibiotic biological degradation [
15
,
16
,
17
]. In aqueous solution, some amphiphilic polymers like polysoaps, hydrophobically modified polymers and block polymers may form hydrophobic pseudo-phases capable of solubilizing organic molecules [
18
,
19
,
20
,
21
,
22
,
23
,
24
].
The sodium salt of poly(maleic acid-
alt
-octadecene), named here as PAM-18Na, can form different hydrophobic "pseudo-phases" in a concentration-dependent way. At very low concentrations, PAM-18Na forms unimolecular aggregates, i.e. each polymer chain collapses forming a compact coil. Whereas, in more concentrated solutions, PAM-18Na forms multimolecular aggregates. This polymer has also been able to solubilize different organic molecules such as alkyl-phenols [
25
] and
N
-alkyl-nitroimidazoles [
22
]. Based on these observations we hypothesized that PAM-18Na polymer could be useful to protect β-lactam antibiotics from the action of β-lactamases and thus improves their effect on antibiotic-resistant bacteria. In this work, we evaluated the ability of the PAM-18Na polymer to prevent the chemical and enzymatic degradation of ampicillin trihydrate when subjected to severe acid conditions and purified β-lactamase obtained from
P. fluorescens
, respectively. Likewise, we compared the effect of the PAM-18Na polymer on the antibiotic activity of AT over several
S. aureus
strains. Our results suggest a promissory capability the polymer PAM-18Na to protect the β-lactam drugs against chemical and biological degradation through the formation of a polymer-drug inclusion nano-complex in aqueous media.
2. Materials and Methods
2.1. Materials
Poly(maleic anhydride-
alt
-octadecene) denominated like PAM-18 with average Mw 30,000–50,000 and Lucifer yellow were obtained from Sigma-Aldrich
®
, ampicillin trihydrate—here referred to as AT—was from Fersinsa Gb
®
(Coahuila, Mexico), recombinant β-lactamase from
Pseudomonas fluorescens
was obtained from Sigma
®
(Saint Louis, MO, USA). It was received lyophilized and suspended according to manufacturer indications. Ultrapure water was obtained with an Elix Essential Millipore
®
(Darmstadt, Germany) purification system. All other reagents were from Merck
®
(Kenilworth, NJ, USA).
Bacterial strains: S. aureus
strains ATCC 25923, ATCC 29213 y ATCC 43300 were purchased from Microbiologics Inc.
©
(St Cloud, MN, USA) and were reconstituted according to the instructions.
2.2. Obtention and FTIR Characterization of PAM-18Na Polymer
PAM-18Na was obtained as previously described [
22
]. Briefly, 100 g of PAM-18 was hydrolyzed in 2 L of ultrapure water mixed with NaOH in a 1:1 molar ratio (according to PAM-18 copolymer unit), where the polymeric material obtained was named PAM-18Na. The modification was carried out at room temperature for 24 h under moderate agitation (200 rpm). Subsequently, the polymer solution was dialyzed using cellulose membrane (12 kD cut off size) and pre-concentrated through a stirred ultrafiltration cell (Amicon
®
cells 8400, Merk-Millipore, Billerica, MA, USA) with a 12-kDa cut-off polyethersulfone (PES) membrane. Subsequently, the polymer solution was lyophilized (model FDU 1110, Eyela, Tokyo Rikakikai, Tokyo, Japan) until obtaining solid materials with a yield greater than 90%, which was sieved with 75 μm mesh (number 200).
2.3. Preparation of Inclusion Nano-Complexes in Aqueous Media
The inclusion nano-complexes between TA and the PAM-18Na polymer were formed in situ. For this, a defined amount of PAM-18Na polymer was added in ultra-pure water until reaching a homogeneous dispersion with desired concentration. Then, the β-lactam drug was added "little by little" to the polymeric dispersion, using moderate magnetic stirring (200 rpm) at room temperature until obtaining a translucent dispersion.
2.4. Steady-State Fluorescence Assay
The presence of polymeric hydrophobic aggregates in aqueous media formed by the PAM-18Na was evidenced through by the steady-state fluorescence study using a microplate reader (Synergy h1 hybrid multi-mode) and pyrene as a fluorescent probe. A stock solution of pyrene (2.66 × 10−5 M) was prepared to which micro-volumes of PAM-18Na polymeric solution (1 mg/mL) were added until a pyrene concentration of 1.33 × 10−6 M was obtained. The excitation wavelength was set at 337 nm and the intensities of the third (I3) and first (I1) peaks of the pyrene emission spectrum, (at 382 nm and 373 nm, respectively) were measured.
2.5. Characterization of Drug-Polymer Inclusion Complex
2.5.1. Thermal Characterization of the Polymer-Drug Blend
PAM-18Na polymer, AT and polymer-drug solid mixture in different proportions was studied on a DSC Q2000 (TA Instruments) calibrated with indium Tm = 155.78 °C, ΔHm = 28.71 J/g. The DSC analysis was performed using three cycles of heating and cooling from −90 °C (183.15 ° K) to 200 °C (523.15 ° K) with a heating rate of 20 °C/min.
2.5.2. Association Efficiency
Independent solutions of AT and PAM-18Na polymer were prepared using several phosphate buffer solutions, having pH values of 4.0, 7.0 and 10.0. Each solution was fixed to an ionic strength of 10 mM. For AT, the solution concentration was 40 µg/mL, while the PAM-18Na amount was set to form a 1:1 polymer-drug molar ratio according to PAM-18Na co-monomeric unit. Equal volumes of both solutions were mixed by ultrasonic stirring for 1 h. Then, each solution was settled inside an ultrafiltration tube (VWR, Modified PES 10 kDa, 500 µL) and centrifuged at 9000 G (10.000 rpm) for 7 min. From the filtrate obtained (lower fraction in the ultrafiltration tube), to quantify the amount of AT. The absorbance was measured in a microplate reader (Synergy h1 hybrid multi-mode) at a wavelength of 256 nm and the amount of AT was determined by interpolation from the calibration curve built at concentrations of 2, 5, 10, 20 y 40 μg/mL. The amount of AT encapsulated or contained in the PAM-18Na polymeric hydrophobic aggregates was calculated using the following expression:
where
AE
corresponds to the association efficiency,
Qt
is the initial total amount of added
AT
and
Qs
is the filtrated amount after centrifugation.
2.5.3. Zeta Potential and Size Measurements
Each of the zeta measures was performed in triplicate using a Zetasizer Nano ZSP (Malvern Instrument, Malvern, UK) at 25 °C. The first part of the study was focused on characterizing PAM-18Na polymer in aqueous media regarding the pH of the media. In this case, 40 µg/mL polymer solutions were prepared, where the pH was adjusted with concentrated solutions of NaOH and HCl and slightly shaken for 48 h. The second study was focused on the characterization of the drug-polymer interactions between PAM18-Na and ampicillin trihydrate in aqueous media. In this case, each solution was prepared using several phosphate buffer solutions, with different pH values of 4.0, 7.0 and 10.0 and was fixed to the ionic strength of 10 mM. Each measurement was performed with freshly prepared samples. To the aim of evaluating the impact of AT loading into the hydrophobic polymeric aggregates formed by PAM-18Na, different amounts of AT were added until achieving a final concentration of 0.23 µg/mL, corresponding to 1:1 polymer-drug molar ratio according to the PAM-18Na co-monomeric unit. Each of these studies was carried out by auto-titration with independent cells, where measurements of size were carried out using a quartz flow cell (ZEN0023), while the zeta potential was carried out with a disposable folded capillary cell (DTS1070).
2.5.4. Viscometric Measurements
The characterization of the polymer-drug interactions was also studied by viscosimetry. A viscometer (microVisc TC, RheoSense, San Francisco, CA, USA) coupled to a low viscosity chip (16HA05100243) was used. Each measurement was performed using a 1:1 polymer-drug molar ratio according to a co-monomeric unit of PAM-18Na at 25 °C and at different pH values (1, 4, 7 and 10), with freshly prepared samples and in triplicate as described above.
2.6. Degradation Assays
2.6.1. Chemical Degradation Assay
Due to the remarkable degradability of the beta-lactam ring in AT respect to temperature and media pH [
26
], a stability test to stress conditions, in the presence and absence of the PAM-18Na polymer was performed to evaluate the potential of this polymer as protector of the β-lactam drugs. For this, different initial concentrations of AT (1, 3 and 5 mg/mL) in a strong acidic media (pH 1.2) were prepared and stirred for 6 h at 40 °C. Consecutively, each sample was taken every 10 min and analyzed by UHPLC with a photo-diode-array detector (Lachrom ultra Hitachi, VWR, Tokio, Japon). This assay was performed by in triplicate.
2.6.2. Enzymatic Degradation Assay
The β-Lactamase activity was monitored by measuring the hydrolysis of the β–lactam ring of ampicillin at 204 nm, as reported previously [
27
,
28
]. The assays were carried out by mixing 125 µL of a β-Lactamase solution (38 µg/mL) with a solution containing 800 µL of AT (81.25 µM) and 1325 µL of phosphate buffer 50 mM (pH 7.0) in a quartz cell. The reactions were carried out at 25 °C for 20 min, measuring the absorbance every 2 min using a UV spectrophotometry (Shimadzu UV model 1800) coupled to a temperature control system). Initial rates (
v
0
) were calculated using the linear portion of the absorbance vs. time plot for each enzymatic reaction. The β-Lactamase activity units (U) were defined as the amount of enzyme that hydrolyzes 1.0 nmol of AT per minute at 25 °C and pH 7.0. The AT concentration in the enzymatic assay was calculated using a standard curve made by measuring the absorbance at 204 nm of standard solutions ranging from 8.13 to 81.25 µM. The β-Lactamase activity in the presence of the PAM-18Na polymer was calculated as described above but using a solution prepared by mixing ampicillin and the polymer in a 1:1 molar ratio in phosphate buffer 50 mM (pH 7.0).
2.6.3. Biological Degradation Assays
Ampicillin Susceptibility
AT susceptibility for each of the
S. aureus
strains used in this study (
S. aureus
ATCC 25923,
S. aureus ATCC
29213 and
S. aureus
ATCC 43300) was measured following the guidelines of the Clinical and Laboratory Standards Institute (CLSI) [
29
]. In brief, a culture was grown in a petri dish using Mueller-Hinton (Scharlab
®
, Barcelona, Spain) agar and the diameter of the inhibition halo around an ampicillin Sensi-Disc (BD) was measured. For each bacterial strain, the average of four replicates was used in the analysis.
β-Lactamase Production
The β-Lactamase production, in each of the four
S. aureus
strains, was assayed by the chromogenic cephalosporin nitrocefin [
30
,
31
]. For each strain, three colonies were inoculated on top of a Nitrocefin disc (Abtek Biologicals, Liverpool, UK) and a color change was monitored as an indicator of β-Lactamase enzymatic activity according to manufacturer instructions.
Minimum Inhibitory Concentration (MIC)
Ampicillin trihydrate MIC was determined by the broth microdilution method according to the CLSI guidelines [
32
]. In each case, the MIC was determined for AT, PAM-18Na polymer and the mix of PAM-18Na and AT, in a 1:1 ratio (based on the copolymer unit), as previously described. The concentrations evaluated were 0.0625, 0.125, 0.25, 0.35, 0.5, 2, 8, 32, 128, 192, 256 µg/mL, respectively. The assays were performed in 96 round bottom well plates (BD) using 500 µL of the appropriate
S. aureus
strain grown in Mueller-Hinton broth (Scharlau
®
) at a turbidity of 0.1 absorbance units. Twenty-four replicates were performed for each concentration and visually inspected for the presence of a bacterial cell pellet.
2.7. Data Analysis
Data analysis for MIC was carried out using the Microsoft® Excel and Statgraphics Centurion XV (Version 15.2.06 software). The effect of ampicillin, PAM-18Na polymer and polymer-drug mix, on culture growth, was determined with a 95% confidence interval.
3. Results and Discussion
4. Conclusions
Here we demonstrated the formation of hydrophobic nano-aggregates in aqueous media by PAM-18Na, which could generate nanoparticles as polymeric intra-aggregates that efficiently incorporated ampicillin trihydrate, leading to the loss of organoleptic characteristics, as well as the avoidance of its degradation by: (i) extreme acidic conditions and (ii) several enzyme beta-lactamases. Furthermore, the complex formed has a size of around 200 nm and a slightly negative neutral surface charge. Finally, our results suggest that the polymer PAM-18Na can be a useful alternative to increase the effectiveness of conventional antibiotics against resistant bacterial strains.
Acknowledgments
The authors wish to thank ICESI University for the internal grant 041312, and Tecnoquimicas S.A. for providing the ampicillin material.
Author Contributions
Constain H. Salamanca, Cristhian J. Yarce and Gustavo R. Rivera obtained the polymer and carried out all the physicochemical characterizations, while Yony Roman did the enzymatic assay and Andrés F. Davalos performed the entire microbiological test.
Conflicts of Interest
The authors declare no conflict of interest.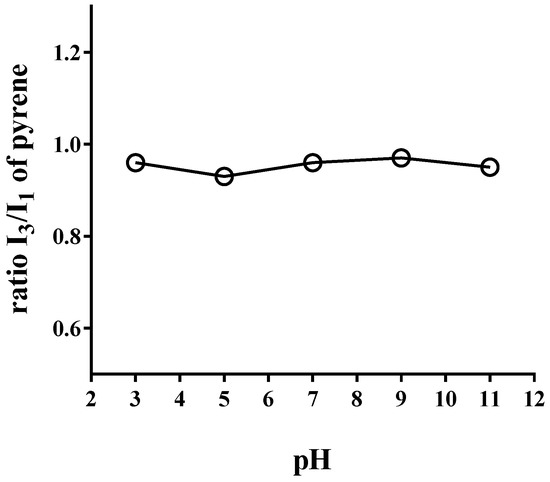 Figure 1. I3/I1 pyrene ratio of emission spectra in aqueous solutions of PAM-18Na at different pH and solvent with different polarity degree.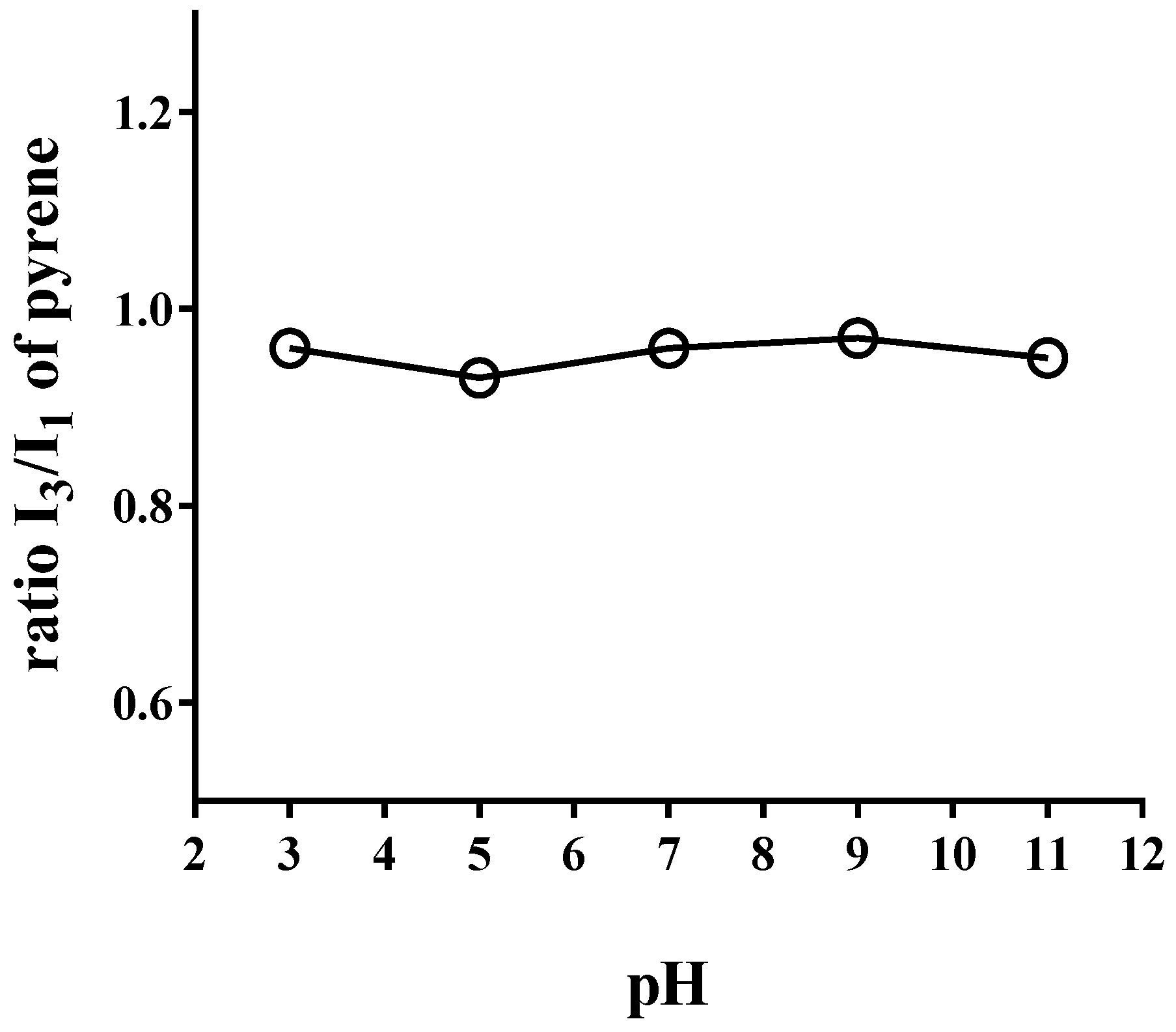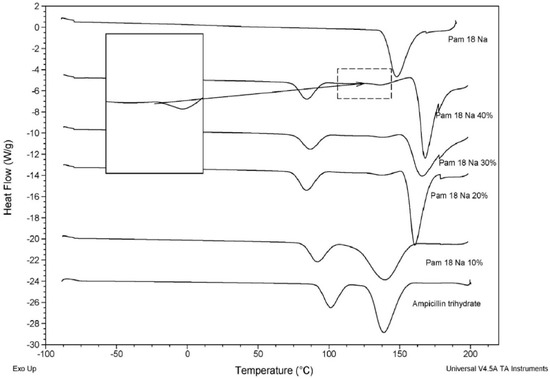 Figure 2. DSC Thermograms of ampicillin trihydrate and PAM-18Na polymer in solid blends at different proportions.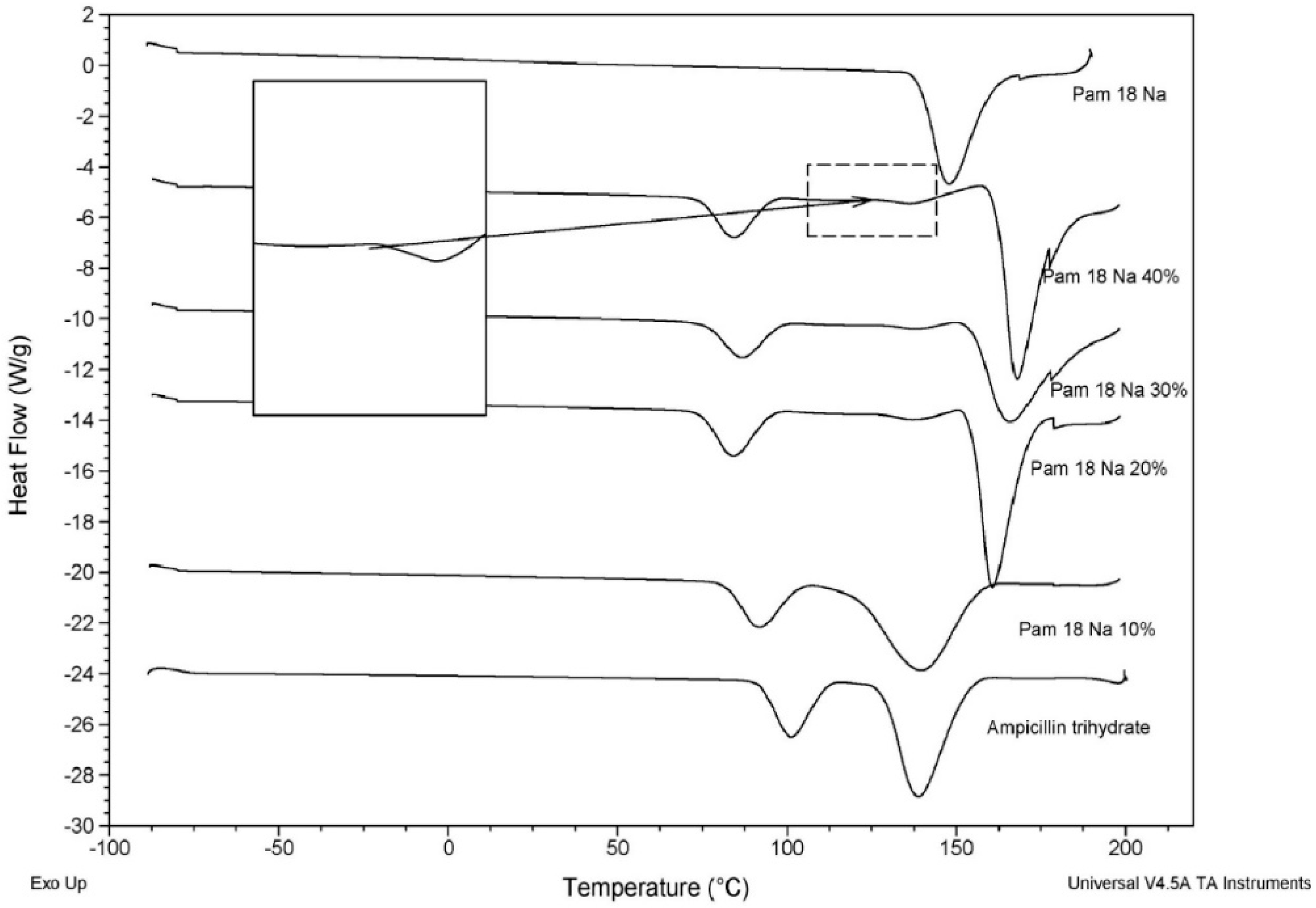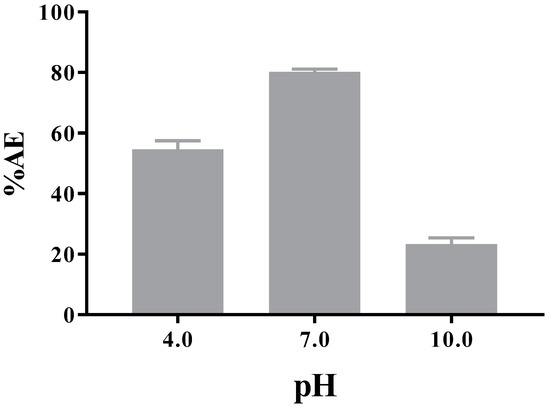 Figure 3. Association efficiency of ampicillin trihydrate by the PAM-18Na polymer in aqueous media to different pH values at 25 °C.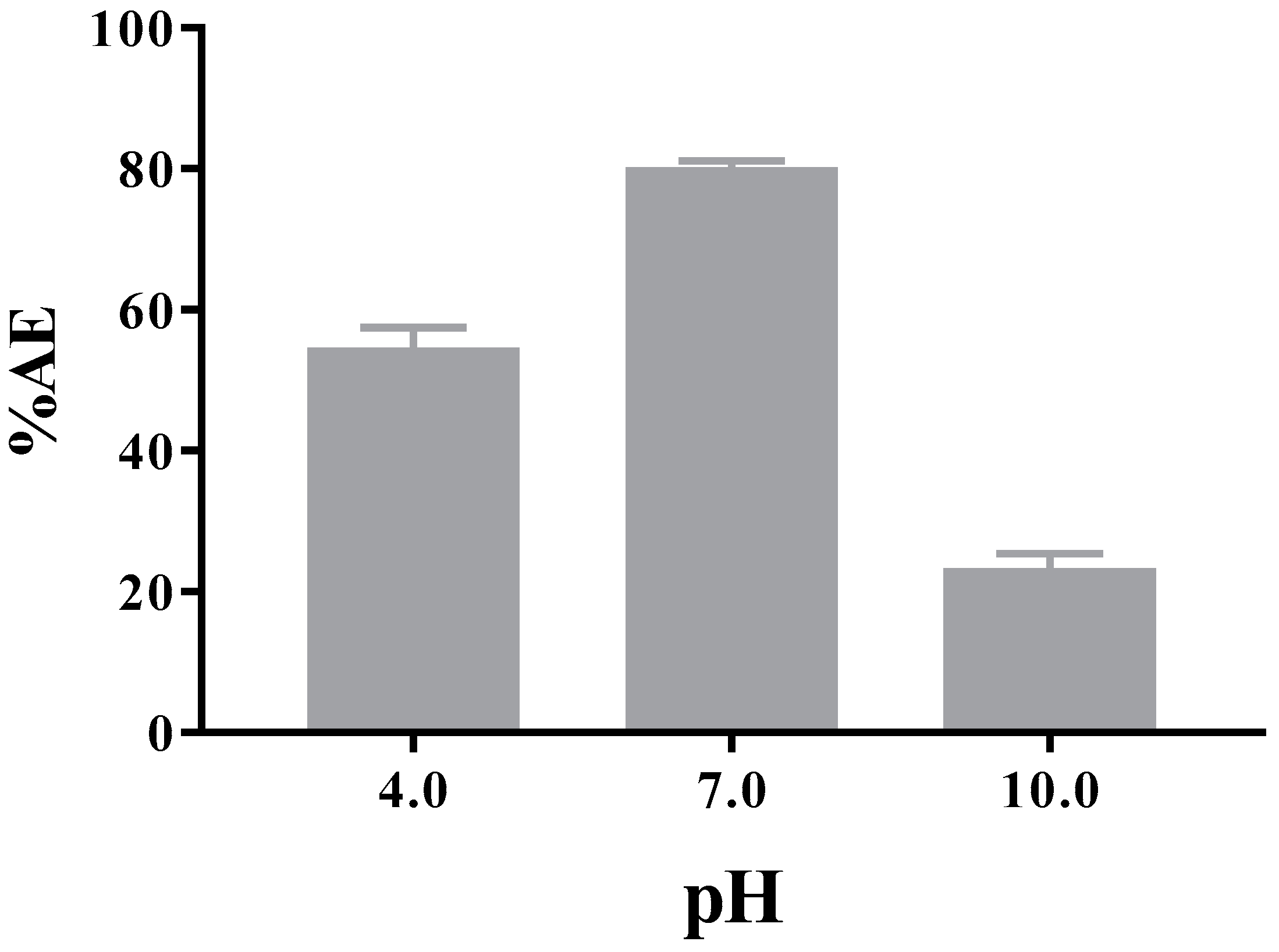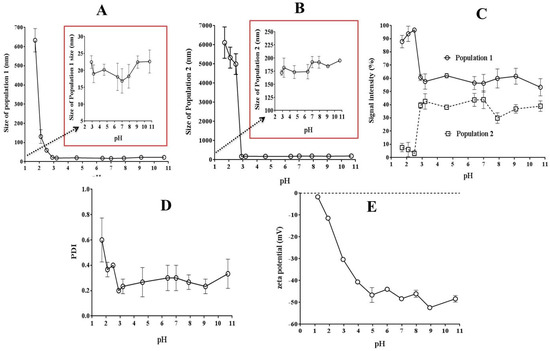 Figure 4. Size, signal intensity, polydispersity (PDI) and zeta potential of PAM-18Na in aqueous media regarding media pH at 25 °C.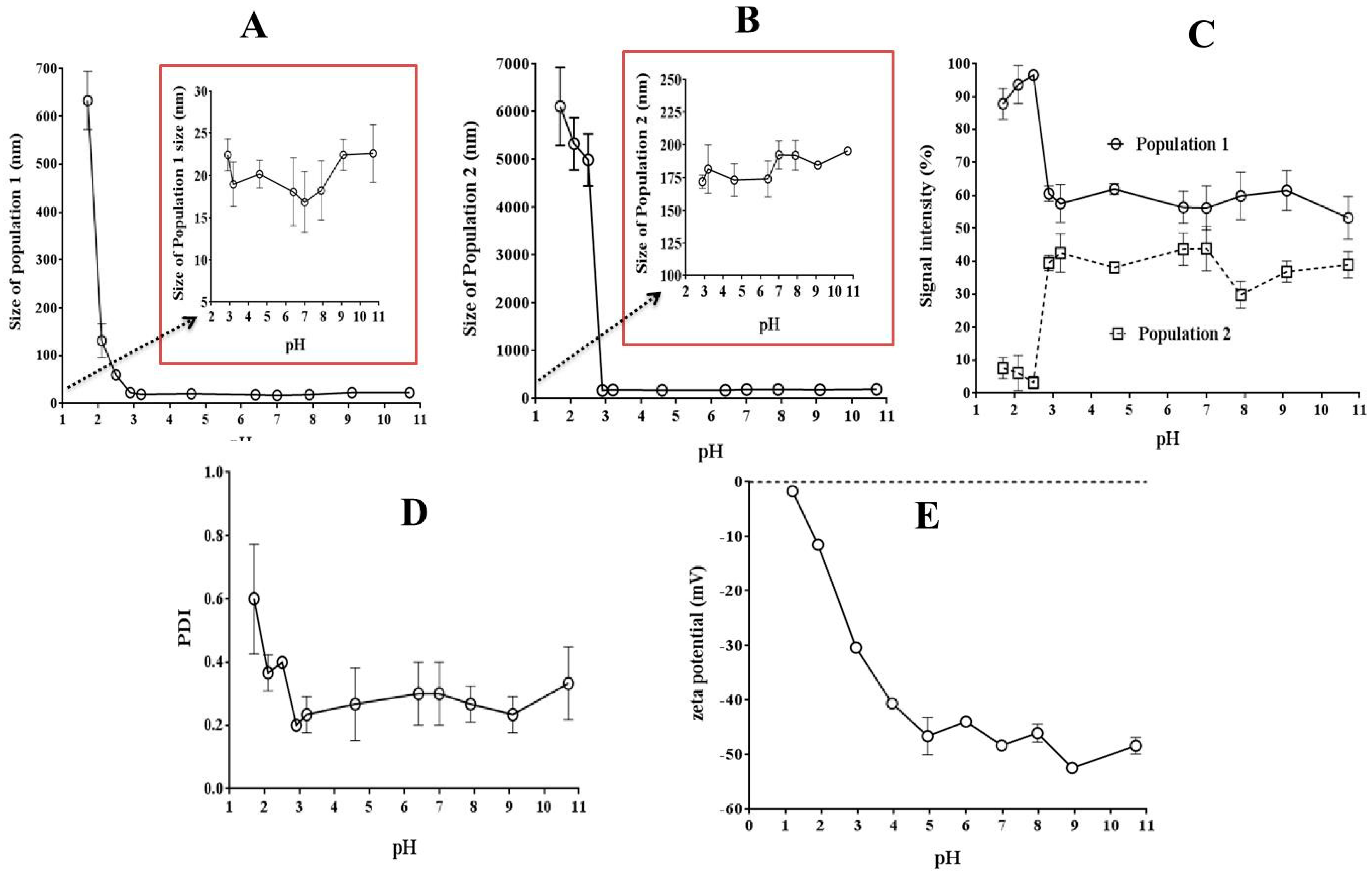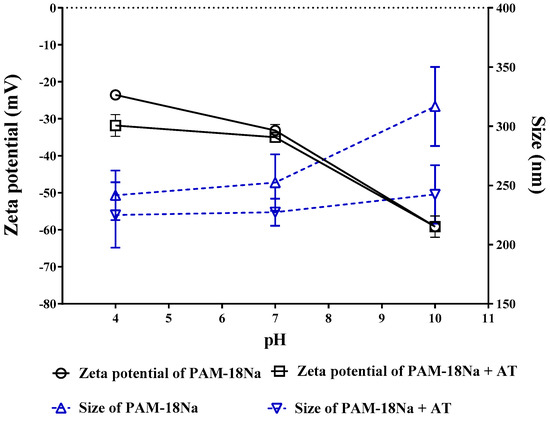 Figure 5. Influence of pH on size and zeta potential values of PAM-18Na in aqueous media in absence and presence of 1:1 molar ratio of Ampicillin Trihydrate at 25 °C.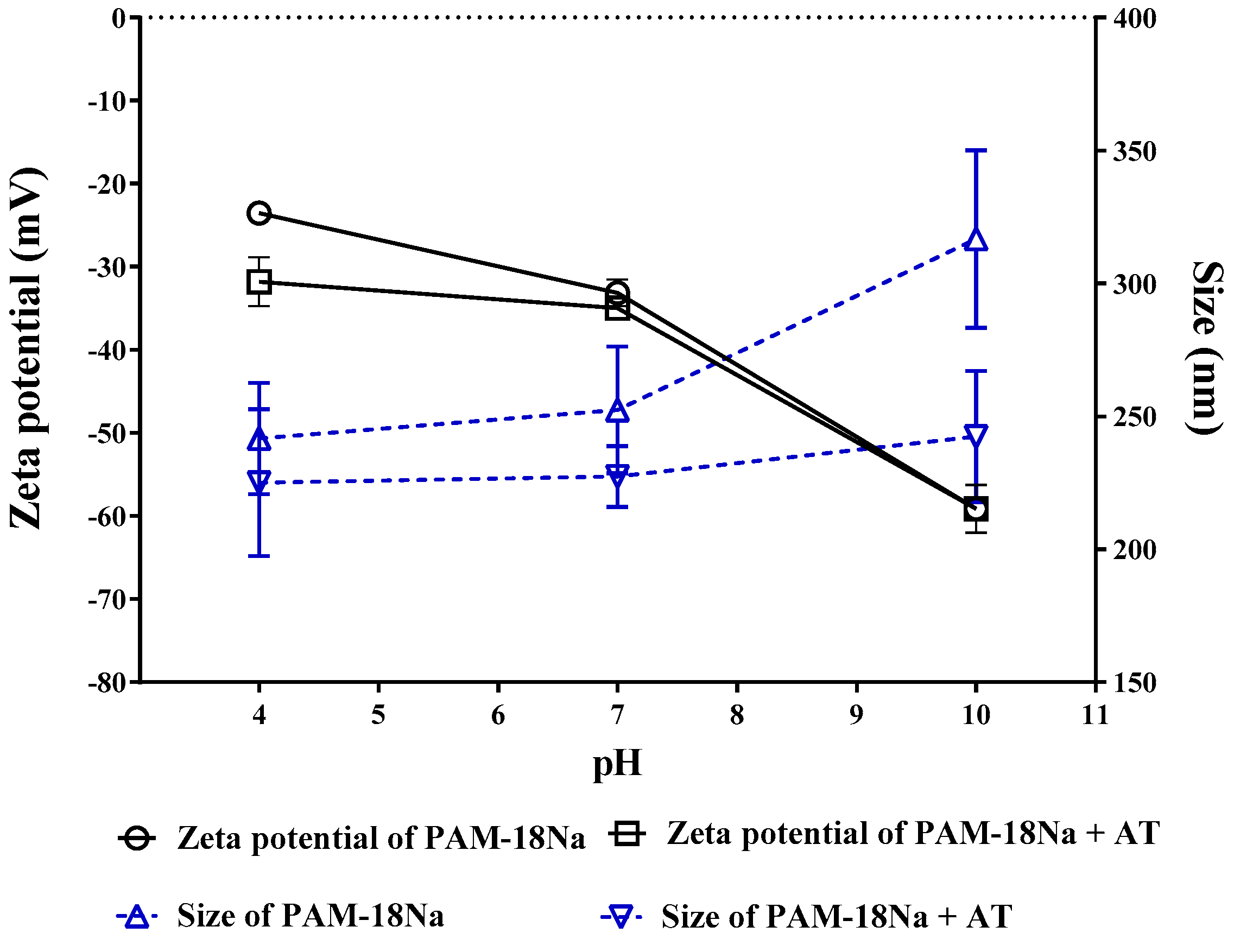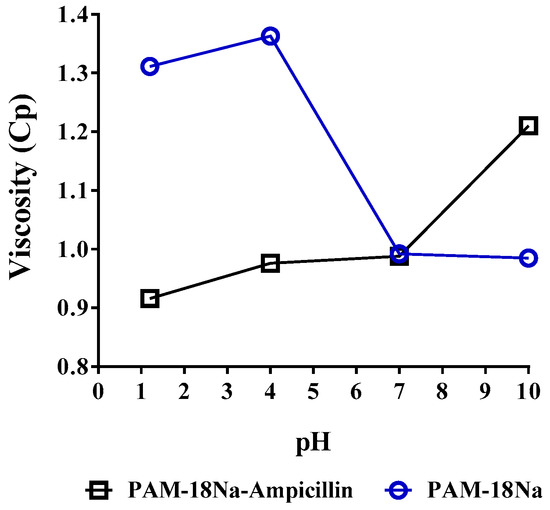 Figure 6. Viscometric Profile of PAM-18 aqueous at different pH in the absence and presence of Ampicillin trihydrate in 1:1 molar ratio at 25 °C.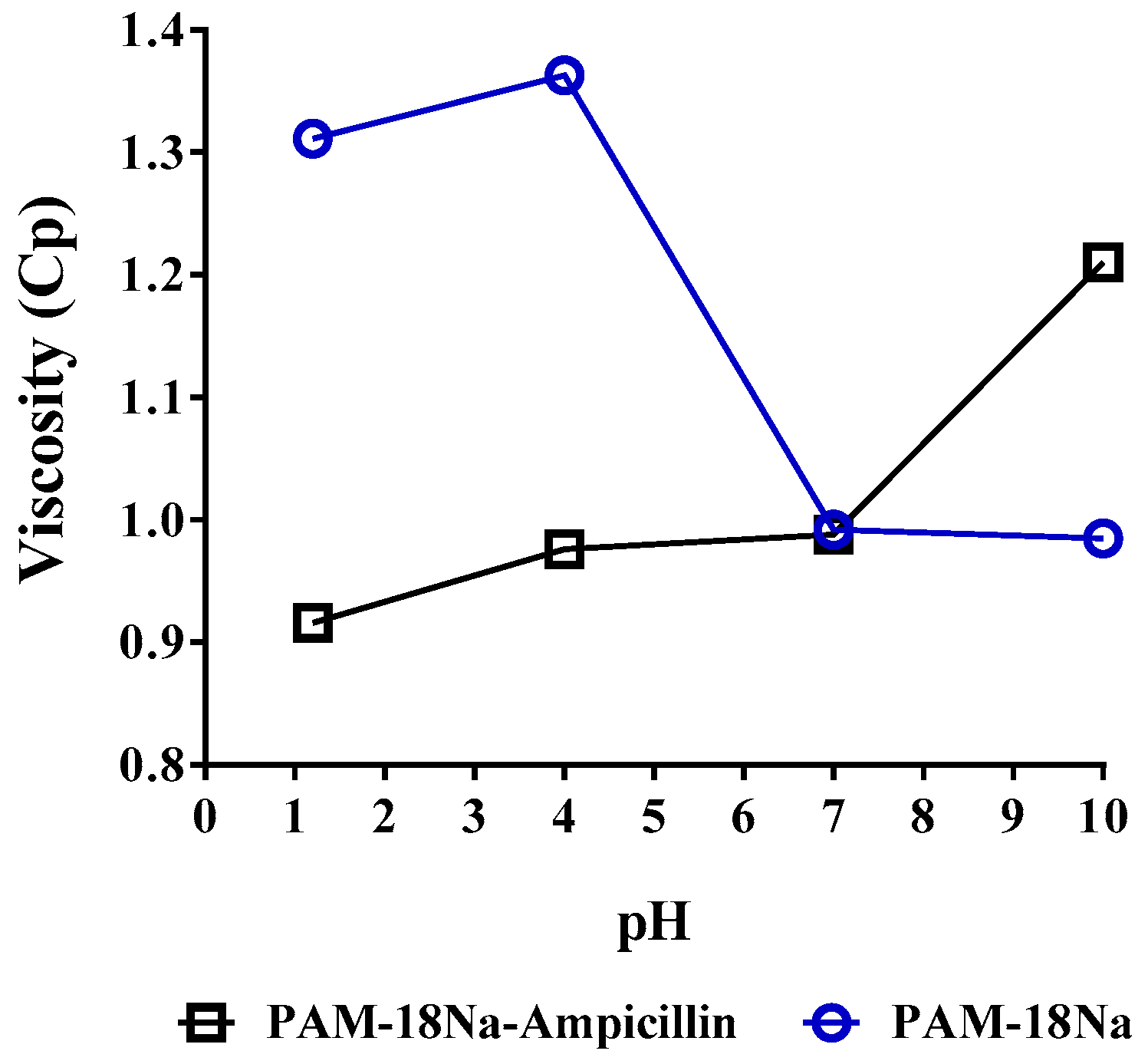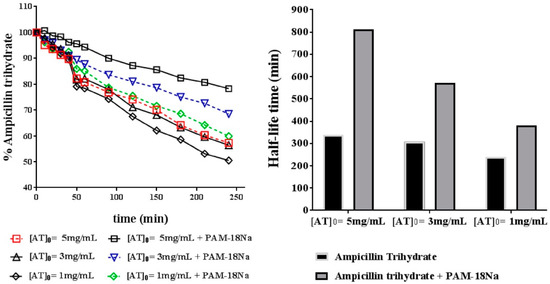 Figure 7. (Left) degradation profile of ampicillin trihydrate (AT) at different concentrations under acidic conditions, pH: 1.2 at 40 °C. (Right) calculated half-life of AT under same conditions.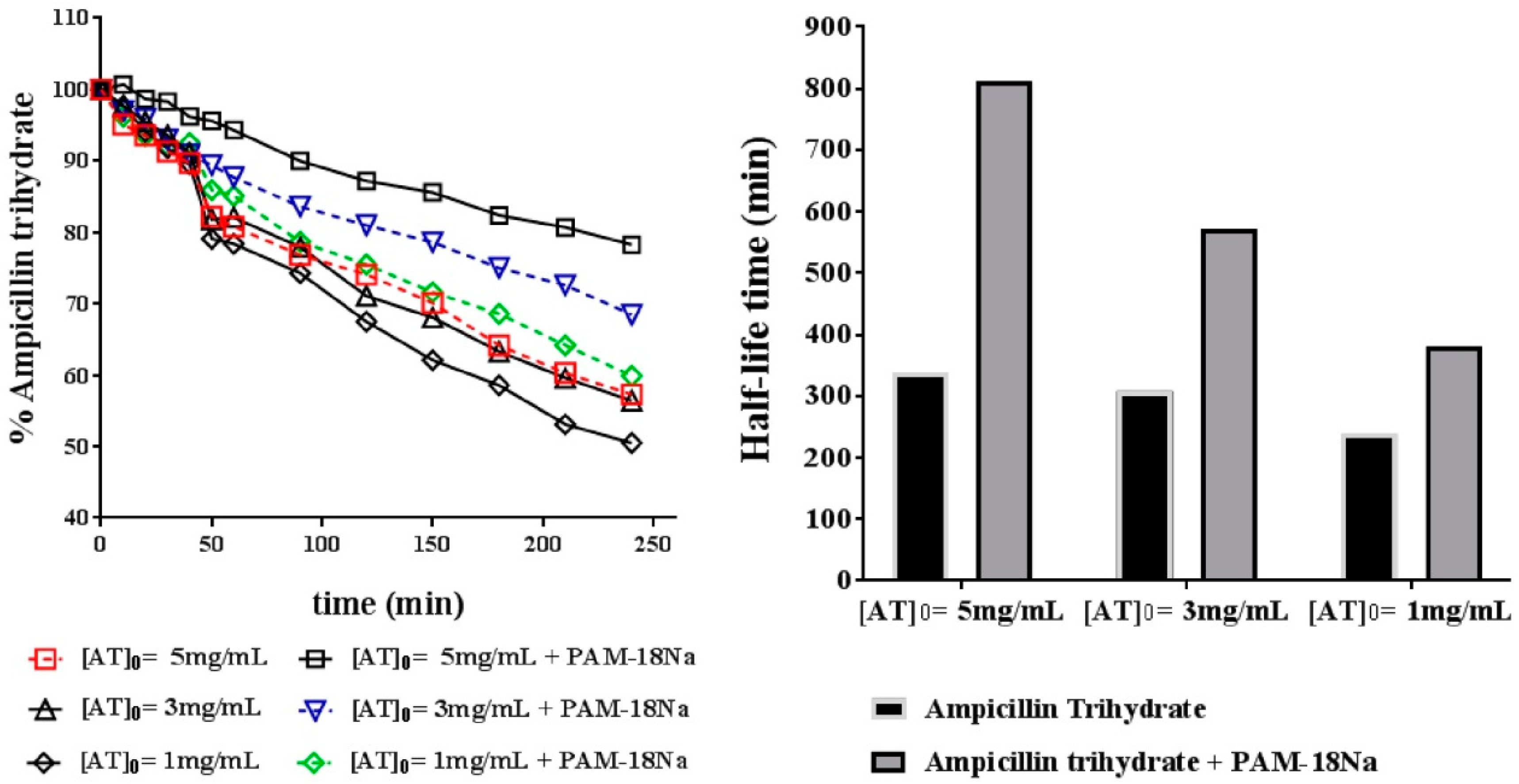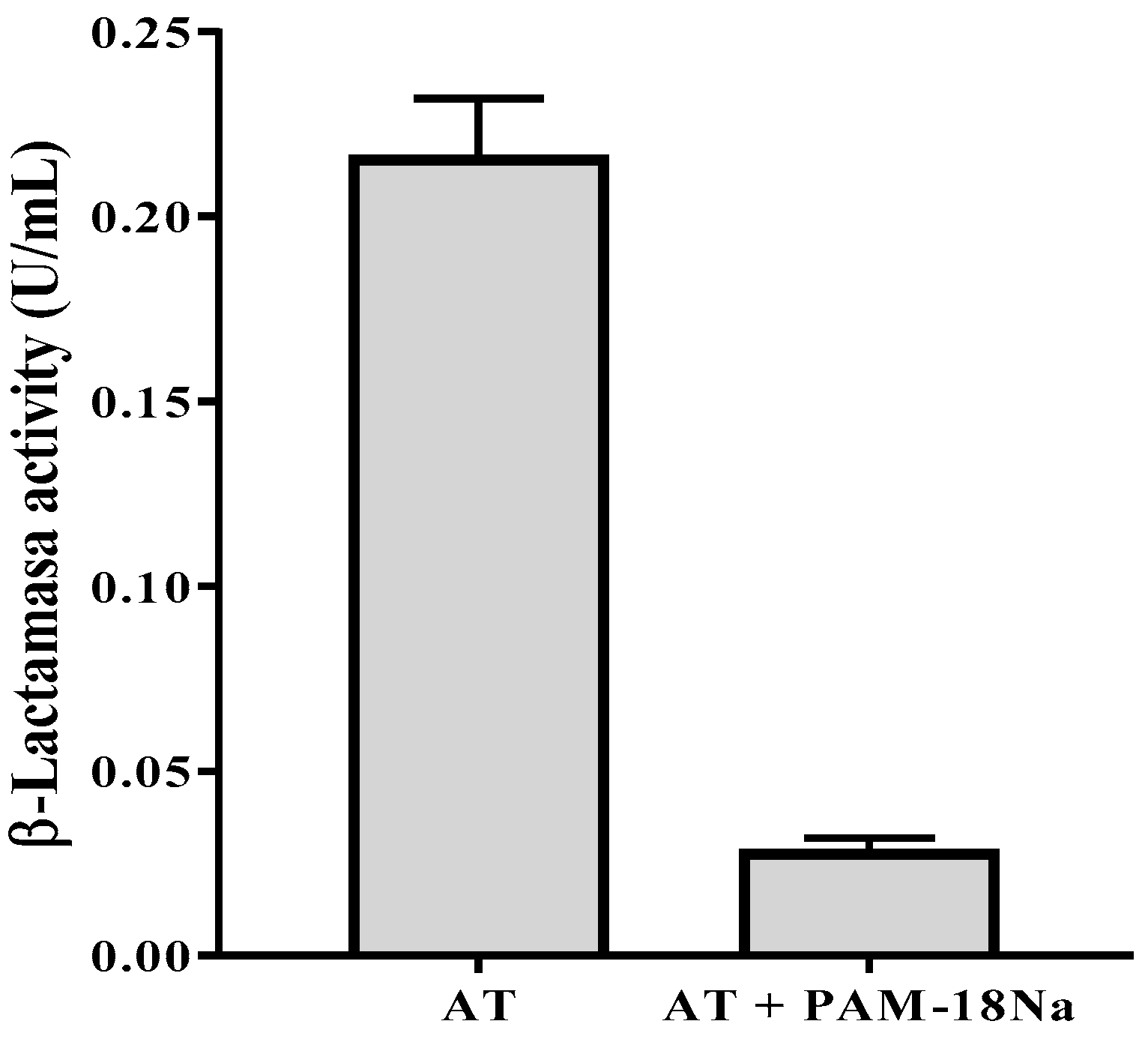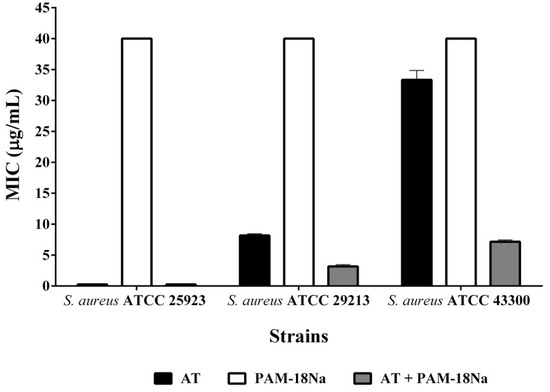 Figure 9.
Minimum Inhibitory Concentration (MIC) of ampicillin trihydrate (AT) in the absence and presence of the PAM-18Na polymer in different
S. aureus
Strains. Table 1. Ampicillin disk diffusion tests for various

S. aureus

strains.
Strain
Average Diameter (mm)
Standard Deviation

S. aureus

ATCC 25923 (sensitive)
33.99
0.52

S. aureus

ATCC 29213 (resistant)
20.15
0.93

S. aureus

ATCC 43300 (resistant)
12.19
0.51

© 2018 by the authors. Licensee MDPI, Basel, Switzerland. This article is an open access article distributed under the terms and conditions of the Creative Commons Attribution (CC BY) license (http://creativecommons.org/licenses/by/4.0/).