Comparative Phylogenomics, a Stepping Stone for Bird Biodiversity Studies
1
Section for Ecology and Evolution, Department of Biology, University of Copenhagen, DK-2100 Copenhagen, Denmark
2
China National GeneBank, BGI–Shenzhen, Shenzhen 518083, China
3
Center for Excellence in Animal Evolution and Genetics, Chinese Academy of Sciences, Kunming 650223, China
4
State Key Laboratory of Genetic Resources and Evolution, Kunming Institute of Zoology, Chinese Academy of Sciences, Kunming 650223, China
*
Authors to whom correspondence should be addressed.
Received: 8 June 2019 / Revised: 7 July 2019 / Accepted: 15 July 2019 / Published: 18 July 2019
Abstract
Birds are a group with immense availability of genomic resources, and hundreds of forthcoming genomes at the doorstep. We review recent developments in whole genome sequencing, phylogenomics, and comparative genomics of birds. Short read based genome assemblies are common, largely due to efforts of the Bird 10K genome project (B10K). Chromosome-level assemblies are expected to increase due to improved long-read sequencing. The available genomic data has enabled the reconstruction of the bird tree of life with increasing confidence and resolution, but challenges remain in the early splits of Neoaves due to their explosive diversification after the Cretaceous-Paleogene (K-Pg) event. Continued genomic sampling of the bird tree of life will not just better reflect their evolutionary history but also shine new light onto the organization of phylogenetic signal and conflict across the genome. The comparatively simple architecture of avian genomes makes them a powerful system to study the molecular foundation of bird specific traits. Birds are on the verge of becoming an extremely resourceful system to study biodiversity from the nucleotide up.
View Full-Text
►

▼

Figures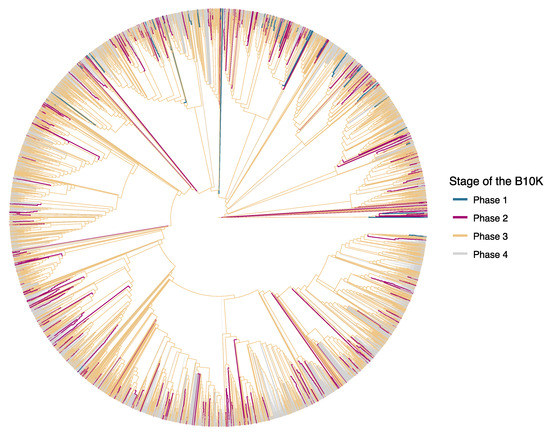 Figure 1
This is an open access article distributed under the
Creative Commons Attribution License
which permits unrestricted use, distribution, and reproduction in any medium, provided the original work is properly cited (CC BY 4.0).

Share & Cite This Article
MDPI and ACS Style
Stiller, J.; Zhang, G. Comparative Phylogenomics, a Stepping Stone for Bird Biodiversity Studies. Diversity 2019, 11, 115.
Note that from the first issue of 2016, MDPI journals use article numbers instead of page numbers. See further details here.
Related Articles
Comments
[Return to top]