Open Access This article is
freely available
re-usable
Article
Changes in Heterotrophic Picoplankton Community Structure after Induction of a Phytoplankton Bloom under Different Light Regimes
1
Department of Biological Applications and Technology, University of Ioannina, 45110 Ioannina, Greece
2
Department of Ichthyology and Aquatic Environment, School of Agricultural Sciences, University of Thessaly, 38446 Volos, Greece
3
School of Biology, Department of Botany, Aristotle University of Thessaloniki, 54124 Thessaloniki, Greece
4
Helmholtz Center for Ocean Research (GEOMAR), Dusternbrooker Weg 20, 24105 Kiel, Germany
*
Author to whom correspondence should be addressed.
Received: 20 September 2019 / Accepted: 11 October 2019 / Published: 15 October 2019
Abstract
:
Bacterial and archaeal diversity and succession were studied during a mesocosm experiment that investigated whether changing light regimes could affect the onset of phytoplankton blooms. For this, 454-pyrosequencing of the bacterial V1–V3 and archaeal V3–V9 16S rRNA regions was performed in samples collected from four mesocosms receiving different light irradiances at the beginning and the end of the experiment and during phytoplankton growth. In total, 46 bacterial operational taxonomic units (OTUs) with ≥1% relative abundance occurred (22–34 OTUs per mesocosm). OTUs were affiliated mainly with Rhodobacteraceae, Flavobacteriaceae and Alteromonadaceae. The four mesocosms shared 11 abundant OTUs. Dominance increased at the beginning of phytoplankton growth in all treatments and decreased thereafter. Maximum dominance was found in the mesocosms with high irradiances. Overall, specific bacterial OTUs had different responses in terms of relative abundance under in situ and high light intensities, and an early phytoplankton bloom resulted in different bacterial community structures both at high (family) and low (OTU) taxonomic levels. Thus, bacterial community structure and succession are affected by light regime, both directly and indirectly, which may have implications for an ecosystem's response to environmental changes.
Keywords:
bacterial and archaea diversity; light; climate change; phytoplankton blooms; 454-pyrosequencing
2. Materials and Methods
The experimental set-up has been described previously in full [
19
]. In brief, plankton succession was induced in mesocosms of ~1.5 m
3
containing whole water natural phytoplankton and mesozooplankton communities from the Kiel Bight (Baltic Sea) at in situ temperature conditions (4 °C). The mesocosms were subjected to simulated high-light episodes: five days after the experiment started light intensity increased two-fold over controls for 10 days. Controls simulated January and February under in situ conditions and light intensity. They received a light regime based on natural seasonal irradiance dimmed to 43%
E
0
of cloudless days. The initial daily light dose was ~2 and 3 mol photons PAR m
−2
d
−1
corresponding to mid-January and mid-February values.
Samples for the current study were retrieved from one mesocosm from each treatment, designated as JC, JH, FC, FH and corresponding to January (J) or February (F), control (C) or high-light (H) conditions. The collection of replicated samples was not feasible in order to minimize the removal of excess water volume for all the samples of the project. The dynamics of bacterioplankton were monitored for a total of 24 days. The whole experiment took place at the indoor mesocosm premises of GEOMAR, Kiel, Germany, in January/February 2010.
2.1. Sampling and Cell Counts
Heterotrophic prokaryotic cell counts were determined at two- to three-day intervals throughout the whole incubation experiment. From each mesocosm, 10–15 mL of water was fixed at a final concentration of 2% formaldehyde and kept at 4 °C in the dark for no more than two days. A subsample of 2–10 mL was filtered on black pore-sized PTFE filters of 0.2 μm (Millipore, MA, USA) and stained with DAPI (4′,6-diamidino-2-phenylindole). After mounting the filters on glass slides, the cells were counted with an Axiostar (Zeiss) epifluorescence microscope at 1000× magnification.
Water samples were collected from each mesocosm at the beginning of the experiment (day 1), at the beginning (day 11) and the end (day 15) of the exponential growth phase of phytoplankton and a few days (day 19) before the end of the incubation period. At each sampling point, a total of 500–1000 mL was collected in sterile glass bottles, screened through a 20-μm nylon mesh net (Millipore, MA, USA) then filtered on a 47-mm diameter 0.2 μm pore-sized polycarbonate filter (Millipore, MA, USA), under low vacuum pressure (≤150 mm Hg). The filters were stored at −80 °C in sterile cryovials until DNA extraction.
2.2. Molecular Analysis
DNA was extracted using the PowerSoil DNA isolation kit (MoBio Laboratories, CA, USA) according to the manufacturer's protocol after slicing the filters under sterile conditions. DNA concentrations ranged from 2.9–113.7 ng μL
−1
, based on NanoDrop measurements (A260/A280 ratios 1.60–2.01). DNA was amplified with the primers 27F (5′-AGRGTTTGATCMTGGCTCAG-3′) and 519R (5′-GTNTTACNGCGGCKGCTG-3′) targeting the V1–V3 region of the bacterial 16S rRNA gene and with primers 349f (5′-GYGCASCAGKCGMGAAW-3′) and 915r (5′-GTGCTCCCCCGCCAATTCCT-3′) targeting the V3–V9 region of the archaeal 16S rRNA gene (MRDNA, TX, USA). Amplicon pyrosequencing (bTEFAP) was performed as described in [
30
]. In brief, a one-step 30-cycle PCR was applied using HotStarTaq Plus Master Mix Kit (Qiagen, Valencia, CA). PCR conditions included: 94 °C for 3 min, then followed by 28 cycles of 94 °C for 30 s; 53 °C for 40 s; 72 °C for 1 min; and a final elongation step at 72 °C for 5 min. Following PCR, all amplicon products from different samples were mixed in equal concentrations and purified using Agencourt Ampure beads (Agencourt Bioscience Corporation, MA, USA). Samples were sequenced utilizing Roche 454 FLX titanium instruments and reagents following the manufacturer's guidelines.
2.3. Data Processing and Analysis
Sequencing data were analyzed using MOTHUR 1.28.0 software [
31
]. In brief, flowgrams from the individual samples were separated according to their TAG, then denoised using PyroNoise software [
32
]. After removing primer sequences, TAG and key fragments, only sequences ≥200 bp long with homopolymers shorter than 8 bp were considered for further analysis. Chimeric sequences were recognized and removed using the UCHIME software [
33
]. A 97% similarity cut-off limit was used for clustering the remaining sequences into operational taxonomic units (OTU). Singletons (i.e., sequences that occurred only once in the whole dataset) were removed from downstream analyses, as they were considered most likely sequencing artifacts [
34
,
35
,
36
]. The data were standardized based on the smallest sample with permutation [
37
] in order to minimize differences in sequencing depths between samples. Taxonomic affiliation was assigned according to the SILVA 123 SSU RNA database [
38
]. Sequences from this study have been submitted to the GenBank BioProject (PRJNA238858).
Diversity indices (Dominance and Shannon H) in the four mesocosms during the course of the experiment were calculated using PAST software v3.25 [
39
]. Dominance calculated as the 1-Simpson diversity index ranges between 0 (when all OTUs are equally presented) and 1 (dominance of one OTU). The Shannon index accounts for both abundance and evenness. Thus, high Shannon index values characterize communities with many taxa equally distributed. The relative abundance of OTUs in all mesocosms were correlated with the biomass of the dominant phytoplankton groups retrieved from [
19
]. Correlation analysis based on the Spearman coefficient was also performed using the PAST v3.25 software.
Relationships of the 10 OTUs that occurred in all samples (i.e., for all four mesocosms and at all sampling points) were visualized by constructing association networks based on the Spearman correlation coefficient of their log-transformed relative abundances. Only the statistically significant correlations (
p
< 0.02) were used for the network matrix. Network visualization was performed with Cytoscape 2.8.3 software [
40
]. Positive correlations between OTUs are indicative of non-competitive relationships as a response to the different mesocosm treatments.
3. Results
3.1. Heterotrophic Prokaryotescell Abundance
Total bacterial and archaeal abundance (
Figure 1
) on day 1 ranged from 0.57 × 10
5
to 3.49 × 10
5
cells mL
−1
. From that point and until day 11 of the experiment, the prokaryotic cell counts remained fairly constant (0.30 × 10
5
to 1.26 × 10
5
cells mL
−1
). Maximum cell abundance ranged between 3.82 × 10
5
and 6.90 × 10
5
cells mL
−1
and occurred on day 19 for all but the JC mesocosm, where peak abundance was monitored on day 24. In both cases peak abundance occurred during the post-bloom period.
3.2. Diversity and Dynamics of Bacteria and Archaea
A total of 120,003 reads met the quality control standards and corresponded to 1,432 unique bacterial OTUs (97% similarity). In the whole dataset, 629 of the unique OTUs appeared only once (i.e., singletons), and were excluded due to the possibility of sequencing errors [
34
,
36
], leaving 803 bacterial OTUs for further analysis. Rarefaction curves (
Figure S1
) varied among samples and only in a few cases did they start to plateau. Archaeal amplifiable DNA and a high total number of reads (i.e., >2000 per sample, after quality processing) were feasible only for one sample from low light and three samples from high light intensities. Thus archaea were excluded from further analysis. The number of unique bacterial OTUs in each mesocosm (
Figure 1
) decreased from day 1 (136–368) to day 19 (26–137), but followed different patterns in each mesocosm. Maximum dominance (D) occurred at day 11 in all mesoscosms (
Figure 2
). Diversity was high at day 1 in all treatments, decreased afterwards and increased again to the initial levels towards the end of the experiment, except for FH (
Figure 2
).
In each mesocosm, 22–34 bacterial OTUs comprised ≥1% of the total abundance. In total, 46 OTUs with ≥1% relative abundance occurred from all mesocosms considered. Analysis was focused on these OTUs, considered as the most abundant ones (
Table S1
). Eleven of these 46 OTUs appeared in all mesocosms (
Figure 3
) at various time points. In most of the mesocosms and at most sampling points, the majority of the found OTUs were affiliated to Rhodobacteraceae (
Figure S4
), with Flavobacteriaceae and Alteromonadaceae being the second-most abundant. The rest of the OTUs belonged to the Verrucomicrobiaceae, Microbacteraceae, Actinomycetales and a few unaffiliated taxa.
Of the 11 OTUs that appeared in all mesocosms, OTU2 and OTU1 were present in all mesocosms at all sampling points and exhibited distinguished temporal patterns (
Figure 3
). These OTUs belonged to the Rhodobacteraceae family and were related to environmental sequences from coastal waters (
Figure S2
). The abundance of OTU2 peaked at day 11 in all mesocosms and then declined, with the exception of mesocosm JC, where an increase took place at day 19. On the contrary, the abundance of OTU1 in all mesocosms decreased slightly from the beginning of the experiment and started to increase at the end of the experiment, with the exception of mesocosm JH. The rest of the nine OTUs showed practically no changes in their relative abundance. Another 15 and 5 OTUs were common in three and two mesocosms, respectively, while the last 15 OTUs appeared only in one of the mesocosms (
Table S1
and
Figure 3
).
The relative abundance of only two OTUs showed statistically significant correlations with the biomass of a specific phytoplankton species. OTU1 was positively correlated (
p
= 0.007, r
2
= 0.648) with the biomass of
Chaetoceros decipiens
, while OTU2 was negatively correlated (
p
= 0.017, r
2
= 0.587) with the same organism.
Supplementary Materials
The following are available online at
https://www.mdpi.com/1424-2818/11/10/195/s1
: Figure S1. Rarefaction curves of Operational Taxonomic Units (OTUs) numbers against the number of high-quality reads, at ≥97 similarity, in the studied mesocosms; Figure S2. Maximum likelihood phylogenetic tree of the Bacteria most dominant operational taxonomic units (OTU) and the ones found in all four mesocosms all sampling points. Figure S3. Temporal dynamics of phosphate, nitrate to total dissolved inorganic nitrogen (DIN) ration and phytoplankton biomass in the studied mesocosms; Figure S4. Taxonomic composition of the most abundant (>1%) bacterial OTUs in the studied mesocosms. Figure S5. Association network diagram of Spearman's correlations (edges) between the 10 operational taxonomic units (numbers in nodes) shared among the four mesocosms (yellow nodes); Table S1. Relative abundance (%) of the most abundant (≥1%) OTUs. J: January, F: February, C: control (baseline light intensity), H: high light intensity.
Author Contributions
Conceptualization, K.A.K. and U.S.; Data curation, H.K. and K.A.K.; Formal analysis, H.K., K.A.K. and U.S.; Funding acquisition, K.A.K. and U.S.; Methodology, H.K., K.A.K, M.M.-G. and U.S.; Writing—original draft, H.K. and K.A.K.; Writing—review & editing, H.K., K.A.K., M.M.-G. and U.S.
Acknowledgments
"This research was funded by European Union Seventh Framework Program (FP7/2007–2013), grant number 228224, MESOAQUA" Antje Biermann is fully acknowledged for sharing DOC measurements, and Antonis Michas is acknowledged for assistance during DNA extraction.
Conflicts of Interest
The authors declare no conflict of interest.
Figure 1. (A) Abundance of prokaryotic cells and (B) number of unique bacterial operational taxonomic units (OTU) per sample in the studied mesocosms. J: January, F: February, C: control (baseline light intensity), H: high light intensity.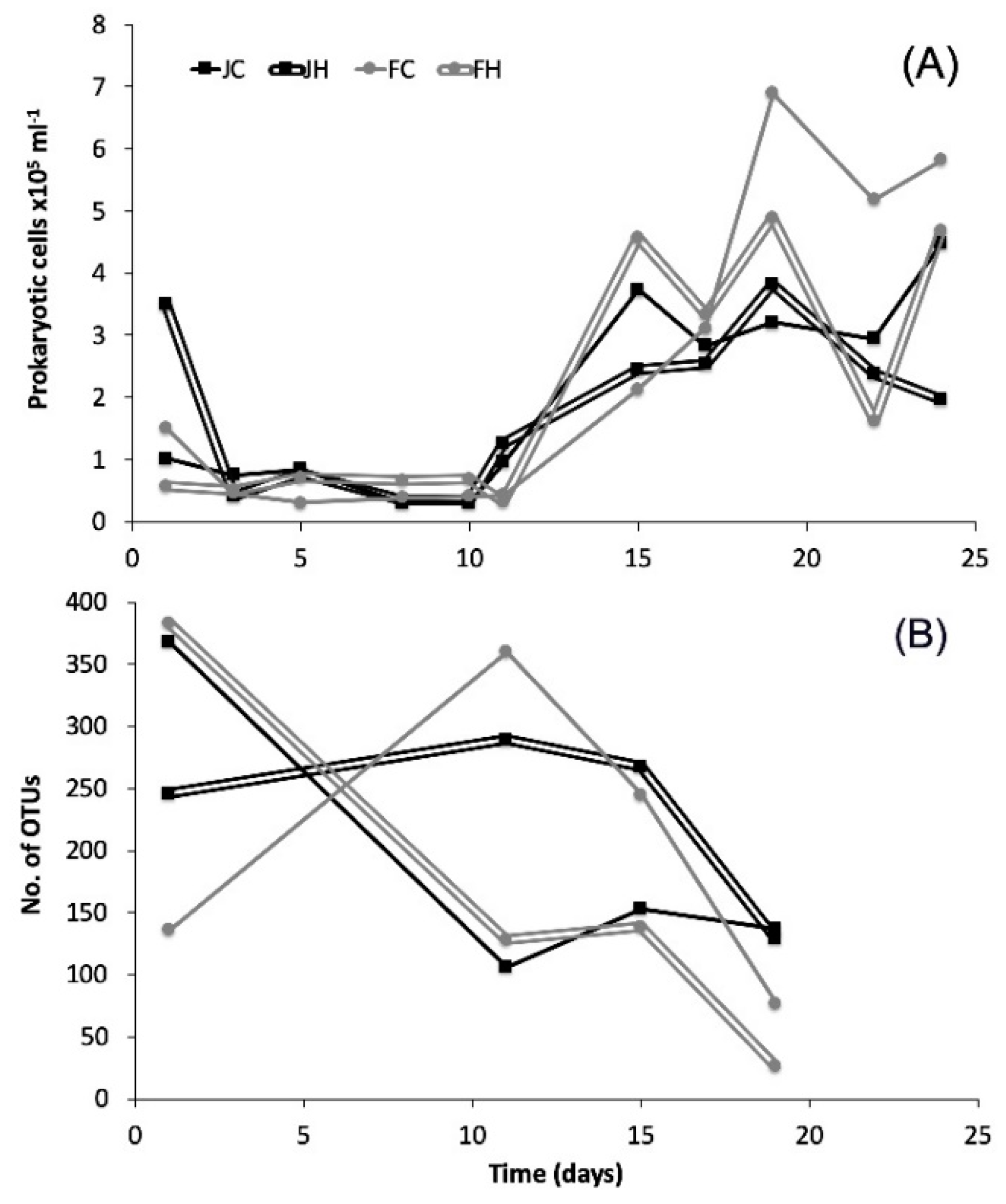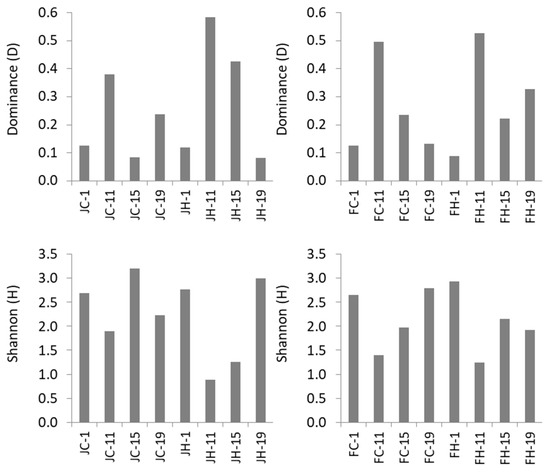 Figure 2. Dominance (D, top) and diversity (Shannon H, bottom) indices of bacterial OTUs in the four mesocosms during the course of the experiment (days 1 to 19). J: January, F: February, C: control, H: high light intensity.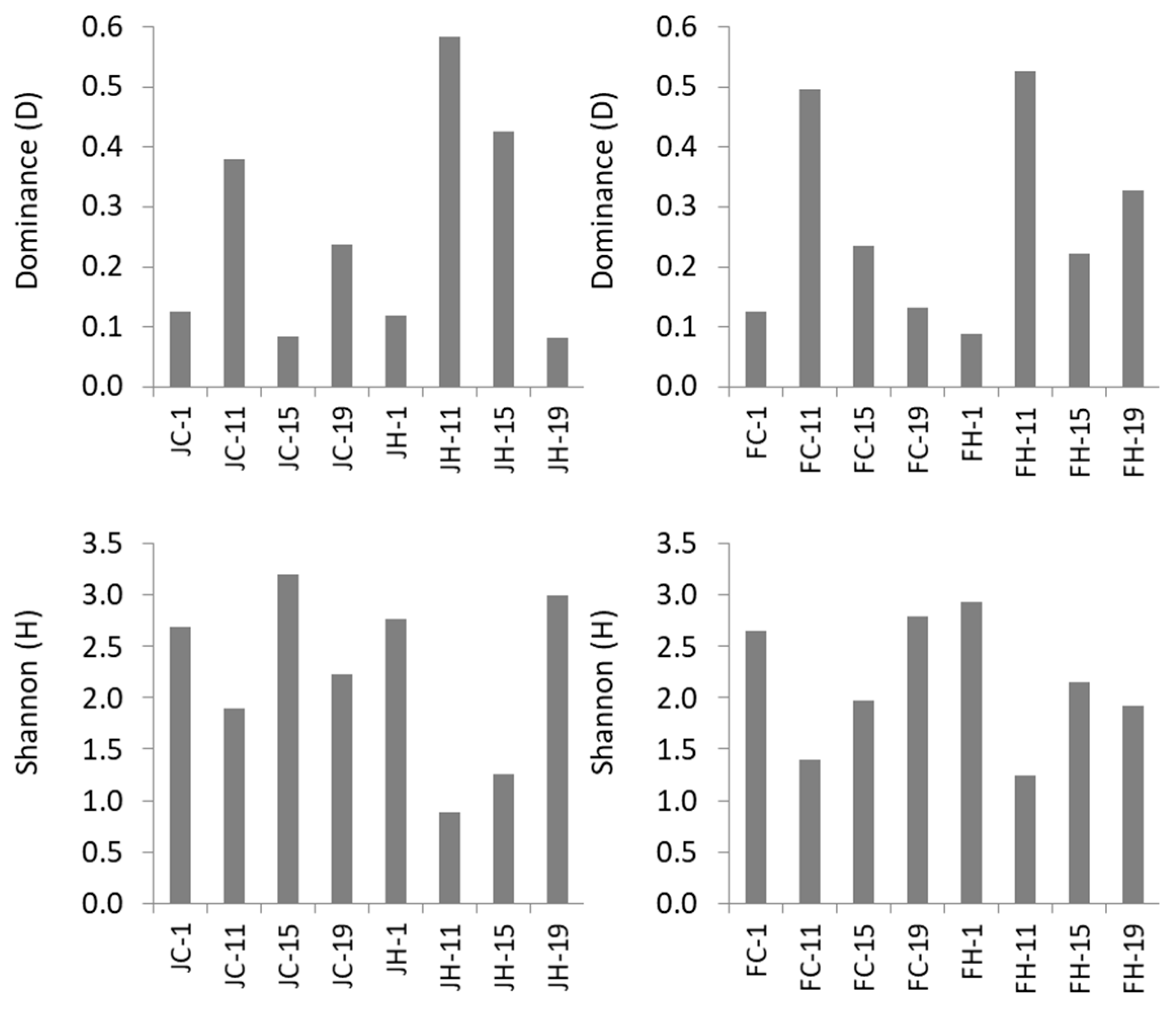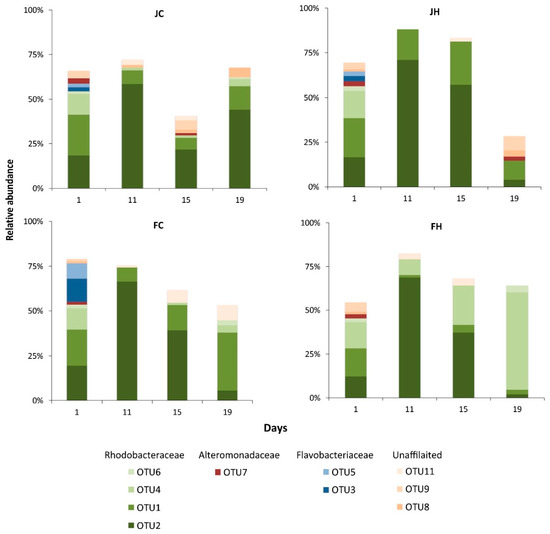 Figure 3. Temporal variation of the relative abundance of the 10 most abundant bacterial OTUs (>70% of the whole dataset). J: January, F: February, C: control (baseline light intensity), H: high light intensity.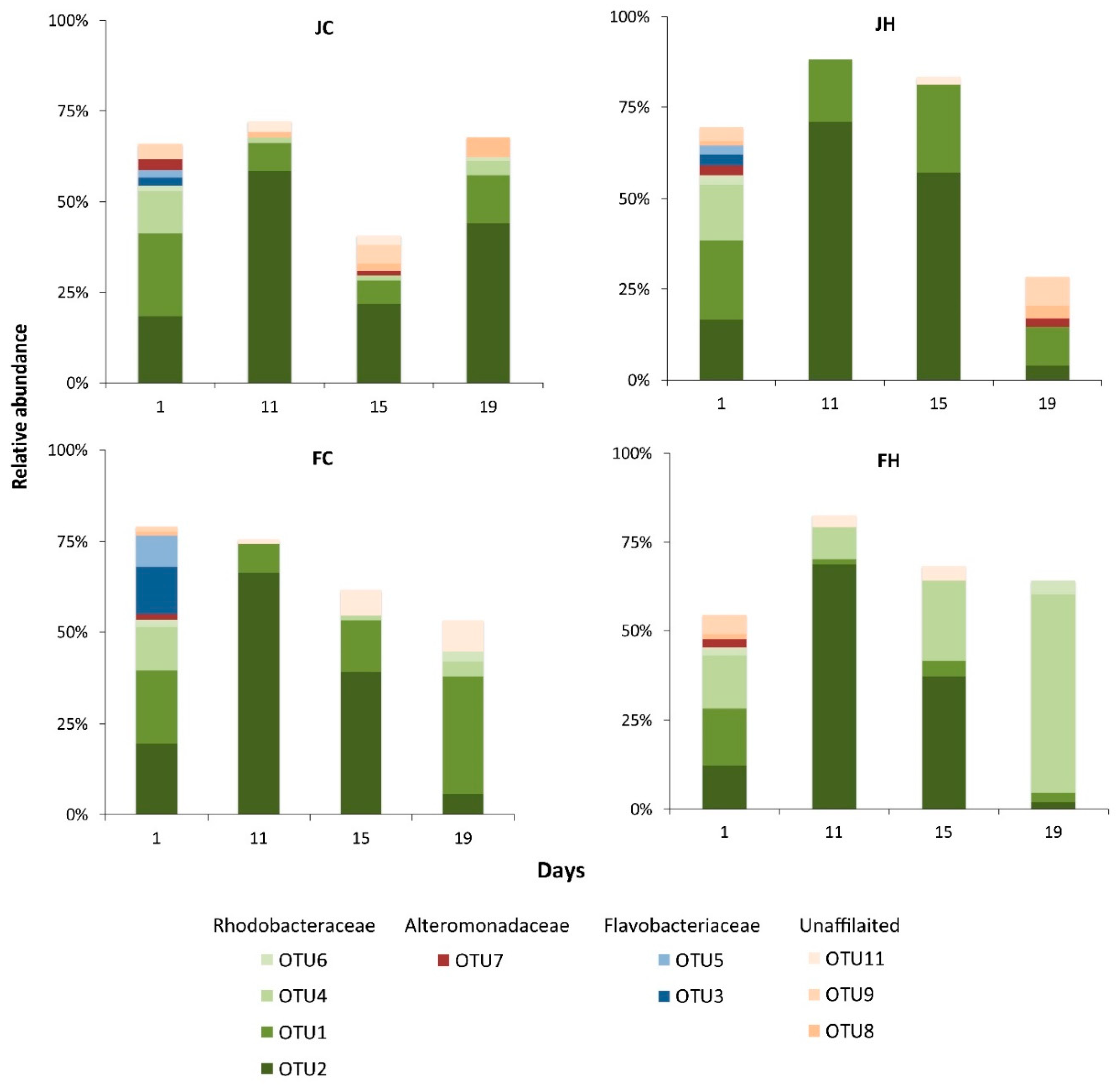 © 2019 by the authors. Licensee MDPI, Basel, Switzerland. This article is an open access article distributed under the terms and conditions of the Creative Commons Attribution (CC BY) license (http://creativecommons.org/licenses/by/4.0/).