DNA Barcoding Highlights Cryptic Diversity in the New Zealand Psylloidea (Hemiptera: Sternorrhyncha)
1
Bio-Protection Research Centre, Lincoln University, Lincoln 7647, New Zealand
2
Plant Biosecurity Cooperative Research Centre, University of Canberra, Bruce ACT 2617, Australia
3
The New Zealand Institute for Plant & Food Research Ltd., Lincoln 7608, New Zealand
4
Better Border Biosecurity (B3), Lincoln 7608, New Zealand
5
School of Earth & Environmental Sciences, The University of Adelaide, Adelaide SA 5005, Australia
*
Author to whom correspondence should be addressed.
Received: 3 May 2018 / Revised: 17 June 2018 / Accepted: 20 June 2018 / Published: 22 June 2018
Abstract
The insect superfamily Psylloidea (Hemiptera) includes economically important biocontrol agents, pests and plant pathogen vectors, for which a rapid and accurate identification is fundamental for international biosecurity. Australasia is a hot spot for psyllid diversity, but previous species assessments in the region were largely based on morphology and host plant association. Morphological identification of psyllids remains challenging for a wide number of species and for juvenile insects, while a robust molecular framework for identification is not available. Consequently, knowledge of psyllid biology is compromised. Here, incorporating morphological evidence and host plant associations, insects collected from almost 600 primarily New Zealand locations were linked to 67 previously described species. By applying species delimitation methods including GYMC (General Mixed Yule–Coalescent method), PTP (Poisson Tree Processes), mPTP (multi–rate Poisson Tree Processes) and ABGD (Automatic Barcode Gap Discovery) to a dataset composed of 425 cytochrome oxidase I (COI) DNA barcode sequences, further cryptic diversity was revealed among the psyllid collection; more than 20 undescribed taxa are reported here for the first time, resulting in a total of 90 taxa across 21 genera and six families included in this study. Our improved understanding of psyllid diversity in New Zealand revealed new plant host-psyllid associations and geographical variation. The DNA barcode resource will enable future studies of psyllid ecology and more accurate, rapid identifications of psyllids that pose biosecurity threats to Australasia.
View Full-Text
►

▼

Figures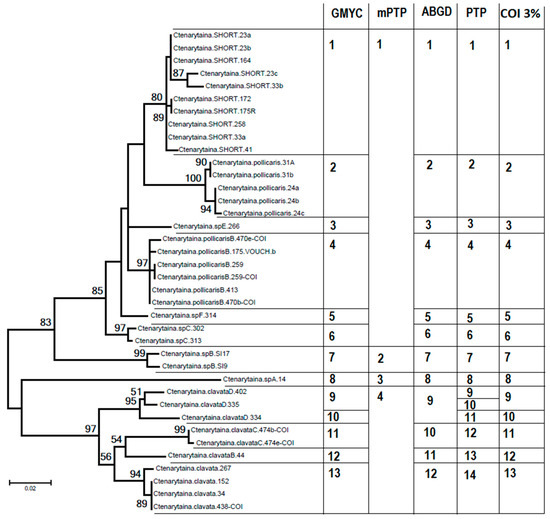 Figure 1
This is an open access article distributed under the
Creative Commons Attribution License
which permits unrestricted use, distribution, and reproduction in any medium, provided the original work is properly cited (CC BY 4.0).

Share & Cite This Article
MDPI and ACS Style
Martoni, F.; Bulman, S.; Pitman, A.; Taylor, G.; Armstrong, K. DNA Barcoding Highlights Cryptic Diversity in the New Zealand Psylloidea (Hemiptera: Sternorrhyncha). Diversity 2018, 10, 50.
Note that from the first issue of 2016, MDPI journals use article numbers instead of page numbers. See further details here.
Related Articles
Comments
[Return to top]