Open Access This article is
freely available
re-usable
Article
Cbx2
, a PcG Family Gene, Plays a Regulatory Role in Medaka Gonadal Development
1
Key Laboratory of Freshwater Aquatic Genetic Resources, Ministry of Agriculture, Shanghai Collaborative Innovation for Aquatic Animal Genetics and Breeding, National Demonstration Center for Experimental Fisheries Science Education, Shanghai Ocean University, Shanghai 201306, China
2
Laboratory for Marine Fisheries Science and Food Production Processes, Qingdao National Laboratory for Marine Science and Technology, Qingdao 266071, China
3
Laboratory of Quality and Safety Risk Assessment for Aquatic Product on Storage and Preservation, Ministry of Agriculture, Shanghai Ocean University, Shanghai 201306, China
*
Authors to whom correspondence should be addressed.
Received: 3 January 2020 / Accepted: 7 February 2020 / Published: 14 February 2020
Abstract
:
Chromobox homolog 2 (CBX2), a key member of the polycomb group (PcG) family, is essential for gonadal development in mammals. A functional deficiency or genetic mutation in
cbx2
can lead to sex reversal in mice and humans. However, little is known about the function of
cbx2
in gonadal development in fish. In this study, the
cbx2
gene was identified in medaka, which is a model species for the study of gonadal development in fish. Transcription of
cbx2
was abundant in the gonads, with testicular levels relatively higher than ovarian levels. In situ hybridization (ISH) revealed that
cbx2
mRNA was predominately localized in spermatogonia and spermatocytes, and was also observed in oocytes at stages I, II, and III. Furthermore,
cbx2
and
vasa
(a marker gene) were co-localized in germ cells by fluorescent in situ hybridization (FISH). After
cbx2
knockdown in the gonads by RNA interference (RNAi), the sex-related genes, including
sox9
and
foxl2,
were influenced. These results suggest that
cbx2
not only plays a positive role in spermatogenesis and oogenesis but is also involved in gonadal differentiation through regulating the expression levels of sex-related genes in fish.
Keywords:
cbx2
; gonadal development; medaka
1. Introduction
The polycomb group (PcG) protein family was initially identified in
Drosophila
[
1
]. In higher eukaryotes, it is mainly involved in maintaining a series of cellular physiological activities, such as cell differentiation, cell cycle regulation, cell senescence, and X chromosome inactivation [
2
]. PcG proteins are assembled into two Polycomb Repressive Complexes, PRC1 and PRC2 [
3
]. In embryonic stem cells, whole-genome target analysis revealed that the two complexes were localized in the promoter region of developmental regulators [
4
]. Functionally, PRC1 and PRC2 exhibit enzymatic activities to modify histones and are crucial for epigenetic regulation via histone methylation [
5
,
6
,
7
].
As a core component of PRC1, chromobox (CBX) homolog protein performs an indispensable function regarding stem cell maintenance and embryo development [
8
]. In mammals, the CBX family contains five proteins, CBX2, CBX4, CBX6, CBX7, and CBX8 [
9
]. Although they have a common conserved domain, their molecular size, tissue distribution, and biological functions are quite different. In recent years,
cbx2
has become increasingly important due to the discovery of the role of CBX2 in human and mouse gonadal development. In mice, a lack of
cbx2
can lead to gonadal hypoplasia and sex reversal (testis–ovary) [
7
]. Sex reversal was also observed in humans due to
cbx2
gene mutation [
10
]. The CBX2 protein mainly participates in the recruitment and stabilization of PRC1 in mitotic chromosomes [
11
]. Previous reports suggested that CBX2, a member of PcG, was an epigenetically modified transcriptional repressor. Recently, it was also found to serve as a transcriptional activator to regulate the expression of downstream genes [
12
,
13
]. However, the functional role of
cbx2
in gonadal development is still unclear in vertebrates other than mammals.
Medaka (
Oryzias latipes
) is regarded as a model animal to investigate the gonadal development of vertebrates [
14
]. Like mammals, medaka has XY sex chromosomes and was the first species to define the sex-determining gene
dmy
in fish [
15
,
16
]. Due to its small size (2-3 cm), short sexual maturity cycle (3 months), and gender plasticity, medaka is usually used to explore gonadal development in vertebrates. In this work, we identified medaka
cbx2
via PCR cloning and sequencing, detected the relative expression of
cbx2
mRNA in different tissues using real-time PCR, and established an expression profile of
cbx2
mRNA in medaka gonads via digoxigenin (DIG)-labeled in situ hybridization (ISH) and fluorescent in situ hybridization (FISH). Furthermore, the expression of
cbx2
mRNA was knocked down using RNA interference (RNAi), then the expression levels of
cbx2
and sex-related genes, including
foxl2
and
sox9,
were analyzed to clarify the function of
cbx2
in the gonadal development of fish.
4. Materials and Methods
4.1. Experimental Materials
Medaka were raised at the Experimental Center of Shanghai Ocean University. Adult fishes at 3 months of age (n = 3 pools, 10 specimens/pool) were collected. The female brains, male brains, ovaries, testes, livers, kidneys, guts, and eyes were dissected, swiftly frozen, and stored at −80 °C in a refrigerator for RNA extraction. In addition, the ovaries and testes were cut and fixed in 4% paraformaldehyde overnight, then stored into 70% ethanol to make sections for ISH and FISH. Animal experiments were carried out in strict accordance with the guidance of the committee for the Laboratory Animal Research of Shanghai Ocean University.
4.2. Molecular Cloning and Sequence Analysis
Total RNA of different tissues was extracted using TRizol (Invitrogen, Carlsbad, CA, USA). To eliminate genome contamination, cDNA was reversed transcribed using the PrimeScript™ RT reagent Kit with the gDNA Eraser (Takara Biotechnology, Dalian, China). By searching the NCBI database, we obtained the predicted CDS sequences encoding
the
medaka
cbx2
gene (Genebank accession No. EF537027.1). The CDS region of
cbx2
was verified by PCR cloning and sequencing. Then, the physicochemical properties of the predicted proteins were analyzed online using the ExPASy-ProtParam tool, and the secondary and tertiary structures were predicted using SMART and Swiss-model. Protein sequence alignment was executed by BioEdit, and the neighbor-joining (NJ) tree was established by MEGA 7.0 based on CBX2 protein sequences from various species according to BLASTP.
4.3. Real-Time PCR of cbx2 in Different Tissues
Real-time PCR was performed with specific primers of
cbx2
and 18S, as a reference gene, following the same set of cDNA amplification. The reaction underwent 39 cycles of 10 s at 95 °C and 30 s at 60 °C in a 20 μL system using CFX96 Touch real-time (Bio-Rad, Hercules, CA, USA). The PCR primers are described in
Table 1
.
The relative expression for
cbx2
mRNA was evaluated using the 2
-ΔΔCt
method and the results were presented according to the mean ± standard deviation (SD). Statistical analysis was performed with one-way of variance (ANOVA) using SPSS 24 software. Differences were considered to be statistically significant at
P
< 0.05.
4.4. Gonadal Expression of cbx2 by ISH and FISH
In order to understand the subcellular distributions of
cbx2
, ISH and FISH were performed on gonadal sections and verified by hematoxylin and eosin staining. ISH was performed as previously described [
24
]. Briefly, the 552 nt of
cbx2
cDNA and 794 nt of
vasa
cDNA were inserted into a pGEM-T vector, respectively. The recombinant plasmids were linearized with spel or sphl to transcribe DIG-labeled or FITC-labeled antisense or sense probes according to RNA Labeling kit instructions (Roche, Basel, Switzerland). The synthetic probe was incubated with DNaseI (Thermo Fisher, Carlsbad, CA, USA) and precipitated by LiCl at –80 °C. The ISH experiments of
cbx2
and
vasa
as the marker gene were performed and stained with BCIP/NBT. FISH was carried out with a TSA™ Plus Fluorescence Systems kit according to the instructions (NEL756, PerkinElmer, Waltham, MA, USA). The nucleus was dyed with DAPI and the slide was fixed with Anti-Fade Mounting Medium (Invitrogen, Carlsbad, CA, USA).
Photography and observation of ISH were performed using an upright microscope (Leica DM500, Heerbrugg, Switzerland) and FISH images were observed and photographed using a Leica SP8 FALCON with the confocal image system (LAS X).
4.5. RNA Interference
siRNA sequences were designed and synthesized by Shanghai GeneBio Co. Ltd (
Table 2
). According to the instructions,
cbx2
-siRNA-1,
cbx2
-siRNA-2, and
cbx2
-siRNA-3 were mixed and diluted with Rnase-free water. For RNA interference, a pre-experiment was performed to optimize the injection concentration of the siRNA mixture (25 ng, 50 ng, 75 ng, or 100 ng). The optimal 50 ng siRNA mixture was then injected from the cloacal aperture of the medaka using a medical syringe with a diameter of 0.38 µm. A negative control of siRNA was synthesized, injected, and a blank group was set up synchronously. A total of 10 adult fishes at 3 months of age were injected in each assay. Each assay was repeated in triplicate.
After 48 h, the injected fishes were collected and their gonadal tissues were dissected for RNA extraction. Real-time PCR was performed to detect the expression changes of
cbx2
,
sox9,
and
foxl2
mRNA after RNA interference. The experimental methods and procedures were consistent with those described above.
Author Contributions
Q.C. completed the experiments; F.S. and Y.X. helped with the experiment; J.W. was responsible for data analysis and writing of the manuscript; J.Z. was responsible for experimental design and writing of the manuscript. All authors read and agreed to the published version of the manuscript.
Funding
This research was supported by the National Natural Science Foundation of China (No. 31972772) and the Laboratory for Marine Fisheries Science and Food Production Processes, Qingdao National Laboratory for Marine Science and Technology, China (ZZ-A11).
Conflicts of Interest
The authors declare no conflict of interest.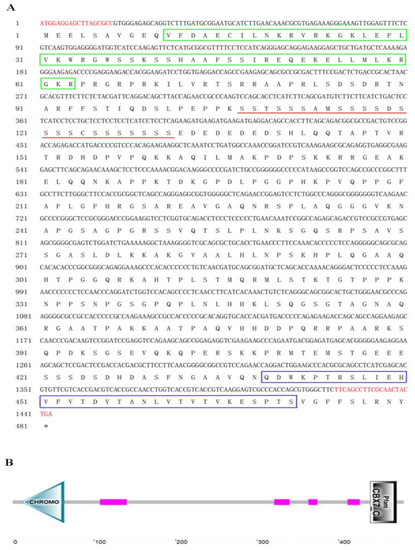 Figure 1.
The cDNA sequences and the derived protein sequence of medaka
cbx2
(
A
). The red font position represents the cloning primers, the Chromo domain is marked by a green box, the Pfam domain is marked by a blue box, and the underlined sequence indicates the serine-rich region. The secondary structure of CBX2 in medaka (
B
).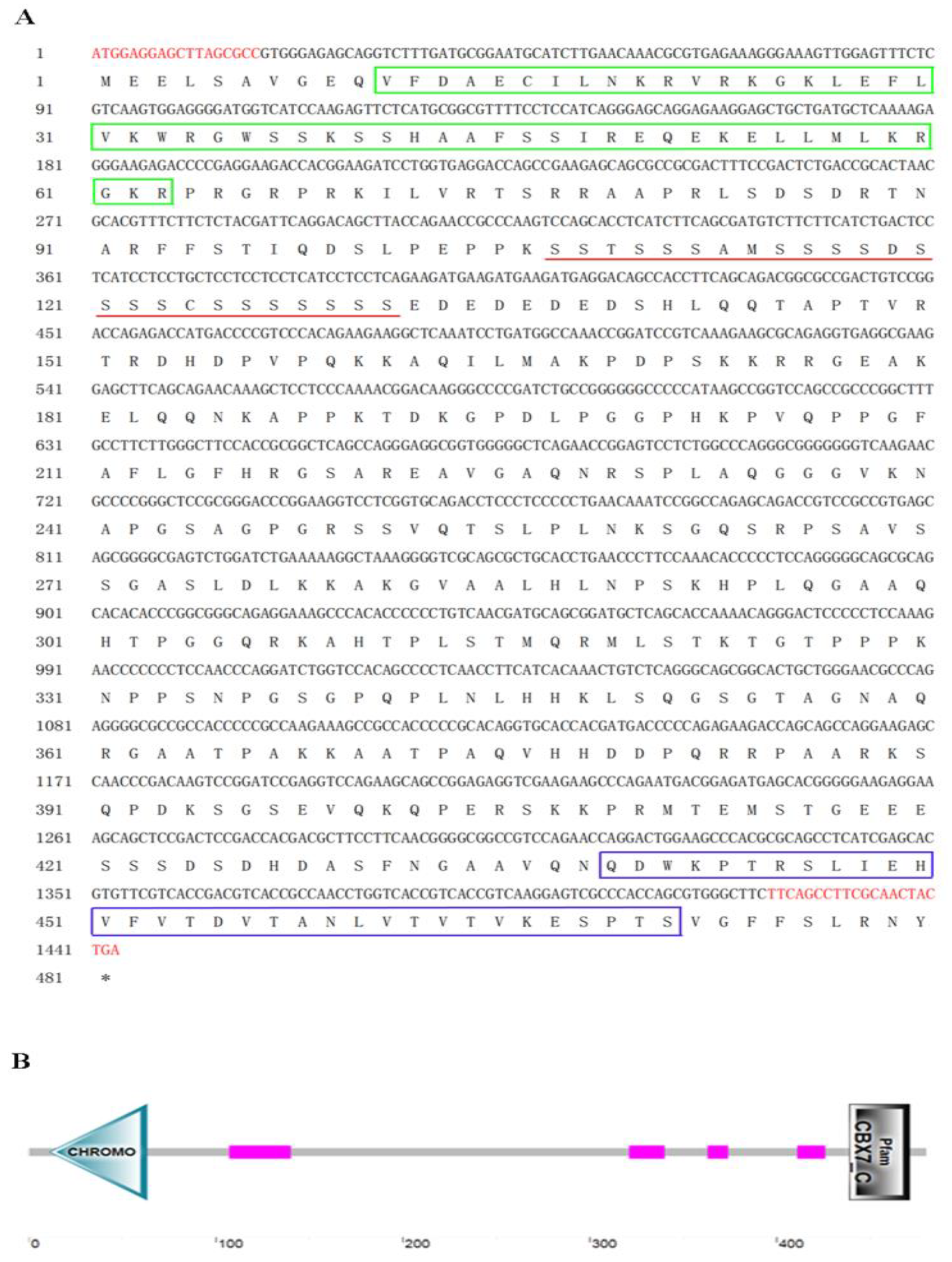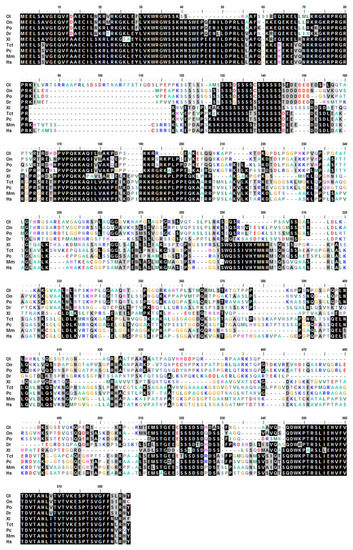 Figure 2.
Sequence alignment of the CBX2 protein between different species. Abbreviations: Ol,
Oryzias latipes
; On,
Oreochromis niloticus
; Po,
Paralichthys olivaceus
; Dr,
Danio rerio
; Xl,
Xenopus laevis
; Tct,
Terrapene carolina triunguis
; Pc,
Phasianus colchicus
; Mm,
Mus musculus
; Hs,
Homo sapiens
.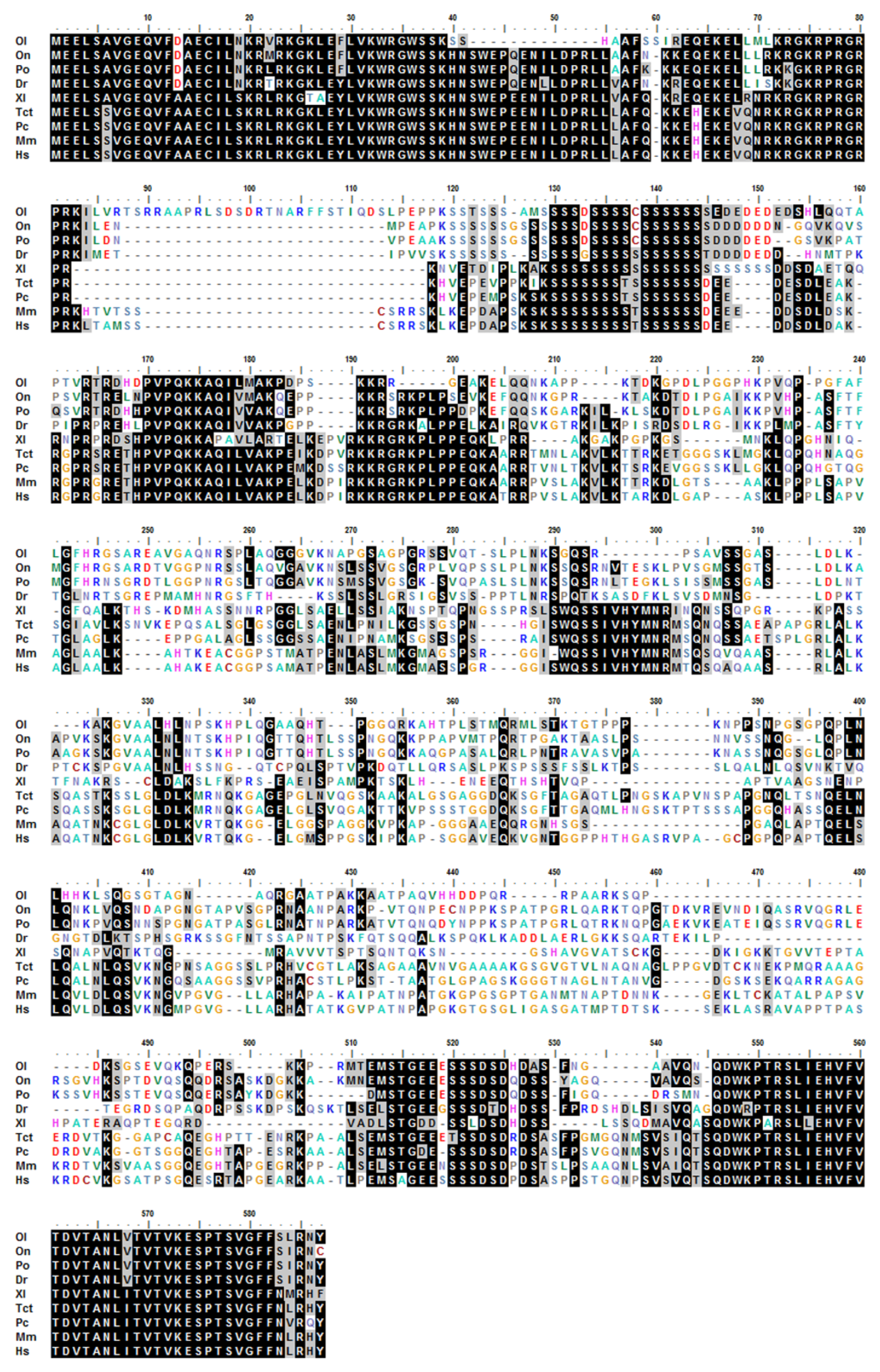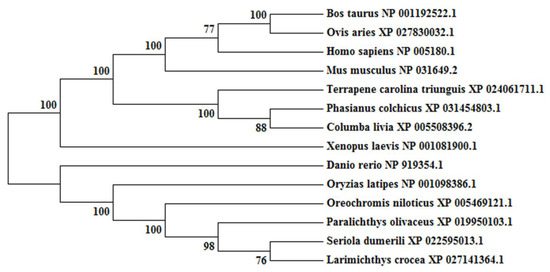 Figure 3. Phylogenetic tree of CBX2 in vertebrates. Bootstrap values are marked at the branch points.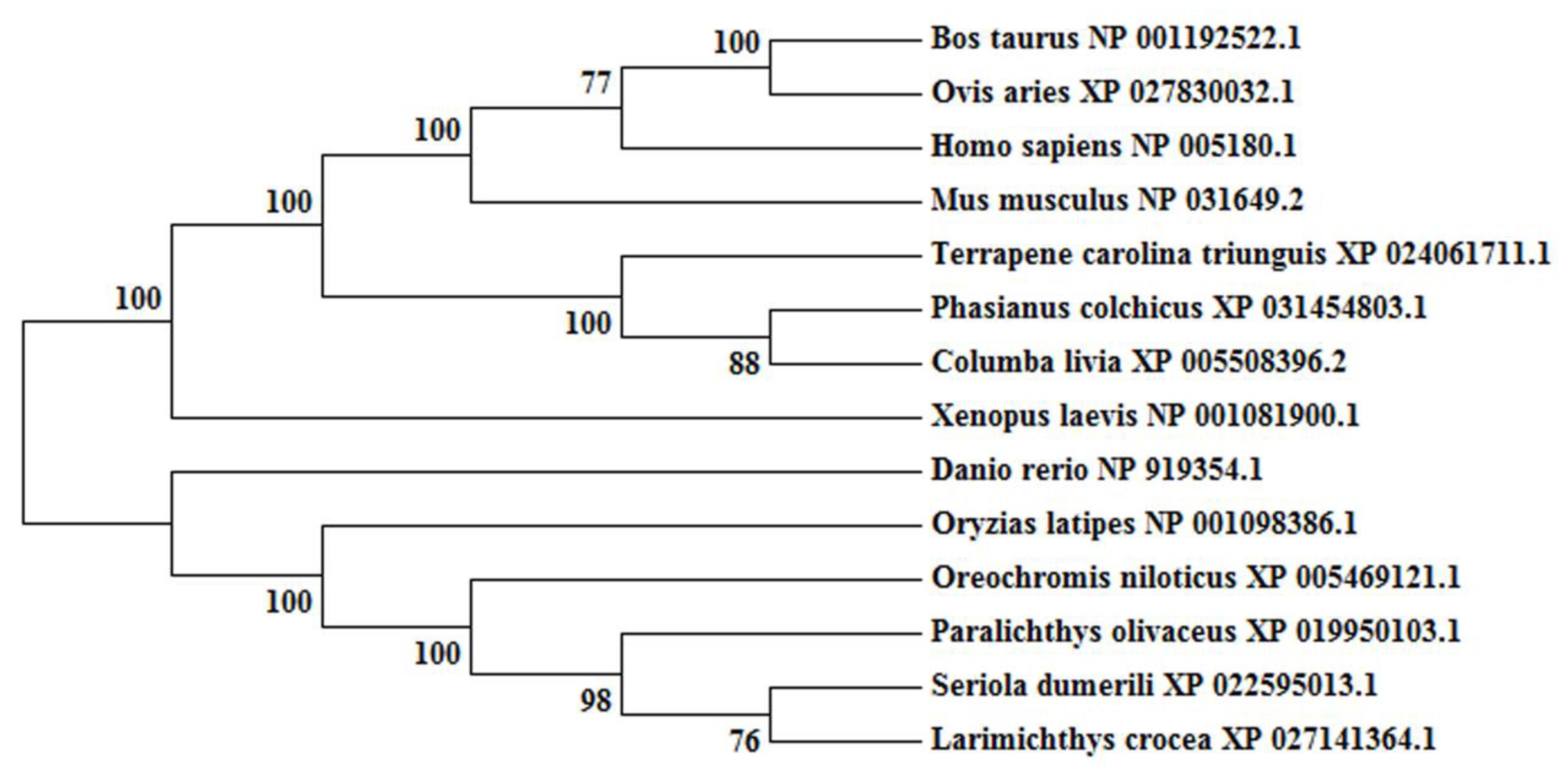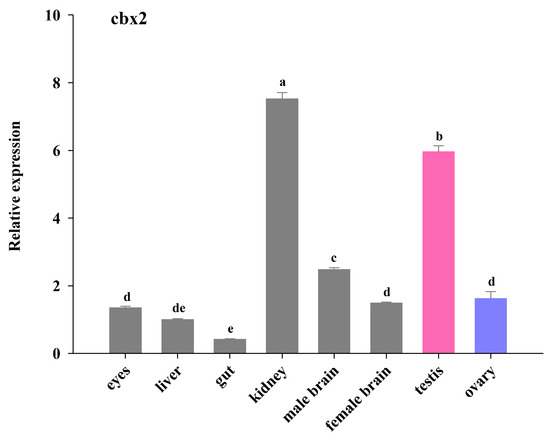 Figure 4.
The relative expression of
cbx2
mRNA in different medaka tissues. The different alphabetic signs indicate statistically significant differences (
P
< 0.05).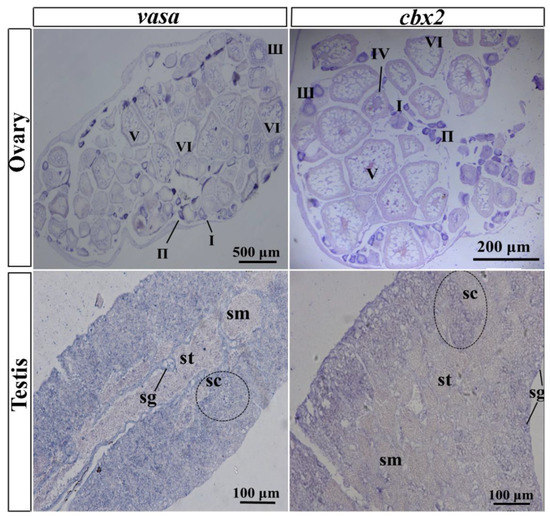 Figure 5.
Digoxigenin (DIG)-labeled in situ hybridization (ISH) in medaka ovaries and testes. Paraffin sections were hybridized with the antisense probe of
cbx2
and
vasa
. Signals were visualized using chromogenic staining. I–VI, oocyte stage; sg, spermatogonia; sc, spermatocytes; st, spermatid; sm, sperm.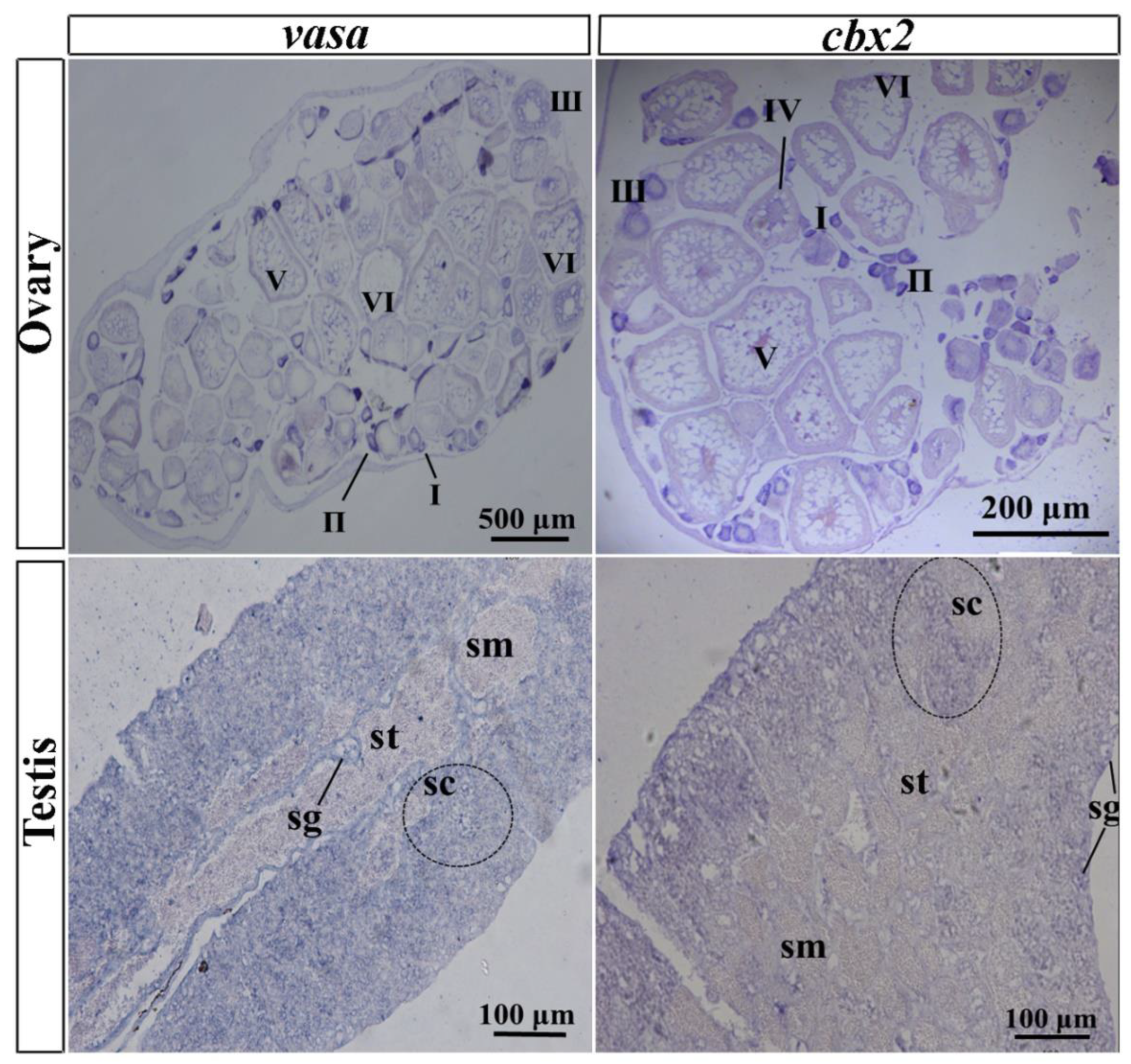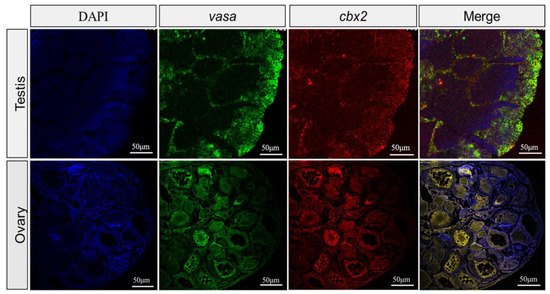 Figure 6.
Fluorescent in situ hybridization (FISH) in medaka ovaries and testes. The mRNA signals were stained with fluorescence, with green indicating
vasa
and red indicating
cbx2,
and the nuclei were dyed with DAPI (blue).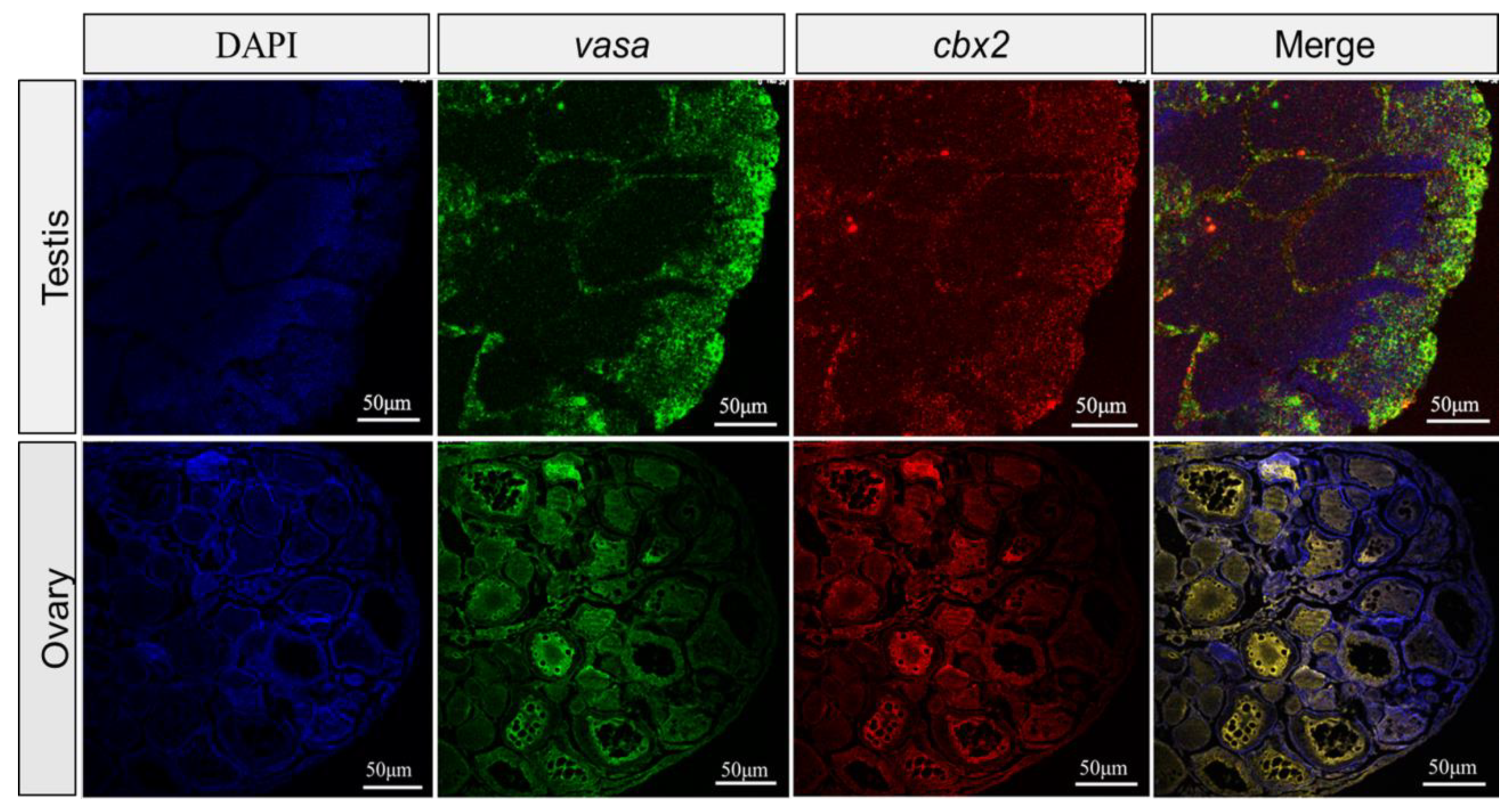 Figure 7.
Expression changes of
cbx2
(
A
),
sox9
(
B
), and
foxl2
(
C
) mRNA in gonads after RNA interference. The asterisk represents a statistically significant difference (
P
< 0.05).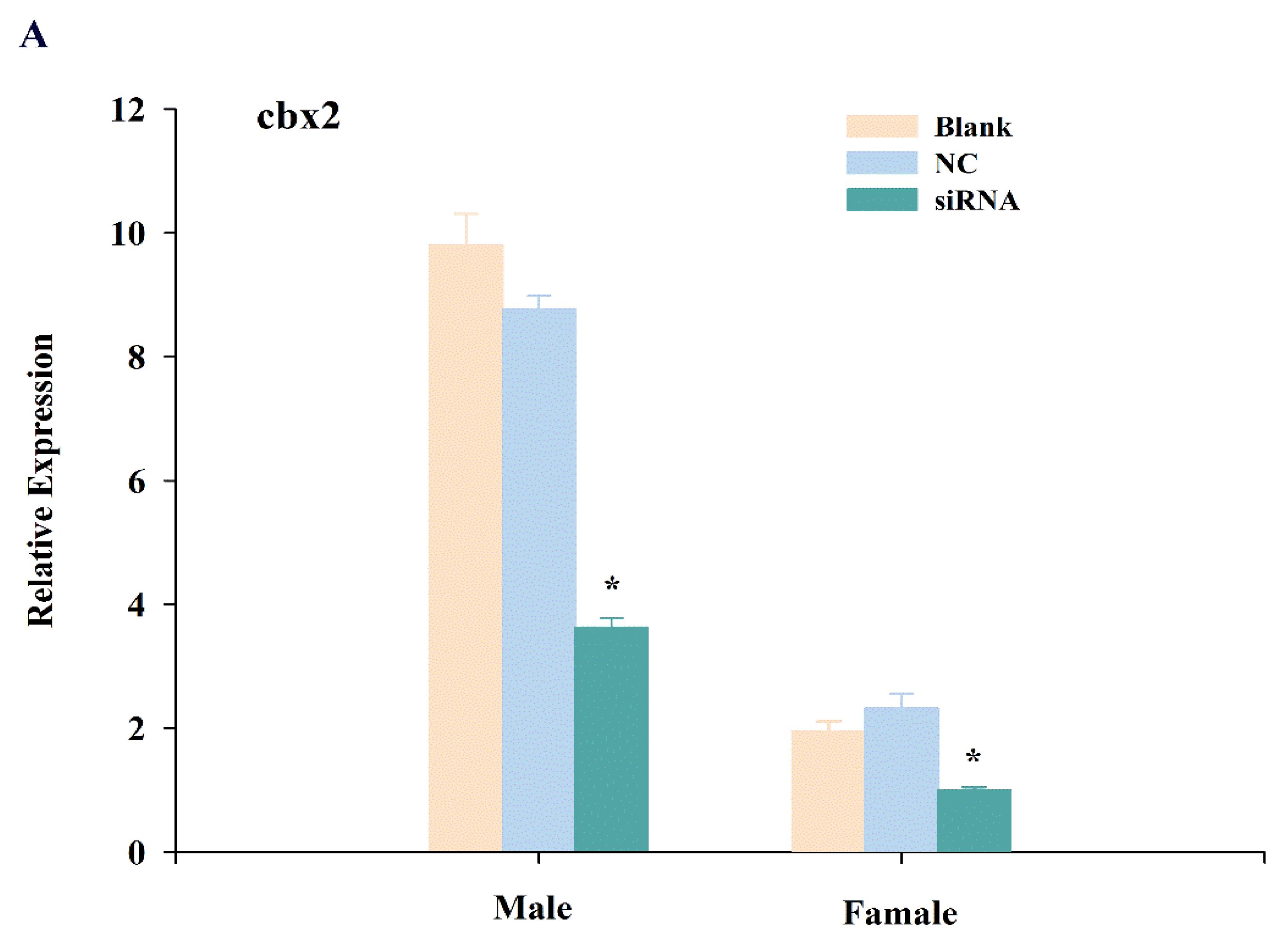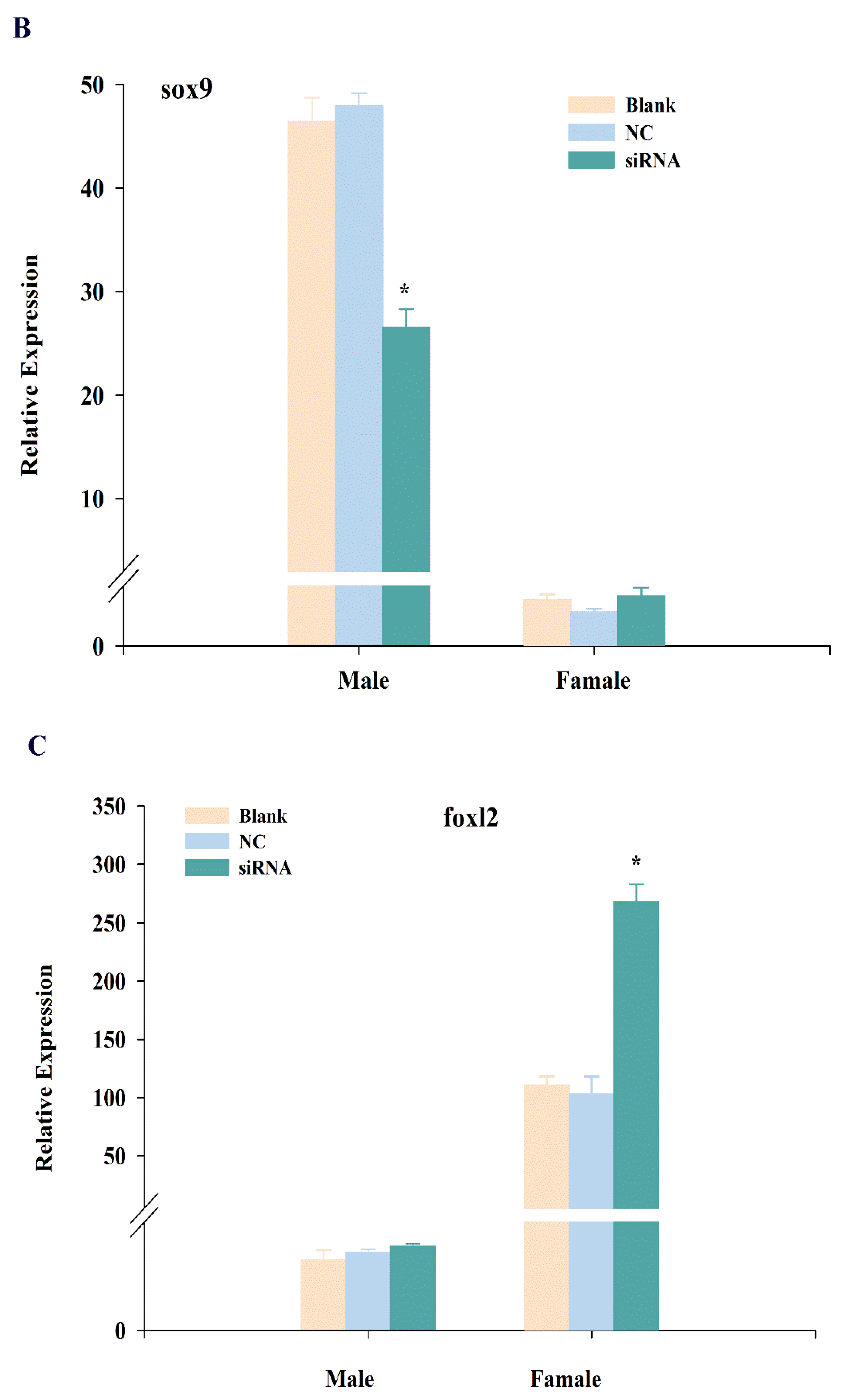 Primer
Primer Sequence (5′→3′)

cbx2

-F
GCCCAAGTCCAGCACCTCA

cbx2

-R
GCTCCTTCGCCTCACCTCT

cbx2

-spel-F
GGACTAGTTGGTGGGCGACTCCTTGA

cbx2

-sphl-R
CATGCATGCACCTGAACCCTTCCAAACAC

vasa

-spel-F
GGACTAGTCCCGCTTGTTGAATTTGG

vasa

-sphl-R
CATGCATGCTGTGCGAGTCGTTGGAGAA

sox9

-F
AAACTGGCCGACCAATAC

sox9

-R
CTCAGCCTCCTCCACAAA

foxl2

-F
TCCTACACGTCCTGCCAGAT

foxl2

-R
CCCATGCCGTTGTAAGAGTT

18s

-F
CTGAGAAACGGCTACCACAG

18s

-R
CAGCAACTTTAAGATACGC
Codes were used to degenerate the primers. F, sense primer; R, antisense primer.
Gene
Direction
Sequence

cbx2

-siRNA-1(251)
Sense (5′-3′)
CCGACUCUGACCGCACUAATT
Anti-sense (3′-5′)
UUAGUGCGGUCAGAGUCGGTT

cbx2

-siRNA-2(853)
Sense (5′-3′)
GCGCUGCACCUGAACCCUUTT
Anti-sense (3′-5′)
AAGGGUUCAGGUGCAGCGCTT

cbx2

-siRNA-3(1337)
Sense (5′-3′)
GCCUCAUCGAGCACGUGUUTT
Anti-sense (3′-5′)
AACACGUGCUCGAUGAGGCTT

© 2020 by the authors. Licensee MDPI, Basel, Switzerland. This article is an open access article distributed under the terms and conditions of the Creative Commons Attribution (CC BY) license (http://creativecommons.org/licenses/by/4.0/).