Open Access This article is
freely available
re-usable
Article
Components from the Human c-myb Transcriptional Regulation System Reactivate Epigenetically Repressed Transgenes
1
School of Biological and Health Systems Engineering, Arizona State University, 501 East Tyler Mall, Tempe, AZ 85287, USA
2
Department of Chemical Engineering, Villanova University, 217 White Hall, 800 East Lancaster Avenue, Villanova, PA 19085, USA
3
Wallace H. Coulter Department of Biomedical Engineering, Emory University, Atlanta, GA 30322, USA
*
Author to whom correspondence should be addressed.
Received: 11 November 2019 / Accepted: 7 January 2020 / Published: 14 January 2020
Abstract
:
A persistent challenge for mammalian cell engineering is the undesirable epigenetic silencing of transgenes. Foreign DNA can be incorporated into closed chromatin before and after it has been integrated into a host cell's genome. To identify elements that mitigate epigenetic silencing, we tested components from the c-myb and NF-kB transcriptional regulation systems in transiently transfected DNA and at chromosomally integrated transgenes in PC-3 and HEK 293 cells. DNA binding sites for MYB (c-myb) placed upstream of a minimal promoter enhanced expression from transiently transfected plasmid DNA. We targeted p65 and MYB fusion proteins to a chromosomal transgene,
UAS-Tk-luciferase
, that was silenced by ectopic Polycomb chromatin complexes. Transient expression of Gal4-MYB induced an activated state that resisted complete re-silencing. We used custom guide RNAs and dCas9-MYB to target MYB to different positions relative to the promoter and observed that transgene activation within ectopic Polycomb chromatin required proximity of dCas9-MYB to the transcriptional start site. Our report demonstrates the use of MYB in the context of the CRISPR-activation system, showing that DNA elements and fusion proteins derived from c-myb can mitigate epigenetic silencing to improve transgene expression in engineered cell lines.
Keywords:
MYB; c-myb; transgene; epigenetic silencing; activator; heterochromatin; polycomb
Author Contributions
Conceptualization, C.M.B., J.E., and K.A.H.; methodology, C.M.B., R.M., and J.E.; validation, C.M.B. and J.E.; formal analysis, K.A.H. and J.E.; investigation, C.M.B.; resources, J.E. and K.A.H.; data curation, K.A.H.; writing—original draft preparation, C.M.B. and K.A.H.; writing—review and editing, C.M.B., J.E., and K.A.H.; visualization, K.A.H.; supervision, K.A.H.; project administration, K.A.H.; funding acquisition, K.A.H. All authors have read and agreed to the published version of the manuscript.
Funding
This work was funded by the National Science Foundation Division of Chemical, Bioengineering, Environmental and Transport Systems, grant number 1404084, and the National Institutes of Health National Cancer Institute, grant number K01CA188164.
Acknowledgments
We thank Chang C. Liu, Theresa B. Loveless, and Tate C. Lone (University of California Irvine, Irvine, CA) for providing CMV-GFP cells and imaging data for the experiment reported in
Supplementary Figure S7
, Kaushal Rege and Rajeshwar Nitiyanandan (Arizona State University, Tempe, AZ) for providing celastrol, and Rene M. Daer and Daniel A. Vargas (Arizona State University, Tempe, AZ) for early efforts in this project.
Conflicts of Interest
The authors declare no conflicts of interest. The funders had no role in the design of the study; in the collection, analysis, or interpretation of data; in the writing of the manuscript, or in the decision to publish the results.
Abbreviations
| | |
| --- | --- |
| AAP | activation associated protein |
| CMV | cytomegalovirus |
| CR | chromatin remodeler |
| Gal4 | Gal4 DNA binding domain |
| HAT | histone acetyltransferase |
| NLS | nuclear localization signal |
| ORF | open reading frame |
| PF | pioneer factor |
| PolII | RNA polymerase II |
| PRC | Polycomb repressive complex |
| TAD | transcriptional activation domain |
| UAS | upstream activation sequence |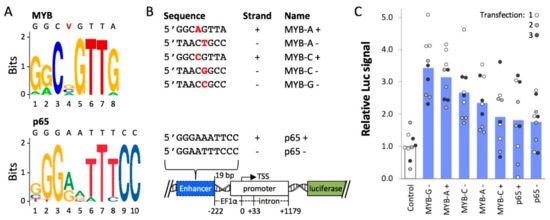 Figure 1.
Luciferase expression from MYB- and p65-enhancer constructs. (
A
) Enhancer motif logos for MYB and p65 were generated by JASPAR [
57
]. The MYB sequence includes a variable site (V) equally represented by A, C, or G nucleotides, shown in red font. (
B
)
Luciferase
reporter constructs included one of the enhancer sequences (MYB-A+, etc.) 19 bp upstream of an EF1α promoter, or no enhancer (Control). (
C
) Luciferase assays were carried out using PC-3 cells transfected with Lipofectamine-plasmid complexes. For each transfection, luminescence (Luc signal) values were measured in triplicate and normalized to the average signal from the Control. Circle = one Luc measurement, bar = mean of nine Luc values.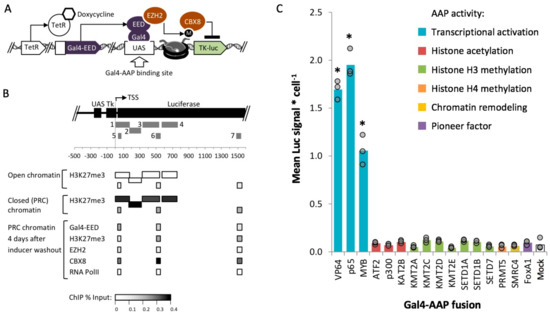 Figure 2.
Measurement of
luciferase
reporter expression within closed or open chromatin after exposure to Gal4-AAP fusions. (
A
) In Gal4-EED/luc HEK 293 cells expression of the Gal4-EED fusion protein is controlled by a Tetracycline repressor (TetR). Treatment with dox allows expression of Gal4-EED, which binds UAS and recruits EZH2 (a subunit of PRC2). EZH2 methylates (M) histone H3K27, which recruits CBX8 (a subunit of PRC1) (
B
) Panel B summarizes published chromatin immunoprecipitation (ChIP) data from previous analyses of the
Tk-luciferase
locus. Grey numbered bars indicate amplicons for quantitative PCR: 1-4 [
25
], and 5-7 [
65
]. (
C
) Dox-treated cells were transfected with each Gal4-AAP fusion plasmid. Three days after transfection, the luciferase signal was measured. Each circle in the bar graph shows the mean luciferase (Luc) signal for a single transfection, divided by cell density (total DNA, Hoechst staining signal). Bars show means of three transfections. Asterisks (*) =
p
< 0.05 compared to mock-transfected cells.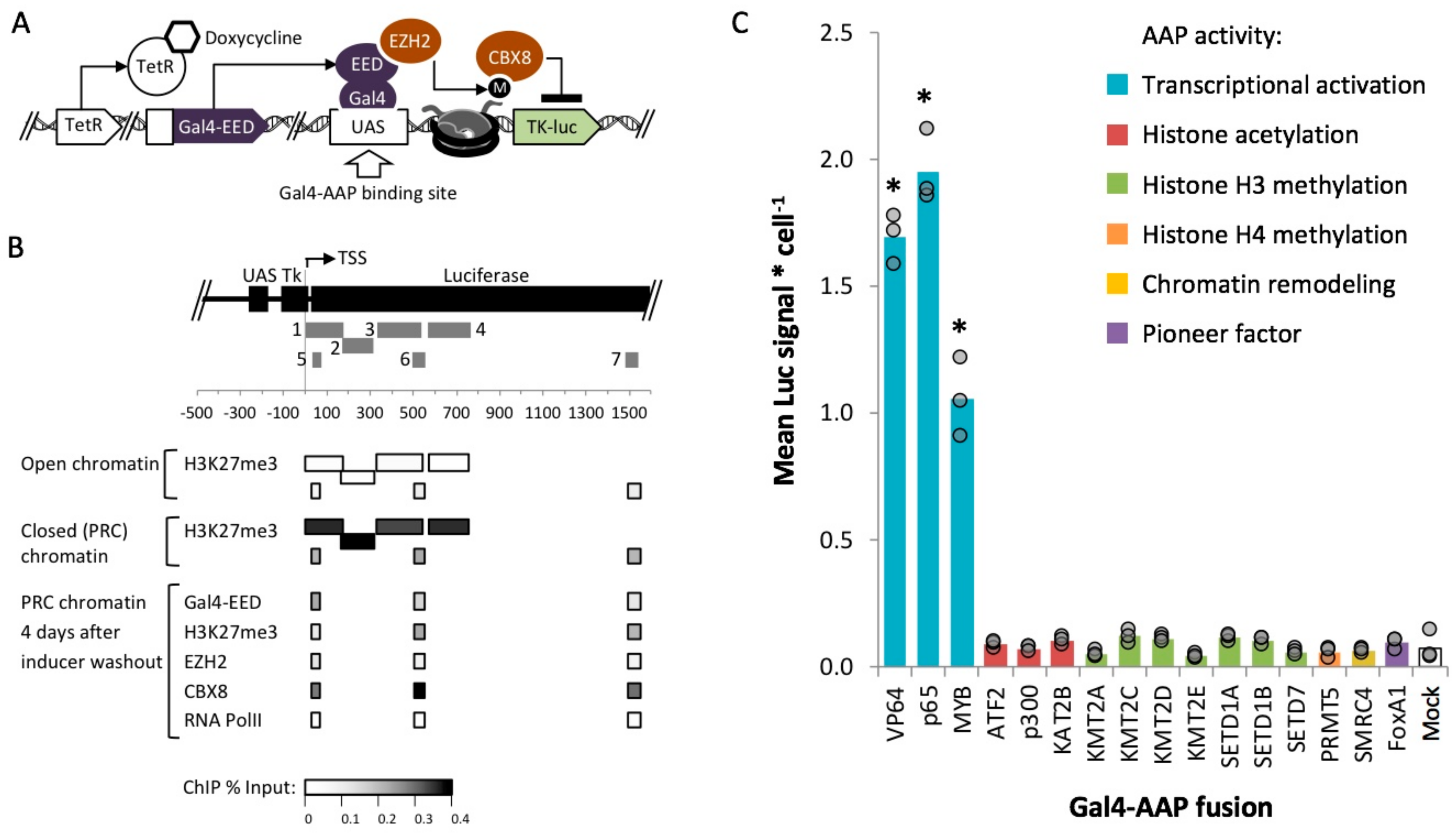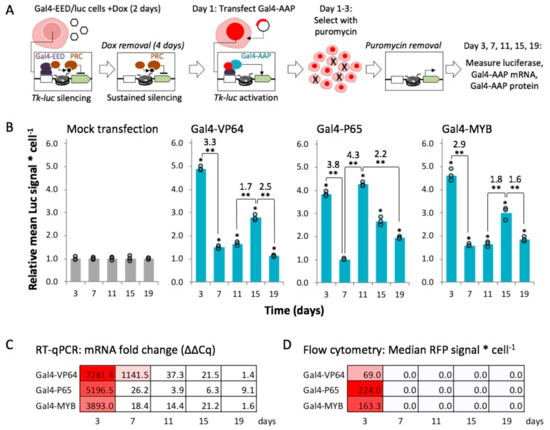 Figure 3.
Expression of Polycomb-repressed
Tk-luciferase
over time after expression and loss of Gal4-P65, Gal4-VP64, or Gal4-MYB. (
A
) Diagram of the experimental workflow. Gal4-EED/luc cells were treated with dox to induce polycomb chromatin, transfected with a Gal4-AAP plasmid, and grown under puromycin selection (10 µg/mL). At three days post transfection, cells were sampled for assays, passaged in puromycin-free medium, then sampled seven, 11, 15, and 19 days post transfection for additional assays. (
B
) Individual values (circles, Luc signal per cell) at each time point are normalized by the mean of the mock-transfected (Lipofectamine-only) negative control. Fold change of mean values between time points for each Gal4-AAP experiment are shown within each bar graph. Asterisks represent
p
-values (*
p
< 0.05) for mean values greater than the mean for the mock-transfected negative control sample. *
p
< 0.05 and **
p
< 0.01 are shown for intra-group comparisons (brackets). Results from an additional trial are shown in
Supplementary Figure S4
. (
C
) Reverse transcription followed by quantitative PCR (RT-qPCR) with primers for the universal mCherry region was used to determine Gal4-AAP transcript levels. "mRNA fold change" represents the Cq value normalized by the Cq of a housekeeping gene (
TBP
), and relative to mock-transfected cells (Lipofectamine reagent only), log2 transformed. (
D
) Flow cytometry of mCherry signal (red fluorescent protein, RFP) was used to determine Gal4-AAP protein levels. Data in C and D were generated from one set of transfections in B. For other samples, cells were visually inspected for RFP to verify the loss of Gal4-AAP. In the tables in C and D, the intensity of red shading corresponds with the values shown in each cell.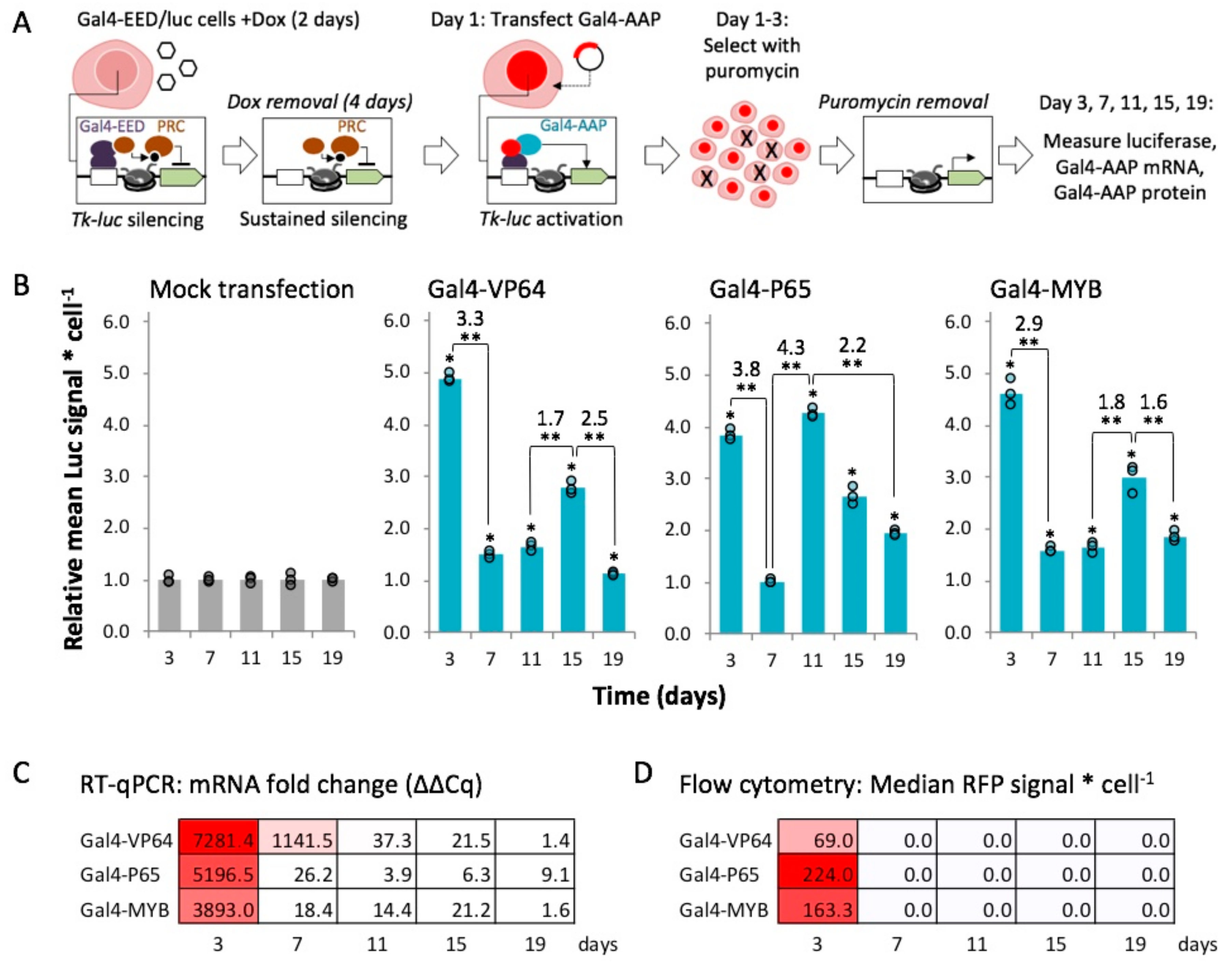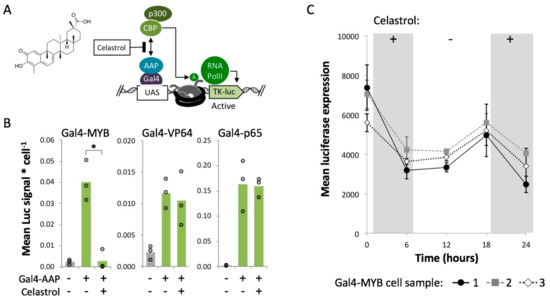 Figure 4.
Celastrol disrupts Gal4-MYB-mediated activation of
luciferase
in closed chromatin. (
A
) The p300/CBP complex acetylates histones via the catalytic HAT domain of p300 and/or CBP [
70
]. Celastrol inhibits the recruitment of p300/CBP by MYB by binding a docking domain in CBP that facilities complex assembly [
72
,
74
]. (
B
) Three days after Gal4-EED-mediated repression of
Tk-luciferase
and transfection with Gal4-AAPs, cells were treated with 5 μM celastrol for six hours and collected for luciferase assays. Mean luciferase (Luc) signal per cell is presented as described for
Figure 2
C. Asterisk (*) =
p
< 0.05. (
C
) Luc measurements were carried out in Gal4-MYB-expressing cells after removal (−) and re-addition (+) of celastrol. Each series (Gal4-MYB cell sample) represents an independent transfection. Point = mean of three luciferase assays, bars = standard error.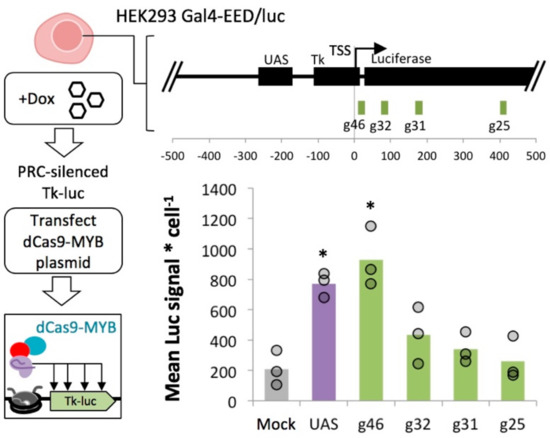 Figure 5.
dCas9-MYB's ability to enhance expression in induced Polycomb heterochromatin is dependent upon distance from the promoter. We targeted dCas9-MYB to four locations (g46, g32, g31, g25) across the
Tk-luciferase
transgene in silenced Gal4-EED/luc cells. Luciferase signal per cell is presented as described for
Figure 2
C. The negative control (grey bar) is a mock-transfection with Lipofectamine. The positive control (purple bar) is a transfection with Gal4-MYB, which binds the yeast upstream activation sequence (
UAS
) upstream of the
Tk
promoter. Asterisks (*) =
p
< 0.05 for experimental mean compared to the mock-transfected control mean.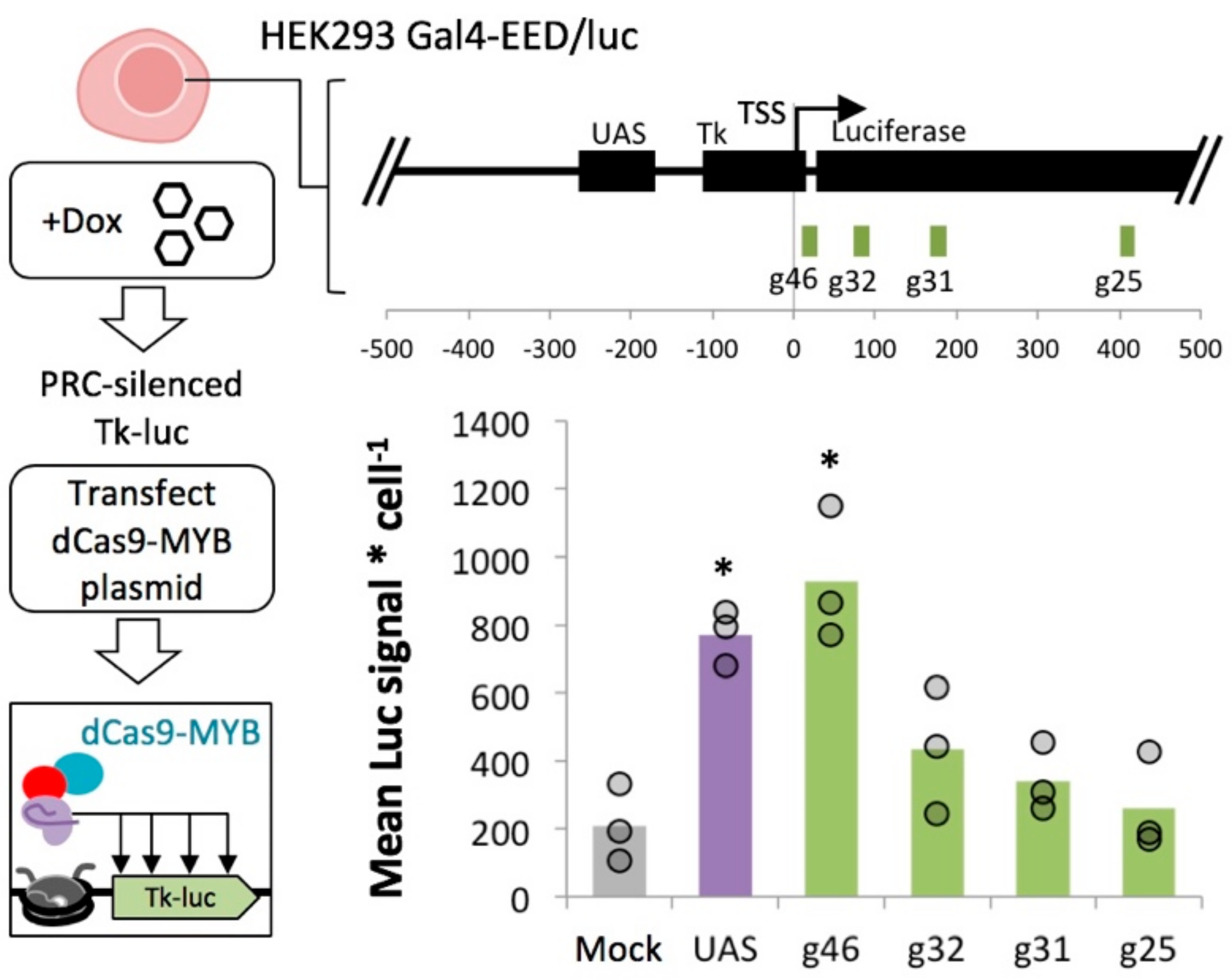 © 2020 by the authors. Licensee MDPI, Basel, Switzerland. This article is an open access article distributed under the terms and conditions of the Creative Commons Attribution (CC BY) license (http://creativecommons.org/licenses/by/4.0/).