Open Access This article is
freely available
re-usable
Article
Elucidation of Molecular Mechanism of a Selective PPARα Modulator, Pemafibrate, through Combinational Approaches of X-ray Crystallography, Thermodynamic Analysis, and First-Principle Calculations
1
Graduate Division of Nutritional and Environmental Sciences, University of Shizuoka, 52-1 Yada, Suruga-ku, Shizuoka 422-8526, Japan
2
Department of Chemistry, Rikkyo University, 3-34-1 Nishi-Ikebukuro, Toshima-ku, Tokyo 171-8501, Japan
3
Japan Agency for Medical Research and Development-Core Research for Evolutional Science and Technology (AMED-CREST), Chiyoda-ku, Tokyo 100-1004, Japan
4
Department of Internal Medicine (Endocrinology and Metabolism), Faculty of Medicine, University of Tsukuba, 1-1-1 Tennodai, Tsukuba, Ibaraki 305-8575, Japan
5
International Institute for Integrative Sleep Medicine (WPI-IIIS), University of Tsukuba, 1-1-1 Tennodai, Tsukuba, Ibaraki 305-8575, Japan
6
Research Center for Smart Molecules, Rikkyo University, 3-34-1 Nishi-Ikebukuro, Toshima-ku, Tokyo 171-8501, Japan
7
Life Science Center for Survival Dynamics, Tsukuba Advanced Research Alliance (TARA), University of Tsukuba, 1-1-1 Tennodai, Tsukuba, Ibaraki 305-8577, Japan
†
These authors contributed equally to this work.

Received: 28 November 2019 / Accepted: 27 December 2019 / Published: 6 January 2020
Abstract
:
The selective PPARα modulator (SPPARMα) is expected to medicate dyslipidemia with minimizing adverse effects. Recently, pemafibrate was screened from the ligand library as an SPPARMα bearing strong potency. Several clinical pieces of evidence have proved the usefulness of pemafibrate as a medication; however, how pemafibrate works as a SPPARMα at the molecular level is not fully known. In this study, we investigate the molecular mechanism behind its novel SPPARMα character through a combination of approaches of X-ray crystallography, isothermal titration calorimetry (ITC), and fragment molecular orbital (FMO) analysis. ITC measurements have indicated that pemafibrate binds more strongly to PPARα than to PPARγ. The crystal structure of PPARα-ligand binding domain (LBD)/pemafibrate/steroid receptor coactivator-1 peptide (SRC1) determined at 3.2 Å resolution indicates that pemafibrate binds to the ligand binding pocket (LBP) of PPARα in a Y-shaped form. The structure also reveals that the conformation of the phenoxyalkyl group in pemafibrate is flexible in the absence of SRC1 coactivator peptide bound to PPARα; this gives a freedom for the phenoxyalkyl group to adopt structural changes induced by the binding of coactivators. FMO calculations have indicated that the accumulation of hydrophobic interactions provided by the residues at the LBP improve the interaction between pemafibrate and PPARα compared with the interaction between fenofibrate and PPARα.
Keywords:
pemafibrate; SPPARMα; X-ray crystal structure; isothermal titration calorimetry; fragment molecular orbital theory
Author Contributions
M.K. and A.K. contributed equally to this manuscript. H.T., S.N., and H.S. designed the research and managed the projects. M.K. and A.K. purified PPARs samples and performed ITC measurement. S.N. performed X-ray crystallography. Y.Y., S.A. and H.T. performed FMO calculations. M.K., A.K., Y.Y., S.A., S.I., Y.N., H.T., S.N., and H.S. analyzed and discussed the data. M.K., S.N., and H.S. wrote the manuscript. All authors have read and agreed to the published version of the manuscript.
Funding
This work was supported by AMED-CREST, Japan Agency for Medical Research Development (to H.S.), JSPS KAKENHI Grant Number 16K18688, and 18K14391 (for S.N.).
Acknowledgments
X-ray data were collected at the synchrotron facilities of the Photon Factory (PF) using beamlines BL5A (proposal No. 2018G006). The computations were performed using Research Center for Computational Science, Okazaki, Japan.
Conflicts of Interest
The authors declare no conflict of interest.
Abbreviations
| | |
| --- | --- |
| PPAR | Peroxisome proliferator-activated receptor |
| LBD | Ligand binding domain |
| LBP | Ligand binding pocket |
| SPPARM | Selective PPAR modulator |
| FMO | Fragment molecular orbital |
| ITC | Isothermal titration calorimetry |
| IFIE | Interfragment interaction energy |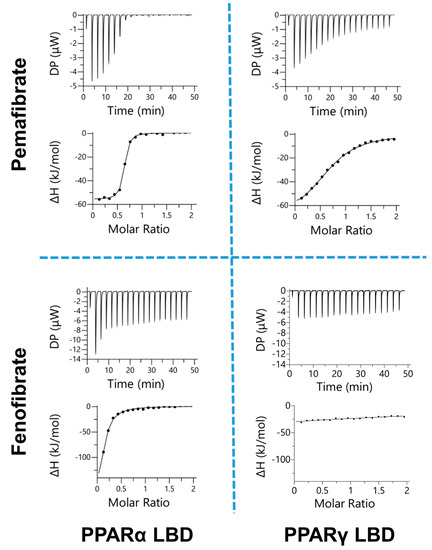 Figure 1.
Isothermal titration calorimetry (ITC) analysis of fenofibric acid and pemafibrate binding to peroxisome proliferator activated receptor α (PPARα) and PPARγ ligand binding domain (LBD). The upper and lower panels of ITC data represent the heat signal generated by the binding of each ligand to PPARs in the cells and integration of the signal per injection, respectively. All the relevant parameters are given in
Table 1
.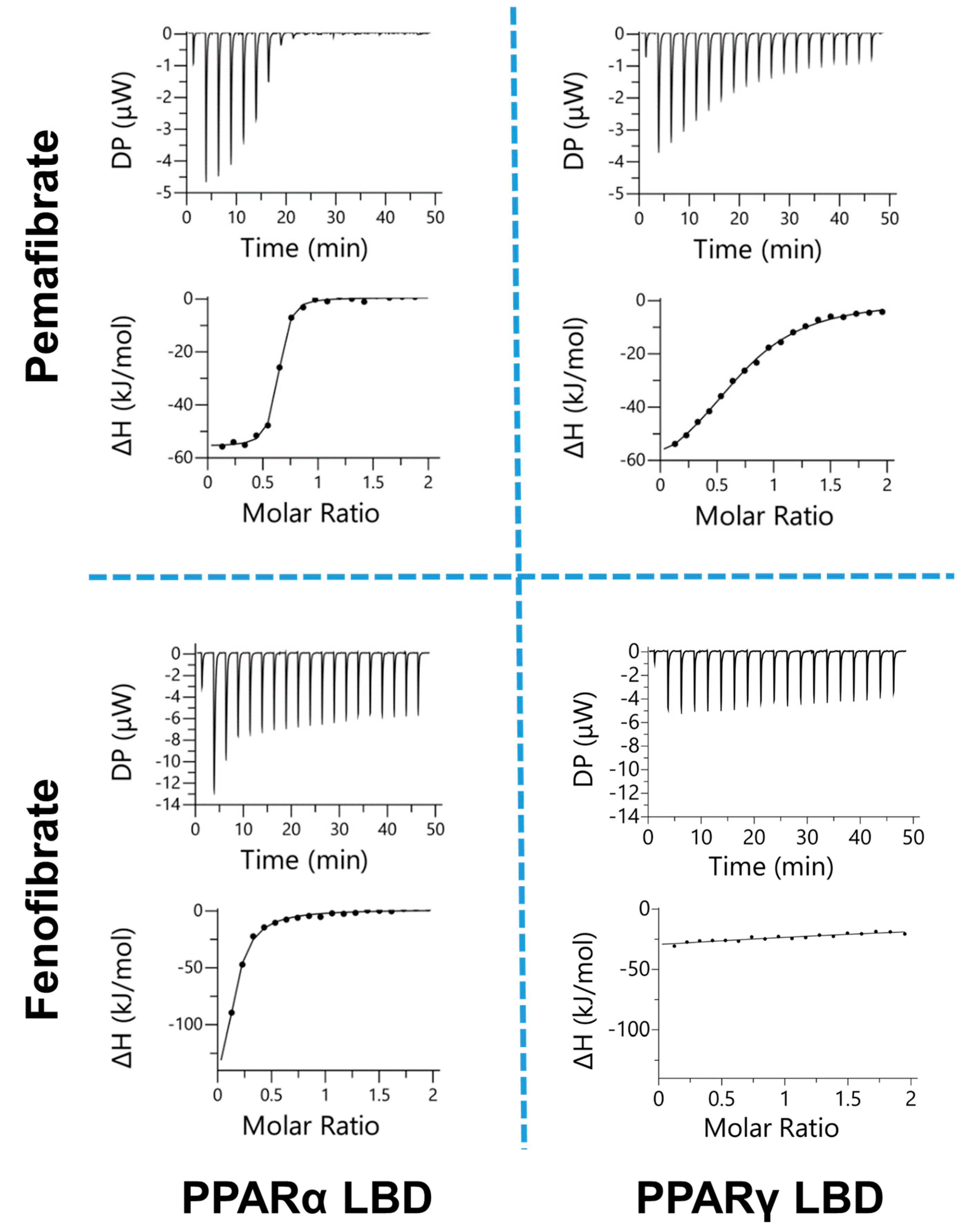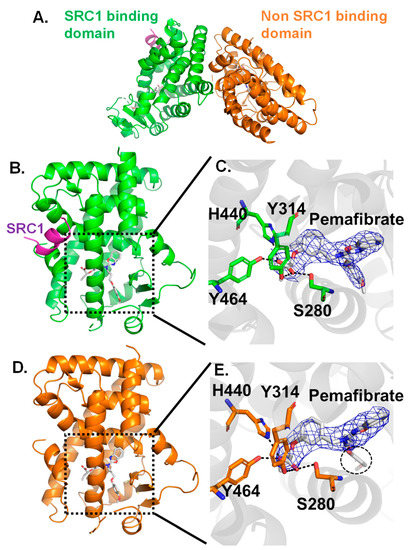 Figure 2.
(
A
) Overall structure of PPARα-LBD/pemafibrate/SRC1 peptide. The domain which binds both pemafibrate and SRC1 peptide colored in green, and the domain which binds only pemafibrate colored in orange. Crystal structure of SRC1 binding domain (
B
) and LBP site (
C
). Crystal structure of the non-SRC1 binding domain (
D
) and LBP site (
E
). In both structures, three residues (Y314, H440, and Y464) form hydrogen bonds with the carboxyl group of pemafibrate. The 2
F
o
-
F
c
electron density map contoured at 1.0
σ
.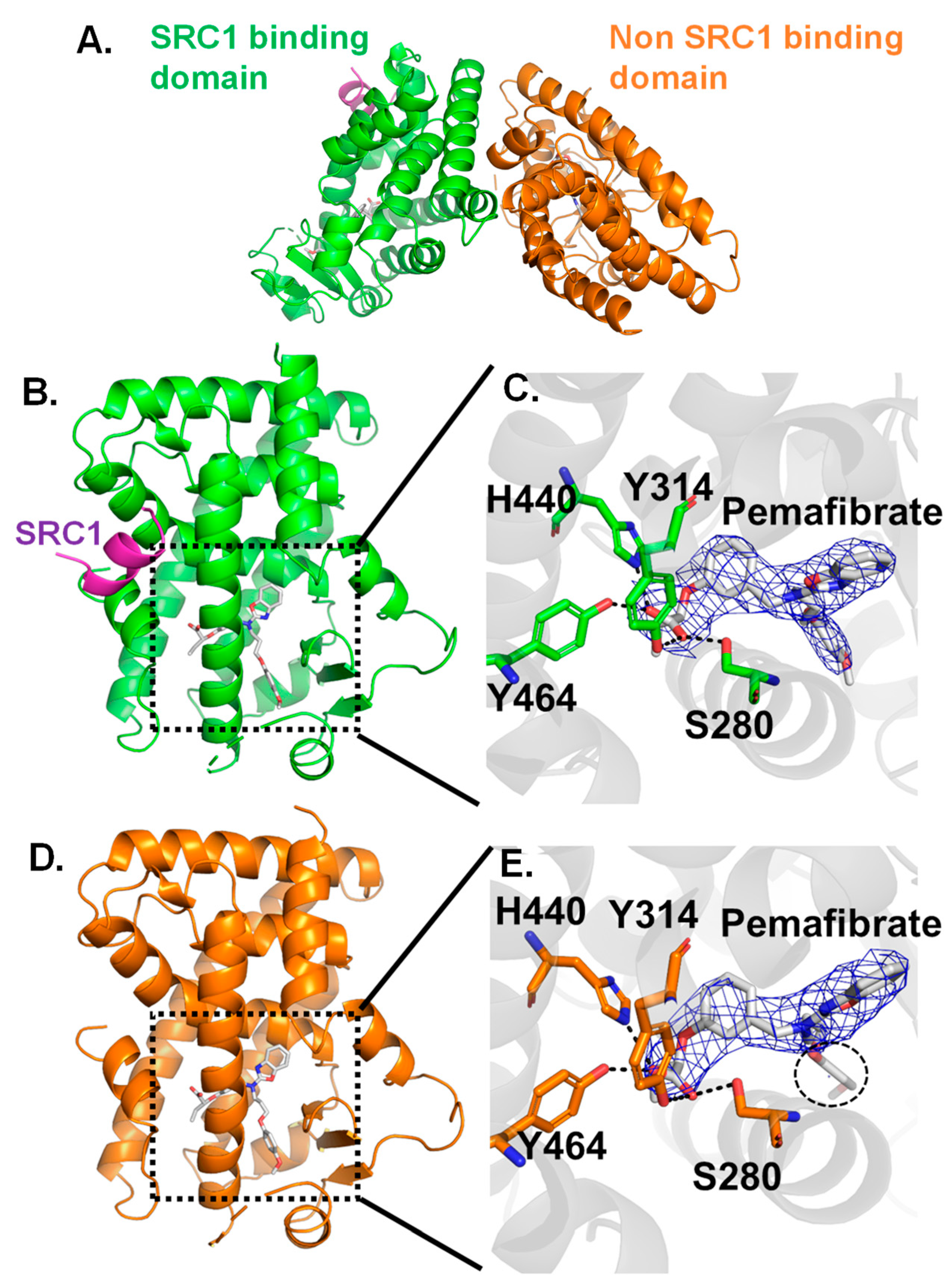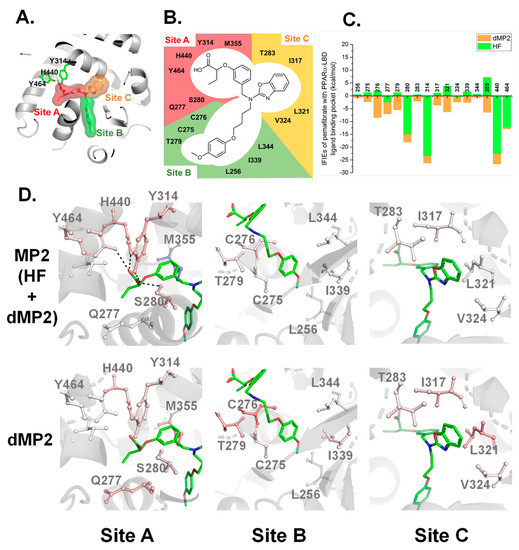 Figure 3. (A) Division of the LBP site of PPARα into three sites. The LBP is divided into three sites: site A (red surface), site B (green surface), and site C (orange surface). (B) Potential interacting residues at the LBP of PPARα with pemafibrate. A total of 16 residues were located within 3.2 Å distance from pemafibrate. (C) Significant interfragment interaction energies (IFIEs) between pemafibrate and LBP residues of PPARα. The HF-IFIEs and dMP2-IFIEs represented in green and orange, respectively. (D) Representation of MP2-IFIEs (upper row) and dMP2-IFIEs (bottom row) at the three sites on the crystal structure of the PPARα-LBD/pemafibrate/SRC1 peptide. The structures are colored depending on the magnitude of the IFIEs value. Positive (repulsive) and negative (attractive) IFIEs are colored by blue and red, respectively.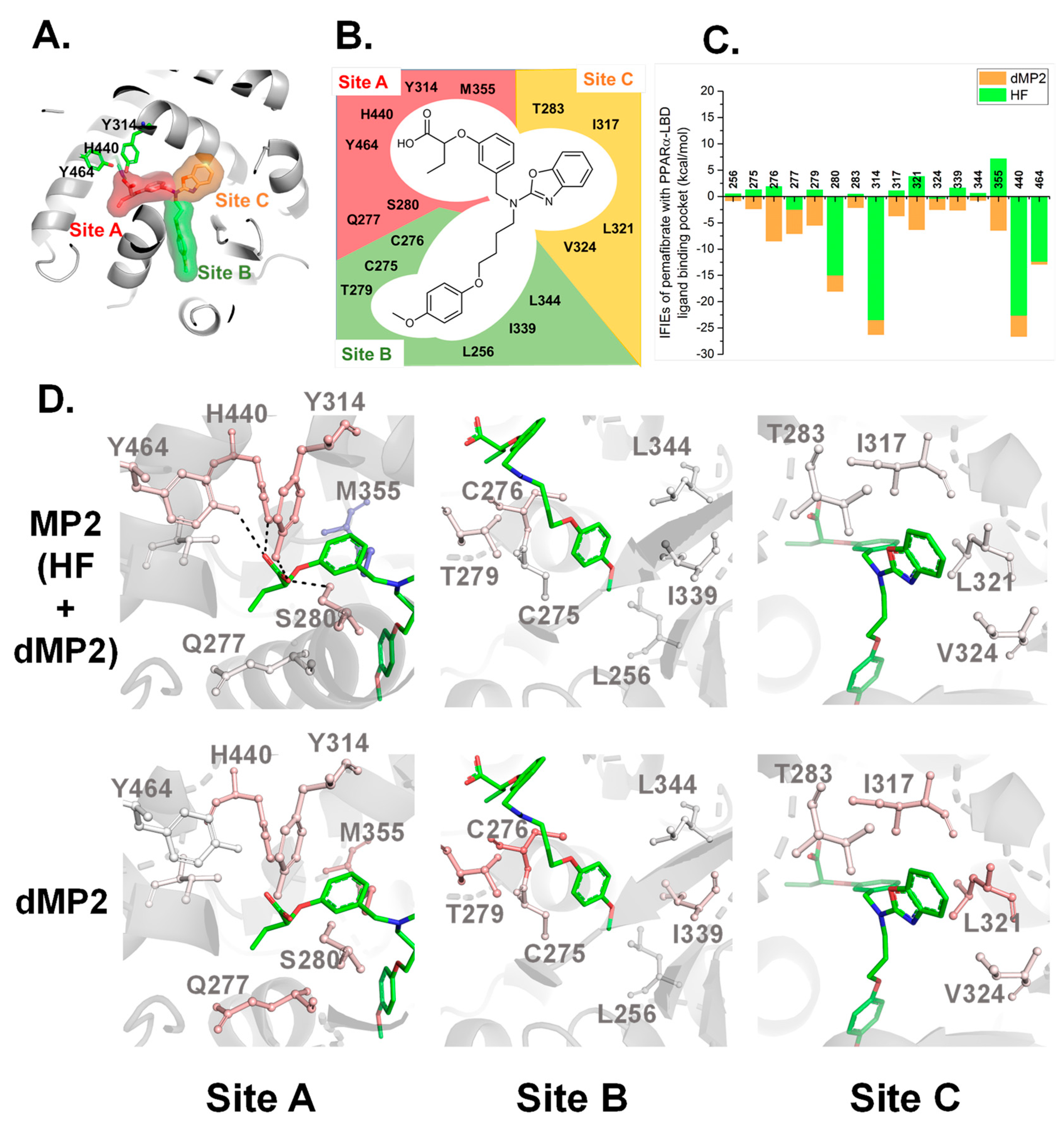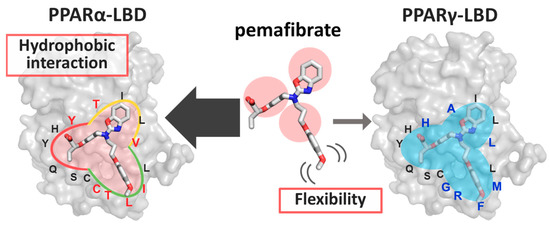 Figure 4. Schematic view of the molecular mechanism behind pemafibrate as a selective PPARα modulator (SPPARMα).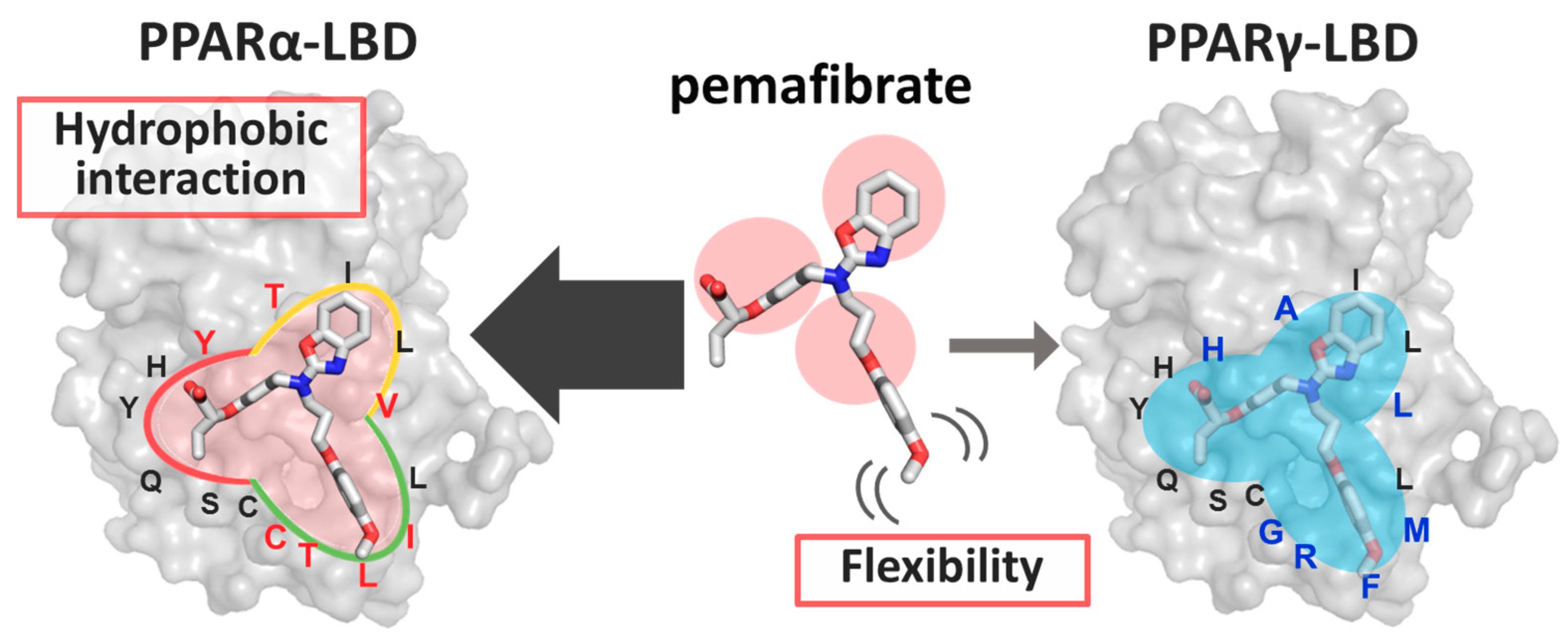 Table 1. Thermodynamic parameters for the interaction between PPARs-LBD (PPARα-LBD and PPARγ-LBD) and two fibrates (pemafibrate and fenofibric acid) at 25 °C measured by ITC a.
n

K

d
Δ

G

Δ

H

−T

Δ

S

μM
kcal/mol
Pemafibrate
PPARα-LBD
0.61 ± 0.03
0.13 ± 0.04
−9.37 ± 0.02
−12.3 ± 0.6
3.13 ± 0.69
PPARγ-LBD
0.65 ± 0.05
9.58 ± 1.85
−6.83 ± 0.41
−17.1 ± 1.0
10.3 ± 1.2
Fenofibric Acid
PPARα-LBD
0.27 ± 0.04
7.37 ± 2.68
−7.02 ± 0.25
−23.2 ± 2.3
16.1 ± 2.5
PPARγ-LBD
n.d. b
n.d.
n.d.
n.d.
n.d.
a ITC measurement was performed independently three times (

n

= 3). b n.d. means "not determined".

Table 2. Statistics of X-ray diffraction data collection for PPARα-LBD (194-468) complexed with pemafibrate and coactivator peptide, SRC1.
PPARα-LBD/Pemafibrate/SRC1
Space group
P3121
Unit cell parameters
a (Å)
82.74
b (Å)
82.74
c (Å)
177.5
α (degree)
90.0
β (degree)
90.0
γ (degree)
120.0
X-ray source
PF
BL5A
Wavelength (Å)
1.00
Resolution (Å)
45.7–3.2
(3.26–3.2)
No. of reflections a
131,418
No. of unique reflections
224,57
Completeness (%)
100 (100)
I/sig(I)
20.8 (1.5)

R

mergeb
0.080 (0.678)
CC1/2
0.996 (0.800)

R

c
0.190

R

freed
0.253
RMSD of geometry
Bond length (Å)
0.013
Bond angle (degree)
1.656
Geometry
Ramachandran outlier (%)
0.4
Ramachandran favored (%)
99.6
PDB code
6L96
a Sigma cutoff was set to none (F > 0σF). b

R

merge = ΣhΣi|Ii(

h

) − <

I

(

h

)>|/Σh I(

h

), where Ii(

h

) is the

i

th measurement of reflection

h

, and <

I

(

h

)> is the mean value of the symmetry-related reflection intensities. Values in brackets are for the shell of the highest resolution. c

R

= Σ||Fo| − |Fc ||/Σ|Fo|, where Fo and Fc are the observed and calculated structure factors used in the refinement, respectively. d

R

free is the

R

-factor calculated using 5% of the reflections chosen at random and omitted from the refinement.

© 2020 by the authors. Licensee MDPI, Basel, Switzerland. This article is an open access article distributed under the terms and conditions of the Creative Commons Attribution (CC BY) license (http://creativecommons.org/licenses/by/4.0/).