Open Access This article is
freely available
re-usable
Review
Glycation of Plant Proteins: Regulatory Roles and Interplay with Sugar Signalling?
1
Department of Biochemistry, St. Petersburg State University, Saint Petersburg 199034, Russia
2
Department of Biotechnology, St. Petersburg Chemical Pharmaceutical University, Saint Petersburg 197022, Russia
3
Department of Bioorganic Chemistry, Leibniz Institute of Plant Biochemistry, 06120 Halle, Germany
4
Laboratory of Molecular Plant Biology, KU Leuven, 3001 Leuven, Belgium
5
Department of Plant Physiology and Biochemistry, St. Petersburg State University, Saint Petersburg 199034, Russia
6
Department of Plant Cell Biology and Bioengineering, Belarusian State University, 220030 Minsk, Belarus
7
Department of Horticulture, Foshan University, Foshan 528231, China
*
Author to whom correspondence should be addressed.
Received: 14 April 2019 / Accepted: 9 May 2019 / Published: 13 May 2019
Abstract
:
Glycation can be defined as an array of non-enzymatic post-translational modifications of proteins formed by their interaction with reducing carbohydrates and carbonyl products of their degradation. Initial steps of this process rely on reducing sugars and result in the formation of early glycation products—Amadori and Heyns compounds via Schiff base intermediates, whereas their oxidative degradation or reactions of proteins with α-dicarbonyl compounds yield a heterogeneous group of advanced glycation end products (AGEs). These compounds accompany thermal processing of protein-containing foods and are known to impact on ageing, pathogenesis of diabetes mellitus and Alzheimer's disease in mammals. Surprisingly, despite high tissue carbohydrate contents, glycation of plant proteins was addressed only recently and its physiological role in plants is still not understood. Therefore, here we summarize and critically discuss the first steps done in the field of plant protein glycation during the last decade. We consider the main features of plant glycated proteome and discuss them in the context of characteristic metabolic background. Further, we address the possible role of protein glycation in plants and consider its probable contribution to protein degradation, methylglyoxal and sugar signalling, as well as interplay with antioxidant defense.
Keywords:
advanced glycation end products (AGEs); thermal processing of foods; methylglyoxal; plant glycation; protein degradation; protein glycation; sugar signalling
2. AGEs in Plant-Derived Foods
The demand for high quality of daily consumed foods is continuously growing along with general improvement of quality of life. In this context, not only appearance and taste of meals, however also their quality and safety become important for the consumer's choice. On the other hand, thermal processing (i.e., heat treatment) of conventional foods represents an integral part of their preparation. Due to the pronounced temperature dependence of the Maillard reaction rate [
26
], this procedure results in dramatic increase of AGE contents in thermally processed foods [
48
].
In general,
Nε
-(carboxymethyl)lysine (CML) is recognized as the main marker of AGE formation in foods [
49
]. Typically, quantitative determination of this compound relies on enzyme-linked immunoassay (ELISA) [
50
] or liquid chromatography, coupled on-line to tandem mass spectrometry (LC-MS/MS) [
51
,
52
]. For example, implementation of the LC-MS/MS technique allowed Hulla and co-workers to precisely quantify CML in roasted coffee beans, where its contents reached 84.1 mg/kg protein [
53
]. In a comprehensive ELISA-based study, Vlassara and co-workers compared various foods and beverages in respect of their CML contents [
54
] and estimated their pro-inflammatory potential
in vivo
[
55
]. The researchers also found that white heat-treated potatoes contain different amounts of AGEs, depending on the method and duration of heat treatment. Thus, boiling of potatoes for 25 min yielded about 17 kU AGEs/100 g protein, whereas roasting for 1 h resulted in four-fold higher values. Moreover, roasting of potatoes with oil and preparation of french fries' potato yielded 218 and from 694 to 1522 kU AGEs/100 g protein, respectively [
56
]. In general, thermally processed plant-derived foods differ essentially in AGE contents, which are usually higher in protein-rich meals with high levels of carbohydrates and/or lipids or fatty acids [
57
].
As plant-derived thermally processed foods are prone to enhanced accumulation of AGEs, it was assumed that non-heated raw vegetables and fruits might be less dangerous in respect of triggering inflammatory response in mammals. The contents of CML in these foods were comprehensively addressed by Goldberg et al. who showed that abundance of this AGE in fruits varied substantially and accounted 0.01, 0.10 and 0.13 kU/g in bananas, carrots and apples, respectively [
54
]. Based on ELISA methodology, Vlassara et al. reported essentially higher values which reached 45, 9, 11 and 20 KU CML/100 g protein in apples, tomatoes, bananas and cantaloupe, respectively [
56
]. In turn, LC-MS/MS analysis of CML adducts revealed high contents of this AGE in plant foods—on average, 26.6 mg/kg protein [
53
]. This was substantially higher compared to raw foods of animal origin, like raw beef mincemeals, containing only 3.9 mg CML/kg protein [
58
]. Thus, it can be noted that raw plant-derived foods contain more AGEs (CML) than the foods of animal origin. Hence, one can assume that consumption of plant-derived foods might affect AGE titers in the blood. Indeed, Krajcovicova-Kudlackova et al. demonstrated that blood of vegetarians contained higher amounts of CML in comparison to omnivorous individuals [
59
]. Potentially, these exogenic AGEs could interact with receptors for AGEs (RAGEs), mentioned in the previous section [
39
], triggering a systemic inflammatory response [
60
]. Interestingly, this was not observed when the inflammatory status of vegetarian and omnivorous individuals was compared [
59
]. This difference in comparison to the effects of thermally-treated foods [
54
] can probably be attributed to plant metabolites with antiglycative properties. Thus, the question whether exogenous dietary AGEs of plant origin can affect the glycation and/or oxidation status of human tissues, triggering physiological responses therein remains open. To fill this gap, different types of responses need to be addressed and different fractions (protein-bound and unbound) need to be considered.
3. Protein Glycation in Plants: From Non-Specificity to Glycation Hotspots
4. Possible Role of Protein Glycation in Plant Physiology
In contrast to mammals, the role of glycation in plants is still poorly understood. Similar to ROS acting both as a detrimental factor and as a beneficial signal, depending on their concentration and duration of exposure [
95
], two main functional aspects can be proposed for protein glycation and glycoxidation as well. On one hand, excessive protein glycation results in protein damage and directs polypeptides for degradation by the proteasome. On the other hand, limited, and to some extent, more controlled glycation may be involved in signalling and regulatory events in plants.
4.1. Glycation as the Marker of Ageing, Senescence and Tag for Protein Degradation
It was shown
in vitro
that glycation of ribulose-1,5-bisphosphate carboxylase/oxygenase (RuBisCO), the most crucial enzyme of photosynthesis and probably the most abundant enzyme on the planet, with ascorbic acid resulted in activity loss and increased susceptibility to proteosomal degradation [
96
]. Probably, more extensive glycoxidative modifications of RuBisCO impact on disintegration of chloroplasts, as occurring during senescence and nitrogen starvation [
97
]. It can be reasonably assumed that glycation represents one of the marker non-enzymatic post-translational modifications, directing plant proteins to degradation and corresponding organs to senescence and death. Most probably, the process is accompanied with oxidation [
25
] and modification with reactive carbonyls—products of lipid peroxidation [
98
]. The combination of these post-translational modifications (PTMs) is often referred to as "carbonylation" and recognized as a marker for plant senescence and a tag for proteolysis [
99
]. In mature seeds, glycation represents one of the major markers of seed ageing, in concert with the decrease of their quality and longevity during natural and accelerated storage [
100
,
101
].
It is well known that in mammals, depending on its severity (that is the matter of duration and concentration of carbonyl glycation agents), glycation can either enhance or inhibit protein degradation [
39
]. Thereby, glycation can interfere both with proteasomal [
102
] and lysosomal/autophagy systems [
103
]. Moreover, the function of mammalian proteasomes can be modulated by MGO, a potent glycation agent, both
in vitro
and
in vivo
[
104
]. This α-dicarbonyl was shown to suppress chemotrypsin-like proteasome activity via modification of the 20S subunit with MGO. This suppression might result in accumulation of glycated proteins in cells, causing aggregation [
105
]. Such aggregates cannot be efficiently degraded by the proteasome [
106
]. One can assume that similar mechanisms might exist in plants and function as a fine tuning mechanism of protein degradation rates. However, so far, no information on the impact of glycation on protein degradation and aggregation is available for plants.
As mentioned above, based on our own observations [
67
] and the data obtained by other groups [
61
,
107
], the main glycation pathways in plants are mediated by α-dicarbonyls. Although the most abundant plant α-dicarbonyl is GO, MGO is much better studied in terms of its formation, reactivity and biological role in plants. This metabolite ultimately forms during glycolysis [
108
], thus it is ubiquitous in plants, animals, yeast and bacteria, accounting 0.1–0.4 % of its yield [
109
]. MGO (both externally applied and stress-induced) results in growth retardation in experimental plants [
110
,
111
]. However, on the other hand, one should keep in mind that under altering environmental conditions, MGO may also serve as a messenger of adaptation signalling pathways [
112
].
4.2. Glycation as a Possible Mechanism behind MGO Signalling
4.3. Glycation and Non-Enzymatic Antiglycative/Antioxidant Defense
GSH is not only involved in detoxification of MGO, however it also impacts on prevention of its overproduction via quenching ROS and suppressing oxidative stress [
133
], which can be triggered by various forms of environmental stress [
79
,
95
,
134
]. Indeed, it was shown that drought conditions and salt stress result in substantial enhancement of protein glycation in plant tissues [
67
]. To a large extent, this effect can be mediated by enhanced generation of α-dicarbonyls during monosaccharide and lipid autoxidation [
27
]. Involvement of enzymatic and non-enzymatic antioxidant defense leads to neutralization of free radicals and hydrogen peroxide and might result in a decrease of carbonyl production, often referred to as carbonyl stress [
135
]. The enzymatic antioxidant machinery was intensively reviewed by Gill and Tuteja [
136
]. The cellular non-enzymatic antioxidants are represented by
l
-ascorbic acid, GSH, carotenoids, flavonoids and tocopherol [
137
]. In contrast to antioxidant enzymes [
138
,
139
], these molecules are not specific for individual ROS, i.e., they are not capable of neutralizing all types of free radicals. Importantly, glutathione can be transported by enzyme transpeptidase across the cell membrane that allows maintaining redox status of the whole tissue/organ [
140
]. Thereby, reduced (GSH) and oxidized (GSSG) forms of glutathione compete for binding with this enzyme which has much higher specificity for the conjugates of GSH in comparison to those of GSSG [
141
]. Such enzymes as glutathione peroxidase, glutathione transferase [
142
,
143
] and glutathione reductase are involved in glutathione homeostasis [
144
]. Other antioxidants, such as ascorbate [
145
] and dihydrolipoate [
146
], also contribute in GSH/GSSG equilibrium in cells. On the other hand, tocopherols [
147
], carotenoids [
148
] and flavonoids [
149
] might act as free radical traps, maintaining redox homeostasis by direct binding to ROS [
147
].
It is important to note, however, that some antioxidants may exert pro-oxidant effects in the presence of transition metals [
150
] due to enhanced generation of hydroxyl radical in Fenton reaction [
95
,
151
]. Thus, such compounds as
l
-ascorbic acid [
152
,
153
] can neutralize ROS, however in the presence of transition metals, they might result in oxidative damage to lipids, proteins and nucleic acids, triggering oxidative stress signalling events, growth retardation and redox-dependent programmed cell death [
78
,
154
]. Contrary to animals, ascorbate levels are extremely high within plant tissues, reaching tens or hundreds of millimoles in most cell compartments (particularly in ROS-enriched chloroplasts and mitochondria) and redistributing by efficient active and passive transport mechanisms [
78
]. Products of
l
-ascorbate oxidative degradation, such as
l
-threose, are very active glycation agents [
155
]. Ascorbate-induced glycation can have significant consequences for a cell, for example, glycation by
l
-ascorbic acid induced loss of activity of ribulose-1,5-bisphosphate carboxylase/oxygenase and increased its susceptibility to proteases in
Cucumis sativus
L [
156
]. A special and very interesting case of glycation by
l
-ascorbic acid is ascobylation [
157
]. Nevertheless, a full potential of this phenomenon has never been explored in plants.
4.4. Possible Interplay between Glycation and Sugar Signalling
5. Conclusions
Protein glycation, often referred to as Maillard reaction of proteins, is a well-characterized phenomenon, accompanying pathogenesis of human metabolic diseases and thermal processing of foods. The activities of resulted protein Maillard reaction products (Amadori, Heyns compounds and AGEs) in mammalian systems (cell cultures, experimental animals, human volunteers) are partly characterized, although the opinions on biological interpretation of the observed effects differ essentially within Maillard reaction society. Surprisingly, plant proteins are essentially more heavily glycated, hinting at an important role of the glycation and glycoxidation phenomenon in plant physiology. Indeed, on the one hand, AGEs can serve as protein degradation tags, impacting on regulatory pathways at the level of protein degradation. On the other hand, glycation and glycoxidation may interplay with sugar metabolism and signalling in plants. A better understanding of this crosstalk may be key to understanding the physiological role of glycation and glycoxidation in plants.
Author contributions
J.S., W.V.d.E. and A.F. wrote the draft, A.K. prepared the figures and contributed to the manuscript, H.C.J.v.R., A.T., S.M. and V.D. contributed to the manuscript and critical reading, W.V.d.E. and A.F. initiated and supervised the whole work and wrote the final version of the manuscript.
Funding
This research was funded by the Russian Science Foundation (RSF, grant number 17-16-01042) and Fonds voor Wetenschappelijk Onderzoek-Vlaanderen (FWO,
www.fwo.be
) for financial support (grant number G0A4915N).
Conflicts of Interest
The authors declare no conflict of interest. The funders had no role in the design of the study; in the collection, analyses, or interpretation of data; in the writing of the manuscript, or in the decision to publish the results.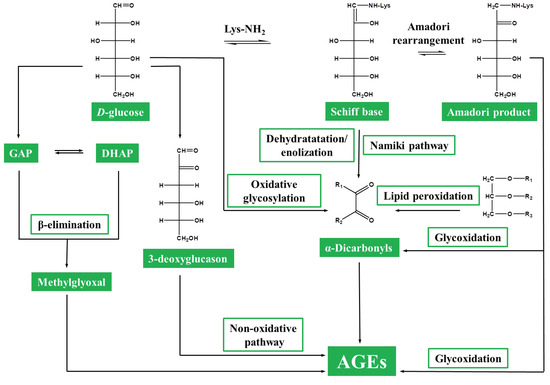 Figure 1. Pathways of AGE formation. AGEs, advanced glycation end products; GAP, glyceraldehyde-3-phosphate; DHAP, dihydroxyacetone phosphate.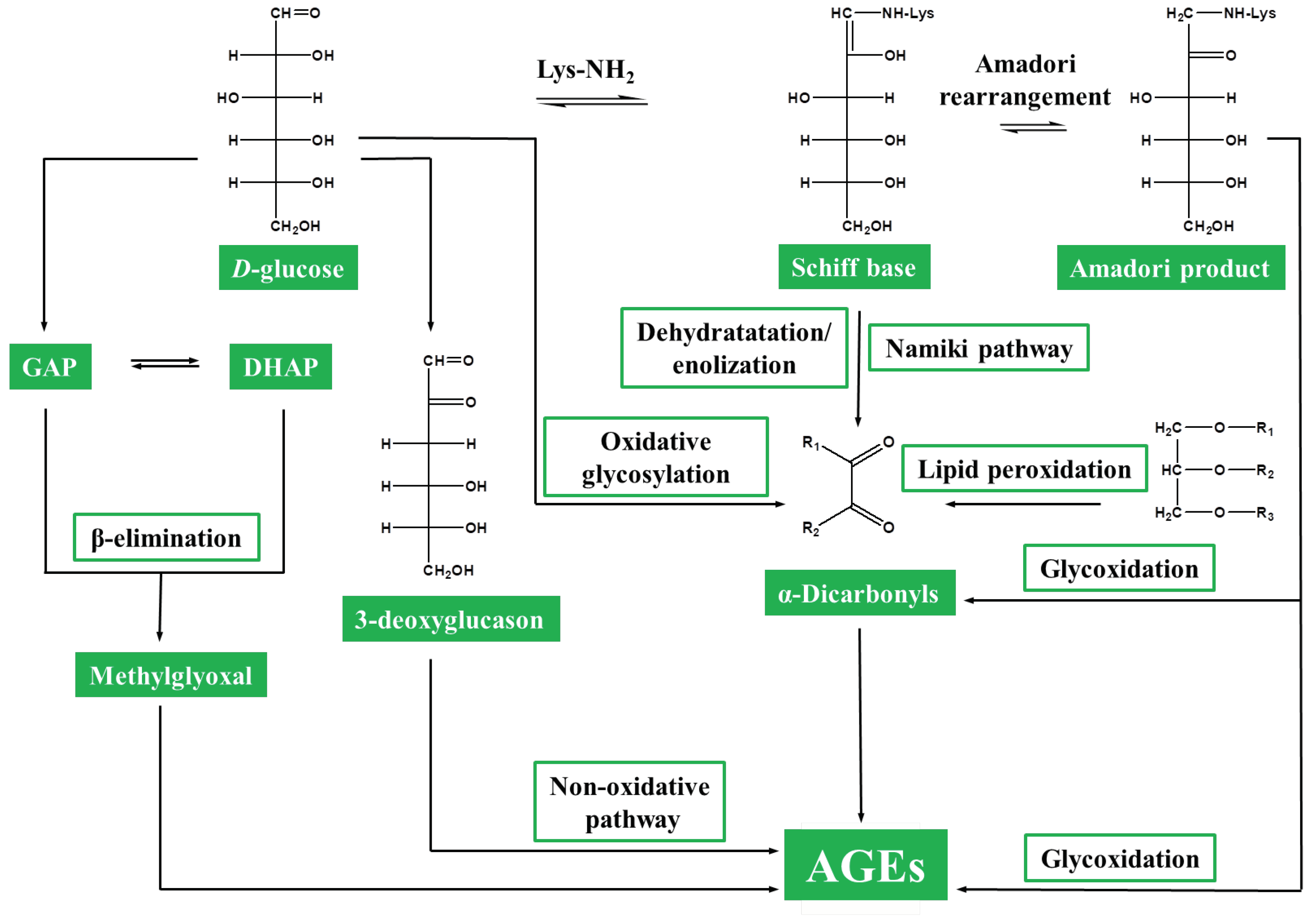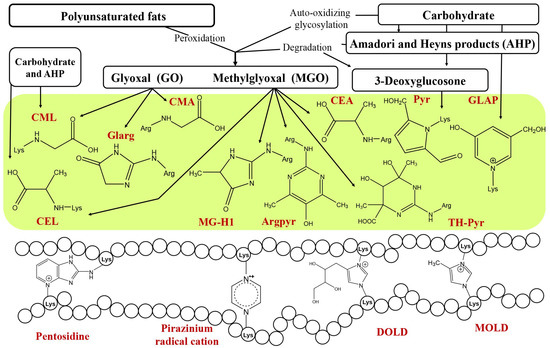 Figure 2.
Advanced glycation end products (AGEs), their precursors and intermediates in the context of underlying formation mechanisms. Abbreviations: CML,
Nε
-(carboxymethyl)-lysine; CEL,
Nε
-(carboxyethyl)-lysine; CEA,
Nδ
-(carboxyethyl)-arginine; CMA,
Nδ
-(carboxymethyl)-arginine; Glarg, glyoxal-derived hydroimidazolone; MG-H1, methylglyoxal-derived hydroimidazolone (
N
δ
-(5-methyl-4-oxo-5-hydroimidazolinone-2-yl)-
l
-ornithine); Argpyr, argpyrimidine; TH-Pyr, tetrahydropyrimidine; Pyr, pyrraline; GLAP, glyceraldehyde derived pyridinium compound; MOLD, lysine-lysine imidazolium cross-link, derived from methylglyoxal; DOLD, lysine-lysine imidazolium cross-link derived from 3-deoxyglucosone.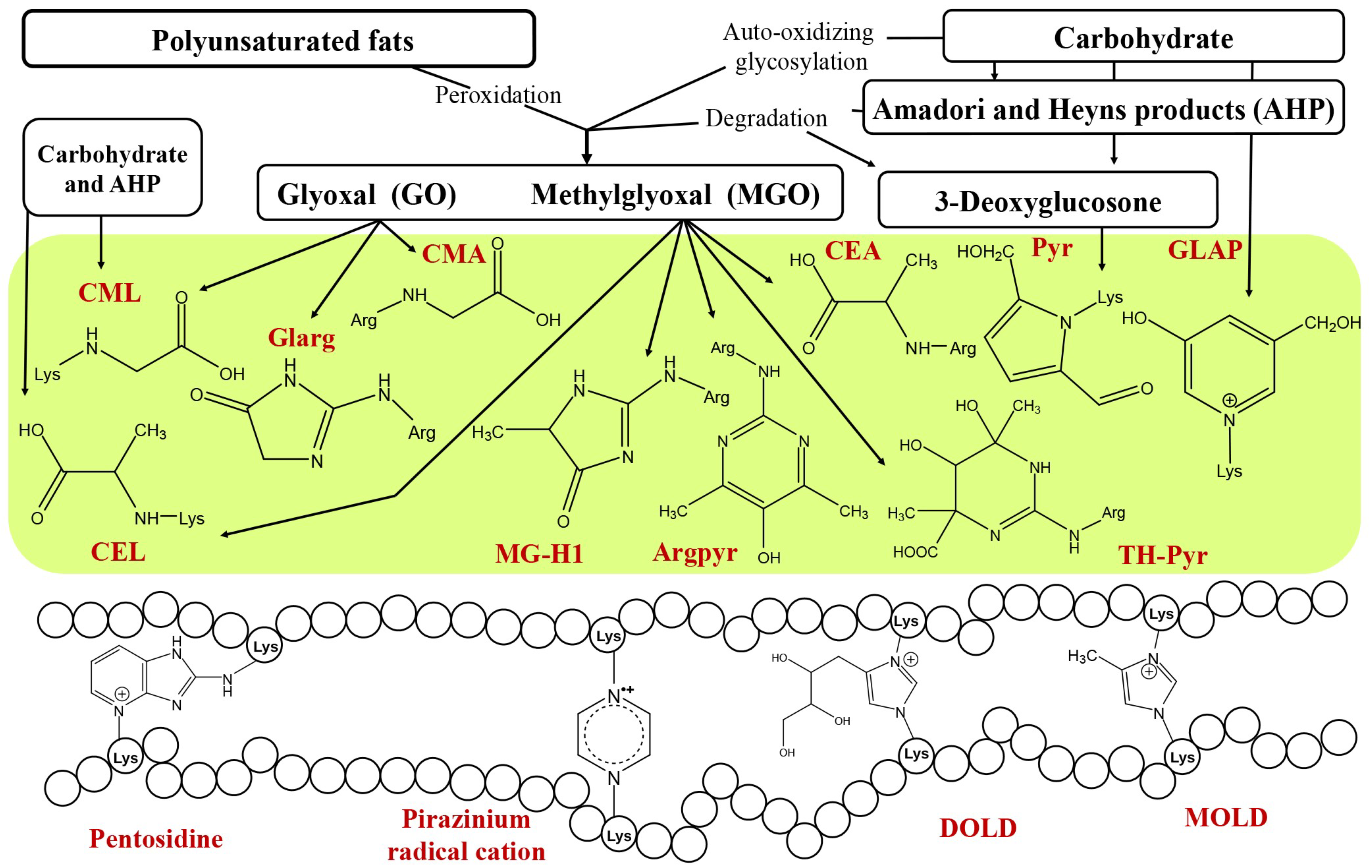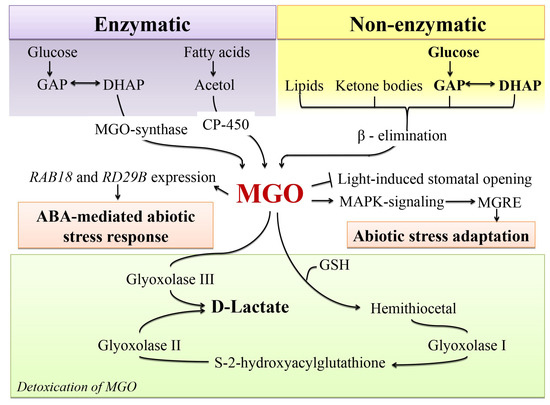 Figure 3. The pathways of MGO formation, detoxification and signalling in plant cells. MGO, methylglyoxal; GAP, glyceraldehyde-3-phosphate; DHAP, dihydroxyacetone phosphate; ABA, abscisic acid; MGRE, methylglyoxal responsive element; GSH, glutathione. Arrows and T-bars represent stimulatory and inhibitory effects, respectively.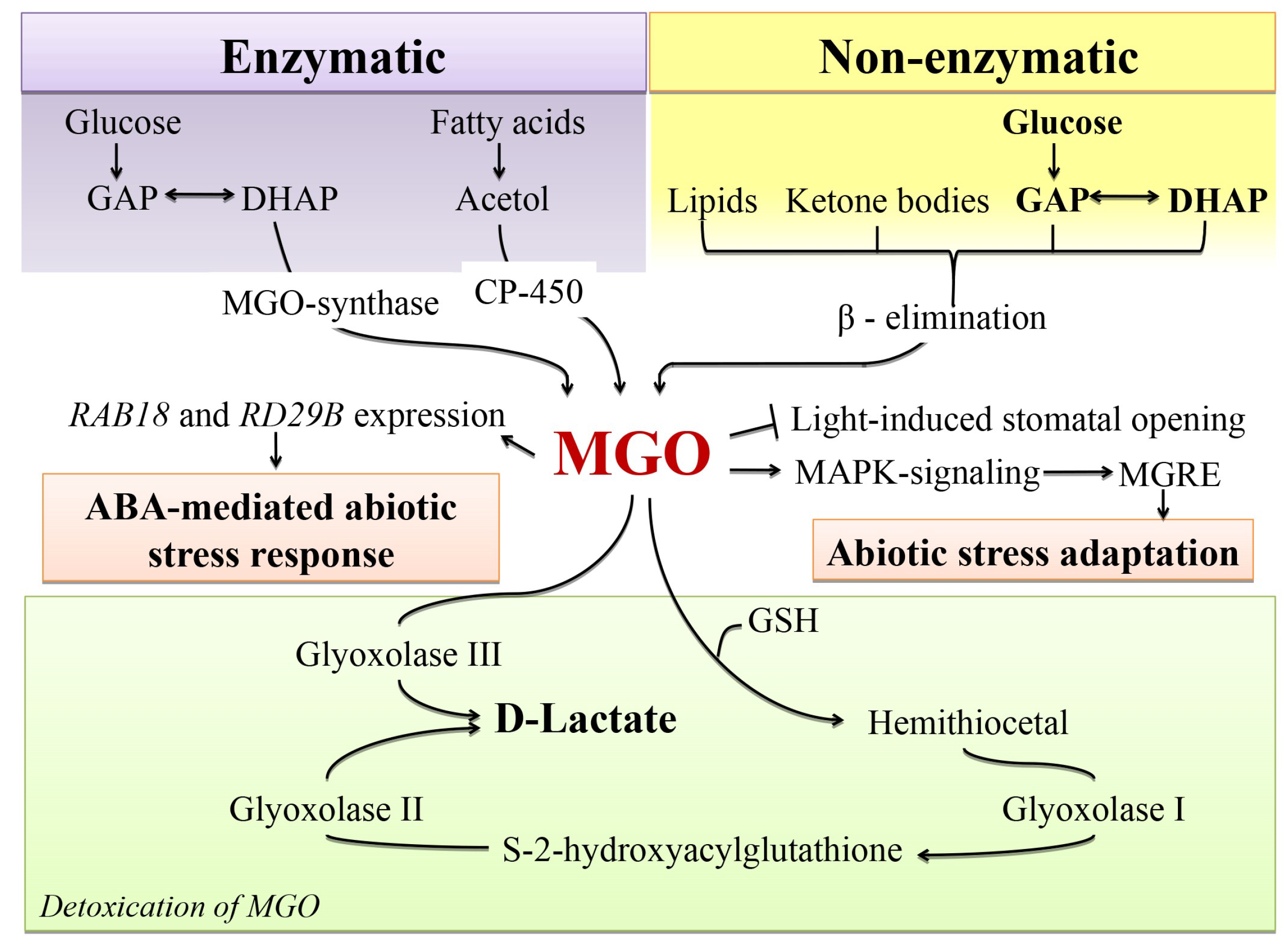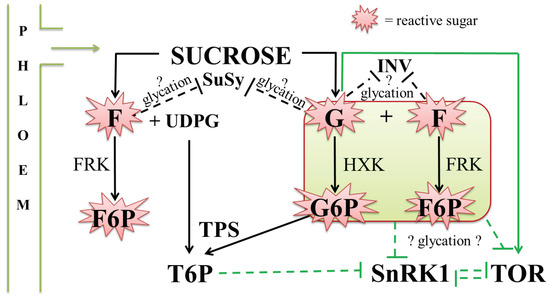 Figure 4. Hypothetical model for interplay between glycation and sugar metabolism and signalling in plants. F, fructose; G, glucose; F6P, fructose-6-phosphate; G6P, glucose-6-phosphate; SuSy, sucrose synthase; INV, invertases; T6P, trehalose-6-phosphate; SnRK1, SNF1-related protein kinase 1; TOR, target of rapamycin kinase; UDPG, uridine diphosphate glucose; HXK, hexokinase; FRK, fructokinase; TPS, trehalose-6-phosphate synthase. Green arrows represent sugar signaling pathways and black arrows represent sugar metabolism. Arrows and T-bars represent stimulatory and inhibitory effects, respectively.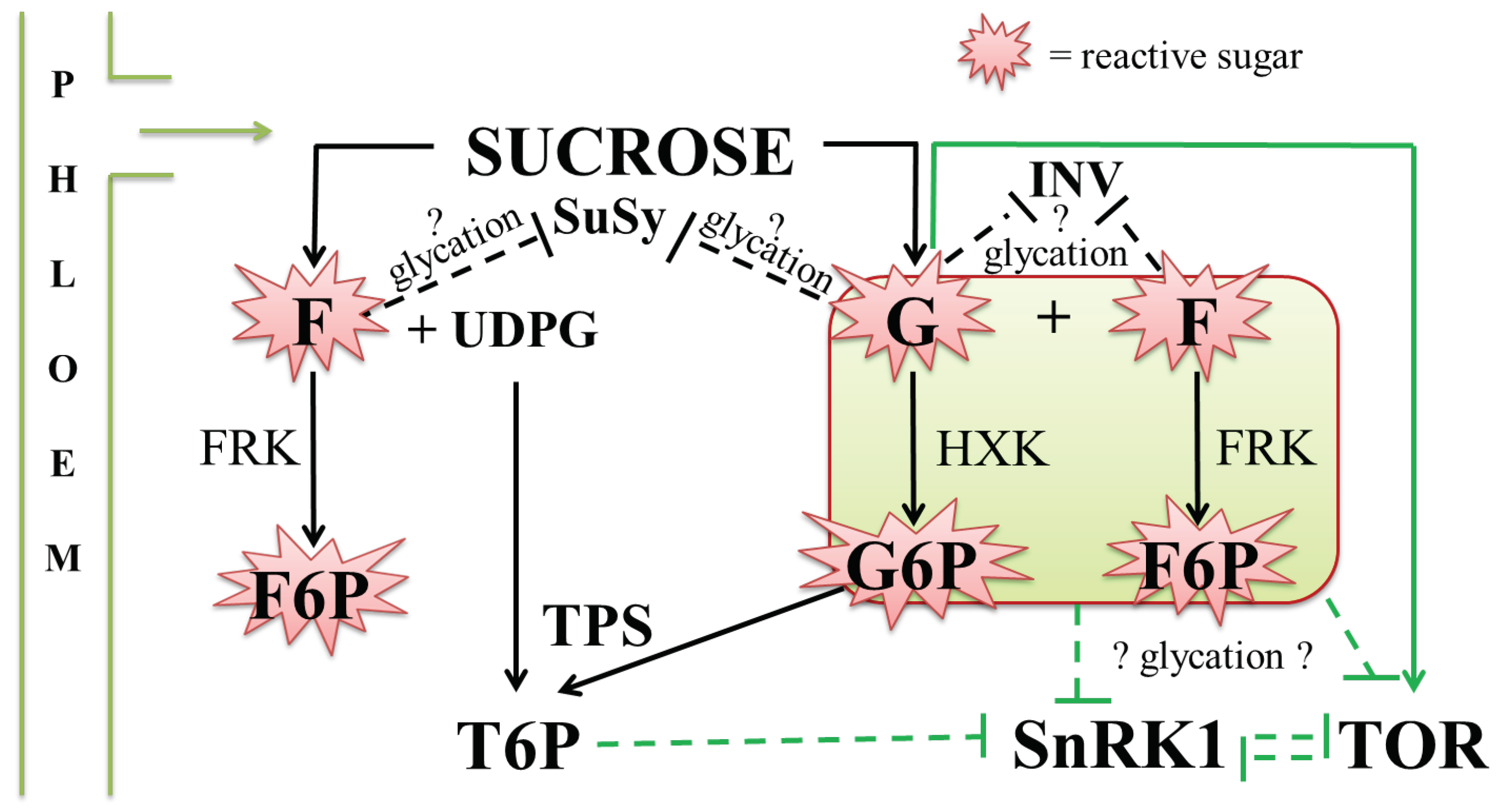 © 2019 by the authors. Licensee MDPI, Basel, Switzerland. This article is an open access article distributed under the terms and conditions of the Creative Commons Attribution (CC BY) license (http://creativecommons.org/licenses/by/4.0/).