Short-Term Protocols to Obtain Insulin-Producing Cells from Rat Adipose Tissue: Signaling Pathways and In Vivo Effect
1
Federal University of Rio Grande do Sul (UFRGS), Biochemistry Post-Graduate Program, Porto Alegre 90035003, Brazil
2
Institute of Cardiology of Rio Grande do Sul, Experimental Center, Porto Alegre 90650-090, Brazil
*
Author to whom correspondence should be addressed.
Received: 13 April 2019 / Revised: 9 May 2019 / Accepted: 13 May 2019 / Published: 18 May 2019
Abstract
Studies using mesenchymal stromal cells (MSCs) as a source of insulin-secreting cells (IPCs) are a promising path in the pursuit for diabetes therapy. Here, we investigate three short-term differentiation protocols in order to generate IPCs from autologous adipose-derived stromal cells (ADSCs) with an expressive insulin-secreting profile in vitro and in vivo, as well as the signaling pathways involved in the chosen differentiation protocols. We extracted and cultured ADSCs and differentiated them into IPCs, using three different protocols with different inductors. Afterwards, the secretory profile was analyzed and IPCs differentiated in exendin-4/activin A medium, which presented the best secretory profile, was implanted in the kidney subcapsular region of diabetic rats. All protocols induced the differentiation, but media supplemented with exendin-4/activin A or resveratrol induced the expression and secretion of insulin more efficiently, and only the exendin-4/activin-A-supplemented medium generated an insulin secretion profile more like β-cells, in response to glucose. The PI3K/Akt pathway seems to play a negative role in IPC differentiation; however, the differentiation of ADSCs with exendin-4/activin A positively modulated the p38/MAPK pathway. Resveratrol medium activated the Jak/STAT3 pathway and generated IPCs apparently less sensitive to insulin and insulin-like receptors. Finally, the implant of IPCs with the best secretory behavior caused a decrease in hyperglycemia after one-week implantation in diabetic rats. Our data provide further information regarding the generation of IPCs from ADSCs and strengthen evidence to support the use of MSCs in regenerative medicine, specially the use of exendin-4/activin A to produce rapid and effectively IPCs with significant in vivo effects.
View Full-Text
►

▼

Figures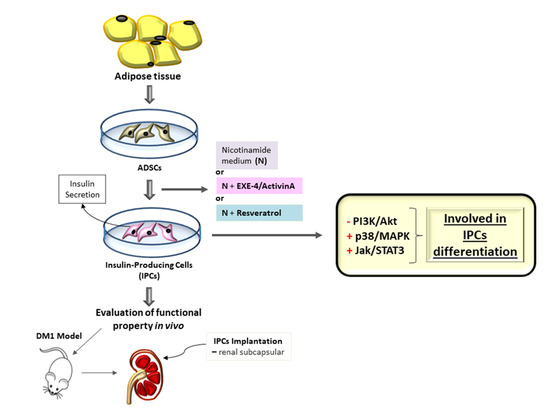 Graphical abstract
This is an open access article distributed under the
Creative Commons Attribution License
which permits unrestricted use, distribution, and reproduction in any medium, provided the original work is properly cited (CC BY 4.0).

Share & Cite This Article
MDPI and ACS Style
Wartchow, K.M.; Rodrigues, L.; Suardi, L.Z.; Federhen, B.C.; Selistre, N.G.; Gonçalves, C.-A.; Sesterheim, P. Short-Term Protocols to Obtain Insulin-Producing Cells from Rat Adipose Tissue: Signaling Pathways and In Vivo Effect. Int. J. Mol. Sci. 2019, 20, 2458.
Note that from the first issue of 2016, MDPI journals use article numbers instead of page numbers. See further details here.
Related Articles
Comments
[Return to top]