Open Access This article is
freely available
re-usable
Review
Cardio-Metabolic Disorders in Non-Alcoholic Fatty Liver Disease
1
Internal Medicine 3, Department of Medicine DIMED, University of Padova, 35122 Padova, Italy
2
Department of Medicine, Klinikum Rheine, 48431 Rheine, Germany
*
Author to whom correspondence should be addressed.
Received: 23 March 2019 / Accepted: 28 April 2019 / Published: 6 May 2019
Abstract
:
With the progressive epidemics of obesity, non-alcoholic fatty liver disease (NAFLD) has become the most common cause of chronic liver disease in adults and children. The increasing prevalence and incidence of NAFLD with advanced fibrosis is concerning because patients appear to experience higher non-liver-related morbidity and mortality than the general population. Recent clinical evidence suggests that NAFLD is directly associated with an increased risk of cardio-metabolic disorders. This mini review describes briefly the current understanding of the pathogenesis of NAFLD, summarizing the link between NAFLD and cardio-metabolic complications, focusing mainly upon ischemic stroke, type 2 diabetes mellitus (DM), hypertension, chronic kidney disease (CKD) and cardiac arrhythmias. In addition, it describes briefly the current understanding of the pathogenesis of NAFLD.
Keywords:
non-alcoholic fatty liver disease; cardio-metabolic disorders; hypertension; diabetes; dyslipidemia; chronic kidney disease; cardiac arrhythmia; ischemic stroke
1. Introduction
Non-alcoholic fatty liver disease (NAFLD) is the most common form of liver disease and a leading cause of morbidity and mortality in both developed and developing countries [
1
]. A large body of literature currently suggests that NAFLD is not only confined to the liver but might rather represent a major part of a multisystemic disease. As early as 1995 it was first suggested that NAFLD was a systemic condition with a specific cardio-metabolic involvement [
2
], a notion which is now universally accepted. As is well known, NAFLD patients usually die of extra-hepatic causes, frequently for cardiovascular diseases (CVD), which sustains the importance of an early diagnosis and a prompt treatment of CVD risk factors. There is abundant evidence of a direct link between NAFLD and multiple cardio-metabolic disorders including ischemic stroke, insulin resistance, hypertension, chronic kidney disease (CKD) and cardiac arrhythmias [
3
]. The current mini review will briefly highlight the current understanding of the pathogenesis of NAFLD, describing the association between NAFLD and cardio-metabolic disorders and discussing the underlying pathogenic mechanisms.
2. NAFLD: Definition, Epidemiology and Pathogenesis
3. Association between NAFLD and Cardio-Metabolic Disorders
3.1. Ischemic Stroke in NAFLD
Ischemic stroke is one of the leading causes of mortality and long-term disability. The main initiating event consists in an impairment of blood flow in a portion of the brain, mainly due to occlusion of an intracranial or neck blood vessel. Emerging evidence suggests a relationship between ischemic stroke and biomarkers of NAFLD. In a cross-sectional study including 103 patients with acute ischemic stroke diagnosed by magnetic resonance tomography (MRT) and 200 healthy controls, elevations of alanine aminotransferase (ALT) or aspartate aminotransferase (AST) have been shown to be independently associated with ischemic stroke [
24
]. In a case-control study performed considering ongoing cohort studies in three European countries (United Kingdom, Netherlands and Finland), the incidence of ischemic stroke has been shown to be strongly associated with increased gamma-glutamyl transferase (GGT) levels [
25
]. GGT is known to be one of the main contributors in atherosclerosis and subsequent cerebrovascular diseases, mainly by inducing production of pro-inflammatory mediators and increasing the release of reactive oxygen species (ROS) [
26
]. In a recent study, NAFLD has been shown to be associated with an increased prevalence of lacunar infarcts in non-obese subjects [
27
]. A recent meta-analysis evaluating nine case-control studies showed that NAFLD is related to a higher risk of ischemic stroke even after adjustment for cardiovascular risk factors such as obesity, dyslipidemia and type 2 DM [
28
]. In a two-year prospective study including 200 patients with acute ischemic stroke, NAFLD (based on a combination of ultrasound findings and elevated aminotransferase levels) was found in 42.5% of the study population. In addition, patients with NAFLD have been shown to be associated with a worse clinical outcome at the moment of hospital discharge. However, these verity of stroke in the study population was not adjusted for the main cardiovascular risk factors such as obesity, dyslipidemia and type 2 DM [
29
]. Similarly, it has been shown that NAFLD is associated with an increased prevalence of brainstem infarctions. In this retrospective study, NAFLD was an independent determinant of the severity and progression of acute brainstem infarctions after adjustment of other risk factors, such as age, gender, DM and inflammatory markers [
30
].
3.2. Arterial Hypertension in NAFLD
Recently, this bi-directional relationship was observed also in the prospective cohort study of the Framingham Heart Study over a six-year of follow-up in a group of middle-aged to older adults.
3.4. Dyslipidemia in NAFLD
Excessive intra-hepatic fat deposition characterizing hepatic steatosis is promoted by the increased circulating levels of FFA (resulting from an enhanced lipolysis within adipose tissue), finally resulting in very low-density lipoprotein (VLDL) overproduction. Hepatic FFA uptake is the key point for increased triglycerides synthesis, resulting from the balance between circulating FFA and hepatocytes uptake capacity deriving from the activity of membrane transporters (fatty acid transport proteins). Patients with NAFLD show an increased FFA uptake, leading to an abnormal "de novo lipogenesis" and higher triglyceride levels. Reduced mitochondrial oxidation of FFA is the second step of this process, responsible for the overall reduced clearance of several lipoproteins.
3.5. Chronic Kidney Disease in NAFLD
CKD is increasingly regarded as a health problem worldwide and is considered an independent cardiovascular risk factor leading to decreased quality of life and premature mortality [
66
]. It is defined by the presence of renal dysfunction, as measured by the estimated eGFR (derived from serum creatinine using standard estimating equations) and abnormal albuminuria or overt proteinuria [
66
]. Evidence accumulated in the last few years suggests a direct relationship between NAFLD and CKD. It has been estimated that the prevalence of CKD in NAFLD patients, diagnosed either by imaging or histology, ranges approximately from 20% to 55%, compared with5% to30% in patients without NAFLD [
67
].
In a recent meta-analysis including twenty studies (11 cross-sectional and 9 longitudinal), NAFLD patients were associated with an increased risk and severity of prevalent and incident CKD, even after adjustment for significant risk factors. Interestingly, NASH and advanced fibrosis were also associated with higher odd ratios for proteinuria and with a lower eGFR than simple hepatic steatosis and non-advanced fibrosis, respectively [
68
].
These findings were further confirmed by several case-control studies that utilized liver biopsy to diagnose NAFLD/NASH [
69
,
70
,
71
,
72
,
73
]. These studies have shown that patients with histologically defined NAFLD/NASH have lower eGFRs and a higher frequency of CKD or abnormal albuminuria than matched controls. The severity of NAFLD or NASH was positively correlated with that of CKD regardless of other components of the metabolic syndrome.
3.6. Cardiac Arrhythmias in NAFLD
Recent clinical investigations revealed a significant increase of cardiac arrhythmias among patients with NAFLD, suggesting that NAFLD could represent a risk factor for various types of arrhythmias including atrial fibrillation, cardiac conduction defects and ventricular arrhythmias.
4. Mechanisms Linking Cardio-Metabolic Disorders with NAFLD
The mechanisms underlying the possible independent association between NAFLD and cardio-metabolic disorders have not been fully elucidated yet. In the last decade the link between these two conditions has been a hot topic in basic and clinical research.
5. Conclusions
There is now strong evidence that NAFLD is a systemic disease that contributes to the development and progression of extra-hepatic diseases such as type 2 DM, CKD, atherosclerosis, arterial hypertension, cardiovascular diseases and cardiac arrhythmias. Therefore, these data imply that patients with diagnosed NAFLD should be screened at an earlier stage for associated cardio-metabolic disorders and a multi-disciplinary-team-based approach should be involved in the management and treatment of these patients.
Currently, the histopathological examination of liver biopsy represents the gold standard for diagnosis of NAFLD. As a result, the non-invasive assessment of hepatic steatosis using serological tests and radiological imaging can be associated with substantial false positive and false negative rates. Therefore, the lack of standardized diagnostic methods in NAFLD makes the determination of the relationships between NAFLD and cardiometabolic disorders even more challenging.
The causal factors linking NAFLD to cardiometabolic complications remain to be definitively established. Therefore, more research is required to elucidate the pathophysiological links between NAFLD and these systemic complications. This will possibly lead to the development of new therapeutic approaches for NAFLD, thus leading also to a decrease of the global burden of related cardio-metabolic diseases.
Furthermore, more prospective and intervention studies of well-characterized patients with NAFLD are needed to definitively prove whether the improvement or resolution of NAFLD can prevent the development of cardio-metabolic risks.
Author Contributions
H.E.H. and A.D.V. wrote the manuscript. M.R. proofread the manuscript and provided guidance on the overall direction of the manuscript. All authors critically appraised the final version of the paper.
Funding
Project n. DOR 1848773/18 from the University of Padova.
Conflicts of Interest
The authors declare no conflict of interest.
Abbreviations
| | |
| --- | --- |
| ACE-I | angiotensin converting enzyme inhibitor |
| AF | atrial fibrillation |
| ALT | alanine aminotransferase |
| AMP | adenosine monophosphate |
| AMPK 5′ | AMP-activated protein kinase |
| ARB | angiotensin receptor blocker |
| AST | aspartate aminotransferase |
| BMI | body mass index |
| CKD | chronic kidney disease |
| CRP | C-reactive protein |
| CT | computed tomography |
| CVD | cardiovascular diseases |
| DM | diabetes mellitus |
| eGFR | estimated glomerular filtration rate |
| FFA | free fatty acids |
| GGT | gamma-glutamyl transferase |
| HCC | hepatocellular carcinoma |
| HDL | high-density lipoprotein |
| IHTG | intra-hepatic accumulation of triglycerides |
| IL | interleukin |
| LPS | Lipopolysaccharide |
| LDL | low-density lipoprotein |
| MRT | magnetic resonance tomography |
| NAFL | non-alcoholic fatty liver |
| NAFLD | non-alcoholic fatty liver disease |
| NASH | non-alcoholic steatohepatitis |
| NF-κB | protein kinase C-delta (PKC-δ) and nuclear factor kinase-B |
| OSA | obstructive sleep apnea |
| PNPLA3 | patatin-like phospholipase domain-containing protein-3 |
| QTc | corrected QT interval |
| RAAS | renin-angiotensin-aldosterone system |
| ROS | reactive oxygen species |
| SGLT2 | sodium glucose cotrasporter type-2 |
| TMAO | trimethylamine-N-oxide |
| TNF-α | tumor necrosis factor alpha |
| VLDL | very low-density lipoprotein |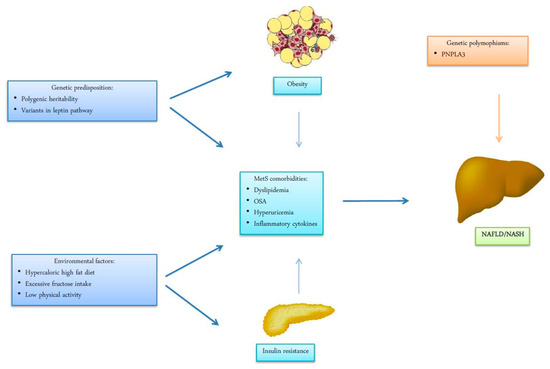 Figure 1. Environmental factors, life style and genetic susceptibility have shown to be implicated in the pathogenesis of visceral obesity and insulin resistance. The metabolic and respiratory complications associated with obesity and insulin resistance as dyslipidemia, OSA (obstructive sleep apnea) Hyperuricemia, hormonal imbalance and systemic low-grade inflammation are established factors in the pathogenesis of non-alcoholic fatty liver disease (NAFLD) and progression towards non-alcoholic steatohepatitis (NASH). Remarkably, genetic variation in the patatin-like phospholipase domain-containing protein-3 (PNPLA3) gene is considered a prominent risk factor for progression of liver injury from steatosis to steatohepatitis, cirrhosis and hepatocellular carcinoma (HCC).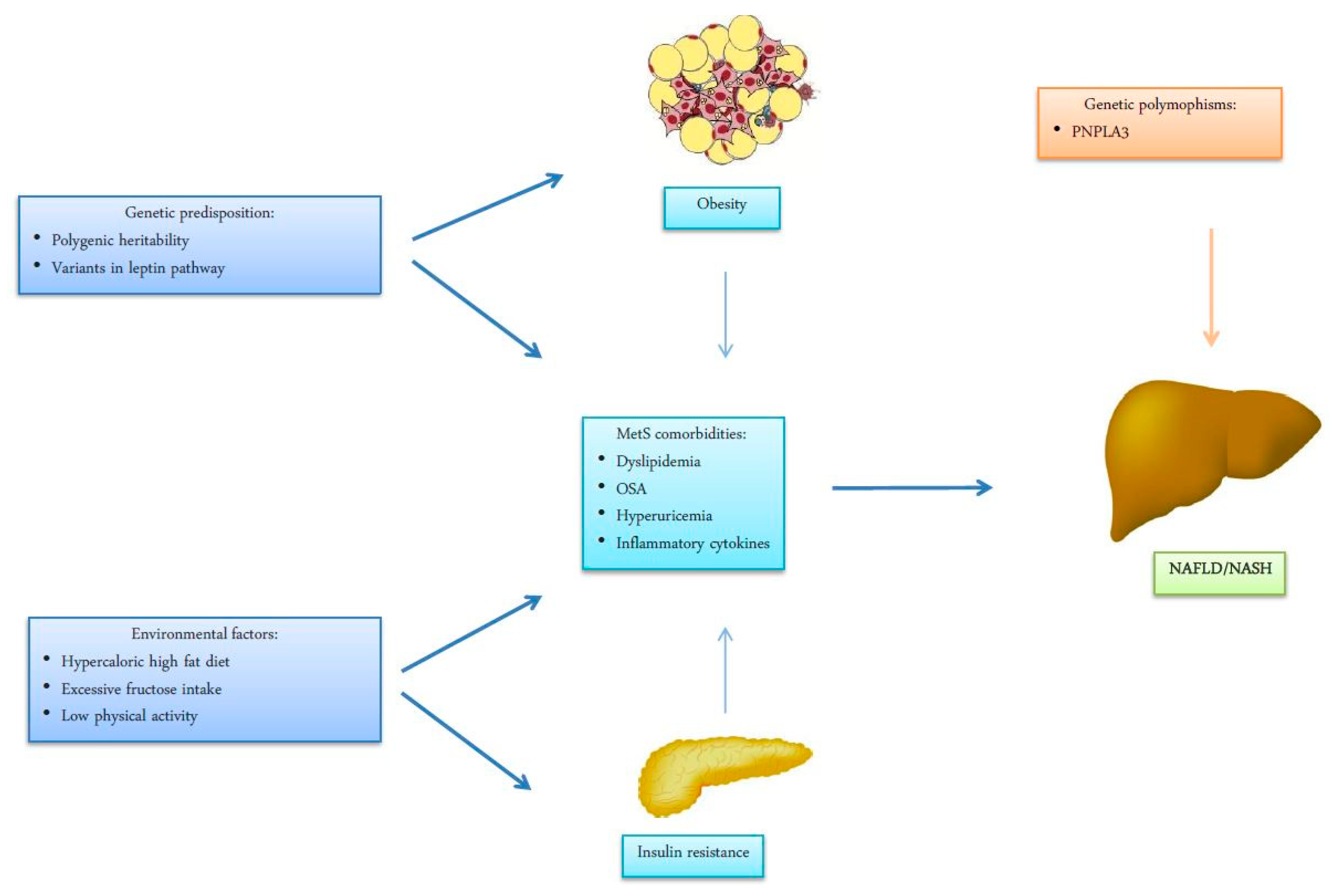 © 2019 by the authors. Licensee MDPI, Basel, Switzerland. This article is an open access article distributed under the terms and conditions of the Creative Commons Attribution (CC BY) license (http://creativecommons.org/licenses/by/4.0/).