The Effects of Cobalt Protoporphyrin IX and Tricarbonyldichlororuthenium (II) Dimer Treatments and Its Interaction with Nitric Oxide in the Locus Coeruleus of Mice with Peripheral Inflammation
1
Grup de Neurofarmacologia Molecular, Institut d'Investigació Biomèdica Sant Pau, Hospital de la Santa Creu i Sant Pau, 08025 Barcelona, Spain
2
Institut de Neurociències, Universitat Autònoma de Barcelona, 08193 Barcelona, Spain
3
Department of Psychology, Faculty of Philosophy, Science and Letters, University of São Paulo, Ribeirão Preto 14040-901, SP, Brazil
*
Author to whom correspondence should be addressed.
†
These authors contributed equally to this work.
Received: 23 April 2019 / Accepted: 2 May 2019 / Published: 5 May 2019
Abstract
Heme oxygenase 1 (HO-1) and carbon monoxide were shown to normalize oxidative stress and inflammatory reactions induced by neuropathic pain in the central nervous system, but their effects in the locus coeruleus (LC) of animals with peripheral inflammation and their interaction with nitric oxide are unknown. In wild-type (WT) and knockout mice for neuronal (NOS1-KO) or inducible (NOS2-KO) nitric oxide synthases with inflammatory pain induced by complete Freund's adjuvant (CFA), we assessed: (1) antinociceptive actions of cobalt protoporphyrin IX (CoPP), an HO-1 inducer; (2) effects of CoPP and tricarbonyldichlororuthenium(II) dimer (CORM-2), a carbon monoxide-liberating compound, on the expression of HO-1, NOS1, NOS2, CD11b/c, GFAP, and mitogen-activated protein kinases (MAPK) in the LC. CoPP reduced inflammatory pain in different time-dependent manners in WT and KO mice. Peripheral inflammation activated astroglia in the LC of all genotypes and increased the levels of NOS1 and phosphorylated extracellular signal-regulated kinase 1/2 (p-ERK 1/2) in WT mice. CoPP and CORM-2 enhanced HO-1 and inhibited astroglial activation in all genotypes. Both treatments blocked NOS1 overexpression, and CoPP normalized ERK 1/2 activation. This study reveals an interaction between HO-1 and NOS1/NOS2 during peripheral inflammation and shows that CoPP and CORM-2 improved HO-1 expression and modulated the inflammatory and/or plasticity changes caused by peripheral inflammation in the LC.
View Full-Text
►

▼

Figures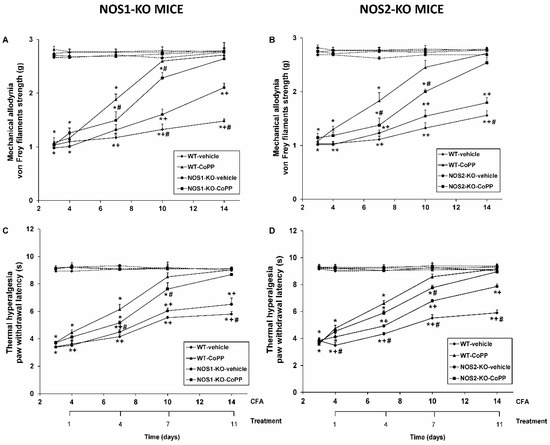 Figure 1
This is an open access article distributed under the
Creative Commons Attribution License
which permits unrestricted use, distribution, and reproduction in any medium, provided the original work is properly cited (CC BY 4.0).

Share & Cite This Article
MDPI and ACS Style
Moreno, P.; Cazuza, R.A.; Mendes-Gomes, J.; Díaz, A.F.; Polo, S.; Leánez, S.; Leite-Panissi, C.R.A.; Pol, O. The Effects of Cobalt Protoporphyrin IX and Tricarbonyldichlororuthenium (II) Dimer Treatments and Its Interaction with Nitric Oxide in the Locus Coeruleus of Mice with Peripheral Inflammation. Int. J. Mol. Sci. 2019, 20, 2211.
Note that from the first issue of 2016, MDPI journals use article numbers instead of page numbers. See further details here.
Related Articles
Comments
[Return to top]