High-Amylose Maize, Potato, and Butyrylated Starch Modulate Large Intestinal Fermentation, Microbial Composition, and Oncogenic miRNA Expression in Rats Fed A High-Protein Meat Diet
1
Department of Animal Science, Aarhus University, DK-8830 Tjele, Denmark
2
Department of Food Science & Technology, University of California, Davis, CA 95616, USA
3
Department of Molecular Biology & Genetics, Aarhus University, DK-8000 Aarhus C, Denmark
4
Commenwealth Scientific and Industrial Research Organisation (CSIRO), Biosecurity & Health, Adelaide BC, SA 5000, Australia
*
Author to whom correspondence should be addressed.
Received: 22 March 2019 / Revised: 18 April 2019 / Accepted: 24 April 2019 / Published: 30 April 2019
Abstract
High red meat intake is associated with the risk of colorectal cancer (CRC), whereas dietary fibers, such as resistant starch (RS) seemed to protect against CRC. The aim of this study was to determine whether high-amylose potato starch (HAPS), high-amylose maize starch (HAMS), and butyrylated high-amylose maize starch (HAMSB)—produced by an organocatalytic route—could oppose the negative effects of a high-protein meat diet (HPM), in terms of fermentation pattern, cecal microbial composition, and colonic biomarkers of CRC. Rats were fed a HPM diet or an HPM diet where 10% of the maize starch was substituted with either HAPS, HAMS, or HAMSB, for 4 weeks. Feces, cecum digesta, and colonic tissue were obtained for biochemical, microbial, gene expression (oncogenic microRNA), and immuno-histochemical (O
6
-methyl-2-deoxyguanosine (O
6
MeG) adduct) analysis. The HAMS and HAMSB diets shifted the fecal fermentation pattern from protein towards carbohydrate metabolism. The HAMSB diet also substantially increased fecal butyrate concentration and the pool, compared with the other diets. All three RS treatments altered the cecal microbial composition in a diet specific manner. HAPS and HAMSB showed CRC preventive effects, based on the reduced colonic oncogenic miR17-92 cluster miRNA expression, but there was no significant diet-induced differences in the colonic O
6
MeG adduct levels. Overall, HAMSB consumption showed the most potential for limiting the negative effects of a high-meat diet.
View Full-Text
►

▼

Figures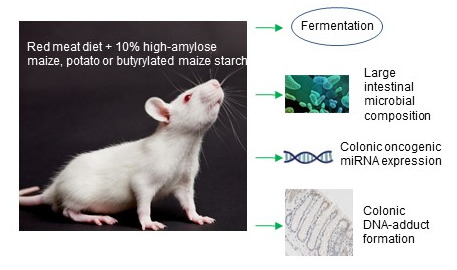 Graphical abstract
This is an open access article distributed under the
Creative Commons Attribution License
which permits unrestricted use, distribution, and reproduction in any medium, provided the original work is properly cited (CC BY 4.0).

Share & Cite This Article
MDPI and ACS Style
Nielsen, T.S.; Bendiks, Z.; Thomsen, B.; Wright, M.E.; Theil, P.K.; Scherer, B.L.; Marco, M.L. High-Amylose Maize, Potato, and Butyrylated Starch Modulate Large Intestinal Fermentation, Microbial Composition, and Oncogenic miRNA Expression in Rats Fed A High-Protein Meat Diet. Int. J. Mol. Sci. 2019, 20, 2137.
Note that from the first issue of 2016, MDPI journals use article numbers instead of page numbers. See further details here.
Related Articles
Comments
[Return to top]