Dietary
l

-Tryptophan Supplementation Enhances the Intestinal Mucosal Barrier Function in Weaned Piglets: Implication of Tryptophan-Metabolizing Microbiota

1

Beijing Advanced Innovation Center for Food Nutrition and Human Health, China Agricultural University, Beijing 100193, China

2

State Key Laboratory of Animal Nutrition, College of Animal Science and Technology, China Agricultural University, Beijing 100193, China

3

Department of Animal Science, Texas A&M University, College Station, TX 77843, USA

*

Author to whom correspondence should be addressed.

Received: 29 November 2018 / Revised: 19 December 2018 / Accepted: 19 December 2018 / Published: 21 December 2018
Abstract
l
-Tryptophan (Trp) is known to play an important role in the health of the large intestine. However, a role of dietary Trp in the small-intestinal mucosal barrier and microbiota remains poorly understood. The present study was conducted with weaned piglets to address this issue. Postweaning piglets were fed for 4 weeks a corn- and soybean meal-based diet supplemented with 0 (Control), 0.1, 0.2, or 0.4% Trp. The small-intestinal microbiota and serum amino acids were analyzed by bacterial 16S rRNA gene-based high-throughput sequencing methods and high-performance liquid chromatography, respectively. The mRNA levels for genes involved in host defense and the abundances of tight-junction proteins in jejunum and duodenum were measured by real time-PCR and Western blot techniques, respectively. The concentrations of Trp in the serum of Trp-supplemented piglets increased in a dose-dependent manner. Compared with the control group, dietary supplementation with 0.2–0.4% Trp reduced the abundances of
Clostridium sensu stricto
and
Streptococcus
in the jejunum, increased the abundances of
Lactobacillus
and
Clostridium XI
(two species of bacteria that can metabolize Trp) in the jejunum, and augmented the concentrations of secretory immunoglobulin A (sIgA) as well as mRNA levels for porcine β-defensins 2 and 3 in jejunal tissues. Moreover, dietary Trp supplementation activated the mammalian target of rapamycin signaling and increased the abundances of tight-junction proteins (zonula occludens (ZO)-1, ZO-3, and claudin-1) in jejunum and duodenum. We suggested that Trp-metabolizing bacteria in the small intestine of weaned pigs primarily mediated the beneficial effects of dietary Trp on its mucosal integrity, health, and function.
View Full-Text
►

▼

Figures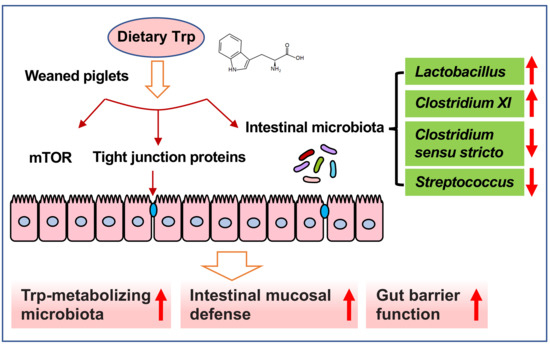 Graphical abstract
This is an open access article distributed under the
Creative Commons Attribution License
which permits unrestricted use, distribution, and reproduction in any medium, provided the original work is properly cited (CC BY 4.0).

Share & Cite This Article
MDPI and ACS Style
Liang, H.; Dai, Z.; Kou, J.; Sun, K.; Chen, J.; Yang, Y.; Wu, G.; Wu, Z. Dietary l-Tryptophan Supplementation Enhances the Intestinal Mucosal Barrier Function in Weaned Piglets: Implication of Tryptophan-Metabolizing Microbiota. Int. J. Mol. Sci. 2019, 20, 20.
Note that from the first issue of 2016, MDPI journals use article numbers instead of page numbers. See further details here.
Related Articles
Comments
[Return to top]