Open Access This article is
freely available
re-usable
Review
Catching a SPY: Using the SpyCatcher-SpyTag and Related Systems for Labeling and Localizing Bacterial Proteins
Bacterial Cell Surface Group, Section for Evolution and Genetics, Department of Biosciences, University of Oslo, 0316 Oslo, Norway
*
Author to whom correspondence should be addressed.
Received: 2 April 2019 / Accepted: 26 April 2019 / Published: 30 April 2019
Abstract
:
The SpyCatcher-SpyTag system was developed seven years ago as a method for protein ligation. It is based on a modified domain from a
Streptococcus pyogenes
surface protein (SpyCatcher), which recognizes a cognate 13-amino-acid peptide (SpyTag). Upon recognition, the two form a covalent isopeptide bond between the side chains of a lysine in SpyCatcher and an aspartate in SpyTag. This technology has been used, among other applications, to create covalently stabilized multi-protein complexes, for modular vaccine production, and to label proteins (e.g., for microscopy). The SpyTag system is versatile as the tag is a short, unfolded peptide that can be genetically fused to exposed positions in target proteins; similarly, SpyCatcher can be fused to reporter proteins such as GFP, and to epitope or purification tags. Additionally, an orthogonal system called SnoopTag-SnoopCatcher has been developed from an
S. pneumoniae
pilin that can be combined with SpyCatcher-SpyTag to produce protein fusions with multiple components. Furthermore, tripartite applications have been produced from both systems allowing the fusion of two peptides by a separate, catalytically active protein unit, SpyLigase or SnoopLigase. Here, we review the current state of the SpyCatcher-SpyTag and related technologies, with a particular emphasis on their use in vaccine development and in determining outer membrane protein localization and topology of surface proteins in bacteria.
Keywords:
autotransporter; covalent labeling; bacterial surface protein; SpyCatcher; topology mapping; virulence factor
1. Introduction
Below, we review the various applications of the SpyCatcher/SnoopCatcher systems in biotechnology. Our emphasis will be on using this methodology to label surface-exposed proteins, especially for mapping the topology of outer membrane-embedded virulence factors of Gram-negative bacteria.
2. Applications of the SpyCatcher-SpyTag System
3. Using SpyCatcher-SpyTag to Investigate Bacterial Virulence Factors
The SpyCatcher-SpyTag system has recently been used for investigating bacterial virulence factors. So far, these have been limited to studying surface proteins of Gram-negative bacteria, especially autotransporter proteins. Autotransporters, also called type V secretion systems, are a widespread family of secreted proteins from Gram-negative bacteria, and many of these mediate virulence-related functions [
54
]. These proteins, which are divided into several subclasses (type Va through type Ve), have an outer membrane-embedded β-barrel domain and an extracellular region or passenger, which harbors the specific activity of each protein. Although SpyCatcher-SpyTag has been used mostly for studying autotransporters, the methods described below would be applicable to other surface-exposed proteins, both in Gram-negative and Gram-positive bacteria.
The cell surface of Gram-negative bacteria is represented by the outer membrane (OM), which is a complex asymmetric lipid bilayer. The extracellular face of the OM is mainly composed of lipopolysaccharides and outer membrane proteins that include several common virulence factors responsible for adhesion, mobility, and secretion, such as autotransporter adhesins, flagella, and type I-VIII secretion systems, among others [
55
,
56
]. Studying the expression, secretion, migration, and interactions of OM proteins often requires labeling by reporter proteins or other fluorophores. Labeling OM proteins, however, is challenging. Many fluorescent reporter proteins fail to mature in the periplasm [
57
]; thus, genetic fusions with fluorescent proteins are limited to a handful of options [
58
,
59
,
60
,
61
]. An alternative approach is non-covalent affinity-based labeling by using antibody–reporter protein fusions, affinity tags, or other high-affinity interactions, for example, colicins ColE9 and ColIa for labeling of the vitamin B12 transporter BtuB [
62
]. Alternatively, labeling methods using small organic molecules include amine-reactive fluorescence labeling [
63
,
64
], cysteine-reactive labeling [
65
], or site-specific labeling with unnatural amino acids, and tag-specific labeling [
66
,
67
]. Each of these techniques, however, has shortcomings. Non-covalent labeling requires high (nM) affinities for the label to remain associated with its target for a significant amount of time, which often makes such labeling unsuitable for time-resolved imaging on the minute scale. Small-molecule labeling often requires harsh treatment of the cells with reactive molecules, and site-specific orthogonal labeling requires co-expression of additional OM proteins that can disturb the system. In this section, we present a few recent examples showing how the SpyCatcher system can overcome many of these challenges by covalently labeling OM-bound virulence factors with high specificity, both with the purpose of studying the virulence factors and of exploiting their properties in vaccine development.
3.1. Using SpyCatcher to Investigate Membrane Protein Topology and Secretion
Trimeric autotransporter adhesins (TAAs), or type Vc secretion systems, constitute a group of surface-displayed virulence factors in Gram-negative bacteria that are responsible for adhesion to organic and inorganic surfaces. The prototypical TAA is
Yersinia
adhesin A (YadA), which consists of a C-terminal transmembrane β-barrel domain, where three protomers form a 12-stranded β-barrel, and an N-terminal trimeric passenger that is translocated through the β-barrel to the bacterial surface [
68
]. Once the passenger is translocated, it adopts a lollipop-like structure, forming a fibrous trimeric coiled-coil stalk that ends in an N-terminal globular head domain, responsible for adhesion and autoaggregation (
Figure 3
A). Autotransporters belonging to the type Va and Ve secretion systems initiate their translocation process via a hairpin intermediate, meaning that the part of the passenger most proximal to the β-barrel is initially inserted into the pore and then exported in a hairpin-like loop from the β-barrel until the entire passenger is outside the cell [
69
,
70
].
In a recent study, we investigated whether the hairpin model also holds true for TAAs using YadA as a model system, and aided by the SpyCatcher-SpyTag technology [
13
]. Earlier studies had identified a flexible region at the start of the coiled coil embedded within the lumen of the β-barrel, termed the ASSA region, due to the sequence consisting of alanines and serines. The ASSA region was hypothesized to be important for the formation of the hairpin [
72
]. To test this hypothesis, a truncated YadA construct was used, containing only the β-barrel and a small part of the passenger, termed YadAM (for YadA membrane anchor; see
Figure 3
A). Single proline substitutions were introduced to the ASSA region to probe its importance for translocation. Prolines are known secondary structure disruptors due to their rigid backbone, and we expected the substitutions to disrupt the flexible ASSA region sufficiently to stall the autotransporter process and trap the N-termini in the periplasm. To test this, a representative mutant, YadAM
A354P
, was chosen for further studies, and a SpyTag was inserted in the wild-type YadAM and YadAM
A354P
constructs at the N-terminus of the mature proteins, following the signal peptide required for secretion. For easy detection, we fused purified SpyCatcher fused to sfGFP (superfolder green fluorescent protein).
Escherichia coli
cells expressing the different constructs were incubated with SpyCatcher-sfGFP (that is too large to penetrate the OM), allowing the SpyCatcher domain to bind to the exported SpyTags presented on the bacterial surface, but not to any stalled intermediates where the SpyTags would still be located in the periplasm. Bacterial cells producing the wild-type construct displayed higher fluorescence compared with cells producing the A354P mutant, indicating that the mutation was interfering with secretion of the passenger domain [
13
]. The effect of the A354P mutation on the surface topology of YadA was further investigated by isolating OM fractions of the two constructs after SpyCatcher-sfGFP treatment and analyzing them by semi-native SDS-PAGE (i.e., without heating the samples beforehand) (
Figure 4
A). GFP is stable in SDS at ambient temperatures [
73
], allowing instant visualization of GFP-containing bands by in-gel fluorescence under blue light. The gel showed a ladder-like pattern of SpyTag-YadAM complexes bound to 1–3 SpyCatcher-GFP molecules, corresponding to the number of strands exported to the bacterial surface (
Figure 3
B and
Figure 4
A). Comparison of the band intensities indicates that the majority of YadAM exports all three passengers, whereas YadAM
A354P
mainly exports 1–2 SpyTags. These experiments demonstrated that the proline substitution is a partially stalled intermediate where one or two passenger strands are exported, but not a fully blocked autotransport intermediate.
As an alternative to using reporter molecules such as GFP to study the surface topology of OM proteins, the binding of SpyCatcher alone can be utilized for assessing surface exposure. Because SpyCatcher forms a covalent bond with SpyTag, the added molecular weight of SpyCatcher causes a change in electrophoretic mobility, giving a shift of 16 kDa that can be observed either by Coomassie staining or Western blotting. As an example, we studied the surface exposure of the full-length, SpyTagged YadA construct. YadA was treated with SpyCatcher alone (i.e., with no fusion partner) and compared with YadA treated with an inactive SpyCatcher, where the catalytic glutamate was changed to glutamine (SpyCatcher
EQ
), by SDS-PAGE. In this example, unlabeled YadA remains trimeric even when heated to 95 °C and is seen as a single band at 200 kDa [
74
]. By contrast, the sample treated with active SpyCatcher forms a ladder-like pattern corresponding to YadA alone and YadA plus 1–3 bound SpyCatchers (
Figure 4
B). The experiments with truncated and full-length YadA demonstrate how SpyCatcher can readily bind to SpyTags located in close proximity to the bacterial surface, as shown for the YadAM constructs, as well as for the more exposed SpyTag protruding far from the surface located on the full-length protein. Future work will determine whether this technology is also suitable for detecting OM proteins without protruding domains, for example, where SpyTag is inserted into the loops of transmembrane β-barrel domains.
3.2. Using SpyCatcher to Investigate Membrane Dynamics
The OM of Gram-negative bacteria consists of a mixture of OM proteins, lipopolysaccharides, and phospholipids. Both OM proteins and lipopolysaccharides are inserted into the OM in localized patches around the cell center where they diffuse to form a uniform distribution across the bacterial surface [
75
]. When the bacterium grows in preparation for cell division, the outer membrane proteins migrate towards the poles as a result of new membrane material and peptidoglycan being incorporated near the cell center in a process that is still not well understood [
62
].
In a recent paper, Keeble et al. used the SpyCatcher system to study the OM dynamics in
E. coli
. To this end, they used a novel phage display method to develop an improved SpyCatcher-SpyTag pair, termed SpyTag002 and SpyCatcher002 [
21
]. The rate constant of the improved 002 pair was increased by an order of magnitude compared to the original SpyCatcher–SpyTag interaction (2.0 × 10
4
M
−1
s
−1
vs. 1.7 × 10
3
M
−1
s
−1
). The efficiency of the newly developed pair was demonstrated by labeling the peptidoglycan-binding autotransporter intimin in order to study the membrane dynamics during cell growth and division. Intimin, a virulence factor of enterohemorrhagic
E. coli
, is a surface-exposed protein belonging to the type Ve secretion systems, also called inverse autotransporters [
76
]. Intimin consists of three major parts: an N-terminal periplasmic domain that binds to peptidoglycan under acidic conditions [
77
], a transmembrane β-barrel anchor [
78
], and the C-terminal passenger that is translocated to the bacterial surface through the β-barrel [
79
]. Keeble et al. prepared an intimin–SpyCatcher002 construct with SpyCatcher002 fused to the C-terminus of a truncated intimin variant (
Figure 5
). Upon overexpression in
E. coli
cells, the SpyCatcher002 domain is secreted together with the truncated passenger and presented on the bacterial surface, where it can be labeled using SpyTag002 fused to the fluorescent reporter protein mClover3 [
80
], in a similar fashion to that described for YadAM in
Section 3.1
. By imaging the cells using wide-field fluorescence microscopy after labeling, the movement of the mClover-tagged intimins toward the poles could be tracked to study the dynamics of the OM. Intimin was initially uniformly spread across the bacterial surface, but migrated towards the poles during cell division [
21
], suggesting that the polar movement results from incorporation of new peptidoglycan and OM material in preparation for cell division. This notion was further tested by repeating the experiment in the presence of cefalexin, a β-lactam antibiotic that prevents bacterial division by inhibiting septum formation and peptidoglycan synthesis. This time, the cells became elongated in preparation for division but were unable to divide. After 45 min, the fluorescent signal was localized in patches around the bacterium, thus demonstrating how inhibited peptidoglycan synthesis prevents the polar migration of OM proteins. Keeble et al. demonstrated here how an intimin–SpyCatcher fusion can be used to study the effect of peptidoglycan synthesis during division upon outer membrane dynamics [
21
]. This method could be used for tracking the migration of other OM proteins in the membrane during different stages of the cell cycle.
3.3. Exploiting Virulence Factors and Virus-Like Particles for Vaccine Development using SpyCatcher-SpyTag
4. Conclusions and Future Perspectives
The SpyCatcher system and its close relatives have been successfully used for protein engineering purposes, including the cyclic polymerization of enzymes, or the decoration of hydrogels. In our hands, the system has been extremely useful for showing cell surface localization, and to elucidate the topology of membrane proteins. Other authors have used the technology for decorating vesicles and virus particles with antigens. In all cases, the benefits of the system are the same: irreversible, covalent coupling and the fact that the two partners of the system are relatively small entities that do not interfere strongly with the native systems that they label.
It is somewhat ironic that the system, derived from a bacterial surface protein, has been widely used for studying and modifying other bacterial or viral surface proteins. We strongly believe that this system will have many more applications in basic science, and that this is only limited by the fact that many researchers are not aware of its existence. This prompted us to write this review.
Some of the approaches related to vaccines will need more testing before they can potentially be used in patients. For example, it remains unclear whether SpyCatcher (or its relatives) elicits a strong immune response by itself, and whether that would limit its usefulness in vaccines. The work on VLPs suggests that this could be problematic for some applications, where the SpyCatcher-VLPs did elicit an immune response of their own that was then later masked after decorating the particles with the target antigen [
44
].
Our own experiments were until now limited to surface-localized proteins in bacteria, but it is conceivable that the system could also be used to label proteins in other cellular localization (e.g., after membrane permeabilization) as an alternative to antibody-based approaches. We also believe that the system can be used in versatile ways to modify and functionalize artificial or biological surfaces of almost any kind (e.g., to develop ELISA-like assays that require covalent immobilization), and possibly to functionalize surfaces used in lab-on-a-chip approaches. Another conceivable use of the system includes in situ labeling of proteins for added density to identify individual proteins (e.g., in cryo-electron micrographs or tomograms). As this review shows, the SpyCatcher-SpyTag system has proven to be an extremely versatile tool for both basic research and applied science, and it will undoubtedly spur further innovations in the future.
Author Contributions
Conceptualization, J.C.L. and D.L.; writing—original draft preparation, D.H., T.T., D.L., and J.C.L.; writing—review and editing, D.L. and J.C.L.
Funding
This research was funded by the Research Council of Norway, grant numbers 249793 (to J.C.L.) and 240483 (to D.L.).
Acknowledgments
The authors wish to thank Nandini Chauhan for providing the gel image shown in
Figure 4
B. They also acknowledge the members of the Leo and Linke groups for fruitful scientific discussions.
Conflicts of Interest
The authors declare no conflict of interest.
Abbreviations
CLIP
UV crosslinking and immunoprecipitation
GoldCLIP
Gel-omitted ligation-dependent CLIP
Hbp
Hemoglobin protease
MSCRAMMs
Microbial surface components recognizing adhesive matrix molecules
OM
Outer membrane
OMV
Outer membrane vesicle
PDB
Protein Data Bank
SDS-PAGE
Sodium dodecylsulfate polyacrylamide gel electrophoresis
sfGFP
Superfolder green fluorescent protein
SUMO
Small ubiquitin-like modifier
TAA
Trimeric autotransporter adhesin
UV
Ultraviolet
uvCLAP
UV-crosslinking and affinity purification
VLP
Virus-like particle
YadA

Yersinia

adhesin A
YadAM
YadA membrane anchor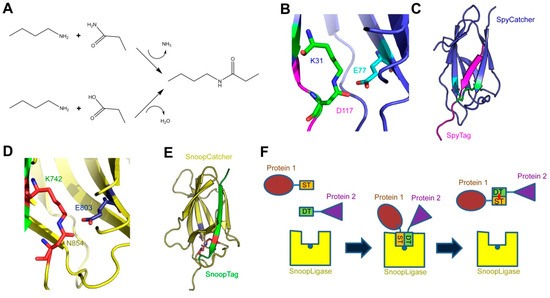 Figure 1.
The SpyCatcher-SpyTag, SnoopCatcher-SnoopTag, and SnoopLigase systems. (
A
) Formation of an isopeptide bond. The primary amine of a lysine side chain condenses with either the side-chain amide of an asparagine (upper reaction) or the side-chain carboxyl of an aspartate (lower reaction) to produce the isopeptide bond, releasing either ammonia or water, respectively; (
B
) the isopeptide bond between SpyCatcher-SpyTag. The isopeptide formed by the reactive lysine (K31) in SpyCatcher and aspartate (D117) in SpyTag is shown in green, and the catalytic glutamate (E77) in cyan; (
C
) crystal structure of SpyCatcher-SpyTag. SpyCatcher is in blue and SpyTag is in magenta. The structures shown in panels b and c are based on the Protein Data Bank (PDB) entry 4MLI [
20
]; (
D
) the isopeptide bond between SnoopCatcher-SnoopTag, formed by lysine (K742) in SnoopTag and the asparagine (N854) in SnoopCatcher, is shown in red, and the catalytic glutamate (E803) is in blue; (
E
) crystal structure of SnoopCatcher-SnoopTag. SnoopCatcher is in yellow and SnoopTag in green. The structures shown in panels d and e are based on the RrgA D4 domain structure (PDB ID: 2WW8) [
15
]; (
F
) schematic of the function of SnoopLigase. A protein (in brown) containing SnoopTagJr (ST, in orange) and another protein (purple) with DogTag (DT, green) are mixed in the presence of SnoopLigase (yellow). The tags bind to SnoopLigase, which contains the catalytic glutamate (blue dot) and catalyzes the formation of an isopeptide between SnoopTagJr and DogTag (red dot). The ligated proteins can then be eluted from SnoopLigase.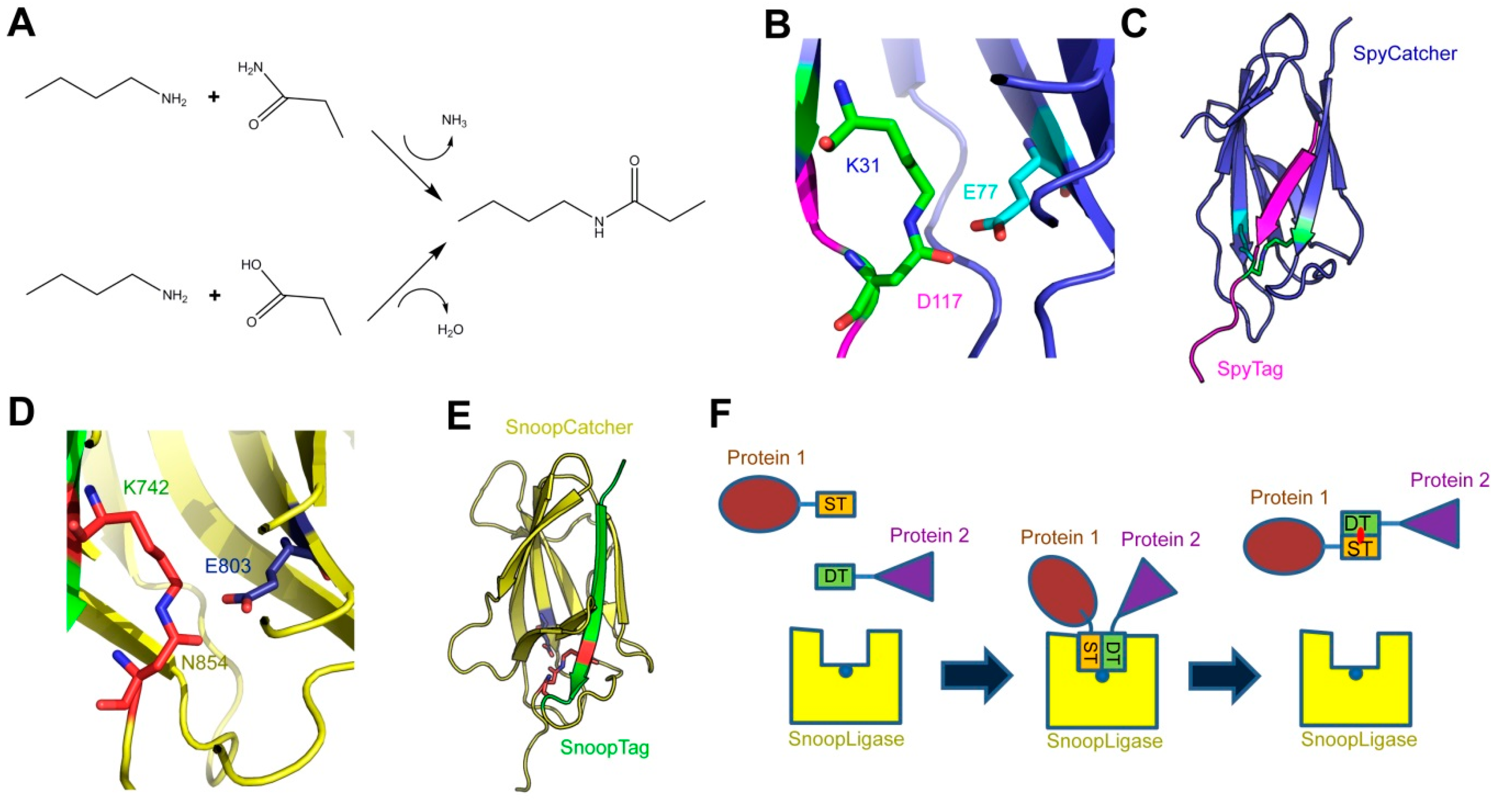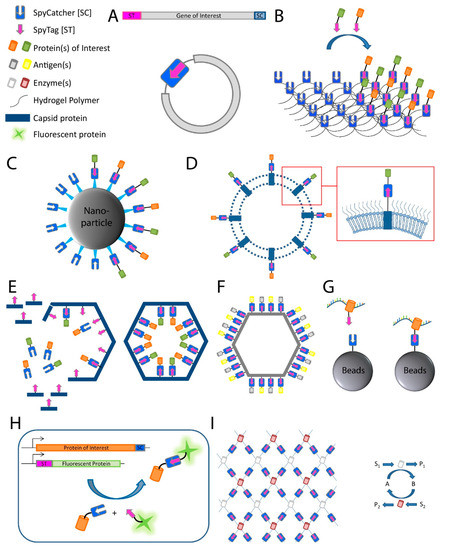 Figure 2. Applications of the SpyCatcher-SpyTag system. (A) SpyRing: SpyCatcher and SpyTag are fused to the terminal ends of the protein of interest resulting in protein cyclization and thereby conferring an increased resilience to denaturation; (B) post-hydrogelation decoration of protein hydrogels: SpyCatcher is fused to the polymeric material used in hydrogel synthesis, which allows the posthydrogelation decoration with proteins of interest fused to SpyTag; (C–F): (C) bioconjugation of target proteins to nanoparticles, (D) outer membrane vesicles, (E) phage capsid proteins to create a proteinaceous nanocompartment, and (F) virus-like particles; (G) SpyCLIP: SpyTagged RNA-binding protein interacts with RNA and is covalently attached to beads with fused SpyCatcher for use in pull-down assays; (H) fluorescent protein labeling for use, for example, in microscopy (ST represents SpyTag sequence); (I) artificial multi-enzyme nanodevices for increased efficiency, stability, and reusability. Schematic of mesh-like nanodevice is shown on the left and an enzymatic reaction scheme on the right. S represents substrate; P represents product; A and B represent cofactors.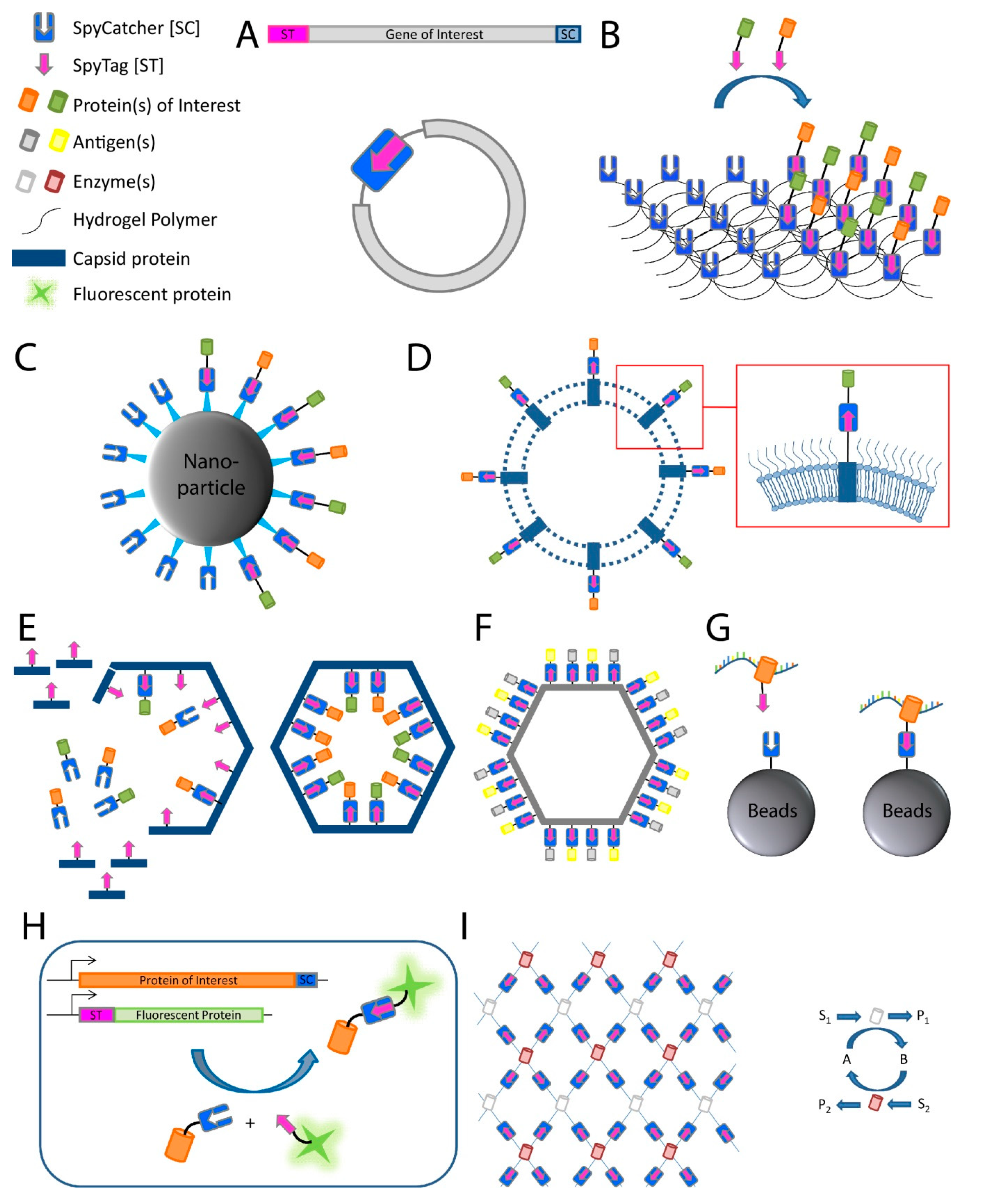 Figure 3.
Using SpyCatcher to determine the surface topology of the
Yersinia
adhesin YadA. (
A
) Model of full-length YadA [
71
] and solid-state NMR structure of YadAM (PDB ID: 2LME); (
B
) schematic of the trimeric SpyTag-YadAM
A354P
construct with two secreted chains. The secreted chains fused to SpyTag are located on the bacterial surface and are able to bind to the SpyCatcher-sfGFP, while the chain located in the periplasm is inaccessible to the SpyCatcher fusion.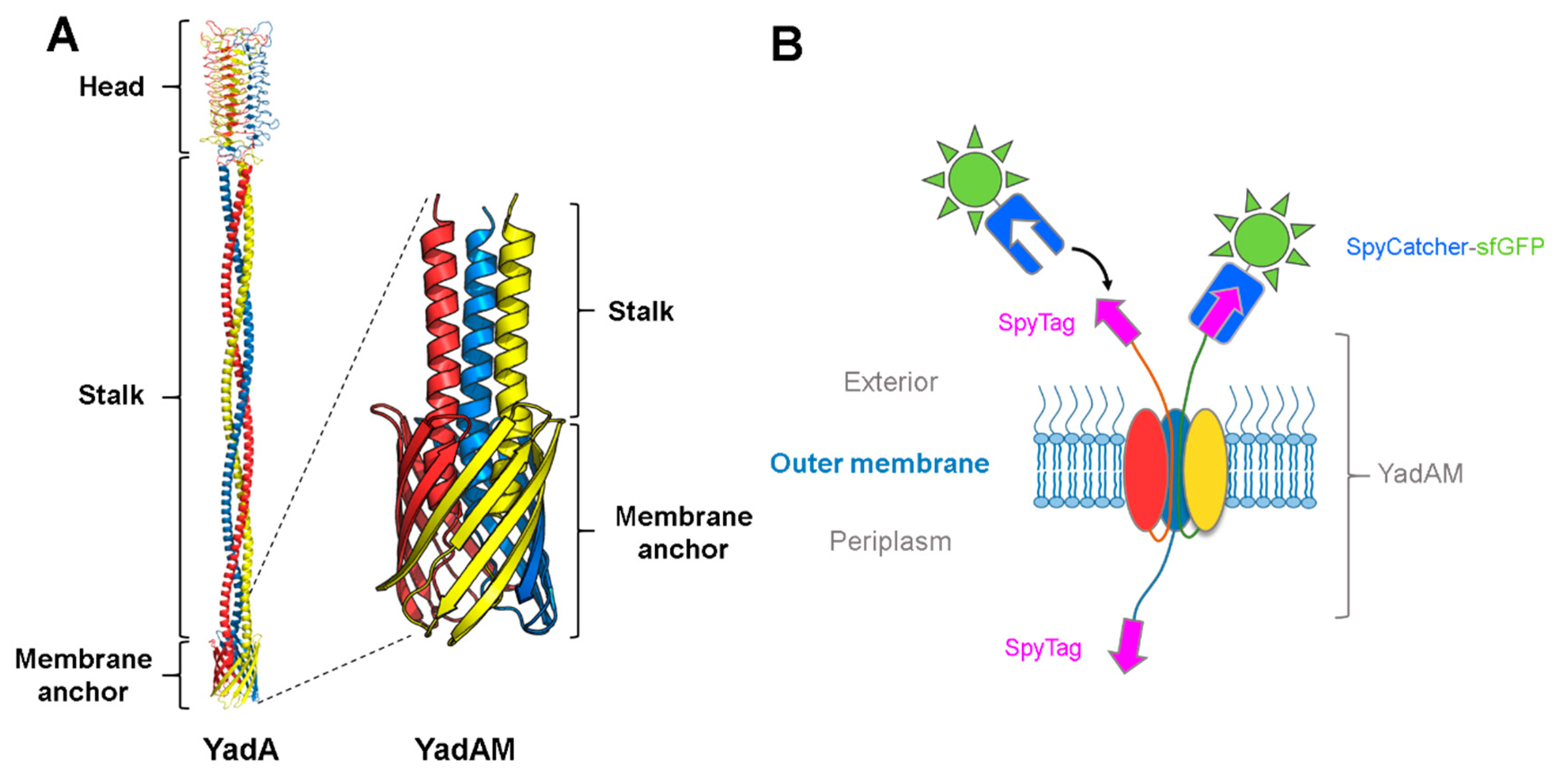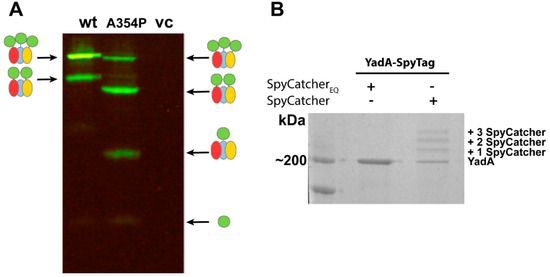 Figure 4.
SpyCatcher assays with YadA. (
A
) Semi-native SDS-PAGE of OM preparations of wild-type SpyTag-YadAM and SpyTag-YadAM
A354P
after treatment with SpyCatcher-sfGFP, visualized under blue light. The ladder-like pattern indicates 1–3 bound SpyCatcher-sfGFP molecules. The gel shown is based on results from [
13
]. The wild-type YadAM binds mainly three SpyCatcher-sfGFP molecules, demonstrating full surface exposure of the N-terminal SpyTags, whereas the A354P mutant mainly binds to 1–2 SpyCatcher-sfGFP molecules. Note that YadAM
A354P
migrates anomalously compared with the wild-type. A schematic of the species visible in the gel is given on the side: SpyCatcher-sfGFP in green and YadAM monomers in red, blue, and yellow. vc represents vector control; (
B
) SDS-PAGE of OM preparations of full-length, trimeric SpyTag-YadA (~200 kDa) treated with the inactive SpyCatcher
EQ
and normal SpyCatcher, stained with Coomassie blue. The SpyCatcher-treated SpyTag-YadA shows a similar ladder-like pattern as in panel a, corresponding to the change in electrophoretic mobility as 1–3 SpyCatchers are bound.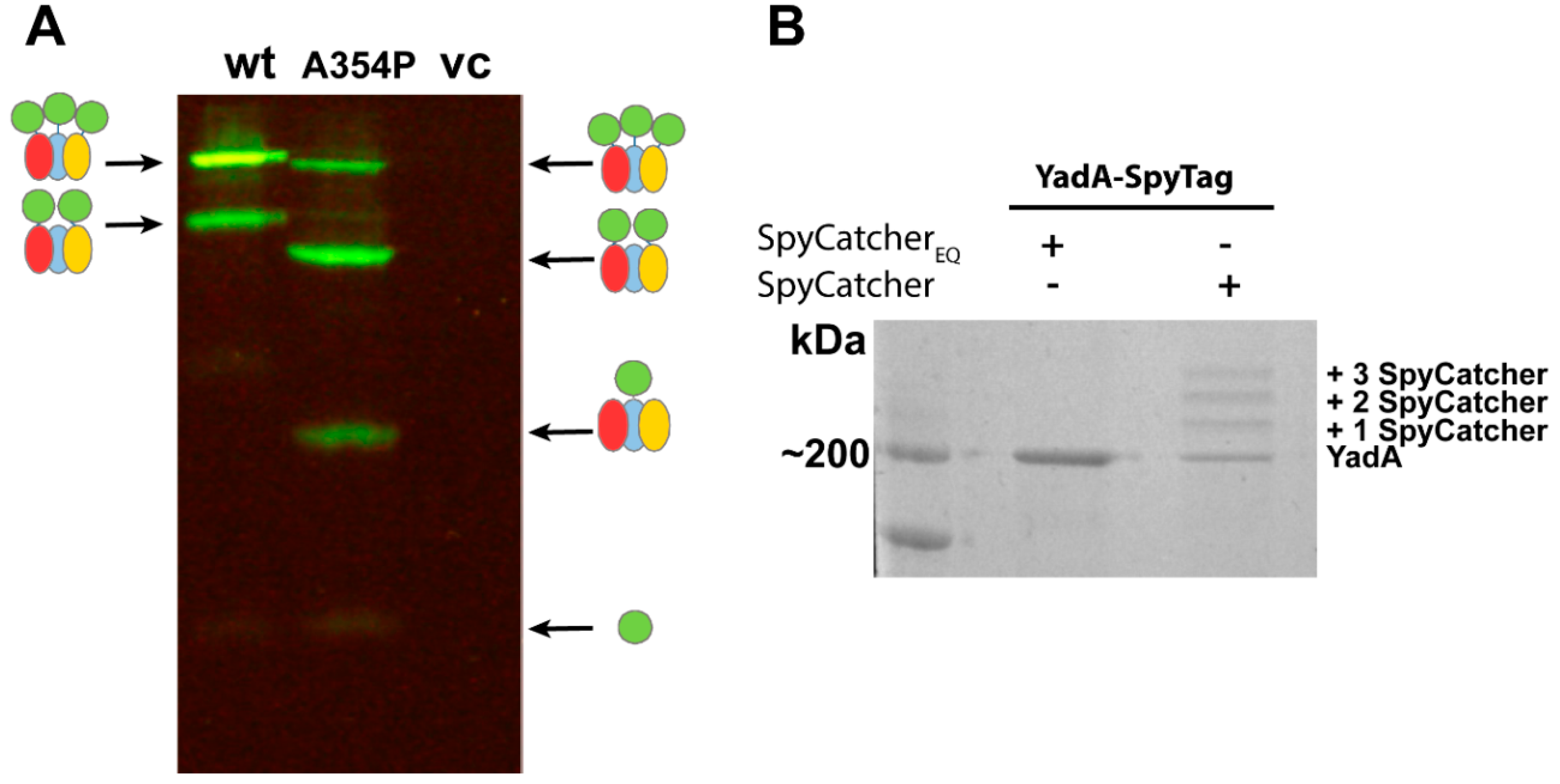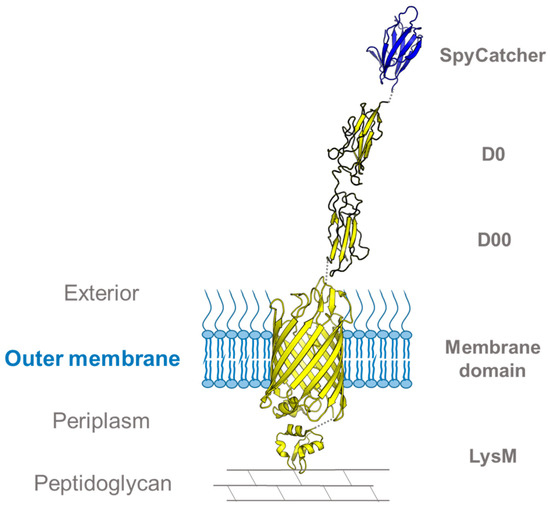 Figure 5.
Intimin–SpyCatcher002 fusion for studying membrane dynamics. Structural model of the intimin construct used in [
21
]. The model is based on the crystal structures of the intimin transmembrane domain (PDB ID: 4E1S) and SpyCatcher (PDB ID: 4MLI), the solution structure of the peptidoglycan-binding LysM domain (PDB ID: 2MPW), and the homology model structures of the extracellular D00 and D0 domains [
81
].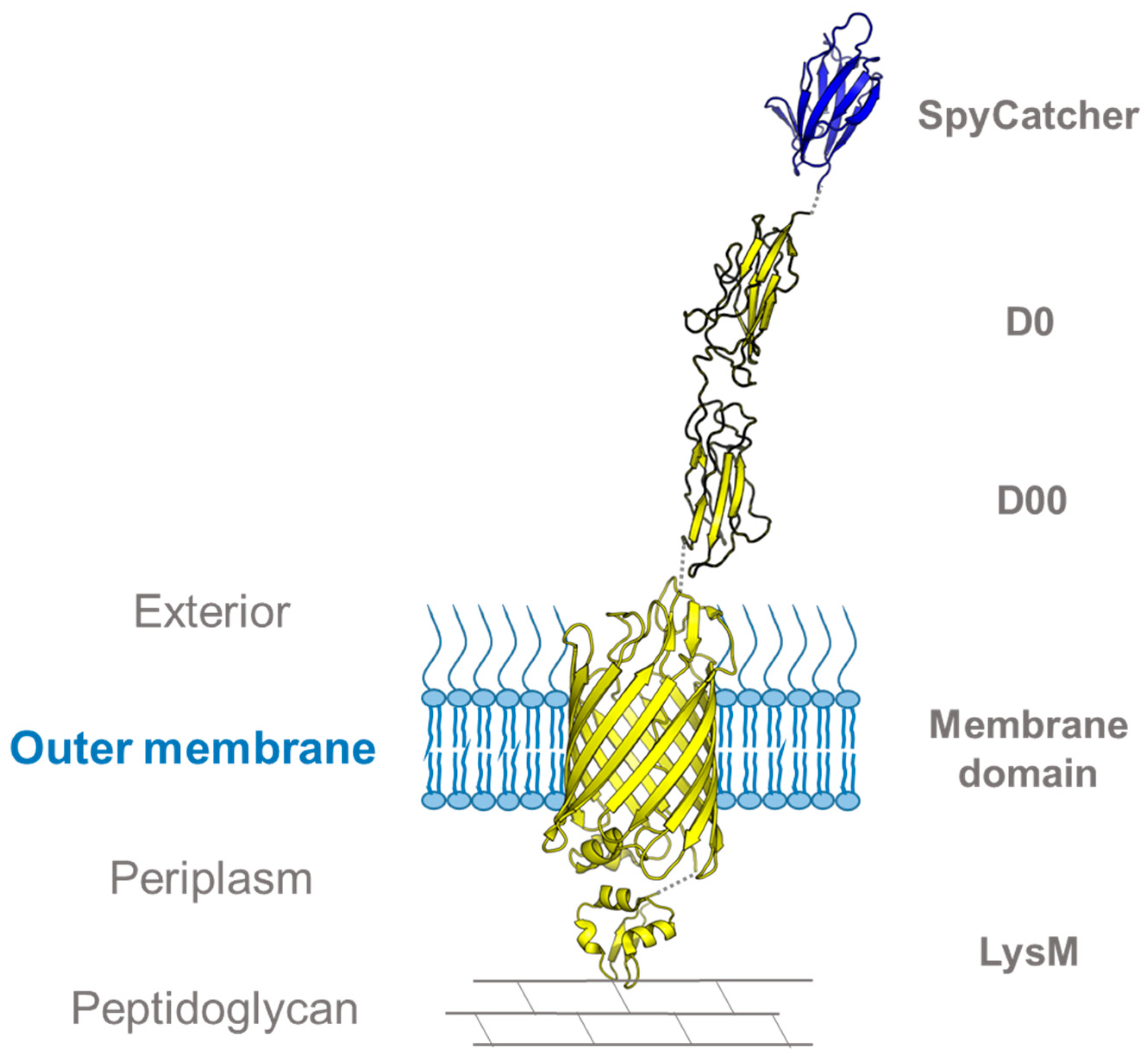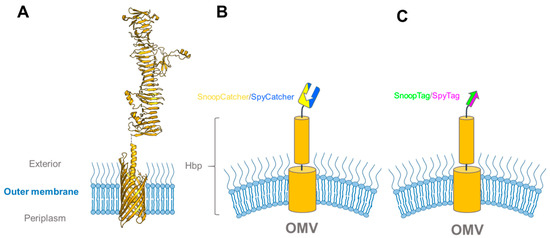 Figure 6.
Hbp constructs used for vaccine display on outer membrane vesicles. (
A
) Structural model of full-length HbpD(Δd1) based on the crystal structures of the Hbp transmembrane domain (PDB ID: 3AEH) and passenger (PDB ID: 1WXR); (
B
) and (
C
) schematic drawings of Hbp fusions used in [
92
] to determine binding efficiencies between the SpyTag-SpyCatcher and SnoopTag-SnoopCatcher pairs on Hbp-fusion-presenting OMVs.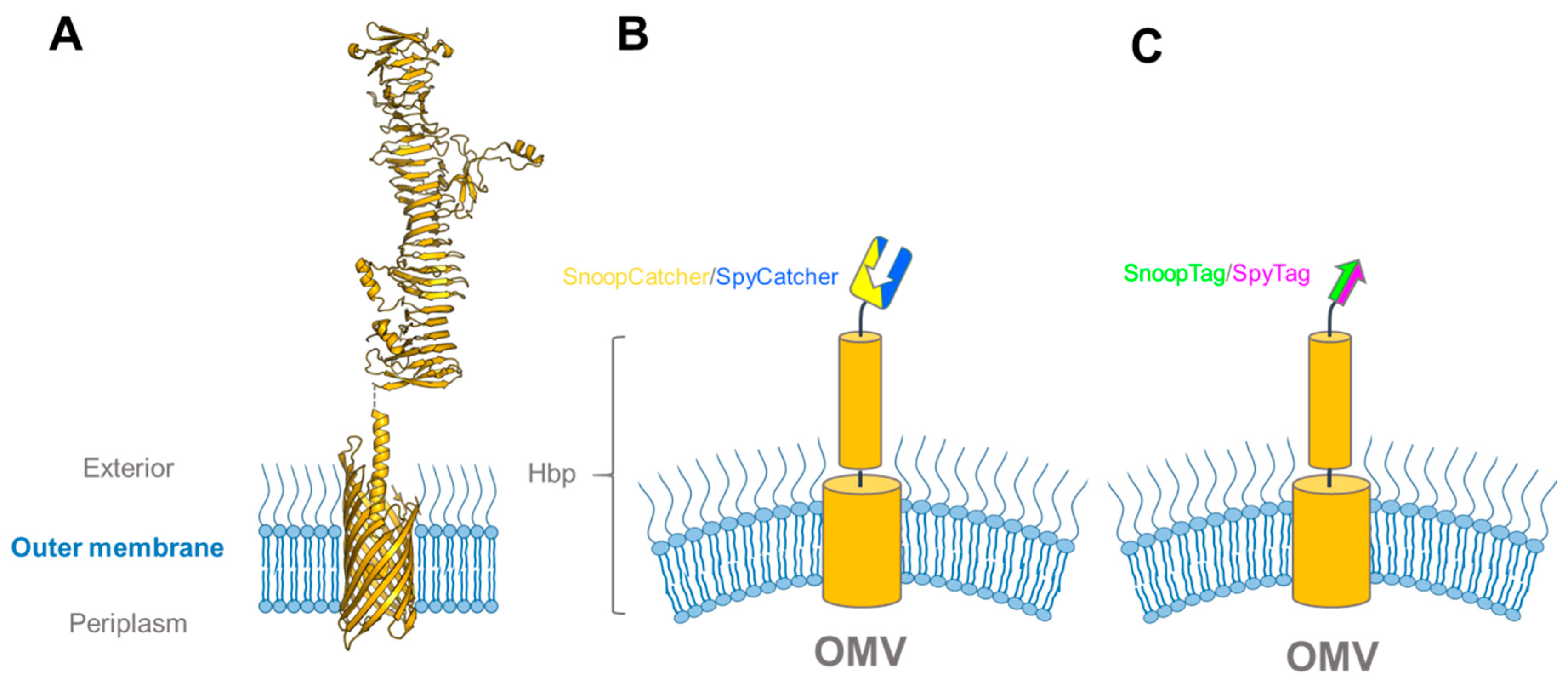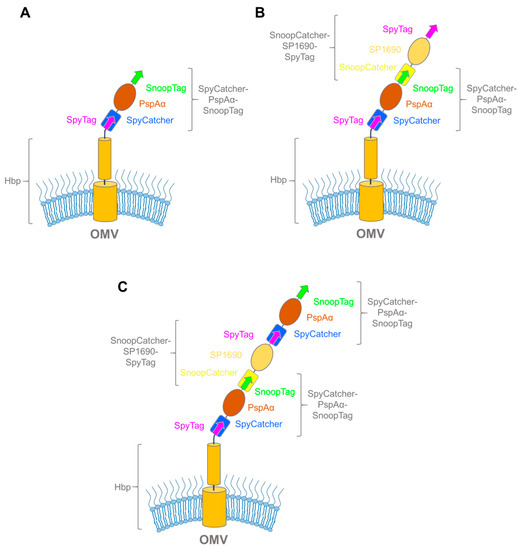 Figure 7. Hbp-antigen complexes made through Spy/SnoopCatcher fusions. (A) Schematic of Hbp bound to SpyCatcher–PspAα–SnoopTag; (B) schematic of Hbp bipartite binding adduct SpyCatcher–PspAα–SnoopTag and SnoopCatcher–SP1690–SpyTag; (C) schematic of Hbp tripartite binding adduct with two SpyCatcher–PspAα–SnoopTags flanking SnoopCatcher–SP1690–SpyTag.
Catcher
Tag
Tag Sequence
Description
Publication Year
Reference
SpyCatcher
SpyTag
AHIVMVDAYKPTK 1
Original Catcher-Tag technology.
2012
[9]
SpyCatcher
ΔN1ΔC1
SpyTag
AHIVMVDAYKPTK 1
Minimal SpyCatcher construct that still binds efficiently to SpyTag.
2014
[20]
SpyLigase 2
SpyTag
AHIVMVDAYKPTK 1
Rationally engineered system for ligating two peptides.
2014
[18]
KTag
ATHIKFSKRD
SnoopCatcher
SnoopTag
KLGDIEFIKVNK 1
Orthogonal technology to SpyCatcher.
2016
[16]
SpyCatcher002
SpyTag002
VPTIVMVDAYKRYK 1
Improved SpyCatcher-SpyTag system with faster reaction rate.
2017
[21]
SnoopLigase 2
SnoopTagJr
KLGSIEFIKVNK 1
Rationally engineered system for ligating two peptides.
2018
[19]
DogTag
DIPATYEFTDGKHYITNEPIPPK
SpyDock
SpyTag002
VPTIVMVDAYKRYK 1
Protein affinity purification system (Spy&Go) based on SpyCatcher.
2019
[22]
1 The reactive residues are shown in bold. 2 SpyLigase and SnoopLigase have two target peptides.

© 2019 by the authors. Licensee MDPI, Basel, Switzerland. This article is an open access article distributed under the terms and conditions of the Creative Commons Attribution (CC BY) license (http://creativecommons.org/licenses/by/4.0/).