Open Access This article is
freely available
re-usable
Review
The Possible Role of the Microbiota-Gut-Brain-Axis in Autism Spectrum Disorder
Department of medicine, University of Zurich, Winterthurerstrasse 190, 8057 Zürich, Switzerland
*
Author to whom correspondence should be addressed.
Received: 27 March 2019 / Accepted: 28 April 2019 / Published: 29 April 2019
Abstract
:
New research points to a possible link between autism spectrum disorder (ASD) and the gut microbiota as many autistic children have co-occurring gastrointestinal problems. This review focuses on specific alterations of gut microbiota mostly observed in autistic patients. Particularly, the mechanisms through which such alterations may trigger the production of the bacterial metabolites, or leaky gut in autistic people are described. Various altered metabolite levels were observed in the blood and urine of autistic children, many of which were of bacterial origin such as short chain fatty acids (SCFAs), indoles and lipopolysaccharides (LPS). A less integrative gut-blood-barrier is abundant in autistic individuals. This explains the leakage of bacterial metabolites into the patients, triggering new body responses or an altered metabolism. Some other co-occurring symptoms such as mitochondrial dysfunction, oxidative stress in cells, altered tight junctions in the blood-brain barrier and structural changes in the cortex, hippocampus, amygdala and cerebellum were also detected. Moreover, this paper suggests that ASD is associated with an unbalanced gut microbiota (dysbiosis). Although the cause-effect relationship between ASD and gut microbiota is not yet well established, the consumption of specific probiotics may represent a side-effect free tool to re-establish gut homeostasis and promote gut health. The diagnostic and therapeutic value of bacterial-derived compounds as new possible biomarkers, associated with perturbation in the phenylalanine metabolism, as well as potential therapeutic strategies will be discussed.
Keywords:
Autism; ASD; microbiota; gut-brain-axis; microbiota-gut-brain-axis; probiotics; prebiotics
1. Introduction
The microbiota-gut-brain-axis describes the bidirectional physiological connection to exchange information between the microbiota, the gut and the brain [
1
]. The gastrointestinal (GI) tract, the largest surface in the body, meets trillions of microorganisms separated by the gut barrier [
2
]. The gut barrier is made out of the commensal gut microbiota, a mucus layer and epithelial cells connected through tight junctions [
3
,
4
]. A healthy microbial composition is important to health, as dysbiosis is often observed in gut-related diseases and conditions such as inflammatory bowel disease, irritable bowel syndrome, diabetes and obesity, but also in unconventional diseases such as acne, allergy, cardiovascular disease, stress, depression, Alzheimer's disease, multiple sclerosis, Parkinson's and autism spectrum disorder (ASD) [
5
,
6
,
7
,
8
,
9
,
10
,
11
,
12
]. Dysbiosis is an altered microbial composition favouring pathogenic microbes over beneficial ones in the gut. Knowing that dysbiosis at a young age affects health-status during later life, it is important to study the life-long impacts of compromised GI functions during childhood.
In addition to dysbiosis, GI symptoms are four times more prevalent in children with ASD compared to the normal population [
13
]. A wide range of GI symptoms are found in these children, such as constipation, diarrhoea, bloating, abdominal pain, reflux, vomiting, gaseousness, foul smelling stools and food allergies [
1
,
14
,
15
,
16
,
17
,
18
,
19
]. In addition, lower bacterial diversity found in autistic children [
20
,
21
] could be related to the severity of GI symptoms [
20
]. The higher abundance of
Clostridia
species (spp) in autistic individuals suggests involvement in the pathogenesis of ASD [
22
]. Structural changes in the brain [
23
,
24
,
25
,
26
,
27
,
28
,
29
,
30
] and less sociable behaviours [
31
,
32
,
33
,
34
] observed in germ-free mice indicate a functional connection between the microbiota and the brain. However, as there are major differences between the murine and the human microbiota [
35
], the validity of drawing conclusions from GF mice to humans is limited. Nevertheless, the observed behavioural changes in germ-free mice raise the question regarding the mechanisms of action of microbiota on human metabolism.
The frequently reported comorbidity of GI problems in autistic children [
1
,
14
,
15
,
16
,
17
,
18
,
19
] motivated the central question of this review: is there a connection between the gut microbiota and the central nervous system (CNS) affecting the pathology of ASD? This is an important question considering that only approximately one third of all autistic cases could be linked to genetic causes [
36
]. Furthermore, no satisfactory effective treatment is available for Autism Spectrum Disorder to date. Therefore, understanding and modulating the microbiota-gut-brain-axis may be an effective and promising way for ameliorating the disease symptoms [
37
]. The objective of this review is to summarize all peer-reviewed human studies and reviews on the topic connecting gut microbiota with ASD and suggesting metabolites, which could serve as potential biomarkers after further validation. The elevation of 3-(3-hydroxyphenyl)-3-hydroxypropionic acid, 3-hydroxyphenylacetic acid and 3-hydroxyhippuric acid in autistic children hinted to perturbation in the phenylalanine metabolism [
38
]. These metabolites are related to the abundance of
Clostridia
spp which worsens autistic behaviour [
38
].
2. Material and Methods
In this systematic review we concentrated on the question: Is there a connection between the gut microbiota and the central nervous system (CNS) affecting the pathology of ASD? PubMed databank and online books were searched on February 1st 2018. The objective was to study the possible connection between the microbiota/microbiome and ASD. The following search parameters and MeSH terms "Microbiome", "microbiota", "gut-brain-axis", "autism", "autistic disorder" and "human" delivered 139 hits (
Figure 1
).
We concentrated on bacterial taxa excluding excluded citations regarding viruses and archaea. Thus, inclusion criteria were the following:
-

Diagnosis of ASD by medical experts

-

Human studies of the microbiome or metabolome in autistic individuals

-

ASD individuals were compared to a matched control group

-

Collection and analysis of at least one of the following biomaterials: GI biopsies, faecal, urinary or blood samples

-

Analysis of bacterial genome by sequencing

-

Published in a peer-reviewed article

-

Availability of the full text publication

-

Availability of the paper in English
Most of the examined papers were published between 2013 and 2018. The evaluation of literature was conducted by two independent researchers resulting in the same included papers. Seven papers were excluded as full texts were not available. Five non-English papers were excluded, and five papers were excluded due to the lack of any relevance to the topic. In total, 136 papers were examined for this systematic review. Online books were used for the definitions of diseases.
3. Comorbidities in Autism Spectrum Disorder
4. Factors Influencing the Gut Microbiota
4.1. Definitions and Facts
The term microbiota describes the entirety of all bacterial, archaeal and fungal microorganisms living on the skin, in the mouth, in the respiratory, GI and vaginal tracts [
37
]. As the term microbiota describes all microorganisms living in and on humans, the term microbiome describes all the genes expressed in all these microorganisms [
50
]. The highest diversity of microbiota is found in the large intestine [
17
]. Approximately 1000 different spp of bacteria are reported to live in the GI tract [
63
]. Healthy gut microbiota interacts with the human metabolism by educating the immune system, protecting against pathogenic microbes, metabolising non-digestible carbohydrates, producing essential vitamins and antimicrobial substances, stimulating angiogenesis and importantly reinforcing the gut barrier through increased mucine production [
15
,
40
,
64
,
65
,
66
,
67
]. The microbial composition varies through age, diet, diseases, geography [
37
,
68
] and shared environment [
34
].
4.2. Developmemt and Disruptions of Microbial Colonisation in Autism
5. Alterations in Microbial Composition and Metabolic Profile in Autistic Individuals
5.1. Changes in Microbial Composition in Autistic Children
5.2. Altered Concentrations of Metabolites and Their Functional Consequences
5.2.3. Short Chain Fatty Acids
SCFAs, mainly butyrate, propionate and acetate [
114
], are produced as fermentation products by gut bacteria [
115
,
116
]. Lower concentrations of the total amount of SCFAs are found in autistic children [
40
,
98
], providing the evidence for a reduced fermentation capacity of the microbiota. Nevertheless, propionate and acetate are found in higher levels in autistic children suggesting that butyrate production is dramatically reduced [
40
]. SCFAs cross the BBB and influence early brain development by modulating production of the neurotransmitter serotonin and dopamine [
40
]. These acids bind to two free fatty acid receptors (FFA2 and FFA3) found in several areas of the brain [
6
,
72
,
117
]. The resorption of water and electrolytes in the colon is also to some degree regulated by SCFAs [
40
]. They also modulate the cytokine production by T-cells [
62
]. Positively correlated with total amount of SCFA were
Faecalibacterium
,
Ruminococcus
and
Bifidobacterium
genera, while the amount of
Bacteroides
spp was correlated with propionic acid in autistic individuals [
40
].
Bacteroides
spp,
Porphyromonadaceae
and
Parabacteroides
were positively correlated with the amount of propionate and butyrate in autistic individuals. Alcaligenaceae is also positively correlated with propionate, whereas the Bacteroidaceae is negatively correlated with acetate and total amount of SCFA in autistic children [
118
].
Intraventricular injection of propionate into rat pups caused behavioural and physiological changes as observed in ASD [
98
]. An accumulation of propionic acid can lead to prolonged neurodevelopment and seizures [
16
].
Clostridia
spp are known to produce exotoxins and propionate and thus create an inflammatory status, which might worsen autistic symptoms [
87
]. As mentioned before, presence of an oxidative milieu in the cell, as seen in autistic individuals, leads among others to malfunctioning of mitochondrial enzymes and the production of reactive nitrogen species [
119
]. The reactive nitrogen species interact with propionic acid and produce 3-nitropropionic acid. This acid acts as a mitochondrial neurotoxin, which irreversibly inhibits the function of the enzyme succinate dehydrogenase, which is implicated in the synthesis of NADH. Propionic acid is also converted to propionyl-CoA and enters the citric acid cycle at the enzyme succinyl-CoA-dehydrogenase. Two enzymes which are important to produce NADH are surpassed by 3-nitropropionic acid [
119
]. NADH is a substrate for the electron transport chain and consequently for ATP production. This explains the lower activity of ETC enzyme complex I due to reduced substrate concentration [
119
]. Propionate is involved in up-regulating the cyclic-adenosine-monophosphate response element binding protein (CREB). CREB regulates synaptic plasticity, memory formation and the reward system [
120
]. A study by Frye et al. compared mitochondrial function of lymphoblastoid cells from autistic subjects and controls after incubating them in propionic acid and introduction to reactive oxygen species (ROS). Propionic acid metabolised by healthy lymphoblastoid cells exerted beneficial effects on the cells such as increased respiration. Cells from autistic individuals consumed propionic acid much faster as a fuel, suggesting a compensatory measurement for energy production. The consequence of the stronger reaction to ROS after propionic acid incubation by lymphoblastoid cells of autistic subjects was, among others, an increased proton leakage from the mitochondria to the inter-membrane space and hence a reduced respiratory capacity [
119
].
Butyrate is used as an energy source in colonocytes [
62
]. It is involved in regulating inflammatory and oxidative state of the mucosal cells, visceral sensitivity and motility and reinforces the mucosal barrier in the intestines. It prevents carcinogenesis and inflammation in the gut via its anti-inflammatory properties [
114
]. Butyrate modulates the biosynthesis of catecholamines and neurotransmitters in the CNS and autonomic nervous system [
106
]. Butyrate is said to be the most important SCFA in humans as it exhibits neuroprotective features. It promotes memory formation and neuronal plasticity through epigenetic modulation [
121
]. In some neurodegenerative models butyrate was found to ameliorate symptoms [
121
]. Even if not conclusive, the above data suggest an involvement of increased acetate and propionate and decreased butyrate in the pathophysiology of ASD.
5.3. Other Etiologies for ASD
Over one hundred genes are associated with the pathology of ASD and up to several hundred genes are implicated in elevation of the susceptibility to ASD [
38
]. Most of the affected genes are implicated in synapse plasticity [
122
] and brain development in utero as well as during infancy [
27
]. Most of the differing gene expression lead to an altered structure of the CNS or the enteric nervous system [
38
]. ASD has been hypothesised to be linked to abnormalities of the neural crest development during pregnancy [
123
]. Inoue et al. found in peripheral blood mononuclear cells of autistic children, 1056 up-regulated and 517 down-regulated genes, respectively [
124
]. Comorbidities such as fragile X syndrome, tuberous sclerosis or Rett disorder have also been observed in ASD patients (
Figure 2
) [
27
]. Six Japanese autistic children were compared to six healthy controls regarding microbial composition by collecting faeces and blood. The genus
Faecalibacterium
was higher and
Blautia
lower represented in the faeces of autistic children [
124
]. Moreover, there were several up- and down regulated genes in autistic children compared to healthy ones. Interestingly some genes, which are involved in IFN-gamma mediated pathways correlated with the differing abundances of
Faecalibacterium
and
Blautia
[
124
]. These data are in accord with the finding that IFN-gamma is elevated in autistic children, which suggests a chronic inflammation in these children.
Another aetiology for ASD-like behaviour in mice was the exposure to bisphenol A
in utero
. Bisphenol A changed the DNA methylation and thus, the expression level of the gene for BDNF [
125
]. BDNF is important for survival of neurons, growth and differentiation of newly formed neurons as well as new formations of synapses [
72
].
The data above indicates that several genes, which are involved in CNS development and inflammation pathways, are altered in autistic individuals providing several targets for a better understanding of the mechanisms involved in the disease and possible therapeutic targets.
6. Possible Therapeutic Measures Acting on the Microbiota
6.1. Prebiotics
Dietary prebiotics were defined as "a selectively fermented ingredient that results in specific changes in the composition and/or activity of the gastrointestinal microbiota, thus conferring benefit(s) upon host health" [
77
,
126
].
Grimaldi et al. investigated the role of the prebiotic galactooligosaccharide (GOS) in a synthetic colon model comparing diluted faecal samples from autistic children and controls regarding changes in bacterial composition and metabolic profile. The administration of the prebiotic led to significant increases in
Bifidobacteria
spp in both autistic and control models [
98
]. Slightly significant increases of the
Clostridium
cluster XI and decreases of Veillonellaeceae were observed only in the ASD group. Significant decreases occurred in
Sutterella
spp,
Bacteroides
, Clostridial cluster IX,
Escherichia coli
, Veillonellaceae,
Ruminococcus
spp,
Clostridium leptum
and
Faecalibacterium prausnitzii
in autistic children. Growth of
Bifidobacteria
could be stimulated by the prebiotic [
98
]. GOS also affected SCFA production, increasing butyrate and decreasing propionate. Thus, it is sensible to postulate that the effects of the GOS supplementation in these children were, at least partially, through the production of acetate and butyrate [
98
].
Prebiotics are not widely researched as a treatment option for autistic individuals. Nonetheless, existing data point to the fact that prebiotic treatment can cause microbial compositional alterations in autistic children that could result in amelioration of autistic symptoms. As mentioned before, methodologies to deliver therapeutics, such as specific SCFA or prebiotics, to the GI tract could be envisaged to directly target the colon to reach the microbiota without the interference of the digestive system.
6.3. Faecal Microbiota Transplantation
In contrast to probiotic treatment, where just some bacterial strains are supplemented, faecal microbiota transplantation (FMT) ensures the transfer of several hundred bacterial strains. A healthy individual donates a stool sample [
79
], which is normally used freshly within eight hours or within eight weeks when directly frozen after donation [
129
]. FMT could potentially be problematic, as donors could transfer opportunistic pathogens or infections to recipients. A thorough screening of donors before donation minimises the risk but in the early stages of infections donors could be asymptomatic and unknowingly transfer infections [
130
]. Despite these uncertainties, FMT is an established and efficient therapy in recurrent
Clostridium difficile
infection [
77
,
79
,
131
,
132
].
Kang et al. studied the impact on the microbial composition and the course of GI and autistic symptoms in eighteen autistic children after "Microbiota Transfer Therapy" [
79
]. The transfer followed over a period of 7–8 weeks after oral administration of Vancomycin and bowel cleansing. The results were impressing, because GI symptoms such as constipation, diarrhoea or abdominal pain decreased by 80%. The improvement lasted at least for eight weeks. This study showed clearly an improvement of not only GI but also seventeen ASD behavioural symptoms assessed by the "Parental Global Impressions-III" after FMT [
79
]. The main consequence of faecal transplantation was an increased bacterial diversity and altered abundances of some bacteria such as the genera
Bifidobacterium
,
Prevotella
and
Desulfovibrio
. This suggests that GI and behavioural symptoms in autistic children are inter-connected and trace back to lesser microbial diversity probably through modulating metabolites [
79
].
Therefore, FMT is an exciting new treatment option, which could be considered for ASD patients with dysbiosis.
6.4. Other Treatment Strategies
Amelioration of behavioural symptoms could also be reached through oral treatment with Vancomycin, which is an antibiotic specific to bacteria such as Clostridiaceae [
40
]. This finding suggests a connection between Clostridiaceae and autistic behaviour. However, the amelioration of the symptoms did not last longer than the treatment duration [
40
]. This was attributed to the spore forming capacity of these bacteria as bacterial spores can survive antibiotic treatment and proliferate afterwards [
40
]. Also, a restricted gluten and/or casein-free diet seemed to positively affect the social and cognitive problems in children with ASD [
40
]. One hypothesis is that these food components are metabolised to opioid-like substances and act in the CNS [
106
,
133
]. However, the evidence is rather weak, as opioid-like substances were not found in autistic individuals. Therefore, the therapeutic value of omitting gluten and casein free diet is limited and should only be considered if there are allergic reactions to the abovementioned food components [
86
,
106
].
Interestingly, higher rates of ASD have been reported in people with dark skin and in regions with limited solar irradiation. Significantly lower levels of 25-hydroxy-Vitamin D in serum were found in autistic children in comparison to controls. In a study vitamin D supplementation was given to rat pups to treat ASD induced by propionic acid. The authors discovered that vitamin D has neuroprotective features and less DNA breaks were detected in the brains of rats treated with vitamin D compared to untreated propionic acid induced rats. These results, however, could only be obtained, when the pups were treated with vitamin D before inducing autism. In conclusion, the study suggested that vitamin D exhibits rather a preventive than a therapeutic effect [
134
]. The administration of vitamin B1 to autistic children was also suggested to ameliorate symptoms due to vitamin B1 producing bacteria Prevotella being found in lower abundances in autistic children [
20
].
One publication even suggested the introduction of helminths, which are parasitic worms, into the gut ecosystem to achieve a greater diversity. One argument was that before daily hygienic measures were introduced in our society, helminths were a normal part of the gut microbiota and the prevalence for ASD was smaller [
123
]. This hypothesis was experimentally supported by the data that the exposure of the immune activated rats to helminths resulted in less anxious behaviour [
123
], which is considered to be a symptom of ASD in rodents [
102
]. Obviously, these treatment options were poorly documented and are not recommended as a treatment option for ASD patients before thorough investigations.
7. Discussion and Conclusions
It remains yet to be unequivocally determined whether dysbiosis is a factor causing ASD or if the disease is causing the microbial alterations. The mutual correlation between ASD and alterations in the microbiota, however, has been undoubtedly confirmed by many animal and human studies [
124
]. To further narrow down the mechanisms of disease, studies with bigger sample sizes are required, since the works summarized in this review showed varying degrees of statistical significance and some results are based on small sample sizes. Our review also showed big variations of methodologies and outcome measures calling for standardisation of the treatment regimens to achieve higher statistical significance and a better comparison between the study results.
This review article demonstrated significant changes in microbial composition of autistic population. Often observed changes in ASD children were a generally decreased bacterial diversity compared to control populations and the significantly decreased Bacteroidetes to Firmicutes ratio [
49
,
53
,
76
,
87
]. Elevated abundances of
Clostridium
spp in autistic individuals correlated with the severity of autistic behaviour [
15
]. An evolutionary explanation as to why the microbiota modulate our behaviour is, the more social the host is, the more the microbes can spread through society [
135
].
The discovery and understanding the connection between the microbiota and ASD is especially important to find new treatment options for this disease. Treatment of autistic behaviour based on microbial compositional alterations such as probiotics and faecal microbiota transfer showed promising results in GF-mice and autistic individuals [
5
,
46
,
49
,
79
,
106
,
117
]. The administration of probiotics resulted in improvement of comorbid GI problems [
106
] or stimulation of the production of oxytocin, positively influencing social behaviour [
24
,
136
]. Especially, faecal microbiota transfers significantly ameliorated ASD behavioural symptoms and GI problems in autistic children [
79
]. For widespread use of these treatments more studies must be conducted to finetune treatment, mode of delivery, safety, its duration and doses.
We suggest that the reduced mRNA expressions of disaccharidases and hexose transporters in the gut epithelium may be responsible for some of the alteration in microbial composition of ASD patients [
53
]. More mono- and disaccharides entering the colon favour some bacterial species over others and consequently lead to an altered metabolome in the gut affecting the host. Such alterations may result in different expression levels of tight junction proteins [
55
] leading to comorbidities such as increased intestinal permeability [
15
] and a reduced integrity of the BBB in ASD patients. As a result of these changes, bacterial metabolites can enter and influence the CNS.
Significantly lower plasma concentration of S-adenosylmethionine, glutathione [
104
] and thiamine-pyrophosphate [
112
] in ASD provide the evidence for a perturbation in transmethylation processes in the body and diminished reduction capability of the cell. Increased oxidative stress in the cells leads to malfunctioning of mitochondrial enzymes and production of reactive nitrogen species, which can interact with propionic acid and produce a mitochondrial neurotoxin worsening the reduction capability [
119
]. Lower concentrations of the total amount of SCFAs are found in ASD patients [
40
,
98
] with higher levels of propionate and indicating that butyrate production is dramatically reduced [
40
]. The altering concentrations of the bacterial metabolites butyrate and propionate are likely to play a role in the pathophysiology of autism. A new possible family of substances with link to ASD is suggested in our review including 3-(3-hydroxyphenyl)-3-hydroxypropionic acid, 3-hydroxyphenylacetic acid and 3-hydroxyhippuric acid. These metabolites were increased in the urinary profile of ASD patients linking ASD to an abnormal phenylalanine metabolism. As a consequence of treating ASD patients with an antibiotic and a probiotic, these metabolites decreased in the urine of autistic patients. Additionally, autistic behaviour was ameliorated in the patients due to this treatment [
38
]. The evidence for the predictive value of the suggested biomarkers is based on one well conducted study only. Therefore, the effectiveness of these molecules for prediction of ASD need to be validated in independent human studies, to reconfirm the finding that these metabolites are part of an autistic-behaviour-causing metabolome.
In conclusion, the correlation between changes in distinct bacterial populations and several bacterial metabolites, and the behavioural changes related to ASD warrant further investigations into the microbiota-gut-brain-axis aiming at in-depth examination of mechanisms leading to the pathology of autism. We presented here several epidemiological, experimental human and in vivo studies for the involvement of different microbes in the ASD pathology such as
Clostridia
spp and highlighted the evidence for several metabolites to be considered as possible biomarkers for ASD. Additional independent research following standardised protocols, and enrolling well-diagnosed bigger cohorts are urgently needed to definitely discover the interdependencies, the sequence of events leading to ASD, and to suggest unequivocal biomarkers and effective therapeutic strategies.
Author Contributions
Conceptualization, P.S. and M.H.M.; Methodology, P.S. and M.H.M.; Validation, M.H.M.; Formal Analysis, P.S. and M.H.M.; Investigation, P.S.; Resources, P.S.; Data Curation, P.S.; Writing-Original Draft Preparation, P.S.; Writing-Review & Editing, P.S. and M.H.M.; Visualization, P.S.; Supervision, M.H.M.; Project Administration, M.H.M. and P.S.
Funding
This research received no external funding.
Acknowledgments
We would like to thank Joshua Dan Itsch Csucker, Nilujana Srikantha and David Wolfer for useful comments and the review of this paper.
Conflicts of Interest
The authors declare no conflict of interest.
Abbreviations
| | |
| --- | --- |
| ASD | Autism Spectrum disorder |
| BBB | Blood-brain-barrier |
| BDNF | Brain derived neurotropic factor |
| CLDN | Claudine |
| DNA | Deoxyribonucleic acid |
| ETC | Electron transport chain |
| FMT | Faecal Microbiota transplantation |
| GABA | Gamma-amino-butyric acid |
| GI | Gastrointestinal |
| GLT2 | Glucose transporter 2 |
| HPA | Hypothalamus-pituitary-adrenal |
| MIA | Maternal immune activation |
| NADH | Nicotineamide-adenine-dinucleotide |
| NADPH | Nicotineamide-adenine-dinukleotide-phosphate |
| poly(I:C) | Polyinosinic:polycytidylic acid |
| ROS | Reactive oxygen species |
| SCFAs | Short chain fatty acids |
| SGLT | Sodium dependent glucose transporter 1 |
| spp | species |
| TPP | Thiamine-pyrophosphate |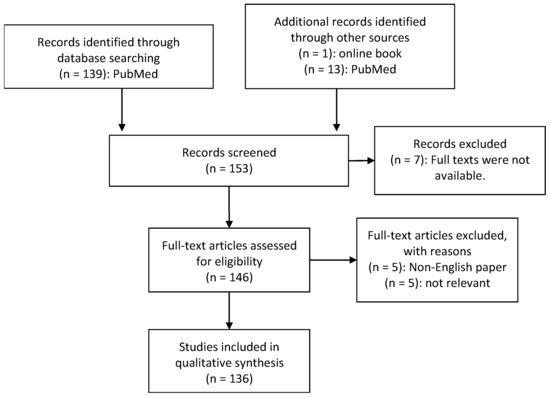 Figure 1.
Methodical approach of this systematic review due to PRISMA criteria [
39
].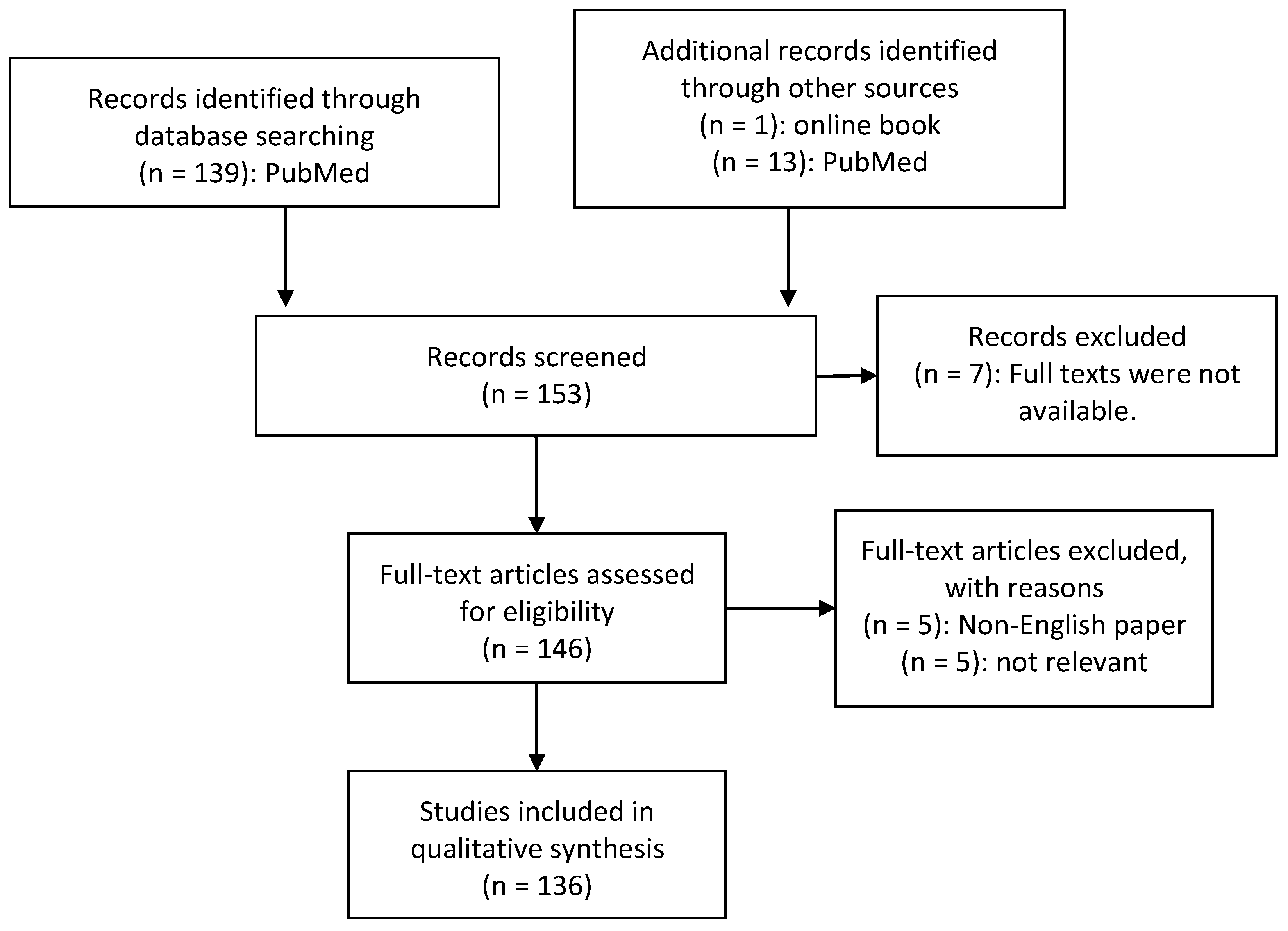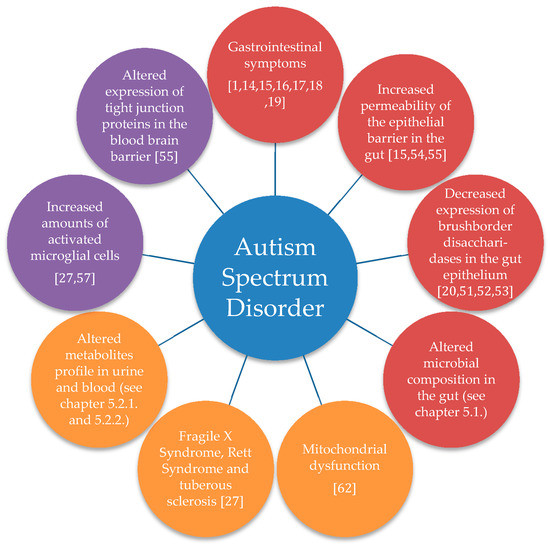 Figure 2. Co-occurring pathologies found in Autism Spectrum disorder (ASD). Red shows gut-related comorbidities found in ASD, purple shows brain-related comorbidities and orange other comorbidities. Chapter 3 gives more information to the mentioned comorbidities.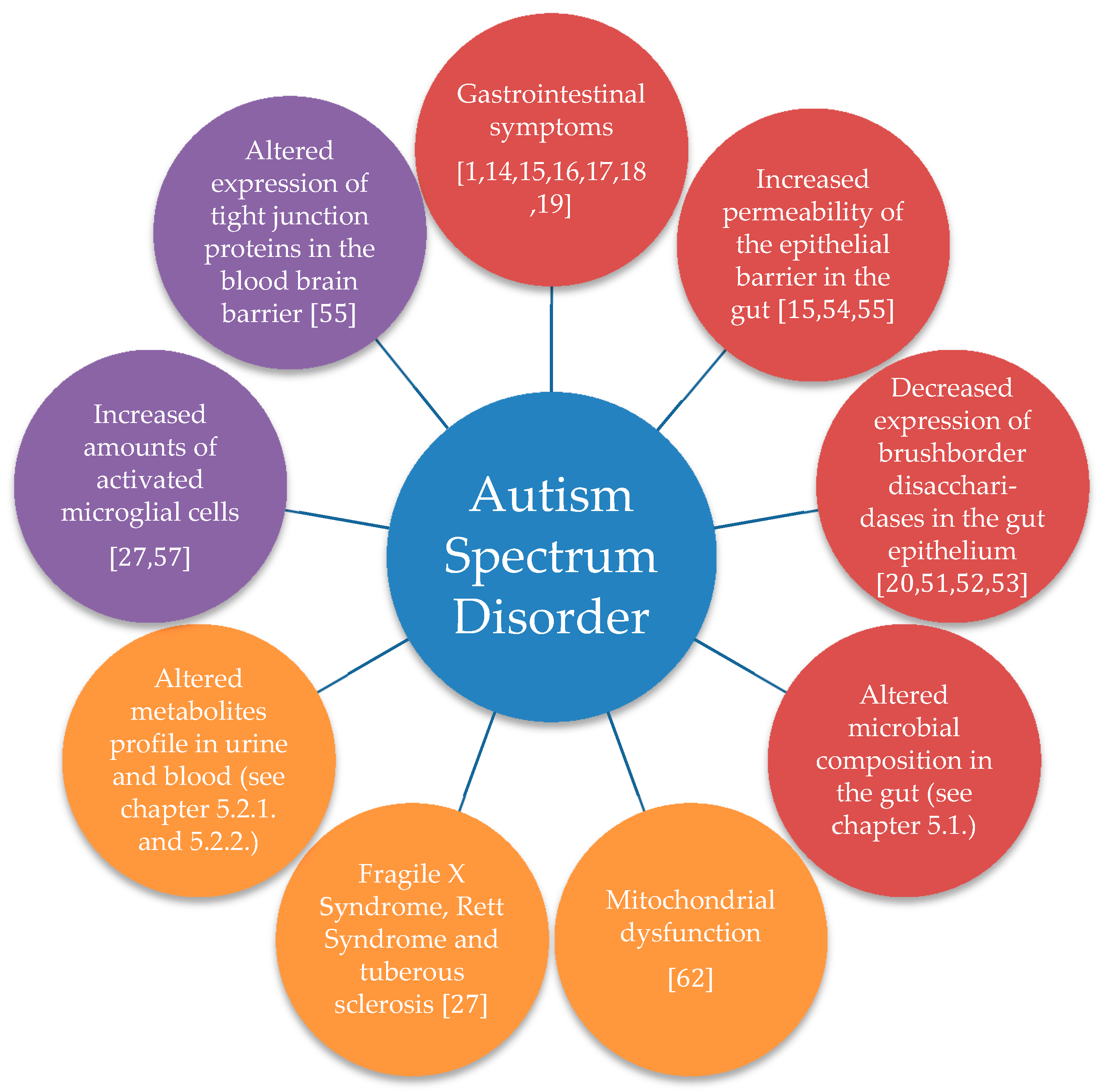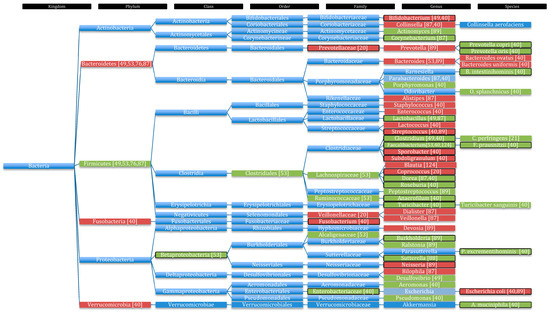 Figure 3. Taxonomic classification of dysbiotic bacteria found in autistic individuals. All bacterial taxa mentioned within this chapter are found in this figure. Green indicates elevated taxa in the gut microbiota of ASD individuals. Red indicates decreased taxa in the gut microbiota ASD individuals. Additionally, black surrounded boxes show significant results in at least one study. Significance levels are taken from the original literature.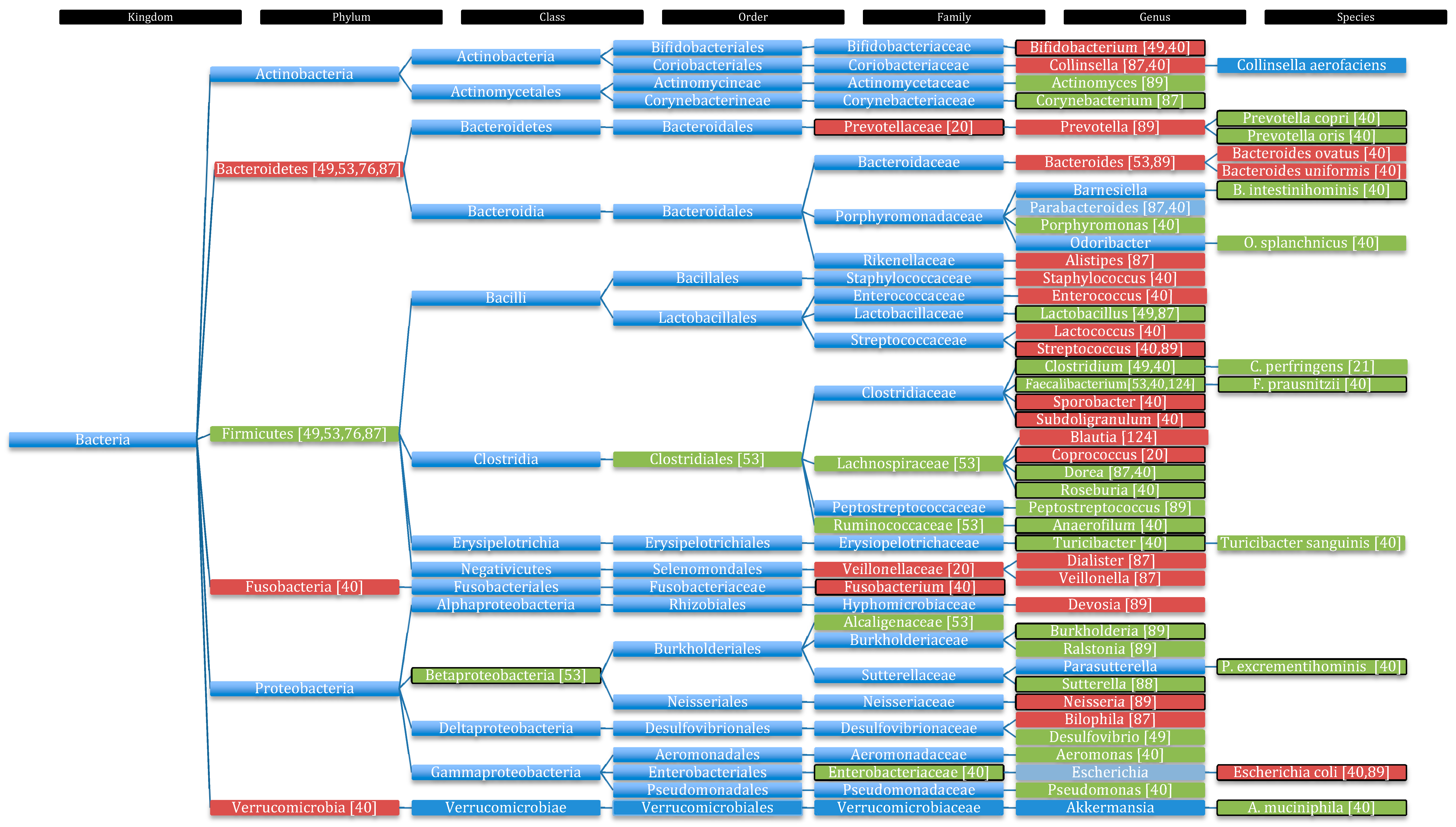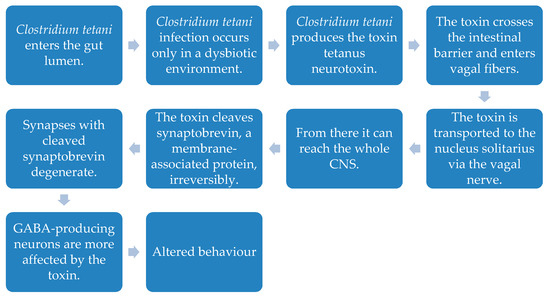 Figure 4.
Process of
Clostridium tetani
infection in the gut. Occurrence of the bacterium
Clostridium tetani
in the GI tract of autistic population could lead to altered behaviour. [
43
].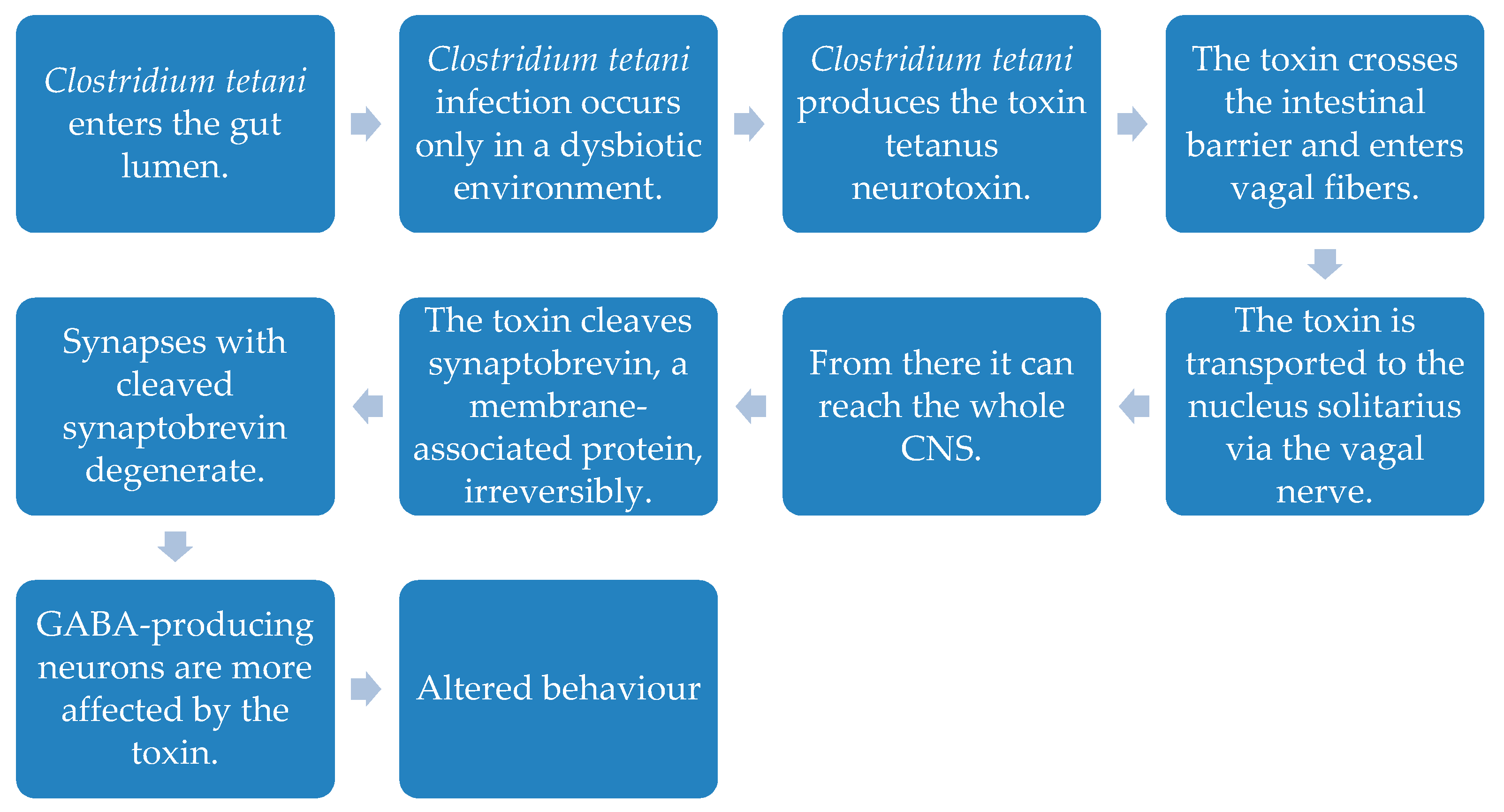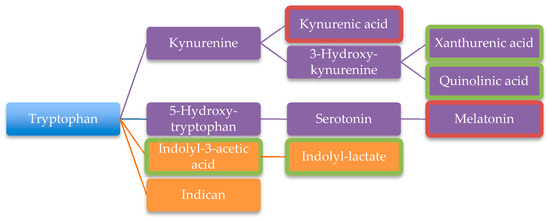 Figure 5.
Metabolic pathways of tryptophan. The purple pathways show human metabolism of tryptophan and the orange pathways are observed in bacterial degradation. Green surrounded boxes show elevated metabolites and red surrounded boxes show decreased metabolites in the autistic metabolome [
101
].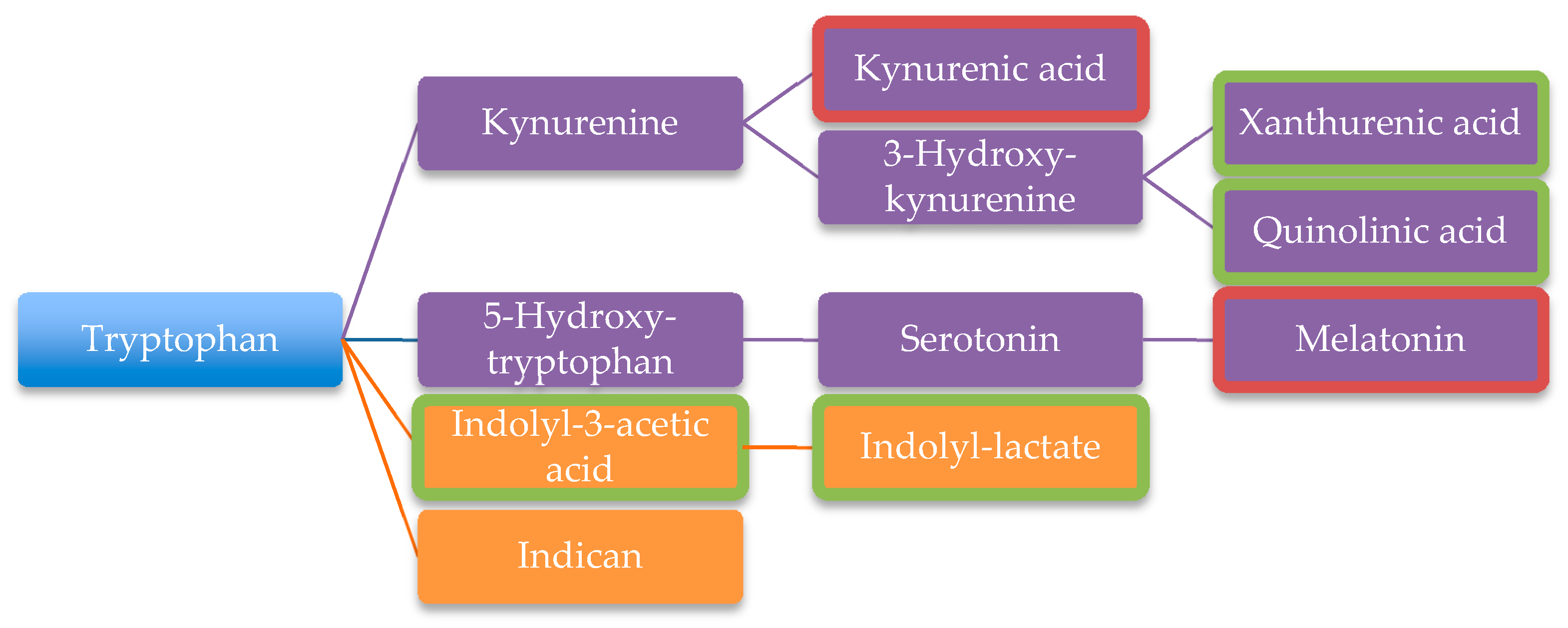 Table 1. Elevated and decreased metabolites in the urinary profiles of ASD children. Significant results are written in bold.
Elevated Urinary Metabolites in ASD Patients
Decreased Urinary Metabolites in ASD Patients

N

-methyl-2-pyridone-5-carboxamide
[104]
Glutamate
[104]

N

-methyl nicotinic acid
[104]
Hippurate
[104]

N

-methyl nicotinamide
[104]
Phenylacetylglutamine
[104]

N

-acetyl glycoprotein fragments
[105]
Succinate
[105]
Melatonin
[101]
Acetate
[105]
Kynurenic acid
[101]
Taurine
[105]
Dimethylamine
[105]
3-(3-hydroxyphenyl)-3-hydroxypropionic acid
[99]
3-hydroxyphenylacetic acid
[99]
3-hydroxyhippuric acid
[99]
Tryptophan degradation products
[106]
Xanthurenic acid
[101]
Quinolinic acid
[101]
Indolyl-3-acetic
[101]
Indolyl-lactate
[101]

P

-cresol
[101,102]
TNF-α
[49]
Free amino acids
[40]
Sulphate, sulphite, thiosulphate
[104]

Table 2. Summary of statistically significantly elevated and decreased metabolites in the blood of autistic patients. Major bacteria responsible for the elevated metabolites are given in parentheses.
Elevated Metabolites in the Blood of ASD Patients
Decreased Metabolites in the Blood of ASD Patients
Serotonin (Candida, Streptococcus, Escherichia and Enterococcus spp)
[108]
Methionine
[104]
GABA (Lactobacillus and Bifidobacterium spp)
[98]
S-adenosylmethionine
[104]

p

-cresol (Clostridia spp)
[104]
Homocysteine
[104]
Lipopolysaccharides (gram negative bacteria)
[56,113]
Glutathione
[104]
Docosahexaenoic acid
[110]
Eicosapentaenoic acid
[110]
Arachidonic acid
[110]
Thiamine-pyrophosphate
[112]
Probiotic Used
Effects
Studies
Children Dophilus (Bifidobacterium, Lactobacillus, Streptococcus spp)
Amelioration of Firmicutes to Bacteroidetes ratio
Humans [49]
Lactobacillus rhamnosus, Bifidobacterium infantis, Bifidobacterium longus, Lactobacillus helveticus, Lactobacillus reuteri and Lactobacillus paracasei
Improvement of GI problems
Humans [106]
Lactobacillus reuteri
- Reversing inflammation caused through lipopolysaccharides
- Stimulating the production of Oxytocin
Rats [46]
Bifidobacterium spp
Elevation of arachidonic and docosahexaenoic acid concentration in the brain
Mice [117]
Lactobacillus rhamnosus
- Reduction of corticosterone levels
- Alterations of GABA levels
Mice [117]
Bacteroides fragilis
- Improvement of autistic features
- Correction of tight junction proteins expression in the colon
Mice [5]

© 2019 by the authors. Licensee MDPI, Basel, Switzerland. This article is an open access article distributed under the terms and conditions of the Creative Commons Attribution (CC BY) license (http://creativecommons.org/licenses/by/4.0/).